Celebrate Naruto's Birthday at Fuji-Q Highland's Hidden Leaf Village Theme Park Area
Naruto Uzumaki's birthday falls on October 10, so to celebrate, Fuji-Q Highland, an amusement park in Yamanashi, Japan, is holding a birthday festival for the titular character of the popular anime series. The event will be held at the park's Naruto x Boruto Fuji Hidden Leaf Village area.
Naruto Ramen | ¥1,280 | Available: October 10, 2020 and October 11, 2020
Customers who order the special ramen dish from the ramen bar at the park, which is called Ramen Ichiraku after Naruto's favourite eatery in the series, will get a huge topping of naruto, a type of Japanese steamed fish-paste cake. Only 100 of these hearty dishes will be served a day.
The park is also holding a social media campaign. If they can reach 7,610 followers—a number which can be read as "na-ru-to" in Japanese—this year, then they'll hold a lottery for fans to win a special prize.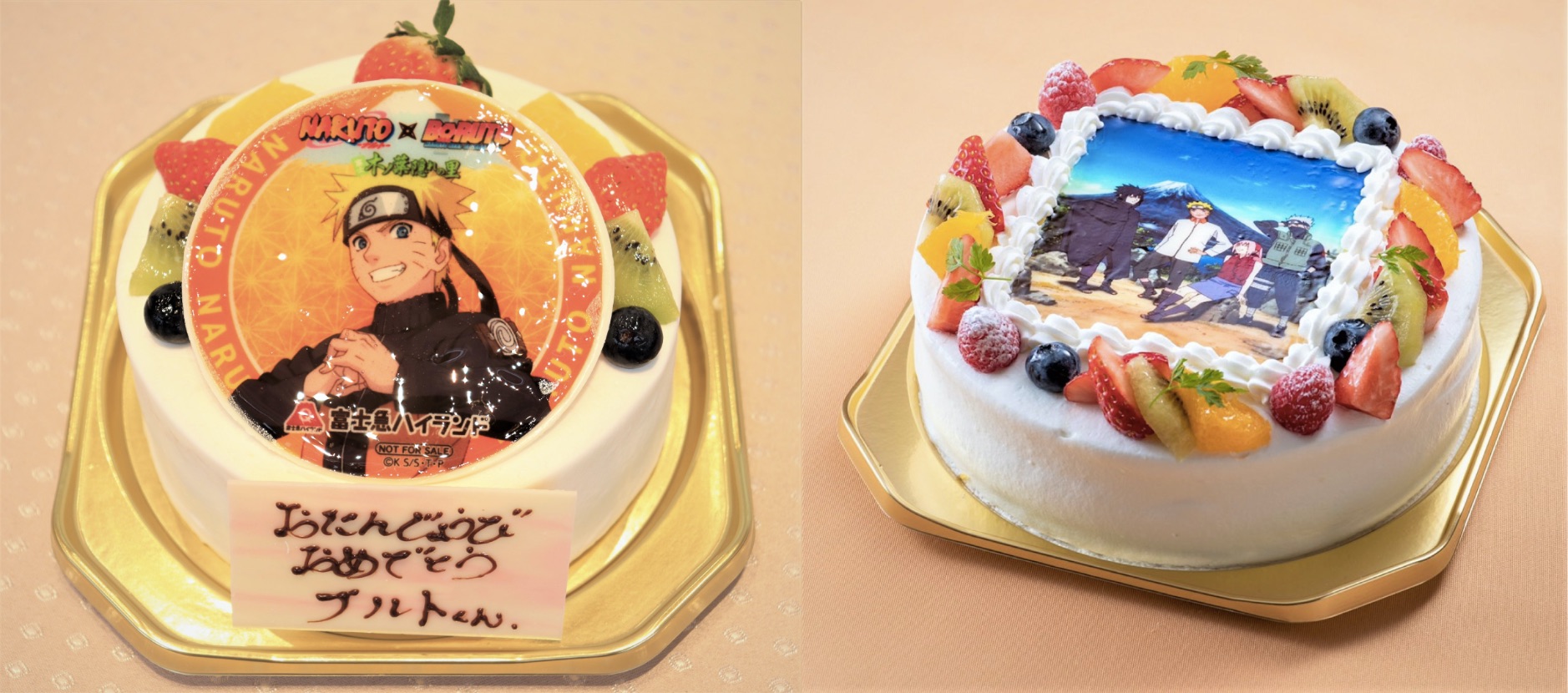 Naruto Print Cake / Naruto Team 7 Print Cake
Fuji-Q Highland will also serve up two cakes, one with just Naruto and the other with Naruto and the rest of Team 7 including Sasuke, Sakura, and Kakashi.

Jiraiya / Tsunade / Gaara / Itachi
Lastly, from the end of November, life-sized portraits of Jiraiya, Tsunade, Gaara, and Itachi will be set up at the park for fans to take photos with.
ⓒMasashi Kishimoto Scott / Shueisha・TV Tokyo・Pierrot
Information
Naruto Uzumaki Birthday Festival 2020 – Naruto x Boruto Fuji Hidden Leaf Village
Fuji-Q Highland Official Website (English): https://www.fujiq.jp/en/
RELATED ENTRIES
FujiQ Highland Holds Limited Time "Uzumaki Naruto Birthday Celebration 2021"

FujiQ Highland's 'NARUTO x BORUTO Fuji Konohagakure Hidden Village,' will be holding the 'Uzumaki Naruto Birthday Celebration 2021' birthday event to commemorate NARUTO protagonist Uzumaki Naruto's birthday, held between October 10 and November 7 2021. 

 

Happy Birthday, NARUTO! Miso Tonkotsu with Extra Char Siu Special

Yakitori Set

Arcade Game Corner 'Game Area – Ninjutsu Carnival'

"Uzumaki Naruto Birthday Celebration 2021" Specially Designed Sweets

NARUTO Birthday Commemorative Big Sticker


Stamp Rally with Impressive Prizes

During the event period, Satouchi's 'Ramen Ichiraku' will be offering ramen based on Naruto's beloved Miso Tonkotsu with Extra Char Siu, topped with six pieces of Char Siu (available Sat. and Sun. only, 30 portions a day). Meanwhile, YakitoriQ will be reducing the cost of their ultra popular 'Family Pack' yakitori from ¥1,200 down to ¥1,010 to mark the date on October 10. Plus, if you say "NARUTO HAPPY BIRTHDAY" at the Game Area Ninjutsu Carnival game, the staff will offer you an extra round, boosting your chance of winning the prize.

The Fuji-Q Official Highland Resort Hotel & Spa's restaurant "Makaroni Club" is also hosting a series of fun events to liven up the celebration, including event-exclusive latte art, macaroons, and themed cakes!

In addition, customers who purchase event merchandise or use the facilities will receive a free 10cm 'NARUTO Commemorative Big Sticker' which will be sure to leave an impact. The stickers are available in limited quantities.

If you collect three stamps on your rally card then you will be eligible to enter a lottery, with the chance to win a variety of impressive prizes, such as FujiQ Highland Free Passes or NARUTO or BORUTO dolls, so why not give it a shot?

If you're a NARUTO fan then be sure to celebrate his birthday at FujiQ Land!

 

Information

Uzumaki Naruto Birthday Celebration 2021

Duration: October 10 ~ November 7 2021

Location: NARUTO x BORUTO Fuji Konohagakure Hidden Village

Address: 5-6-1 Shinnishihara, Fujiyoshida, Yamamashi 

Official Site: https://www.fujiq.jp/ 

Nijigen no Mori Amusement Park Starts Naruto Birthday Event

The anime-themed amusement park Nijigen no Mori in Hyogo Prefecture will hold a special Naruto event from October 2 until November 28, 2021. The Naruto Shippuden x Real Puzzle Solving Game will feature popular characters from the Shikamaru Hiden arc!

NARUTO&BORUTO Ninja Village

This marks the second version of the event to date, with the first taking place in 2020. Naruto's birthday is October 10, and to celebrate, this event will open with new visuals of the titular ninja along with popular character Shikamaru!

Flower Petal Stickers

Fans of Naruto won't want to miss their chance to leave a congratulatory message for the birthday boy! Just write your message on one of these stickers, and stick them to the character panel of your choice. 

Event Contents

Gameplay

Players will solve a number of riddles placed all over the Naruto & Boruto Ninja Village, with certain keywords related to each character playing a role. 

Wooden Phone Straps (4 varieties) featuring new illustrations

The event will take around 30 minutes, even for beginners. Those buying a ticket will receive a wooden phone strap. 

©岸本斉史 スコット/集英社・テレビ東京・ぴえろ

Information

Naruto Shippuden x Real Puzzle Solving Game – Ninja Village Special Mission #010: Naruto/Shikamaru Arc

Running: October 2, 2021 – November 28, 2021

Address: Nijigen no Mori Naruto & Boruto Ninja Village (Awaji, Hyogo Prefecture)

Hours: 10:00-20:00

*Please check the official website for hours. 

Anime Theme Park Nijigen no Mori to Hold Second Kakashi & Obito-themed Escape Game

A special event is coming to the Naruto-themed area of Nijigen no Mori, an anime theme park located on Awaji Island in Hyogo prefecture! The Naruto Shippuden x Escape Game: #009 Kakashi & Obito event is taking place from August 21 to October 10!

A look at NARUTO & BORUTO Shinobizato

A look at the game

Participation bonus: 4 special wooden phone straps with new illustrations

The first escape game in the series was held in 2020 to positive feedback. It was first held to celebrate Kakashi's birthday, which is September 15, and all visuals of both him and Obito are completely new and made for the event. 

Guests can also write their celebratory messages on special 'petal stickers' and place them on the character panel of their choice!

Would you like to come celebrate Kakashi's birthday? 

©Masashi Kishimoto /Shueisha・TV Tokyo・Pierrot

Information

Naruto Shippuden x Escape Game: #009 Kakashi & Obito

Running: August 21-October 10, 2021

Opening Hours: 10:00-20:00

Estimated Play Time: 30 minutes

Nijigen no Mori

Address: 2425-2 Kusumoto, Awaji, Hyogo

Official Website: https://nijigennomori.com/

Naruto and Boruto Summer Event Begins at Nijigen no Mori

Nijigen no Mori, an amusement park located on Awaji Island in Hyogo, began a summer event at its Naruto and Boruto-themed zone on July 22 which is set to run until September 30.

Event-exclusive stickers

The event includes a huge water gun event where 25 litres of water will be sprayed to cool down guests during the hot summer event. With themed character panels displayed around the park, join Naruto and the gang, including Zabuza and Haku, for some summer fun. All guests receive a free original sticker too.

© 岸本斉史 スコット/集英社・テレビ東京・ぴえろ

Information

NARUTO&BORUTO SHINOBI-ZATO
Running: July 22, 2021 – September 30, 2021

Location: Nijigen no Mori

Opening Hours: 10:00-18:00
Price: Free (But park entry payment required)
Official Website: https://nijigennomori.com/naruto_shinobizato/

Kansai Yamamoto's Nippon Genki Project 2021's Mount Fuji Runway to be Featured On YouTube

The Nippon Genki Project will be held again this year and it will be available to watch on the event's official website and on YouTube. The event was created by the late Japanese fashion designer Kansai Yamamoto as a way to get people energised and motivated to realise their dreams.

Past Nippon Genki Project events

Nippon Genki Project 2015 Super Energy!! at the Museum of Contemporary Art Tokyo

Nippon Genki Project 2016 Super Energy!! at Yoyogi National Stadium

Nippon Genki Project 2017 Super Energy!! at Roppongi Hills Arena

Nippon Genki Project 2018 Super Energy!! at Roppongi Hills Arena

Nippon Genki Project 2019 Super Energy!! at Roppongi Hills Arena

Nippon Genki Project 2020 Super Energy!! Online

The theme of this year's event is 'World Heritage Runway.' The event will be recorded in Fujiyoshida, Yamanashi, at the foot of the World Heritage Site of Mt. Fuji. The footage will be released as a fashion film on August 21. Designers from across Japan have created a variety of looks for the event, and pieces by fashion schools, fashion universities both in Japan and overseas, and more will also be showcased.

Information

Nippon Genki Project 2021 World Heritage Runway at Mt. Fuji
Online Release Dates

Fashion Movie: August 21, 2021 @ 20:00 (JST)

Documentary: August 28, 2021 @ 20:00 (JST)

Price: Free

Available: Nippon Genki Project Website / YouTube

Official Website: www.kansai-inc.co.jp/ngp2021/

*More details to be released in mid-August

BanG Dream! Girls Band Party x Fuji-Q Highland Summer Event Announced

Fuji-Q Highland is set to host a summer event in collaboration with the mobile rhythm game BanG Dream! Girls Band Party from August 7 to September 12.

This marks the amusement park's 4th collaboration with the game which will see newly-illustrated artwork of the characters decorating the attractions, a special talk show hosted by the voice actresses, limited-time announcements on the attractions recorded by the voice actresses, a themed food menu, original merch, and more.

A digital stamp rally will also take place which will have guests locating life-sized panels of seven characters which they need to scan with their smartphone. This will give them a special voiced story. Those who obtain all the digital stamps by scanning all the panels will receive a free novelty as well as an original voiced guide for boarding the amusement park train. The train too will be decorated in BanG Dream! artwork.

©BanG Dream! Project ©Craft Egg Inc. ©bushiroad All Rights Reserved.

Celebrate Sasuke Uchiha's Birthday at Fuji-Q Highland's Naruto x Boruto Summer Event

Fuji-Q Highland began its 'NARUTO x BORUTO Fuji Hidden Leaf Village' event on Wednesday which is set to run throughout summer until August 29. The event is taking place to celebrate the birthday of the popular character Sasuke Uchiha from the Naruto franchise.

During the event, a keyword rally will take place, and a special menu will be served up.

Keyword Rally

Guests must play and ride six Naruto-themed attractions at the park where they will be able to collect keywords related to the Uchiha family. Those who manage to answer all the questions correctly will receive one of two free exclusive pins. The Sasuke & Itachi design will be available from June 9 to July 22 and the Uchiha Family design from July 23 to August 29. Check out the designs below, both of which are must-grabs for fans of Sasuke and the Uchihas.

Pin Design 1: Sasuke & Itachi (Uchiha Brothers) | Available: June 9, 2021 – July 22, 2021 

Pin Design 2: Sasuke & Sakura & Sarada (Uchiha Family) | Available: July 23, 2021 – August 29, 2021

Special Menu

Guests will also be able to enjoy a special menu line-up including a ramen dish served at Ichiraku, the ramen bar at Fuji-Q Highland which is themed on the same eatery of the same name in Naruto, and two cakes at Fuji-Q Highland's official hotel resort and spa.

Uchiha Brother's Spicy Ramen | ¥1,500 (Tax Included)

Uchiha Brother's Print Cake

Uchiha Family's Print Cake


ⓒ岸本斉史 スコット/集英社・テレビ東京・ぴえろ

Information

Uchiha's Summer
Running: June 9, 2021 – August 29, 2021

Where: Fuji-Q Highland

Official Website: https://www.fujiq.jp/

Keith Haring: 360° Exhibition in Yamanashi to Explore Pop Artist's Lifework

The Nakamura Keith Haring Museum in Yamanashi is set to welcome the Keith Haring: 360° exhibition which will explore the diverse works of American pop artist Keith Haring. The exhibition will run from May 15, 2021 to May 8, 2022.

Keith Haring was an American pop artist whose work began in the 1980's when he would create spontaneous drawings in the subways of New York City. Haring participated not only in solo exhibitions, but national and international shows too, such as documenta 7 in 1982 and Venice Biennale in 1984. His later works took on more political and societal themes such as drugs, racism, sexuality, and AIDS. Haring died of AIDS-related complications in 1990 at the young age of 31.

Photo by ©︎Makoto Murata

Untitled (Figure Balancing on Dog), 1989

Untitled (KH.200), 1982, The Museum of Art, Kochi

My Town, Peace I–IV, 1987, Tama City Cultural Foundation

Nakamura Keith Haring Collection

One of the most noteworthy appearances at the exhibition is Haring's Figure Balancing on Dog (1989), a rare sculpture made of raw aluminium. As the title suggests, the piece features a person riding atop a dog, which may be a depiction of balance. It brings to mind the relationship between humans and animals and the anxiety towards a strange society that cannot be measured. Other works will also Untitled (KH.200) (1982), My Town which was drawn by 500 children from Tama, Tokyo, My Town, Peace I–IV (1987), and a series of six drawings entitled Bad Boys (1986) which Haring produced in Amsterdam.

For the first time ever, visitors will be able to see photos taken by Japanese art journalist Makoto Murata who interviewed Haring when visiting New York from December 1982 to January the following year.

The exhibition will look at Keith Haring, his diverse work, and deep messages of society from all angles – a 360° view.

Information

Keith Haring: 360°
Running: May 15, 2021 – May 8, 2022

No Fixed Holidays

Opening Hours: 09:00-17:00

Official Website: https://www.nakamura-haring.com/

Get Wet at This Rain Themed Event at Hoshino Resorts RISONARE Yatsugatake

Hoshino Resorts RISONARE Yatsugatake is calling for the rain this summer with the announcement of its Yatsugatake Fure Fure Sky event. The event will see over 1,000 fure fure bozu strung up—small handmade dolls to pray for the rain—along the 150-meter main street Green Pepper Avenue. The dolls act as the opposite of the more well known teru teru bozu dolls which are used to prevent rainy days.

Rain is something that's always on the mind of travellers who hope for a dry trip when they reach their destination. This event however takes advantage of the rainy days to turn it into something to be enjoyed.

Yatsugatake Fure Fure Sky: 3 Things to Enjoy

The grand spectacle of the rain and over 1,000 dolls

Colourful fure fure bozu will line Green Pepper Avenue which serve as gorgeous decorations. There are eight colours to be spotted which represent the Yatsu in Yatsugatake meaning "eight" in Japanese.

Enjoy the sight and sound of the rainfall in the Rainy Domes

Sit inside your very own dome along Green Pepper Avenue and enjoy the sounds of the tapping rain. This is an experience that is best enjoyed when it rains, meaning praying for the rain is a must. It's a chance to enjoy the rain without getting wet while sipping on wine and tucking into some light food.

Times: 11:00-16:00
Price: Free

Location: Green Pepper Avenue

Snap some photos in the rain wearing a Fure Fure Poncho

Inside the activity centre, visitors can rent their very own Fure Fure Poncho. This means they can head out in the rain and enjoy the sounds of the rain hitting their poncho, which is available in three different colours and all sizes for the family.

Times: 9:00-18:00

Price: Free

Location: Activity centre

Notes: Exclusive to Hoshino Resorts RISONARE Yatsugatake guests

Information

Yatsugatake Fure Fure Sky

Running: June 1, 2021 – July 11, 2021
Times: 9:00-18:00


Price: Free

Location: Green Pepper Avenue (Japanese Name: ピーマン通り)

Official Website: https://risonare.com/yatsugatake/

LIBERE x Naruto Anime Capsule Collection Released

Japanese high-end street brand LIBERE has teamed up with the Naruto anime series to release a capsule collection. Pre-orders opened on April 22 at the fashion brand's official online store and branches.

LIBERE FOR NARUTO

"LIBERE FOR NARUTO" is the theme of the collection which sees Naruto, Sasuke, Sakura, Kakashi, Shikamaru, and Itachi all serving a street-ninja style by wearing the items in the line-up. Each also incorporates family crests and colours that represent the cast. It includes tees, long-sleeved shirts, hoodies, bags, caps, and more, all of which have details like straps, pockets, and zippers, and all of which come with special tags, plastic bags, and dust bags that were specially made for this collection.

Pierrot, the animation studio who animated Naruto and Naruto: Shippuden, also created a look-book for the release which combines the anime with real life. A special poster will be included in all purchases.

(C)岸本斉史 スコット/集英社・テレビ東京・ぴえろ&LIBERE(R)

Peter Rabbit English Garden to Open at Mount Fuji in Spring 2022

Fujimoto Lake Biwa Resort is set to welcome the new Peter Rabbit™ English Garden in Spring 2022 which will be themed entirely around English writer Beatrix Potter's fictional animal character Peter Rabbit.

The garden will open as the biggest English-style garden in Japan. Fujimoto Lake Biwa Resort is located right beside Mount Fuji and is known for the Fuji Shibazakura Festival, an annual springtime cherry blossom event. This means the garden will be opening during the perfect season at the site. It will bring to life a magical recreation of the Lake District where the Peter Rabbit stories are set. There will be lots of photo opportunities, a menu themed on the characters, a museum, a shop selling original merchandise, and more. British garden designer Mark Chapman is helping to create this English-style garden.

Not only can visitors enjoy the spring and summer flowers when the garden opens, but the gorgeous hues of autumn too, and all with Mount Fuji in the background.

Information

Peter Rabbit™ English Garden

Opening: Spring 2022

Where: Fujimoto Lake Biwa Resort
Address: 212 Motosu, Fujikawaguchiko, Minamitsuru District, Yamanashi 401-0337, Japan

Fuji Shibazakura Festival Official Website: https://www.shibazakura.jp/

Naruto Shippuden's Gaara Gets G.E.M. Series Complete Figure

Fans of Naruto: Shippuden's Gaara Kazekaga won't want to miss out on the new G.E.M. Series Complete Figure now available for pre-order worldwide on AmiAmi.

Potential spoilers ahead for the Naruto: Shippuden story.

G.E.M. Series NARUTO Shippuden Gaara Kazekage Complete Figure | ¥13,530 (Tax Included)

The Fifth Kazekage maintains his cool and collected personality in this detailed figure as he utilises his sand powers.

©岸本斉史 スコット/集英社・テレビ東京・ぴえろ