Hoshino Resorts KAI Poroto to Open in Hokkaido in January 2022
Hoshino Resorts, Japan's premiere hotel management company boasting over 40 properties both inside and outside Japan is set to its new onsen ryokan (hot spring Japanese style inn) Hoshino Resorts KAI Poroto in January 2022 following the completion of a partnership agreement with Shiraoi, Hokkaido on June 28, 2018.
KAI Poroto comes as the 19th property for the KAI brand, following KAI Nagato (opened in March 2020), KAI Kirishima (scheduled to open in January 2021), and KAI Beppu (scheduled to open in summer 2021). It will also be the third KAI property to open in Hokkaido, following RISONARE Tomamu in Shimukappu and OMO7 Asahikawa in Asahikawa. The new property will be designed by Japanese architect Hiroshi Nakamura.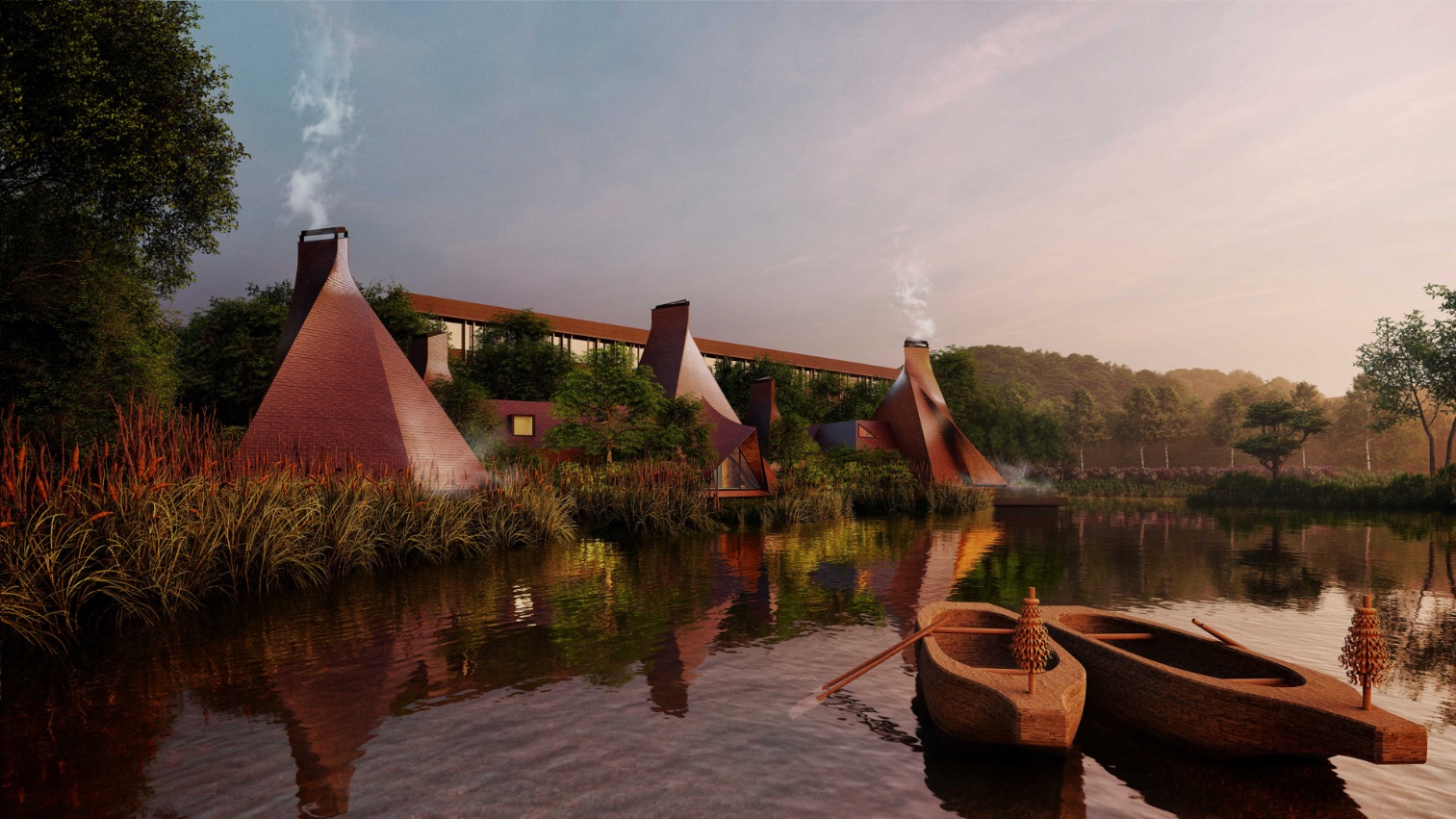 (Hiroshi Nakamura & NAP)
Guests will be able to enjoy Shiraoi onsen water at KAI Poroto. The water comes from a "moor spring" which contains organic minerals derived from plants. This type of water is rare throughout the world. KAI Poroto faces the shores of Lake Poroto and is surrounded by the natural forests of Hokkaido where many species of wild bird live. All guest rooms boast a lake view where changes in scenery throughout the seasons can be enjoyed.
KAI Poroto will is cooperating with both the town of Shiraoi as well as "Upopoy", the National Ainu Museum and Park, which has the aim of becoming a "symbolic space for ethnic harmony". The facility will respect Ainu culture and provide a place of accommodation for guests to experience it.
Upopoy: A symbolic space for ethnic harmony
A symbolic space for ethnic harmony by the name of "Upopoy opened in Shiraoi, Hokkaido on July 12, 2020. This national centre serves as a base for the reconstruction and development of Ainu culture, which is in danger of survival. The main facilities are the National Ainu Museum and the National Ainu Park. The National Ainu Museum is the first national museum in Japan centred around indigenous Ainu people and the history and culture of the people as expressed through their perspective. This is expressed in a variety of different exhibits. The National Ainu Park is a field museum, where Ainu culture can be taught through a number of programs. Experiences on-site include the Ainu traditional dance, which is registered as UNESCO intangible cultural heritage, wood carving, and embroidery workshops, as well as food and traditional performing arts experiences. "Upopoy" means "to sing (in large numbers)" in the language of Ainu.
Designed by Hiroshi Nakamura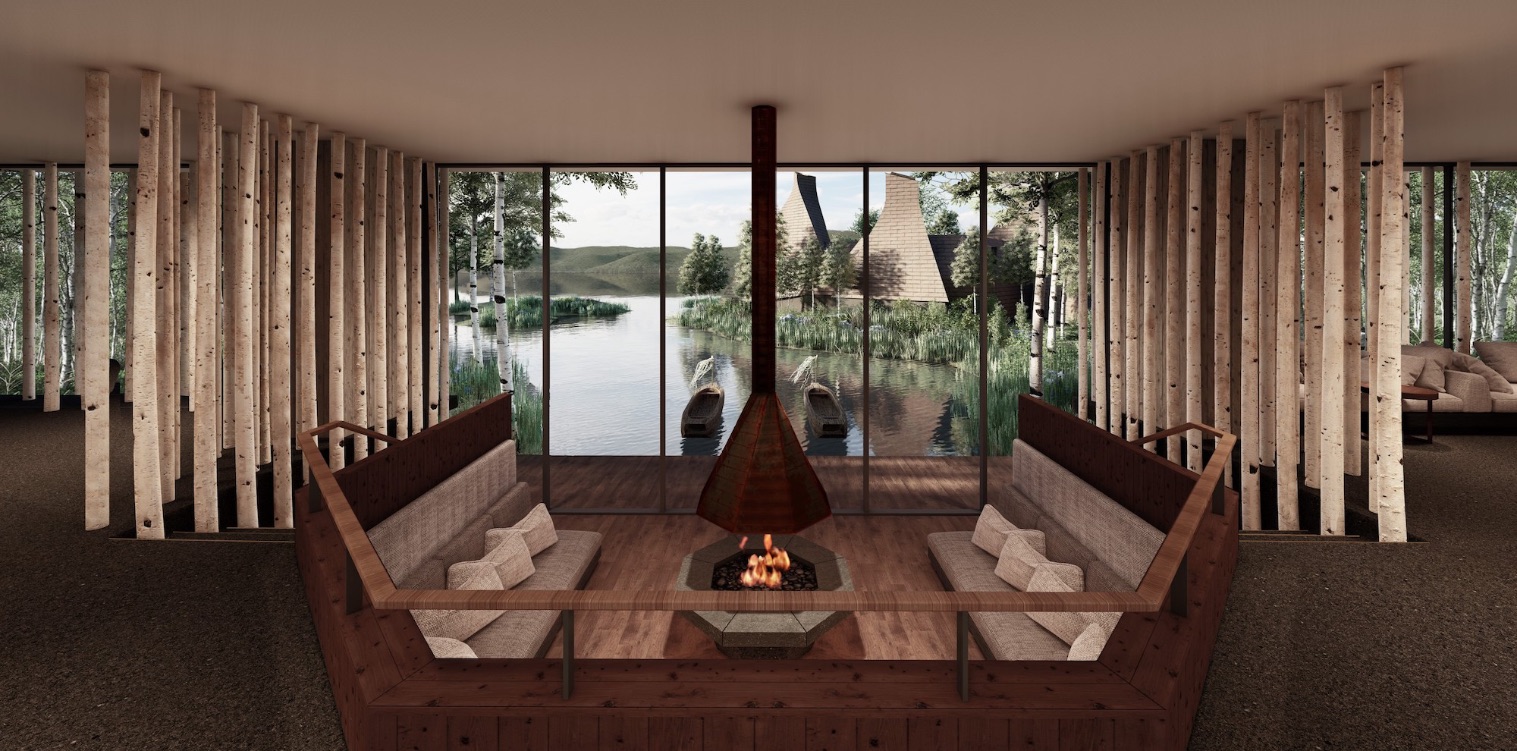 Japanese architect Hiroshi Nakamura is behind the design of KAI Poroto. "Poroto" means a large lake in the Ainu language and KAI Poroto boldly draws this lake into its premise. In the lobby of the birch forest, guests will be greeted by a magnificent view of the lake, which leads to Mount Tarumae. Guests can also relax in the lounge while watching the flames in the fireplace, something which was at the centre of Ainu people's lives. On the surface of the lake, a bathhouse called Kashi, which is built using traditional Ainu construction methods, stands like a village. The open-air bath makes one feel as if you are immersed in the lake. The design has been created in a way that is modern, inspired by the lifestyles, nature, and family of Ainu people.
RELATED ENTRIES
Stay in Harajuku's New Hotel Produced by Rolling Roster of Artists

India-ink painter CHiNPAN is collaborating with Rokuyon, who is known for helping to create a range of unique accommodations such as MOSHI MOSHI ROOMS, to launch a new kind of hotel experience in Harajuku beginning on April 23, 2021.

The project's name is Harajuku Yofukashi Art Exhibition, with yofukashi being Japanese for 'staying up late.' It will invite a new artist or creator on board every one or two months as an opportunity for them to showcase their works.

One of the art pieces

Wall art

Works displayed in the living space

The bedroom with art pieces against the walls and on the ceiling

Private area

MOSHI MOSHI ROOMS Series

MOSHI MOSHI ROOMS is our own hotel site located in the heart of Harajuku's tourism: it is within walking distance of Takeshita-dori (Takeshita Street), Meiji-dori, the Ura-Harajuku area, and Omotesando. This makes it the ideal place to stay for travellers visiting Harajuku.

SAKURA | More details here

ORIGAMI | More details here

DOSUKOI | More details here

With art events and exhibitions cancelled or severely restricted due to the pandemic, this project serves as a get promotional opportunity for artists to display their works and for art lovers to appreciate them. It aims to grow and become a new way to enjoy art.

Information

Harajuku Yorufukashi Art Exhibition

Japanese Name: 原宿夜ふかしアート展

Start Date: April 23, 2021

Where: Yados Jingumae (Formerly Wind Jingumae)

Address: 2-26-10 Jingumae, Shibuya, Tokyo

Official Website: https://www.chillnn.com/1773daedf52237 

Mr. Osomatsu Themed Hotel Rooms Open Across Japan

KADOKAWA has announced that it's taking the Mr. Osomatsu themed hotel room from EJ Anime Hotel at Tokorozawa Sakura Town in Saitama, which ran from December 3, 2020 to March 31, 2021, to six hotels in Sapporo, Nagoya, Osaka, and Hakata starting on April 28.

Mr. Osomatsu anime freebies for guests

Design of the free mask case

Free coaster

The 'EJ' of EJ Anime Hotel stands for 'Entertainment Japan.' The hotel aims to have guests living inside the stories they love from a wide range of Japanese media from anime to manga, movies, tokusatsu SFX movies, idol culture, and more. As well as room decorations and the exclusive merch that will be on sale, the hotel is also offering a new kind of accommodation experience by incorporating videos, sounds, lighting, and more. Its restaurant will also offer a selection of food and drink in collaboration with various series including all-out full course dinners.

Due to its popularity with guests, the Mr. Osomatsu themed anime room is heading to six locations across Japan which are listed below.

©赤塚不二夫/おそ松さん製作委員会

HOSHINOYA Tokyo Recreates an Edo Period Festival For Summer 2021

This summer, the Japanese ryokan inn HOSHINOYA Tokyo is once again hosting its "Tokyo Midsummer Night's Banquet" event which brings Edo period culture to the modern day in the form of a traditional festival with entertainment and food.

Tokyo Midsummer Night's Banquet: 4 Things to Enjoy

1. The new HOSHINOYA Tokyo Sake Bar

For a limited time only, the new HOSHINOYA Tokyo Sake Bar is opening on the first floor of the inn which will serve an izakaya-style experience to guests who can expect to enjoy Japanese sake together with various otsumami foods to enjoy with alcohol provided by restaurants nearby in Kanda, Nihonbashi, and Ningyocho. There will be old-timey noren entry curtains, lanterns, and other little decorations to give it that Japanese summer festival vibe. Staff will also be clad in traditional happi coats.

2. HOSHINOYA Ennichi

At the inn lobby and entrance, guests will be welcomed straight into the heart of the summer festival experience coupled with Edo culture. When evening settles in, the calm atmosphere will be transformed with the sound of lively music reminiscent of a Japanese matsuri orchestra. Guests can enjoy a range of activities from Edo times, such as 'fishing' for a flower as pictured above.


Location: HOSHINOYA Tokyo lobby and plaza

Times: 17:00-21:00

Price: Free

3. A very special menu for guests staying at the inn

Enjoy a range of Edo period foods like conger eel, refreshing cold sea bream chazuke perfect for the summer weather, and more. Food is served in guest rooms so they can enjoy a private dining experience.

Location: Guest Rooms

Times: 17:00-21:00

 4. Rental yukata service for that real Japanese summer vibe

Use the inn's rental kimono service to pick out a summery yukata and obi sash to look beautiful and get into Japanese summer festival mode. Guests can walk in and around the inn as well as around the local district of Otemachi.

Time: 10:00-18:00
Price: ¥5,000 per person

Bookings: Mandatory
Book Here: https://hoshinoya.com/tokyo/

Information

Tokyo Midsummer Night's Banquet

Running: July 1, 2021 – August 31, 2021

Where: HOSHINOYA Tokyo

Conditions: Guests only

Official Website/Yukata Rentals: https://hoshinoya.com/tokyo/

Alice in Wonderland Themed Afternoon Tea Buffet 'Lost in Europe' Heads to Nagoya

This spring, Hilton Nagoya is set to serve up a special afternoon tea set and buffet plan at its first floor all-dining restaurant IN PLACE 3-3. The theme of the afternoon tea line-up, which will be served either as a set-only plan or the set plus a buffet, is 'Lost in Europe.' Fans of Lewis Carroll's beloved novel Alice's Adventures in Wonderland can look forward to jumping in the rabbit hole as they indulge in a colourful and delicious line-up that sends them straight to wonderland.

The plans will run for three months during which three different menu line-ups will be served, each with a European feel to them as Alice finds her curiosity tending away from Japanese cuisine to the delectable assortments of overseas.

Spain will serve as the first menu. Travelling to Spain, Alice finds the country one overflowing with creativity in the arts, so says the story of this fun afternoon tea. Dishes will be plated with desserts fusing together Spain's food culture with that of Wonderland, traditional Spanish desserts, sweet treats inspired by Spanish art, and more. Many of the irresistible items will also be made with almonds – Spain being the second largest producer of almonds in the world.

Inside the restaurant, diners will feel like they have travelled to a Spanish rendition of Wonderland with a mix of styles from both locations, such as Spanish sunflowers, mosaic tiles, stained glass windows, and more.

A little look at the menu (some of it)

1. Afternoon Tea Set Menu: ¥4,600 (Tax Included)

Cubism Cheshire Cat Arroz Con Leche

A coconut-flavoured Spanish rice pudding made with coconut lavender jelly. Its design, from the stripes to the grinning teeth, are references to the Cheshire Cat.

Blue Caterpillar Siesta Cake

A cake covered in striking blue chocolate, made with pistachio mousse, and filled with a mixed berry jelly.

Butterfly Windmills Mousse

An artistic delight made with smooth chestnut mousse and colourful butterfly wings attached.

Plate Menu

Pistachio Crema Catalana in Berry Sauce

A traditional dessert of Catalonia, this crema catalana features a rich pistachio-flavoured custard cream and is served with a berry sauce.

Savoury Items

Salted churros that are crunchy on the outside and fluffy in the inside, and a checked bocadillo filled with Spanish omelette.

Lost in Europe Afternoon Tea Set Summary

10 desserts, two savoury items, and a choice of a soft drink, coffee, or tea.

2. Afternoon Tea Set & Dessert Buffet: Adults ¥5,000 / Children ¥2,500

Mischievous Crazy Clock Cake 

A warped, melted clock made with passion fruit cream and orange and mango mousse.

Mosaic Tile Sangria Jelly (Non-Alcoholic)

A refreshing beverage made with non-alcoholic white wine and grape, strawberry, and grapefruit jelly, all made to look like mosaic tiles.

Savoury Items

Pick from nine different savoury items like paella, sopa de ajo garlic soup, patatas bravas, tapas, and more.

There are also a range of other desserts like a coffee jelly ice cream, a melon cake, and more, as well as fruity iced candies.

Afternoon Takeout Box

Customers can also get their afternoon tea set to go with a mix of desserts and savouries.

Stay in a Penguin Themed Hotel Room at Hoshino Resorts OMO7 Asahikawa

Hoshino Resorts OMO7 Asahikawa opened its Penguin Room on April 6, a single new guest room themed around penguins designed in collaboration with Asahikawa Zoo.

Penguin Room Feature ①

Guests are immediately greeted with penguins galore as the enter their room, with penguin plushies by the bedside, on the ceiling, and pretty much everywhere else. It will be like staying with a family of penguins for the duration of their stay.

Penguin Room Feature ②

After a visit to Asahikawa Zoo, guests can head back to their hotel room where a variety of fun penguin-related items are stocked including games, all of which will remind them of their time at the zoo.

Penguin Room Feature ③

The room is also decorated with boards featuring photos and information of animals at Asahikawa Zoo. The boards are handwritten by the zoo staff, something they do every spring season.

Hoshino Resorts OMO7 Asahikawa previously collaborated with Asahikawa Zoo when a polar bear themed room. Now, penguin lovers can have their dream come true as they spend their time surrounded by penguin decorations in their room. The hotel is just a 30-minute car ride from Asahikawa Zoo, so why not make a plan to experience both if you're visiting Hokkaido this spring?

Experience a Hotel Camping Experience at Rihga Royal Hotel Kyoto

Rihga Royal Hotel Kyoto is collaborating outdoor recreation product brand Coleman to launch the Hotel Camp Buffet which will run from May 1 to August 31 at the hotel.

Guests can enjoy a fusion of the hotel and camping experiences as Coleman provides their tents, tables, chairs, and other outdoor items to be used at Rihga Royal Hotel Kyoto. The hotel chef, Honda, has also conceived a camp buffet for guests to enjoy at both lunchtime and dinnertime.

The hotel is carrying out all necessary measures against COVID-19 including providing guests with a how-to breakdown at all tables, providing alcohol spray, mouth guards with the Coleman logo so guests can enjoy dining and talking, and more.

Coleman x Rihga Royal Hotel Kyoto Hotel Camp Buffet

Individual Room Plan | Capacity: 4-6 People

Enjoy a camping buffet with tents, chairs, and other camping goods provided by Coleman. Everything will already be set up for guests to enjoy.

 

Lunch & Dinner Buffet Menus

Dinner

・Beef churrasco in black pepper

・Chicken paella

Lunch

・Frankfurt and smoked berry ham

Lunch & Dinner

・Meat and potato cottage pie

・Atlantic salmon wood plank grill

・Croque-madame style hot ham and cheese sandwich

・Spare ribs in BBQ sauce

Information

Hotel Camp Buffet

Where: ALL DAY DINING KAZA (Rihga Royal Hotel Kyoto Floor 1F)

Address: 1 Taimatsuchō, Shimogyo Ward, Kyoto

Running: May 1, 2021 – August 31, 2021

Times: [Lunch] 11:30-15:00 (Last Orders 13:00) / [Dinner] 17:30-21:00 (Last Orders 19:00)

Bookings: Must be made 3 days in advance. Slots are two hours max.

Price: ¥6,050 (Includes lunch and dinner buffet and room)

Lunch/Dinner: https://www.rihga.co.jp/kyoto/restaurant/list/kaza/menu/lunch/

Rihga Royal Hotel Kyoto Official Website: https://www.rihga.co.jp/kyoto

Hoshino Resorts Tomamu Releases Original Craft Beers

Hokkaido-based luxury resort Hoshino Resorts Tomamu is set to sell a limited-time selection of original craft beers this summer from July 1 to August 31.

Tomamu Pilsner

Tomamu Amber Ale

Tomamu Black Ale

The Japanese word for corn is toumorokoshi, but in Hokkaido it's called toukibi. This collection of corn beers is made with natural water drawn from Hokkaido along with other tasty ingredients. These beers are each made in collaboration with North Island Beer, The Heavy Snow Beer, and Onuma Beer, and come in response to the decrease in occasions to be able to enjoy chilled glass of beer as a result of COVID-19.

The beers have sweet notes of corn and are each made in the style of the three respective beermakers who each have their own malt, hops, and flavours they pick.

Keio Plaza Hotel Announces Special Room Plan to Celebrate 50th Anniversary

Keio Plaza Hotel will turn 50-years-old on May 1, 2021. To celebrate its 50th anniversary, the hotel has announced a special room plan which will take place in its Imperial Suite Room, the only room in the hotel that still has the same design as when it first opened 50 years ago.

The Imperial Suite Room sits on the 41st floor of the hotel, offering a panoramic view of the east and west of Tokyo. This premium suite has been stayed in by countless VIPs and state guests. The concept for its design was conceived by Japanese modernist designer Isamu Kenmochi who is known as a pioneer of the 'Japanese-Modern' style.

Guest staying in the room for this plan will be greeted and serviced by a concierge. An optional tour of the hotel will also be offered by the concierge who is an expert in its history.

Before dinner, guests will be treated to a piano performance and enjoy some aperitifs made by the bartender. The bartender in question has won numerous awards at cocktail competitions and can make a drink catered to guests' preferences. 

Dinner is enjoyed with a front-row seat of Tokyo's nightscape from up on the 44th floor. The full course meal is made with seasonal ingredients chosen by the head chef and comes with wine selected by the hotel's sommelier. As a freebie, guests are given delicious baked confections as well as a bath towel embroidered with their own name.

Information

Hospitable Concerto Echoing from the Skyscraper – Hotel Plan

Japanese Plan Name: 摩天楼に響く、おもてなしの協奏曲(コンチェルト)

Running: March 1, 2021 – March 28, 2022 (Saturdays Only)

Where: Keio Plaza Hotel

Reservations: Must be made 3 weeks in advance

Price: ¥500,000 (Tax Included) for one room for two guests

Capacity: 2-4 (an extra ¥100,000 for 3+ people)

TEL: (03)-5322-8000

Keio Plaza Hotel Official Website: https://www.keioplaza.co.jp/corporate/

Snoopy Café Opens in Niigata in Collaboration With Hoshi Tabeyo Rice Crackers

Befco is collaborating its Hoshi Tabeyo star-shaped rice crackers with the lovable Peanuts comic strip to open a themed café at Hotel Nikko Niigata. Named the "Hoshi Tabeyo x Snoopy Café @ Hotel Nikko Niigata," the café will open for a limited time from April 9 to May 9."

Snoopy and fans of Japanese snacks can look forward to an original themed menu, with every food item and drink ordered getting them a free novelty. Of course, the café will sell its own original merchandise too. The café will be decorated in all things Peanuts and Hoshi Tabeyo, and there will even be two photo booths for snapping a commemorative photo of your fun day.

The Menu

1. Snoopy Beef Stew: With a juicy meat and bouillon base, this stew is made with beef, onion, and mushrooms, all topped off with a Snoopy made from rice.

2. Snoopy Hamburger Curry: Snoopy's rice ears are topped with a hamburger, and the curry sauce is made with fruit and vegetables. There's even a little Woodstock made from cheese.

3. Snoopy Hot Sandwich: There are two different sandwiches, one with ham and cheese and the other with potato salad, and both have a different toasted illustration on them. These come in a free lunch box.

4. Hoshi Tabeyo Shaka Shaka Caesar Salad: A salad served in a cup drizzled in a Caesar dressing and with Hoshi Tabeyo rice crackers instead of croutons.

5. Thick Soufflé Pancake: Fat and fluffy pancakes combined with French meringue and served with a Snoopy cookie and sweet-tasting Hoshi Tabeyo. Enjoy together with the accompanying strawberry sauce.

6. Chocolate Parfait: A towering, chocolate-packed parfait layered with chocolate sauce, chocolate cornflakes, chocolate ice cream, and brownie. This is all topped off with a Snoopy cookie and Hoshi Tabeyo rice cracker.

7. Hotel Original Cookies (Set of 4): Crunchy cookies with various prints of familiar faces like Snoopy and Woodstock.

8. Lemonade: A sweet and refreshing lemonade beverage served with honey.

*Dishes 1-3 come with the Shaka Shaka Caesar Salad

*Ordering anything from the menu gets you one of four possible Hoshi Tabeyo x Snoopy postcards

Merchandise

© 2021 Peanuts Worldwide LLC( 短縮形 © 2021 Peanuts )

Information

Hoshi Tabeyo x Snoopy Café @ Hotel Nikko Niigata

Running: April 9, 2021 – May 9, 2021

Location: Hotel Nikko Niigata Floor 31F

Address: 5-1 Bandaijima, Chuo Ward, Niigata

Opening Hours: 11:30-18:30 (Last Orders 17:30)

Official Website: https://www.hotelnikkoniigata.jp/sys/news/detail/323

Karuizawa's New Apple Farm Opens in Collaboration With Hoshino Resorts and Local Farmers

The Karuizawa-based hotel and hot spring complex Hoshino Onsen Tombo-no-yu joined hands with local apple farmers last year to help support apple cultivation for their apple hot springs. This is now being taken to the next level with the opening of Ringo Tsuchi, an apple farm that Tombo-no-yu staff helped to build. The farm opened on March 19, and locals will be able to visit part of the farm for free starting on April 26.

The project ties in with the global Sustainable Development Goals (SDGs) initiative, specifically the 12th goal: "Responsible Consumption and Production," which looks to ensure sustainable consumption and production patterns. Karuizawa is located in Nagano Prefecture which is ranked as the 2nd biggest producer of apples in Japan. When growing apples, those fruits which incur any kind of damage or grazing isn't shipped to the country's supermarkets or stores. It's these not-so-perfect apples that Tombo-no-yu uses for its apple hot spring experience. Though it may just be a small step towards that goes, it still goes a small incremental way towards achieving it.

Free entry to Ringo Tsuchi

The main raw materials at Ringo Tsuchi ("Apple Earth") are the apples used in the apple hot springs and fallen leaves from around the Hoshino area. In addition to compost and water, the materials are fermented, which adds the necessary nutrients to growing apples and creates soft and breathable soil. And since compost is added, it creates an environment where gardening tools can be used in the earth without any prior preparation.

The completion of Ringo Tsuchi

In the mid-October last year, work was carried out at Nomoto Kajuen Orchards in Mimakigahara Okubo, Nagano, to carefully select picked apples and not-so-perfect apples. These apples were used for the apple hot springs at Tombo-no-yu over a three day period from October 23 to 25. The apples are placed in both the male and female hot springs to float on the water.

After that three-day period, the apples were collected, washed, and cut to be used for compost. Since fermentation removes water content, the staff also had to add water twice a month to manage the compost.

Working with the locals

Katsuya Nomoto is a representative of Nomoto Kajuen Orchards, a farm that grows apples, prunes, and more. The farm takes advantage of the area's high altitude and takes pride in its work to cultivate produce that is healthy to the body and environment using soil microbes as an organic fertiliser. It's also officially recognised as a farm dedicated to supporting Nagano's environment, and carries out school trips for children to visit, creating ties with the local community.

Hoshino Resorts BANTA CAFE Announces Art Festival by the Beachside

The incredible Hoshino Resorts BANTA CAFE, a beachside cafe which offers guests a breathtaking ocean view along the Okinawan coast, has announced the upcoming Beachside Art Festival which will take place from April 10 to May 9. The festival will bring together artwork from a range of artists born and raised in Okinawa and leading the island's youth culture. There will be a range of events from live painting to workshops, exhibits, and more.

The participating artists have all taken part in personal art exhibits, art events, showcased their work at concerts, and more both inside and outside Japan, but due to COVID-19, many events have of course been cancelled. Beachside Art Festival will serve as a way to display their wonderful works while supporting them at the same time.

The Artist Line-Up

DENPA

nami

HAYATO MACHIDA

Chibana Yukinaga

MACHIDA visiting BANTA CAFE to check the feel of the ocean and their artwork

Vibrant artwork with the ocean as the backdrop

Visitors will be greeted by artwork dotted across various locations around BANTA CAFE. If they follow the top of the cliff down to the beach they will find sofas to sit on which have also been decorated with the artists' artwork. Then there's the Goro Goro Lounge with its enormous window that stretches an entire wall and offers a panoramic view of the sea. Here, visitors can look out at the artwork which will look like it's floating above the horizon. All drinks ordered also come with a free sticker featuring artwork by the four participating artists.

Experience art-in-the-making with live painting

DENPA and MACHIDA will host their own live painting sessions where they will take inspiration from the surrounding environment.


HAYATO MACHIDA @ April 10, 2021 / April 11, 2021

DENPA @ April 18, 2021

Times: 11:00-13:00 / 14:00-17:00

Where: In front of BANTA CAFE on the beach

Price: Free

Have a go at traditional Okinawan bingata dyeing

Visitors can have a go at making their very own coasters from nine different colours using a traditional Okinawan stencilled dyeing technique known as bingata.


Running: April 24, 2021 / May 1, 2021 / May 2, 2021 / May 5, 2021

Times: 10:00 / 12:00 / 14:00 / 16:00 (Each slot lasts approx. one hour)

Capacity: 4

Where: Iwaba Terrace

Price: ¥2,000 (Tax Included)

Note: Online booking required

Take home a souvenir at the beachside museum shop

A museum shop will be open for the event on weekends and holidays where you can pick up art prints, stickers, postcards, and other mementos.


Opening Days: Weekends & Public Holidays

Opening Hours: 10:00-18:00

Where: Beachside Terrace

Information

Hoshino Resorts BANTA CAFE – Beachside Art Festival

Running: April 10, 2021 – May 9, 2021

Where: Hoshino Resorts BANTA CAFE, Okinawa

Official Website: https://banta-cafe.com/en/

Japanese Milky Candy Themed Hotel Rooms Open in Collaboration With Hoshino Resorts

Hoshino Resorts has launched a hotel plan at its BEB hotel branches called "Milky Sweet Room Stay." The plan was devised in collaboration with Japanese confectionery brand Fujiya and their popular Milky soft candy. Guests will be able to stay in rooms decorated in all things Milky, an experience that is running from March 26 to June 30.

Milky Sweet Room

Look like Peko-chan, the Milky mascot, with the top and overall set

Find Peko-chan at Hoshino Resorts BEB5 Karuizawa

Make a Milky smoothie on a bicycle at Hoshino Resorts BEB5 Tsuchiura

Milky Sweet Room Stay opening campaign

Guests will be able to enjoy Milky like they never have before in all kinds of deliciously sweet ways. Rooms are adorned with Milky cushions, a doll of Peko-chan who is the face of Milky, Milky wallpaper and decorations, Milky bath products, and of course Milky candy.

At the Karuizawa branch of Hoshino Resorts BEB5, guests must locate Peko-chan in three locations around the area. Those who find all three will win all-you-can-eat French toast covered in Milky sauce. at the Tsuchiura branch, guests can get a set of ingredients to make their own smoothie by pedalling on a bicycle. It takes about 30 seconds for your Milky shake to be ready.

The iconic Milky packaging design is also being revamped in celebration of the brand's 70th anniversary. As part of the celebration, guests can expect t see a line-up of past designs along with some rare ones. Hoshino Resorts is also holding a campaign to promote the room where dix people can win a ¥50,000 voucher for Hoshino Resorts as well as a set of assorted Milky candy.