ONE OK ROCK Ask Fans to Create a Playlist of Their Dream Set List They Want to See Performed Live
ONE OK ROCK are set to release their new DVD and Blu-ray ONE OK ROCK "EYE OF THE STORM" JAPAN TOUR on October 28, 2020 features their entire Yokohama Arena set held in Japan last year as part of their nationwide arena tour.
The band launched a special website today (October 15) in promotion of the release where they also announced a playlist campaign and GIPHY campaign.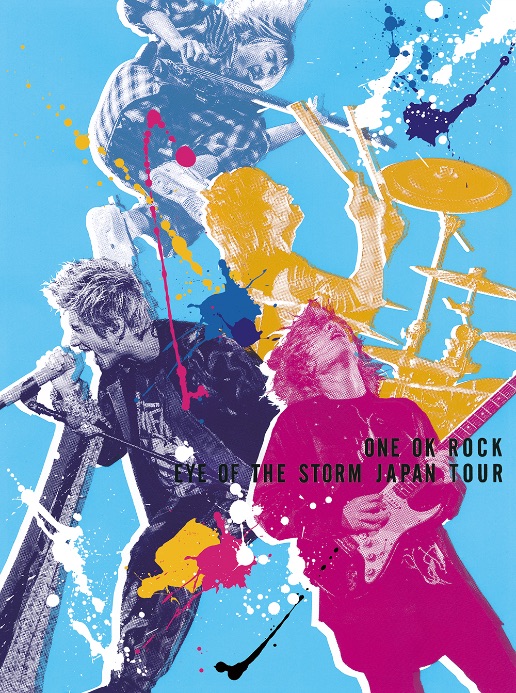 Playlist Campaign
For the playlist campaign, ONE OK ROCK are reaching out to fans to ask them to create the set list of their dreams—what songs they'd want to see ONE OK ROCK perform at a full live concert. Fans will create their playlists on Apple Music, Spotify, and LINE MUSIC and share a link to them on Twitter with the hashtag #oor_dream. One winner will be chosen for each of these three music streaming services for a total of three winners. Their playlist will be posted on the promotional site for the DVD and Blu-ray and they'll also receive a signed poster.
GIPHY Campaign
Fans can now get access to a selection of exclusive ONE OK ROCK gifs via the promotional site which can be used on social media. They are free for everyone to use.
ONE OK ROCK's "Eye of the Storm" tour originally kicked off on September 22, 2019. The show that will feature on the DVD and Blu-ray will be their one at Yokohama Arena which was held in January this year. The release will include a 100-page booklet along with photos, commentary, a live report, and more
Information
ONE OK ROCK "EYE OF THE STORM" JAPAN TOUR DVD/Blu-ray
Release Date: October 28, 2020
DVD: ¥6,050 (Tax Included) [AZBS-1059]
Blu-ray: ¥7,150 (Tax Included) [AZXS-1033]
Official Website: https://www.oneokrock.com/en/
RELATED ENTRIES
ONE OK ROCK Announce Winners Of Fan Song Playlist Campaign

ONE OK ROCK released their new DVD and Blu-ray ONE OK ROCK "EYE OF THE STORM" JAPAN TOUR on October 28, 2020 which features their entire Yokohama Arena set held in Japan last year as part of their nationwide arena tour.

To promote the release, the band asked fans to create a playlist of their dreams—what songs they'd want to see ONE OK ROCK perform at a full live concert. The winners were announced today via the campaign website.

Three fan playlists were selected for Spotify, Apple Music, and LINE MUSIC. The three winners will each receive a signed posted from the band.

Be sure to check out the three playlists on the campaign site.

ONE OK ROCK Release AR Filter On Instagram in Promotion Of 'EYE OF THE STORM DVD & Blu-ray

To promote the release of their live DVD and Blu-ray ONE OK ROCK "EYE OF THE STORM" JAPAN TOUR, ONE OK ROCK has released an AR filter for fans to use on their Instagram stories.

Available on mobile only, the AR filter features a CG rendition of Taka's face from their performance of Eye of the Storm during their 'Eye of the Storm' tour.

The live DVD and Blu-ray, which released in Japan on October 28, 2020, features ONE OK ROCK's performance at Yokohama Arena in January of this year as part of their 'Eye of the Storm tour.' The tour kicked off on September 22, 2019 in promotion of their Eye of the Storm. The release includes a 100-page photo book, commentary, live report, and more.

Be sure to check out ONE OK ROCK's GIPHY campaign too.

ONE OK ROCK Plays For 110,000 Fans Simultaneously During Live Stream

ONE OK ROCK held their first ever online live stream, ONE OK ROCK 2020 "Field of Wonder" at Stadium Live Streaming supported by au 5G LIVE, on October 11, 2020. The band performed at ZOZO Marine Stadium in Chiba.

The stream was originally to be archived temporarily until October 13 but it has been extended to October 15 at 11:59 (JST), so if you missed the stream there's still time to catch it before it's gone.

ONE OK ROCK also announced a DVD and Blu-ray release of their Japan arena tour from last year, ONE OK ROCK "EYE OF THE STORM" JAPAN TOUR, which will hit shelves in Japan on October 28, 2020.

The long tour originally kicked off on September 22, 2019. The show that will feature on the DVD and Blu-ray will be their one at Yokohama Arena which was held in January this year. The release will include a 100-page booklet along with photos, commentary, a live report, and more.

Information

ONE OK ROCK 2020 "Field of Wonder" at Stadium Live Streaming supported by au 5G LIVE
Archive: October 12, 2020 at 12:00 (JST) to October 15, 2020 at 11:59 (JST)
Watch Here: https://20201011.oneokrock.com

ONE OK ROCK "EYE OF THE STORM" JAPAN TOUR DVD/Blu-ray
Release Date: October 28, 2020
DVD: ¥6,050 (Tax Included) [AZBS-1059]
Blu-ray: ¥7,150 (Tax Included) [AZXS-1033]
Official Website: https://www.oneokrock.com/en/

ONE OK ROCK To Release "EYE OF THE STORM" JAPAN TOUR Video

08.September.2020 | MUSIC

ONE OK ROCK is set to release the video of the ONE OK ROCK "EYE OF THE STORM" JAPAN TOUR on October 28, 2020. The tour celebrated the release of their album Eye of the Storm and kicked off on September 22, 2019.

Alongside the DVD, which includes the performance at Yokohama Arena in January 2020, fans can enjoy a booklet of over 100 pages containing illustrations of the band members, commentaries, reports from the live performance and much more exciting contents. 

For the first time in their career, ONE OK ROCK will be performing live online. The ONE OK ROCK 2020 "Field of Wonder" at Stadium Live Streaming will take place on October 11, 2020 at ZOZO Marine Stadium without a live audience. The stream will go live worldwide simultaneously, providing a whole new experience for fans.

From the wild excitement of a national arena tour to an online stadium live performance without an audience, ONE OK ROCK has so much exciting contents for you to check out.

Information

LIVE DVD&Blu-ray
ONE OK ROCK "EYE OF THE STORM" JAPAN TOUR
Release Date: October 28, 2020

Product code: (DVD) AZBS-1059/  (Blu-ray) AZXS-1033
価格 : (DVD) ¥6,050 (After Tax)/ (Blu-ray) ¥7,150 (After Tax)

ONE OK ROCK 2020 "Field of Wonder" at Stadium Live Streaming
Date: October 11, 2020

Stream Start: 17:00 / Performance Start: 18:00 (JST)

ONE OK ROCK Official Live Streaming Website: https://20201011.oneokrock.com

Official Website: http://www.oneokrock.com/jp/

ONE OK ROCK Announce Worldwide Live Stream 'Field of Wonder' for October 11

ONE OK ROCK have announced their first ever online concert, ONE OK ROCK 2020 "Field of Wonder" at Stadium Live Streaming, which will be streamed worldwide on October 11, 2020.

The band will perform from an audience-less venue – ZOZO Marine Stadium in Chiba. Tickets are now available for both Japanese and international fans via the stream's official website.

Kyary Pamyu Pamyu, ONE OK ROCK & Other Japanese Artists to Watch Live On YouTube During the Lockdown

With the world on lockdown as a result of the COVID-19 pandemic outbreak, everybody is cooped up indoors and spending time at home. If you're looking for something new to watch or listen to, then we've got you covered. MOSHI MOSHI NIPPON has compiled a list of 11 Japanese artists who have or are planning to post live footage of their full concerts and performances on YouTube.

The future looks uncertain as it is right now, so in the meantime let's find time to do the things we enjoy and stay positive as we get through this together.

ONE OK ROCK

ONE OK ROCK are set to premiere 6 of their past concerts on YouTube from 2014-2018. They will be the full performances with no cuts and will not be archived, so mark your calendars and be sure to tune in when they drop.

Full Details: https://www.moshimoshi-nippon.jp/313887

ONE OK ROCK's YouTube Channel: https://www.youtube.com/user/ONEOKROCKchannel

ARASHI

ARASHI has posted a full concert taken from his "untitled" tour which ran from November 2017 to January 2018. "Untitled" is the theme of the tour which looked towards ARASHI of the future. The stage set up and incredible performance are absolute must-sees.

ARASHI's Youtube Channel: https://www.youtube.com/channel/UCP7Gw_YZAuh4Yg2fcdcuumQ/

Kyary Pamyu Pamyu

Kyary Pamyu Pamyu is in the middle of posting 100 videos of her live performances which will be available to watch for a limited time between April 14 to May 17 this year. The videos are being released as a part of the at-home entertainment #ouchiasobi ("Play At Home") project launched by ASOBISYSTEM, the agency that Kyary is signed to. Now you can have fun too with Kyary by bringing her concerts into your home.

Full Details: https://www.moshimoshi-nippon.jp/313974

Kyary Pamyu Pamyu's Youtube Channel: https://www.youtube.com/kyarypamyupamyutv

AAA

AAA's performance at Saitama Super Arena was a highlight of their 2013 tourーa tour which took them to see 150,000 fans across Japan. The full show is now available to watch on YouTube until April 30, 2020 at 23:59 (JST), so be sure to check it out.

avex's Youtube Channel: https://www.youtube.com/user/avexnetwork/

RADWIMPS

RADWIMPS have posted some content from their recently-released live DVD and Blu-ray ANTI ANTI GENERATION TOUR 2019 onto their YouTube channel. Feel part of the crowd with the following thrilling performance.

Full Details: https://www.moshimoshi-nippon.jp/290378

RADWIMPS's Youtube Channel: https://www.youtube.com/user/radwimpsstaff/

Taichi Mukai

Taichi Mukai recently posted a video of his performance of his popular song Reset. The song was written as the first ending theme for the anime series Run with the Wind.

Taichi Mukai's Youtube Channel: https://www.youtube.com/user/0313taichi/

Official HIGE DANdism

Official HIGE DANdism's performance of I LOVE… at Pacifico Yokohama, which was held on February 10, 2020 as part of their "Travelers" tour, is available to listen to on Apple Music. This is another one that makes you feel part of the experience.

Apple Music "I LOVE…" Pacifico Yokohama (2020.02.10)

TK from Ling Tosite Sigure

TK posted a video on his YouTube channel of footage taken from his live performance at Landmark Studio in Yokohama. His live band line-up includes the familiar faces BOBO (Drums) and Sato Honoka (Violin) as well as Yoshida Ichiro Untouchable World (Bass) who was a support member for TK last year, Hiroko Sebu (Piano) who provided her piano playing on TK's single katharsis from last year, and Masao Watanabe (Cello).

Full Details: https://www.moshimoshi-nippon.jp/178674

Ling Tosite Sigure's YouTube Channel: https://www.youtube.com/user/sigureSMEJ/

amazarashi

amazarashi dropped a trailer last year for his live DVD and Blu-ray release Mirai ni Narenakatta Subete no Yoru ni. His self-cover of Long Hope Philiaーthe theme song of the anime film My Hero Academia: Two Heroes and fifth ending theme of the My Hero Academia anime seriesーis a must-see!

Full Details: https://www.moshimoshi-nippon.jp/270910

amazarashi's Youtube Channel: https://www.youtube.com/user/amazarashiSMEJ/

Suchmos

A live performance of Suchmos's hugely popular Mint. It features footage backstage from the band's tours across three years.

Full Details: https://www.moshimoshi-nippon.jp/207422

Suchmos's Youtube Channel: https://www.youtube.com/channel/UCQ3U5YJLWUr3VmQsO48jcQg/

Superfly

Here's a live music video of Superfly's song Kakusei, the theme for the anime movie Promare. The video uses live footage taken from Superfly's arena tour which incorporates gorgeous CG imagery.

Full Details: https://www.moshimoshi-nippon.jp/288707

Superfly's YouTube Channel:  https://www.youtube.com/user/superfly/

ONE OK ROCK Announces the Posting Of 6 Live Concerts On YouTube

ONE OK ROCK have announced that they are set to premiere 6 of their past concerts on YouTube from 2014-2018. They will be the full performances with no cuts and will be released across a period of under two months.

1: ONE OK ROCK 2014 "Mighty Long Fall at Yokohama Stadium"

Premiering: April 17, 2020 @ 23:00 (JST), AM 10:00 (EDT), AM 7:00 (PDT), PM 3:00 (BST)

2: ONE OK ROCK with Orchestra Japan Tour 2018

Premiering: April 25, 2020 @ 23:00 (JST), AM 10:00 (EDT), AM 7:00 (PDT), PM 3:00 (BST)

3: ONE OK ROCK 2015 "35xxxv" JAPAN TOUR

Premiering: April 29, 2020 @ 23:00 (JST), AM 10:00 (EDT), AM 7:00 (PDT), PM 3:00 (BST)

4: ONE OK ROCK 2017 "Ambitions" JAPAN TOUR

Premiering: May 17, 2020 @ 23:00 (JST), AM 10:00 (EDT), AM 7:00 (PDT), PM 3:00 (BST)

5: ONE OK ROCK 2016 SPECIAL LIVE IN NAGISAEN

Premiering: May 23, 2020 @ 23:00 (JST), AM 10:00 (EDT), AM 7:00 (PDT), PM 3:00 (BST)

6: ONE OK ROCK 2018 AMBITIONS JAPAN DOME TOUR

Premiering: May 31, 2020 @ 23:00 (JST), AM 10:00 (EDT), AM 7:00 (PDT), PM 3:00 (BST)

Note that the videos will not be archived, so mark your calendars and be sure to tune in when they drop.

ONE OK ROCK to Perform Rurouni Kenshin 'Final Chapter' Live-Action Film Theme Songs, New Visual Released

The 'Final Chapter' film adaptations of Nobuhiro Watsuki's popular manga series Rurouni Kenshin, titled Rurouni Kenshin: The Final and Rurouni Kenshin: The Beginning, will premiere in Japan on July 3, 2020 and August 7, 2020 respectively.

The original Rurouni Kenshin manga, along with its anime adaptation, is an internationally beloved series the world over that has made it to over 100 countries worldwide, including North America, UK, Europe Hong Kong, South Korea, and elsewhere. It is one of the best-selling manga series, with over 72 million copies in circulation. To date, live-action film adaptations as a whole have earned over ¥12.5 billion, and have been seen by 9.8 million people in cinemas.

The Rurouni Kenshin live-action film series will conclude with The Final and The Beginning. Kenshin will once again gather together with his fellow members of the Kamiya Dōjō to face Kenshin's greatest enemy.

The new visual released for the films reveal that Yūsuke Iseya will reprise his role as Shinomori Aoshi, as will Tao Tsuchiya as Makimachi Misao. When asked about returning to the film series after 6 years, Yūsuke Iseya (Shinomori Aoshi) said: "I was over the moon about it as the previous two films were really popular. It was my first time appearing in a film series so being involved has given me a wholly new experience." He also commented on the film shoot itself: "The characters in the manga don't age, but I do, and my 30's mentality and 40's mentality have been completely different <laughs>." When asked about what he feels he accomplished during the shoot, Iseya said: "I'm always 120% grateful for the things I've been given the chance to do. The action team, including the directors [Keishi] Ohtomo and [Kenji] Tanigaki, really encourage the actors. They've given me a place where I can be at my most confident when I act. Thanks to them, I've had no worries, and was able to take the character's meaning and principles to heart. I feel blessed to be an actor. I feel at ease that we've been able to safely finish the shoot."

Tao Tsuchiya (Makimachi Misao) was asked about filming the action scenes: "It was difficult, and a lot of hard work, but even in the action scenes I made sure to portray her as having taken responsibilities on since the last film too. I think we've bumped up the action even more to the previous films." She also commented on this continuation of the film series: "My dream has come true getting the opportunity to be involved in something like this, where everyone in the staff and cast are putting all their strength in […] I'm over the moon that I was born in a time where this series can be made into a live-action."

ONE OK ROCK will return to perform the main theme songs for the final films. They have provided powerful tracks for each film in the live-action series so far. This has included the first film main theme The Beginning, which tells the story of the beginning of Kenshin Himura's journey, not an assassin but a lone wolf; Mighty Long Fall , a song about despair, hope, and comeback which was used in the Rurouni Kenshin: Kyoto Inferno film; and Heartache, a ballad that was used in Rurouni Kenshin: The Legend Ends.

Information

Rurouni Kenshin Saishūshō The Final

Release Date: July 3, 2020

Rurouni Kenshin Saishūshō The Beginning

Release Date: August 7, 2020

Official Website: http://rurouni-kenshin.jp

ONE OK ROCK World Tour Documentary to Cover North America & Europe Shows

ONE OK ROCK are knee-deep in the Japan leg of their ongoing world tour which is being held in promotion of their latest record Eye of the Storm. As they continue smashing out shows, it has just been announced that the North America and Europe legs of the tour will be covered in an upcoming documentary on NHK in Japan.

The band performed in North America back in February and March, followed by Europe in May and US & Mexico in July. The band members and staff have been sleeping aboard their tour bus while travelling from city to city. Since 2012, the band has endeavored to perform live around the world. The documentary will be their first ever and an exclusive look for fans into their tour life.

The members released the following statement regarding the documentary: "Our documentary will be broadcast [on TV] and will cover the overseas legs of our Eye of the Storm tour, including North America and Europe, which began in February this year! If you watch this program, even if not everything, you might learn a little bit about our lives as ONE OK ROCK, so please be sure to check it out!"

ONE OK ROCK's Eye Of The Storm Japan Tour Opens in Niigata

24.September.2019 | MUSIC

O

NE OK ROCK opened the Japan leg of their 2019-2020 'Eye Of The Storm' tour at TOKI MESSE: Niigata Convention Center on September 22.

The tour is being held in promotion of their new album Eye of the Storm which hit shelves back in February. It began back in May where they performed in Europe, followed by US & Mexico in July, and North America this month. The Japan leg consists of 34 shows across 14 cities throughout the country.

When the band stepped on stage at TOKI MESSE on Sunday, they were welcomed with huge roars and applause from the audience. The set list focused on songs from the new album, replacing older hits with brand new ones. The opening night was a roaring success for the band, and one of many to come as they make their way around their home country.

The band released DVDs and Blu-rays of their "ONE OK ROCK 2018 AMBITIONS JAPAN DOME TOUR" and "ONE OK ROCK with Orchestra Japan Tour 2018" last month. The former features their 4-date Japan dome tour held last year to 300,000 fans and the latter their orchestra tour held at Saitama Super Arena and Osaka-jo Hall in October last year where the band were joined by an orchestra of 53 people.

Information

ONE OK ROCK 

2019-

2020 EYE OF THE STORM JAPAN TOUR

2019 Dates:

2019/9/22 @ 

TOKI MESSE: Niigata Convention Center, Niigata

2019/9/23 @ 

TOKI MESSE: Niigata Convention Center, Niigata

2019/10/1 @ Osaka-jo Hall, Osaka

2019/10/2 @ Osaka-jo Hall, Osaka

2019/1

0/5 @ Sekisui Heim Super Arena, Miyagi

2019/1

0/6 @ Sekisui Heim Super Arena, Miyagi

2019/1

0/12 @ Makomanai Sekisui Heim Ice Arena, Hokkaido

2019/1

0/13 @ Makomanai Sekisui Heim Ice Arena, Hokkaido

2019/10/19 @ Saitama Super Arena, Saitama

2019/10/20 @ Saitama Super Arena, Saitama

2019/1

0/30 @ Hiroshima Green Arena, Hiroshima

2019/1

0/31 @ Hiroshima Green Arena, Hiroshima

2019/1

1/6 @ Yokohama Arena, Kanagawa

2019/1

1/7 @ Yokohama Arena, Kanagawa

2019/11/12 @ Portmesse Nagoya, Aichi

2019/11/13 @ Portmesse Nagoya, Aichi

2019/1

1/20 @ Ehime Prefecture Budokan, Ehime

2019/1

1/21 @ Ehime Prefecture Budokan, Ehime

2019/1

1/27 @ Marine Messe Fukuoka, Fukuoka

2019/1

1/28 @ Marine Messe Fukuoka, Fukuoka

2019/1

2/4 @ Shizuoka Ecopa Arena, Shizuoka

2019/1

2/5 @ Shizuoka Ecopa Arena, Shizuoka

2019/1

2/10 @ Osaka-jo Hall, Osaka

2019/1

2/11 @ Osaka-jo Hall, Osaka

2019/1

2/19 @ Mie Prefectural Sun Arena, Mie

2019/1

2/20 @ Mie Prefectural Sun Arena, Mie

2019/12/28 @ Okinawa Convention Center, Okinawa

2019/12/29 @ Okinawa Convention Center, Okinawa

2020 Dates:

2020/1

/9 @ Yokohama Arena, Kanagawa

2020/1

/10 @ Yokohama Arena, Kanagawa

2019/1

/15 @ Marine Messe Fukuoka, Fukuoka

2019/1

/16 @ Marine Messe Fukuoka, Fukuoka

2020/1/29 @ Yoyogi National Gymnasium

2020/1/30 @ Yoyogi National Gymnasium

LIVE DVD & Blu-ray: ONE OK ROCK 2018 AMBITIONS JAPAN DOME TOUR

Release Date: August 21, 2019
Stock No.: [DVD] AZBS-1051  / [Blu-ray] AZXS-1028

Price: [DVD] ¥5,500 (Before Tax) / [Blu-ray] ¥6,500 (Before Tax)

LIVE DVD & Blu-ray: ONE OK ROCK with Orchestra Japan Tour 2018

Release Date: August 21, 2019

Stock No.: [DVD] AZBS-1053 / [Blu-ray] AZXS-1029

Price: [DVD] ¥5,500 (Before Tax) / [Blu-ray] ¥6,500 (Before Tax)

ONE OK ROCK's 'Head High' Features as Theme Song in Honda Commercial

10.September.2019 | MUSIC

The fourth video in Honda's ongoing "Go, Vantage Point" television commercial series began airing today. The new video features ONE OK ROCK's song Head High taken from their album Eye of the Storm as well as narration from ONE OK ROCK frontman Taka. The band also featured in the series' first video two years ago.

The commercial series showcases Honda's power products while aiming to stir viewers' curiosity and fill them with motivation.

The commercial made it onto the YouTube Ads Leaderboard in Japan, a list of the ads with the most views.

Information

Power Products x ONE OK ROCK – "Go, Vantage Point." (60 Sec. Version)

Initial Broadcast: September 10, 2019

TVCM Song: Head High (From Eye of the Storm album)

Official Website: https://www.honda.co.jp/GVP/

ONE OK ROCK to Stream Two Full Live Concerts Worldwide on YouTube Premieres

ONE OK ROCK revealed that they will be streaming the live videos of two earth-shattering live performances they delivered last year. Both live concert videos will be uploaded in full onto their official YouTube channel and accessible only via YouTube Premieres. 

The two videos to be streamed are the AMBITIONS JAPAN DOME TOUR 2018 finale and the special live concert called ONE OK ROCK with ORCHESTRA JAPAN TOUR 2018 which was supported by a live 53-piece live orchestra. 

This streaming event stretches over two days and is a fantastic way to commemorate the sale of the videos, which were released in Blu-Ray and DVD format on August 21. The livestream for each video will run for one day only. This event aims to connect ONE OK ROCK fans across the world, allowing fans to share their excitement in real time. If you are a fan, you definitely cannot miss out on this opportunity. 

Tune in on Saturday to witness the full AMBITIONS JAPAN DOME TOUR 2018 live concert finale which saw the end of the AMBITIONS WORLD TOUR, in which they played at over 100 concerts worldwide.

If you tune in on Sunday, you will be treated to the special ONE OK ROCK live concert called ONE OK ROCK with ORCHESTRA JAPAN TOUR 2018, which was supported by a 53 piece live orchestra. As this video will only be available on Sunday, this is a once in a lifetime chance that fans around the world just cannot miss out on. 

Streaming Dates and Times:

①   ONE OK ROCK 2018 AMBITIONS JAPAN DOME TOUR

Saturday, August 24 from 22:00 (JST) 

9:00 (EDT),  6:00 (PDT), 14:00 (BST)

URL: https://youtu.be/vNtvtWCNw3E

 

②   ONE OK ROCK with Orchestra Japan Tour 2018

Sunday, August 25 22:00 (JST)

9:00 (EDT), 6:00 (PDT), 14:00 (BST)

Information

ONE OK ROCK 2018 AMBITIONS JAPAN DOME TOUR LIVE DVD & Blu-ray

Release: August 21, 2019 

■ Product Identification Numbers

DVD: AZBS-1051 

Blu-ray: AZXS-1028

■ Prices

DVD: ¥5,500(before tax) 

Blu-ray: ¥6,500(before tax)

ONE OK ROCK with Orchestra Japan Tour 2018 LIVE DVD & Blu-ray 

Release: August 21, 2019 

■ Product Identification Numbers

DVD: AZBS-1053 

Blu-ray: AZXS-1029

■ Prices

DVD: ¥5,500 (before tax)  

Blu-ray: ¥6,500 (before tax)

ONE OK ROCK Official Website: http://www.oneokrock.com/jp/