Demon Slayer Merchandise Collaboration With Onigawara Demon Decorative Tile Makers Announced
Sanshu Onigawara Kogeihen, a traditional crafts company in Takahama, Aichi, which is known for making 'onigawara'—a type of decorative tile in Japan (kawara) traditionally bearing the face of a demon—has announced a collaboration with the hit TV anime series Demon Slayer: Kimetsu no Yaiba which will begin in the city of Takahama on October 30, 2020.
The tiles are made by artisans called Onishi and are used for warding away evil spirits and evil in general. For the collaboration, Demon Slayer fans can get their hands on a selection of original kawara tiles, get involved in an Onishi workshop, and more.
Original Kawara Merchandise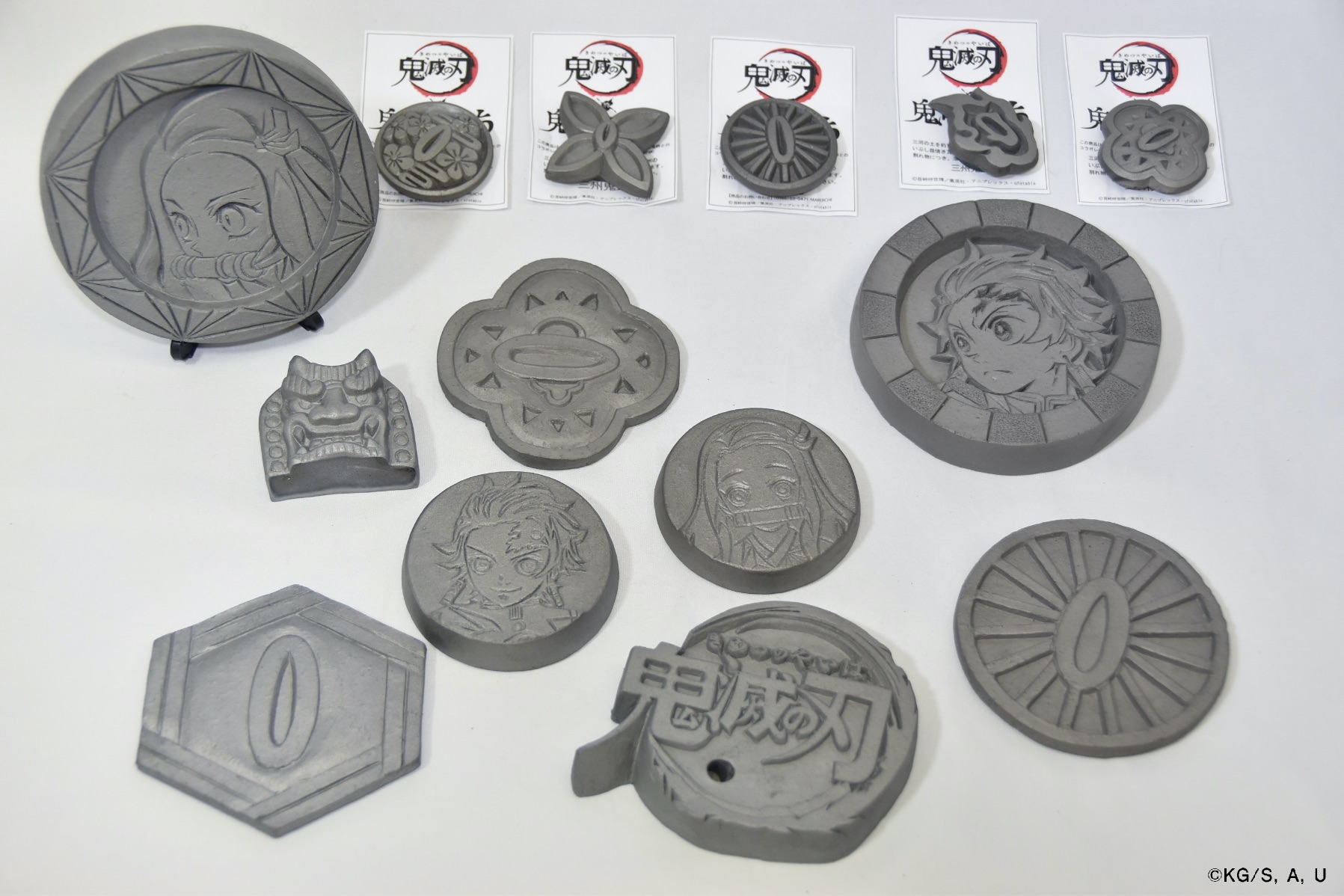 Demon Slayer x Kawara
Crafted by a real Onishi, the kawara line-up includes paperweights, magnets, card stands, and other items all with Demon Slayer designs. They can be purchased at the ONI-House tourist information centre, Takahamashi Yakimononosatokawara Museum shop, Sanshu Onigawara Kogeihen's online shop, and elsewhere.
Onishi Workshop (Reservations Required)
A special workshop will be held by a real Onishi where people can learn to make their own paperweights featuring characters from Demon Slayer. All participants will also receive a free original pin badge and folder. Bookings for December workshops will open at the end of this month (October) and January workshop bookings open in November.

Other Merchandise
A monument to the 14 Taishi from the Demon Slayer: Kimetsu no Yaiba series will be put up in front of Takahama City Hall for a limited time. A selection of exclusive merchandise will also be sold at the city's tourist information centre and museum shop too.
There is lots planned for this collaboration which is set to run until January 29, 2021. More details can be found on Takahama City's official website.
©Koyoharu Gotouge/Shueisha・Aniplex・ufotable
Information
Onishi x Demon Slayer: Kimetsu no Yaiba Collaboration
Running: October 30, 2020 – January 29, 2021
Location: Takahama, Aichi
Takahama City Official Website: https://www.city.takahama.lg.jp/
*Event subject to cancellation or postponement depending on the situation of COVID-19
RELATED ENTRIES
Ghibli Park Gives First Look at Ghibli's Grand Warehouse Ahead of November Opening Date

Ghibli Park Phase 1 will open to the public on November 1 in Nagakute City, Aichi Prefecture at Moricoro Park within the Expo 2005 Aichi Commemorative Park. Ahead of the exciting day, fans are getting their first glimpse at the Ghibli's Grand Warehouse area!

For those looking to immerse themselves in the world of Ghibli, look no further. Phase 1 will see the opening of a theater, a shop, a cafe, and three unique exhibits. 

Cinema Orion

The theater will screen ten short films that were previously only available to watch at the Ghibli Museum in Mitaka, Tokyo. 

Trio of Special Exhibitions

The Famous Scenes Exhibition will invite guests to pretend to be a character in their favorite Ghibli films, stepping directly into recreated scenes. In addition, due to how often fans claim that food in Ghibli films looks exceptionally tasty, a special exhibition from the Ghibli Museum is also coming to Ghibli Park featuring these delectable-looking treats. 

The on-site store and cafe will also be selling original products only available at the park. A new trailer has been released for the park as well, showing what fans can look forward to in November. Tickets for Ghibli Park will go on sale on the 10th of each month and are reservation-only, with a date and time assigned for each area. Lottery sales for December admission will run from September 10 until September 21 at 23:59.

© Studio Ghibli

Information

Ghibli Park

Phase 1 Opening: November 1, 2022

Address: Expo 2005 Aichi Commemorative Park (1533 Ibaragabasama, Nagakute, Aichi)

Official Website: https://ghibli-park.jp/

Kyary Pamyu Pamyu Collaborates with Famed Nagoya Tea Shop Myokoen

Kyary Pamyu Pamyu inspired music lovers around the world in April when she performed at Coachella, one of the largest music festivals on Earth. The second half of the singer's 10th anniversary nationwide tour 31-show has begun, gaining even more momentum following the announcement of a solo concert at Nippon Budokan in October. In conjunction with the nationwide tour, the LOCAL POWER JAPAN Project was launched to energize Japan through the appeal of regional towns and cities. As with past concert locations, a new collaboration has been announced ahead of Kyary's June 19 performance in Aichi Prefecture. 

Since its opening in 1916, Myokoen has been providing high-quality tea leaves to tea lovers around Japan. The store is known for its hojicha, or roasted green tea, which is made by roasting the leaves over a gentle flame. With a particular focus on aroma, taste, and color, this secret blend of tea leaves is selected by tea masters from all over the country. 

Kyary's collaboration with Myokoen draws inspiration from the singer's 6th single Invader Invader (2013), in which a fashionable alien played by Kyary seeks to take over the world. The tea shop's logo has been transformed with a bit of pop flare.

Myokoen (Aichi Prefecture) x LOCAL POWER JAPAN Project 'Invader Hojicha': ¥1,200 (Tax Included)


The special product released for the new collaboration is the Myokoen and LOCAL POWER JAPAN Project Invader Hojicha. The recipe for the tea has remained unchanged for over six decades and this blend focuses on the golden color of fresh green tea after it has been roasted. This release features new packaging, and those interested can purchase a package at all Myokoen shops and on the company's online store. Limited quantities will also be sold at the Aichi Prefectural Art Theater's Main Hall starting at 2:00 on June 19, 2022.

Myokoen (Aichi Prefecture) x LOCAL POWER JAPAN Project T-shirt: ¥3,300 (Tax Included)

A collaborative T-shirt is also on sale featuring the new logo and the singer's 10th-anniversary logo. The shirt is available on the LOCAL POWER JAPAN Project website for two weeks only!

Information

Myokoen (Aichi Prefecture) x LOCAL POWER JAPAN Project 'Invader Hojicha'

Running: June 13 – July 31, 2022 *While supplies last. 

Where to Buy: Myokoen Stores, Myokoen Online Shop

Online Shop: https://www.myokoen-shop.com

Myokoen (Aichi Prefecture) x LOCAL POWER JAPAN Project T-Shirt
LOCAL POWER JAPAN Project Online Shop:
https://store-localpowerjapan.com/

Kyoto Sweets Shop Otabe Rereleases Demon Slayer: Kimetsu no Yaiba Snacks with New Designs

Otabe, one of the most popular sweets souvenir shops in Kyoto, Otabe, is known for its delicious matcha and mini-desserts. Starting May 12, the company has released nine uniquely packaged sweets inspired by Demon Slayer: Kimetsu no Yaiba. The limited-edition packaging will feature popular characters from the series. Previously, the company released matcha cakes for the crossover–this time, fans can enjoy choco-an flavor!

Demon Slayer: Kimetsu no Yaiba Choco-an

Demon Slayer: Kimetsu no Yaiba Matcha

Demon Slayer: Kimetsu no Yaiba Otabe (with Original Sticker)

Original Sticker: 15 varieties, 1 given at random

Focusing on the hashira from the series, fans will want to be on the lookout for their favorite character. These sweets can be bought at select stations in the Kyoto and Osaka area, major Kyoto tourist attractions, and online. In addition, matcha flavored treats will also be on sale featuring Tanjiro Kamado, Nezuko Kamado, Zenitsu Agatsuma, Hashibira Inosuke, Kagaya Ubuyashiki, and Muzan Kibutsuji.



©吾峠呼世晴/集英社・アニプレックス・ufotable

Information

Demon Slayer: Kimetsu no Yaiba Choco-an
Release Date: May 12, 2022
Price: ¥432 (Tax Included)
Where to Buy: Train station in Kyoto & Osaka area, Major Kyoto tourist attractions, online.
Details: http://www.otabe.kyoto.jp/kimetsunoyaiba/

Extensive Demon Slayer: Kimetsu no Yaiba Exhibition to Open at Sapporo Factory in Hokkaido

An exhibition focusing on the Mugen Train and Entertainment District Arcs of Demon Slayer: Kimetsu no Yaiba will open at Sapporo Factory in Hokkaido from July 15 until August 7, 2022.

Fans of the series won't want to miss this huge showing of Demon Slayer materials, including a video exhibit showing off some of the best fight scenes from the film and anime series on a massive screen. 

Stay tuned for more details!

©吾峠呼世晴/集英社・アニプレックス・ufotable

Information

Demon Slayer: Kimetsu no Yaiba – Mugen Train Arc / Entertainment District Arc

Running: July 15 – August 7, 2022

Hours: 10:00-19:30 *Closing at 17:00 on August 7
*Admission permitted until one hour before closing time.

Venue: Sapporo Factory 3-jo 3F 

Official Site: http://www.stv.jp/

Lotte Unveils New Gum and 35 Unique Demon Slayer: Kimetsu no Yaiba Wrappers

Lotte has released a new lemon gum flavor in collaboration with the popular series Demon Slayer: Kimetsu no Yaiba! With 35 distinct packages and gum wrappers decorated with famous scenes and quotes, fans can have a blast searching for their favorites. 

A limited-time campaign is also underway until March 5, 2023. Fans can enjoy collecting special point coupons printed on each label for a chance to win some spectacular prizes!

Demon Slayer: Kimetsu no Yaiba / Lemon

特典Demon Slayer: Kimetsu no Yaiba Gum Campaign

10 Points (50 winners selected by lottery)

Kaiyodo Special Original Figure <Sepia Color Ver.> *Set of 2

5 Points (1,000 winners selected by lottery)
Original Toy Car

3 Points (1,000 winners)
Original Sticker with New Illustration by ufotable *2 piece set

*Along with a special point coupon used to enter into the campaign, there are 36 package varieties.
*Point coupons are not included with every purchase.

How would you like to win one of these impressive prizes?

©吾峠呼世晴/集英社・アニプレックス・ufotable

NAKED to Hold Nighttime Cherry Blossom Event at Toyokawa Inari in Aichi Prefecture

Toyokawa Inari in Aichi Prefecture will be taken over by NAKED projection mapping and events with a spring theme from March 22 until April 3, 2022. 

NAKED Tsukubai – Spring Ver.

NAKED Distanced Lanterns – Spring Ver.

Projection-Mapping 'Sakura Pilgrimage' *Spring Exclusive

'Sando Illumination – Rim of Light' Spring Ver.

NAKED Flower Fortune Telling – Spring Ver.

The Tokyokawa Inari x NAKED YORU MO-DE is being transformed as spring approaches, and popular NAKED attractions are being reimagined with cherry blossoms in mind. The popular NAKED Tsukubai, in which guests have their hands purified with art, will show cherry blossoms blooming. The NAKED Distanced Lanterns, made to encourage social distancing, will also feature a sakura theme.





Visitors can also participate in Flower Fortune Telling, which has been very popular across social media. Why not come see the temple illuminated with cherry blossoms?

Nijigen no Mori Amusement Park to Begin Demon Slayer Collaboration in April

Nijigen no Mori, an amusement park located on Awaji Island in Hyogo, is teaming up with the popular anime and manga series Demon Slayer from April 9 until September 30, 2022! The event will feature unique events during the day and at night.

At night, guests can enjoy the Natagumo Mountain Night Walk, where they become members of the Kakushi and participate in a battle to the death between the characters Tanjiro Kamado and Rui. Participants will go on to experience the world of Demon Slayer on a 1.2 km long walk through the night forest, brought to life by a projection mapping spectacle showing Tanjiro and friends and their battle against the demons.



In the daytime installation, participants will go on a riddle-solving quest in an area with original character panels illustrated by ufotable. Participants will have the chance to explore the park and undertake a mission to find Tanjiro and friends. The attraction will feature limited-edition Nijigen no Mori original merchandise, as well as original food based on characters from the manga, such as Tanjiro Kamado and Kyojuro Rengoku.

Mobile RPG Monster Strike Reveals Second Collaboration with Demon Slayer

The popular smartphone RPG Monster Strike is teaming up with the anime and manga series Demon Slayer: Kimetsu no Yaiba for a second collaboration starting March 15, 2022!

New Characters Available via Gacha

Characters Available through Fusion or Evolution

Collaboration Starter Pack

Exchange Exclusive Collaboration Characters 

Collaboration Quest Characters (Selection)

During this second collaboration, players can snag big-name Hashira like Kyujuro Rengoku and Tengen Uzui, as well as other popular characters like Nezuko Kamado, Kanao Tsuyuri, and the siblings Sabito and Makomo.





The characters will be available via gacha, as will Tanjiro, Giyu Tomioka, and Shinobu Kocho from the first collaboration. Some characters will be obtainable through a series of collaboration quests, including Akaza and Enmu from the Mugen Train Arc. 

©吾峠呼世晴/集英社・アニプレックス・ufotable ©XFLAG

Hotel New Otani Tokyo Restaurant to Offer Demon Slayer Menu Throughout March

Tower Restaurant, located on the 40th floor of Hotel New Otani Tokyo, is offering a collaboration menu inspired by the anime and manga series Demon Slayer for the entire month of March. The space will also be decorated with Demon Slayer character cutouts perfect for taking photos with!

Limited March Menu

Breadsticks inspired by Inosuke's sword

Zenitsu's Smoked Eel Tapas

Kyojuro Rengoku's Tom Yum Soup

Collaboration Non-Alcoholic Cocktails

Kyojuro Rengoku

Tengen Uzui

8 Character-inspired Non-alcoholic Cocktails

Cocktail Order Bonus: Collaboration Coaster

Restaurant Guest Bonus: Lunch Mat

Along with this spectacular anime-inspired menu, the restaurant also offers a number of other normal dishes from beef stew to strawberry desserts. 

(C)吾峠呼世晴/集英社・アニプレックス・ufotable

Information

No Demons Allowed Restaurant

Menu available until March 31, 2022

Location:
Hotel New Otani (Tokyo)
Tower Restaurant (Garden Tower, 40F)


Reservations/Details: https://www.newotani.co.jp/tokyo/kimetsu/

Projection-Mapping Event at Okazaki Castle in Aichi Prefecture Captured on Video

Okazaki Castle in Aichi Prefecture is one of the most beloved historical spots in Japan. The fourth-largest castle in the country and the birthplace of Tokugawa Ieyasu, the spot was illuminated by an impressive projection mapping event in early January. Now, thanks to a new video of the show, people around the world can experience it for themselves!


During the event, incredible images of the city's cultural assets and artworks were shone on the gate, including those by Reizi Tamechika. The region's popular Mikawa Fireworks made appearances as well, along with more modern digital art. The 16.4-meter wide and 11-meter high gate to the castle was also covered in brilliant lights!


Video Recording of Event

In 1959, Okazaki Castle's tower was reconstructed, and in 2006, the location was selected as one of the 100 best castles in Japan. Each floor inside the castle has a different theme, and the location's history is introduced through a collection of exhibits and a diorama theater. Guests can enjoy a panoramic view of the city from the observation room on the 5th floor


The creators of the event hope that visitors and viewers from around the world can experience Japanese culture, art, and tradition through digital entertainment.

Information

Okazaki Castle Main Gate Projection Mapping

Dates: January 8 – January 10
Address: Okazaki Castle in Okazaki Park (561-1 Kosei-cho, Okazaki City)
Official Site: https://www.hitohata.jp


Demon Slayer Game to be Released for the Nintendo Switch in June

Demon Slayer: Kimetsu no Yaiba – The Hinokami Chronicles is getting a Nintendo Switch version, with a release date set for June 9 in Japan.

The Demon Slayer manga series, written and illustrated by Koyoharu Gotouge, has over 150 million copies in circulation, making it the ninth best-selling manga series of all time. It follows Tanjiro Kamado, a teen who strives to become a demon slayer after his family was killed and his younger sister Nezuko was turned into a demon. Combining both heartwrenching storytelling with just the right amount of comic relief, the title has amassed fans around the world. 

Demon Slayer: Kimetsu no Yaiba – The Hinokami Chronicles was released for PC, PlayStation 4, PlayStation 5, Xbox One, and Xbox Series X/S on October 21, and has sold over 1.32 million copious worldwide. It includes a solo mode that follows the Demon Slayer story, and also a Versus Mode, allowing players to fight other characters.





In the Nintendo Switch version, players can choose from a total of 24 characters to fight, including six demons added in previous free updates. By using Kimetsu Points, players can unlock characters and costumes, including the Summer School Uniform which will be a Switch exclusive. Physical copies are now available for pre-order, while the downloadable version will be available at a later date.


©吾峠呼世晴/集英社・アニプレックス・ufotable ©「鬼滅の刃 ヒノカミ血風譚」製作委員会

Hotel New Otani Osaka Announces Extension of Demon Slayer Collaboration Restaurant

Due to incredible popularity, Hotel New Otani Osaka has decided to extend the dates for its current Demon Slayer-inspired collaboration restaurant until March 31, 2022. Reservations for the month of March are now available.

Lunch Menu

Dinner Menu

Kid's Menu

Non-alcoholic Cocktails: (From Left) Zenitsu Agatsuma / Kyojuro Rengoku / Inosuke Hashibira

Original Chopsticks & Chopstick Bag Set

The aptly named 'No Demons Allowed Restaurant' features a Chinese course menu that brings the world of the popular series to life. From Nezuko's Bamboo Appetizer Platter to a pork bun that looks quite a bit like Inosuke's mask, anime fans will fall in love with this menu. 

Guests can snap some photos at a designated photo spot featuring life-sized cutouts of popular characters in hotel staff uniforms. The entire space will be decorated with wisteria flowers.

Six non-alcoholic cocktails inspired by the characters will also be available during dinner time only. Guests ordering one of these drinks will get a coaster with a newly-drawn illustration by ufotable.

(C)吾峠呼世晴/集英社・アニプレックス・ufotable

Information

No Demons Allowed Restaurant

Location: Hotel New Otani Osaka, River Terrace Restaurant (3F)

Reservations for March Now Open

Running: January 22 – March 31, 2022

Details/Reservations:  https://www.newotani.co.jp/osaka/kimetsu/