Shizuoka's Hot Spring Hotel SOKI ATAMI Opens For Business
UDS Ltd. opened SOKI ATAMI on Sunday (November 1), a new hot spring accommodation situated in the town of Koarashicho in Atami, Shizuoka.
The town of Koarashicho is considered the annex, as it were, to Atami. SOKI ATAMI can be reached in around 40 minutes by bullet train from Shinagawa Station. The accommodation takes into account the value of Atami's hot spring resorts and what's on offer there. It serves a 'sojourn style' of accommodation that allows you to return to yourself as you are, without any stresses, something which is enhanced thanks to being situated away from the hustle and bustle of the city in nature.
The accommodation's name originates from the Japanese characters so (素) and ki (器), the former roughly translating to 'origin,' 'source,' or 'foundation' and the latter as 'utensil' or 'vessel.' Together, the words combine to make up what SOKI ATAMI prides itself on: seeking authenticity and being yourself without decorations in a space that welcomes nature, natural features, and incorporates raw materials.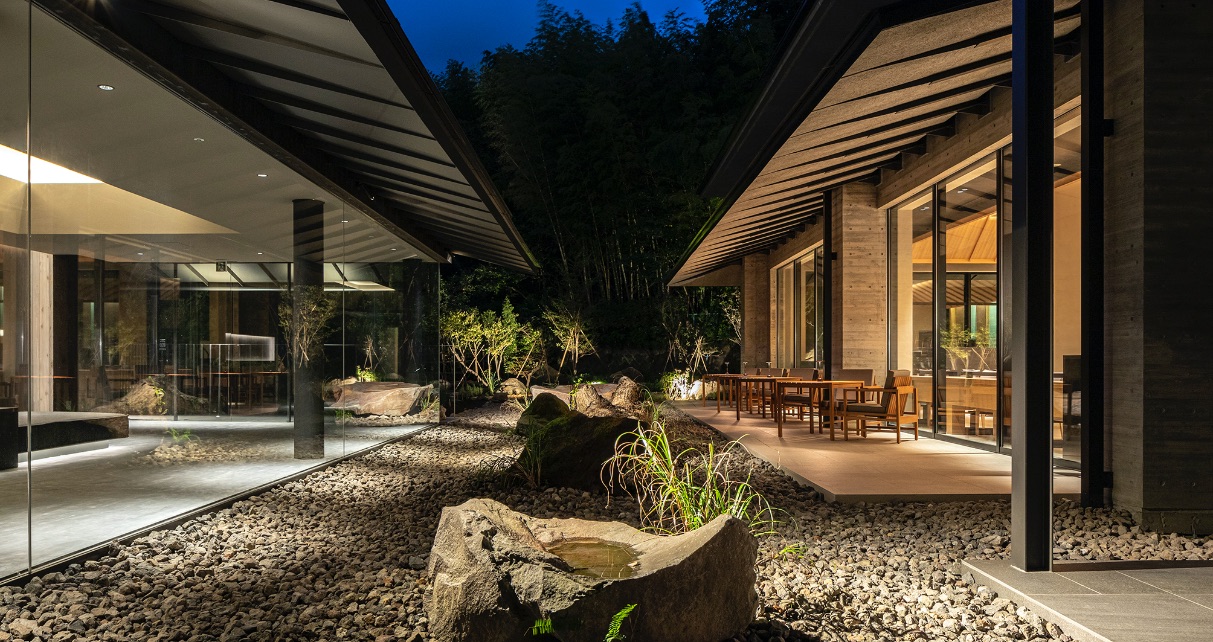 Atami is one of the primary hot spring locations in Japan, prospering as a place that treats illness and injury, something which began after Tokugawa Ieyasu himself bathed there during the Edo Period. The city has since continued as a place to pass down the Japanese culture of hot spring bathing, and SOKI ATAMI cements this fact once again with its grand opening as it serves as a facility offering the nurturing of the body and soul. At the same time, it will promote local culture and cuisine.
The accommodation, surrounded by nature, offers a panoramic view of the ocean, and consists of a reception wing, guest room wing, and restaurant wing. In the 'Village Garden,' there are trees growing citrus fruits and a variety of plants and crops, showcasing the regional lifestyle and natural features.
Guest Rooms
There are 54 guest rooms in total ranging from 40㎡ to 65㎡ which can fit up to 4 people. Guests can enjoy the hot springs with all room types.
TONERICO:INC. is in charge of the inter design who have given it a natural feel.
In the rooms, guests will find sencha and kisetsucha tea grown in Shizuoka Prefecture as well as a Japanese confection made with mugikogashi barley flour which is said to promote longevity and sound health.
Numerous amenities are also available in all guest rooms including relaxing self-care items.
Baths
The public baths benefit from the changing seasons which changes up the bathing experience. The water is perfect for de-stressing, moisturising, and making your skin look beautiful.
There's also a traditional steam sauna in the women's area for detoxing and moisturising.
Tea Room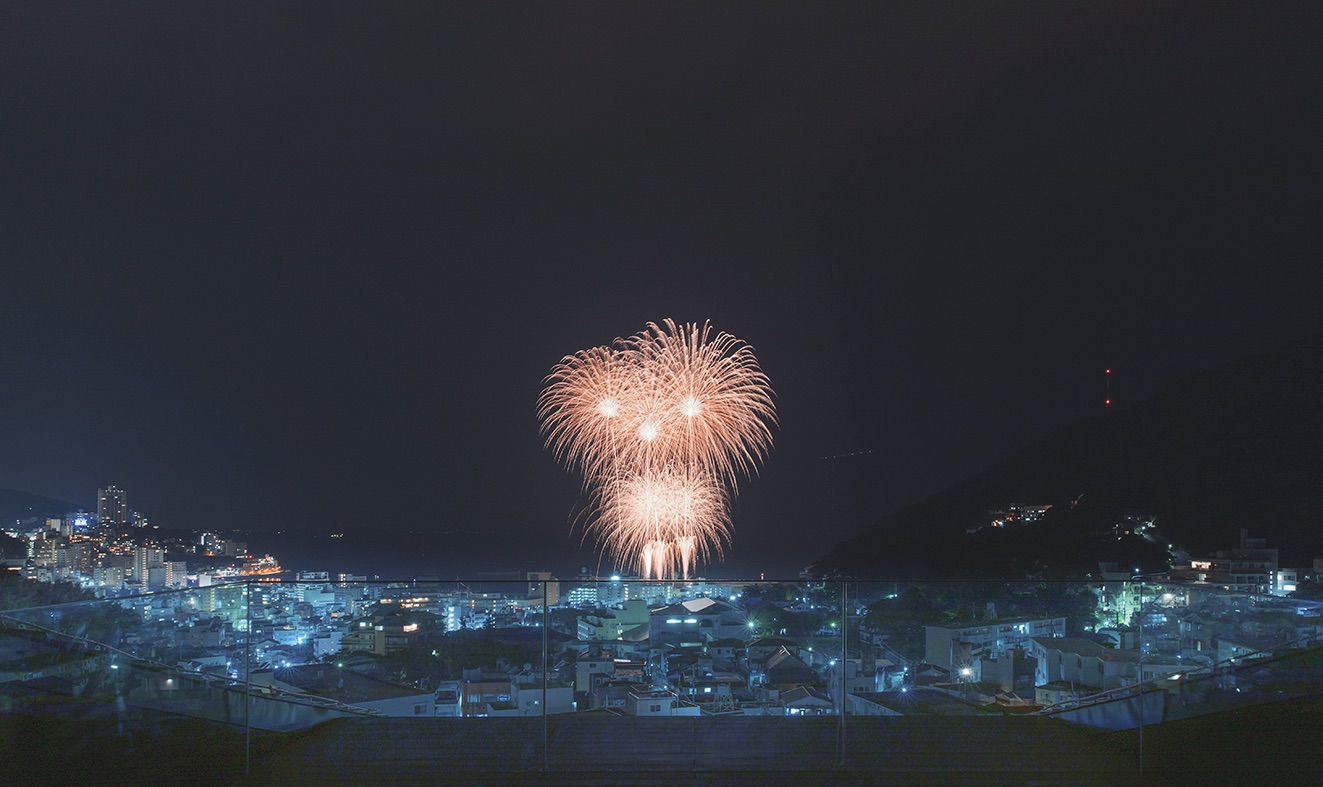 The tea room on the top floor of the accommodation offers a panoramic view of Atami Bay. Guests can enjoy watching the annual fireworks launched there throughout the year.
Menu Sample: Seasonal Yoseicha Course ¥3,000 | Wakan Gin & Tonic ¥1,200 (Before Tax)
A variety of menu choices to stabilise the mind and body will be available to order, many using local ingredients from Atami and Shizuoka Prefecture.
Food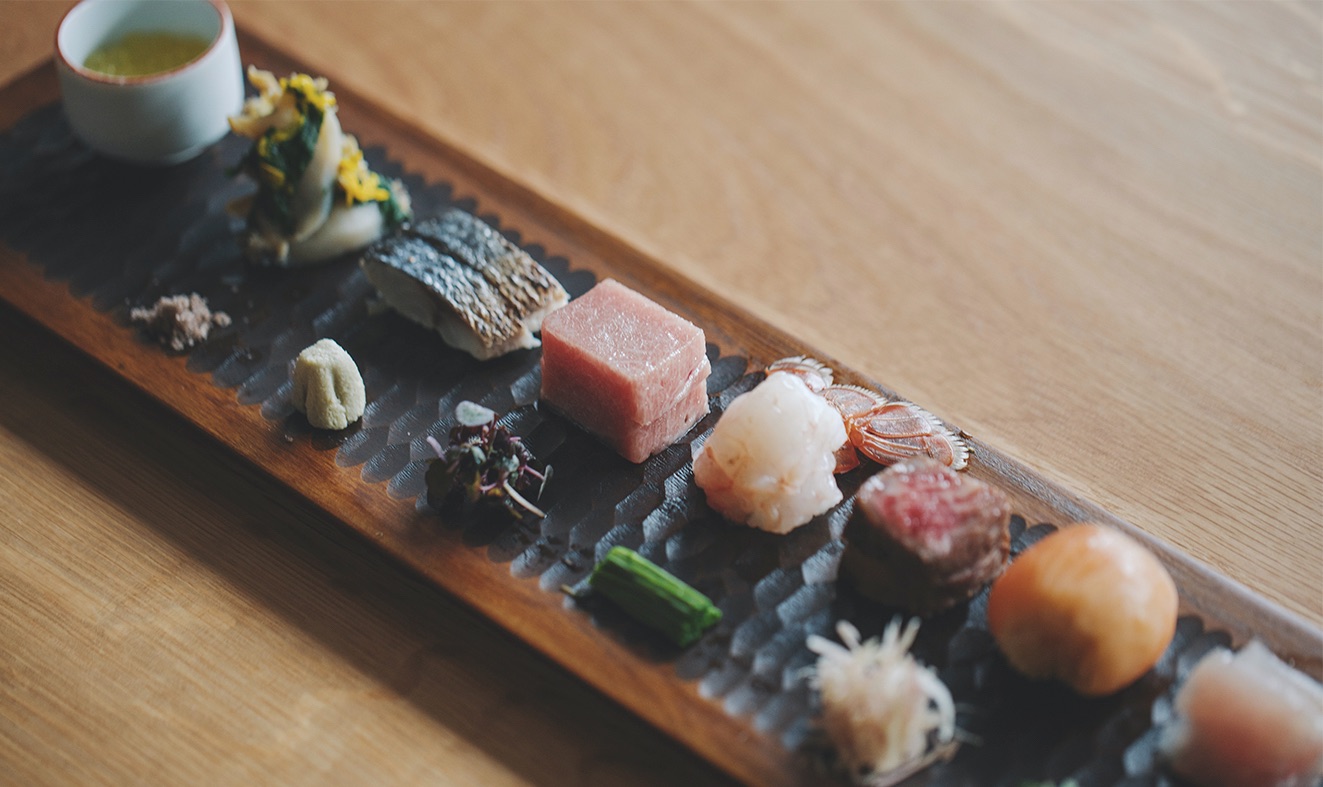 Menu Sample: Breakfast – Seasonal Yosei Gozen | Dinner: SOKI Course, Nabe Course, Chef's Course
In the restaurant wing is the dining room which has an open kitchen in front of guest tables where the chefs cook locally-sourced fish and vegetables among other delicious foods. and other ingredients are all sourced locally and directly.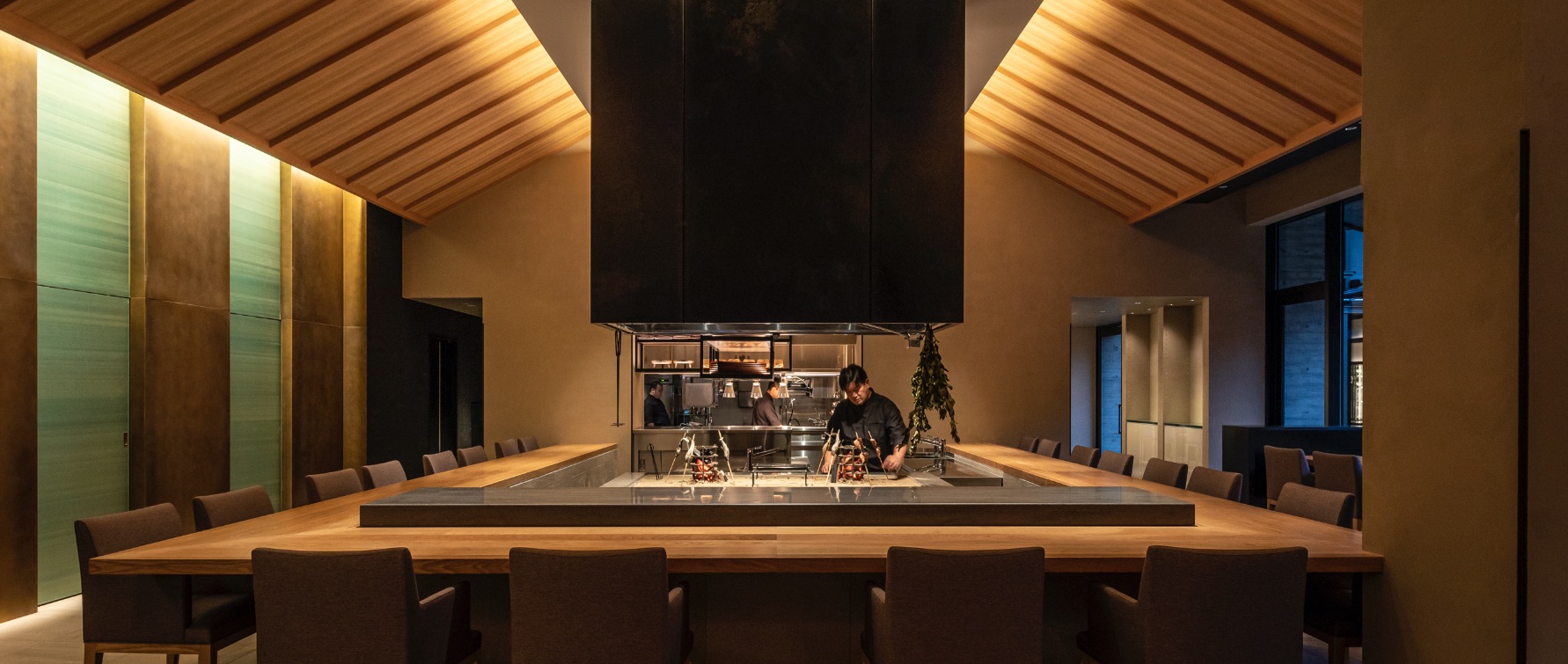 The dining room was designed by age co.,ltd which has worked on many different ryokan and restaurants. The open and dynamic space has a high ceiling towering 4.5 meters overhead.
Garden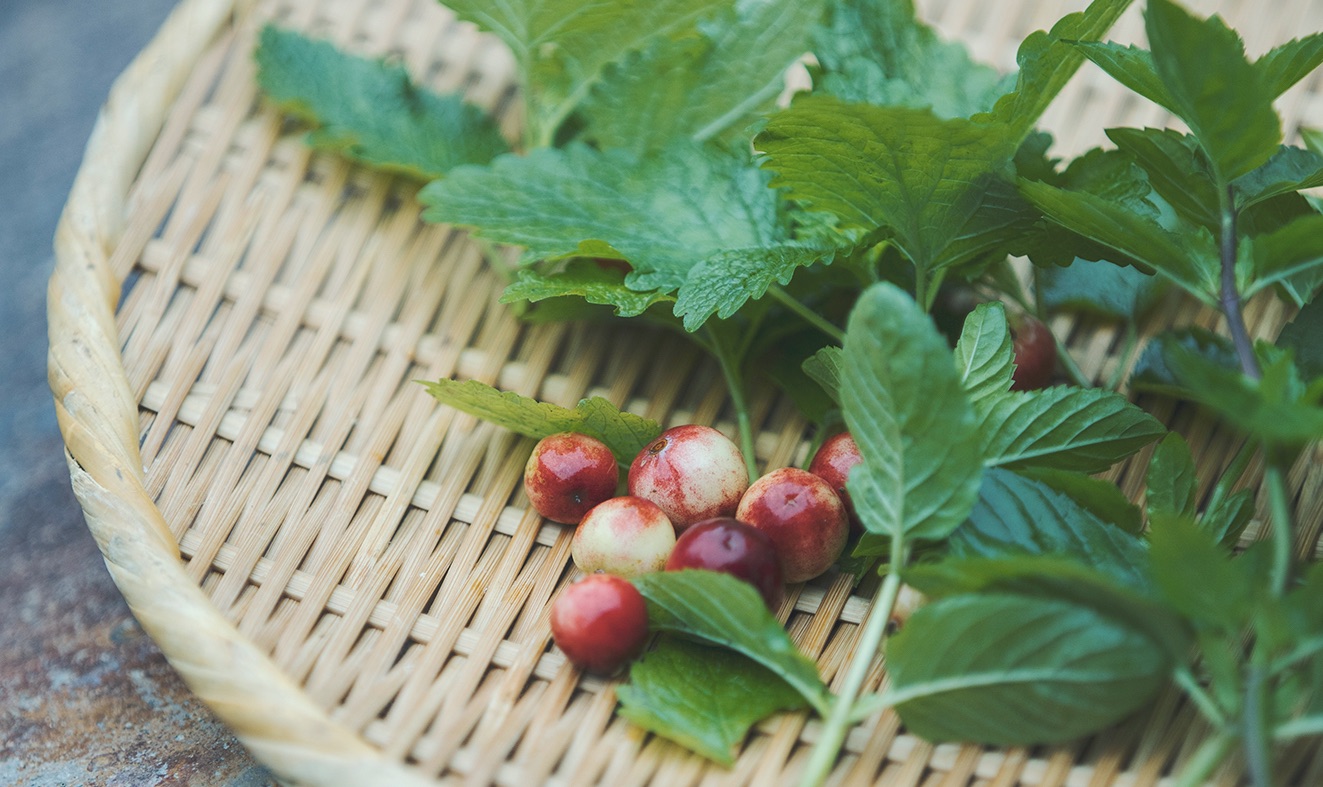 The garden area can be seen from the restaurant and is home to a variety of citrus fruits from the Izu Peninsula as well as seasonal vegetables and herbs. It offers beautiful scenery throughout the year .
Information
SOKI ATAMI
Grand Opening: November 1, 2020
Address: 4-36 Koarashichō, Atami, Shizuoka
Access: 10-minutes by car from Atami Station
Official Website: http://www.so-ki.jp/
RELATED ENTRIES
Izu, the Setting for Laid-Back Camp, Now Offering Travel Plans

JR Tokai Tours has released a new travel plan for fans of Laid-Back Camp Season 2, which aired from January to March 2021. The tour will take place in the Izu area, which was heavily featured in episodes 10, 11, and 12. Guests can enjoy a travel plan with single lodging and original goods starting May 23 until June 29, 2022.

Original Stickers

 

The slice-of-life series Laid-Back Camp is currently serialized in COMIC FUZ.

 

Set in Yamanashi and Shizuoka Prefectures, Laid-Back Camp is a relaxing series following a group of high school girls going camping and enjoying their daily lives. The series is based on the author Afro's personal experiences and interviews, and since serialization in 2015, the series has attracted fans from around the world. The original comic has sold over 7 million copies. In 2018, the first anime series premiered, inspiring a spin-off Room Camp in 2020 and a second season in 2021.


Four years after it was announced in 2018, a Laid-Back Camp animated film will arrive in theaters this summer.

Anime Series Chibi Maruko-chan Inspires New Sake from Hatsukame Brewery in Shizuoka

Last year, Hatsukame Sake Brewery, a staple in Shizuoka Prefecture, released a collaborative special edition sake featuring Papa Hiroshi from the anime series Chibi Maruko-chan. The collab makes sense, as the anime series takes place in Shizuoka Prefecture. Bottles sold out incredibly fast, so it's no wonder that the brewery has now opened orders for the 2022 batch! The special products will be available on June 4, just in time for Father's Day. Customers can choose from the Junmai Ginjo or Junmai Daiginjo varieties.

Junmai Ginjo Papa Hiroshi Vintage 2022

Junmai Daiginjo Papa Hiroshi Vintage 2022

The Junmai Ginjo Papa Hiroshi Vintage 2022 was made with water, rice, and yeast from Shizuoka, where the series takes place. With a refreshing aroma and a gentle sweetness derived from the Homarefuji rice, the flavor is sure to arouse your palate!


The original label featured on the bottle shows Papa Hiroshi enjoying local sake with tuna sashimi from Shizuoka with Mt. Fuji in the background. All bottles will come with a paper box featuring a similar design. The turtle on the label is the symbol of Hatsukame Brewing! It's recommended that customers drink their sake with local tuna–it's the perfect combination.

The Daiginjo variety is made from rare Aiyama rice, known as the 'Diamond of Sake Rice.' Polished and carefully prepared by hand, the aroma of the sake is reminiscent of tropical fruits. The final product has a rich sweetness.

Last year's label showed Papa Hiroshi in a Kimono watching the first sunrise over Mt. Fuji. Be sure to grab a bottle to experience the taste of Shizuoka! Only 223 bottles will be available, so be quick!

©さくらプロダクション/日本アニメーション ©Hatsukame Sake Brewery Co., Ltd. ©Nexus Co., Ltd.

Information

Junmai Daiginjo Papa Hiroshi Vintage 2022

Now available to order
Release Date: June 4, 2022 *After the release date, orders will be shipped within 3 weeks from the order date.
Where to Buy: Saketsunagi Online Shop https://saketsunagi.base.shop

 

EMOCAL, a Project to Support Japanese Regions, Releases Music Using Local Sound Samples

The EMOCAL project aims to support small-town areas of Japan. As a new initiative in the project, specific soundscapes only found in certain areas of the country have been combined with music to create some unique tracks. A selection of musical artists have collaborated with the project to bring these songs to life!


EMOCAL was created by ZOWA's original label, CatchyStuck. The project supports local regions and communities by using ASMR soundscape videos recorded in each region to convey their particular charms to all of Japan. The sounds recorded in each place are considered to be very valuable and are intended to serve two purposes: to bring tourism back after the pandemic and to provide fans of ASMR a way to experience these areas from afar.



Check out each of these unique ambient tracks created by four up-and-coming musicians! Each song is available on viviON's ASMR platform ZOWA and on Spotify.

Ube, Yamaguchi Prefecture / Ikkyuu x Hige Driver, I Love Ikkyuu

Beard Driver created this ambient track with sounds recorded inside of Ikkyuu, a ramen shop.

ZOWA: https://zowa.app/play/20019
Spotify: https://open.spotify.com/track/1RP4RcpJwMrFzoYQbnfDYm?si=f1f1e816adb14db0


Odawara, Kanagawa Prefecture / Miyuki no Hama x Powerless, Seiren

Powerless created this track, inspired by the sounds of waves crashing at Miyuki no Hama, a seaside recreation area 20 minutes from Odawara Station.

ZOWA: https://zowa.app/play/20016
Spotify: https://open.spotify.com/track/5DkQ9FeM7jQBacUf7Nbuxc?si=c7d771e73ddd44b6

Shizuoka, Shizuoka Prefecture / Wasabi Field x baker, On the silent hill

Utogi in Shizuoka city is surrounded by incredible nature. Known as the birthplace of wasabi cultivation, baker used sounds recorded in the area to create this ambient track.

ZOWA: https://zowa.app/play/20017
Spotify: https://open.spotify.com/track/0oIU4x7MjVKmpouRwEPaXZ?si=04dcb805cea540b7

Ibusuki, Kagoshima Prefecture / Cape Tara x SeA0, Akushu

Cape Tara is a popular spot featuring an 800-meter-long sandbar at low tide. The sounds captured here were used by artist SeA0, and this track is sure to make you miss the water.

ZOWA: https://zowa.app/play/20018
Spotify: https://open.spotify.com/track/1Utz5j0oB4GmSDOMVdUcXU?si=eafa1949b3ea44d0

Yunohana Onsen Resort Reveals Contemporary Art-Inspired Guest Rooms

Sumiya Kihoan, a cozy inn at Yunohana Onsen in Kameoka City in Kyoto, opened a unique new guest room on April 28, 2022. The room's concept is "where guests can stay in the middle of contemporary art," and was inspired by the works of internationally-acclaimed contemporary artist Yukinori Yanagi. The new room, created as part of the Art Room Project, has been named 'Kofuu.'

The Icarus Corridor Connecting Heaven and Earth

Heavenly Bath Welcoming a Rainbow at Dusk

In-Ground Bath Featuring Oribe Glazed Ceramic

Concept Drawing of the Art Room Project by Yukinori Yanagi


The new room includes an open-air bath where guests can be transported into the world of Yanagi's contemporary art while gazing at the gorgeous Kyoto landscape. Upon entering the inn, guests are greeted by a long corridor leading to the bedrooms, dining room, and two creative open-air baths. The space was created in collaboration with Yanagi and local artists and craftsmen, such as potter Ishii Naoto, obi craftsman Yamaguchi Genbei X, plasterer Kusumi Akira, and Japanese paper craftsman Hatano Wakaru. A delicious menu is prepared by chef Hosoi Kunihiko.

Kanahei's Small Animals Inspires Hotel Room at Hotel New Otani Tokyo

Hotel New Otani Tokyo will offer special collaboration rooms inspired by illustrator Kanahei's characters Piske & Usagi from May 1, 2022 to April 30, 2023.

Original Cushion / Acrylic Stand

The room is completely decorated with brand new illustrations of Piske and Usagi made exclusively for the collaboration. A total of five original amenities will be included with each room plan, including an original cushion and acrylic stand. Come surround yourself with complete cuteness!

Oakwood Hotel Oike Kyoto Reveals Room Plan with UNDERSON UNDERSON Washi Underwear

The lifestyle brand UNDERSON UNDERSON is all about making skin healthier by using washi paper. The unique brand has teamed up with Oakwood Hotel Oike Kyoto, known for its traditional washi decorations, for a special accommodation plan! Booking a room will get you a fancy new pair of underpants and some other popular items. The plan began on April 11, 2022, and will continue through the end of the year.

UNDERSON UNDERSON Underwear

UNDERSON UNDERSON Stretchy Washi Mask

john masters organics × UNDERSON UNDERSON Mask & Air Refreshener

The plan wants to allow visitors to enjoy their stay in Kyoto while experiencing traditional Japanese washi paper with both their eyes and their skin. The walls of the Oakwood Hotel Oike Kyoto feature artwork and furnishings with Japanese flare and have been upgraded to include HAMADAWASHI's Tosa washi paper. This material has been used in the restoration of cultural heritage sites such as Nijo Castle and Ginkaku-ji Temple. Tosa washi can also be found on the partitions at Cafe O and on the walls of the coworking space!


To celebrate the collaboration, UNDERSON UNDERSON will be giving away underwear and other items made of its iconic WASHIFABRIC.


While this may sound like a strange collab, how would you like to give this underwear a try?

Information

Oakwood Hotel Oike Kyoto
UNDERSON UNDERSON Underwear Collaboration Room Plan
Available: April 11 – December 31, 2022
Reservations / Official Site: https://oakwood.jp/kyoto-oike/

W Osaka Reveals Special Menu Inspired by Fashion Duo AMIAYA

Luxury hotel W Osaka will be offering 'ICHIGO AFTERNOON TEA – Dressed up for Spring,' a special menu inspired by the fashion duo AMIAYA, from April 1 until May 31, 2022. The menu items will be available at the Living Room area on the hotel's third floor.

W Osaka Fashion Ambassador AMIAYA

ICHIGO AFTERNOON TEA – Dressed up for Spring

LIVING ROOM

The event will utilize some of the popular strawberry dishes currently popular at the hotel, but will also include some raspberries and orange sweets. Some dishes will be decorated with flower petals, inspired by the vivid fashion of W Osaka's fashion ambassador AMIAYA. The twins have attracted worldwide attention as models and DJs, and they celebrated their first anniversary on March 16. 

Savory options include a Quiche with Sakura Shrimp and Spring Cabbage and Caramelized Onion and Chevre Cheese plate. Guests can enjoy a total of 12 items prepared by the W Osaka chef team, all displayed on a beautiful afternoon tea stand. Each menu comes with a welcome drink and free refills for tea and coffee.

The Royal Park Hotel Iconic Kyoto to Offer Immersive Meditation Rooms

The pandemic has caused problems for people all over the world. Mental health has taken a beating over the last few years, and in order to help people take back control of their mental wellness, The Royal Park Hotel Iconic Kyoto will begin offering immersive meditation rooms for guests only! These rooms will allow guests to enjoy a soothing private space and will be available starting April 1, 2022.

Blank meditation 

tea mediation 

The Medicha meditation rooms consist of two spaces: 'blank,' where guests are surrounded by mist, and 'tea,' where guests will immerse themselves in beautiful water patterns. An original program shown on in-room televisions at the hotel will also instruct guests in the art of meditation. 

In 'Blank Meditation,' guests will stand in a cool mist and immerse themselves in layers of diverse sounds and shifting colors of light. This will help quiet the mind and create a 'blank slate' mentally. 

The 'Tea Meditation' room invites visitors to spend time with themselves while getting lost in shimmering water patterns in a dimly lit space as they carefully brew their own tea. Two types of tea are on offer, each with distinct aromas and flavors.


 

Hotel New Otani Tokyo to Hold Fourth Collaboration with Paul & Joe

From April 1 until June 30, 2022, Hotel New Otani Tokyo will hold its fourth collaboration with the Paris-born fashion brand Paul & Joe! One specially designed room will be available per day. The brand is extremely popular with women in their 20s and 30s, and those wanting to reserve a room will want to act quickly, as the previous collab room was booked up almost immediately!

The pink and ivory interior is dotted with chrysanthemums and images of Gipsy and Nounette, the iconic cats of brand designer Sophie. Everything from the couch cushions to the hairbrush is completely inspired by Paul & Joe.

Items Only Available in the Paul & Joe Room


4th Collaboration Cosmetics

Limited Edition Pajama and Slipper Set with Room Plan

The fourth cosmetic collection has been sourced from the Les Vacances series, a collection made to take on summer vacation. The lineup includes a body primer sunscreen made to moisturize and protect and an 'After Sun Oil' with a floral citrus scent perfect for use after outdoor lounging.

A special Les Vacances-themed spa bag will also be available for guests to take home. Enjoy taking it to the pool, to the spa, or simply while taking a stroll around the hotel. 

Guests can also take home a sample of the brand's Protecting Foundation Primer, a makeup base that has taken home a number of Best Cosmetics Awards. Selected skincare samples, such as lotions and oils, will also be included in the room package. 

One of the collaboration plans will also allow guests to take home an exclusive pair of pajamas and slippers decorated with an adorable cat design. 

*Guests cannot choose the pajama color or slipper pattern.
*The design of pajamas and slippers is subject to change without notice.

Pui Pui Molcar Inspires Pop-up Shop at Shizuoka PARCO

Shizuoka PARCO will open a pop-up shop inspired by the popular stop-motion series Pui Pui Molcar from March 30 until April 10! The shop has opened at seven PARCO locations nationwide so far, attracting over 45,000 fans.

Pui Pui Molcar aired for 12 episodes from January to March 2021. The series was directed by Tomoki Misato, and has attracted a worldwide fandom with its cute and fuzzy characters.

Extra-large Photo Spot

Merchandise

Pins (21 varieties)

Acrylic Keychain

Mini Canvas

Diorama Acrylic Stand

Blanket

Acrylic Signboard Stands



The venue will feature an oversized photo spot where visitors can take commemorative photos in a full-size Molcar, as well as a collection of commemorative merchandise featuring illustrations drawn exclusively for the shop. Since the first pop-up shop opened at Shibuya PARCO in July 2021, it has traveled to Urawa, Nagoya, Fukuoka, Sendai, Hiroshima, and Shinsaibashi. Why not check it out?


Information

Pui Pui Molcar Town Pop-up Shop
Running: March 30 – April 10, 2022 (10:00-20:00)

Address: Shizuoka PARCO 2F Event Space (6-7 Koyamachi, Aoi-ku, Shizuoka)
Official Site: https://shizuoka.parco.jp/


Banyan Tree Rooftop Bar Opens on Japan's Southernmost Island

The Banyan Tree Rooftop Bar, located at Hoshino Resort Risonare Kohamajima on Japan's southernmost island, is holding a special stargazing event until April 20, 2022. Visitors can enjoy a cocktail as they gaze at the countless twinkling stars overhead.

Kohama Island is located within the Yaeyama Islands. With a warm climate, it's comfortable to spend long hours outside, even at night. Kohamajima was also the first island in Japan to be protected by the IDA (International Darkness Association), meaning that no bright manmade lights can interfere with stargazing. Visitors can see 84 of 88 constellations! 

Enjoy a Boundless Starry Sky

The Banyan Tree Terrace will bring guests together to feel the sea breeze and taste colorful mojitos as they enjoy the pleasant weather. Why not spend a relaxing time in a fantastic space lit with faintly glowing candles as you stargaze?

Taste Colorful Mojitos

A limited number of colorful mojitos will be available at a bar counter set up on the terrace for this event only. You can also enjoy Okinawan original mojitos with made with Okinawa lime, brown sugar instead of sugar, non-alcoholic mojitos for children, and tropical fruit mojitos with pineapple and passion fruit.

Munch on Snacks Perfect to Pair with Cocktails

Guests can also enjoy a snack set with salty nuts perfect for enjoying with alcohol!

Information

Banyan Tree Rooftop Bar

Open: March 1 – April 20, 2022
Hours: 19:00-20:00
Location: Banyan Tree Terrace

Official Site: https://risonare.com/kohamajima/

INN THE PARK Fukuoka Allows Guests to Spend the Night in a Public Park

INN THE PARK Fukuoka is the first place in Kyushu where you can spend the night overnight in a public park! No, you won't be sleeping on a bench or on the ground–this is way fancier. This is the second such location, with the first opening in Shizuoka in 2017. 

Spherical Tent

Glamping

Cabin

Suite

Restaurant

The new facility will be located in Uminonakamichi Seaside Park in Higashi-ku, Fukuoka City. The park is about 6km from east to west and includes a zoo, outdoor swimming pool, aquarium, outdoor theater, and more. Guests can overlook Hakata Bay while enjoying these many fun outdoor activities and delightful accommodations! 

How about staying here on your next trip to Japan?