niko and … Launches New Cosmetic Brand tiny tiny
Japanese lifestyle editorial brand 'niko and …' launches its first-ever cosmetic line 'tiny tiny' on November 27, 2020, with only pre-sales now available. Products will hit select niko and … stores in Japan from December 12, 2020.
tiny tiny is looking to get people enjoying makeup everyday in line with the seasons which in turn they hope will have people changing their clothes.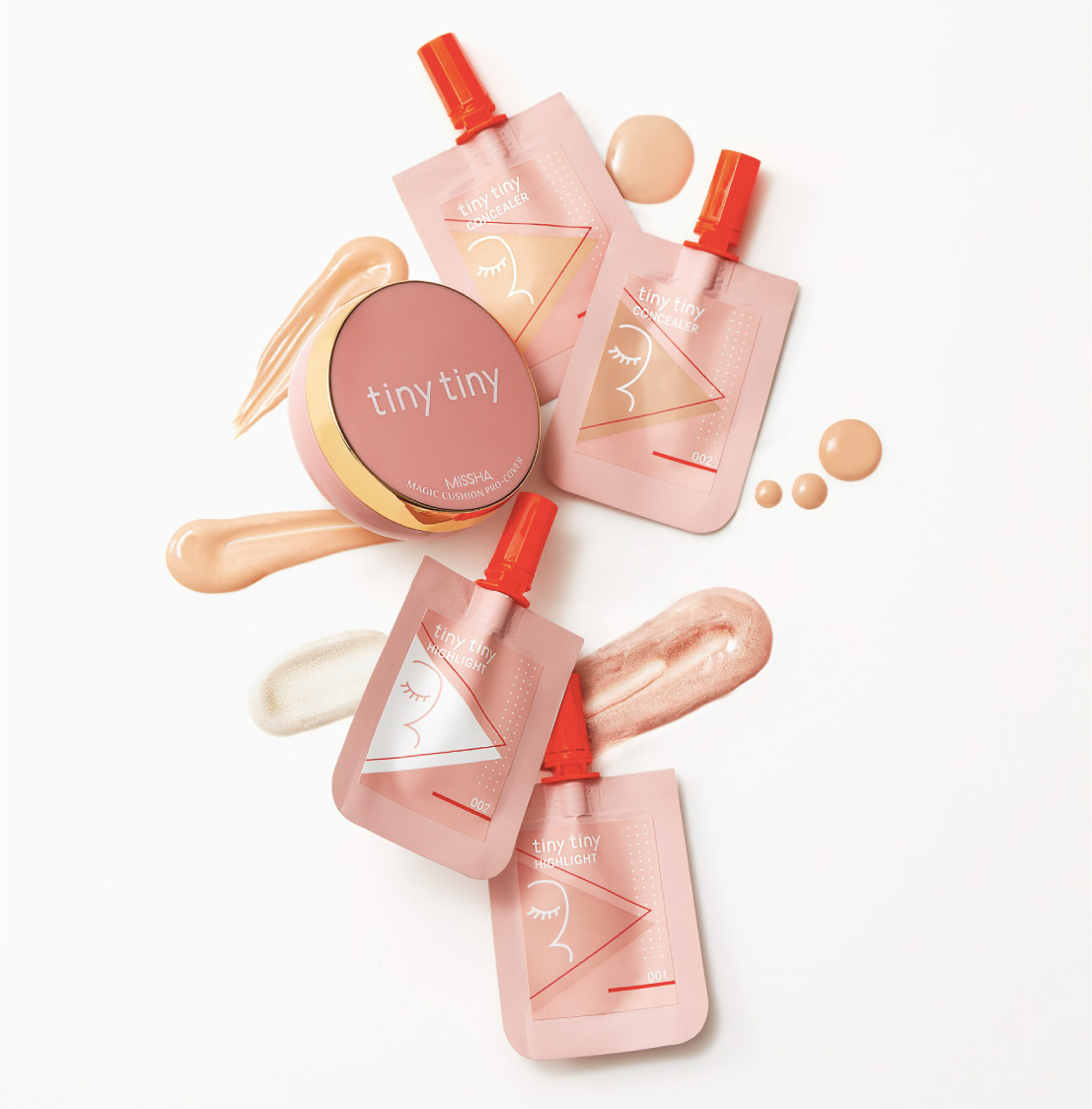 MISSHA Cushion Foundation (PRO-COVER) ¥1,650 | Pouch Highlight ¥638 | Pouch Concealer ¥638

Pouch Eyeshadow ¥638 | Pouch Eyebrow Mascara ¥638
The line-up includes everything from base makeup like foundation and concealer to point makeup like eyeshadow, blush, and lip tint, skincare products such as face masks and hand cream, and more.
Pouch Blush | ¥638

Pouch Lip Gloss ¥638 | Pouch Lip Tint ¥638
The products come in part of a pouch series which is lightweight and stylish. The pouch lids also act conveniently as brushes.
Be sure to check out tiny tiny's minimalist cosmetic line.
Information
tiny tiny
Pre-Sale: November 27, 2020 (Online Only)
Select Stores: December 12, 2020
一部対象店舗発売:2020年12月12日(土)
Buy: niko and … / ZOZOTOWN / .st
RELATED ENTRIES
Hotel New Otani Announces Second PAUL & JOE Collaboration

Hotel New Otani Tokyo has collaborated with PAUL & JOE for the second time to offer a new accomodation plan, which will be available for one-night stays between December 1 2021 and January 4 2022.  The rooms will not be available between December 31 and January 2.

This collaboration room will allow you to surround yourself in the world of PAUL & JOE, a Parisian brand PAUL & JOE that is extremely popular with young women in their 20s and 30s. The initial collaboration was so popular that within just 10 days, all of the available dates within three months were sold out. This Christmas edition will only be available for one month, so be sure to book while you can.

The pink and ivory room features the brand's icon; Designer Sophie's beloved cats, Nunet and Gypsy. The decorations also feature Crisantemo flower motifs.

Not only is the wallpaper covered in PAUL & JOE motifs, but even the smaller pieces such as cushions, curling irons, and brushes are themed too. In addition, to celebrate the festive season, the room will include a special Christmas tree, allowing you to enjoy a special Christmas with somebody special, sharing a view of Tokyo Tower.

The second round of cosmetics is focused on the 2021 CHRISTMAS COLLECTION. The 'Lipstick Treatment' features adorable cats wearing Santa hats, while the 'Lipstick Limited' comes in a luxurious Christmas red – and also features cats in hats! Plus, the new 'Wrapping Hand Cream' will wrap your hands in a fresh moisturising texture. In addition, the best-selling 'Moisturizing Foundation Primer,' which was renewed on September 1, and the P&J skincare selection (oil, lotion, cleansing), each must-haves for the upcoming dry season, have been miniaturized into take-home samples in a limited edition pouch, especially for hotel customers.

Alongside the limited cosmetic samples, there will be matching pajamas and slippers available for purchase and take home, with a that will take you even deeper into the PAUL & JOE world. While these cat-and-floral print PJs are perfect for a girls-only gathering, a men's line has also been released due to popular demand, ideal for spending a romantic Christmas in matching pajamas.

 

 

Why not spend a wonderful Christmas in this PAUL & JOE room?

Information

PAUL & JOE Room ~Christmas~

Reservation Dates:

Friday & Saturday Rooms: September 14 2021~

Weekday & Sunday Rooms: Late October 2021

Room Duration: December 1 2021 ~ January 4 2022

※Unavailable between Dec. 31 and Jan. 21

Location: Hotel New Otani Tokyo

Reservations: https://www.newotani.co.jp/tokyo/stay/plan/paul-joeroom/  *Reservations can only be made online

'KATE iCON BOX' Eyeshadow Vending Machine Uses AI to Select Personalized Colors

Makeup brand KATE has produced the KATE iCON BOX, a contemporary digital experience for the New Normal where four personalized eye shadow colors are chosen through AI and released like a vending machine. The technology will be available for a limited time at the Matsumoto Kiyoshi Matsukiyo LAB in the Sagamiono Station Square store. Subsequent installation information can be found on the KATE website.

1. Face Analysis

STEP1. The AI analyses your skin

STEP2. The AI analyses the ratio of your facial features

2.Analysis Result ~ Customization

3. Enter Your Name ~ Purchase

The KATE iCON BOX offers a customized four-shade set and protective sheet using KATE eyeshadow. You can then purchase the four eyeshadows at the register and place them in an original 'The Eye Color' palette.

4. Save & Share

You can save and share your analysis results along with a photo of your original palette.

The KATE iCON BOX offers an original eyeshadow palette made up of four The Eye Color shades that were chosen just for you, based on an AI facial analysis and KATE's makeup knowledge. You can also customize the palette to include your favorite color, with a choice of 26 The Eye Color shades, and print your name on the included protective sheet. This fun new experience allows you to use AI to find the colors that suit you while customizing colors to create a palette that suits you!

Find the eyeshadow color that suits you perfectly with the KATE iCON BOX!

Kumagaya City, Saitama Bath Cafe Hareniwa no Yu Opens After Rebranding

Cafe BIVOUAC, located in Kumagaya, Saitama Prefecture, will reopen Bath Cafe Hareniwa no Yu on September 18, 21, after a full rebranding.

The space aims to be 'a garden that clears a guest's body and mind.' Visitors can enjoy a full bath and sauna, freshly-picked vegetables at the Haruniwa Dining Room, and a lush green lounge in which to relax and unwind.

The Haruniwa Dining Room, run by The Farm, a resort in Chiba Prefecture, offers healthy dishes filled with fresh local vegetables from Kumagaya with carefully-selected main ingredients.

In addition, a collaboration with fashion brand 'niko and…' will also begin upon reopening, offering the perfect comfy clothes to wear while enjoying the property.  The lineup  includes an original bath bag and sauna hat, each sold exclusively at Hareniwa no Yu.

Information

Bath Cafe Hareniwa no Yu (Cafe BIVOUAC)

Open: September 18, 2021

Address: 939 Kubojima, Kumagaya-shi, Saitama

Phone: 048-533-2614

Official Site: https://ofurocafe-bivouac.com/

niko and…Celebrates 80th Anniversary of Curious George with New Collab Items

Japanese fashion brand "niko and…" will release a collection of Curious George-inspired items to celebrate the character's 80th anniversary. These items are now on sale at the brand's stores nationwide, and on the official web shop, as well as on ZOZOTOWN and Rakuten Fashion.

Collaboration Items at a Glance

Remote Control Box: ¥1,540 (Tax Included) / Slippers: ¥2,090 (Tax Included) / Tissue Case: ¥4,180 (Tax Included)

Large Plushie: ¥4,840 (Tax Included) / Medium Plushie: ¥3,520 (Tax Included) / Vinyl Umbrella: ¥1,320 (Tax Included) / AC Adapter: ¥2,860 (Tax Included) / Charging Cable: ¥1,760 (Tax Included)

Masking Tape: ¥440 each (Tax Included) / Bath Chair: ¥2,970 (Tax Included) / Bath Bucket: ¥1,430 (Tax Included) / Alarm Clock: ¥1,540 (Tax Included)

Curious George is celebrating his 80th anniversary in 2021. In Japan, the monkey character was first introduced in 1954, and has been loved by countless people ever since. This collection combines the humorous and retro feel of Curious George with the sensibilities of "niko and…," creating a unique mash-up of products.

Are you a fan of Curious George? Which of these products are you most likely to grab?


※Curious George and related characters, created by Margret and H.A. Rey, are copyrighted and registered by Houghton Mifflin Harcourt Publishing Company and used under license.All Rights Reserved.

※Universal Studios Licensing LLC(ユニバーサル・スタジオ・ライセンシング LLC)との商品化契約に基づき、株式会社アダストリアが企画・制作した商品です。

Girl Group NiziU Named Brand Ambassadors for Visée, Introduce Limited-Edition Eyeshadows

Cosmetics brand KOSE has announced that popular girl group NiziU will act as brand ambassadors for a new collection of Visée eyeshadow, Glossy Rich Eyes N.

Visée Glossy Rich Eyes N  – Available in 8 shades + 2 limited edition shades

Photo Shoot

「Visée AVANT」Limited Edition Seasonal Visual with MAYUKA&NINA

The theme for this year's campaign was 'Find the Color Just for You.' By trying all possible shades, even those which seem out of the consumers comfort zone, they will absolutely find the perfect color. For this photo shoot, NiziU applied makeup inspired by their respective member colors, showing off their individuality.

A special web movie and visual for Glossy Eyes Rich N featuring the NiziU girls is available on the special product website and through the official social media channels. The eyeshadows will be available at drugstores and other retailers, as well as online, beginning September 16. Members Mayuka and Nina will also appear in limited season ads for Visée AVANT.

An original movie featuring all members is also available to view on the official TikTok brand account and the Glossy Rich Eyes N special product website.

Interview with NiziU

Q1. Visée has partnered with a number of women before, each symbolizing the current era. What are your thoughts on being chosen as brand ambassadors for Visée now?

Mako: I'm turning 20 this year, and I've really wanted to show a different side of myself now that I won't be a teenager anymore. I was so happy when I was chosen for this project, since it gave me the perfect chance to do just that!

Maya: We're so incredibly honored to be chosen as ambassadors for Visée! I use their products regularly, but there are so many different colors of product available. I think this will inspire people to make use of colors they may not use often, and to try new things!

Q2. How did you feel after shooting wrapped?

 

Ayaka: It felt like something totally different than what NiziU has tackled in the past. I typically wear more cutesy makeup, but this time I tried to show something more mature. It was refreshing. It was a blast getting close-up shots taken of my eye makeup!



Q3. The theme for this year's campaign is 'Find the Color Just for You.' It calls on people to find a color that best matches their personality. After the first ad shoot, what were your impressions of your fellow members' new makeup looks?


Riku: Maya was the one getting her pictures taken first, and she looked so gorgeous that Ayaka and I couldn't stop staring at her! Honestly, we were staring at her so much that when she finally looked over at us, she did that typical Maya smile, and it was like we fell in love with her. (laugh)



Q4. This year's visuals are impressive, with the NiziU members showing off very different expressions than usual. Is there anything you refer to or try to do personally, to find new facial expressions?


Mayuka: It can be really difficult, but I find it useful to look at photos of some of the more senior members and practice copying their expressions.


Q5. Again, this year's theme is 'Find the Color Just for You.' Each of the nine members of NiziU have their own distinct personalities, so with that in mind, what do you think makes you stand out as an individual?

 

Rima: For me, it's my different worldview. It allows me to converse in a very unique way, and to really adjust how I carry myself depending on the location. My member color is red, which also has many meanings: it can be powerful, or mature, or energetic, or mischievous. I'm like a chameleon. I hold many different personalities that I can switch to at the drop of a hat.


Q6. As a member of NiziU, you've had many different and unique experiences. Have you found any unexpected sides of yourself during your time as a member?

 

Rio: I used to think I was one of the cool girls, but during this photo shoot, I was given a makeup look and outfit that was more cutesy. That's a side of myself I haven't explored, and this is something that happens frequently during the many events and challenges we take on as a unit.



Q7. During the makeup shooting sessions, we were able to see very different sides of the NiziU members. Is there anything new you've learned about the other members recently?

 

Miihi: Compared to how we all were when we all joined, everyone is really starting to show their true selves! We've so close, there's nothing that we don't know about each other at this point!



Q8. The Glossy Rich Eyes N products that you used this time come in a wide variety of colors, making it possible for anyone to meet their perfect shade. Speaking of 'meetings,' what do the members of NiziU want to meet more than anything right now?

 

Nina: I want to meet with WithU (the name for NiziU fans). We haven't been able to meet them face to face yet, and I hope we're able to soon.

#MissDior Art Event Held to Comemorate New Fragrance In Omotesando, Tokyo

Miss Dior, the fragrance and maison first started in 1947, is being reborn thanks to Dior perfume creator Francois Demachy.

A new MISS DIOR art event will be held to commemorate the new fragrance, inheriting the art and passion for women that inspired Monsieur Dior himself. Reservations are now open for the AS SEEN BY exhibition, held alongside the MISS DOOR MILLEFIORI GARDEN pop up store between September 1 and 12, 2021, at THE MASS/BA-TSU ART GALLERY/STANDBY in Omotesando, Tokyo.

Kojin Haruka: Reflectwo for Miss Dior 2021

Pop Up Store MISS DIOR MILLEFIORI GARDEN

The AS SEEN BY exhibition, held in Tokyo and several cities around the world, will feature MISS DIOR inspired artwork and creations from 10 female artists, including visual artist Kojin Haruka, sculptor Donna Ingrid, and designer Sabine Marcelis.

Experience the renewed MISS DIOR at the MISS DIOR MILLEFIORI GARDEN pop up store, where you can try the new Au De Perfume and it's personalization service, alongside limited cosmetics that were inspired by the new fragrance.

Those who attend the MISS DIOR event will also be able to enjoy the guest-only cafe, which features Laudrée collaboration macaroons, with the original flavors each lined up in a package reminiscent of the colorful flowers at the MISS DIOR art event. Plus, a limited takeaway drink will be available at the exhibition cafe, allowing you to bask in the afterglow of the event even after exiting the venue. In addition, customers who connect their reservation to the official MISS DIOR Beauty LINE account will receive a free original tote bag.

A special film that delves into the history and charm of MSS DIOR will be screened at the exhibition, narrated by DIOR beauty ambassador Yoshizawa Ryo, who will guide you through the glamorous world of MISS DIOR.

You mustn't miss the livestream with DIOR ambassador Araki Yuko, who will be attending the event via livestream to introduce the wonders of the new MISS DIOR. The stream will start on August 31 at 20:30.

Why not check out this flower-filled event where you can immerse yourself in the world of MISS DIOR for yourself?

Information

MISS DIOR Art Event

Availability: September 1 ~ September 12, 2021

Opening Hours: 10:00 ~ 20:00

Admission: Free, reservations required

Reservations: https://qr.paps.jp/ksjcw

Location: THE MASS / BA-TSU ART GALLERY / STANDBY

Address: 5-11-5 Jingumae, Shibuya, Tokyo

Araki Yuko Livestream: August 31 2021, 20:30 ~ 21:00

Event/Streaming Details: http://on-pp.dior.com/missdior-artevent

Official Site: https://www.dior.com/

※Admissions are limited to one per person.

※Last admissions are 30 minutes before closing.

※Opening hours and admissions are subject to Covid rules. Check the official website (http://on-pp.dior.com/missdior-artevent) for the latest information.

※Accepted payment methods at the venue include credit card, electronic money, and QR payments. Cash payments are not accepted.

SHIRO Releases Relaxing New Hinoki and Hiba Fragrances

Japanese cosmetic brand SHIRO has announced two new soothing fragrances, the Hinoki Bath Salts and the Hiba Spray 80. These will be available at the SHIRO online store and at SHIRO retailers nationwide on September 9. 

The brand's first Hinoki and Hiba-based items


Hinoki, or Japanese Cypress bark, and Hiba, the leaves from these Cypress trees, have subtle scents which will make customers feel as though they're surrounded by nature. Having these items around will help clear anxious minds and soothe worried hearts. The bark used for the fragrances was sourced from the Kii mountain range, while the leaves came from Aomori prefecture. 

Hinoki Bath Salts (400g): ¥4,840 (Tax Included) 

These are the first bath salts to be released since rebranding. The soothing Japanese cypress essential oils were sourced from the Kii mountain range snaking through Mie and Wakayama prefectures, while the sun-dried salt from South Australia will help moisturize and hydrate the skin. Use this product during an evening bath to relax after a hard day's work, or mornings when you wake up a little earlier than usual to prepare your mind for what the day may bring. 

Hiba Spray 80 (80ml): ¥1,980 (Tax Included) 

This hand spray contains 80% alcohol, as well as fragrant Aomori Japanese cypress essential oil and distilled cypress water. 

If you're looking to practice more self-care, these items are sure to help. 

Information

Hinoki Bath Salts

Hiba Spray 80

Pre Orders Begin: August 26, 2021 on the SHIRO Online Store (10:00) and at SHIRO retailers nationwide

Release Date: September 9, 2021 on the SHIRO Online Store (10:00) and at SHIRO retailers nationwide

Official Site: https://shiro-shiro.jp/

First Collaboration Merch Now on Sale from KEITA MARUYAMA x niko and…

In an Instagram Live on August 4, 2021, editorial fashion brand "niko and…" announced the release of the first collaborative collection with designer KEITA MARUYAMA, also present on stream. Viewers could also catch a glimpse of model Harumi Sato, who modeled for the much-anticipated merchandise. 

Keita Maruyama has designed stage costumes for countless musicians and celebrities, including Japanese pop band DREAMS COME TRUE. In an interview held before the stream, he had plenty to say about what to expect. 

Maruyama Interview

──What brought this collaboration about? 

Actually, "niko and…" reached out to me, and we decided to make this dream collab a reality. After tossing some ideas back and forth, we decided to go with a theme of 'GARDEN CAMP.' Even though my brand, KEITA MARUYAMA, and the "niko and…" brand have very different marketing styles, we're both creators at heart. We both want to use fashion to uplift and energize people. 

 

──In this new collection, what would you consider the main focus to be? 

Luckily, we were both able to make use of our respective strengths. By combining my designs with the incredible marketing behind "niko and…," we were able to create pieces at a more affordable price point, and could design things together I couldn't have done alone. 

──We're very curious about the textile redesign…

"niko and…" picked some textiles from the KEITA MARUYAMA archives to match the theme. Even though the ones they picked were from different eras, they all came together to fit the current times. Some of them are from the 1990s, but something about them seems so modern. 

──How do you feel when you look at your older work? 

Until a couple years ago, seeing my older pieces was so embarrassing. It felt like I was looking at something that a kid made, it all just felt so unpolished. But now, I feel a kind of pride that I was the one to create those things. Even if they aren't perfect, that youthfulness and freshness was something that I made by myself. 

──Throughout the Coronavirus pandemic, people have been spending more time at home and less of an opportunity to buy clothes. What has your experience been like? 

I feel like we've all had to put up with a lot during the pandemic, but on the other hand, it's made me think more about what's really necessary in my life. I'm starting to see what clothes I need, what things I need, even what people I need in my life. 

Be sure to check out this cheerful collection! Which pattern do you prefer? 

niko and … Releases Items in Collaboration With Popular LINE Emoji Designer

Style editorial brand "niko and …" has teamed up with London-based illustrator and animator Dan Woodger to release a collection of items at the online store ".st" and "niko and …" stores in Japan.

Print Towels ¥1,980 (Tax Included) / Handkerchiefs ¥880 (Tax Included)

Can Sleeves ¥1,540 (Tax Included) / Embroidered Patch Keyrings ¥550 (Tax Included)

Lunchboxes ¥1,980 (Tax Included) / Chopstick Set ¥1,100 (Tax Included)

Glass Plates – Small ¥418, Medium ¥528 (Tax Included) / Trays ¥1,540 (Tax Included)

Dan Woodger is known for his colourful and humour-filled illustrations which have garnered him fans worldwide. His designs have also been turned into emoji for the Japanese messaging app LINE. His merch collection releasing from niko and … includes towels, kitchenware, and other summery items. The illustrations are new and were drawn for this collaboration.

Shu Uemura Releases Sustainable 'Mindfully Crafted in Japan' Collection

Japanese cosmetic brand Shu Uemura is set to release its new origami-inspired 'mindfully crafted in japan' collection on June 18, but presales opened on their online shop last Tuesday. The collection is a display of Japanese tradition and craftsmanship with sustainability at the core of its concept.

ultime8 ∞ sublime beauty cleansing oil (Limited Edition Design) | ¥12,650 (Tax Included)

hard formula hard 9 (seal brown 02) (Limited Edition Design) | ¥2,860 (Tax Included)

petal 55 foundation brush (Limited Edition Design) | ¥6,600 (Tax Included)

The collection focuses on three aspects of mindfulness with Japan as its focus: mindful of Japanese nature with locally and sustainably resourced ingredients, mindful of Japanese resources by taking only what is needed, and mindful of Japanese traditional craftsmanship by preserving traditions from the past.


Shu Uemura's Cleansing Oil is one of the brand's most notable sustainable products, preserving everything important about Japanese culture from its history to its natural environment. Using traditional methods passed down the ages, the product is made from plant-derived ingredients sourced sustainably, and the packaging is made from 100% recyclable plastic. The Cleansing Oil bottles were also added to Shu Uemura's new recycling program which began on May 5 which enables bottles to be reused.

Don't miss out on this special new collection by Shu Uemura.


Information

mindfully crafted in japan collection

Release Date: June 18, 2021

Available: shu tokyo makeup box

Address: B-SIDE 5-11-2 Jingumae, Shibuya, Tokyo, 150-0001

Pre-Sale: Online from June 1, 2021

Official Online Shop: https://www.shuuemura.jp

NiziU Feature in Skin Type Friendly Face Mask Collection Promo

Japanese girl group NiziU are set to feature in a new television commercial for LOHAS Pharmaceutical's "ALFACE+" cosmetic face masks which will roll out in Japan on July 1.

ALFACE+ is a skincare brand that sells products that are not only moisturising but accessible to a variety of skin types too. Their face mask collection includes 10 different designs, all of which are presented by each of the nine NiziU members.

NiziU have stepped away from their usual energetic look for this shoot, instead serving more grown-up vibes.

MAC Reveals Disney's Cruella de Vil Makeup Collection

MAC Cosmetics is set to launch its new "Cruella" makeup collection inspired by the Disney villain and fashion icon Cruella de Vil from the Disney classic 101 Dalmatians on May 13, 2021. The collection arrives ahead of the upcoming live-action movie Cruella which is set for release on May 28, 2021.

Disney Cruella Collection by MAC

The collection features nine products that bring to life the Disney villain's look, whose origin story about aspiring to become a fashion designer will be portrayed by Emma Stone in the upcoming movie which is set in '70s London during the height of the punk rock era. The line-up combines punk reds with metallic colours, and everything comes packaged in tubes and palettes bearing Cruella's instantly-recognisable black and white colour combo.

Terry Barber, the Director of Makeup Artistry at MAC, said: "With there being such a huge trend for recycling the more niche counterculture moments of previous decades, this collection feels like MAC returning to a celebration of the kind of DIY styling and brave transformation that originally made it such a maverick brand."

A Look at the Collection

MATTE LIPSTICK | $21

A rich matte lipstick formula with high-colour payoff and a creamy matte finish in three Cruella-inspired shades.

RETRO MATTE LIQUID LIPCOLOUR | $25

A liquid lipstick that provides a rebellious rush of Disney's Cruella-inspired colour in a velvety, mattest-matte finish.

PRO LONGWEAR DUAL ENDED EYE LINER | $26

A long-lasting, dual-ended eyeliner featuring creamy, dense colour that glides smoothly across lids.

POWDER BLUSH DUO: CRUEL-LA INTENTIONS | $31

A Cruella-inspired blush duo that provides fantastic colour with ease and consistency.

76 SUPERMODEL LASH | $18

A limited-edition pair of backstage-favourite lashes featuring wispy, full volume for a runway-ready look.

EYESHADOW X 8: CRUELLA TO BE KIND | $45

A magnetic two-piece eye palette packed with a wondrous wave of eight statement shades inspired by the most iconic looks of Disney's Cruella.

The full collection will drop worldwide this Thursday at MAC.

©2021 Disney