Rapeseed Flower Festival Offers a View of 100,000 Plants With Mount Fuji in the Background
The Rapeseed Flower Festival is set to bloom on Soleil Hill, a park in Yokosuka, Kanagawa, from December 18 when around 100,000 bright yellow rapeseed flowers will shine across the flower beds.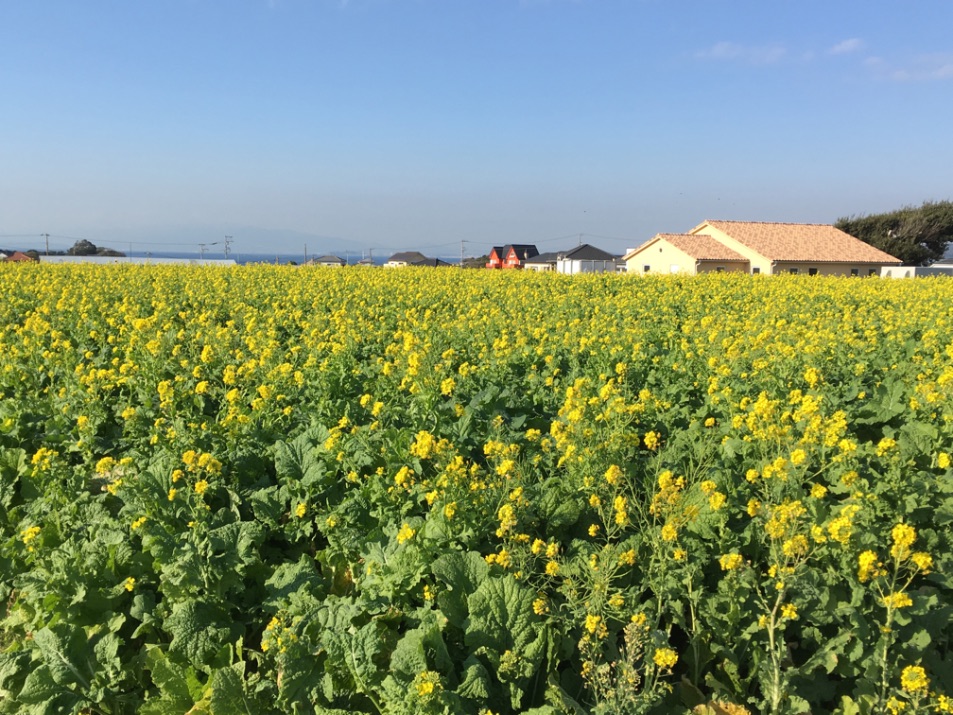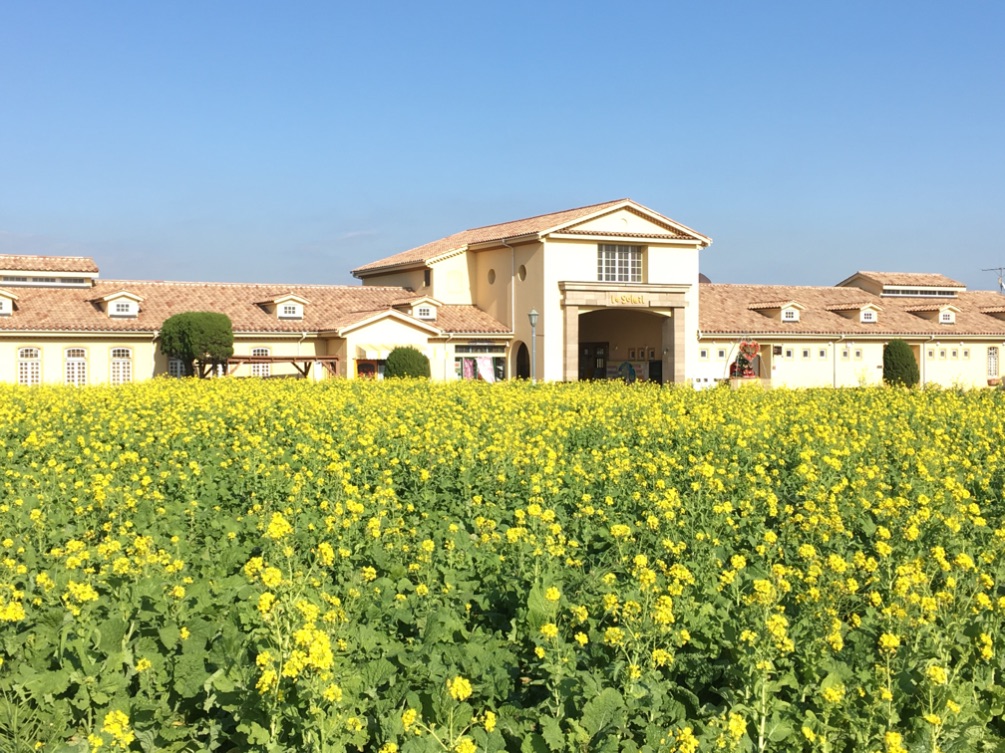 Turnip Rape (Photo taken December 1, 2020)
Soleil Hill is a 5,000㎡ rolling expanse in the Miura Peninsula in Yokosuka, Kanagawa. The turnip rape is an early springtime flower that is blooming around a month earlier this December due to there not having been many typhoon disasters in the area this year, which will welcome the flower's peak blossom.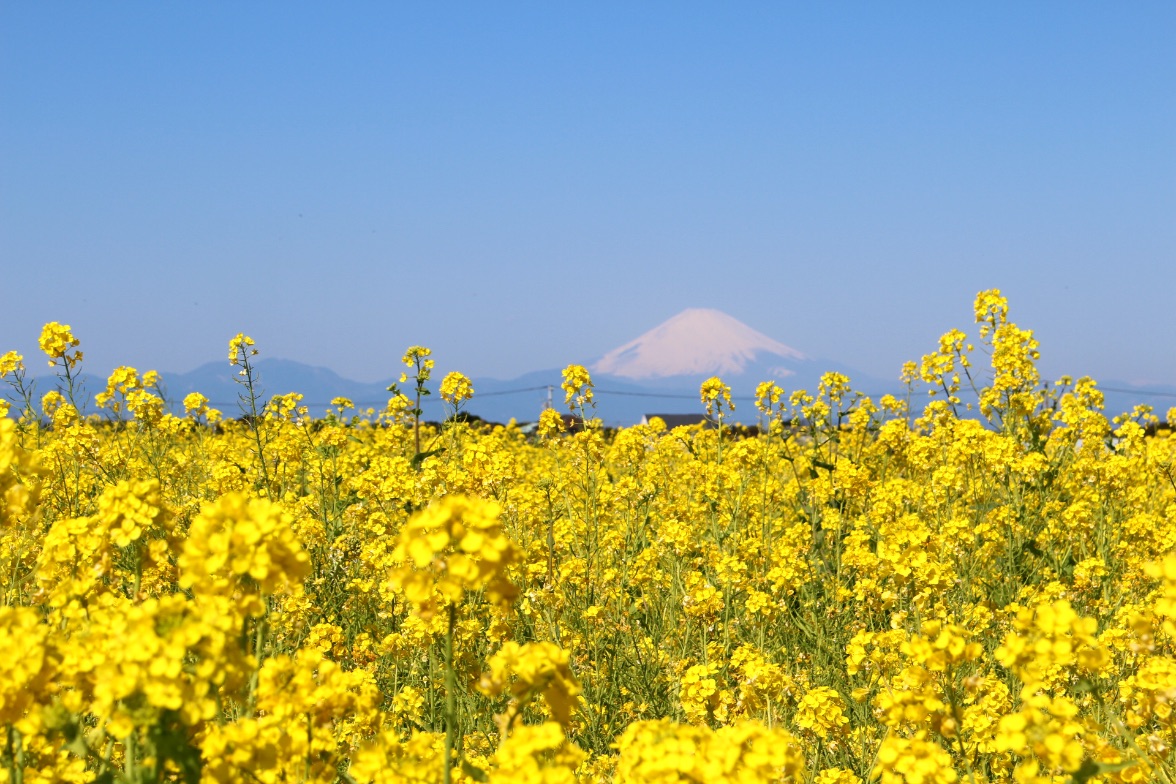 Photo taken last year with 100,000 turnip rapes, Sagami Bay, and Mount Fuji in the shot
The flowers bloom for a long period from December to March, around 100 days, and the incredible view can be enjoyed with Sagami Bay and Mount Fuji in the background.
Rapeseed Flower Festival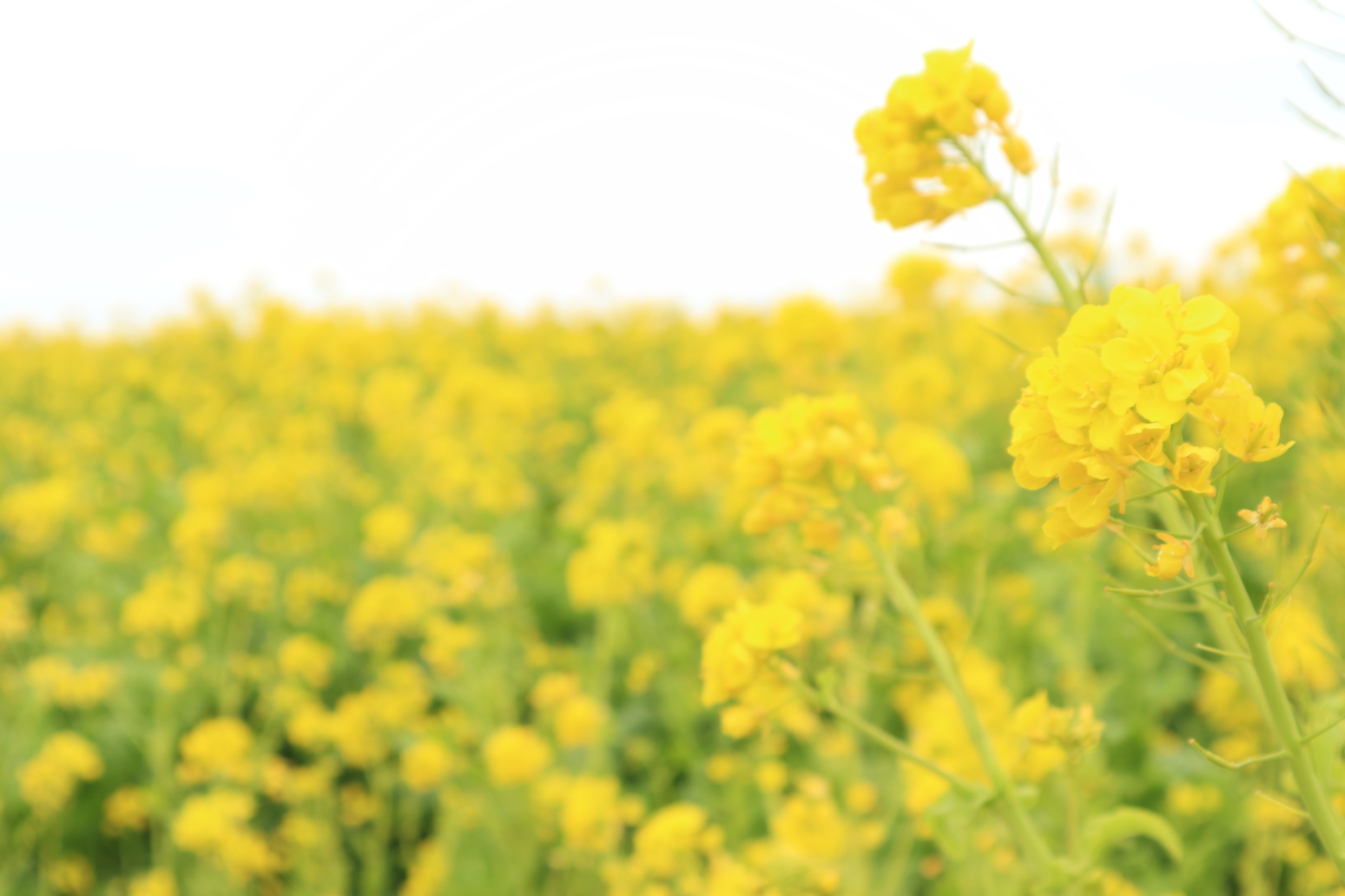 Photo taken last year at the of December with the rapeseeds in full bloom
The Rapeseed Flower Festival will run from December 18, 2020 to March 31, 2020 in line with the turnip rape's peak blossom. Visitors can enjoy a selection of food inspired by the flower beds and view as well as take part in a variety of programs.
Mount Fuji & Rapeseed Curry | ¥1,000 (Before Tax)
The Mount Fuji & Rapeseed Curry is inspired by the view of Mount Fuji and the flower beds during a sunset as represented by the red curry.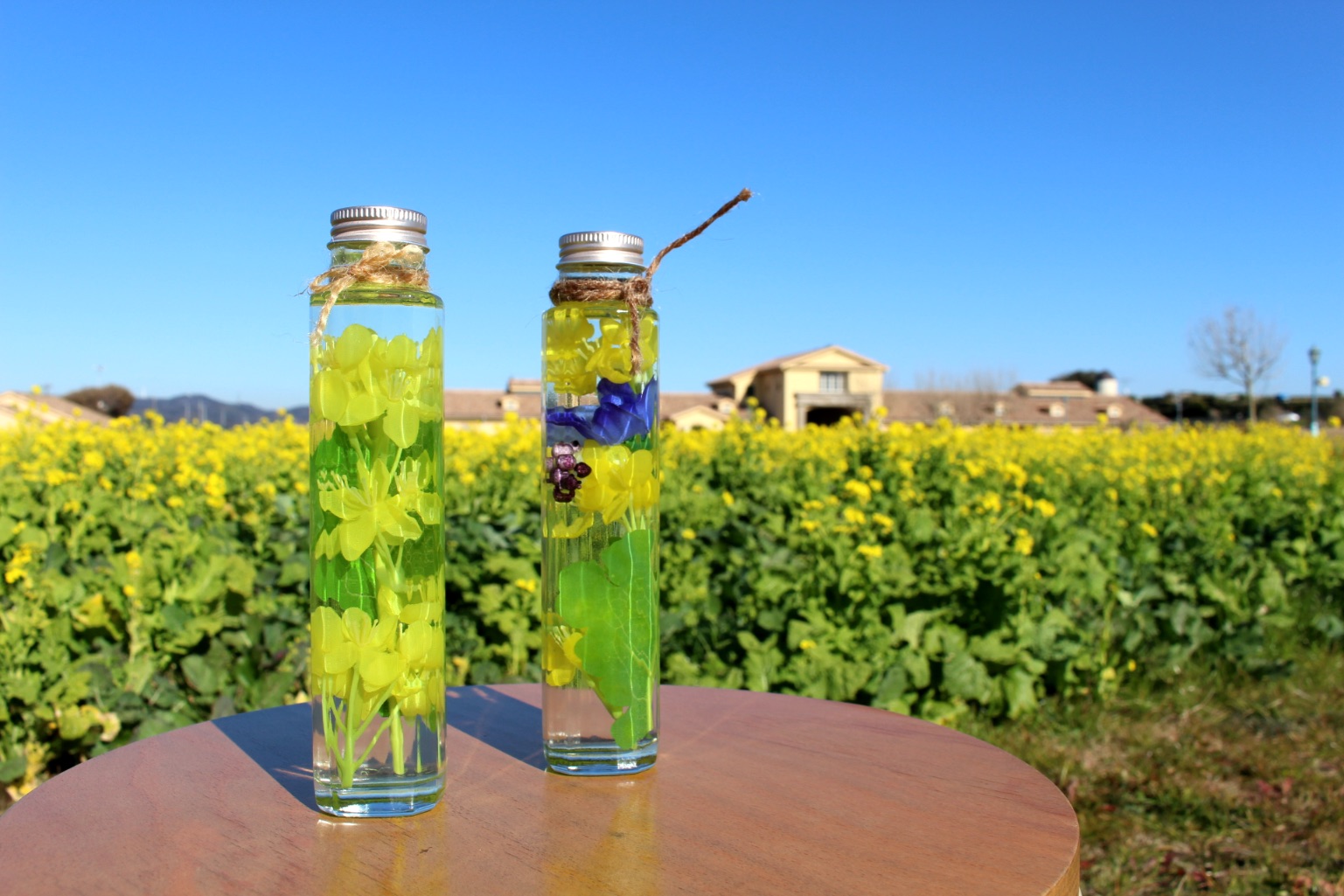 Rapeseed Herbarium Workshop | ¥1,600 (Tax Included)
Visitors can try making their own rapeseed herbarium in a bottle at the crafts workshop too.
Information
Rapeseed Flower Festival
Running: December 18, 2020 – March 31, 2021
Location: Yokosuka Soleil Hill
Address: 4 Chome Nagai, Yokosuka, Kanagawa
Opening Hours: [March-November] 9:00-18:00 / [December-February] 9:30-17:00
Official Website: https://www.seibu-la.co.jp/soleil/
*Event is subject to postponement or cancellation depending on the pandemic
RELATED ENTRIES
Hirosaki and Hakodate to Begin Winter Tourism Campaign with Snow Miku Starting December 2022

The cities of Hirosaki and Hakodate in Hokkaido have announced that they will team up with Hatsune Miku's popular iteration Snow Miku to promote tourism in the area this winter. A number of activities will begin in December 2022.

[Snow Miku x Hirohako] Collaboration Project

■Hirohako Winter Tourism Campaign Poster Featuring Snow Miku

・Period: Mid-November~February 28, 2023

・Locations: Facilities in both cities, tourist facilities, hotels, shopping areas

■Snow Miku Illustration Contest Exhibition Event

Over 50 illustrations have been submitted under the theme of Snow Miku and Hakodate / Snow Miku and Hirosaki. These will be on display through the winter!

・Running: December 1, 2022 – February 28, 2022

・Venues: Hirosaki Municipal Tourist Center (Hirosaki)
                    Kanemori Red Brick Warehouse (Hakodate)

■Snow Miku Photo Spot

Snow Miku panels featuring shamisen and apples from Hirosaki will be on display, while the Hakodate version will include references to squid fishing and footbaths. 

・On Display: December 1, 2022 – February 28, 2022

・Locations: JR Hirosaki Station, Chuohirosaki Station (Hirosaki)
                        JR Hakodate Station, Hakodate Airport (Hakodate)

■Digital Stamp Rally Using the Mikunavi App

A number of panels will be installed at five checkpoints in Hirosaki and Hakodate. A total of 1,000 people–500 in each city–will win original merch including a Snow Miku mask case and decorated masking tape. All you need to do is check in!

・Available: December 1, 2022 – February 28, 2022

・Locations: (Hirosaki) Hirosaki Municipal Tourist Center, Hirosaki City Machinaka  Information Center,

                         Hirosaki Tourist Information Center, Hirosaki Castle Information Center, Tsugaru-han Neputa Village

      (Hakodate) Kanemori Red Brick Warehouse, Yunokawa Hot Spring Footbath, Goryōkaku Tower,

Hakodate Green Plaza C Block (Hakodate Lumi-Pop), Old Public Hall of Hakodate Ward

■Hirohako Winter Tourism Campaign Theme Song and Music Video 

The tourism theme song will get a new music video that will be broadcast on YouTube, at local tourist facilities, and on TV and radio!

・On Air: December 1, 2022~

・Theme Song: Mahou no Keshiki (Lyrics/Composition: ryuryu)

■Snow Miku Welcome Announcements to be Broadcast at Tourism Facilities, etc. 

A one-minute welcome announcement by Snow Miku will air at tourist facilities!

・Running: December 1, 2022 – February 28, 2022

・Locations: Tourist areas in both cities

■Snow Miku Filters Using AR

When each barcode is scanned with a smartphone, Snow Miku will appear on the screen! Visitors can take pictures with Snow Miku to commemorate their winter trip to Hirosaki and Hakodate.

・Available: December 1, 2022 – February 28, 2022

Kyary Pamyu Pamyu Returns to America to Perform Only Half a Year After Coachella

On October 29, Kyary Pamyu Pamyu took part in Porter Robinson's Second Sky Music Festival in Oakland, California. The following day, the popular singer also appeared at Porter Robinson + Friends, an afterparty event held in San Francisco. American fans are finding their excitement at a fever pitch as the Harajuku-based artist continues to perform abroad!

Kyary Pamyu Pamyu recently made headlines when she performed an unprecedented 62 songs at Nippon Budokan on October 19 during the final stop on her 10th-anniversary tour. Following this impressive feat, Kyary performed at yet another festival in Japan before hastily returning to the United States following her show-stopping performance at Coachella half a year ago.

Porter Robinson's Second Sky Music Festival was hosted by and featured performances by internationally acclaimed DJ and producer Porter Robinson. Other important figures in the dance music scene also appeared including SKRILLEX and RL GRIME.

The event took place in a large parking lot adjacent to the Oakland Coliseum, home of the Oakland Athletics MLB team. Since the show took place close to Halloween, plenty of decorations could be found, and fans lined up from the early morning to get inside.

Although Kyary's performance was scheduled for quite early in the day, the audience sprawled out as far as the eye could see. As DE.BA.YA.SHI. 2021 began to play, fans began to excitedly call out Kyary's name. In Japan, regulations are in place to stop the spread of the coronavirus, meaning that audience members are forbidden to yell during concerts–but no such precaution exists in the U.S. It was clear that Kyary was beyond excited to hear the audience's enthusiasm, and as the show began, the artist called out "Second Sky," to which the fans responded with excited cries. 

The audience danced wildly to Candy Racer and Dodonpa, two of Kyary's most peppy tracks, which played in succession. The singer did her best to speak English. "Hello! I'm Kyary Pamyu Pamyu from Japan," she began. She then complimented a fan in full Kyary cosplay. "Wow! Nice costume! PONPONPON costume, so nice," she said.

During CANDY CANDY -Remix-, the audience raised their hands high in the air as they followed Kyary's instructions to jump, swaying from left to right. As the audience moved in sync, a number of hit tracks began to play, including Harajuku Iyahoi and Tsukematsukeru. However, nothing could match the excitement of the moment that the intro to PONPONPON began to play. Porter Robinson, who was watching the live performance from the side of the stage, was moved to tears, and everyone could feel how big Kyary's presence was for local fans.

Kyary's performance at the Coachella Valley Music and Arts Festival in April of this year became a hot topic, showing that Kyary is still incredibly popular in the U.S. ten years after her major debut.

In addition to her largest national tour to date, Kyary has made numerous appearances at music festivals in Japan and abroad in 2022. The artist's first overseas performance during her 11th year as a performer was an incredible success and bodes well for Kyary's future.

<Setlist>
2022.10.29 "Second Sky Music Festival"
OP. DE.BA.YA.SHI.2021
1. Candy Racer
2. Dodonpa
3.Invader Invader
4. CANDY CANDY –Remix-
5. Ninja Re Bang Bang –Steve Aoki Remix-
6. Harajuku Iyahoi
7. Tsukematsukeru
8. PONPONPON –Extended Mix-
9. Fashion Monster

2022.10.30 "Porter Robinson + Friends"
OP. DE.BA.YA.SHI.2021
1. Candy Racer
2. Ninja Re Bang Bang
3. CANDY CANDY
4.Crazy Party Night-Pumpkins Strike Back-
5. Kira Kira Killer
6. Isshin Doutai
7. Harajuku Iyahoi
8. Fashion Monster
9. PONPONPON

Information

Kyary Pamyu Pamyu

Kyary Pamyu Pamyu and Katy Perry to Perform Together for the First Time at True Colors Festival THE CONCERT 2022

The Nippon Foundation has been supporting people with disabilities in Japan and abroad for over fifty years. To mark this incredible milestone, True Colors Festival THE CONCERT 2022 will be held on November 19 and 20 at Tokyo Garden Theater. The performance aims to inspire fans to express their uniqueness. 

Kyary Pamyu Pamyu will perform as a guest performer on both days of the concert, which stands to be one of the largest live events in the world put on by artists with disabilities.

Kyary became a smash hit with audiences worldwide after Katy Perry praised her PONPONPON music video on Twitter, and the two are said to be fans of one another. This will be the first time that the two pop icons will perform on stage together. 

"I'm looking forward to performing with so many unique artists from around the world," Kyary said in a statement. "I'm so happy that I'm going to live my dream of performing with Katy!" 

Information

True Colors Festival THE CONCERT 2022 

Venue: TOKYO GARDEN THEATER (2-1-6 Ariake, Koto-ku, Tokyo)

Dates: 

November 19 / Doors Open at 16:00, Show Starts at 18:00

November 20 / Doors Open at 15:00, Show Starts at 17:00

Official Site: https://truecolorsfestival.com/jp/program/the_concert/

Japan's Largest Sake Event TOKYO SAKE FESTIVAL to be Held in Shinjuku in October

Japan's largest sake event, TOKYO SAKE FESTIVAL 2022, will run from October 4 until October 6 at the Shinjuku Sumitomo Building's Triangle Square.

The event's aim is to make sake more mainstream around the world, with the first festival taking place in 2020. Tokyo Sake Festival blends sake with entertainment, showing off the very best of Japanese culture to those who may be new to craft sake. For the third year, former NMB48 member Yui Takano will serve as ambassador. Takano is known for leaving her idol career to manage the sake specialty store Yui Sake Shop. 

Tokyo Sake Festival 2022 is bringing together forty carefully selected sake breweries from around Japan, including Inoue Seikichi, winner of the Champion Sake award at IWC 2022. Tonoike Sake Brewery, winner of Kura Master 2022's President's Award, will also be in attendance. The full lineup can be found on the official website.

Popular influencers and artists from Raphael to BOYS AND MEN and Ukon Takafuji will take the stage during the event, so be sure to swing by if you're a fan of Japanese spirits!

Information

TOKYO SAKE FESTIVAL 2022

Dates: 

October 4: Part 1 13:30-16:30 / Part 2 18:00-21:00
October 5: Part 1 13:30-16:30 / Part 2 18:00-21:00
October 6: 16:00-19:00
Venue: Shinjuku Sumitomo Building Triangle Square
(2-6-1 Nishishinjuku, Shinjuku-ku, Tokyo)

Buy Tickets/Details: https://tokyosakefestival.bitfan.id/

SiM to Hold Streaming Event 'Amazon Music Live: DEAD POP FESTiVAL 2022'

Amazon Music Live: DEAD POP FESTiVAL 2022 was originally held on June 25 and 26, 2022. Those who missed out on SiM's outdoor festival will be able to watch it on the Amazon Music Japan channel on Twitch on August 16 at 20:00 along with exclusive commentary from the members. In addition, Shuhei Igari (HEY-SMITH), GEN (04 Limited Sazabys), and Takuya Yamanaka (THE ORAL CIGARETTES) will appear. 20 artists who participated in the festival will give their personal thoughts on the June event including behind-the-scenes stories.

Fans of Attack on Titan won't want to miss the first live performance of SiM's track The Rumbling, used as the opening theme for The Final Season Part 2.

Prior to the event on the Amazon Music Japan channel, a playlist consisting of songs performed at DEADPOP FESTiVAL 2022 is available on Amazon Music Unlimited. Be sure to check it out!

NIJISANJI Fes 2022 Reveals 118 Participating VTubers, New Illustrations

NIJISANJI Fes 2022, the largest NIJISANJI event to date, will be held on October 1 and October 2 at Makuhari Messe in Chiba. Ahead of the festival, ANYCOLOR has announced the 118 VTubers that will be participating, along with new illustrations showing some popular personalities wearing class T-shirts which will be available at the venue.

NIJISANJI Fes 2022 Special Announcement Video
https://youtu.be/st-m1G_DYS8

The image song for NIJISANJI Fes 2022, Hurrah!!, is now available to stream. The music video for the track will feature fan art which will also be displayed at the venue, so get your entries in by August 28!

Illustrations Highlighting Class T-Shirts

NIJISANJI Fes 2022 Image Song, Hurrah!!

Music: Mito Tsukino, Sasaki Saku, Kuzuha, Lize Helesta, Sara Hoshikawa, Minato Fuwa, Axia Krone
Lyrics / Composition / Arrangement: Jin

On the special website, newly-drawn illustrations of the 118 participating VTubers are featured. Each member is a part of a different class, and these class T-shirts will be handed out at random to those with tickets to the event as a bonus. They will also be available for purchase, so don't worry if you don't get the one you want!

▼Green
Manami Aizono, Uiha Aiba, Youko Akabane, Axia Krone, Akane Asahina, Hina Asuka, Momo Azuchi, Kokoro Amamiya, Sayo Amemori, Almal Ars, Katrina Ange, Mugi Ienaga, Inui Toko, Ibrahim, Ichigo Ushimi, Muyu Amagase, Vox Akuma

▼Indigo
Kou Uzuki, Albio Ex, Emma★August, Eli Conifer, Elu, Haruka Onomachi, Oliver Evans, Haru Kaida, Hayato Kagami, Kanae, Shoichi Kanda, Hisui Kitakoji, Gilzaren III, Gwelu Os Gar, Kuzuha, Yotsuba Umise, Aza

▼Blue
Natsume Kurusu, Kuroi Shiba, Mirei Gundou, Tojiro Genzuki, Touya Kenmochi, Akina Saegusa, Ritsuki Sakura, Sasaki Saku, Yuika Shiina, Shellin Burgundy, Rin Shizuka, SisterClaire, Hajime Shibuya, Joe Rikiichi, Tomoe Shirayuki, Akira Shikinagi, Eine

▼Red
Sango Suo, Kana Sukoya, Utako Suzuka, Masaru Suzuki, Aki Suzuya, Miyako Seto, Kirame Sorahoshi, Rion Takamiya, Mito Tsukino, Debidebi Debiru, Kohaku Todo, Dola, Kyoko Todoroki, Kei Nagao, Naraka, Kanato Fura, Elira Pendora

▼Orange
Naru Naruse, Chigusa Nishizono, Sociere Nui, Fuyuki Hakase, Hanabatake Chaika, Sou Hayase, Marin Hayama, Air Harusaki, Kaede Higuchi, Gaku Fushimi, Tamaki Fumino, Furen E. Lustario, Fuwa Minato, Belmond Pandelas, Nei Ponto, Pomu Rainpuff

▼Yellow
Sara Hoshikawa, Himawari Honma, Keisuke Maimoto, Ririmu Makaino, Meme Mashiro, Chima Machita, Mao Matsukai, Moira, Alice Mononobe, Kazaki Morinaka, Rine Yaguruma, Kizuki Yashiro, Karuta Yamagami, Chihiro Yuki, Seraph Dazzlegarden, Mysta Rias

▼Violet
Riri Yuhi, Mahiro Yukishiro, Roa Yuzuki, Kakeru Yumeoi, Ratna Petit, Lize Helesta, Ryushen, Mikoto Rindou, Lain Paterson, Luis Cammy, Levi Elipha, Vincent Leos, Lauren Iroas, Hibari Watarai, Finana Ryugu, Hyakumantenbara Salome

Tomakomai Mirai Fest 2022 Announces Second Round of Performers, Additional Details

New performers and events have been announced ahead of the start of Tomakomai Mirai Fest 2022 in Tomakomai, Hokkaido on September 17 and 18. The event will be held in one of the most gorgeous towns on the island and excitement is building!

The purpose of this event is to promote the appeal of the Tomakomai region, not only to those living in Japan but to those living abroad. In addition to music, the event will also feature art, food, technology, and more content that can be enjoyed by kids, families, and people of all ages and genders.

Tomakomai Civic Hall, Large Hall

Incredible live performances will be held in a futuristic setting. Along with Awesome City Club, Kyary Pamyu Pamyu, and Little Glee Monster, guests can look forward to seeing HY, Wednesday Campanella, Taichi Mukai, and Atarashii Gakko!

Tomakomai Civic Hall, Parking Lot

DJ performances and food trucks will welcome guests to the futuristic area, and the illuminations are sure to impress!

Kirakira Park

An AR system accessible by smartphone will allow guests to take pictures of the Tomakomai Mirai Fest logo for a surprise. During the daytime, a food truck area will provide visitors with different types of gourmet offerings and a stage will showcase local dancers and musicians from Tomakomai. A family-friendly picnic area will allow guests to relax and enjoy good food and live music.

At night, in addition to impressive illuminations and a live stage showcasing Hokkaido's best talent, an island bar will amplify the mood.

O-machi/Nishiki-machi

During the daytime, a gourmet area will feature Tomakomai's famous curry ramen, local craft beer, craft spices, and more. At night, visitors can enjoy restaurants in the O-machi and Nishiki-machi areas while still enjoying the vibe of the event.

And More!

A stamp rally will be held during the event, and guests finding stamps at each location will be eligible to win fantastic prizes. A bus service is also planned.

More performers and details will be announced soon, so stay tuned!

Information

Tomakomai Mirai Fest 2022

Dates: September 17 and 18, 2022

Tomakomai Civic Hall, Large Hall (Admission Fee Required)

September 17 / Doors Open 16:30, Event Starts 17:30

September 18 / Doors Open 14:30, Event Starts 15:30

Tomakomai Civic Hall, Parking Lot / Kirakira Park / O-machi, Nishiki-machi (Free Entry)

September 17: Open at 12:00

September 18: Open at 11:00

*May be earlier or later depending on the venue. Detailed event times will be announced at a later date.

Locations: Tomakomai Civic Hall, Large Hall / Parking Lot / Kirakira Park / Around Omachi, Nishikimachi

Ticket Agency: Ticket Pia

[1-day or 2-day Tickets Available]
Official 2nd Advance Ticket Lottery: July 28, 12:00 – August 7, 23:59

https://w.pia.jp/t/tomakomaimiraifest22/

Official Site: http://miraifest-tomakomai.jp/

Mount Fuji to be Surrounded by Colorful Blossoms During the Rainbow Flower Festival 2022

Yamanashi's Fuji Motosuko Resort is home to the yearly Fuji Shibazakura Festival, one of the most popular spring flower events in Jaapn. From July 16 until October 10, 2022, guests will also be able to enjoy the Rainbow Flower Festival, with over 80,000 blooms decorating the land around Mount Fuji. 

From Left: Coneflowers, Common Zinnia, Begonia, Ageratum

From Left: Scarlet Sage (Sirius), Scarlet Sage (Bonfire), Scarlet Sage (Deep Blue), Coleus

The theme for the inaugural event is 'Seven Colors of Mount Fuji.' Visitors will be able to take incredible pictures, with a variety of blooms springing from the Earth in seven beautiful colors. Whether you love begonias or zinnias, you won't want to miss this one. 

The venue will also feature photo spots that will be perfect for social media, from a rainbow circle bench to the 'Yellow Door of Happiness.' A campaign will also be held to choose the best photos of the event posted to Instagram.


Koppe-pan (with Yamanashi Peach Butter and Whipped Cream) / Lava Fried Tofu / Bellflower Mochi Ice Cream / Jewel Soda


A unique food menu featuring everything from lava-shaped fried tofu to fluffy bread with local peach butter will appear at the event.

*Sample image.

Pictures aren't the only thing you'll leave with–a selection of souvenirs will be on sale, including 'Stick Jelly' made with five types of local fruit puree. These will only be available at the event, so come have a wonderful time visiting Mount Fuji this summer!

Information

Rainbow Flower Festival

Running: July 16 – October 10, 2022

*Blooming dates may vary. The festival will be open every day during the event period.

Hours: 8:00-16:00 *Subject to change.

Tickets: Adults (Middle school age and up): ¥800 / Children (Ages 3 and up): ¥250

Venue: Fuji Motosuko Resort (212 Fujigane, Fujikawaguchiko, Minamitsuru District, Yamanashi)

Official site:https://www.fujimotosuko-resort.jp/

NAKED Summer Festival 2022 to be Held at Nijo Castle in Kyoto

This summer, the World Heritage Site Nijo Castle will host the NAKED Summer Festival 2022 event from July 22 until August 21. Visitors can explore the incredible location at night, illuminated by colorful lights and filled with summer fun.

Festival Stalls

Virtual Content via Smartphone

The entrance gate and Ninomaru Garden will both be illuminated for the event, and a digital fireworks display will be shown on the stone walls surrounding the inner moat.  Continuing from last year, the fan-favorite NAKED Distanced Lanterns and NAKED Tsukubai will be returning.

Come make some summer memories at Nijo Castle!

Tomakomai Mirai Fest 2022 to be Held in September

On September 17 and September 18, the Tomakomai Urban Renewal Project Committee will hold Tomakomai Mirai Fest 2022, inviting guests to celebrate the area around Tomakomai in Hokkaido. 

The purpose of this event is to promote the appeal of the Tomakomai region, not only to those living in Japan but to those living abroad. In addition to music, the event will also feature art, food, technology, and more content that can be enjoyed by kids, families, and people of all ages and genders.

The main venue of the event will be the Tomakomai Civic Hall. Musical acts announced so far include Awesome City Club, Kyary Pamyu Pamyu, and Little Glee Monster.

In the Tomakomai Civic Hall parking lot and the nearby Kirakira Park, guests can enjoy free DJ performances, mini-concerts, art and technology installations, food trucks, picnic areas, and more. In addition, the Nishikimachi and Omachi areas will be decorated with digital art, and food and beverages will be available.

Advanced 2-Day tickets are available now on Ticket Pia by lottery. More performers and additional content will be announced soon, so keep an eye on social media and the official website.

Information

Tomakomai Mirai Fest 2022

Dates: September 17 and 18, 2022

Venue: Tomakomai Civic Hall, Large Hall

Hours: 

September 17 / Doors Open 16:30, Event Starts 17:30

September 18 / Doors Open 14:30, Event Starts 15:30

*More detailed event times and locations will be announced at a later date.
Locations: Tomakomai Civic Hall, Large Hall / Parking Lot / Kirakira Park / Around Omachi, Nishikimachi

Tickets: https://w.pia.jp/t/tomakomaimiraifest22/

Official Site: http://miraifest-tomakomai.jp/

Private Jet Package Now Available in Toyama Offering Spectacular View of Tateyama Mountains

Mizu to Takumi, a company associated with the Toyama West Tourism Promotion Association, has teamed up with SKYTREK to offer guests a once-in-a-lifetime chance to visit the area via private jet. Reservations for the incredible experience began on June 17, 2022.

Offering an entirely new tourism experience in Toyama Prefecture, visitors can see the area's natural wonders from miles above the Earth. The program also aims to share local culture and more about traditional craftsmanship and cuisine.

Toyama Prefecture boasts dramatic topography, from the massive peaks of the Northern Alps and the Tateyama Mountains to the deep waters of Toyama Bay. To better allow visitors to see the sights, these private jet tours will be chartered on special courses different from standard airlines.

After the flights, guests will be welcomed to explore Takaoka's deep history and culture. Kane no Sanzun, a restored and preserved inn, will welcome visitors, offering a relaxing and rejuvenating time.

Visitors can also book optional excursions to further explore the area, such as a Zen meditation experience at a famous temple in Takaoka, a traditional crafting workshop, and a tour and tasting of the only whiskey distillery in the Hokuriku region.

Come enjoy a trip to Toyama with a whole new perspective!

Airbnb Reveals Top 10 Most Popular Summer Destinations in Japan

Airbnb boasts one of the largest travel communities in the world, filled with users offering up lodging and those eager to visit somewhere new. The Japanese subsidiary of the company has revealed the top spots added to Japanese users 'Favorites (Wish Lists)' from May 1 to May 17, 2022. Where will travelers in the country be headed this summer?

Golden Week is long gone and users are starting to think about where to visit during the hottest part of the year. This national 'Wish List' might make it easier to pick a spot, with many locations highlighting lesser-known areas!

Gujo Hachiman Villa, Limited to 1 Couple Per Day (Gifu)

This completely private rental villa was made for sauna enthusiasts. One lucky pair per day can book this suite along the Yoshida River flowing through Gujo Hachiman, known as the "City of Water and Dance." Currently booked through the end of August, reservations for September and beyond will be available in early June. Book a stay to enjoy the gorgeous autumn foliage!

A House Surrounded by Lush Greenery in the Countryside (Tottori)

Hosted by a family of musicians and architects, this guesthouse invites guests to enjoy gorgeous Nordic-inspired interiors and the serene quiet of the countryside. For those looking to escape the hustle and bustle of the city, this is the perfect spot.

Hoshina Satomachi, Limited to 1 Couple Per Day (Nagano)

There's nothing like spending the summer in a traditional Japanese home. Enjoy a barbeque on the terrace and relax on the massive lawn. This is the perfect spot for families with children or pets!

Coastal Cabin (Chiba)

You can't have summer without a pool. This luxurious coastal retreat boasts a 15-meter pool, outdoor Jacuzzi, bonfire space, and a barbeque. Relax by the pool while listening to your favorite songs or soak in the outdoor bath as you watch the waves crash along the shore.

An Elegant and Peaceful Log Cabin (Nagano)

Located at 1,300 meters above sea level on the Iizuna plateau, this log cabin is situated in the midst of a dense forest. A perfect space for couples, families, or small groups of friends, guests are welcome to enjoy hiking through this gorgeous landscape in the center of Japan!