Winter Travelling in Japan With Hoshino Resorts Promises Cosy Solitude
Hoshino Resorts is offering many ways for guests to enjoy themselves this winter with a range of activities and vistas, whether it be gazing at the starry sky, enjoying a holiday season glamping session, and more—all of which can be done while avoiding the Three C's during the pandemic, meaning you won't have to come into contact with others.
A Wintertime Agriturismo Resort Experience in Tochigi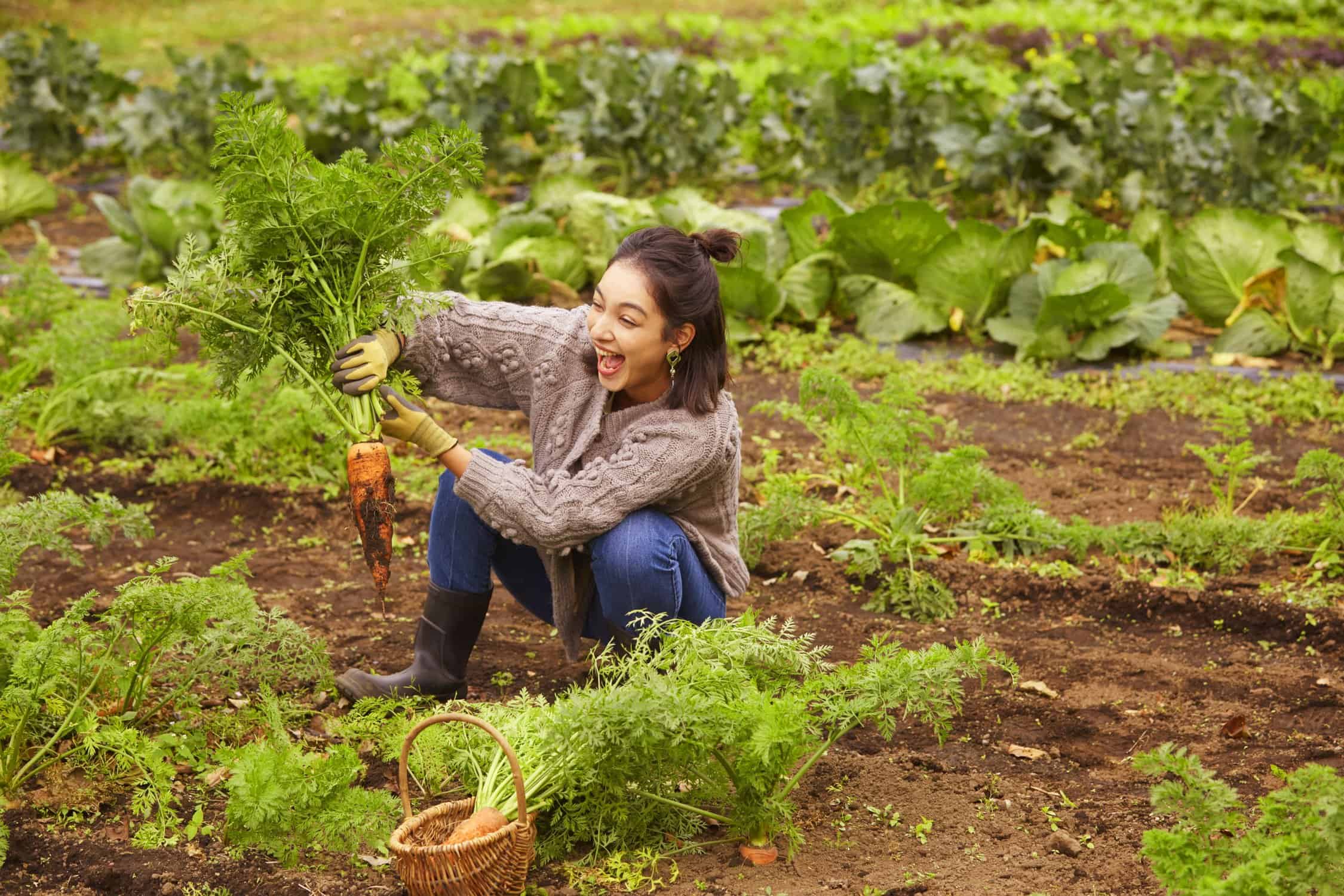 At Hoshino Resorts RISONARE Nasu, guests can enjoy an authentic, vegetable-packed Italian course dinner, indoor bathing in their own guest rooms in an accommodation surrounded by nature, open-air hot springs to warm up during the winter season, and more. There's also a "Farmer's Lesson" for that true agricultural tourism experience ('agriturismo') so guests can feel at one with nature in Nasu.
▼Hoshino Resorts RISONARE Nasu
Address: 2301 Takakuotsu, Nasu, Nasu District, Tochigi
Running: December 1, 2020 – March 15, 2021
Stargazing On the Ice in Nagano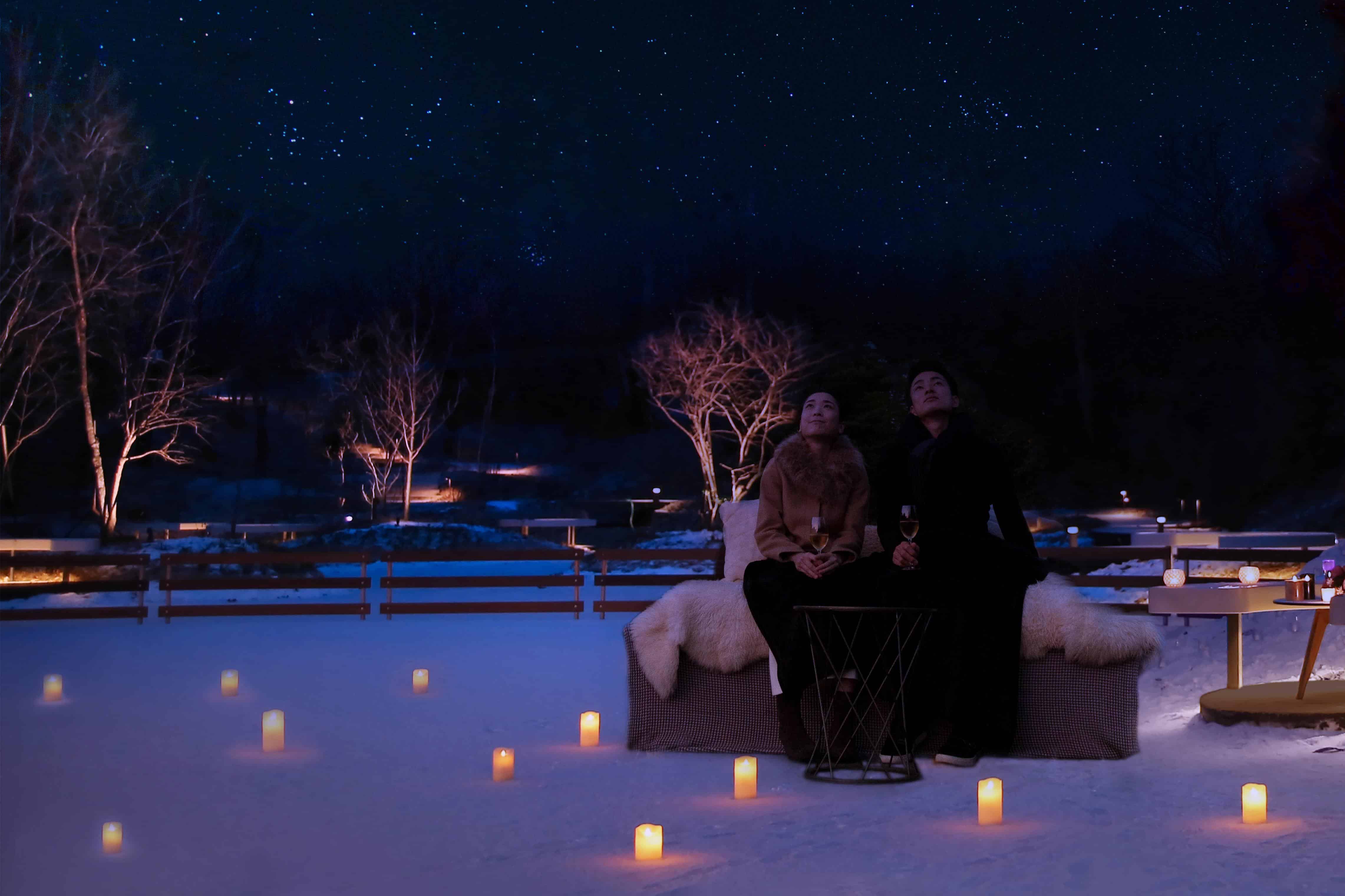 Guests can lose themselves in the stars while they enjoy a glass of Nagano wine or fondue from Hoshinoya Karuizawa's cafe and bar. One group of two guests can rent the area all to themselves for a romantic and memorable time.
▼HOSHINOYA Karuizawa
Address: 2157-428 Nagakura, Karuizawa, Kitasaku District, Nagano
Running: December 1, 2020 – February 28, 2021
Winter Season Glamping in Yamanashi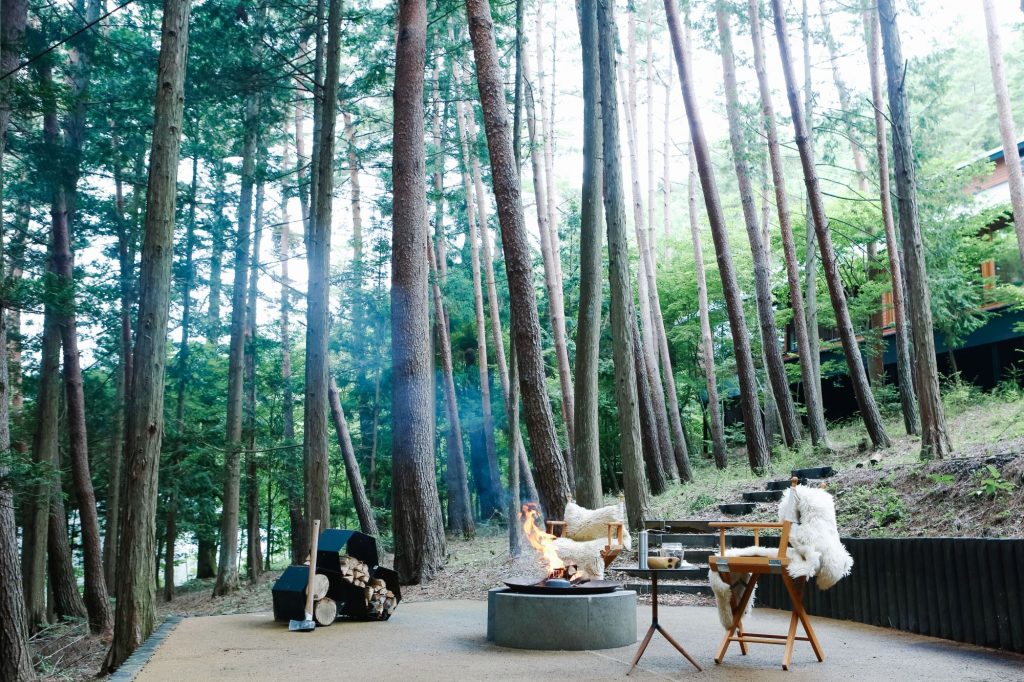 HOSHINOYA Fuji is offering a special glamping program this winter where guests get their very own private space to enjoy the outdoors. They can chop their own woods, build their own fires, and more. It's the perfect program to get your body warmed up during the cold winter months.
▼HOSHINOYA Fuji
Address: 1408 Ōishi, Fujikawaguchiko, Minamitsuru District, Yamanashi
Running: December 1, 2020 – March 15, 2021
An Unbeatable Ocean View With Hanami Flower Viewing in Shizuoka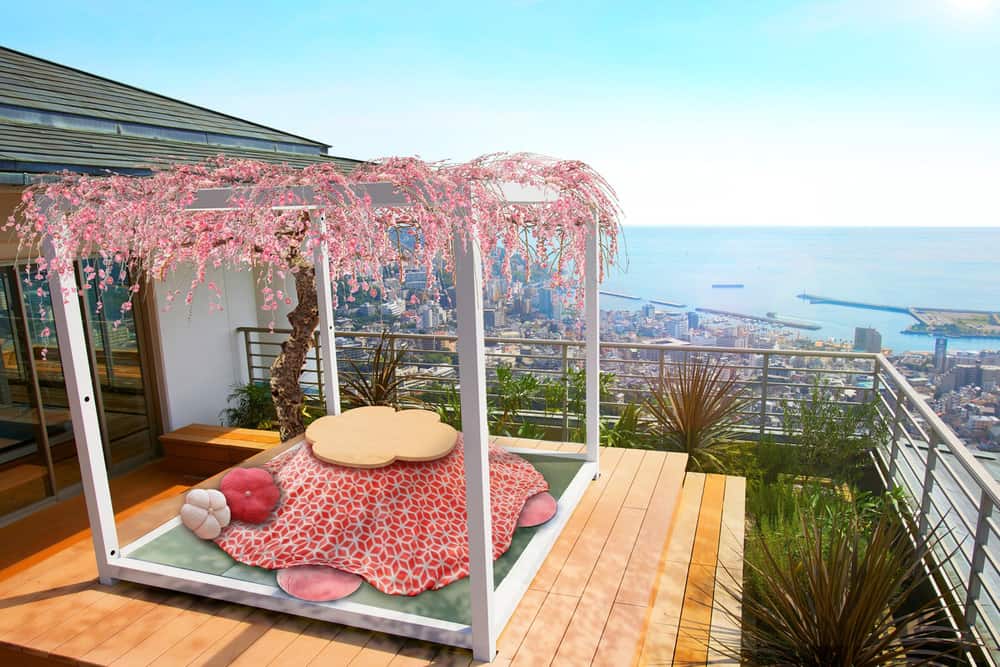 Hoshino Resorts RISONARE Atami is offering a special program where guests can enjoy the earliest bloom of Japan's plum blossoms together with a panoramic ocean view. The hotel's rooftop Sora no Beach Books&Cafe is a cafe designed to look like a beach and serves as the perfect vantage point for this exclusive experience.
▼Hoshino Resorts RISONARE Atami
Address: 2 Chome-13-1 Minaguchicho, Atami, Shizuoka
Running: January 8, 2021 – March 12, 2021
Acquire Knowledge of the Blue Zone in Okinawa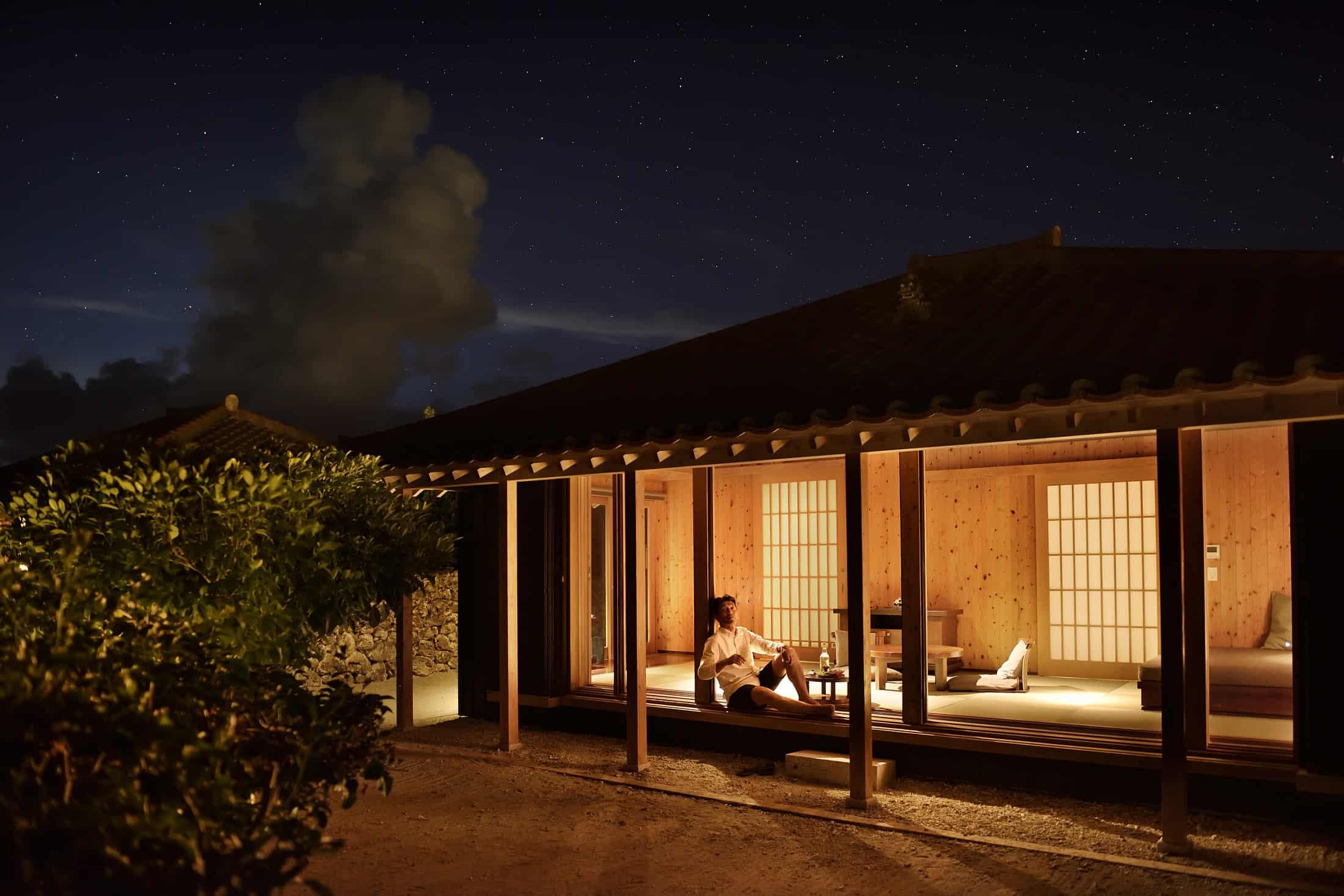 HOSHINOYA Taketomi Island sits on Taketomi Island which is located inside one of the world's four Blue Zones, regions where it's claimed that a higher than usual number of people live longer. There, guests can gain knowledge on how to live a healthy lifestyle. They will spend time moving their bodies as they work out on the farm, learn the secrets to sunbathing and eating nutritional food, and more, all to rebalance the rhythm of their lifestyles.
▼HOSHINOYA Taketomi Island
Address: Taketomi, Yaeyama District, Okinawa
Running: From December 1, 2020 (Not running on select days)
RELATED ENTRIES
McCafe by Barista to Offer Cookies & Cream Frappe for Winter Season

McDonald's Japan locations with McCafe by Barista installations will begin selling the Cookies & Cream Frappe for a limited time starting December 8, 2021. The McCafe by Barista corner employs full-time baristas serving 'authentic cafe coffee.' 

McCafe by Barista invites guests to enjoy high-quality frappuccinos and smoothies and these locations are offering three unique Frappes this winter. Following the Strawberry Creme Brulee Frappe and normal Creme Brulee Frappe released in late November, the Cookies & Cream Frappe will release soon, filled with rich vanilla sweetness!

Cookies & Cream Frappe Medium: ¥470 / Large: ¥540 (Tax Included) 

 

The drink is a rich blend of creamy vanilla made from Madagascar Bourbon vanilla beans, blended with crunchy Oreo cookie bits and topped with whipped cream and chocolate sauce. What's not to love?

Yokohama Red Brick Warehouse to Hold 17th Annual Art & Ice Skating Event ArtRink

Starting in 2005 to add more color to Yokohama's winter season, the ArtRink event held at Yokohama Red Brick Warehouse combines artworks and ice skating for a bright and colorful way to spend a cold day. The 17th annual event will be held from December 4, 2021, until February 20, 2022, and will feature two artists: Moeno Ootsu and unpis, both taking part for the first time. The theme for this year's art is 'Stepping Out in Slippers.' 

Moeno Ootsu

unpis

Message from the Artists

Hello. 

For this event, we've created an everyday space, 'home,' in a very not-everyday space: ArtRink in Yokohama.

Guests should come on an adventure that begins at the front door, then dance on ice through the kitchen, bathroom, bedroom, and more!

You might discover something new among the familiar furnishings and snippets of daily life.

We hope that once you leave ArtRink and return home, you'll try to keep dancing from time to time.

Just have fun. Dance with us!

Whether you're wearing skates, sneakers, or slippers…

Just take a step and have the best possible time this winter.

Information

ArtRink at Yokohama Red Brick Warehouse

Running: December 4, 2021 – February 20, 2022

Location: Yokohama Red Brick Warehouse Event Space

Details: http://akarenga-artrink.yafjp.org/

Model Shibata Saki's Trip to Mie Prefecture to Air on BS12 for 2 Consecutive Weeks

On November 18 and November 25, national free broadcasting service BS12 will air 'NEXT TRIP: A Luxury Resort Trip to Ise and Shima.' The host for the excursion will be popular model Shibata Saki (nicknamed Shibasaki), who is a well-known figure to women of all ages.

NEXT TRIP is a new travel program that helps travelers figure out where to go next. The theme of the series is "Where should I go once the world settles down?" From visiting popular city spots to faraway resorts in Japan and abroad, the show aims to introduce people to locations they haven't discovered yet, showcasing what the world has to offer. Those watching should keep a lookout for spectacular scenery, gourmet local food, outdoor activities, and so much more. 

[Part 1] November 18, 2021, 9:00 – 'NEXT TRIP: A Journey to Ise'

In this episode, Saki Shibata travels to Ise, Mie Prefecture, first visiting Ise Shrine to pay her respects. The shrine is one of the holiest and important sites in the Shinto faith and was said to be established in the year 4 BCE. After visiting the Inner Shrine on a bright and sunny morning, Shibata travels to the ancient Okage Yokocho street to find some souvenirs and enjoy a local cafe to enjoy Ise's famous rice cakes and traditional Japanese sweets. For lunch, she visits a very retro western-style building. At the nearby Ise Ninja Kingdom, guests can wear ninja costumes, and Shibata does just that! As the day comes to an end, Shibata opts to stay at a luxurious ryokan, Ikyuu, and highlights the incredible dinner and other services the lodging offers.

Air Date: November 18, 2021 / 9:00-10:00

[Part 2] November 25, 2021, 9:00 – 'NEXT TRIP: A Luxury Resort Trip to Ise and Shima' 

The second part of the trip begins with cycling. Visiting the famous Married Couple Rocks on the coast of Futami, Shibata sets out for Shima. After enjoying the breathtaking view from the 'Mailbox in the Sky' on the Ise-Shima Skyline, she stays at a resort overlooking the Shima coast. Guests are welcome to take a leisurely stroll around the grounds and enjoy a luxury cruise or dinner. The sunset is something Saki Shibata will surely never forget.

 

Air Date: November 25, 2021 / 9:00-10:00

Where do you want to travel in Japan once the world settles down?

Actresses Masami Nagasawa and Kaho Model LOWRYS FARM 2021 Winter Looks

Fashion brand LOWRYS FARM has released a new Winter visual and promotional video featuring popular actresses Nagasawa Masami and Kaho as models.

Promotional Video

 

Yuni Yoshida served as art director on the new campaign. The winter collection is filled with items to appeal to the widest range of women in the hopes of attracting newcomers to the brand. 

The main visual features Masami Nagasawa and Kaho wearing LOWRYS FARM's most popular knitwear along with memorable contrasting orange lines. Which of these new pieces would you like to add to your winter rotation?

Spend the Winter in a Unique Shinshu Snow Hut with Limited-Time Package

A part of Hoshino Resorts, KAI Alps is an incredible hot spring inn located in Omachi, Nagano prefecture, at the foot of the Northern Japanese Alps. In February 2022, the hotel will allow guests to book the Shinshu Snow Hut Experience, where visitors can enjoy the winter in a traditional snow-packed hut surrounded by bamboo lights. This area is one of the snowiest places in the region, and the locals have plenty of knowledge when it comes to getting through the cold.

Nagano prefecture is often called the 'Space prefecture' for its beautiful starry skies. Inside the snow hut, guests will be surrounded by lights, and bamboo lanterns will light the way. These gentle lights are perfect for the white of winter, despite the cold. 

Exclusively for this package, a kotatsu (heated table) will be placed inside the huts, and guests can wear traditional local clothing perfect for the weather. Sweet sake made at the Hokuan Sake Distillery in Omachi City and local rice cakes with Nozawa pickled greens, a Shinshu specialty, will also be served up. 

How would you like to partake in this traditional experience?

Information

Shinshu Snow Hut Experience

Running: February 1, 2022 – February 28, 2022

Price: ¥2,000 per person (Tax & Service Charge included) 

Reservations: Make on the website at least one week in advance

Capacity: 1 group per session (2-4 people per group)

Location: KAI Alps – Hoshino Resorts

Hours: 19:00-19:45 / 20:00-20:45

Limited to Hotel Guests Only

Four New Pokemon Manhole Covers Appear in Katori City, Chiba Prefecture

On November 10, 2021, four new Pokemon-themed manhole covers were unveiled in Katori City, Chiba prefecture. These will be the first appearance of the Poke Lids project in both the city and prefecture and each will feature landscapes specific to the area. Pokemon featured in these new covers include Galarian Farfetch'd, Falinks, Florges, and Lotad. 

The Poke Lids project features completely original art, and each serves as a PokeStop in the mobile game Pokemon GO. Many are located in smaller towns and areas, and this has brought more tourism and attention to some of Japan's more charming hidden gems. Going on a pilgrimage to visit these locations has become a popular new fad, so be sure to try it out once Japan opens!

Poke Lid Locations in Katori

Galarian Farfetch'd Poke Lid: 109-14 Sawara, Katori, Chiba

Falinks Poke Lid: 1722-1 Sawara, Katori, Chiba

Florges Poke Lid: 4549-1 Sawara, Katori, Chiba

Lotad Poke Lid: 4053-3 Sawara, Katori, Chiba

©Pokémon. ©Nintendo/Creatures Inc./GAME FREAK inc.
ポケットモンスター・ポケモン・Pokémonは任天堂・クリーチャーズ・ゲームフリークの登録商標です。

Accommodation Plan Overlooking 'Tokyo Dome City Illuminations' and Matching Collab Cocktail Announced

Tokyo Dome Hotel has announced that a special accommodation plan overlooking the 'Tokyo Dome City Illuminations, which will be lit up between November 5 2021 and February 28 2022, and a matching collaboration cocktail will be available between November 5 and January 10. 

Room Example: Deluxe Double Room

A spectacular view from the rooms! Sample image of Tokyo Dome City Illuminations


Tokyo Dome City Winter Illuminations Collab Cocktail 'Winter Bright'

Bar '2000' Interior

The event theme this year is "Lights you'll want to snap a picture of." Tokyo Dome City, including the giant 15m Christmas tree, will be decked out in over 230,000 champagne gold LED lights which can change between white, red, blue, purple, and orange. Photo frame shaped photo-spots will be spread across five locations throughout Tokyo Dome City, full of gimmicks to offer amazing photo opportunities! In addition to the beautiful lights, there will be exciting and playful light displays to encourage visitors to take photos and have fun at the same time.

 

 

With this new accommodation plan, you can enjoy the beauty of the illuminations from the comfort of a private hotel room. The offer includes two one-time-use amusement park ride tickets per person, giving guests the opportunity to visit their favorite attractions while taking in the fantastic night view that can only be seen over the winter period. 

 

 

The Tokyo Dome City illuminations can be fully appreciated from bar '2000,' who will be offering a limited-time collab cocktail during the event period. The 'Winter Bright' cocktail is made using strawberry and peach liquor, orange juice, and tonic water, with the red, white, and orange layers that match perfectly with the backdrop of glowing illuminations. Why not visit and spend an evening sipping on this fruity cocktail while enjoying the beautiful winter view?

Information

Tokyo Dome City Winter Illumination Accommodation Plan

Duration: November 5 2021 ~ January 10 2022 

30 rooms are available per day.

Official Site. https://www.tokyodome-hotels.co.jp/ 

 

Collaboration Cocktail "Winter Bright"

Availability: November 5 2021 ~ January 10 2022

Tokyo Dome City Winter Illuminations

Duration: November 5 2021 ~ February 28 2022

※The main tree will be displayed until January 10 2022

Location: Tokyo Dome City

Hours: 17:00 ~ 24:00 ※Subject to change based on social conditions and sunset time.

Hoshino Resort's Banta Cafe in Okinawa to Open Limited-Time Night Cafe During Winter

Located in wonderfully warm Okinawa, Hoshino Resort is the perfect getaway for those wanting a warmer winter. The Banta Cafe overlooks the ocean, offering unmatched views. From December 1, 2021, until January 31, 2022, the cafe will hold the 'Illumi-Banta: Night Lights by the Sea' event. Of course, Illumi-Banta is a portmanteau of the words 'Illumination' and 'Banta,' but the Okinawan word iyumibanta means 'a cliff overlooking the fish.' The entire location, from the top of the cliff all the way to the sea, will be bathed in otherworldly light. A special menu will also be available during the event period, serving up food perfect for eating as guests wander by the seaside. A number of Okinawan workshops will also bring local craftsmen to the site to show off their creations. Why bundle up when you can enjoy a warm winter by the ocean? 

A Fantastic World of Light and Ocean Life

Banta Cafe sits on a cliff above the water, and the waters beneath it hide gorgeous coral reefs. Watch the sea come to life, as the ocean, white sand beach, and rock formations are illuminated. The lights will change colors during the daily light show along with the tides, so don't miss it!

Light Show Times: 18:30, 20:00, 21:00 *Each show lasts about five minutes.

Playful Plant Shadows

On the large roof deck located at the entrance, large fern and palm leaves have been arranged to welcome guests along with other plants local to Okinawa. Using lights, the shadows from these plants reach massive heights on the 4-meter high Ryukyu limestone walls, and guests are encouraged to try making some fun shadow puppets for the perfect snapshot!

Enjoy a Lantern-Lit Night Picnic with the Strolling Soup Set

The night cafe will be selling a special Strolling Soup Set menu, inviting guests to venture out onto the sandy shore with a lantern in hand to enjoy a meal beside the sea. Guests can choose two of the available four soups along with a crispy baguette and herb butter. 

Hours: 18:00 – 20:30 (Last Order)

Price: Strolling Soup Set for Two, ¥2,600

Includes: Two types of soup and bucket for two people, lantern and basket rental

Four Types of Soup

・ Minestrone
Filled with colorful vegetables, such as tomato, bitter melon, and yellow carrot

・Clam Chowder

Packed with seafood flavor and a unique mix of Okinawan spices

・Consomme with Yushi Tofu
A lightly-salted soup made with Okinawa's fluffy Yushi Tofu and thick-cut bacon

・Yam and Cauliflower Potage
Creamy potage with white cauliflower and brightly colored yam

The Night Light Market, a Gathering of Proud Okinawan Artists

On Saturday nights from January 8 to January 29, the Night Light Market will bring various artists and craftsmen from Okinawa to the Hoshino Resort. These artists will be excited to share the culture of Okinawa and will offer a range of products made of locally sourced materials. Guests can even try their hand at local crafts at the indoor Gorogoro Lounge!

Running: Every Saturday Night from January 8 – January 29, 2022

Hours: 18:00-21:00

Wouldn't you prefer a warm Okinawan winter? 

Information

Illumi-Banta

Running: December 1, 2021 – January 31, 2022 (Closed from January 17-21)

Hours: Sunset – 21:30

Official Site: https://banta-cafe.com/

GU x UNDERCOVER Collab for Second Time, First Kidswear Launched

Affordable clothing retailer GU is teaming up with top Japanese fashion brand UNDERCOVER for the pair's second collaboration. The collection will be available at GU stores nationwide and online starting October 29, 2021. 

First Kidswear Product Lineup

Started by Jun Takahashi in 1990, UNDERCOVER blends various aspects of art, music, and subculture into its constantly evolving collections. 

Following the popular Spring/Summer 2021 collection, this new collaboration mixes UNDERCOVER's unique and original worldview with GU's concept of 'freedom.' Together, they have come up with the keyword 'FREEDOM/NOISE' to describe the new pieces. 

This new Fall/Winter collection features original patterns, graphics, and characters created by Takahashi exclusively for GU. Each item was designed with the style of UNDERCOVER in mind, giving more of a streetwear feel. The full lineup includes men's and women's seasonal wear, scarves and gloves for fall and winter, and even pajamas and loungewear. This also marks the first time kidswear has been released in a collaboration between the two. 

Information

GU x UNDERCOVER

Release Date: October 29, 2021

Where to Buy: GU Stores Nationwide and Online

(*Products may vary depending on the store.) 

Kurobe Gorge Trekking Tour Offers Breathtaking Two-Day Trolley Journey

The Kurobe Gorge Trolley in Toyama will offer a special two-day journey through the fall foliage on October 29 and November 1, 2021. 

Atobiki Bridge

Okukane Bridge

Promenade

Babadani Jigoku

On the day of the tour, guests will enjoy a leisurely journey through nature as a Kurobe Gorge tour guide explains the features of the surrounding environment. 

Kyoto's Kurodani Temple, Typically Closed to the Public, to Accept Visitors for Limited Time

Constructed in 1175, the Kurodani Temple is one of the head temples of the Jodo Sect of Buddhism. Though typically closed to the public, the grounds will open for a short period to allow guests to experience some beautiful autumn scenery beginning November 12, 2021. This temple is associated with the Shinsengumi and served as the headquarters of the Aizu Clan at the end of the Edo period, so those interested in history won't want to miss out on this incredible opportunity. 

[Night] Shiun Garden

[Day] Autumn Leaves at the Main Gate

[Day] Shiun Garden

[Night] Autumn Leaves at the Main Gate

Temple Grounds at Sunset

The Tiger's Room

Ohoujou Garden

Founders Hall

Live Koto Performance

Gokoushiyuiamidabutsu, 'Afro Buddha' 

Guests will be able to enjoy the gorgeous autumn temple scenery during both daytime and nighttime, with the night viewing also offering some traditional Japanese live music. Visitors can also see various temple treasures and historical items, as well as the Tiger Room, known for its painted doors. The unique and aptly named Afro Buddha will also be on display. After training for an extremely long period of time, the Buddha's hair piled up, giving him this strangely modern appearance. 

On a clear day, guests will be able to see clear to the Abeno Harukas building in Osaka. Vividly painted ceilings and other statues will completely surround visitors in spiritual history. At night, traditional Japanese music will be played at three different times in the front gardens. On Friday, Saturday, and Sunday, the temple will offer a Premium Plan, allowing interested guests to enter the grounds 30 minutes before general admission starts. (This will require reservations made on the official website.) This will also include a guided tour!

How would you like to experience this piece of Japanese history while surrounded by unforgettable autumn foliage? 

Information

Special Autumn Viewing

Kudodani Temple, Kyoto – The Head Temple of the Jodo Sect of Buddhism

Address: 121 Kurodanicho, Sakyo-ku, Kyoto

Night Viewing Details: https://www.kurodani.jp/lightup/

Day Viewing Details: https://www.kurodani.jp/sp_daytime/

Daytime Viewing

Running: November 12 – December 5, 2021

Hours: 10:00-16:30 (Final Admission at 16:00)

Special Viewing Areas: Mikado, Daihojo, the Gardens, two locations at the main gate

Night Viewing

Running: November 12 – December 5, 2021

Hours: 17:30-20:30 (Final Admission at 20:00)

Live traditional Japanese music will be performed in the garden located in front of the Main Hall at 17:45, 18:30, and 19:15

Junei Hotel Kyoto Adds New Plan Allowing Guests to Reserve Entire Property

The Junei Hotel Kyoto Imperial Palace West, a small luxury hotel located in the heart of Japan's ancient capital, has revealed a new plan allowing guests to rent out the entire premises. Imagine being in a hotel with only your closest family and friends!

The Junei Hotel Kyoto Imperial Palace West – Guest Room

The Junei Hotel Kyoto Imperial Palace West – Bathroom

The Junei Hotel Kyoto – Bamboo Suite

The Junei Hotel Kyoto – Bamboo Suite Bathroom

The Junei Hotel Kyoto – Standard Room

The Junei Hotel Kyoto – Standard Bathroom

The Junei Hotel Kyoto – Breakfast at Futago

The Junei Hotel Kyoto – Futago Restaurant Interior

The Junei Hotel Kyoto – Dinner at Futago

Arashiyama Yusaitei

Arashiyama Yusaitei

Kibune Riverbed

Hozucho River Boat Ride

The Junei Hotel Kyoto Rooftop View of Kiyomizu-dera Lights

The Junei Hotel Kyoto Rooftop Garden Moon Viewing

With two locations in Kyoto, guests will be able to enjoy the entirety of the hotel in complete privacy while still enjoying hotel hospitality. With between 8-11 rooms, this would be the perfect spot for a family gathering, wedding reception, graduation trip with friends, corporate meeting place, or even for overseas guests!

The Junei Hotel Kyoto Imperial Palace West opened in 2017 as a community-based luxury hotel with only eight rooms, with a single mission: bringing the beauty of Japan to the world. Beyond simply finding a place to sleep for the night, the hotel wants guests to experience something special and to provide an unforgettable experience. By partnering with local tourism associations, the Junei Hotel hopes to accurately convey the traditions and singular culture of the city of Kyoto. 

In March 2020, a second location opened. The Junei Hotel Kyoto is surrounded by bamboo, and in fact, the theme of the hotel itself is bamboo and the moon. Each of the guest rooms is decorated with traditional and local bamboo crafts, and every detail is pulled from the natural beauty of Higashiyama, Kyoto. 

The restaurant attached to the hotel, Futago, is the perfect place for adults to unwind and recharge. The kappo-style course menu features Kyoto vegetables and seasonal ingredients, blending the delicious with the nutritious. Chefs will cook each dish using a variety of methods, and guests will be amazed by how the flavor of the meat changes from course to course. The menu changes each month, so be sure to come back throughout the year!

Guests can also rent out Arashiyama Yusaitei, a gorgeous building deep in the forests of Kyoto perfect for wedding receptions, photoshoots, tea ceremonies, and more. The rooftop garden offers a stunning view of Kiyomizu-dera and is also perfect for moon viewing. Those wanting to get even closer to nature can enjoy a boat ride down the Hozucho river, and for those craving desserts, a Japanese sweets-making class is also available!

Who would you take with you on a private stay at the Junei Hotel Kyoto?