Japan Hotels | New Hotel The OneFive Terrace Fukuoka to Open on December 15
Hakata Hotels is welcoming the third branch of its The OneFive brand hotels with the opening of The OneFive Terrace Fukuoka in Chuo, Fukuoka, on December 15, 2020.
The OneFive is based around the old Japanese way of ichigo ichie, which roughly translates to "treasure every meeting, for it will never reoccur." It has taken considerate measures to question what really constitutes as necessary service when it comes to hotels, and launched as a new brand of simple yet comfortable and high quality hotels serving Japanese omotenashi, or hospitality.
Simple yet fine quality comfort
The OneFive Terrace Fukuoka is located in busy central Hakata—within walking distance of the entertainment district of Nakasu and the lively riverside area of Tensu—while offering spacious and comfy rooms.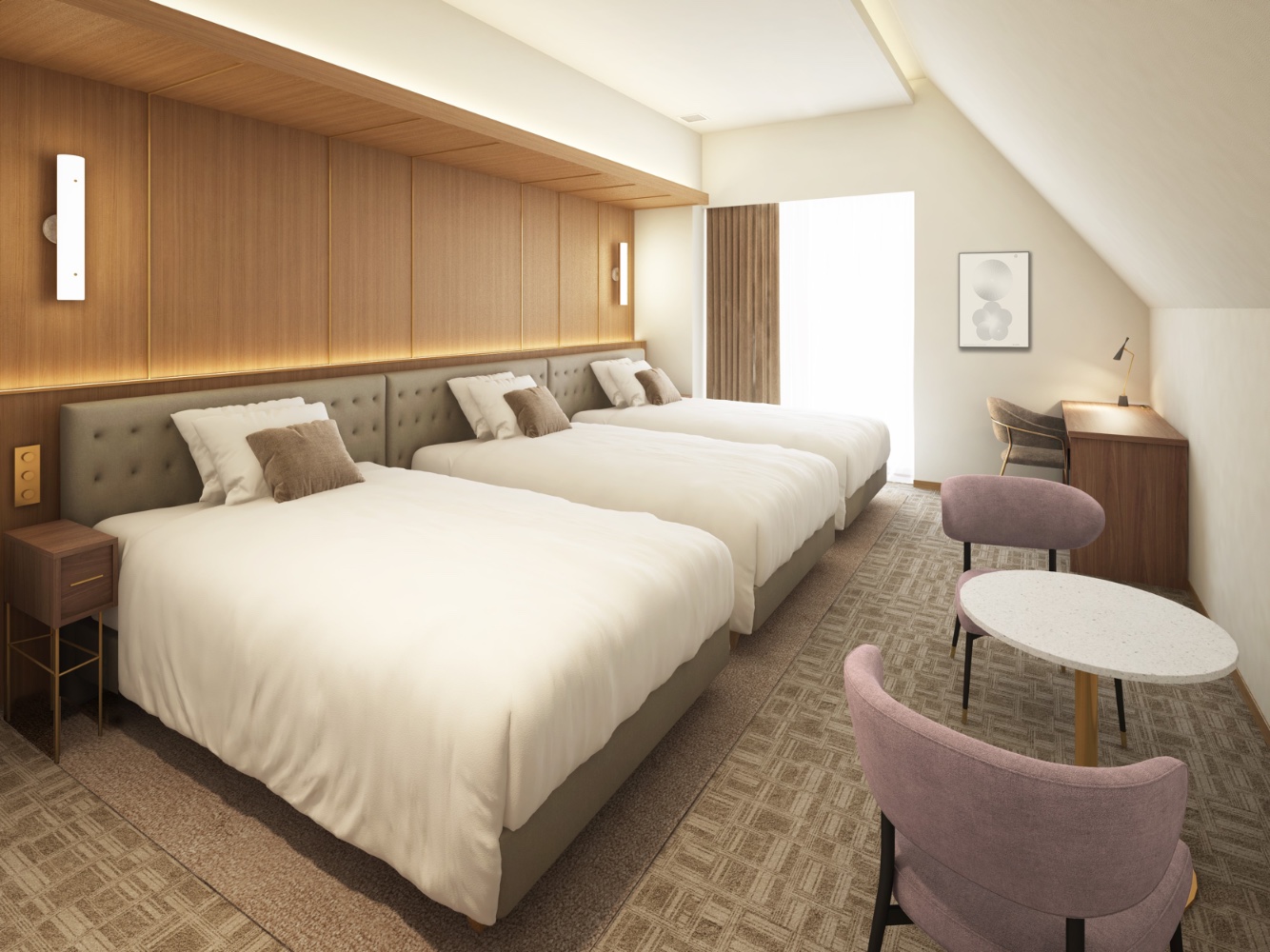 Rooms are 27㎡~48㎡ in size, with Double Rooms being equipped with king size beds and Twin Rooms with two double beds. Each has a bath, toilet, and wash area, as well as a writing desk, closet, and other pieces to make the hotel stay as comfortable and convenient as possible. There are of courses terraces too, living up to the hotel's name, which act as 'another living room' for guests.
The 4 S's of Japanese Tea at The OneFive Terrace Fukuoka
1. Select
A selection of specially-selected teas from around locations in Kyushu such as Yame (Fukuoka), Chiran (Kagoshima), Ureshino (Saga), and elsewhere.
2. Style
Enjoy tea in a variety of different styles from creamy and foamy draft tea to hand drip tea and more.
3. Sweets
The hotel's pastry chefs will whip up a range of tea-flavoured desserts that fuse the traditional Japanese taste with modern western ideas.
4. Scene
All guests staying at The OneFive Terrace Fukuoka are offered a welcome cup of tea. The hotel is a chance for them to appreciate the local culture, region, and lifestyle arranged in a contemporary way.
RELATED ENTRIES
Keio Plaza Hotel Announces Special Room Plan to Celebrate 50th Anniversary

Keio Plaza Hotel will turn 50-years-old on May 1, 2021. To celebrate its 50th anniversary, the hotel has announced a special room plan which will take place in its Imperial Suite Room, the only room in the hotel that still has the same design as when it first opened 50 years ago.

The Imperial Suite Room sits on the 41st floor of the hotel, offering a panoramic view of the east and west of Tokyo. This premium suite has been stayed in by countless VIPs and state guests. The concept for its design was conceived by Japanese modernist designer Isamu Kenmochi who is known as a pioneer of the 'Japanese-Modern' style.

Guest staying in the room for this plan will be greeted and serviced by a concierge. An optional tour of the hotel will also be offered by the concierge who is an expert in its history.

Before dinner, guests will be treated to a piano performance and enjoy some aperitifs made by the bartender. The bartender in question has won numerous awards at cocktail competitions and can make a drink catered to guests' preferences. 

Dinner is enjoyed with a front-row seat of Tokyo's nightscape from up on the 44th floor. The full course meal is made with seasonal ingredients chosen by the head chef and comes with wine selected by the hotel's sommelier. As a freebie, guests are given delicious baked confections as well as a bath towel embroidered with their own name.

Information

Hospitable Concerto Echoing from the Skyscraper – Hotel Plan

Japanese Plan Name: 摩天楼に響く、おもてなしの協奏曲(コンチェルト)

Running: March 1, 2021 – March 28, 2022 (Saturdays Only)

Where: Keio Plaza Hotel

Reservations: Must be made 3 weeks in advance

Price: ¥500,000 (Tax Included) for one room for two guests

Capacity: 2-4 (an extra ¥100,000 for 3+ people)

TEL: (03)-5322-8000

Keio Plaza Hotel Official Website: https://www.keioplaza.co.jp/corporate/

Snoopy Café Opens in Niigata in Collaboration With Hoshi Tabeyo Rice Crackers

Befco is collaborating its Hoshi Tabeyo star-shaped rice crackers with the lovable Peanuts comic strip to open a themed café at Hotel Nikko Niigata. Named the "Hoshi Tabeyo x Snoopy Café @ Hotel Nikko Niigata," the café will open for a limited time from April 9 to May 9."

Snoopy and fans of Japanese snacks can look forward to an original themed menu, with every food item and drink ordered getting them a free novelty. Of course, the café will sell its own original merchandise too. The café will be decorated in all things Peanuts and Hoshi Tabeyo, and there will even be two photo booths for snapping a commemorative photo of your fun day.

The Menu

1. Snoopy Beef Stew: With a juicy meat and bouillon base, this stew is made with beef, onion, and mushrooms, all topped off with a Snoopy made from rice.

2. Snoopy Hamburger Curry: Snoopy's rice ears are topped with a hamburger, and the curry sauce is made with fruit and vegetables. There's even a little Woodstock made from cheese.

3. Snoopy Hot Sandwich: There are two different sandwiches, one with ham and cheese and the other with potato salad, and both have a different toasted illustration on them. These come in a free lunch box.

4. Hoshi Tabeyo Shaka Shaka Caesar Salad: A salad served in a cup drizzled in a Caesar dressing and with Hoshi Tabeyo rice crackers instead of croutons.

5. Thick Soufflé Pancake: Fat and fluffy pancakes combined with French meringue and served with a Snoopy cookie and sweet-tasting Hoshi Tabeyo. Enjoy together with the accompanying strawberry sauce.

6. Chocolate Parfait: A towering, chocolate-packed parfait layered with chocolate sauce, chocolate cornflakes, chocolate ice cream, and brownie. This is all topped off with a Snoopy cookie and Hoshi Tabeyo rice cracker.

7. Hotel Original Cookies (Set of 4): Crunchy cookies with various prints of familiar faces like Snoopy and Woodstock.

8. Lemonade: A sweet and refreshing lemonade beverage served with honey.

*Dishes 1-3 come with the Shaka Shaka Caesar Salad

*Ordering anything from the menu gets you one of four possible Hoshi Tabeyo x Snoopy postcards

Merchandise

© 2021 Peanuts Worldwide LLC( 短縮形 © 2021 Peanuts )

Information

Hoshi Tabeyo x Snoopy Café @ Hotel Nikko Niigata

Running: April 9, 2021 – May 9, 2021

Location: Hotel Nikko Niigata Floor 31F

Address: 5-1 Bandaijima, Chuo Ward, Niigata

Opening Hours: 11:30-18:30 (Last Orders 17:30)

Official Website: https://www.hotelnikkoniigata.jp/sys/news/detail/323

Japan's Kirby Café Announces Kirby's Happy Birthday Fair

If you didn't know, Kirby's birthday falls on April 27. To celebrate, Kirby Café Tokyo and Kirby Café Hakata have announced the Kirby's Happy Birthday Fair event which will run from April 1 to May 9 where customers can get their fingers on some delicious birthday treats and items.

 

Kirby's Birthday Line-Up

Happy Birthday☆Kirby | ¥1,518 (Tax Included)

No birthday is complete without a fitting cake. This one is loaded with fruit, strawberry cream, an icing cookie, and other delicious treats. Make sure to get yourself a slice before Kirby inhales it whole!

Kirby 29th Birthday Badge | ¥594 (Tax Included)

Kirby 29th Birthday Candy (Lime Flavoured w/Sticker) | ¥638 (Tax Included)

TOKYO BOX Candy (Lemon Flavoured w/Sticker) | ¥638 (Tax Included) | Exclusive to Kirby Café Tokyo

Candy (Soda Flavoured w/Sticker) | ¥638 (Tax Included)

Candy (Strawberry Flavoured w/Sticker) | ¥638 (Tax Included)

Information

Kirby's Happy Birthday

Running: April 1, 2021 – May 9, 2021

Bookings: Not mandatory but recommended

Kirby Café Tokyo: https://kirbycafe-reserve.com/guest/tokyo/

Kirby Café Hakata: https://kirbycafe-reserve.com/guest/hakata/

Kirby Café Tokyo

Address: Tokyo Skytree Town Solamachi Floor 4F (1-1-2 Oshiage, Sumida, Tokyo)

Opening Hours: 10:00-21:00 (Last Orders 21:00)

Kirby Café Hakata

Address: Canal City Hakata North Bldg. B1F, 1-2-1 Sumiyoshi, Hakata, Fukuoka, Fukuoka Prefecture

Opening Hours: 11:00-21:00 (Last Orders 22:00)

Kirby Café Official Website: https://kirbycafe.jp

Japanese Milky Candy Themed Hotel Rooms Open in Collaboration With Hoshino Resorts

Hoshino Resorts has launched a hotel plan at its BEB hotel branches called "Milky Sweet Room Stay." The plan was devised in collaboration with Japanese confectionery brand Fujiya and their popular Milky soft candy. Guests will be able to stay in rooms decorated in all things Milky, an experience that is running from March 26 to June 30.

Milky Sweet Room

Look like Peko-chan, the Milky mascot, with the top and overall set

Find Peko-chan at Hoshino Resorts BEB5 Karuizawa

Make a Milky smoothie on a bicycle at Hoshino Resorts BEB5 Tsuchiura

Milky Sweet Room Stay opening campaign

Guests will be able to enjoy Milky like they never have before in all kinds of deliciously sweet ways. Rooms are adorned with Milky cushions, a doll of Peko-chan who is the face of Milky, Milky wallpaper and decorations, Milky bath products, and of course Milky candy.

At the Karuizawa branch of Hoshino Resorts BEB5, guests must locate Peko-chan in three locations around the area. Those who find all three will win all-you-can-eat French toast covered in Milky sauce. at the Tsuchiura branch, guests can get a set of ingredients to make their own smoothie by pedalling on a bicycle. It takes about 30 seconds for your Milky shake to be ready.

The iconic Milky packaging design is also being revamped in celebration of the brand's 70th anniversary. As part of the celebration, guests can expect t see a line-up of past designs along with some rare ones. Hoshino Resorts is also holding a campaign to promote the room where dix people can win a ¥50,000 voucher for Hoshino Resorts as well as a set of assorted Milky candy.

Tokyo's Colourful New Hotel toggle hotel suidobashi Opens For Business April 1

Atrium Co., Ltd. is set to open the all-new 'toggle hotel suidobashi' on April 1, 2021. Reservations opened on Monday (March 22).

Original Items

Room Colour T-Shirts | S/M/L/XL | ¥2,000 Each 

My Bottle | ¥700

The hotel houses 84 bedrooms for groups of 2-5 people, with each floor of the hotel dyed in a different colour, meaning every stay at the hotel will be a unique experience.

Which colour suits you the most?

Fukuoka Prefecture NPO Releases Fukuoka-Original Sake 'Seiko Haruyoshi'

Fukuoka-based NPO Haruyoshi has launched limited sales of the first entry in a series of original sake releases, all of which are being made in Fukuoka. The name of the project's first sake is Seiko Haruyoshi.

Seiko Haruyoshi 01 | ¥2,200

The sake is made from rice cultivated by Haruyoshi Denen in collaboration with Kazuyoshi Hamachi, a Japanese rice farmer based in Itoshima, Fukuoka. Haruyoshi Denen launched in 2019 and aims to have locals participating in the planting and harvesting of Yamada Nishiki, a short-grain rice used in the production of high-quality sake.

About the brewer's rice of Itoshima

Itoshima is located in western Fukuoka, popular as a tourist area for its expansive mountain range and gorgeous ocean views. This rich natural environment also makes it an ideal location for rice cultivation, including Yamada Nishiki rice. This is what lead to the creation of Haruyoshi Denen, a project which enables the brewers to share their brewing story with locals.

Fukuoka's sake breweries

Throughout the duration of this long-term project, a different Fukuoka-based brewery will be chosen to craft a sake each year. Producing the Seiko Haruyoshi is Isonosawa, the only Japanese brewery located in Ukiha, Fukuoka. Ukiha is abundant in natural water drawn from the Chikugo River.

Japanese Boy Band JO1 Photo Exhibition Announced For Shibuya and Fukuoka

Japanese boy band JO1 released their first photo book Progress on January 27 this year. Fans who were unable to get a copy, or those who just want more JO1, will be excited to hear that a photo exhibition will take place at Shibuya PARCO from March 19 to 29 and Fukuoka PARCO from March 19 to April 4.

JO1 1st Photo Collection "Progress"

Shibuya exhibition's main visual

Fukuoka exhibition's main visual

Exhibition-exclusive merchandise

"Progress" Mugs | ¥1,500

"Progress" Tote Bags | ¥1,800

"Progress" Folders | ¥500 Each

The exhibition will feature not only photos that are included in the photo book, but exclusive, never-before-seen ones too. A collection of merchandise will also be available for fans to buy, and all who attend the exhibition will receive a free solo photo of one of the members.

Information

Progress JO1 Photo Exhibition

Shibuya Exhibition

Running: March 19, 2021 – March 29, 2021

Where: Shibuya PARCO B1F GALLERY X

Opening Hours: 11:00-20:00 (Last entries at 19:30)

Fukuoka Exhibition

Running: March 19, 2021 – April 4, 2021

Where: Fukuoka PARCO Floor B1F

Opening Hours: 10:00-20:30 (Last entries at 20:00) 

*Prior bookings will be required for entries running from March 19 to 21

Bookings/Details: https://art.parco.jp

Tokyo's Pixar Exhibition 'PIXAR! PIXAR! PIXAR!' to Open in Spring 2021

A Japan-original Pixar exhibition by the name of PIXAR! PIXAR! PIXAR! is set to run from April 8-19 at Seibu Ikebukuro in Tokyo. The exhibition is a celebration of all things Pixar Animation Studio and Walt Disney Japan where fans will have the opportunity to glimpse never-before-seen concept art, learn about the secrets of the studio's office building, hear interviews with Japanese staff who work at the animation studio, and much more.

Pixar fanatics can expect to see all their favourite characters from the filmography such as Monsters Inc., Toy Story, Wall-E, Coco, Finding Nemo, and more. There will be plenty of merchandise to add to the collection too—around 200 pieces in fact—including items with official artwork that has never been made into merch before.

New official artwork illustrated by Pixar Animation Studios for 'PIXAR! PIXAR! PIXAR!'

 

The artists at Pixar Animation Studios have created an original collection of artwork for the exhibition which will be displayed around the site itself as well as on merchandise sold there. There will also be a behind-the-scenes video showing at the exhibition where you can see the staff drawing the pieces.

                                               

A historical lookback at Pixar's filmography

The exhibition will pay homage to everything Pixar has to offer, from their roots of animation shorts to their critically acclaimed full length animated features. If you have a favourite from any of these, you're sure to find merchandise of it at the exhibition.

Feel like you've been invited to Pixar Animation Studios

The exhibition will have an area decorated with a gallery of posters, the famous Pixar lamp and ball, Woody and Buzz statues made from Lego, and more, as well as a photo gallery from pictures taken inside the studio.

Learn all there is to know about Pixar

Learn all the trivia about Pixar from what kind of Japanese people work at the studio, what characters are hidden throughout their films, and more.

Original Merchandise                                     

Fans can sift through around 200 pieces of original merchandise.

Movie Poster Collection

The posters released for each of Pixar's films have been shrunk down into a collection of postcards.

Final frame merchandise

A line-up of merchandise featuring the final frames taken from all 23 of Pixar's feature length animations.

Early concept art

The exhibition will sell an array of merchandise featuring artwork that has never been turned into merch before, such as early concept art.

Easter eggs

There will also be merchandise featuring fun Easter eggs hidden throughout Pixar's films.

 

Pixar Animation Studios

A line-up of merchandise that makes you feel like you're part of the Pixar office.

Bonus Items                              

Visitors that spend over ¥3,000 (tax included) on merchandise at the exhibition will receive one of 8 possible pins. These are available on a first-come, first-served basis. Additionally, spending over ¥6,000 will get fans an original bottle too.

The exhibition will also be moving around Japan after its Tokyo run. Check the locations below.

©DISNEY/PIXAR All rights reserved. No reproduction or republication without written permission.

Information

PIXAR! PIXAR! PIXAR!

Running: April 4, 2021 – April 19, 2021

Opening Hours: 10:00-20:00 

Where: Seibu Ikebukuro Annex Bldg. Floor 2F

Price: General ¥800 / Children ¥500

Kyoto Exhibition

Running: April 21, 2021 – May 5, 2021

Where: Daimaru Kyoto Museum Floor 6F

Entry: Free

Aichi Exhibition

Running: July 21, 2021 – August 12, 2021

Where: Matsuzakaya Nagoya Floor 7F

Entry: Free

Shizuoka Exhibition

Running: December 29, 2021 – January 16, 2021

Where: Matsuzakaya Shizuoka Floor 8F

Entry: Free

POP-UP SHOP

Where: Fukuoka PARCO Floor 5F

Running: April 17, 2021 – May 9, 2021

Entry: Free

Official Website: https://www.ntvs.co.jp/ppp-official/

BEAMS JAPAN x Fukushima Prefecture's Fukushima Mono Mappu Project Heads to Kyoto

Fukushima Mono Mappu, a project run in collaboration with BEAMS JAPAN and Fukushima Prefecture, has set up to shop in Kyoto for the first time at BEAMS JAPAN KYOTO where their line-up of products will be available for purchase until March 14.

Shirakawa Daruma BEAMS JAPAN KYOTO Exclusive Model (Purple) | Small ¥900, Medium ¥1,800, Large ¥4,500 (Before Tax)

The Fukushima Mono Mappu project launched in January 2018 as a way to promote Japan's prefecture of Fukushima across the country. The collaborative project has released many different items, and now the people of Kyoto will be able to enjoy what the prefecture has to offer. To celebrate its first time in Kyoto, BEAMS JAPAN KYOTO will also be selling an exclusive purple daruma.

Information

Fukushima Mono Mappu – Peko Taro's City Trip 

Japanese Event Title: ふくしまものまっぷ べこ太郎の都旅

Running: February 17, 2021 – March 14, 2021

Location: BEAMS JAPAN KYOTO

Opening Hours: 11:00-20:00

Address: Shinpuhkan, 586-2 Banocho, Nakagyo Ward, Kyoto, 604-8172

TEL: 075-708-6848

Official Website: https://www.beams.co.jp

Doraemon Future Department Store to Open Pop-Up Shop in Hakata

Doraemon's official shop Doraemon Future Department Store, which is located in Odaiba, Tokyo, has announced that it will open a pop-up shop in Hakata, Kyushu, from February 18 to March 7. Fans can get their hands on a selection of exclusive merchandise and more.

Not Only Merchandise, But Services Too

1. Customise Service


The pop-up shops will offer a customisation service which lets customers have different embroideries put into the T-shirts, tote bags, and key rings. The work is done on the spot by hand so you can see the result of what will be a very special item of which only one exists in the world. Perfect for Doraemon fans and gifts to friends and family.

2. Post Office


The shop will offer a postal service for sending off Doraemon letters and postcards with original Doraemon stamps.

Bonus Items: 1st Anniversary Postcard / Mini Tote Bag

There are also bonus items for fans to get their hands on depending on how much they spend.

1. Customers who buy anything from the pop-up store will receive a free 1st anniversary postcard. One per transaction, available while supplies last.

2. Customers who spend over ¥5,000 (tax included) in a single transaction will receive a free tote bag. One per transaction, available while supplies last.

Universal Points Card

Points cards will be available which allow fans to buy additional exclusive merchandise as well as receive discounts. 1 point = ¥1 discount. Points are gained during transactions. These cards can be used not only at the pop-up shop but the main store in Odaiba as well as online. There's also a handy app tied to the card.

Information

Doraemon Future Department Store in JR Hakata City 2021
Running: February 18, 2021 – March 7, 2021
Where: JR Hakata City AMU EST Floor 1F POPUP STAGE
Address: 1-1 Hakata Station Central Gate, Hakata-ku, Fukuoka-shi, Fukuoka
Opening Hours: [Mon-Sat] 10:00-21:00 / [Sun & Holidays] 10:00-20:00
Doraemon Future Department Store Official Website: https://mirai.dora-world.com/

hotel koe tokyo Celebrates 3rd Anniversary With Luxurious Financier Strawberry Open Sandwich

hotel koe tokyo is celebrating its third anniversary by serving up a special financier strawberry open sandwich at the koe lobby on the first floor.

Financier Strawberry Open Sandwich | ¥1,045

The sandwich is made using a financier bread baked by the hotel koe bakery. This fluffy and airy treat has crunchy sides and sits on top of a bed of fresh cream bathed in crème anglaise. It's finished with a loaded topping of fresh strawberries which add a sweet and tangy flavour to the sandwich.

If you're staying in Tokyo this month, don't miss out on this limited-time treat which is being served from February 8 to 28.

Information

hotel koe tokyo Financier Strawberry Open Sandwich
Where: koe lobby @ hotel koe tokyo
Serving Dates: February 8, 2021 – February 28, 2021

Serving Times: 15:00-18:00提供期間:2021年2月8日(月)~2月28日(日)
Opening Hours:

[Morning] 7:30-11:00 (Last Orders 10:30)

[Lunch] 11:00-15:00 (Last Orders 14:30)

[Tea Time & Dinner] 15:00-20:00 Last Orders 19:30)

Official Website: https://hotelkoe.com/food/

Tokyo's Fancy New Pink Afternoon Tea at THE GRAND GINZA is Topped With Chocolate and Strawberries

THE GRAND GINZA in Tokyo is getting ready for Valentine's Day and White Day with the revealing of its new afternoon tea menu which will be served from February 1 to March 31.

The "Pink Afternoon Tea" is a combination of succulent strawberries and fruity ruby chocolate, which is the fourth type of chocolate alongside milk, dark, and white. It includes a ruby hot chocolate for staying warm during these cold winter months, strawberry macarons, strawberries to dip in ruby chocolate, strawberry quiche curry, and other unique items for a mix of sweet and savoury. There's also a strawberry mille-fuille made with a recipe by Ginza's famous French restaurant Maxim's de Paris.

There are also 18 drinks to choose from including 13 types of teas from TWG. It's a must-visit for Valentine's Day.