Doraemon Design Wristwatch Releases For Manga Character's 50th Anniversary
Customisable watch brand UNDONE released a new collection of wristwatches in Japan on Tuesday (December 15).
Special Doraemon 50th Anniversary Series
The celebratory line-up commemorates Doraemon's 50th anniversary and includes limited quantity models, customisable made-to-order models, and more, each with references to the beloved series.
50TH ANNIVERSARY
50TH ANNIVERSARY (Limited to 150 models) | ¥39,600 (Tax Included)
The '50TH ANNIVERSARY' model features an illustration of Doraemon as seen in the early days of the manga series.
The early artwork of Doraemon is nothing short of adorable
Back of wristwatch features vintage style design
FRIENDSHIP
FRIENDSHIP (Limited to 150 models) | ¥39,600 (Tax Included)
Best friends Nobita and Doraemon come together for this special design.

Spot Doraemon's tiny bell at 12-o'clock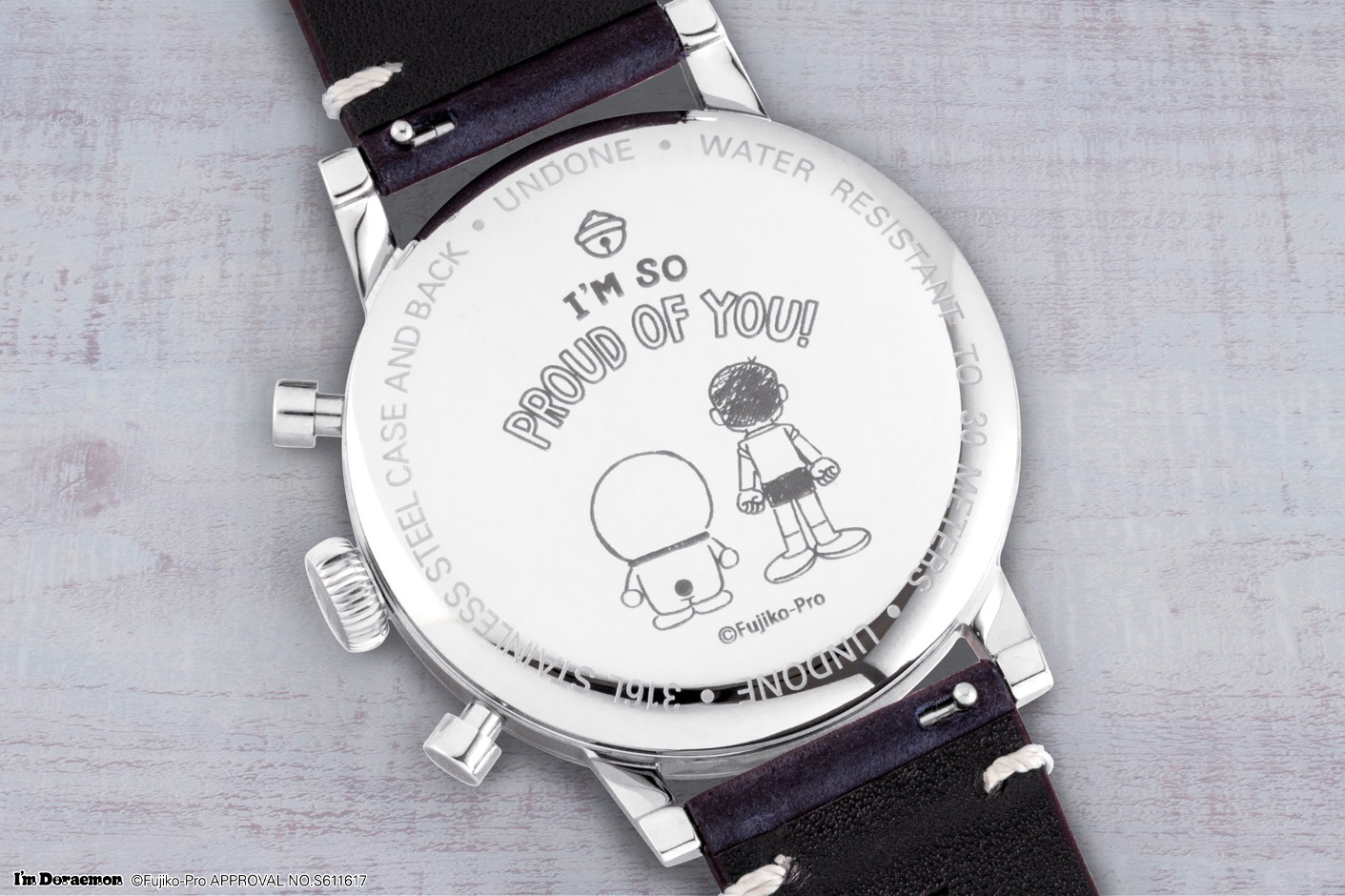 Doraemon and Nobita on the back side
The watch has simple white dials, and it has a function where it lights up at night to reveal Doraemon and Nobita. The design captures the beauty of the pair's everlasting friendship.
THE BELL
THE BELL (Customisable Model) | ¥29,700 (Tax Included)
This cute watch just screams Doraemon's design with its colouring and his iconic bell in the centre.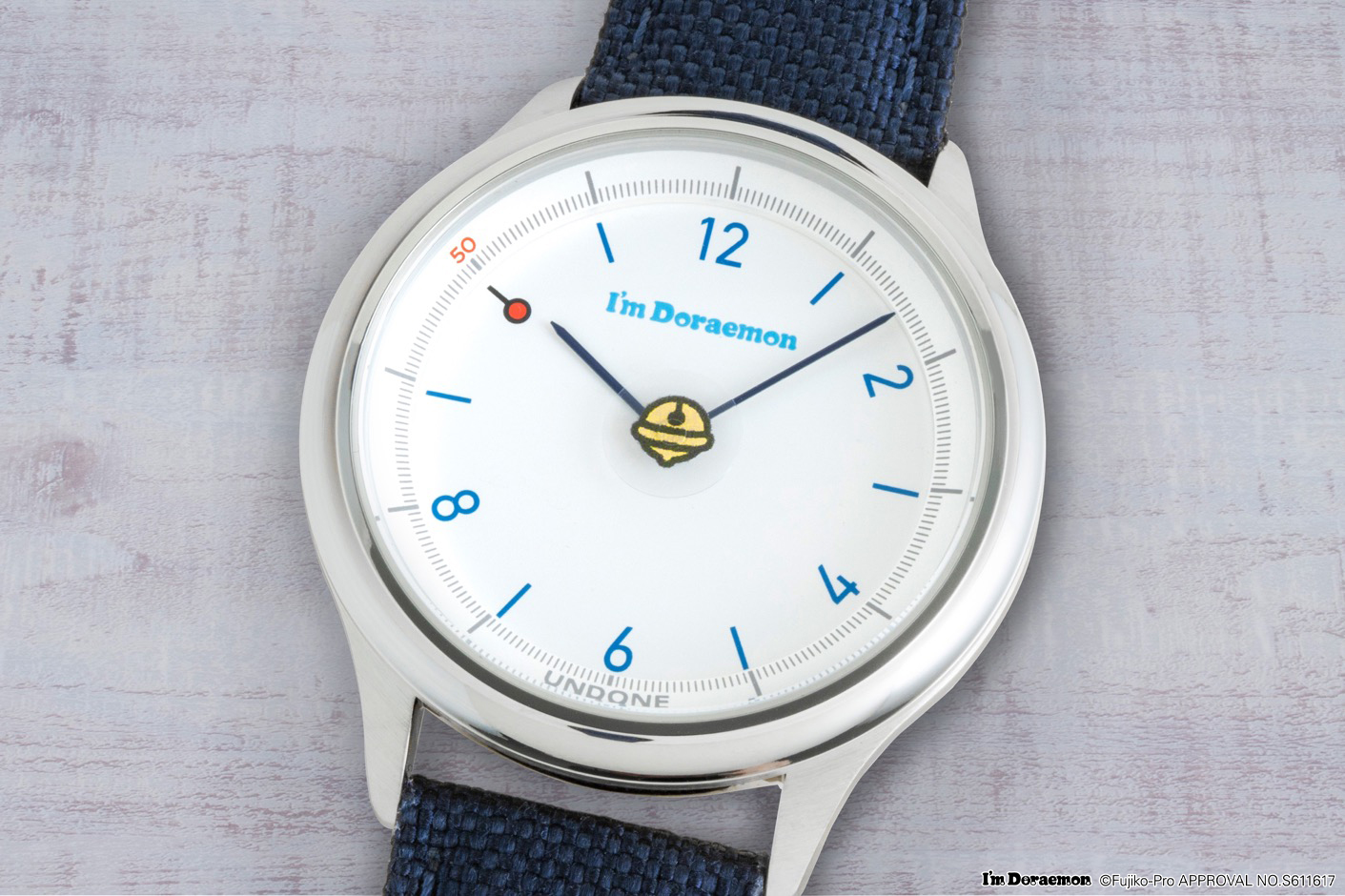 The bell turns as the hands go around
Doraemons everywhere on the back side
This watch is customisable with various different designs. If you look closely at the 50-minute mark you'll see a red dot representing Doraemon's tail. It's also a nod to his 50th anniversary.

©Fujiko-Pro APPROVAL NO.S611617
RELATED ENTRIES
Casio Reveals New BABY-G Pikachu Watch in Collaboration With Pokémon

Japanese electronics giant Casio has announced its second collaboration with The Pokémon Company to release a Pikachu design watch as part of its BABY-G shock-resistant line of wristwatches. The Pikachu BA-110PKC watch will drop worldwide via G-SHOCK's official website on February 5, 2021.

The watch comes as part of BABY-G's 25th anniversary celebrations as Pikachu is number 025 in the Pokédex. It features classic Generation I inspired artwork of Pokémon's leading mascot.

BA-110PKC | ¥19,800 (Tax Included)

Casio describes the watch: "This second collaboration is an analog-digital watch with an outdoor theme, representing the active image of the BABY-G brand. The entire BA-110PKC band showcases a camouflage pattern and female Pikachu with a heart-shaped tail. The Pikachu design is infused with subtle details like the silhouette of the pink tail on the strap keeper and the Pikachu image etched on the case back. The hour and minute hands also evoke the face of Pikachu, a playful touch that will delight the wearer whenever they check the time."

The watch is boxed with a Poké Ball inside which Trainers will find their trusty new Pikachu watch companion.

© 2021 Pokémon. ©1995-2021 Nintendo/Creatures Inc./GAME FREAK inc.
Pokémon, ポケットモンスター, and ポケモン are registered trademarks of Nintendo, Creatures Inc., and GAME FREAK inc.

Famous Doraemon Quotes Feature On Traditional Kiriko Cut Glasses

GLASS-LAB, a company in Japan that makes traditional Edo Kiriko cut glass products, has created a collection of drinking glasses featuring famous quotes from the popular Doraemon manga series . The glasses are available to buy in Japan via publisher Shogkaukan's online site Waraku Web.

Doraemon Kiriko Cut Glasses (5 Designs) | Limited to 20 glasses per design | ¥44,000 Each (Tax Included)

The inside of the glasses are made use a glass flattening technique called hei-kiriko while the base is sandblasted with a technique called suna-kiriko that was invented by GLASS-LAB to print on the manga strip design. The finishing result makes the manga panel reflect on all sides of the glass.

©Fujiko-Pro,Shogakukan

Doraemon x GUCCI Collection Launches Worldwide

In celebration of Chinese New Year, GUCCI launched a new collection in collaboration with the famous Japanese manga series Doraemon as selected by the brand's Creative Director Alessandro Michele.

©Fujiko-Pro

GUCCI recruited photographer Angelo Pennetta to create playful photoshoot for the collection which features smiling models accompanied by Doraemon inside a retro house.

©Fujiko-Pro


©Fujiko-Pro

The exclusive collection features over 50 items from T-shirts to hoodies, shoes, bags, headwear, a suitcase, and more. Each item combines the stylish design of GUCCI and the colourful blue and white colour of the iconic manga character.

©Fujiko-Pro


©Fujiko-Pro

Every item in the line-up arrives in sustainable packaging made from 100% recycled materials. GUCCI stores in Japan, Australia, China, Hong Kong, India, Malaysia, Singapore, Taiwan, Thailand, and Vietnam will also welcome figures and prints inspired by the cities in these countries. The Shanghai and Hong Kong GUCCI art walls will also feature Doraemon against a GG backdrop.

The collection was released on GUCCI's official website worldwide and will drop in-store in Japan on January 20. The GUCCI store in Shibuya PARCO will plaster up promo posters and the Ginza, Aoyama, Shinjuku, and Nagoya branches will feature recreation's of the iconic Anywhere Door from the manga series.

Limited-Edition Emerald Blue Sailor Moon Eternal Wristwatch Released in Japan

Citizen Watch brand wicca released a new emerald green wristwatch to commemorate the release of the new anime film Sailor Moon Eternal. The item was released exclusively on PREMICO's online shop in Japan on January 6, 2021, with a limited stock of just 3,000.

Wicca x Sailor Moon Eternal Special Collab Watch | ¥29,800 (Before Tax)

The watch features intricate nods to the film such as a crescent moon at the 12-o'-clock mark with a rhinestone, Pegasus and white wings on the bottom half, an emerald blue round face, the Crystal Carillon on the 6-o'-clock mark, and more.

The mesh strap is pink and gold to complete the a beautiful and feminine appearance. And since only 3,000 have been made, each watch also has its own Edition Number engraved into it. The watches are packaged in special gold leaf box with a Swarovski® crystal on it.

©武内直子・PNP/劇場版「美少女戦士セーラームーンEternal」製作委員会

Swarovski® is a registered trademark of SwarovskiAG.

Official HIGE DANdism Release Music Video Teaser For Doraemon Film Theme 'Universe'

Official HIGE DANdism dropped a teaser for their new Universe single on Wednesday, the newest single from the pop band which is set for release on February 24, 2021.

The new song features as the main theme for the upcoming anime film Doraemon: Nobita's Little Star Wars 2021 which is hitting Japanese theatres on March 5, 2021. The song is an ode to the little alien Papi and the grand adventures of Doraemon and co in the film.

Official HIGE DANdism – "Universe" Music Video Teaser


The full music video, directed by Takuto Shimpo who has directed numerous of the band's videos, will premiere on YouTube on January 9, 2021 at 18:00 (JST). Save the premiere video link below.

Official HIGE DANdism – "Universe" Music Video Premiere Link

Universe will be released in three editions: the CD-Only Edition, CD+Live Blu-ray Edition, and CD+Live DVD Edition. The DVD and Blu-ray editions come with the full footage of Official HIGE DANdism's online concert "Official HIGE DANdism ONLINE LIVE 2020 – Arena Travelers -" which was watched by 120,000 fans on September 26, 2020.

Universe will hit major music streaming and download services earlier than the physical release on January 9, 2021.

©藤子プロ・小学館・テレビ朝日・シンエイ・ADK 2021

Information

Universe
Release Date: February 24, 2021
CD-Only Edition: ¥700 (Before Tax) [PCCA. 70553]
CD+Live DVD Edition: ¥4,500 (Before Tax) [PCCA-06011]
CD+Live Blu-ray Edition: ¥4,500 (Before Tax) [PCCA-06010]
Official HIGE DANdism "Universe" Special Site: https://universe.ponycanyon.co.jp

Doraemon: Nobita's Little Star Wars 2021
Release Date: March 5, 2021
Official Website: https://doraeiga.com/2021/

Doraemon Future Department Store to Open Pop-Up Shop in Osaka and Nagoya

Doraemon's official shop Doraemon Future Department Store, which is located in Odaiba, Tokyo, is celebrating its 1st anniversary of opening this December by opening two limited-time shops in Osaka and Nagoya this month and January respectively. Fans can get their hands on a selection of exclusive merchandise and more.

Customise Service

The pop-up shops will offer a customisation service which lets customers have different embroideries put into the T-shirts, tote bags, and other merch they buy. The work is done on the spot by hand so you can see the result of what will be a very special item of which only one exists in the world. Perfect for Doraemon fans and gifts to friends and family.

Post Office

The shop will offer a postal service for sending off Doraemon letters and postcards with original Doraemon stamps.

Bonus Items

1st Anniversary Postcard


Mini Tote Bag


Those who buy anything from the department stores will receive a free 1st anniversary postcard. And for every ¥5,000 spent (tax included) they'll get a mini tote bag. These are all limited in stock so you'll want to get them while they're hot.

If you're in Osaka or Nagoya over the New Year be sure to pay a visit to the Doraemon Future Department Store pop-up shops.

©Fujiko-Pro

Information

Doraemon Future Department Store in Abeno Harukas Kintetsu 2021
Location: Abeno Harukas Kintetsu, Wing Building Floor 4F
Running: December 30, 2020 – January 17, 2021
Opening Hours: 10:00-20:00 (until 18:00 on January 17)
Closed: January 1, 2021

Doraemon Future Department Store in Takashiyama Gate Tower Mall 2021
Location: Takashiyama Gate Tower Mall (Nagoya), Rose Terrace on Floor 7F
Running: January 8, 2021 – January 26, 2021
Opening Hours: 10:00-21:00

*Opening hours subject to change

Doraemon Celebrates 50th Anniversary With PORTER Bag and Merchandise Collaboration

To celebrate Doraemon's 50th anniversary, Japanese bag brand PORTER is releasing a collection of exclusive collaborative items.

Tote Bag ¥35,500

Long Wallet ¥24,000 | Multi-Wallet ¥17,000 | Pouch ¥16,000

PORTER's line-up of original items feature inkjet printing with a navy base along Doraemon pictures and Doraemon's logo in PORTER's orange branding.

The inside of the items bear Doraemon's iconic colouring along with a carabiner ring with a Doraemon bell on it.


T-Shirts (2 Designs/4 Sizes) ¥6,500

Bandanas (2 Colours) | ¥1,900

As well as bags, PORTER has created a selection of other original items too like t-shirts and bandanas. The collection will be sold exclusively at PORTER stores in Omotesando, Marunouchi, and Osaka, as well as PORTER STAND stores in Shinagawa Station, Tokyo Station, Kyoto, and their official website.

Information

Doraemon x PORTER
Running: December 11, 2020 – January 12, 2021
PORTER OMOTESANDO the PORTER Gallery 1
PORTER MARUNOUCHI
PORTER OSAKA the PORTER Gallery 3
PORTER STAND Shinagawa Station
PORTER STAND Tokyo Station
PORTER STAND Kyoto Station
*Available at PORTER's official online store from December 11, 2020 at 12:00pm (JST)

ASOKO's Doraemon Merchandise Collection to Promote STAND BY ME Doraemon 2 Anime Film

Japanese sundry shop ASOKO is promoting the release of the anime film STAND BY ME Doraemon 2 with a special merchandise collection called "ASOKO de STAND BY ME Doraemon" dropping on December 19, 2020.

This is ASOKO's fourth exclusive and limited-edition Doraemon merch collection and celebrates the release of the hit anime film STAND BY ME Doraemon 2 which was released and theatres in Japan on November 20, 2020. There's a long list of 43 items to pick from.

Merchandise Excerpt

The collection which will be released both on ASOKO's website as well as pop-up shops at Ropponmatsu TSUTAYA and Kochi TSUTAYA. Details below.

Information

ASOKO de STAND BY ME Doraemon 2
Release Date: December 19, 2020
ASOKO Official site:https://www.palcloset.jp/asoko/ 

ASOKO de STAND BY ME Doraemon 2 POP UP SHOPS

Fukuoka

Location: Ropponmatsu TSUTAYA

Address: 421 Ropponmatsu, Chuo-ku, Fukuoka

Running: December 19, 2020 – January 7, 2020

Kochi

Location: Kochi TSUTAYA

Address: 6-1 Minamigoza, Kochi-shi, Kochi
Running: December 19, 2020 – January 6, 2020

©Fujiko Pro/2020 STAND BY ME Doraemon 2 Film Partner

Stand by Me Doraemon 2's Main Theme Artists Masaki Suda and Huwie Ishizaki Feature in Oggi Magazine

Shogakukan released the January 2021 issue of the women's fashion magazine Oggi on November 27, 2020.

Vocals: Masaki Suda / Lyrics & Composition: Huwie Ishizaki


The 3D CG anime film Stand by Me Doraemon 2 was released in Japan on November 20, 2020. Japanese actor and singer Masaki Suda who sings the film's main theme features in the January 2021 issue of the women's fashion magazine Oggi in a talk with Huwie Ishizaki who wrote and composed the song.

Ishizaki has worked with Suda on numerous occasions, including writing songs for him, which is what led to him calling Suda on board once more.

"Once again, Nobita shows in this film just how hopeless he really is," Suda explains. "But seeing him try his hardest like that, desperate and trying to protect someone really just gives you courage. Of course, Huwie was the first person I thought of when going to sing about something like that."

About a year has passed since Suda made the request to Ishizaki who had been sending him lyrics and melodies during that time. This is a film centred on the marriage between Nobita and Shizuka, and so the main theme was written as a wedding song with frank and honest lyrics.

Their facial expressions and poses are a must-see


"I worked on a song with Suda on his album 'LOVE,' and he also let me cover his song 'Ito' before. With this song, I wanted to create something that expresses bonds. A story of two people. A word that made sense to me was 'rainbow,' something that suspends these feelings between people. Rainbow was the only choice."

The full talk goes into detail about how Suda and Ishizaki met, their mutual respect for each other, and more. There's also a series of photos the two of them took together while having fun with an instant camera.

Stand by Me Doraemon 2 is being shown at Toho theatres across Japan.

To see more of Suda and Ishizaki, you'll need to pick up a copy of Oggi's January 2021 edition, now on sale in Japan.

Information

Oggi – January 2021 Issue
Released: November 27, 2020
Oggi Official Website: https://oggi.jp/

Seiko to Drop New Pokémon Watch Collection | MOSHI MOSHI NIPPON

Seiko is teaming up with Pokémon to release four limited-edition watches on December 11, 2020. Each model will be available to buy from Seiko in Japan.

Pikachu Icon Design Model SCXP175 | ¥30,800 (Tax Included)

The Pikachu Icon Design Model SCXP175 features a modern design with a yellow dial and black Pikachu silhouette. Pikachu's tail is used as the watch hands, underneath which is a nod to Pikachu's effectiveness as a lighting-type Pokémon against water-types. The watch has a leather strap with Pikachu's paw prints running down it.

Pikachu Green Model SCXP177 | ¥30,800 (Tax Included)

The Pikachu Green Model SCXP177 features a green dial inspired by Pikachu running through Viridian Forest. The second hand also has Pikachu's tail and the leather strap has Pikachu's paw prints.

Eevee Model SCXP179 | ¥30,800 (Tax Included)

The cute Eevee Model SCXP179 has coloured dots for the hours which represent Eevee's nine different evolutions. The leather strap has Eevee's paw prints.

Mewtwo Model SCXP181 | ¥30,800 (Tax Included)

The Mewtwo Model SCXP181 is purple to represent the Psychic-type Legendary Pokémon Mewtwo. The leather strap reads "Pokémon" on it.

There are three different underside designs featuring a closed Poké Ball, an open Poké Ball, and a closed Great Ball.


Each watch comes in a special box and with an additional nylon strap, which you can swap out with the leather one, as well as a Poké Ball design cloth.

©Nintendo・Creatures・GAME FREAK・TV Tokyo・ShoPro・JR Kikaku ©Pokémon

McDonald's Japan Reveals Doraemon Yogurt Flavoured McShake®

Last week, McDonald's Japan revealed Part One of its Doraemon collaboration in celebration of the series's 50th anniversary which included a collection of Happy Meal toys. They have now revealed Part Two of the McDonald's Doraemon Festival which will see the arrival of yogurt flavoured McShakes® on August 19 at most McDonald's restaurants in Japan.

The Doraemon McShake® in Japanese is named "Yogurudo," a portmanteau of "yogurt" and "Doraemon." Its refreshing yogurt flavour is perfect for summertime. Small size cups feature original illustrations of characters from the series, such as Doraemon himself and Nobita. These cups are already being served for vanilla, strawberry, and chocolate flavoured McShakes®.

Don't forget about the science-themed Happy Meal sets either which come with one of nine toys. That includes a secret toy which you have to get in your Happy Meal to find out what it is.

McDonald's Japan is also holding a Twitter campaign for 100 random people to win a ¥2,000 McCard. All you need to do is be in Japan, follow their official Twitter account, and retweet this Tweet with the hashtag #ヨーグル_ドでドひんやり and comment how you want to cool down this summer. The campaign is running until August 18 at 23:59 (JST).

©Fujiko Pro・Shogakukan・TV Asahi・Shinei・ADK

Information

McShake® Yogurudo (Yogurt Flavour)
Running: August 19, 2020 – Mid September 2020
Available: McDonald's restaurants in Japan (Select branches not participating)
Price: Small ¥120, Medium ¥200

McDonald's Japan Official Website: https://www.mcdonalds.co.jp/

McDonald's Doraemon Happy Meal Sets Include Cute Themed Toys

McDonald's Japan will begin serving Happy Meals with science-themed Doraemon toys in them starting from August 14 for "Part 1" their McDonald's Doraemon Festival which is being held to celebrate Doraemon's 50th anniversary.

There are nine toys in the science series, and that includes a secret toy which you have to get in your Happy Meal to find out what it is.

The toy line-up includes Doraemon with his Take-copter which spins when you press a button, a mysterious torch which shines shapes when you turn it on, an artist tool that lets you draw Doraemon's face, and many more fun items.

All toys come with a leaflet that explains how to use them. And on August 15 and 16, those who order a Doraemon Happy Meal can sign up to win a special Doraemon DVD.

In "Part 2" of McDonald's Japan's Doraemon collaboration, they will serve up some Doraemon-inspired desserts.