Kaori's easy recipe – learn how to make a "Pom Pom Purin Fruity Milk Pudding"!
With just a small bit of ingenuity, turn everyday food into something cute using Kaori's recipe series! With a few simple ideas, an ordinary recipe magically transforms into a cute dish. Today we'll look at a recipe that uses a lot of fruit. Let us introduce to you, Pom Pom Purin Fruity Milk Pudding!
■Ingredients
・Milk 500ml
・Gelatin 10g
・Sugar 4-5 table spoons
・Canned peaches
・Blueberries
・Kiwi
・Orange
・Banana
・Grapes
・one stick of spaghetti
・Chocolate pen
・Cutter
■How to make
1. Pour milk into a pot and heat at low to medium temperature so as to melt the sugar  *be careful not to burn the bottom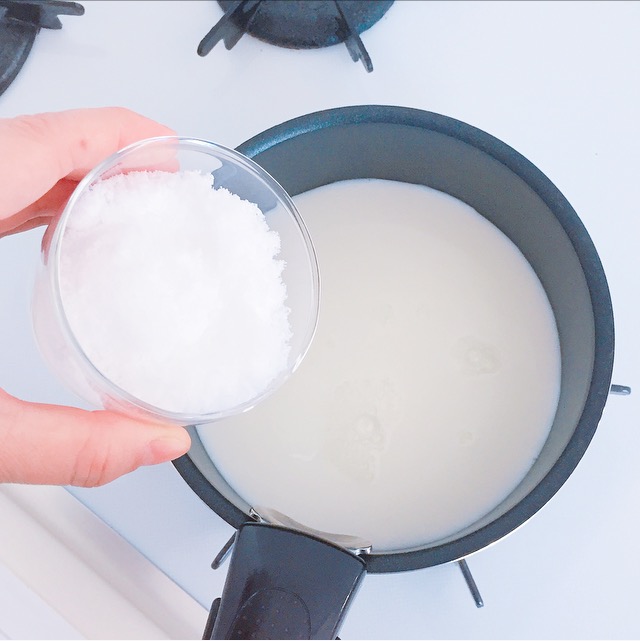 2:When the sugar has melted, pour in the gelatin which has been mixed with 2 table spoons of hot water
3. Mix so that it does not come to a boil and melt the gelatin completely
4:Cool the mixture and then put into a container and next into the refrigerator overnight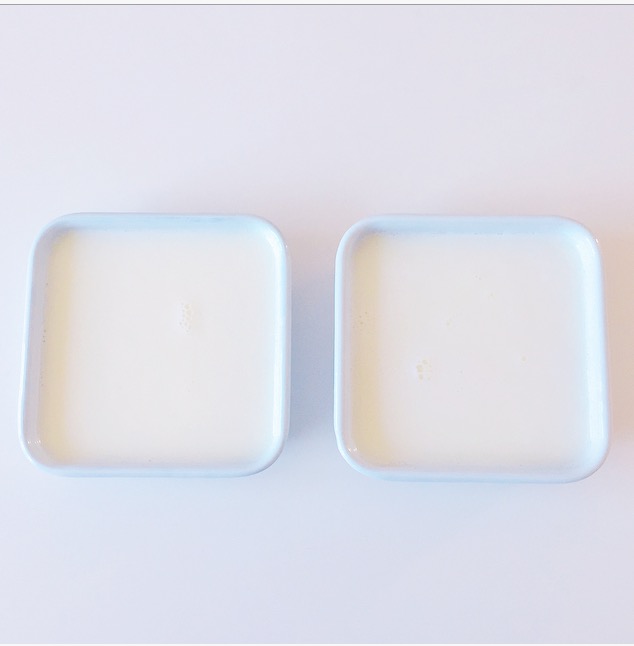 5. Cut your favorite fruit. These fruit pieces will be put on top of the pudding.
How to make "Purin-chan": Use the cut peach slices as the face and ears. Use the tops of grapes to make a hat.
Use the cut kiwi and banana as decoration. The orange and grapes can be cut real thin.
6. Pour boiled water into a deep cup and melt the chocolate pen
7. Deep fry aspaghetti and use this to join Purin's hat, grape and peach together.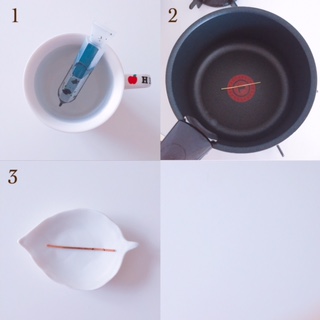 8. Draw Prin's face. Place the chocolate pen in the dish and use a toothpick.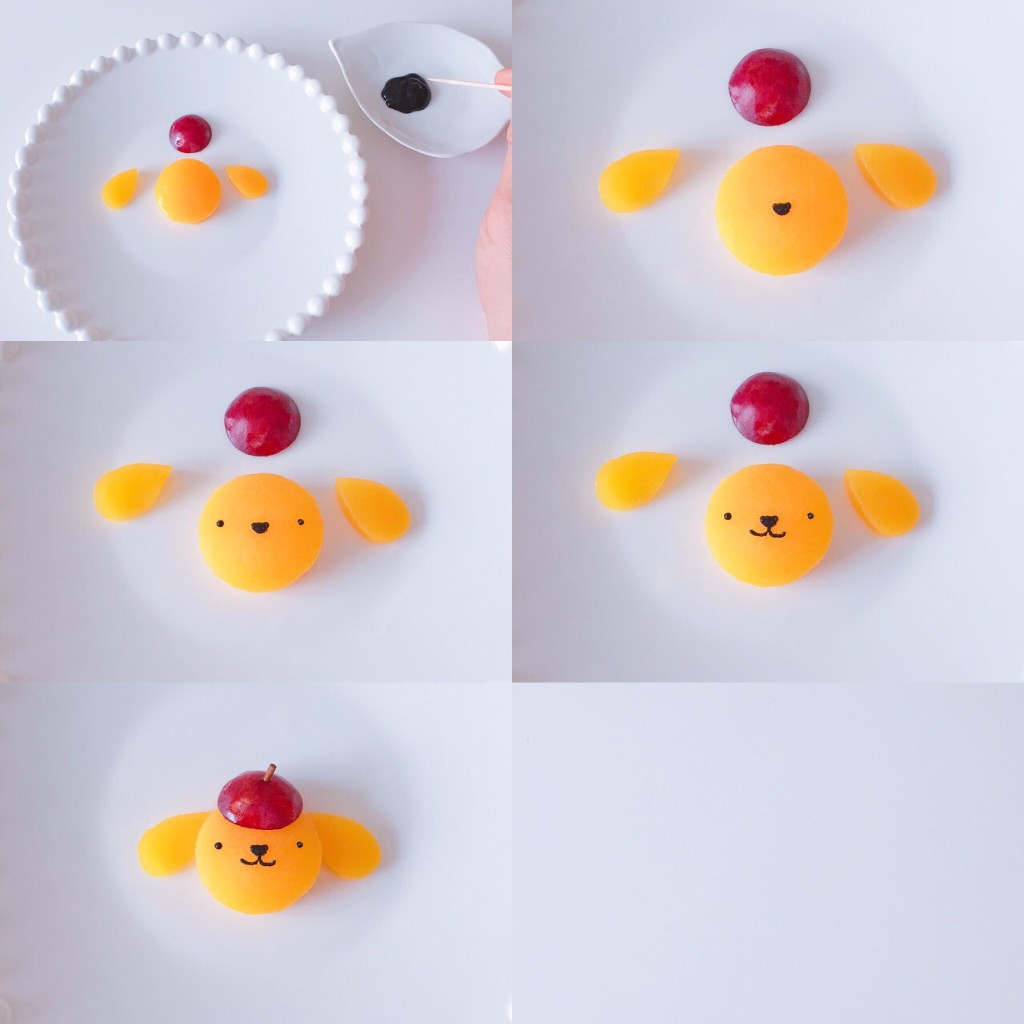 9. Put "Prin-chan"'s face and some big fruit slices on top of the pudding.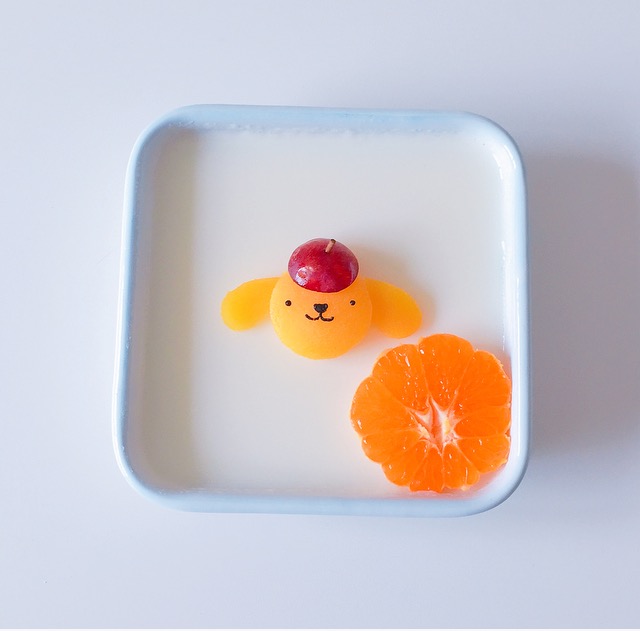 10. Put all fruits on the pudding taking great care to keep things in balance. Voila! Your pudding is completed!
Kaori also invites you into her world of character-themed rice dishes in her recipe series! Please check out her Instagram where she has uploaded many pictures of her character dishes!
■Profile
Kaori Kubota(@kaopan27)
Kaori lives in Hokkaido and enjoys making dinners, sweet treats and character food using bread ♡ Kaori also loves to experiment with small tricks for easy character-themed ▶@kaopan27
−−−
Related article:Kaori's easy recipe – learn how to make a cute Hello Kitty fruit sandwich!
Related article:A recipe for photogenic food #1 "lollipop" sandwiches
RELATED ENTRIES
Kaori's Easy Recipe: Learn to Make Korilakkuma Tofu Pudding

With just a small bit of ingenuity, turn everyday food into something cute using Kaori's Easy Recipe! With a few simple ideas, an ordinary recipe magically transforms into a cute dish.

Today, I'll be showing you a dreamy recipe on how to make the healthy Taiwanese snack douhua topped with Yukimi Daifuku mochi ice cream.

Ingredients


400ml soy milk
2-g Lakanto (Zero-calorie natural sweetener)
Pinch of salt
8g gelatin (dissolved in 1 tbsp water)

Pre-preparations


Stick bear-shaped sliced chocolate around the side of a glass and leave to set in the refrigerator.

1.


Warm soy milk and Lakanto in a saucepan until the Lakanto is completely dissolved.

2.


Add the gelatin and mix until fully dissolved.

3.


Leave the mix to cool. Once cooled, remove the glass from the refrigerator and pour the mix into the glass. Place back into the fridge until it sets.

4.


Add sliced almonds and use a chocolate pen on Yukimi Daifuku to create Korilakkuma's face, or a face of your choice.

5.

Remove the glass from the fridge and add the Yukimi Daifuku. Choose your choice of toppings, like soy flour and brown sugar syrup, then enjoy!

Kaori invites you into her world of character-themed food dishes in her recipe series. Be sure to check out her Instagram where she has uploaded many pictures of her character dishes!

Kaori Kubota (@kaopan27)

I live in Hokkaido and I love to make character themed foods, desserts and pastries♡
I want to see my family smile, so I enjoy putting in a bit of effort to make character foods and changing food into something cute♡
You can see more of my character foods and character bento boxes on my Instagram page → @kaopan72

Sanrio Characters Come Together at Tokyo's New POWDER ART CAFE HARAJUKU

The new limited-time character cafe POWDER ART CAFE HARAJUKU is set to open in Harajuku, Tokyo from July 15, 2020 to mid-January 2021.

From July 15 to mid-October, the cafe will be centred on the Top 10 characters of this year's Sanrio Character Ranking, an annual event where fans around the world can vote for their favourite Sanrio characters. The cafe will subsequently celebrate the 45th anniversaries of both My Melody and Little Twin Stars until mid-January next year.

At POWDER ART CAFE HARAJUKU, where the customers can draw their own designs on their orders, like latte art, Sanrio fans can look forward to a super cute menu line-up inspired by the adorable character roster.

My Melody Sweet & Sour Strawberry Shaved Ice


Tuxedo Sam Seafood Coquille Plate

If you're visiting Harajuku any time up to January next year, be sure to stop by POWDER ART CAFE HARAJUKU to make your own kawaii Sanrio character dishes.

Information

POWDER ART CAFE HARAJUKU

Address: IMON Bldg. B1F, 6-3-9 Jingumae, Shibuya, Tokyo

TEL: 03-6450-6037

Opening Hours: 11:00-21:00 (Last Orders 20:00)

Official Website: https://k-tanuma.com/company#04

Tell the Time With the Kawaii New Hello Kitty KAORU Wristwatches

Japanese watchmakers MARUZEKI released a new collection of Hello Kitty wristwatches as part of their KAORU model series on June 27, 2020.

KAORU x Hello Kitty Sweets Collaboration: ¥4,180 (Tax Included)

MARUZEKI's "KAORU" watches are inspired by aromatherapy, implementing a world-first concept that lets the wearer enjoy their favourite fragrances on the go. Designed and created with Japan's state-of-the-art materials and technology, the Hello Kitty collection of 3 watches come with vanilla, strawberry, and coconut scents.

The 'Vanilla White' fragrance is like a waft of sweet candy. It's a popular scent seen in products, and uses a mix of aroma oils and perfumes to create the uplifting fragrance. The watch face has an illustration of Hello Kitty enjoying a cup of tea.


'Strawberry Pink' is inspired by strawberry milk and strawberry shakes. They recommend this one if you're wanting a change of pace. This clock face has Hello Kitty enjoying some apple pie and talking on the phone.


'Coconut Mint Green' is a relaxing blend of coconut and passion fruit. Hello Kitty is dressed adorably as a mother making an apple pie for this design.


The watches are packaged in special boxes with a cute pop-up Hello Kitty inside like that of a picture book. This itself serves as kawaii decoration, and makes for a great gift to someone (or yourself!)

Little Twin Stars 45th Anniversary Celebrated at Tokyo Tower

To celebrate the 45th anniversary of Sanrio's popular characters Kiki & Lala, also known as the Little Twin Stars, Tokyo Tower is now hosting an event called "Twinkle color miracle☆" which began on July 1.

A special projection mapping display called "TOKYO TOWER CITY LIGHT FANTASIA ~Twinkle color miracle☆~" by NAKED, INC. is being shown on the second floor main deck of Tokyo Tower. This three-minute video covers the entire 30-meter long north window of the tower, showing a cluster of fireworks, the ocean, Tanabata, and other designs featuring Kiki & Lala's iconic pastel colouring. The video can be enjoyed with the gorgeous Tokyo nightscape in the background from the window.

TOKYO TOWER CITY LIGHT FANTASIA ~Twinkle color miracle☆~

Schedule
Dates: July 1, 2020 – July 31, 2020 / Time: 19:30-22:50
Dates: August 1, 2020 – August 26, 2020 / Time: 19:30-22:50
Dates: August 27, 2020 – September 22, 2020 / Time: 18:30-22:50
Location: Tokyo Tower Main Deck (150cm) Floor 2F, North Side
Price: Adults ¥1,200 / High School Students ¥1,000 / Children (Elementary & Junior High School Students) ¥700 / Aged 4+ Years ¥500

Tokyo Tower's first floor cafe "Cafe La Tour" is also serving some exclusive Little Twin Stars menu items, like ice cream and drinks. If you order one of the Kiki & Lala drinks, you'll get one of the above-pictured coasters which feature the various Little Twin Stars designs from over the years.

Cafe La Tour x Kiki & Lala Collaboration
Running: July 1, 2020 – September 30, 2020
Time: 10:00-22:00 (Last Orders 21:30)
Location: Tokyo Tower Main Deck (150cm) Floor 1F

Information

Tokyo Tower x Little Twin Stars 〜Twinkle color miracle☆〜
Running: July 1, 2020 – September 30, 2020
Location: Tokyo Tower

Tokyo Tower Official Website: https://www.tokyotower.co.jp

Hello Kitty Cafe to Open in Narita Airport's Anime Deck This July

KADOKAWA is set to open a Hello Kitty themed cafe on the Narita Anime Deck—which is located on the Main Building second floor of Narita International Airport Terminal 2—for a limited time from July 3, 2020 to October 2, 2020.

The Narita Anime Deck

The Narita Anime Deck opened inside Narita International Airport Terminal 2 in November 2019. It's an entertainment facility where travellers from around the world can experience and enjoy Japanese anime culture in various forms such as with character merchandise, food, events, and a variety of photo spots.

Hello Kitty Cafe

The facility has collaborated with numerous anime series to open up limited-time cafes since it opened. This time around it is joining paws with Hello Kitty, a face known to all across the globe. As well as themed food, drinks and merchandise, customers can take a Hello Kitty quiz, learn the history behind Hello Kitty, and more.

An Original Food Menu


Hello Kitty's Lovely♡ Pink Curry: ¥1,500


Hello Kitty's Gurakoro Burger: ¥1,500


Hello Kitty's Strawberry Pancake: ¥1,400


Hello Kitty's Strawberry Parfait: ¥1,200

An Original Drinks Menu

The incredible drinks menu is diverse, including lattes where you can get 46 different latte art designs of Hello Kitty from 1974-2019. It could be fun to pick your birth year, or a year where you have fond memories.

Hello Kitty's Colourful Tapioca Drinks (Matcha Milk/Strawberry Milk/Milk Tea): ¥720 Each

 
Hello Kitty's Marshmallow Coffee: ¥800


Hello Kitty's Latte (46 Designs): ¥720 Each

Novelties

For every item you order from the collaboration menu, you can also receive one of 46 possible original coasters once again featuring a different design of Hello Kitty between the years 1974-2019.

1st Line-Up: July 3, 2020 – August 2, 2020


2nd Line-Up: August 3, 2020 – September 2, 2020


3rd Line-Up: September 3, 2020 – October 2, 2020

If you're travelling through Narita Airport anytime this year up to October, then be sure to head on up to the Narita Anime Deck to dine at the Hello Kitty Cafe.

© 1976, 2020 SANRIO CO., LTD. APPROVAL NO. L611439

Hello Kitty Becomes Japan's Mythical Mermaid Figure Amabie in New Merchandise Collection

A new collection of merchandise is being released for Sanrio's popular character Hello Kitty this August which sees her becoming Amabie, a legendary Japanese mermaid which emerges from the sea and prophesies an epidemic.

The first alleged appearance of Amabie was in Higo Province (now Kumamoto Prefecture) during the closing years of the Edo period. Legend has it that if a disease spreads, you must draw a picture of Amabie and show it to those who fall ill to cure them.

Antibacterial Face Mask Pouch: ¥1,300 (Before Tax) *Design subject to change


Antibacterial Eco Bag: ¥1,100 (Before Tax) *Design subject to change

The item collection includes an antibacterial mask pouch, eco bag, and more—all items that are best used during the time of the COVID-19 pandemic.

Lemon Drops: ¥400 (Before Tax) *Available Late June 2020


Cream Sandwich: ¥600 (Before Tax) *Available Late June 2020

Delicious sweets will also be available from late June.

This line-up is a great way to bring some smiles about during these current turbulent times, whether as a gift to yourself or someone special to you.

©︎1976, 2020 SANRIO CO., LTD.

Yuri!!! on ICE x Sanrio Characters Come Together at a Themed Cafe in Tokyo

LEGS COMPANY has revealed that it is opening a Yuri!!! on ICE and Sanrio fusion themed cafe called "Yuri on Ice x Sanrio Characters Cafe 2020" in Shibuya, Tokyo for a limited time from August 6, 2020.

Yuri!!! on ICE is a sports anime series centred on figure skating. It was produced by MAPPA and directed and written by Sayo Yamamoto together with Mitsurō Kubo. The series received rave reviews from anime watchers and the figure skating community.

LEGS COMPANY brought this collaborative cafe to Tokyo and Osaka once before back in September and October of 2017. The collaboration is set to return this summer, with this year's theme centred on an ice cream stand. The menu is made up of themed dishes, drinks, and desserts. Let's take a look at just some of the items on offer.

A Select Look at the Menu

Food


Utopia Akatsuki Simmered Cutlet Plate: ¥1,599

A Yuri!!! on ICE classic, this katsudon dish is served in a separated style.

Borscht Plate: ¥1,599

Borscht is a Russian dish that appears in the show, and in this plate it's served as a main. Enjoy together with the sour cream.

Paella Plate: ¥1,599

A Spanish dish that appears at the end of the show, served with fish, sauce, and a side of gazpacho cold soup.

Desserts


Pancake & Ice Cream Plate: ¥1,399

Enjoy a mix of sweet and sour flavours with a fruit and whipped cream-topped pancake and ice cream. You get to pick your favourite character for your ice cream.

Tiramisu & Ice Cream Plate: ¥1,399

You can choose your favourite character with the bittersweet tiramisu too.

Drinks


Soda Float: ¥989 (Bottom Left: Strawberry / Middle: Melon / Right: Blue / Top Left: Cola / Top Right: Coffee)

Stickers (14 Designs): ¥400


Mini Towels (3 Designs): ¥850 Each

Fans can get their hands on exclusive merchandise too which is also available online in Japan.

Fans (4 Designs) *For those who book a table in advance only


Coasters (7 Designs) *For those who order a drink only

The cafe will also offer free merchandise too, including fans for those who book a table in advance, coasters for those who order a drink, and more.

©はせつ町民会/ユーリ!!! on ICE 製作委員会
©1976,1989,1992,1993,1996,1998,2020 SANRIO CO.,LTD. APPROVAL NO.610406

Information

Yuri on Ice x Sanrio Characters Cafe 2020
Running: August 6, 2020 – September 22, 2020
Location: SHIBUYA BOX cafe&space (Shibuya LOFT 2F, 21-1 Udagawacho, Shibuya, Tokyo)

Reservations: Now Open
Reservation Price: ¥650 (*4 seats per reservation)

Yuri on Ice x Sanrio Characters Cafe 2020 Official Website:
https://yuri-sanrio-characters-cafe.jp/

Hello Kitty Takes Over Osaka's Maid Cafe '@home cafe'

The Osaka branch of @home cafe—a chain of maid cafes that originated in Akihabara—is collaborating with Sanrio to serve up a Hello Kitty experience from July 1 for a limited time, with special decorations, food, and exclusive merchandise.

@home cafe Akihaabra collaborates with Sanrio characters every year. In 2018, it joined hands with My Melody and Cinnamoroll, and in 2019 with Pompompurin. In January this year, it teamed up with Hello Kitty, who is now heading to the Osaka cafe.

The cafe will be decorated with cute pictures of Hello Kitty and her twin sister Mimmy, as well as pink and yellow gingham designs for each character.

The maids at @home cafe Osaka will also wear special Hello Kitty and Mimmy maid outfits for the duration of the collaboration.

Food Menu

Hello Kitty's KAWAII♡ Pink Curry: ¥1,400 (Before Tax) *Comes with a free certificate-style card


Hello Kitty & Mimmy's Moe Moe Ribbon Pasta Plate: ¥1,300 (Before Tax)


Hello Kitty's Lovely Sweet Sandwich: ¥1,300 (Before Tax)

Dessert Menu

Hello Kitty's Moe Moe Parfait / Mimmy's Kyun Myun Parfait: ¥1,000 Each (Before Tax)


Okyumuka Cake Topped With a Bright-Red Apple: ¥1,000 (Before Tax)

All customers who dine at the cafe will receive one of two possible lunch mats for free. You get one of three free coasters too when you order a drink.

Hello Kitty x @home cafe Merchandise

Acrylic Key Rings (3 Designs): ¥600 Each (Before Tax)


Mirror: ¥800 (Before Tax)

See Hello Kitty and Mimmy transform into maids at @home cafe Osaka.

©1976,2020 SANRIO CO., LTD. APPROVAL NO.S603899

Information

Hello Kitty x @home cafe Osaka

Running: July 1, 2020 – August 31, 2020

Location: @home cafe Osaka 1F

Address: SEM Bldg. 1F, 4-19-13 Nipponbashi, Naniwa Ward, Osaka

Opening Hours: [Weekdays] 11:00-22:00 / [Weekends & Holidays] 10:00-22:00 (Last Orders 21:20)

Official Website: http://www.cafe-athome.com/

Hilton Osaka Serves Up Hello Kitty and My Melody Themed Summer Buffet

The Folk Kitchen on the 2nd floor of Hilton Osaka is set to serve up the "Summer Sweets Buffet Festival ~Hello Kitty & My Melody Collaboration Tea Party~" from June 19, 2020 to September 13, 2020. The menu is made up of 25 colourful and summery desserts, as well as 7 vegan desserts made without any eggs, milk or animal products.

The buffet is a step up from last year's "Fashionable Hello Kitty Dessert Buffet" which we covered.


This year's summer buffet tea party combo is a sweet amalgamation of finger licking and lip smacking flavours. In the middle of the "Ice Cream Cup Cheesecake" is a moist baked cheesecake topped with cream cheese—and all of this hugged by a crunchy cone.

Then there's the "Lollipop Mousse Green Apple," a vivid green iced candy with a fresh apple mousse filled with apple jam for a mix of sweet and sour flavours. The "Vegan Melon Cream Soda Jelly" is a melon flavoured jelly topped with a cream made from fizzy lime foam. If you're wanting cake, then there's the fluffy "Pineapple Chiffon Cake" topped with lots of cream.


The "Pudding à la Mode" is topped with a chocolate My Melody picture, of which there are several designs.

The vegans too have their fair share of refreshing summertime bites to enjoy too, like the "Vegan Peach Bellini" which uses agar-agar instead of gelatin. It's a delightful combination of muscat grape jelly and peach jam. The "Vegan Chocolate Chip Cupcakes" have a fresh kick to them thanks to the fruity pineapple and soy milk combo. Other delights include the "Soy Milk Cream Fruit Bun," "Vegan Piña Colada Panna Cotta," and more.

The buffet also includes 5 savoury food dishes too like cold corn soup, curry, salad, and more.

On the 1st floor cafe and bar MYPLACE of Hilton Osaka, customers can order the above-pictured Hello Kitty & My Melody afternoon tea which is served in a jewellery box-like set.

Information

Summer Sweets Buffet Festival ~Hello Kitty & My Melody Collaboration Tea Party~
Location: Folk Kitchen (Hilton Osaka Floor 2F)
Running: June 19, 2020 – September 13, 2020

Time: 15:00-16:30

Prices
[Weekdays] ¥3,950 per person / ¥1,950 for those ages 4-11 years
[Weekends/Holidays] ¥4,250 per person / ¥2,100 for those ages 4-11 years
*Comes with drink of choice from tea, coffee, hot chocolate, and others

*Listed prices do not include 10% consumption tax or service charge

Official site:https://www.hiltonosaka.com/plans/restaurants/sweets/folkkitchen_2006

Summer Sweets Buffet Festival ~Hello Kitty & My Melody Afternoon Tea Set~
Location: MYPLACE (Hilton Osaka Floor 1F)
Running: June 19, 2020 – September 13, 2020
Time: From 12:00 until it sells out (limited quantity per day)

Price: ¥3,500 per person

*Comes with drink of choice from tea or coffee

*Listed prices do not include 10% consumption tax or service charge

Reservations: 06-6347-7111

Photos are for illustrative purposes only. Menu line-up and opening hours subject to change.

Hilton Osaka Official Website: https://www.hiltonosaka.com/

2020 Sanrio Character Awards: yoshikitty Places 1st Place in Three Countries

The final results for the 2020 Sanrio Character Ranking were announced on Tuesday, with Cinnamoroll placing number one overall. Yoshiki's collaboration character yoshiki ranked 1st place in France, Germany, and Brasil, as well as 2nd place in China and 6th place overall. This marks the 5th year that yoshikitty has ranked in the Top 10.

yoshikitty is a character based on the X Japan band member Yoshiki. The character has proven popular around the world, with merchandise so popular it never fails to sell out.

A special "Tanita Award" was also given to yoshikitty, and to celebrate, a limited-edition yoshikitty "Digital Health Meter" will be sold on the Tanita website. Costing ¥4,400 (tax included), it is now available to order until July 31, 2020, with a limited number of 100 models available.

Yoshiki thanked yoshikitty fans around the world on his official Twitter and Instagram pages for voting and making the character place so high again this year. He also said: "I wonder if I should composed a yoshikitty theme song too to express my gratitude to everyone (haha). I want to continue delivering wonderful music to you all to repay you, even just a little. Thank you." (translated from Japanese by MMN)

2020 Sanrio Character Ranking: Cinnamonroll Takes 1st Place For Third Year

The final results have been announced for the 2020 Sanrio Character Ranking. This year marks the 35th run of the event.


The theme of this year's ranking centred on fans cheering for characters who they have always loved and who have always been by their sides through the years. It was a chance to let the character you love know that you are cheering them on.

Voting opened on April 10, which was subsequently followed by a first and second round-up of votes. Though votes were made difficult at Sanrio shops, and events couldn't be held as a result of the novel coronavirus (COVID-19), online voting has amassed the largest number of votes to date: 14,556,939.

In 1st place this year is Cinnamoroll, who was already first place during the second vote round-up, and who placed 2nd in last year's ranking. Pompompurin takes 2nd place for 2020, up from 3rd place last year, while Pochacco has taken the 3rd place spot—two spots above his last ranking at 5th place.

Speaking about his win, Cinnamoroll commented on the official website, "Thanks so much for cheering me on!" Pompompurin said, "Yay! Thanks for all the love," and Pochacco said, "Wow! Wow! Wow! I'm so grateful for all the love!"

A special "Tanita Award" was also given to yoshikitty, and to celebrate, a limited-edition yoshikitty "Digital Health Meter" will be sold on the Tanita website. Costing ¥4,400 (tax included), it will be available to buy until July 31, 2020, with a limited number of 100 models available.

26 entrees entered for a chance to win the Collaboration category of the 2020 Sanrio Character Ranking. Taking the 1st place out of 8 is YouTubers Maataso and Hangyodon.

A music video was released to commemorate Cinnamoroll's third 1st place win. The song is also scheduled to be released digitally at a later date.

Fate/Grand Order Collaborates With Sanrio Characters at Toranoana

Toranoana has released its second batch of merchandise made in collaboration with Fate/Grand Order and Sanrio's characters on its online store and at Toranoana Akihabara Branch B.

The collection fuses the worlds of the popular mobile RPG Fate/Grand Order—which has over 20 million downloads in Japan, spawned an anime series in 2019, and is getting a movie this year—and Sanrio

Colour Pen Set: ¥1,800 (Before Tax)

Hello Kitty, My Melody, Cinnamoroll, and other popular Sanrio characters have been transformed into Command Card designs exclusively for this collection.

Square Cushions: ¥2,800 Each (Before Tax)

Lip Balm: ¥500 Each (Before Tax)

The line-up includes coloured pens, a pencil case tin, acrylic key rings, lip balm, square cushions, and much more. Don't miss out on this limited-edition collection.

©TM / FGOP
©'76, '89, '93, '96, '01, '05, '20 SANRIO APPR. NO. S605195