A recipe for photogenic food #1 "lollipop" sandwiches
Arisa Shirai, a cooking specialist, is going to appear serially.
She adds small arrange to the daily dishes, but the dishes changes drastically by her small twist. They are very photogenic, so you must post the dishes to your SNS.
In this time, the sandwiches of ham&cheese changed into the 'kawaii' lollipop♪
■Ingredients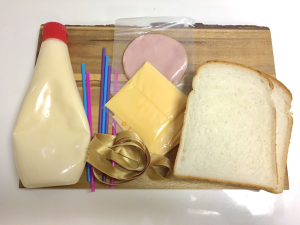 ・2 slices of white bread
・4 slices of ham
・3 slices of cheese
・Ribbon
・Mayonnaise
・Thin straw
■How to prepare
①Cut the crast off. Flatten the bread with the rolling pin.
②Spread the bread with mayonnaise.  Put the cheese and ham on the bread.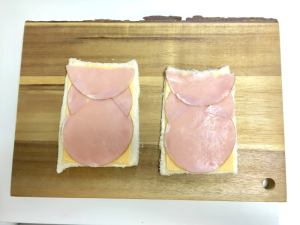 ③Roll the front end of the bread to the other end.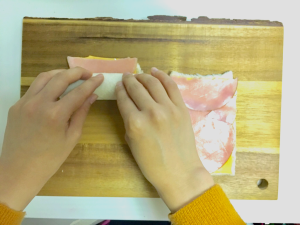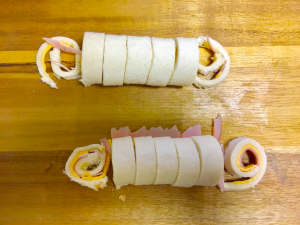 ④Put the straw into the bread.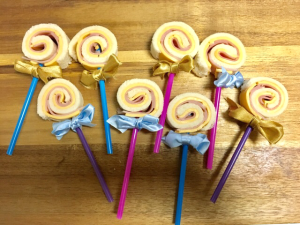 Finally, wrap around the ribbon.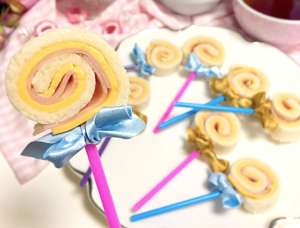 ■Arisa Shirai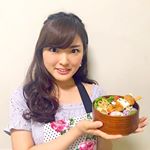 She is a visual food creator and Kyaraben Bento Cookies.She aims at making good-looking, tasty and heart-warming dishes.
・Instagram:arigohan
・Blog(only in Japanese):http://s.ameblo.jp/arinko0917
—
■Related article:Pop into the colourful pop world of KAWAII MONSTER CAFE HARAJUKU ー now upping its game for Christmas!
■Related article:Haven't seen anything like this steamed bean bum before! Animal shaped bum is too cute to eat!
RELATED ENTRIES
Hokkaido's Menkoi Nabe Kuma-chan Onsen, the Cutest Way to Eat Hotpot, Now Available Online

Chances are you've seen the Hokkaido Menkoi Nabe Kuma-chan Onsen. Menkoi means 'cute' in Hokkaido dialect, and these cute little bears are made from soup stock. Set them in a pot, and they begin to melt, looking like they're enjoying a hot spring bath. Once they melt, you can enjoy their delicious flavor! Currently, the only place in Japan to offer this adorable and creative dish is a little shop in Miyamasu-Zaka, Shibuya, which opened in 2021. The shop is full every day, and getting a reservation can take up to a month!

For those unable to visit Japan, you can now purchase these tasty bears online.


 

Variations Available Online

Grab one of these cute bears and whip up the tastiest and most adorable meal you've ever had!

'Maruko & Cojicoji' Collaborates with Popular Fruit Sandwich Store 'FruitsBOX DAIKANYAMA'

A collaboration between 'Maruko & Cojicoji' and FruitsBOX DAIKANYAMA has been announced. The 'Maruko & Cojicoji Fruit Sandwich POP UP SHOP' will be open between October 16 and October 31 in Kinshicho TERMINA 2.

 

Matcha Bean Paste & Strawberry Sandwich

Hokkaido Suzu Akane! Strawberry Sandwich

Four Seasons! FruitsBOX Sandwich

Crispy Taste! Banana and Chocolate Chip Sandwich

Collab Goods

Tote Bag: ¥2,200 (Tax Incl.)

Parka (FREE SIZE: Length 71cm, Width 58cm, Shoulder Width 52cm): ¥6,050 (Tax Incl.)


 

FruitsBOX DAIKANYAMA is a fruit sandwich specialty store that opened in 2019. The 'Maruko & Cojicoji' lineup will include eight new sandwiches. You'll get addicted to the new Matcha Paste and Strawberry sandwich, which combines the sweet and sour taste of strawberries and a rich bean paste! 

The pop up shop will stock a parka and tote bag, which both feature original artwork, alongside a! exciting collection of 50 Chibi Maruko-chan and Cojicoji items to purchase! Why not check it out?

Information

Maruko & Cojicoji Fruit Sandwich POP UP SHOP

Duration: October 16 ~ October 31 2021

Opening Hours: 11:00 ~ 20:00 (Subject to change)

Fruit Sandwich Store Location: Kinshicho TERMINA 2 1F La Gare Entrance Outdoor Exhibition Hall (Closest train: JR Kinshicho Station North Exit)

Pop Up Store Location: Kinshicho TERMINA 2 1F La Gare Indoor Exhibition Hall

Official Site: https://fruitsbox.net/ 

Fruit Packed Sandwiches Get Whipped Up at Limited-Time Shop in Tokyo

The fruit sandwich eatery Maruichi Seika has opened a pop-up shop on the second floor of Kita-Senju Marui in Adachi, Tokyo. The shop is a collaboration between the popular local restaurant Ippo Ippo and Maruichi, a long-standing and much-loved fruit shop.

Fruit is the key ingredient at Maruichi Seika where they want customers stuffing their cheeks with strawberries, oranges, pineapple, and more. Fruit is packed into fat sandwiches and combined with mascarpone cheese for a filling treat. The bread is provided by Furansuya, a local bakery in Kita-Senju that has been running for over 10 years.

A Select Look at the Line-Up

Sky Berry | ¥740 (Tax Included)

This sandwich is named after a particular variety of strawberry is known as the Sky Berry. It's sourced from Tochigi Prefecture and is known for its superior sweetness, juiciness, and the fact that it's low in acidity. Ordering this lets you enjoy three different kinds of well-known strawberry: the titular Sky Berry, the Tochiotome which is also from Tochigi, and the classic Amaou from Fukuoka.

Setoka | ¥840 (Tax Included)

The Setoka is a rare and super sweet, full-bodied citrus fruit that's normally given as a gift in Japan. In sandwich form, it enjoys a perfect balance of sweetness and tanginess.

Pineapple | ¥630 (Tax Included)

The Golden Pineapple from the Philippines is the variety used in this sandwich, packed with mouth-watering sweetness and offering a rich fruity fragrance.

Maruichi Mix | ¥740 (Tax Included)

This sandwich is a combination of fruits including the Amaou strawberry from Fukuoka, the Kanjuku Kiwi from Ehime, and the Premium Banana from the Philippines. It also contains the best picked mikan which are bought fresh from the market every day.

If you've never tried a fruit sandwich in Japan and are in Tokyo this winter, then don't miss out on Maruichi Seika's limited-time line-up.

Information

Maruichi Seika

Address: Kita-Senju Marui Floor 2F – Kitchen Garden 350

Address: 3-92 Senju, Adachi-ku, Tokyo

Kita-Senju Marui Official Website: https://www.0101.co.jp/084/

New Open Fruit Sandwich Shop 'Fruits Panda by bekkaku' Opens at Kyoto Tower

Kyoto-based confectionery company Bijuu opened its new shop "Fruits Panda by bekkaku" inside Kyoto Tower on June 4, 2020.

 

Premium sandwiches made with high quality bread

Fruits Panda by bekkaku serves colourful and Instagrammable open sandwiches made from bread baked by Kyoto-based luxury bread company bekkaku which is topped with a variety of fresh fruits and one of the shop's rich creams. The in-house made creams, whether it be the caramel cream, condensed milk cream, or another, all bring out the delicious taste of both the fruit and bread.

Strawberry Panda (Strawberries/Red Bean Paste/Condensed Milk Cream): ¥350 (Tax Included)

Topped with fresh strawberries and sweet red bean paste, this open sandwich is served with a side of velvety condensed milk cream for a harmony of flavours.

Kiwi Panda (Kiwi/Honey Cream): ¥350 (Tax Included)

Sweet and sour kiwis coupled with sweet honey is a match made in heaven that creates a refreshing aftertaste.

Banana Panda (Banana/Chocolate Cream): ¥350 (Tax Included)

Subtly sweet fried bananas and rich chocolate cream are a classic combination which create a full-bodied aroma and delicious aftertaste.

The shop will also be selling bekku's "Tanabiki" bread, so if you visit the shop, use this opportunity to try out their luxurious loaves.

Fruits Panda by bekkaku plans to serve seasonal combinations too so customers can enjoy their open fruit sandwiches all year round.

Information

Fruits Panda by bekkaku

Location: Kyoto Tower (Floor 1F), 721-1 Higashishiokojicho, Shimogyo Ward, Kyoto, 600-8216

Instagram: @fruitspanda

Stay Home: 5 Simple and Kawaii Fruit Sandwiches to Try Making During the Lockdown

Here at MOSHI MOSHI NIPPON, we post news and information about Japan in six languages. Our aim is to deliver a variety of content related to Japan for those who love and enjoy Japanese culture.

Right now, people across the globe are in self-isolation as a result of the coronavirus pandemic. The same goes for Japan too, so we've taken this opportunity to create a new series on the website to show how we're spending time at home here in Japan. The future is yet uncertain, and we hope for normality to return for all of us soon. We created a new articles series called Stay Home with which we hope to take your mind off the situation, even for just a little bit, to help you feel calmer. It might give you some tips on what you can do while spending time at home.

In this edition of Stay Home, we're taking a look at five simple and kawaii fruit sandwiches that have been featured with the trending Japanese hashtag #おうちカフェ ("Cafe at Home"). Stuck for ideas for breakfast, lunch, or snacks? Then try making one of these super simple yet mouth-watering recipes.

1: Fruit Sandwich @tgm___n

naho's fruit sandwich is layered in a specific way to make the fruit look like flowers. You can add an artistic touch to your sandwiches with just a bit of prep.

Ingredients
・Bread ・Yogurt ・Strawberries ・Grapes

Method
1: Add Greek yogurt to the sandwich.
2: Cut the strawberries and grapes in a cross-section and stuff into the bread.
3: Wrap and leave in the refrigerator for one hour. Slice down the middle and you're done!

Mari's has served their fruit sandwich open-style and with plenty of fruit. The fresh cream and cream cheese adds a richness to the sandwich.

Ingredients
・Bread ・Fresh cream ・Cream cheese ・Fruits of your choice

Method
1: Layer cream cheese over the bread slices and then the fresh cream.
2: Top with your assorted fruit.
3: Cut into bite-size slices and tuck in!

3: Strawberry Cake Style Fruit Sandwich @_ll_rire_ll_

riE.'s fruit sandwich is just like a cake! By arranging it correctly, she has transformed her sandwich into a strawberry dessert.

Ingredients
・Bread ・Strawberries ・Fresh Cream ・Honey ・Cinnamon

Method
1: Slice a thick cut of bread in half and fill with fresh cream and strawberries.
2: Spread fresh cream on the outside and top with strawberries
3: Drizzle with honey, sprinkle with a little lemon, and enjoy!

4: Cocoa Bagel Fruit Sandwich @chiezzz8

chie's fruit sandwich is made using homemade cocoa bagels and ponkan orange, creating a sweet and sour flavour combination.

Ingredients
・Cocoa bagels ・Ponkan orange ・Greek yogurt ・Cream cheese

Method
1: Mix Greek yogurt and cream cheese to a ratio of 1:1.
2: Cut the bagels in half and add your yogurt and cream cheese mix.
3: Add the ponkan orange and enjoy!

5: Hot Banana & Oreo Crispy Tiramisu Sandwich @ks.daidokoro

Kancho makes lots of different hot sandwich recipes. This is a simple one you can make using a frying pan.

Ingredients
・2 slices of bread ・5 Oreo Crispy Tiramisu ・Greek yogurt to taste ・1 banana ・30g shredded cheese ・Cinnamon powder to taste ・Honey to taste

Method

1: Top one slice of bread with Greek yogurt and add half the shredded cheese.
2: Add the Oreos (and fill the empty spaces with smashed Oreos).
3: Top with sliced banana, the cinnamon powder, and honey.
4: Add Greek yogurt and the rest of the shredded cheese to your other slice of bread.
5: Toast in a frying pan and press. Fry until both sides are a light brown and enjoy!

Bring the cafe experience into your own home with one of these 5 simple recipes.

Food Review: Shibuya's Stylish Sandwich Shop BUY ME STAND

Hello, readers of MMN! I'm Banako of the MOSHI MOSHI FRIENDS program.

Today, I'm here to show you a unique and stylish sandwich shop I visited in Shibuya called BUY ME STAND. Shibuya is home to countless restaurants and cafes, but if it's sandwiches you're looking for, this place is the one people are going to recommend. That's how famous it is!

You can reach it in just a brisk 5-minute stroll from the New South Exit of Shibuya Station's JR Line building. You'll know it by the big windows and green and white stripes.

The store is managed by apparel brand SON OF THE CHEESE. The entire interior is coloured in mint green, and it has a vintage American vibe to it. Both the outside and inside are nothing short of stylish-looking. It has a second floor too which has table seats.

I ordered the shop's most popular menu item: "Apple Cheeks." The sandwiches are cooked to order in an open kitchen in full view of the customers.

BUY ME STAND typically serves hot sandwiches. Most of them are filled with cheese which is grilled until melted and oozing.

This is the Apple Cheeks, which costs ¥1,200. Take a look inside, what do you see?

That's right. Just as the name of the sandwich suggests, is stuffed with apple slices. As well as apple, it also contains pork belly, onions, and Camembert cheese.

Apples and sandwiches are seemingly an unlikely combination, but by my first bite into the crunchy toast I was already hooked. The melted cheese coils itself delicious around the pork belly and onions while the apple adds a favourable sweetness to the combination of flavours. It was like happiness in my mouth.

It's quite a hearty sandwich, but it comes with a crunchy coleslaw salad which is a great palate cleanser and changes up the flavour party on your tongue, so you can get through it all no problem

Since there's a lot of ingredients packed inside their sandwiches, they are also served with a burger bag like when you eat a hamburger, so you can wrap it up to ensure nothing falls out.

Sandwiches are generally seen as a quick and light meal, but BUY ME STAND has redefined their image by making their sandwiches fat and filling.

BUY ME STAND is open from 8am, and breakfast is sold until 11am where they serve a range of food options in addition to sandwiches. I wanted to try everything.

The menus differ slightly for breakfast, lunch and dinner.

BUY ME STAND is in fact a chain sandwich shop and has branches not only in Shibuya, but Yokohama, Fukuoka, and even Okinawa too, and all of them are just as fancy as one another.

Pay a visit to BUY ME STAND yourself and find your sandwich of choice!

whyte: A Café & Beauty Parlour in Harajuku With Gourmet Sandwiches

Hello, MOSHI MOSHI NIPPON readers. It's Ellie of the MMN Editorial Team.

Today I'd like to report on whyte, a café in Harajuku that serves exquisite sandwiches and coffee while also being a salon that takes into consideration organic and vegan products.

It's located just a 10-minute walk from Harajuku Station. Head down Takeshita Street, make a left at FamilyMart and keep walking straight. You'll see Belle Epoque College of Beauty. It's right next to there.

It's a single building painted a cute pale green colour. It's rare to see a single building operating as both a beauty parlour and café!

whyte's concept aims towards "vegan beauty" and affordable prices. Both the café and salon incorporate processes that are kind to the environment and good for one's body. The shop's name is a combination of "Why"―referencing customers' worries―and "White"―how those worries can be solved using natural and organic cosmetics to make the inside of their bodies feel pure and beautiful again.

The café sells gourmet sandwiches that can be eaten in or taken away.

The outdoor showcase displays lots of delicious looking sandwiches.

The most popular is the Egg Sandwich (¥300) which is packed tightly with a bounty of eggs. The eggs are low pesticide. The bread is soft and I enjoyed the natural flavour of the overall sandwich.

This is the Avocado & Tomato Sandwich (¥400), one of the vegan options. No animal products are used to make it. This one is popular with foreign customers that visit the café. The combination of the tomato and avocado not only takes delicious, it looks beautiful when served too!

The café's most popular drink is their Homemade Lemonade (¥400). It's not too sweet and has a gentle flavour. The entire menu at whyte has this gentle flavour. Nothing is is too excessive, just as their concept states. The cup it's served in is even made with an ingredient found in corn. It's nice to see how considerate they are to the environment even down to such tiny details as this.

There are 10 light meals to choose from, which includes the sandwiches made with seasonal ingredients, as well as drinks that also tie in with the current season. Be sure to try out one of their sandwiches made with many different ingredients.

The sunlight filters through beautifully into the dining space.

The owner's dog Mare-kun was enjoying the sun too♡

The salon space is calm, relaxed and very stylish. I asked the owner, Hamamoto-san, he opens so early at 8:00am since this is an unusual opening time a place in Harajuku. He explained, "If we make use of our morning time we can have a better start to the day. We propose to people that you live according to the natural cycle of the body."

It certainly feels like a treat enjoying a delicious drink and sandwich before changing your image with a hair cut in the early morning. What's great is that they even use organic shampoo and offer organic perms.

Hamamoto-san is in fact the founder of the Vegan Beauty Association. "We will promote new kinds of lifestyles so that vegan beauty can spread more across Japan," he enthusiastically explained.

whyte has a very open and welcoming atmosphere, enjoying not only Japanese customers but plenty of foreign tourists too. If you're ever in Harajuku be sure to stop by yourself to experience its warm vibe.

Information

whyte

Address: 3-27-7 Jingumae, Shibuya, Tokyo

Opening Hours: Weekdays 8:00-20:00 / Holidays 8:00-19:00

Closed: Tuesdays

TEL: 03-6876-3976

Website: http://whyte.tokyo/

Kaori's Easy Recipe – Learn How to Make Pompompurin Pumpkin Tarts

With just a small bit of ingenuity, turn everyday food into something cute using Kaori's recipe series! With a few simple ideas, an ordinary recipe magically transforms into a cute dish.

For this recipe, you'll learn how make mini Pompompurin pumpkin tarts! This is a simple recipe you can make with just a blender.

1: Ingredients

12 Tart shells

150g Pumpkin (deseeded, skin taken off and made soft)

50ml Fresh cream (In this recipe I used soy milk)

20-30g Sugar (Depending on the sweetness of the pumpkin)

1 Egg yolk (small egg)

Sliced Chocolate

Tinned yellow peach

 

2: Steam and make the pumpkin soft in the microwave. Place the softened pumpkin, sugar, fresh cream (or soy milk) and egg yolk into a blender.

3: Blitz until it's mixed like in the photo above.

 

4: Pour the mixture from Step 3 into the tart shells and place into a 180℃ preheated oven. Lower the temperature to 140-150℃ and cook for 10-15 minutes. (You don't want to brown anything, so we cook it on a low heat.)

If it looks like it's about to start browning, cover with aluminium foil as this will prevent it from burning.

 

5: Once your cooked tarts have fully cooled down, use a round cutter to make a hat out of chocolate and a tear-drop cutter to make ears out of the yellow peach. The round ball on top of the hat can be made by breaking off some sliced chocolate and rolling it with your fingers.

Finally, drawn on the eyes, nose and mouth with a warmed chocolate pen!

 

The crunchy tart shells and moist pumpkin paste go pair together wonderfully! And the sourness from the yellow peach is perfect, making is really tasty♡

Kaori invites you into her world of character-themed food dishes in her recipe series!

Please check out her Instagram where she has uploaded many pictures of her character dishes!

■Profile
Kaori Kubota (@kaopan27)
I live in Hokkaido and I love to make character-shaped meals, desserts and breads.
I enjoy making character foods because I want to see my family smiling.
My character foods and character bento boxes are introduced on my Instagram page→@kaopan27

A photogenic dreamland, "TOKYO ICE CREAM LAND" which offers photogenic ice creams suitable to be uploaded on your Instagram!

Tokyo Photogenic Team will hold a most-advanced, dreamy photogenic ice cream event which will offer ice creams suitable to be uploaded to your Instagram called "TOKYO ICE CREAM LAND" for a limited time offer from the 15th of December to the 17th.

Young females using Instagram (16 to 24 years old) often visit various photogenic spots to upload photos and videos to their SNS. Many young females are requesting for information RE: sightseeing spots and restaurants which are popular with Instagramers. One can create an "ideal timeline" by uploading quality contents to SNS. One of the most popular photogenic items is ice cream.

The event will set up many kinds of photo spots created under the theme of "ice cream," not just offering ice cream to the customers.

It can be said that the event is a dreamy kingdom of "ice cream" with many photogenic spots which young females will love. A lecture tour of teaching how to take photos will also be held.

Let's upload nice photos to SNS in the most advanced photogenic dreamland.

■Information 
Event name: TOKYO ICE CREAM LAND

Date: 12,15 to 17

(15th – 19:00 to 21:00, 16th to 17th – 9:00 to 21:00)

Venue: Omotesando SO-CAL LINK GALLERY.

Address: 〒150-0001 4-9-8, Jingumae, Shibuyaku, Tokyo

Access: 3 minutes by walk from Tokyo Metro "Omotesando" Station, 7 minutes by walk from "Meiji Jingumae" Station

Fees: Pre-ordered ticket 2,000 yen, normal ticket 3,000 yen (the quantity of the ticket is limited)

First-come-first-serve-basis, limited time offer – 45 per session (the time might differ according to the situation of the reservation)

Ticket can be bought from here↓

※Please enter the discount code (TIC7) if you want to purchase a pre-order ticket so that you can receive a discount. (pre-order ticket must be purchased before 10,31. The number of the tickets is 1,000)

Official Twitter: https://twitter.com/TILofficail

Official Instagram: https://www.instagram.com/ice_land2017/?hl=ja

Cute Cat Bread Loaf Now Available in Brown Bread Version!

"Blue Jean", a bakery and café located inside Hotel New Hankyu in Osaka, added a new companion to their hugely popular cat bread line on July 1st.

The "Iro Neko Shoku Pan" is a cute bread loaf that comes in the shape of a cat. It costs ¥350 for one bag of 5 slices. The bread is crunchy on the outside and soft on the inside. The product is so popular that people line up early outside the shop nearly 30 minutes before it opens to get their paws on one.

A new friend has joined the clowder. Now you can get the well-cooked brown bread version which if you toast smells absolutely divine. You should definitely try packing in as many ingredients as you can for the ultimate sandwich feast.

How can you pass up the opportunity to get bread like this? If you're around Osaka, be sure to arrive early to Blue Jean to get your fingers into this kawaii cat bread!

■Information

Iro Neko Shoku Pan (Brown)

1 Bag (5 slices) – ¥350

Store: Bakery & Café "Blue Jean", Hotel B1F

Open: 8:00-22:00

Enquiries: 06-6372-5101 (line direct to hotel)

Related Article:A cake shop in Kansai that is popular for its cute cat logo "Chat noir"

Related Article:Become a Cute Kitty Cat with the New Cat & Tail Roomwear from "Felissimo Neko-bu"!

5 Cafés in Tokyo With Instagram-Worthy Desserts

To everyone out there who loves cute things and sweet things, we have something for you! There's lots of places around Tokyo that serve the kind of sweets and treats that make you instantly search for your phone's camera without even thinking. Check these out below!

1.  NEW NEW YORK CLUB(ニューニューヨーククラブ)/Jiyūgaoka

 This is what we're talking about. This fresh bagel has the kind of visual impact that requires you to snap a photo. The combination of the sprinkles and multicoloured dough make it super colourful! It's a dessert sandwich and goes by the name "Rainbow Colour Bagel Cream Cheese Sandwich" (¥600, tax-inclusive). It's sold in a limited quantity every Saturday from 11:30am, at from 11:00am at the newly opened store in Azabu-Jūban.

 ▼Shop Information

NEW NEW YORK CLUB
Address: 2 Chome-15-14 Midorigaoka, Meguro, Tokyo
Telephone: 03-6459-5669
Business Hours: 11:30〜20:00
Closed: Tuesdays, and irregular holidays
http://newnewyorkclub.com/

2.DUMBO Doughnuts and Coffee(ダンボドーナツアンドコーヒー)/Azabu-Jūban

This café serves New York style doughnuts and coffee to go with it. If you slide your doughnut on top of your pink takeout coffee cup, then you have yourself one photogenic looking snack! You'll want a straw to go with it, so be sure to order iced coffee. As for the hearty doughnuts, there are more than 10 to choose from. The price for a doughnut and coffee start at ¥660 (tax included).

▼Shop Information

DUMBO Doughnuts and Coffee
Address: 2 Chome-17-6 Azabu-Jūban, Minato, Tokyo
Telephone: 03-6435-0176
Business Hours: 9:00~19:00
Closed: Never
http://www.dumbodc.com/

3. MELTING IN THE MOUTH(メルティングインザマウス)/Hiroo

This seriously fluffy soft cream looks just like a toy. It's made using a special method and so ensures its organic nature. And you can order it in either a cup or a cone! This is definitely one to post on your social media.

▼Shop Information

MELTING IN THE MOUTH
Address: 1F MK Bldg, 5 Chome-17-10 Hiroo, Shibuya, Tokyo
Telephone: 03-6459-3838
Business Hours: 10:30~20:30
Closed: Never
https://www.mitmtokyo.com/

>>next page Go to SHIMOKITA!!

Kaori's easy recipe – learn how to make "Sanrio Characters – Mini Mini sandwiches"!

With just a little bit of ingenuity, turn everyday food into something cute using Kaori's easy recipe series! With a few simple ideas,an ordinary recipe magically transforms into a cute dish.

Let us introduce to you, "Sanrio Characters – Mini Mini Sandwiches."

1: ■Ingredients

*sliced cheese x1
*sliced cheddar cheese x1
*sliced ham x1
*sliced chocolate x1
*thinly sliced bread
*cucumber x1
*cookie cutters

■How to make

2: First cut the slices of bread in half. Next, cut the sliced cheese, sliced cheddar cheese, sliced ham and thinly sliced cucumber so that the
size is the same as the bread. Place these on top of the slices of bread.
*for the cucumber use a peeler to make thin slices and place these on the slice of bread.

What each of these slices will be used for;
☆sliced cheese → HELLO KITTY
☆sliced cheddar cheese → POM POM PURIN
☆sliced ham → MY MELODY
☆sliced cucumber → KERO KERO KEROPPI
Look at the photo. This is how they should look.

3: Turn these slices over and thinly spread mayonnaise on the surface. Lay some lettuce and the leftover parts of the cheese and ham on the top.
*Putting some potato salad on the top is also a good idea.

4: Roll up each of these slices and wrap it with some cellophane wrap so that the slices are compacted together.

*This rolling process works best if the slices of cheese are at room temperature. If the slices of cheese are cold the surface of the cheese might form cracks and not be as beautiful.

5: Now, I will explain how to use the cookie cutters. For all cut out shapes other than for KERO KERO KEROPPI's cheaks, you can purchase the necessary cookie cutters at a 100 yen shop. All these cutters can be bought for 100 yen so it is very cheap. If you cannot find a good shape you can use the end of a straw or you can make your own by crafting a clear file.

 Here is a list of the shapes you will need.
MY MELODY (ears  face  large→eyes  small→flower)
HELLO KITTY  (large→eyes    small→nose)
POM POM PURIN    (hat→cut in half    ears  large→nose  eyes and nose→cut in half)
KERO KERO KEROPPI (eyes→circle for eyes and circle for cheeks)

6: Using the cookie cutters cut out the necessary shapes.

7: Remove the wrap from the rolled up slices of bread (explained in step 4) and line up the various parts as shown in the photo. After all the parts are in place wrap these again in cellophane wrap again so that they are compacted together.


8:Finally, using 2 plastic toothpicks with a ribbon shape on top (you can also purchase these at a 100 yen shop), decorate the heads of HELLO KITTY and MY MELODY.

Voila! We are finished.

Kaori also invites you into her world of character-themed rice dishes in her recipe series! Please check out her Instagram where she has uploaded many pictures of her character dishes!

■Profile

Kaori Kubota(@kaopan27)

Kaori lives in Hokkaido and enjoys making dinners, sweet treats and character food using bread ♡

Kaori also loves to experiment with small tricks to crate easy character-themed sweets @kaopan27

Related article:Kaori's easy recipe – learn how to make a "Kitty's rice burger"!

Related article:Kaori's easy recipe – Learn how to make "Rilakkuma Toast."