Boruto Anime's New Trailer Teases Upcoming Vessel Arc
A new visual and promotional video for the TV anime series Boruto: Naruto Next Generations was showcased at Jump Festa 2021 on Saturday (December 19).

The visual teases the new Vessel Arc along with new characters including Kawaki and the members of Kara.

The promotional video showcases scenes from the new arc including Boruto and Kawaki facing off. Check it out below.
Some of the new cast members have released comments talking about their roles, as has the author of the Boruta manga Mikio Ikemoto. Read them below.
Mikio Ikemoto (Boruto: Naruto Next Generations Author) | Comment
It's already been a year since my comment about Kawaki finally getting voiced in the anime, and it's finally happened – he's walking and talking! Thanks to the divine work of the anime staff and voice cast, he has come to life, and is sure to demonstrate a charm that is on par with Boruto and Naruto. Those currently reading the manga are now reaching the climax of a life or death struggle with a certain powerful enemy. It's a turning point in the series. Do you remember the beginning of the manga's first chapter? That's right, it was grown-up Boruto fighting with Kawaki. But how will that play into the rest of the story? I can't talk about it just yet, but the time when they have both matured and reached that age actually isn't that far off. Why are they both fighting? And what of Naruto's safety? Don't miss out on the continuation of the developing story!"
Yūma Uchida (as Kawaki) | Comment
"Naruto was the first manga I ever purchased. The fact that I get to be involved with Boruto, a new story that ties into that world, is something I can't get my head around. I'm extremely happy about it! I feel overwhelmed by Kawaki's sharp gaze and strong presence, but I hope to get his part down to a tee."
Yūichi Nakamura (as Koji Kashin) | Comment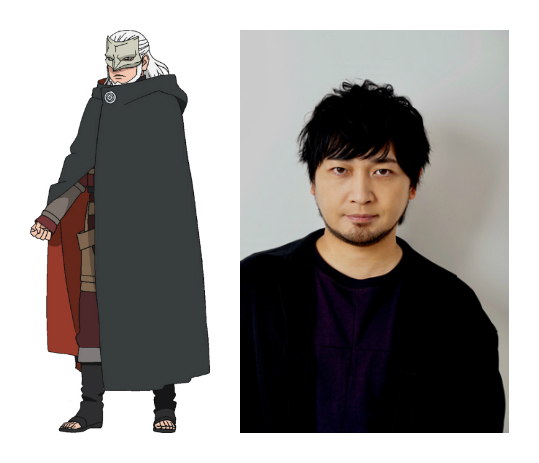 "Koji Kashin is a particularly interesting character as you read the Boruto manga. I'm filled with gratitude that I get to play his part. His true identity has been recently revealed in the latest volumes, but I still can't contain my excitement! I can't wait to voice those scenes. I will put my all into the series."
Akio Ohtsuka (as Amado) | Comment
"Looking back, I've been tied to the series since Naruto, and I'm honoured to once again be part of it like this. Amado seems like an eccentric character, but I think that we'll walk together with him in the shinobi's story from here on out."
©岸本斉史 スコット/集英社・テレビ東京・ぴえろ
RELATED ENTRIES
Fuji-Q Highland's Hidden Leaf Village Theme Park Area Adds New Photo Spots

Fuji-Q Highland, an amusement park in Yamanashi, Japan, added new photo spots to its popular Naruto x Boruto Fuji Hidden Leaf Village area on Friday (December 4).

The new spots

New statues of Jiraiya, Tsunade, Gaara, and Itachi have been placed around the park, making the perfect for a photo opportunity and to make guests feel even more like they're in the world of Naruto.

A new Gaara-inspired ramen dish

¥1,180 (Tax Included)

The area is home to Ramen Ichiraku which is inspired by the ramen bar seen in the Naruto series. There, they have cooked up a new ramen dish inspired by Gaara which comes with a boiled egg with the kanji for 'love' (愛) that's written on the character's forehead.

Naruto themed hotel rooms at Highland Resort Hotel & Spa

Fuji-Q Highland's official hotel, Highland Resort Hotel & Spa, has its own special Naruto-themed rooms with references to shinobi and the Hidden Leaf Village dotted everywhere. A new batch of amenities are also set to roll out for guests from February 1, 2021 which will include yukata that dress you like Naruto and Sasuke, face towels with Naruto and Sasuke on them during their final battle, and more.

If you've always wanted to feel like you're in the world of Naruto, look no further than Fuji-Q Highland.

ⓒ岸本斉史 スコット/集英社・テレビ東京・ぴえろ

Information

Fuji-Q Highland Naruto x Boruto Hidden Leaf Village
Opening Hours: 10:00-17:00
Closed: [2020] December 10th / [2021] January 7th, 14th, 21st, 28th
Official Website: https://www.fujiq.jp/

Shinobi Japanese Ninja Suite Room NARUTO
Capacity: 4 People (¥6,000 for each additional person up to 6 people)
Book: https://www.highlandresort.co.jp/
*Booking comes with amenities

Ikimonogakari's 'BAKU' Announced as Boruto: Naruto Next Generations' New Opening Theme

It has been announced that Ikimonogakari's new song BAKU will be used as the next opening theme for the ongoing TV anime series Boruto: Naruto Next Generations from January 2021.

Ikimonogakari are known for having performed the songs Blue Bird and Hotaru no Hikari for the anime series Naruto: Shippuden, the latter being 12 years ago now. BAKU was written, composed, and arranged by Ikimonogakari guitarist Yoshiki Mizuno who also wrote the Naruto: Shippuden tracks.

BAKU will be released digitally on January 18, 2021, with a CD release slated to hit shelves on February 24, 2021. The single will also include the Naruto: Shippuden songs Blue Bird and Hotaru no Hikari, making is a must-have for fans of the franchise.

Yoshiki Mizuno | Comment

"We're back for a third time. I am so happy we get to return to Naruto/Boruto again. Our story has evolved too since our debut 15 years ago. We put all of our efforts into 'Blue Bird' and 'Hotaru no Hikari' for Naruto, and it's the same this time too. I believe this lucky third encounter is going to be a wonderful, intense one. Please look forward to it."

© 岸本斉史 スコット/集英社・テレビ東京・ぴえろ

Information

BAKU
Digital Release: January 18, 2021
CD Release: February 24, 2021

Regular Edition (CD-Only): ¥1,200 (Before Tax) [ESCL-5319]
・Boruto: Naruto Next Generations CD cover art
・Picture label (First Press copies only)
・Ikimono card 056 (First Press copies only)

Limited Pressing Edition (Vinyl): ¥2,100 (Before Tax) [ESJL-3118]
・Boruto: Naruto Next Generations CD cover art
・Ikimono card 056

Boruto: Naruto Next Generations
Official Website: http://ani.tv/boruto/

Celebrate Naruto's Birthday at Fuji-Q Highland's Hidden Leaf Village Theme Park Area

Naruto Uzumaki's birthday falls on October 10, so to celebrate, Fuji-Q Highland, an amusement park in Yamanashi, Japan, is holding a birthday festival for the titular character of the popular anime series. The event will be held at the park's Naruto x Boruto Fuji Hidden Leaf Village area.

Naruto Ramen | ¥1,280 | Available: October 10, 2020 and October 11, 2020

Customers who order the special ramen dish from the ramen bar at the park, which is called Ramen Ichiraku after Naruto's favourite eatery in the series, will get a huge topping of naruto, a type of Japanese steamed fish-paste cake. Only 100 of these hearty dishes will be served a day.

The park is also holding a social media campaign. If they can reach 7,610 followers—a number which can be read as "na-ru-to" in Japanese—this year, then they'll hold a lottery for fans to win a special prize.

Naruto Print Cake / Naruto Team 7 Print Cake

Fuji-Q Highland will also serve up two cakes, one with just Naruto and the other with Naruto and the rest of Team 7 including Sasuke, Sakura, and Kakashi.


Jiraiya / Tsunade / Gaara / Itachi

Lastly, from the end of November, life-sized portraits of Jiraiya, Tsunade, Gaara, and Itachi will be set up at the park for fans to take photos with.

ⓒMasashi Kishimoto Scott / Shueisha・TV Tokyo・Pierrot

Information

Naruto Uzumaki Birthday Festival 2020 – Naruto x Boruto Fuji Hidden Leaf Village
Fuji-Q Highland Official Website (English): https://www.fujiq.jp/en/

Anime Theme Park Nijigen no Mori Announces New Naruto & Boruto Event

NARUTO & BORUTO SHINOBIZATO is an area of Nijigen no Mori—an anime theme park located on Awaji Island in Hyogo Prefecture—with attractions and more based on Naruto and his son Boruto. The park has released information on an upcoming new event in the Naruto and Boruto themed area.

The event in question will celebrate the character Kakashi Hatake's birthday with a special Kakashi and Obito themed escape game. The game will have park guests running around the park looking for panels with hints on how to progress through the game. Just 30 minutes are needed to complete it, and it's not too difficult, so anyone can join in.

Guests who buy a ticket will receive one of four limited-edition mini acrylic stands (pictured above) chosen randomly. Exclusive merchandise will also be sold for the event, and there will be photo spots where Naruto and Boruto fans can take a photo next to Kakashi and Obito panels.

Information

Naruto Shippuden x Escape Game: #004 Kakashi & Obito
Running: August 29, 2020 – October 4, 2020
Opening Hours: 10:00-22:00 (Last Entries 20:00)
Price: ¥1,500 (Tax Included)
*Separate fee to enter Nijigen no Mori charged

Nijigen no Mori
Address: 2425-2 Kusumoto, Awaji, Hyogo

Official Website: https://nijigennomori.com/

Awaji Island's Anime Theme Park Nijigen no Mori Announces NARUTO & BORUTO SHINOBIZATO Summer Events

NARUTO & BORUTO SHINOBIZATO is an area of Nijigen no Mori—an anime theme park located on Awaji Island in Hyogo Prefecture—with attractions and more based on Naruto and his son Boruto. The park's website has posted information about the ninja themed arena's summer events.

Naruto Shippuden Puzzle Solving Game

To celebrate the birthdays of Sasuke Uchiha and Itachi Uchiha, which fall on July 23 and June 9 respectively, a Sasuke and Itachi themed puzzle solving game will be held at NARUTO & BORUTO SHINOBIZATO.


The 30-minute game has guests running around the area to find hints written on panels. There are lots of words and illustrations related to Sasuke and Itachi for the game, so it's a must-experience for fans. Additionally, fans who purchase a ticket will receive one of four possible mini acrylic stands. These are available while supplies last.

Running: July 4, 2020 – August 31, 2020
Opening Hours: 10:00-22:00 (Reception closes 20:00)
Price: ¥1,500 (Tax Included)
*Separate ticket to enter the park required

Boruto's Ennichi

An Ennichi festival will be held themed on Boruto: Naruto Next Generations. There will be six Japanese festival-style yatai carts, traditional Japanese festival games like hitting the target and fishing for water balloons, a workshop to make your own Boruto uchiwa fan, lots of booths for friends and families to have fun, and more. Each booth also is giving out its own unique character stick to visitors. Those who buy a ticket to the event will also receive a Boruto sun visor.

Running: July 23, 2020 – September 30, 2020

Business Hours: 10:00-20:00 (Reception closes 20:00)

Price: ¥500 for 1 turn / ¥1,200 for 3 turns / ¥1,800 for 6 turns (Tax Included)

*Separate ticket to enter the park required

If you're in Japan this summer, why not spend your time together with the characters from Naruto and Boruto at Nijigen no Mori?

©Masashi Kishimoto Scott / Shueisha・TV Tokyo・Pierrot

Japan's Anime Theme Park Nijigen no Mori Has Naruto, Boruto & Other Exciting Events This June

Nijigen no Mori is an anime theme park located on Awaji Island in Hyogo Prefecture. Here's a list of the latest events running at the park in June.

NARUTO & BORUTO SHINOBIZATO

NARUTO & BORUTO SHINOBIZATO is an area of Nijigen no Mori with attractions and more based on Naruto and his son Boruto. The area celebrated its 1st anniversary on April 20, 2020. The park is currently selling anniversary merchandise as well as other exclusive items. Guests who buy a ticket to the park online will receive a free 1st anniversary postcard.

Opening Hours: 10:00-22:00 (Reception Closes 20:00)

Price: Adults ¥1,800 / High & Junior High School Students ¥1,800 / Children (Elementary School Students & Younger) ¥500
*Free entry for those aged 3 and below

Price: ¥1,280 Each (Before Tax) *6 flavours

There are also beverages inspired by characters from the series.

Price: ¥1,050 (Before Tax)

There is also a special ramen dish you can order inspired by the Akatsuki, the biggest threat to the Hidden Leaf Village.

GRAND CHARIOT Hokutoshichisei 135°, a hotel and glamping facility located in the area, also opened its new Naruto-themed room on June 1, 2020.

The room, called "Hokage no Bessou" (Hokage's Villa), is renovated from one of the resort's buildings, and aims to plunge guests into the world of ninjas. The room takes inspiration from the Hidden Leaf Village and its characters, with references to the series and recreated scenes littered throughout. It also offers exclusive amenities for guests to enjoy.

Guests who stay in the Naruto room receive a free ticket to NARUTO & BORUTO SHINOBIZATO at Nijigen no Mori.

ⒸMasashi Kishimoto Scott / Shuiehsa・TV Tokyo・Pierrot

Crayon Shin-chan Adventure Park

Over at the Crayon Shin-chan shop in Nijigen no Mori, they're selling limited quantities of a "Happy Bag" full of Shin-chan merchandise, from picnic cushions to towels and more for a total of six items.


And for the summer season, the last entries to all attractions at Crayon Shin-chan Adventure Park have been extended. It's a chance to work your body while enjoying the green outdoors.

Opening Hours: 10:00-20:00 (Last Entries 19:30)
Price: Adults ¥4,480 / High & Junior High School Students ¥2,880 / Children (Elementary School Students & Younger) ¥1,180 / Seniors ¥1,440
*Free entry for those aged 4 and below. Please check the official website for weekend and national holiday prices.

Phoenix Night Walk

June 21 is Father's Day, and to celebrate Nijigen no Mori is holding an event on the day based on Osamu Tezuka's manga Phoenix. Dads can attend the event for free. The park is holding a birthday campaign for June for those whose birthdays were in March, April, and May since they were unable to go out due to isolation, as well as for those whose birthdays are in June.

Date: June 21, 2020

Time: 19:30-20:30

Price: General ¥3,300 (Junior High School Students & Older) / Children ¥1,200 (Aged 5-12)2020年6月21日(日)
営業時間:19:30~20:30(季節により異なる)
*Free entry for those aged 3 and below.

New Boruto Poster Teases Kara Arc & Kenjiro Tsuda Confirmed to Voice Jigen

A new poster has been released teasing the upcoming Kara arc for Boruto: Naruto Next Generations. The manga began in May 2016, written by Ukyō Kodachi and illustrated by Mikio Ikemoto and currently serialised in V Jump. The anime series began airing in April 2017.

The new poster teases the main characters facing off against the villainous group Kara which is led by its mysterious leader Jigen. Japanese voice actor Kenjiro Tsuda (Attack on Titan, My Hero Academia, One Punch Man) has been confirmed for the voice of Jigen. Tsuda commented the following.

Kenjiro Tsuda (Voicing: Jigen) | Comment

"I am very happy to get the chance to be involved with Boruto. I want to put my all into this role to elevate what's I felt was great about Jigen in the manga. I hope you will continue to support the series, and Jigen too. I'm really looking forward to the voice recording sessions."

Masayuki Kouda (Director) | Comment

After discussions with the supervisor Abe and the sound director Nakura over the period of one or two months, we decided to request Kenjiro Tsuda for the role of Jigen. The biggest deciding factor was how awesome his voice is. He can get across a really scary tone, the kind that if you hear it you freeze and can't do anything, and you're defeated."

© Masashi Kishimoto Scott / Shueisha・TV Tokyo・Pierrot

Information

Boruto: Naruto Next Generations
Official Website: http://ani.tv/boruto/
*New episodes will be postponed following the the premiere of Episode 154 on April 26, 2020 due to the ongoing situation surrounding the COVID-19 pandemic.

FlowBack Release Boruto Ending Theme 'Fireworks' Music Video

FlowBack have dropped the music video for their new song Fireworks which serves as the current ending theme for the ongoing anime series Boruto: Naruto Next Generations.

Fireworks is the latest single from five-member boy band FlowBack, which will be released on March 11, 2020.

The music video was directed by Masatoshi Takizawa, who has worked with such names as Hey! Say! JUMP, MAN WITH A MISSION, The Dance for Philosophy, and MAP6.

The video comes following the hype created from the performance video of the song which sees the members dancing to the track in a single cut. In the music video, we see the five of them dancing in a forest where coloured smoke is used, and trees are lit up in different colours using CG.

FlowBack – "Fireworks" Music Video (Boruto: Naruto Next Generations Ending Theme)

  

FlowBack will hold two "live signing" sessions on YouTube on February 27 and March 5 in promotion of the new single. Those who have purchased the CD on the official Limited Stand website will receive a postcard signed by the members. More details can be found on the band's official website.

 

FlowBack will host a series of release events from February 22 until the weekend of the release where they will perform a free mini concert.

Information

Fireworks

Release Date: March 11, 2020

Digital Download/Stream: https://kmu.lnk.to/fireworks

Regular Edition: ¥1,000 (Before Tax) [KSCL-3248]

Limited Pressing Edition (Anime Edition): ¥1,182 (Before Tax) [KSCL-3249] *Includes anime design digipak

Official Website: http://www.flowback05.com

FlowBack Announce BORUTO Anime Ending Single Release and Unveil Dance Video

FlowBack is all set to release their new single Fireworks on March 11. Fireworks is the current anime ending theme song for the TV Tokyo anime BORUTO: NARUTO NEXT GENERATIONS. The single will be sold in two formats – regular edition and limited pressing edition. More details on the tracklist and additional features is to be announced. 

FlowBack ' Fireworks' Performance Video (BORUTO: NARUTO NEXT GENERATIONS Ending Theme Song)

The official dance performance video featuring the five band members has been unveiled on YouTube. The entire video was filmed in one take and the choreography was handled by Sakura Inoue – the leader of Team "S" who has previously worked on the choreography for many famous artists worldwide including Britney Spears, modern South Korean artists and groups such as BTS, WANNA ONE, SEVENTEEN, PENTAGON and Jang Keun-suk, and even Japanese music groups such as NGT48 and DISH//. The concept of fireworks can be clearly seen in the choreography. 

Although we have to wait a while for the CD release, Fireworks is currently available on a number of digital music services for downloading and streaming.

Information

New Single 'Fireworks'

Release Date: March 11, 2020

★ Music Downloading/Subscription Services:

■ Regular Edition

KSCL-3248 ¥1,000 + Tax

■ Limited Pressing Edition (Anime Version)

KSCL-3249 ¥1,182 + Tax

FlowBack Official Website: http://www.flowback05.com

BORUTO: NARUTO NEXT GENERATIONS

Official Website: https://www.tv-tokyo.co.jp/anime/boruto/

FlowBack Drops BORUTO Ending Theme Song Video On YouTube Ahead of Digital Release

Today, FlowBack's new song Fireworks is on air as the new ending theme song for the anime BORUTO – NARUTO NEXT GENERATIONS. FlowBack has also just dropped the anime version of the song on YouTube, allowing fans to hear the song before its release. 

FlowBack: 'Fireworks' -Anime Ver.

The anime version is a short version of the full song. You just can't miss it if you're a BORUTO fan. Fireworks will be released on a number of digital downloading and music subscription services from January 26. 

FlowBack is currently preparing for their tour Connect where they will perform alongside other artists in 8 venues across Japan. The tour will take them to Sendai Rensa on January 18, 2020, where they will perform on the same stage as sanari and THREE1989. The tour finale will take place on February 2, 2020, at Showa Women's University Hitomi Memorial Hall and will also see performances from claquepot, FIVE NEW OLD and SPiCYSOL. Tickets for both performances are currently selling so if you want to go, make sure to purchase tickets before they are all sold out. 

Information

FlowBack LIVE TOUR 2019-2020"Connect"

January 18, 2020: Sendai Rensa, Miyagi 

Performers:FlowBack, THREE1989 and sanari

 February 2, 2020: Showa Women's University Hitomi Memorial Hall, Tokyo

Performers:FlowBack, claquepot, FIVE NEW OLD and SPiCYSOL

Ticket Prices

Miyagi Performance (Standing): ¥4,500

Tokyo Performance (Designated Seating Only): ¥5,000

FlowBack Official Website: http://www.flowback05.com

BORUTO – NARUTO Official Website: https://www.tv-tokyo.co.jp/anime/boruto/

miwa's Boruto Anime Opening Theme 'Teenage Dream' Music Video Released

The short version of miwa's music video for her new song has been released. Entitled Teenage Dream, the song serves as the new opening theme for the ongoing TV anime series Boruto: Naruto Next Generations.

As the song title suggests, Teenage Dream touches on teenage-hood with its positive forward-facing outlook. Written specifically for Boruto, the melodic rock track features lead guitar from former Megadeth guitarist Marty Friedman.

miwa – "Teenage Dream" Music Video (Short Ver.)

The video was directed by Matajiro Kazeno who also worked on the music video for miwa's song about a broken heart Yozora feat. hazzie. It stars 16-year-old up-and-coming actress Nanoka Hara and was shot in Fukushi, which looks out onto the Seto Inland Sea, and Takehara, two cities in in Hiroshima Prefecture.

The staff acquired cooperation from the locals to shoot in the beautiful location. The video's theme touches on the bittersweet-ness of youth and dreams. At the video's climax, we see a live scene shot at Mirokunosato, a theme park in the foothills of Fujiecho. The winter illuminations of the park are an annual celebration, and were set up for the shooting of the video. Nanoka Hara plays the part of miwa and captures the time when miwa had her long hair when she debuted. miwa herself doesn't actually appear in the video.

Teenage Dream is part of the upcoming double A-side single Storyteller/Teenage Dream which is set to hit shelves on December 25, 2019. First press copies are coupled with a DVD featuring the music video, as well as a bonus live track. The single is now available on major music download and streaming services ahead of the physical CD's release.

Speaking about the music video, director Matajiro Kazeno commented: "The dreams and straight-forward emotions of your teens are about moving forward while wrapped in friendships and love and experiencing both happy and sad things. That's the kind of music video we made, which was shot at Mirokunosato in Tadanoumicho at the Seto Inland Sea of Hiroshima Prefecture. Please enjoy Nanoka Hara's refreshing and lively acting, which is like the rolling winds, together with miwa's singing."

FlowBack to Perform the Next Boruto: Naruto Next Generations Anime Ending Theme

It has been revealed that FlowBack has been put in charge of the ending theme song for the January season of Boruto: Naruto Next Generations.

So far Boruto's themes songs have been created by artists such as Little Glee Monster and miwa. FlowBack's new song has not been released yet; in fact, they've only just revealed the name of the song to be "Fireworks". More information about the song will be released over time.  The new season of BORUTO with Fireworks as its ending theme will be aired from January 12. 

FlowBack will also release a mini concept album called "WINTER TRIP" on Christmas day this year and hold album release commemoration events all over Japan to celebrate. They will even hold a small live performance which is free to attend and a special meeting event. 

A Statement by FlowBack:

We've been watching Naruto since we were children. Seeing Naruto never give up and hearing the anime's theme songs written by other bands has been our source of strength to make this song. Even now as adults, seeing BORUTO never throw away his strong will is a constant reminder to us. Like Boruto, we at FlowBack promise ourselves to shape our own lives with our own hands. We want our song to also become one that stays with people forever, so we're going to deliver it to the world with everything we've got.

Information

Mini Concept Album: WINTER TRIP:

Release in Stores across Japan: December 25, 2019

■ First-Run Limited Edition Version A(CD+PHOTO BOOK)

KSCL- 3230~3231 ¥3,273 + Tax

■First-Run Limited Edition Version B(CD+Blu-ray)

KSCL-3232~3233 ¥3,273 + Tax

■ Regular Edition Version (CD Only)

KSCL-3234 ¥1,727 + Tax

More information on WINTER TRIP album release commemoration events can be found on FlowBack's Official Website: http://www.flowback05.com  (Japanese Only)