Official HIGE DANdism Release Music Video Teaser For Doraemon Film Theme 'Universe'
Official HIGE DANdism dropped a teaser for their new Universe single on Wednesday, the newest single from the pop band which is set for release on February 24, 2021.
The new song features as the main theme for the upcoming anime film Doraemon: Nobita's Little Star Wars 2021 which is hitting Japanese theatres on March 5, 2021. The song is an ode to the little alien Papi and the grand adventures of Doraemon and co in the film.
Official HIGE DANdism – "Universe" Music Video Teaser

The full music video, directed by Takuto Shimpo who has directed numerous of the band's videos, will premiere on YouTube on January 9, 2021 at 18:00 (JST). Save the premiere video link below.
Official HIGE DANdism – "Universe" Music Video Premiere Link

Universe will be released in three editions: the CD-Only Edition, CD+Live Blu-ray Edition, and CD+Live DVD Edition. The DVD and Blu-ray editions come with the full footage of Official HIGE DANdism's online concert "Official HIGE DANdism ONLINE LIVE 2020 – Arena Travelers -" which was watched by 120,000 fans on September 26, 2020.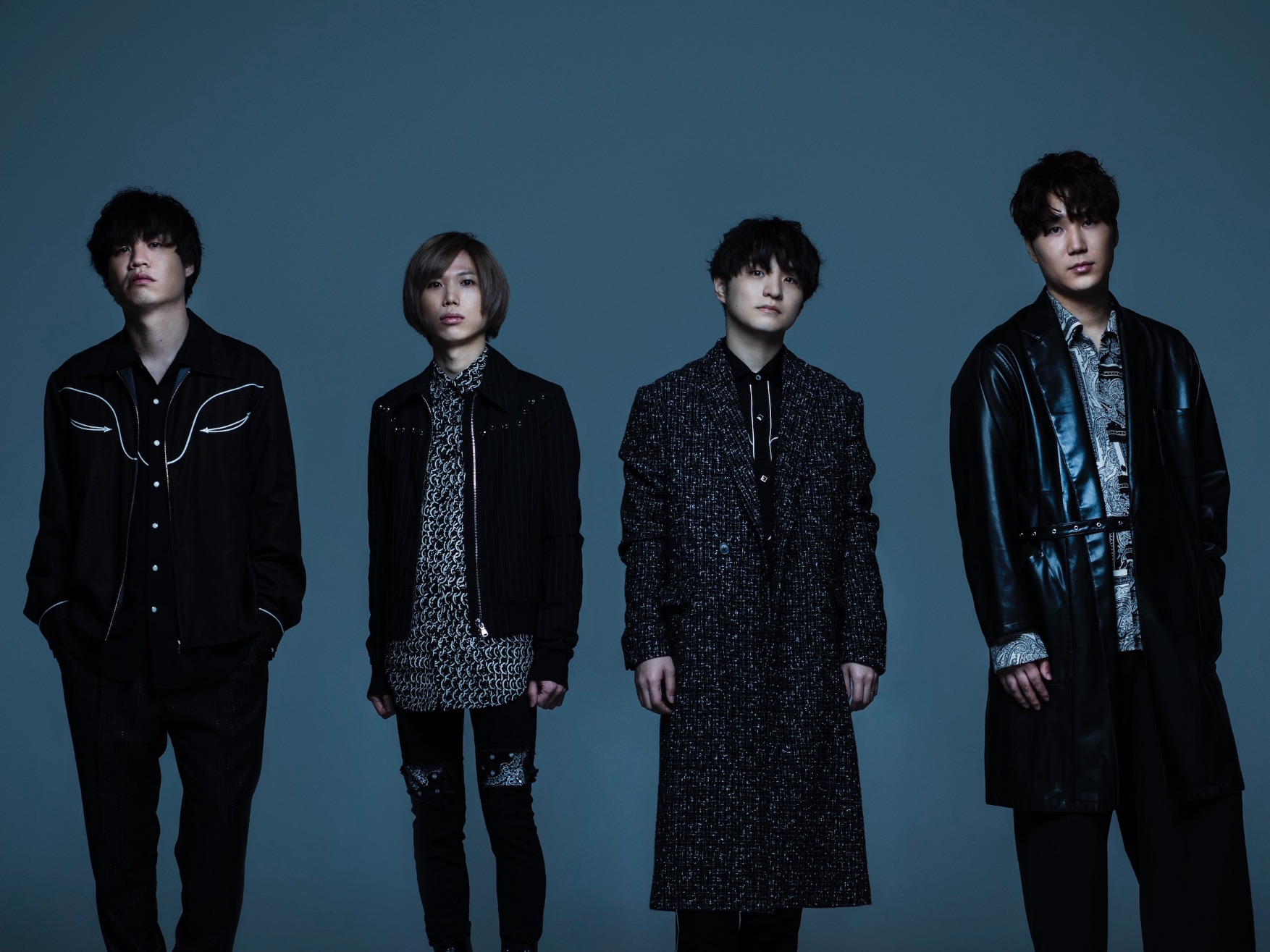 Universe will hit major music streaming and download services earlier than the physical release on January 9, 2021.
©藤子プロ・小学館・テレビ朝日・シンエイ・ADK 2021
Information
Universe
Release Date: February 24, 2021
CD-Only Edition: ¥700 (Before Tax) [PCCA. 70553]
CD+Live DVD Edition: ¥4,500 (Before Tax) [PCCA-06011]
CD+Live Blu-ray Edition: ¥4,500 (Before Tax) [PCCA-06010]
Official HIGE DANdism "Universe" Special Site: https://universe.ponycanyon.co.jp
Doraemon: Nobita's Little Star Wars 2021
Release Date: March 5, 2021
Official Website: https://doraeiga.com/2021/
RELATED ENTRIES
Fans Asked to Name Blimp Inspired by the Upcoming Film 'Doraemon: Nobita's Sky Utopia'

The film Doraemon: Nobita's Sky Utopia will be released on March 3, 2023. The 42nd Doraemon movie follows Doraemon, Nobita, and his friends as they venture off to find Utopia, a perfect land in the sky where everyone lines in joy and happiness. They do so using an airship with a time warp function on their adventure, and to commemorate the film's release, the Flying Doraemon Project began on January 14. A real-life 17-meter-long Doraemon blimp will soon appear in the sky, and fans are being asked to decide on a name for the craft.

The blimp, inspired by the Doraemon movie, will feature popular characters including Nobita, Shizuka, Suneo, and Gian. The blimp is the largest unmanned airship in Japan.

The message of the Flying Doraemon Project is to convey the feeling that in this day and age, children and adults alike can once again look upward and move forward toward their hopes and dreams.

Fans are asked to contribute ideas for the blimps name during the application period. Check the website for more details!

Official Hige Dandism Releases Music Video for Tokyo Revengers Christmas Showdown Arc Opening Theme 'White Noise'

Rock band Official Hige Dandism has released a music video for their song White Noise on YouTube.

White Noise serves as the opening theme song for Tokyo Revengers Christmas Showdown Arc which began airing on January 7. The band also performed the previous opening song Cry Baby.

Official Hige Dandism – White Noise [Official Video]


Official Hige Dandism – White Noise

The Official Hige Dandism SHOCKING NUTS TOUR is currently underway, with the band performing in halls throughout Japan. For details on each venue and how to purchase tickets, visit the band's official website!

©和久井健・講談社/アニメ「東京リベンジャーズ」製作委員会

Original Doraemon Shirt Inspired by Nobita's Room Now Available

Shogakukan's online store has released a long-sleeve shirt inspired by Nobita's room from the long-running Doraemon series. Released on December 15, the fashionable and fun item is sure to be a fan favorite.

Shirts Inspired by Nobita's Room!

The shirt was developed in collaboration with Kawatani Shirt, a Tokyo-based brand dating back to 2011 specializing in casual shirts for adults. 

 

The green stripes were inspired by the tatami mats found in Nobita's room, and the simple back is white with a slight checker pattern at the top.

 

Part of the inner lining is even decorated with Doraemon's Take-copter!

The button at the neck is bright yellow, inspired by Doraemon's signature bell.

The lining of the left breast pocket features an embroidered Doraemon as well. 

As expected, Nobita can also be seen lounging on the bottom right of the shirt. 

The shirt is available in four sizes from S to XL. Made from 100% cotton, this is a comfortable piece of clothing perfect for wearing all year round. Why not add this playful shirt to your rotation?

 ©Fujiko-Pro

Information

Doraemon Long-sleeve Shirt 'Nobita's Room'

Release Date: December 15, 2022

Sizes: S, M, L, XL

Price: 14,300 (Tax Included)

Doraemon Sleeping Bag and Neckwear Perfect for Bringing on a Winter Camping Trip

Doraemon fans who also love the great outdoors will be able to grab some new goods for their winter outings. A Doraemon-inspired sleeping bag created by down maker NANGA and neckwear made by Spanish brand BUFF are now available at the Shogakukan online department store!

NANGA is one of Japan's leading down manufacturers, beginning as Yokota Sewing in 1941 in Maibara, Shiga Prefecture, a famous production center for cotton futons. The down used in this new sleeping bag has been cleaned and refined using the newest technology, promising that this bedding will last for years to come.

Sleeping Bag

In addition to the blue, white, and red Doraemon-inspired coloring, the character's famous collar also makes an appearance. Covered head to toe in motifs from the series, this bedding is also highly functional and warm.

Neckwear

The included storage bag is compact and able to fit in a backpack, measuring approximately 20cm x 40cm. Will you be adding these items to your camping pack this winter?

©Fujiko-Pro

Official Hige Dandism Releases Behind the Scenes Video for Subtitle Music Video

Popular Japanese band Official Hige Dandism has released behind-the-scenes footage from the filming of their music video for Subtitle, the theme song for the Japanese drama series silent. The video includes in-depth interviews with the band members!

Subtitle – Official Hige Dandism Music Video (Behind the Scenes)
https://youtu.be/XMOIlABPukc




Subtitle was written as the theme song for silent, a drama series currently airing on Fuji TV.

Currently, Subtitle has surpassed 100 million views and has topped the Billboard JAPAN Streaming Songs chart for six consecutive weeks since its release on November 30.


 
Official Hige Dandism will appear at the 2022 FNS Song Festival on December 7 and 14, as well as CDTV Live! Live! 4-Hour Christmas SP on TBS on December 19 and the 73rd Annual Kouhaku Uta Gassen on New Year's Eve.

 

The band is currently in the middle of their SHOCKING NUTS TOUR. More details about tickets can be found on the group's official website.


Doraemon's Official Store Launches Limited Edition Dorayaki-Flavored Black Tea

Doraemon's Mirai Department Store, Doraemon's official shop, has announced a limited edition black tea flavored with the character's favorite food: dorayaki! The tea and four special themed plates will be available starting November 11, 2022. The tea itself is provided by the tea specialty shop LUPICIA. 

Doraemon's Mirai Department Store Black Tea (Dorayaki Flavor)

Doraemon's Mirai Department Store is now offering this special tea in an adorable themed tin.

The flavor of the tea is inspired by Doraemon's favorite food, dorayaki, a sweet Japanese pastry filled with red bean paste. The gorgeous blue and red toppings blended into the tea leaves were inspired by Doraemon himself, and fans will want to enjoy a cup as they lose themselves in the classic manga or anime series.

Doraemon's Mirai Department Store Tasty Plate (4 varieties)

These 14cm square plates are perfect for snacks with tea. Dishwasher-safe, fans can pick from four designs, each showing Doraemon enjoying some tasty treats. 

©Fujiko-Pro

Doraemon's Official Shop Opens for a Limited Time at Daimaru Umeda

From December 1, 2022 until May 28, 2023, Doraemon's official shop will appear at Daimaru Umeda! Doraemon's Mirai Department Store will offer a variety of limited-edition products for this brief period. 

Doraemon's Mirai Department Store Exclusive Goods (Selection)

Chenille Embroidered Tote Bag (Doraemon and Mini Doraemon): ¥3,520 (Tax Included)

This tote bag is decorated with lasting embroidery and is sure to brighten any Doraemon fan's day. The shoulder-length handles are practical and each bag has excellent storage capacity!

Doraemon Striped Socks (Red/Green): ¥2,420 each (Tax Included)

These thick socks are sure to keep your feet warm during the cold winter months. The simple lines and chic colors make these a great gift for any age.

Come check out these exclusive items that you can only find here!

©Fujiko-Pro

Information

Doraemon's Mirai Department Store in Daimaru Umeda 2022-2023

Running: December 1, 2022 – May 28, 2023
Venue: Daimaru Umeda 13F (3-1-1 Umeda, Kita-ku, Osaka)

Hours: 10:00-20:00
Doraemon's Mirai Department Store Official Site: https://mirai.dora-world.com/

Doraemon Ukiyo-e Series Reimagines Popular Characters in Classic Hiroshige Work

A Doraemon version of Hiroshige's 1833 ukiyo-e painting Fifty-Three Stations of the Tokaido Hoeido Edition (Rainstorm) will be available to order on October 29!

This work is said to be one of the most famous paintings by the artist, who was considered the last great master of ukiyo-e.


 

The painter was best known for his depiction of rainscapes, and many of his paintings pushed the envelope of traditional art.

 

This painting shows Ise Province, what is now present-day Mie Prefecture. 

Doraemon and his friends have been expertly placed into the famous piece of art, desperately climbing a steep hill during a sudden evening shower.

 

For Doraemon and Nobita, the rain is a chance to have fun. Looking at the piece, viewers can see an image of hope in tough times and can remember that with friends, anything is possible and any difficulties can be overcome. 

The piece is made from high-quality materials, and you won't want to miss ordering one of these rare works of art!

Information

Doraemon Ukiyo-e / Fifty-Three Stations of the Tokaido Hoeido Edition (Rainstorm)

Orders Open: October 29, 2022 at 12:00
Price: ¥45,000 (Excluding tax and shipping charges)
Number Available: 300
Echizen-Manufactured Washi Paper Provided by Iwano Ichibei
Online Shop: http://ukiyoework.com/

Official HIGE DANdism Releases New Song 'Subtitle,' Theme Song for Drama Series 'silent'

Official HiGE DANdism released the new song Subtitle on streaming services on October 12, 2022.

Subtitle was chosen as the theme song for the Fuji TV Thursday drama silent. The series follows Tsumugi Aoba, a high schooler who falls in love with fellow student So Sakura. The two love music, and while life pulls them apart, they meet again eight years later at a CD shop. As happy as they are, Tsumugi realizes that So has nearly lost his hearing.


The first episode aired on October 6 and trended at the top spot on Twitter worldwide. Following this, people streamed the episode 1.6 million times, and many are calling it the hottest drama of the season. The show set a record on FOD, TVer, and GYAO as the Fuji TV show with the most views in the shortest amount of time. The official audio for the show's theme is also available on YouTube.


Along with providing the theme for the drama series, Official HiGE DANdism has also been tasked with producing the music for the junior high school team at the 90th NHK All-Japan School Choir Competition. The theme this year is 'map,' and the group expressed thanks for being chosen to participate in the festivities in such a major way. "I hope everyone looks forward to the song that we create," the group commented.


On October 5, the group released 'one-man tour 2021-2022 -Editorial- @SAITAMA SUPER ARENA' on Blu-ray, DVD, and CD. Additionally, the Official HiGE DANdism SHOCKING NUTS TOUR is currently underway, visiting 9 cities throughout Japan for a total of 20 shows.

RecoChoku Announces Winners for Best Music of August 2022

13.September.2022 | MUSIC

Japanese music streaming site RecoChoku has announced the top song and album rankings for August 2022!

Unsurprisingly, Ado tops both the single and album charts with her new tracks from the movie ONE PIECE FILM RED. The singer provided the singing voice of Uta, a main character in the film which was released nationwide on August 6, 2022.

New Genesis, the theme from ONE PIECE FILM RED, was released ahead of the movie's release on June 8, 2022. It ranked 4th in the monthly rankings for June and July, and following the film's release in August, it shot to the top of the charts for four consecutive weeks, continuing to hold the #1 spot.

Ado also took first place in August's album ranking with her collection of songs from ONE PIECE FILM RED. Released on August 19, 2022, the album features a number of tracks made for the film, with seven different artists helping to produce these now legendary songs.

For the daily ranking on August 11, the top seven singles were all from this one album. Starting at the top spot, the songs included were: New Genesis, Where the Wind Blows, Tot Musica, The World's Continuation, Binks' Sake, I'm Invincible, and Fleeting Lullaby.

In the album ranking, it was number one in the weekly ranking for three consecutive weeks since its release on August 17 and continued its momentum to take the top position in the monthly ranking for the month of August.

Ado had her first top single ranking in February 2021 with Usseewa, and her first #1 album in January and February 2022 with Kyogen.

If you haven't listened to the singer's collection of songs from the most recent ONE PIECE film, you're missing out!

RecoChoku Monthly Music Award – August 2022 (Announced September 1, 2022)

Single Ranking


1st Place: New Genesis (Uta from ONE PIECE FILM RED) – Ado (Released June 8, 2022)
2nd Place: Start Over – THE BEAT GARDEN
3rd Place: Ame Sansan – King Gnu
4th Place: Where the Wild Blows – Ado
5th Place: Mixed Nuts – Official HiGE DANdism

https://recochoku.jp/ranking/single/monthly/

Album Ranking


1st Place: Uta's Songs from ONE PIECE FILM RED – Ado (Released August 10, 2022)
2nd Place: M – INI
3rd Place: BE:1 – BE:FIRST
4th Place: Falling into your eyes Record – Aimyon
5th Place: Suki Toiunowa Rock Daze! (Special Edition) – Nogizaka46

https://recochoku.jp/ranking/album/monthly/

©尾田栄一郎/2022「ワンピース」製作委員会

ONE OK ROCK Collaborates with Official Hige Dandism's Satoshi Fujihara on New Album

Japanese rock band ONE OK ROCK has become massively popular worldwide in recent years. On September 9, 2022, the group will release its new album Luxury Disease, and fans will be excited to know that Satoshi Fujihara from Official Hige Dandism will appear on the track Gravity in an incredible collaboration.

 

Satoshi Fujihara has gone on record to cite Taka as the person who inspired him to become a vocalist. Since then, Taka has appeared as a guest on Official Hige Dandism's radio show and Fujiwara appeared as a guest at ONE OK ROCK's live performance at ROCK IN JAPAN FESTIVAL 2022, bringing the two artists even closer together. This collaboration was a long time coming, and Gravity feat. Satoshi Fujihara will only be included on the Japanese edition of the album. Ahead of the song's release, a portion of it has been unveiled on ONE OK ROCK's social media accounts, so be sure to check it out!

 

With the album only a few weeks away, the countdown has begun! Will you be listening?

McDonald's Japan Launches Festive Doraemon-Themed Summer Sweets

On August 5, McDonald's Japan will begin selling some summer-only sweets! The McShake Doraemon Ramune and Doraemon Choco Banana Pie items are based on a summer festival, and the packaging will feature adorable Doraemon imagery. 

These treats will bring back memories of summer festivals, with popular flavors like chocolate banana and ramune. Each sweet will be available in a total of six newly-designed packages, so you might need to buy a few until you get your favorite character!

McShake Doraemon Ramune

The McShake Doraemon Ramune features the nostalgic flavor of ramune and a creamy texture. Two types of ramune flavors were used to create a taste that will keep you coming back for more, and citrus flavors were added to create a refreshing flavor perfect for summer. This tasty treat is available in three versions–Doraemon, Nobita, and Gian.

Doraemon Chocolate Banana Pie

The Doraemon Chocolate Banana Pie consists of a crispy pie crust packed with banana filling and a rich chocolate sauce. Fans of Doraemon can grab this pie in three different sleeves–Dorami, Shizuka, and Suneo.

※Product images for illustration purposes only. Actual products may vary.

Happy Meal

Round 1: August 5 – August 11

Round 2: August 12 – August 18

In addition, Doraemon-related items will be packed with every Happy Meal starting August 5.