Kaori's Easy Recipe – Learn How to Make "Hello Kitty Chocolate Sandwich Cookies"!
With just a small bit of ingenuity, turn everyday food into something cute using Kaori's recipe series! With a few simple ideas, an ordinary recipe magically transforms into a cute dish. Today we'll look at a recipe that uses a chocolate!  Let us introduce to you, Hello Kitty chocolate sandwich cookie!
■Ingredients
Weak flour 150g
Salt-free butter 80g
Sugar 50g
Fresh cream 60cc
Chocolate 60g
Red pounce a bit
Cutter
Chocolate pen
■How to make
1: Put sugar, butter and flour into a bowl and mix it until it sticks together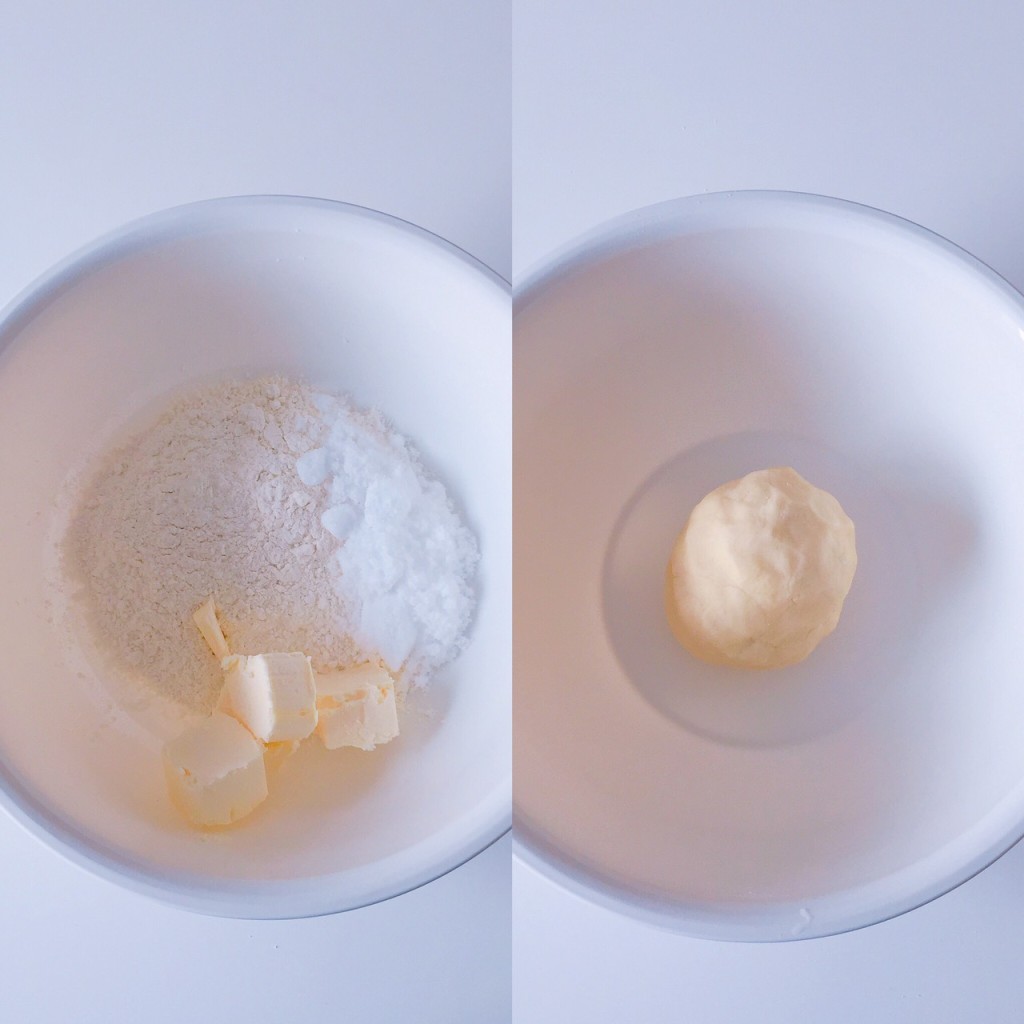 2:Put the dough between two cooking sheets and rolling out the dough using a roller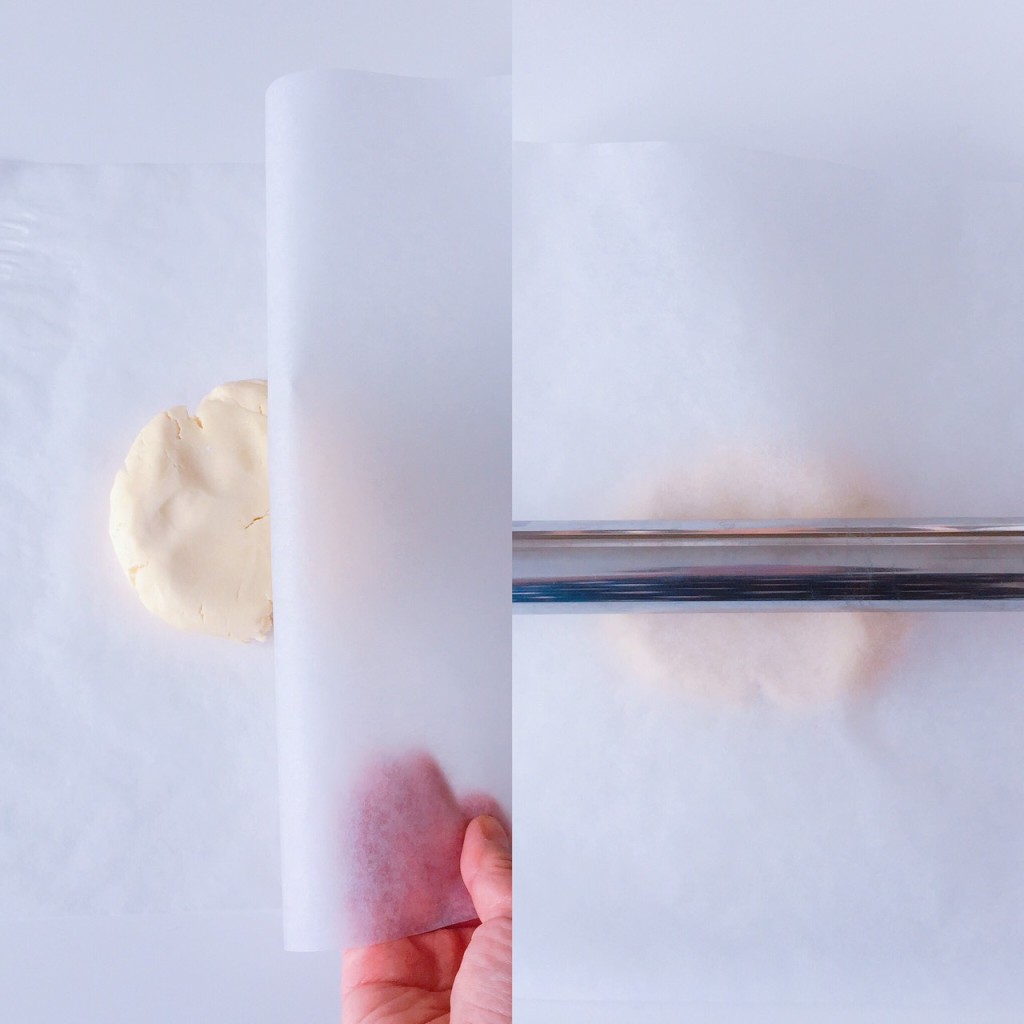 3: Cut with a cutter ※you can use a small container or a cup
4: Line up the cut-out dough on a cookie sheet
5: Preheat the oven to 180℃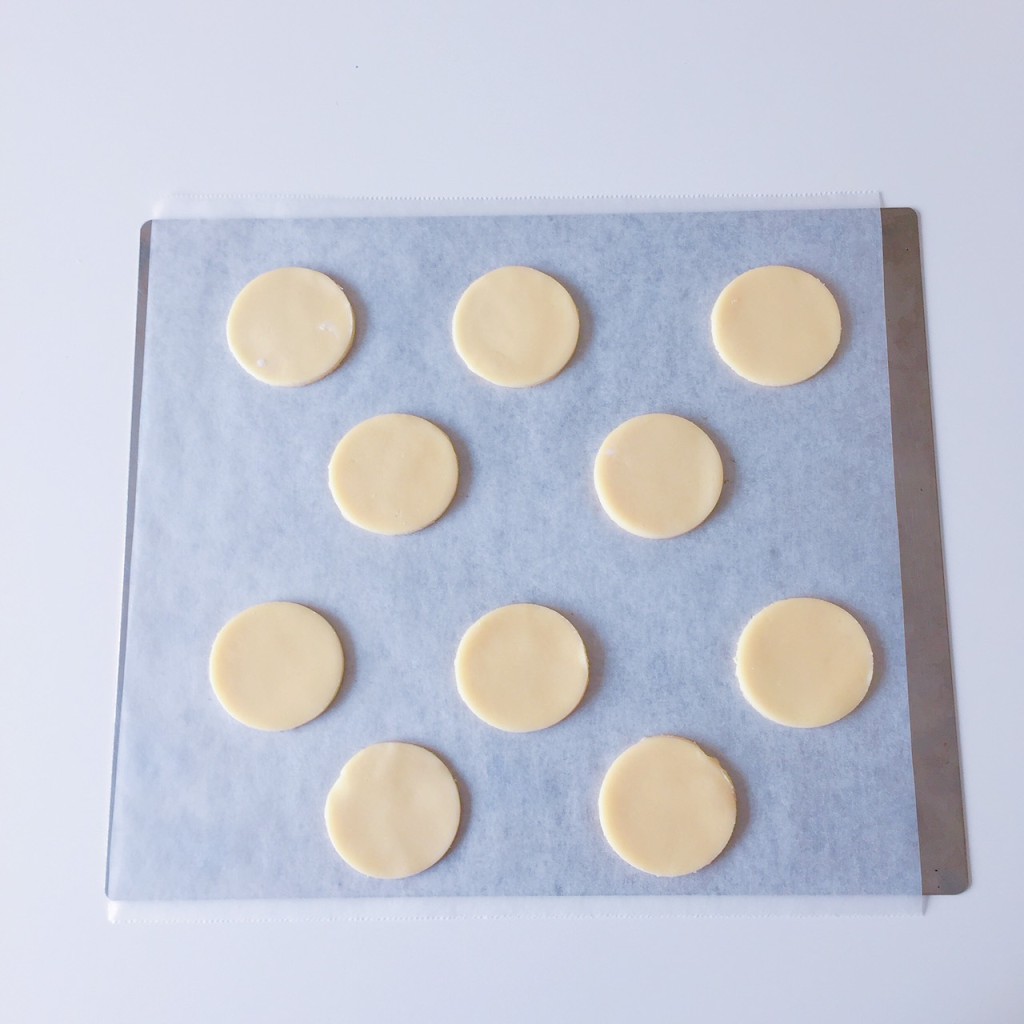 6: Make Kitty's ears. Take a bit of dough, roll it in your palms to make a round shape then pinch the dough to make a triangle ear shape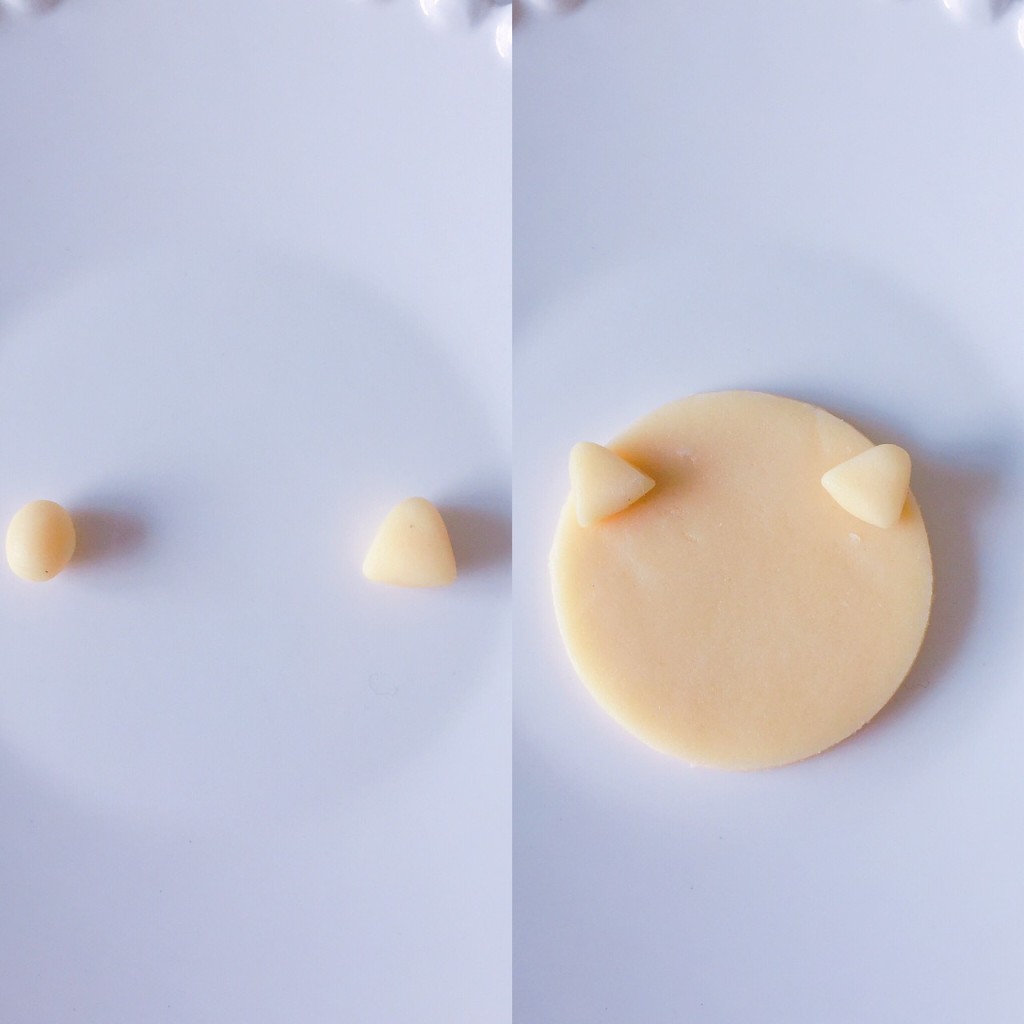 7:Add some red coloring to approximately 10~15g of the dough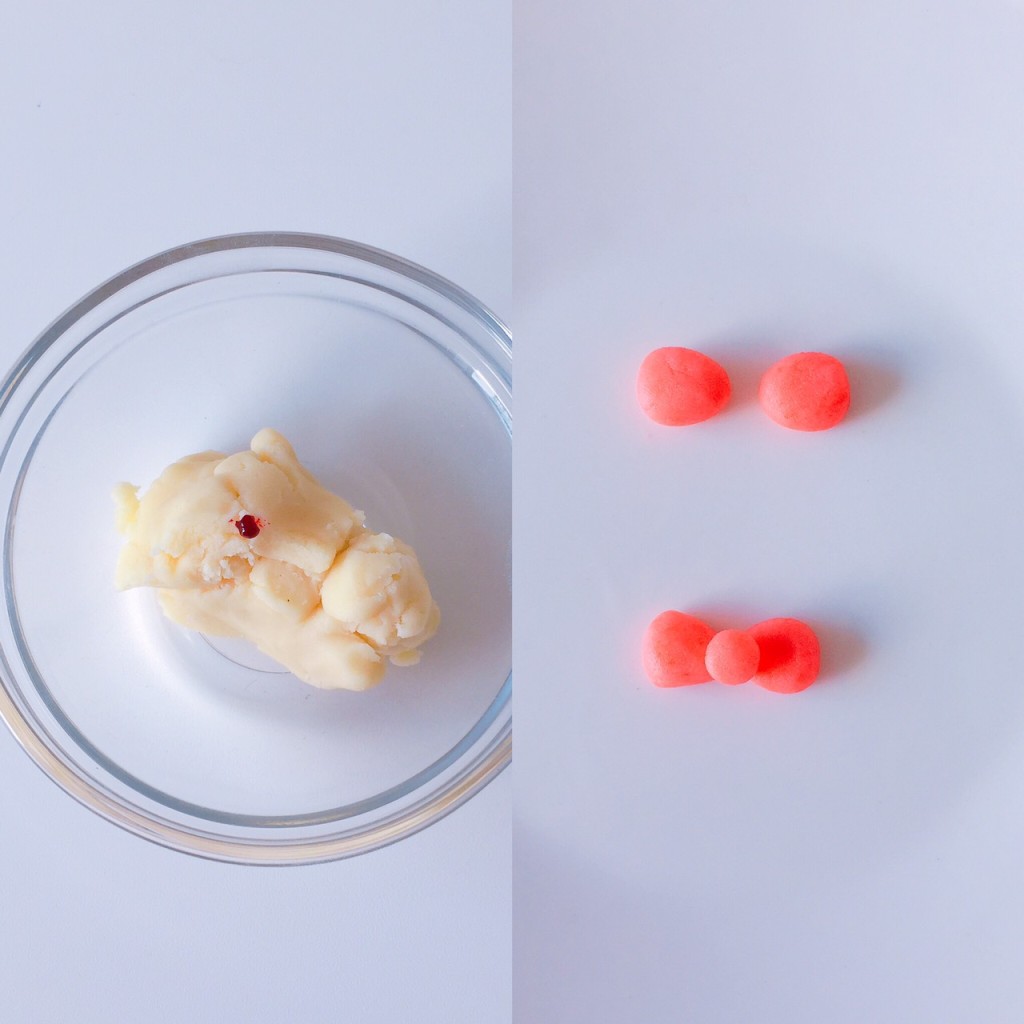 8: Make ribbon shapes and put it in the middle
9:Lower the temperature to 140℃ and bake for 15 to 20 minutes
10:Pour chocolate and fresh cream into a pot and heat it so it melts
11: When the temperature drops, put the chocolate cream between two cookies
12:Place the chocolate pen in a dish of hot water and using a toothpick draw Kitty's face!
Kaori also invites you into her world of character-themed rice dishes in her recipe series! Please check out her Instagram where she has uploaded many pictures of her character dishes!
■Profile
Kaori Kubota(@kaopan27)
Kaori lives in Hokkaido and enjoys making dinners, sweet treats and character food using bread ♡ Kaori also loves to experiment with small tricks to crate easy character-themed sweets ▶@kaopan27
—
Related article:Kaori's easy recipe – learn how to make a "Pom Pom Purin Fruity Milk Pudding"!
Related article:Kaori's easy recipe – learn how to make a cute Hello Kitty fruit sandwich!
RELATED ENTRIES
Instagram-Worthy New York Christmas Lunch and Dessert Buffet Jollies Up Omotesando, Tokyo

BAR & GRILL DUMBO is a restaurant heavily inspired by the Brooklyn neighbourhood town of Dumbo in New York. They will be adding a sprinkle of New York Christmas magic to the menu from November 7 – December 25, 2019 with the Christmas New York lunch and dessert buffet.

The buffet table will be filled with irresistibly cute and delicious desserts. From the Statue of Liberty to Brooklyn Bridge, the background is lined with skyscrapers and New York's most iconic landmarks. 

The S'more Bar is the perfect opportunity to toast your own marshmallows. Sandwich your molten marshmallow between two crackers to enhance your New York Christmas experience. 

Put your icing skills to the test at the Iced Biscuits Corner where you can enjoy decorating your own biscuits to your liking.

There is more than just desserts, however. You must try the Christmas gratin, which is garnished with a jolly green Christmas tree made from romanesco broccoli. There is also a DUMBO Caesar Salad in the shape of a wreath, a delicious Roast Turkey Breast dish and much more. 

Make sure to pop down to Omotesando for a jolly New York-style Christmas celebration.

Information

Christmas in New York Lunch and Dessert Buffet

Running: November 7 – December 25, 2019

Location: BAR & GRILL DUMBO, The Strings Omotesando Floor 2

Address: The Strings Omotesando, 3 Chome-6-8 Kitaaoyama, Minato City, Tokyo

Running: 15:00 – 16:30 (90-minute time slot)

Buffet Photography Times: 14:45 – 15:00

Prices: Adults:¥4,500/ Children: ¥2,250 *Tax and Service Charge Included)

Reservations: www.strings-hotel.jp/omotesando/event/sweetsbuffet/

10 Things You Can Do at the MOSHI MOSHI ROOMS Hotel in Harajuku | Foodie Edition

MOSHI MOSHI ROOMS is a hotel accommodation service run by MOSHI MOSHI NIPPON located in Harajuku and bookable via Airbnb. Our hotel isn't just popular for sleep, however: it has become a hot spot with stylish girls who get together and use it as a party space. 

Today we'll be looking at the different ways you can have fun when staying at our pink paradise room SAKURA. 

 

Girls' Night In Edition: https://www.moshimoshi-nippon.jp/262308

Birthday Party Edition: https://www.moshimoshi-nippon.jp/264752

【8】Extend your adventures to the rooftop 

The rooftop of MOSHI MOSHI ROOMS can be used freely by our guests. There are tables and chairs and even a hammock so make yourself comfortable. We particularly recommend spending a morning here. Enjoy bathing in the morning light on our spacious rooftop right below the clouds and make some good memories eating breakfast with your friends. 

*Please note that the rooftop is not accessible when booked.


MOSHI MOSHI ROOMS is located near a number of breakfast foodie favorites including Bread, Espresso & and whyte which have made their fame on Instagram. How about a baked good and a drink to enjoy on the rooftop with your friends?

【9】Barbeque it up on the rooftop with zero preparation


There is still more to your rooftop adventures. There is a barbeque course which you can enjoy without having to prepare anything at all. The barbeque course includes meat, fish, vegetables, dessert and even more luxurious dishes. The course even comes with a selection of drinks so you can spend less time preparing and more time enjoying.

This course is available to book for groups of six people or more. You can even invite your friends who are not staying at MOSHI MOSHI ROOMS so feel free to invite many people. Find out more about what's on the menu here. 

【10】Feast out with your foodie friends near MOSHI MOSHI ROOMS: Recommendations from locals

Where do the locals and people working in Harajuku choose to eat out? As our office is located in Harajuku, we have plenty of knowledge to share with you:

Just a five-minute walk from MOSHI MOSHI ROOMS lies the Okonomiyaki restaurant Sakura Tei. From the beautiful interior decoration and wonderful atmosphere to the delicious food, this restaurant should be on your food adventure list. As many foreigners eat here, the staff can even speak in multiple foreign languages. Make use of Sakura Tei's simple guide on how to make okonomiyaki and put your skills to the test. 

KAWAII MONSTER CAFE TOKYO is one of the landmarks of Harajuku. Welcome to the vivid world of bright pop colours where you will be staring in awe at everything from the decorations to the food and drinks. Some of the crazy meals to satisfy your kawaii cravings include rainbow pastas and cakes. Don't leave without getting your hands on some KAWAII MONSTER CAFE-limited merchandise! Your meal will also be interrupted by the Monster Girls who will put on an incredibly fun performance for you. 

Seaweed from the well-established shop Maruyama Nori and only the freshest and luxurious fish is used to make these temaki sushi. The seafood used in these temaki sushi rolls is of a quality that you won't find at a conveyor belt sushi restaurant so if you are looking for a new experience of sushi, make sure to stop by.

If your burger cravings get to you then cafe Hohokam is for you. The interior is spacious and there is even terrace seating, creating a refreshing atmosphere. From mozzarella to barbeque to cheese, the menu is full of different flavours and is filling enough to leave any foodie fully satisfied.

Harajuku is a kawaii ice cream shop hot spot. The shops serve up a range of toppings and will fill your cone with heaps of colours and fun flavours. A trip to an ice cream shop in Harajuku is an adventure in itself. When you're done with dinner and the sweet cravings kick in, let the kawaii ice cream shops of Harajuku be your saviour. 

MOSHI MOSHI ROOMS is located at the heart of Harajuku and is surrounded by great places to shop, eat, sightsee and much more. Enjoy a stay at MOSHI MOSHI ROOMS and embark on a wild Harajuku adventure.

Information

MOSHI MOSHI ROOMS

Address: 2-18-7 Jingumae, Shibuya Ward, Tokyo  

Access: 8-minute walk from Meiji-jingumae Station (Harajuku), Tokyo Metro
Website: https://rooms.moshimoshi-nippon.jp/

Lozareena's Kabukichō Sherlock Anime Ending Theme 'Hyakuoku Kounen' Music Video Released

Cute looks, and edgy sound, and a voice that stays on your mind. Talented singer and creator Lozareena's song Hyakuoku Kounen is used as the ending theme for the TV anime series Kabukichō Sherlock, and today, not only was the music video was released, but the song was also made available on all the major music streaming services.

Lozareena – "Hyakuoku Kounen" Music Video


Hyakuoku Kounen was produced by Seiji Kameda and is a grand ballad whose sound captures the flow of time. The music video features mesmerising cuts of Lozareena in a world where it snows both indoors and outdoorsーan ice-solid match for the coming winter season.

Katsuyuki Konishi, who voices Sherlock Holmes in the anime series, will also host a live stream via LINE LIVE on November 15 where he will be answering fans' burning questions. Fans can submit their quests in advance for the stream. Details are available on Lozareena's staff Twitter account. Lozareena will also perform live on the stream, and there'll be other fun content related to the anime series too.

Tickets for Lozareena's solo concert next spring will go on sale on November 23. More details can be found on her official website.

Make Your Own Matcha Drink and Try Black Bean Butter Toast in Nakameguro, Tokyo

If you're looking for a cool café experience in Tokyo then head to Nakameguro for a goldmine of craft beer taprooms, coffee roasters and restaurants. One café to consider adding to your list of must-go places is music café and wine bar epulor. The café has added a number of exquisite and unique items to its menu this November including a matcha drink, black bean paste and butter toast and craft cola.

Take a seat and admire the walls of old records which create a soothing artistic atmosphere while sipping your cup of the café's specialty hand drip coffee or sommelier-selected wine as the music of old records fills the air. When you have finished, feel free to take a gander at the gallery corner to appreciate the cafés art. 

The November menu introduces a high-quality matcha by UK brand Matchæologist®, providing the opportunity to make and enjoy your own matcha drink. From the high-quality rich flavour to the contemporary design of the tea vessel, Matchæologist® lives up to its reputation as artisanal matcha green tea specialists.

Fans of epulor's popular Red Bean Paste and Butter Toast are in for a treat as the café is now serving up the Black Bean Paste and Butter Toast. The bread is a charcoal bread from the bakery Lotus baguette, which uses only natural yeast, Japan-produced wheat and no additives. The binchotan charcoal used to prepare the bread is a traditional charcoal which has been used since the Edo period. The appearance is just as striking as its taste. 

The café has also started to sell Japan's craft cola TOMO COLA. The cola is spiced with flavours from around the world including kola nut, nutmeg, Japanese herbs and Japanese citrus fruits. This natural cola contains no additives so you can indulge in the taste of nature and enjoy a unique flavourful experience of Japan. 

epulor is the perfect spot to enjoy a luxurious moment of relaxation during your busy day while immersing yourself in an artistic and cultural experience. 

Information

epulor

Address: ESCENARIO AOBADAI Floor 1, 1-19-10,Aobadai, Meguro, Tokyo

Opening Hours: 11:00 – 24:00

Closed: Mondays

Website: http://www.epulor.jp/

Krispy Kreme Celebrates the Year of the Rat With Cute New Year's Doughnuts

Krispy Kreme Doughnuts Japan is releasing three new end-of-year doughnuts on December 26. They will be available for a limited time only.

2020 is the Year of the Rat in the Chinese zodiac, and so Krispy Kreme has taken that theme to create its own adorable rat doughnut. Lathered in caramel chocolate, this cute doughnut is filled with rock salt caramel cream. Its eyes, tail and large round ears are made of  dark chocolate while its nose is made of coffee chocolate.

The second New Year's doughnut in the series is the Lucky Strawberry Ring (¥230), which gets its deep crimson colour from the sweet and sour nappage made from strawberry puree and milky white chocolate. It's finished with sprinkles of freeze-dried strawberries and gold leaf for that festive touch.

The Snowman Chocolate (¥230) is a cute snowman shaped doughnuts filled with a rich chocolate cream and covered in a milky snow white chocolate coating. Together with the Lucky Strawberry Ring, you get a festive mix of red and white which are symbolic colours of the New Year in Japan.

The three doughnuts are also available to purchase in a box set called Good Luck Zodiac Dozen which comes with twelve doughnuts including four Original Glazed®, the chain's most popular doughnut.

Welcome the new year with some delicious and kawaii doughnuts from Krispy Kreme Japan.

Information

New Year's Doughnuts

Available: December 26, 2019 to Mid-January 2020 (subject to change)

Official Website: https://krispykreme.jp/

Instagram Launches #MY TOKYO IS Campaign With Tokyo Metropolitan Government

Instagram launched a campaign with the Tokyo Metropolitan Government entitled "#MY TOKYO IS" on November 11 together with three limited-time stamps that can be used on people's Instagram stories.

The campaign is a global initiative to have people capture their favourite moments in Tokyo in the form of photos, videos and stories on Instagram. Shared posts will be used to curate places and scenery in Tokyo that the Tokyo Metropolitan Government want to showcase to the people of the world. This curation will take the form of an exhibitionーwhich will take place at GINZA ATRIUM on floor 6F of GINZA SIX and GINZA TSUTAYA BOOKS in late March 2020ーas well as a website and a book.

Statistics have shown that Instagram has a significant influence on the Japanese economy in terms of tourism, and so the Tokyo Metropolitan Government hopes that this interactive campaign will help to promote the city to tourists and travellers worldwide.

The stamps created as part of the campaign only appear in the tray when you're in the city of Tokyo. When you click the stamp, the #MYTOKYOIS search result page will be displayed, allowing you to see the other photos and videos posted by the people who have used the campaign hashtag.

If you're in Tokyo, then be sure to get involved in the campaign and show the world your favourite things about the city!

Information

Enter via Feed Posts

・Follow the official Tokyo Tokyo Instagram account @tokyotokyooldmeetsnew

・Add hashtags #MYTOKYOIS and #TokyoTokyo to your post

・Add spot or location info to the photo or video you took, and post

Enter via Stories

・Follow the official Tokyo Tokyo Instagram account @tokyotokyooldmeetsnew

・Use the #MYTOKYOIS sticker or add the hashtag #MYTOKYOIS using the text tool / hashtag sticker

・Add spot or location sticker of the photo or video you took, and post

#MY TOKYO IS Campaign Website

Experience Tokyo Disneyland's Magical Christmas Parade & Decorations

Jolly faces are all around at Tokyo Disney Resort right now as Disney Christmas kicked off last Friday. It's set to sleigh its way up to Christmas Day this year.

The editorial team at MOSHI MOSHI NIPPON jumped ahead and got to experience all of the festive fun taking place at Tokyo Disneyland parks, so we're going to showcase some of the magical events taking place this year.

Disney characters dress up for the amazing Christmas parade


If you're visiting Tokyo Disneyland this year, the one event you absolutely have to check out the Disney Christmas Stories parade, where Mickey and company, as well as characters from various Disney Pixar films like Frozen and Toy Story, all arrive on Christmas floats.

All of the floats and themed on the films they appear in. For example, Lilo and Stitch ride a Hawaii Christmas boat, while Donald and Daisy have their own boat decked out with Christmas decorations.


The floats will stop before the crowd, and that's when the dancing begins! Mickey, Minnie, Chip and Dale begin the dancing in front of Cinderella's castle. All of the Christmas-clad characters and dancers invite guests to join in with dancing.

Once the dancing stops, the floats begin to move again, and snow falls all around the guests, plunging them into a White Christmas. The parade is truly magical at this point as the snow dances through the air. What could be better than celebrating Christmas than with your favourite Disney character at Tokyo Disneyland?

Gaze up at the 15-meter tall Christmas tree

The first thing to catch your eye if you walk towards the World Bazaar from the entrance is the towering Christmas tree which stands 15 meters high. At night, they turn the Christmas lights on, glow beautifully with the other visuals shining in the area. Here you'll truly feel like you've been transported to a Christmas land as you're wrapped in the warm lights of the illuminations and lulled by the music.

Photo opportunities with your favourite characters

In front of the Cinderella castle you'll find multiple photo spots with statues of Disney characters. There are photographers there ready to take guests' photos for them, so be sure to dress in your Christmas best to snap a memorable picture with the Disney cast. If you buy the photo, you'll also receive a Christmas illustration and other goodies.

You can really feel the Christmas spirit at Tokyo Disneyland simply by walking through the park. Don't miss this year's Disney Christmas, and be sure to invite friends, family and loved ones along for the ride.

Writer: Sayuri Mizuno (MOSHI MOSHI NIPPON)

Translator: Joshua Kitosi-Isanga

Kyary Pamyu Pamyu's 'KIMI GA IINE KURETARA' Single to be Released on Kawaii Pink Vinyl

In May 2019, Harajuku fashion monster Kyary Pamyu Pamyu released her latest single KIMI GA IINE KURETARA on streaming services. The single was used as the theme song for the Nippon Television Network drama Mukai no Bazuru Kazoku. The single will be released in late February 2020 in the form of a kawaii pink 7-inch vinyl. The last time Kyary Pamyu Pamyu released a single in analog format was in 2015 with Mondai Girl.

KIMI GA IINE KURETARA was produced entirely by Yasutaka Nakata. In the song, Kyary Pamyu Pamyu transforms into a modern social media expert, singing an encouraging message aimed at people who are lost in their obsession with getting likes on social media. The single's B side contains the instrumental version of the song which has never been released.

As the vinyl release is still quite far away, all we can do is wait in excitement. 

Information

KIMI GA IINE KURETARA

CATNO.:KMGI-0001

Price: ¥1,600 (Tax Included)

Release Date: Late February 2020 (Subject to change)

Contents

Side A – KIMI GA IINE KURETARA

Side B – KIMI GA IINE KURETARA (Instrumental Version)

Streaming Services: https://kppm.lnk.to/kik

Official Website: http://kyary.asobisystem.com/english/

Starbucks Japan Releases Merry Strawberry Cake Frappuccino

The holiday season has finally hit Starbucks in Japan, and for the first drink in their series of Christmas beverages, they are serving the new Merry Strawberry Cake Frappuccino which is made to look and taste like a strawberry cake. Customers can even customise their drinks with as much free strawberry sauce as they like.

Merry Strawberry Cake Frappuccino – Tall ¥590 w/ Free Strawberry Sauce (*Sauce not available with other drinks)

The drink is built on sponge cake flavoured base, on top of which sits ascending layers of bright-red strawberry sauce, whipped cream, and a sprinkling of freeze-dried strawberries, effectively creating a dessert that you can drink. One sip of this pink delight fills your mouth with the sweet and refreshing taste of fresh fruity strawberries.

We recommend customising yours with non-fat milk or soy milk. If you want to hold back on some of the sweetness, go for the non-fat milk option, and if you want something smoother, get the soy milk. Drizzle over additional strawberry sauce to your liking, and you've got yourself a festive treat for the season!

Information

Merry Strawberry Cake Frappuccino

Released: November 9, 2019

Available: At most Starbucks branches in Japan while supplies last

Official Website: https://www.starbucks.co.jp/

Roppongi Hills Christmas Market 2019: Authentic German Food, Christmas Ornaments, Desserts & More

Christmastime has fallen on Roppongi Hills as it kicked off Roppongi Hills Christmas 2019 on Monday. The event sees the return of the gorgeous Keyakizaka illuminations from last year.

Keyakizaka-dori Street runs almost 400 meters, along which "Snow & Blue" LED lights glow and glisten like frost-covered trees, turning the street into a winter wonderland. For 2019, a very special photo spot has been designed by Japanese illustrator Yu Nagaba as pictured above amongst the ocean of illuminations. Over on the West Walk, passersby will spot a draped Christmas tree.

Starting this Friday (November 15), more illuminations will light up over at Mori Garden, which will reflect enchantingly from the garden lake, and 66 Plaza will be lit up too. All of these illuminations will glow until late in the night, making them a perfect spot for a little evening date.

A Christmas market will take place starting on November 30 which will feature German food and drinks, a shop where you can buy a real fir Christmas tree, and more. And on November 15, restaurants and cafes at Roppongi Hills will adorn their menus with Christmas cakes, sweets, and dinner plans.

Christmas Market 2019

2019 marks the 13th year of the Roppongi Hills Christmas Market, and this year, many of Japan's leading shops are taking part. The market will recreate the atmosphere and decor of a German Christmas market, with gorgeous decorations lining the roof, as well as the 11 stalls which will sell German-made Christmas sundries, German mulled wine, frankfurter sausages, and more. There will be over 2,000 individual items to find.

Christmas Cakes & Merry Desserts

Top: Christmas Show Girl ¥3,672 / Bottom: Christmas Tree ¥10,800 @ LOLA'S Cupcakes Tokyo

Cafes and restaurants have cooked up various treats for the Christmas season which will be sold between November 15 to December 25, including Christmas cakes to complete your Christmas dinner, desserts so cute they almost seem a waste to eat, and little items perfect to give as gifts. There's plenty on the menu to be enjoyed with friends, family and loved ones.

Have a very special and merry little Christmas this year at Roppongi Hills.

Information

Roppongi Hills Christmas 2019 

Running: November 11, 2019 – December 25, 2019
Locations: Roppongi Hills (Roppongi Keyakizaka-dori, 66 Plaza, West Walk, Roppongi Hills Arena, Rooftop Plaza, and elsewhere)

Official Event Page: https://www.roppongihills.com/en/sp/christmas/2019/

Christmas Market 2019

Running: November 30, 2019 – December 25, 2019

Time: 11:00-21:00 (Until 22:00 on Fridays, Saturdays & Christmas Eve)

Location: Rooftop Plaza

Keyakizaka Illuminations

Running: November 11, 2019 – December 25, 2019

Time: 17:00-23:00

Location: Roppongi Keyakizaka-dori

Sanrio Characters Get Together for the Last EGG&SPUMA Collaboration Cafe in Tokyo

Sanrio is collaborating with EGG & SPUMA cafe which is located on the 8th floor of the shopping centre Lumine EST Shinjuku. The Sanrio Characters Cafe is set to open on November 15 and will remain open for a limited time only.

This will be the last time that Sanrio will collaborate with EGG & SPUMA and to really make it special, the menu is grander and packed with even more of your favourite Sanrio Characters. If you are a Sanrio fan, you definitely won't be able to resist the adorable atmosphere.

From dinner to dessert to drinks, the menu will leave you spoilt for choice. If you're looking for something to fill you up, then the Pompompurin Cheese Burger is for you. Pompompurin sits on the plate in burger form wearing a cute beret. Kiki and Lala's themed dish is a tower of soufflé pancakes made to resemble a cute tree, and My Melody's dish is a Melty Strawberry Soufflé Pancake garnished with a pink ribbon. 

Of course, EGG & SPUMA Collaboration Cafe will be whisking up their highly popular Tea Party Set again but this time, the Sanrio presence is very intense.

The special Sanrio-style Tea Party Set is a grand three-tier course full of intricate design. The fun feast on the first tier features a colourful jelly treat which takes on the appearance of a capsule toy machine, and playful pup Pochacco in the form of a panna cotta dessert. The second tier serves up EGG&SPUMA's popular soufflé pancakes covered in an irresistible berry sauce. The third tier will treat you to a ribbon-shaped strawberry milk crêpe and mini chocolate cakes with My Melody and Kuromi playing on top.

Order from the collaboration menu to receive a cafe-limited drink coaster. 

*There are eight possible designs. Each customer will receive one coaster upon their order and they are unable to choose the design they receive.

Make sure to stop by for a top up on your kawaii levels!

Information

Sanrio Characters Cafe

Location: EGG&SPUMA, Floor 8 Shinjuku Lumine EST, 3-38-1, Shinjuku, Tokyo

Cafe Running Period: November 15, 2019 – Mid January, 2020

Opening Hours: 11:00 – 22:30 (Last Orders: 21:45)

Website:  http://salt-group.jp/shop/egg-spuma/

Hayao Miyazaki Designs Giovanni Mirabassi's Studio Ghibli Music Cover Album Artwork

Giovanni Mirabassi is a Paris-based Italian jazz pianist who is an icon in the world of European jazz. The self-taught piano master has announced that he will release an album featuring covers of famous songs from the Studio Ghibli filmography.

Born in Italy, Mirabassi has been a fan of Japanese animation since he was young, and was particularly fond of films made by internationally renowned and beloved Japanese animation studio Studio Ghibli. He released Animessi ~Tenku No Shiro No Laputa Hoka~ in 2015, a cover album centred on movies in the Ghibli franchise. He performed a concert in Japan in the same year which was attended by Ghibli's legendary director Hayao Miyazaki who had already been a fan of Mirabassi for a long time. After that, Mirabassi continued to keep in touch with the studio, leading the release of yet another cover album.

The album is entitled MITAKA CALLING, and features a skilled ensemble trio who breathe life into the classic hits. The album artwork was designed by Hayao Miyazaki himself, who said: "I enjoy hearing Mirabassi's piano playing. He embodies freedom and zeal."

The album will be released in a digipak format with a sleeve case and is coupled with a foldout poster. It will be released on December 18, 2019 and Mirabassi will support its release with a Japan tour in spring 2020. If you're a fan of Studio Ghibli and the films' enchanting music, then you won't want to miss this when it drops.

Information

MITAKA CALLING -三鷹の呼聲-

By: Giovanni Mirabassi

Release Date: December 18, 2019

Price: ¥3,700 [COCB-54294]

Giovanni Mirabassi Japan Colombia Website: https://columbia.jp/mirabassi