Pompompurin Themed Desserts and Drinks Now Being Served Up in Osaka
The Osaka-based fruit parlour and bakery Season&Co., which is located on the first floor of LINKS UMEDA, is celebrating the 25th anniversary of Sanrio's popular character Pompompurin with a themed menu of desserts and drinks until April 12, 2021.
Menu item names have been translated from Japanese by MMN.
Pompompurin Peeking From the Nabe Hot Pot | ¥1,000 (Before Tax)
Pompompurin's Specially-Made Parfait | ¥1,600 (Before Tax)
Pompompurin's Strawberry Omelette | ¥1,600 (Before Tax)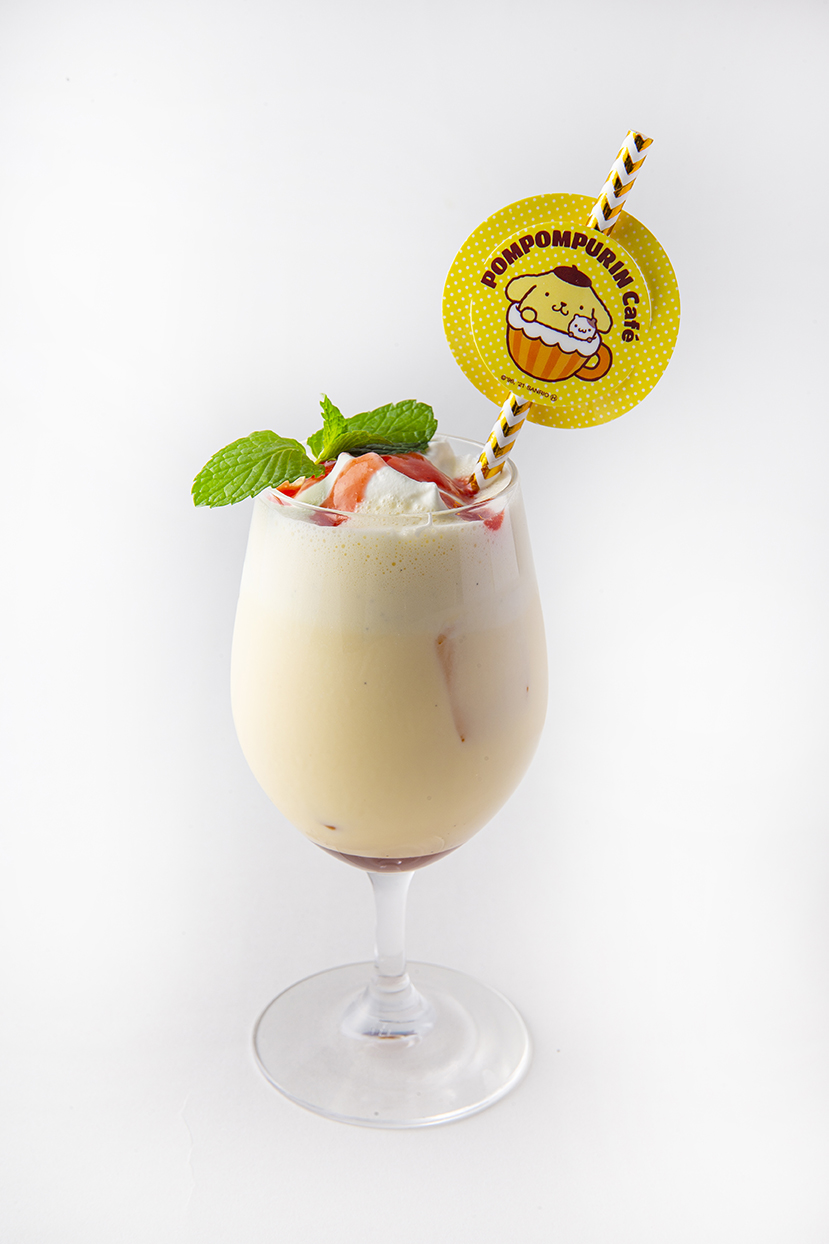 Pompompurin's Pudding Juice | ¥730 (Before Tax)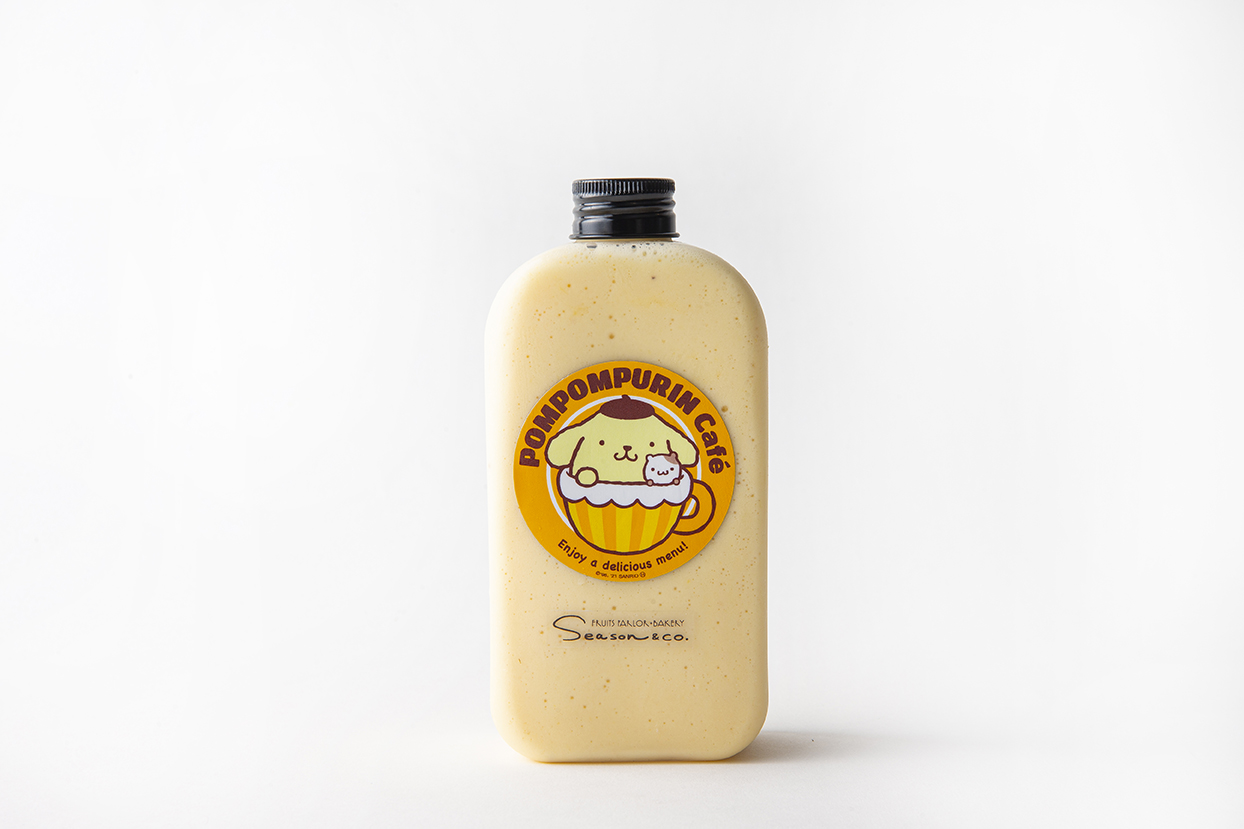 Pompompurin's Mixed Juice | ¥730 (Before Tax)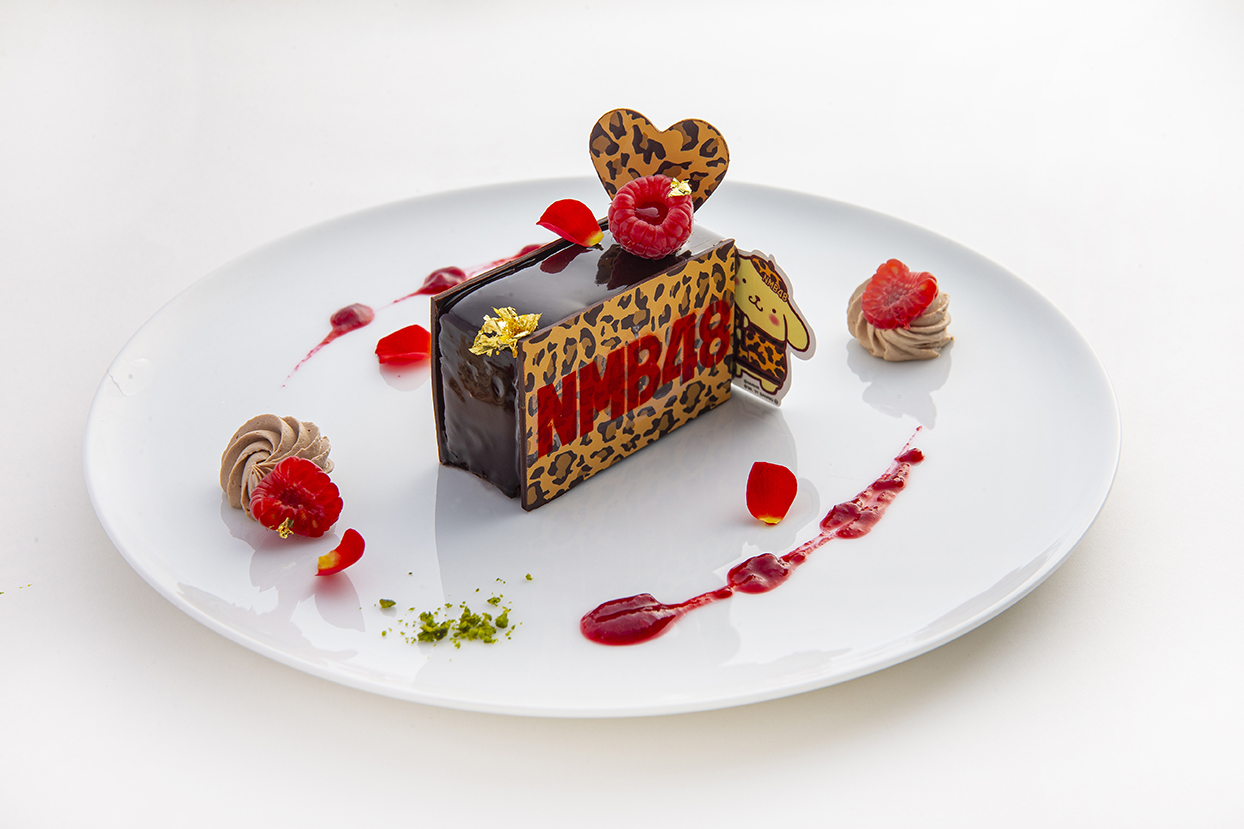 NMB48 x Pompompurin's Chocolate Cake | ¥700 (Before Tax)
NMB48 x Pompompurin's Osaka Cupid | ¥500 (Before Tax)
The menu includes a range of Pompompurin themed drinks and desserts as well as merchandise. There's also two items made in collaboration with NMB48.
For every order, customers will receive a free lunch mat, and if they spend over ¥1,000 (before tax) on anything on the menu, including the merch, they'll get a free sticker.
Information
Season&Co. x Pompompurin Collab Cafe
Running: January 27, 2021 – April 12, 2021
Where: FRUITS PARLOR+BAKERY Season & Co.
Address: LINKS UMEDA 1F, 1-1 Ofukacho, Kita-ku, Osaka-shi, Osaka
Opening Hours: 9:30-20:00 (Last Orders 19:30)
Official Website: https://season-co.shop
RELATED ENTRIES
'Maruko & Cojicoji' Collaborates with Popular Fruit Sandwich Store 'FruitsBOX DAIKANYAMA'

A collaboration between 'Maruko & Cojicoji' and FruitsBOX DAIKANYAMA has been announced. The 'Maruko & Cojicoji Fruit Sandwich POP UP SHOP' will be open between October 16 and October 31 in Kinshicho TERMINA 2.

 

Matcha Bean Paste & Strawberry Sandwich

Hokkaido Suzu Akane! Strawberry Sandwich

Four Seasons! FruitsBOX Sandwich

Crispy Taste! Banana and Chocolate Chip Sandwich

Collab Goods

Tote Bag: ¥2,200 (Tax Incl.)

Parka (FREE SIZE: Length 71cm, Width 58cm, Shoulder Width 52cm): ¥6,050 (Tax Incl.)


 

FruitsBOX DAIKANYAMA is a fruit sandwich specialty store that opened in 2019. The 'Maruko & Cojicoji' lineup will include eight new sandwiches. You'll get addicted to the new Matcha Paste and Strawberry sandwich, which combines the sweet and sour taste of strawberries and a rich bean paste! 

The pop up shop will stock a parka and tote bag, which both feature original artwork, alongside a! exciting collection of 50 Chibi Maruko-chan and Cojicoji items to purchase! Why not check it out?

Information

Maruko & Cojicoji Fruit Sandwich POP UP SHOP

Duration: October 16 ~ October 31 2021

Opening Hours: 11:00 ~ 20:00 (Subject to change)

Fruit Sandwich Store Location: Kinshicho TERMINA 2 1F La Gare Entrance Outdoor Exhibition Hall (Closest train: JR Kinshicho Station North Exit)

Pop Up Store Location: Kinshicho TERMINA 2 1F La Gare Indoor Exhibition Hall

Official Site: https://fruitsbox.net/ 

no mark.Café in Tokyo Collaborates with Parent-Child Art Unit Musee du Aouvre

Located in an old traditional Japanese house in Kiyosumi Shirakawa, no mark.Café has a cozy ambiance for guests looking to escape the hustle and bustle of the city. From October 15 until November 30, the cafe is collaborating with the parent-child art unit Musee du Aouvre, and thirteen works from the group's blog will be on display throughout the building. A campaign will also be held, giving visitors the chance to receive some original coasters and a small wind God figure to sit on the side of a coffee cup. 

Campaign Present A. Aouvre Coaster / B. Aouvre Wind God Figure

The cafe aims to be a place where guests can enjoy art as they relax, and to further this idea, they will be collaborating with a number of artists in the 'CAFE DE ART' project. 

The first collaboration is with Musee du Aouvre, an art unit consisting of a father and son duo who copy famous works of art. These aren't just any forgeries–they are incredibly adorable and pay proper homage to the original creations. Thirteen works will be selected from the pair's blog and will be exhibited under the title 'The no mark.Café Great Counterfeit Exhibition.' A 2022 calendar and postcards of the works will be on sale at the store, and videos will provide information about the original works of art. Visitors can also participate in the Twitter and Instagram campaign to win a special collaborative item!

Enjoy a Weather and Time-based Cream Soda at the Newly Opened 'Cafe Amayadori'

The Oarai Tourism Omotenashi Promotion Council opened Cafe Amayadori, a rain and healing themed coffee shop, on September 18 2021. The shop was opened as a challenge and is located in the Umimachi Terrace Tourist Information Center.

Cafe Amayadori

Cafe Amayadori Menu

Cafe Amayadori Tote Bag

You can clearly hear the sound of the rain from inside the store, while the served cream soda changes based on both the weather and the time. On clear days where the sun is shining, you can order the traditional green-color  'Blue Sky Cream Soda,' while on rainy days you can order the blue 'Rain-color Cream Soda.'

The cafe also serves a wide variety of Japanese and Western meals and desserts, each cooked using local Oarai produce. Morning and lunch specials are also available, meaning you can easily work your visit around your own schedule.

The concept of the cafe is "Rain." You can dash into the cafe as if you're looking for shelter from the weather before sitting down to eat and drink in the calm space, emphasized by the soothing music that plays in the background. While the soundtrack depends on the day, the sound of rain is often played. However, the sounds played on rainy days are a little different to the usual. True to its name, the cafe can create a comfortable Amayadori (lit. rain shelter) no matter what the weather!

'rain coat studio' is a group of creators who have been working on 'rain' themed events and designs since 2016. The group was formed with the idea that "when it rains, our activities are limited due to the dull weather. On the other hand, the rain represents the season and soothes those who listen to it's sound." 

The group aims to create music, events, artwork, and more, that are cool like the rain but still convey a kindness. The 'rain coat studio' came up with the idea of a coffee shop as a way to try creating a restaurant business that followed their ideals.

The signature item on Cafe Amayadori's menu is the 'Weather Cream Soda.' The flavor depends on whether the weather is clear, rainy, and after-rain, but can also depend on the time – They even offer special drinks for 'Morning Fog' and for drinking in the evening, along with a limited-time 'Seasonal Cream Soda. 

The cafe doesn't just serve Cream Soda! Customers who would like a full meal can also order from a selection of Japanese food, Western food, and desserts. A limited edition tote bag is currently on sale to commemorate the opening of the cafe.

Why not try relaxing on a rainy day at Cafe Amayadori?

Information

Cafe Amayadori

Address: Uramichi Terrace, 301 Sakuramichi, Oarai-cho, Higashi-Ibaraki-gun, Ibaraki *Directly connected to Oarai Station

TEL: 029-352-2715

Opening Hours: 09:00 ~ 17:30 (subject to change) 

Closed: Mondays, Holidays (subject to change) 

Official Site: http://rain-sound.com/cafe

'Kyoto Yura Hotel M Gallery' New Halloween Menu Features Adorable Monster Motifs

The '1F Lounge & Bar 1867' at the Kyoto Yura Hotel M Gallery will be hosting a Halloween themed afternoon tea from October 1 2021, with tea sets and cocktails available. The premium hotel is owned by Accor, a Paris, France based group that owns over 5,000 hotels and resorts in 110 countries.

The Halloween-themed afternoon tea has been made by Jennie Chiu, a pastry chef who grew up in America, the home of Halloween. The afternoon tea features cute and playful monster motifs, including a witch-hat Mont Blanc, a Cassis and Chestnut Cake topped with a small ghost, and a spider-web topped Raspberry and Chocolate Mousse. For savory treats, Chef Nishimura Niki has prepared Foie Gras soaked in Salted Koji, plus two luxurious lobster dishes.

The creative Halloween cocktails were brainstormed by Yamazaki Sousei, who ranked in the Japan Top 10 category of bartending competition 'WORLD CLASS 2021.' The Halloween and apple pie inspired lineup was inspired by Scotland and the Celtic people, looking back to when Halloween was first celebrated. 

Enjoy some adult-only time in this retro-modern "family mansion" themed space. 

Information

Halloween Afternoon Tea Set

Availability: October 1 ~ October 31 2021

Location: Lounge & Bar 1867 

Serving Hours: 12:00 and 15:00 *Please reserve your table by 17:00 on the day prior to your arrival

Halloween Cocktails

Availability: October 1 ~ October 31 2021 

Price: ¥1,900
Location: Lounge & Bar 1867

Serving Hours/Opening Hours: 11:30 ~ 21:00 (L.O. 20:30) 

Official Site:  https://kyotoyurahotel-mgallery.com/ja

Hello Kitty and Pierre Hermé Collaboration Series Coming to Sanrio Stores

Everyone's favorite cartoon cat Hello Kitty is about to celebrate her birthday! To celebrate, Sanrio is releasing a collection of limited-time goods in collaboration with world-famous patisserie Pierre Hermé starting October 20, 2021. These items will be on sale at Sanrio stores nationwide, in specific department stores, and on the official Sanrio online store. 

Collaboration with Hello Kitty's favorite sweet, Ispahan

Ispahan, a raspberry cake, is Hermé's signature dessert. For Hello Kitty's birthday celebration the creator drew the character in an elegant rose-inspired dress inspired by the sweet. This design was made with the hope that Hello Kitty will continue to bring different people and cultures together for years to come. 

Mascot Keychain  Hello Kitty/Mimmy: ¥2,530

Accessory Case: ¥3,080

Inspired by Pierre Hermé's Ispahan and Satine sweets, fans will love these colorful goods perfect for a birthday celebration. 

Hello Kitty Birthday Doll: ¥15,400 (Tax Included)

Each year a Hello Kitty Birthday Doll is released, and 2021 is no different! This year, the doll is wearing an elegant dress designed exclusively for the collaboration. Each one has an embroidered serial number on the left leg, and quantities will be limited. 

Gâteau Anniversaire Hello Kitty: ¥2,640 (Tax Included)

This special birthday dessert will be available at Pierre Hermé Paris Aoyama from November 1 to November 15. It includes a special Hello Kitty Ispahan along with a scoop of rose ice cream and a dusting of raspberry powder!

©'21 SANRIO 著作(株)サンリオ

Information

Hello Kitty and Pierre Hermé Collaboration Design Series

Release Date: October 20, 2021

Sanrio Official Goods Page: https://www.sanrio.co.jp/goodsinfo/kt-pierreherme-202110/ 

Hello Kitty and Pierre Hermé Birthday Doll 2021

Price: ¥15,400 (Tax Included)

Release Date: October 20, 2021

Where to Buy: Sanrio Stores, Sanrio Areas at Department Stores

Gâteau Anniversaire Hello Kitty 

Available: November 1 – 15, 2021 *Limited-time only

Where to Buy: Pierre Hermé Paris Aoyama 2F Heaven

Sumikko Gurashi Themed Cafes Open in Tokyo, Osaka, and Aichi to Commemorate Second Theatrical Movie

To commemorate the release of the their second movie, 'Sumikko Gurashi: Aoi Tsukiyo no Mahou no Ko,' Sumikko Gurashi will be opening the limited-time 'Night Party with Sumikko' cafe in Osaka on October 20, Tokyo on October 21, and Aichi on November 11.

 

(Advance Reservation Benefit Only) Original Invitation with Postcard (Five types)

Menu

Tokage's Night Party Curry: ¥1,430 (Tax Incl.)

Shirokuma's Warming Hot Rice Casserole: ¥1,430 (Tax Incl.)

Five's Recommended Children's Lunch: ¥1,650 (Tax Incl.)

Magician's Party ~Açai Bowl~: ¥1,430 (Tax Incl)

Aoi Tsukiyo's Fruit Punch: ¥1,100 (Tax Incl.) + ¥220 for one mini ice cream

Sumikko's Pudding Ice Cream: ¥880 each (Tax Incl.)

Starry Drink: ¥990 each (Tax Incl)

Dolomite Coaster

Hot Café Au Lait: ¥880 (Tax Incl.)

Original Goods

Acrylic Keyholder (Random out of five): ¥770 (Tax Incl.)

Phosphorescent Sticker (Random out of eight): ¥605 (Tax Incl.)

Acrylic Stand (Random out of five): ¥880 (Tax Incl.)


Muddler (Three types): ¥1,100 each (Tax Incl.)

Mug Cup: ¥1,980 (Tax Incl)

Purse: ¥1,100 (Tax Incl.)

Fluorescent Pen Set: ¥1,100 (Tax Incl.)

A5 Clear File Duo: ¥605 (Tax Incl.)

Bandanna: ¥1,870 (Tax Incl.)

The Sumikko Gurashi characters are beloved by both adults and children for their gentle touch and tone. Their first movie, 'Sumikko Gurashi Tobidasu Ehon to Himitsu no Ko' was released in November 2019 and received great popularity. The sweet story of the Sumikko's adventures through a story-book world attracted over 1.2 million viewers across Japan.

The heartwarming cafe menu includes "Tokage's Night Party Curry," "Shirokuma's Warming Hot Rice Casserole," Five's Recommended Children's Lunch,""Magician's Party ~Açai Bowl~," "Aoi Tsukiyo's Fruit Punch," "Starry Drink," and more. The cute, Instagrammable dishes feature the characters who feature in the movie, which tells a mysterious story that begins under a blue moon in the Sumikko's hometown. A lineup of limited edition goods and perks will also be available, adding to the movie excitement.

 

Enjoy a cute, social-media friendly meal and original merchandise at the exciting Sumikko Gurashi cafe!

©2021 Japanese Sumikko Gurashi Association Film Club

Information

Sumikko Gurashi Cafe

Date/Store

Tokyo: BOX cafe&space Tokyo SolaMachi (Previously TOKYO BOX cafe&space Tokyo SolaMachi)

October 21 ~ December 5 2021

1-1-2 Tokyo Sky Tree Town Solamachi 1F, Oshiage, Sumida-ku, Tokyo

Shinsaibashi, Osaka: kawara CAFE&DINING Shinsaibashi

October 20 ~ December 5 2021

1-4-3 Shinsaibashi OPA 9F, Nishishinsaibashi, Chuo-ku, Osaka City, Osaka

Aichi & Nagoya: BOX cafe&space Nagoya LACHIC 1F (Previously NAGOYA BOX cafe&space A) 

November 11 ~ December 12 2021

3-6-1 LACHIC Basement 1F, Sakae, Naka-ku, Nagoya City, Aichi

Reservation Fee: ¥650 (¥715 incl. tax) *Reservation comes with benefits *Up to four seats can be reserved per application.

Cafe Online Shop opens November 11 12:00 until December 12 at 23:59

Reservations & Official Site: https://sumikkogurashi-movie-cafe.jp 

Official Twitter: https://twitter.com/cafe_sumikko 

Online Shop: https://sumikkogurashi-movie-cafe.jp/online_store 

Eggs'n Things Popular Halloween Menu Returns for Limited Time

EGGS'N THINGS JAPAN have announced that between October 15 and October 31, their most popular Halloween item ever – the 2018 Halloween Trick Pancakes – will be returning to Eggs'n Things and Eggs'n Things Coffee stores nationwide. 

 

 

The black pancake batter is kneaded with cocoa and is topped with subtly sweet pumpkin cream shaped in a cute spider pattern, finished with a swirl of purple taro whipped cream. Eggs'n Things have even hidden a colorful, popping trick inside the pancake. 

 

Have some fun this Halloween at Eggs' Things!

Information

Halloween Trick Pancake

Cost: ¥1,730 (Tax Incl.)

Availability: October 15 ~ October 31 2021 

Participating Stores: Eggs'n Things, Eggs'n Things Coffee stores nationwide 

※This item is not available to take out.

Kuromi Shop Opens for Limited Time Only at Hello Kitty Japan DiverCity Tokyo Plaza

The Hello Kitty Japan DiverCity Tokyo Plaza shop is about to be taken over by Kuromi! Located on the second floor of the complex, the store will be transformed into a new concept shop starting October 8, 2021, until January 10, 2022. 

Limited-Time Sweets

Limited-Time Event Merchandise

Photo Signature

Photo Spot

 

Kuromi is the rival of My Melody and is popular among Gen-Z for her punk style and mischievous attitude. The character will cast her spell on the store as a prank, and will completely strip the location of all of its pink and red coloring, replacing it with a monotone look. 

Along with the new decorations, certain goods and sweets will only be available during the event period. A photo spot will be open for a limited time, along with a Sanrio Purikura machine imported from Korea for the first time! DiverCity will decorate the entrance and interior of the building to celebrate the event as well, so don't miss out!

ⓒ 2021 SANRIO CO.,LTD  著作:㈱サンリオ

 

Information

Hello Kitty Japan DiverCity Tokyo Plaza

Concept Shop Open: October 8, 2021 – January 10, 2022

DiverCity Tokyo Plaza 'Kuromi's Mischief Mission' 

Running: October 8 – November 11, 2021

Address: Diver City Tokyo Plaza 2F(1-1-10 Aomi, Koto-ku, Tokyo)

Access: 3 minutes walk from Tokyo Teleport Station on the Rinkai Line / 5-minute walk from Daiba Station on the Yurikamome Line

90 Year Old Renovated Public Bath-turn-Cafe 'Rebon Kaisaiyu' to Hold Collab Exhibition with Illustrator Miyaoka Chigav

Tokyo, Taito-ku based public bath cafe Rebon Kaisaiyu has announced a collaboration exhibition with illustrator Miyaoka Chiga, held between October 10 (public bath day) and October 24 2021, titled "Yu."

 

Rebon Kaisaiyu is a renovated public bath which was built 90 years ago, now transformed into a cafe serving home-roasted specialty coffee and handmade ice cream. The wooden tag shoe boxes, watch seats, ceilings, clocks, and Mt. Fuji paintings from the public bath have been preserved, retaining the comfort and warmth of the original building. 

The space was designed around the concept of "connecting memories through a cafe," striving to become a spot where locals could relax once more, connecting the building with the people of the new generation. The relaxing cafe has 16 seats available and is located only a five minute walk from Tokyo Metro Hibiya Station.

The collaboration exhibition will be filled with artwork using iconic public bath motifs. Miyaoka's gentle illustrations are sure to soothe your heart, immersing you in the warmth of "Yu" (public baths). Why not relax in this unique cafe with a comforting mug of hot coffee.

Information

Rebon Kaisaiyu x Miyaoka Chiga Collaboration Exhibition "Yu"

Duration: October 10 ~ October 24 2021 

Opening Hours: Weekdays 12:00 ~ 19:00 / Weekends, Holidays 11:00 ~ 19:00 (*Based on Rebon Kaisaiyu's opening hours.)

Admission Fee: Free (*Please order one item from the cafe if you decide to use the seats.)

Official Site: https://www.rebon.jp/ 

Pompompurin Celebrates 25th Anniversary with Two-Day Picnic Event

To celebrate the 25th anniversary of Sanrio's popular Golden Retriever character Pompompurin, Sanrio Puroland will hold a two-day picnic event in Tama Central Park on November 6 and November 13, 2021!

Picnic Menu


Limited-Edition Goods

The picnic will allow fans to spend some quality time with their favorite character while enjoying the lush greenery of Tama Central Park, located right next to Sanrio Puroland. Guests can chow down on the special Yellow Bun Teri-Mayo Burger, bone-in sausage, fried chicken, and a healthy salad while snapping pictures of the scenery. A limited-edition T-shirt will be available, along with a picnic mat and some cute Pompompurin figures, so don't miss out!

Information

Pompompurin's Happy Picnic at Tama Central Park

Dates: November 6 and November 13, 2021, from 12:00-13:15 

(The event will be postponed to the following day in the case of rain.) 

Location: Tama Central Park

Patisserie Antenor in Kobe Releases Limited-Time Halloween Cakes

Antenor, a beloved patisserie located in Kobe, began selling limited-time Halloween-themed cakes on October 1, 2021. The exciting lineup will have guests ready for the scariest day of the year, offering sweets made with purple sweet potato, Mont Blanc, and pumpkin. 

Halloween Petit Four – Available from October 16 until October 31

Pumpkin Mont Blanc – Available from October 1 until October 31

Halloween Cheesecake – Available from October 1 until October 31

Gateau Chocolat Classic Cake – Available from October 1 until October 31

Halloween Assortment (M) – Available from September 1 until October 31

The Halloween Assortment (M) includes three types of popular cookies and is available now ahead of the October holiday. It would make a perfect gift, so snag one of these festive boxes before they're gone!

Halloween Sweets Buffet Coming to Haneda Excel Hotel Tokyu for Two Days Only

Moshi Moshi Nippon has delivered news on tons of Halloween treats this holiday season, but can there ever really be enough? Haneda Excel Hotel Tokyo has announced a special two-day-only Halloween Sweets Buffet on October 30 and 31 at the location's Flyer's Table restaurant on the second floor. 

Pumpkin Cheese Tart

Ghost Mousse

Black Cream Puff

 

Guests can enjoy a variety of spooky treats all incorporating fall flavors like chestnut, pumpkin, sweet potato, pear, and apple. Offerings include the Pumpkin Cheese Tart, a mildly-sweet cheese tart made with sour cream, cottage cheese, and cream cheese, and topped with pumpkin cream; the Ghost Mousse, a chestnut mousse made to look like a ghoul; and the Black Cream Puff, made with black cocoa and a cassis cream filling. 

 

At the demonstration corner, guests can see the Sweet Potato Mont Blanc being made. Those wanting something besides sweets can enjoy a selection of sandwiches decorated in Halloween style!