Sankt Gallen Brewery to Release 800 Limited-Edition Chocolate Beer Bottle Sets
Sankt Gallen Brewery has announced the release of a new drinking set which includes its chocolate-flavoured beer "Imperial Chocolate Stout" and a special glass for drinking it out of. The brewery, which is located in Atsugi, Kanagawa, will launch it as a limited-edition release on February 1, 2021 with just 800 sets available.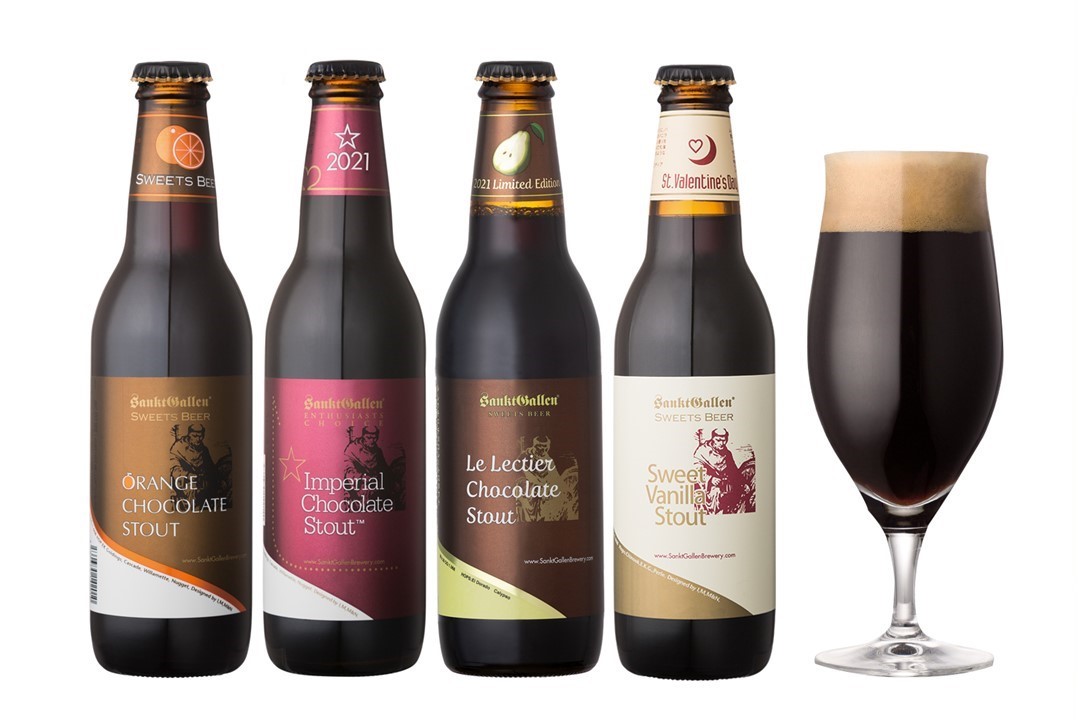 Imperial Chocolate Stout ¥600 | Le Lectier Chocolate Stout 2021 Edition Flavour ¥500 | Orange Chocolate Stout ¥500 | Sweet Vanilla Stout Valentine Label ¥460 (All Prices Pre-Tax)
Chocolate Glass
Chocolate Glass Set
The Imperial Chocolate Stout isn't made with cacao or the chocolate used in sweets. It's in fact made with "chocolate malt," a raw beer ingredient roasted at a high temperature which draws out its chocolaty flavour. Although the beer uses almost 30% more of this raw ingredient than regular beer, only about half the amount is brewed from a single distilling compared to regular beer, which gives the beverage a distinct jet black colouring. The bubbles on top make it almost like a chocolate shake.
Other drinks in this series include the Le Lectier Chocolate Stout which arrives this year in a limited-edition 2021 flavour. It's made with the Le Lectier, a rare type of pear that is difficult to grow. The Orange Chocolate Stout is made with thinly sliced bitter orange peel, the kind that's used in marmalade, of which half is boiled to intensify its citrusy notes. It's inspired by the classic French confection that coats orange peel in chocolate. Finally, the Sweet Vanilla Stout comes in a Valentine's Day label for 2021. This beer, which is richly black like an espresso, is laced with vanilla, bringing with it a sweet fragrance and vanilla chocolate aftertaste.
These chocolate beers themselves go perfectly with some actual chocolate, and so Sankt Gallen Brewery teamed up with the Japanese patissier Tadashi Yanagi to create a glass made of chocolate to drink the beer from.
Which of these beverages has your mouth watering the most?
RELATED ENTRIES
Craft Beer Service Otomoni Releases Tsundere-themed IPA

Craft beer subscription service Otomoni opened orders for a new Tsundere-themed Hazy IPA on November 15, 2022. The beer has a sweetness level that changes on its temperature and was brewed as part of the 15th installment of the JAPANESE BEER ODYSSEY, which aims to share aspects of both traditional and modern Japanese culture through craft beer.

For better or worse, Japan's otaku culture is now a major part of the country's appeal to people around the world.

Japan's video game and anime market is now legendary around the globe, and millions flock to the country each year to become more immersed in its popular culture. Just look at the annual Comiket event–over 700,000 visitors attend each year!

 

To celebrate the upcoming Comiket, a new beer has been brewed that pays homage to modern otaku culture. The Tsundere Hazy IPA is perfect for otaku who love a little challenge when it comes to their love life.

Brewed with NOMCRAFT Brewing in Wakayama Prefecture, the Tsundere Hazy IPA features two distinct flavors, each coming out more strongly depending on the beer's temperature. 

 

When poured, the beer has a very tropical aroma, and when ice-cold, it's more refreshing and less sweet. 

 

As the temperature of the beer rises, the smell becomes more fruity and strong, with the smell of hibiscus certain to make your mouth water. Whether you like bitter or sweet, this may be the perfect beer for you. 

Would you try this tsundere-themed beer? 

Touken Ranbu ONLINE Inspires Original Chocolate Candies

Orders are now open for some tasty chocolates inspired by the many handsome characters from Touken Ranbu ONLINE! These sweets come in decorative tins, and while they can be ordered now from Premium Bandai, they will also be available in supermarkets and other shops starting December 26, 2022.

Chocolate Tins / Touken Ranbu ONLINE

These tins feature many popular characters, and customers can choose from Yamanbagiri Chogi, Nankaitarou Chouson & Hizen Tadahiro, Suishinshi Masahide & Minamoto Kiyomaro, Kokindenjunotachi & Jizou Yukihira, or Ichimonji Norimune. These gorgeous tins contain three types of chocolate: rolled chocolate, fan-shaped chocolate printed with the swordsman's crest and motif, and cherry-blossomed-shaped strawberry chocolate.

Assorted Chocolate Tin / Touken Ranbu ONLINE

These assorted chocolate tins are available in four designs. The first depicts Mikazuki Munechika, Kogitsunemaru, Ishikirimaru, Iwatooshi, and Imanotsurugi. The second features Kashuu Kiyomitsu and Yamatonokami Yasusada, while the third depicts Taikogane Sadamune, Shokudaikiri Mitsutada, Ookurikara, and Kuninaga Tsurumaru. The fourth shows Higekiri and Hizamaru. The chocolates in each tin are inspired by these characters, and these would make perfect gifts for fans of the mobile and online game.

Variety Chocolate Tin / Touken Ranbu ONLINE

Those who can't choose a favorite character will want to snag one of these assorted tins, filled with familiar faces from the series. Grabbing all three will net you all 101 swordsmen!

(C)2015 EXNOA LLC/NITRO PLUS

Information

Chocolate Tins / Touken Ranbu ONLINE

Price: ¥972 each (Tax Included, Shipping and Handling Not Included)

5 varieties total

Craft Brewery Releases Beer in Collaboration with Hololive Vtuber Aki Rosenthal

Aki Rosenthal, a popular member of the Hololive VTuber collective, has teamed up with Hansharo Beer in Izu to create a tasty new brew. Called 'Good Job Again Today,' this is the perfect beverage to enjoy after a long day. Sales will begin on August 25, 2022.




The beer is fermented with champagne yeast and colored by malt to resemble rosé wine. Aki Rosenthal, a well-known beer lover herself, was involved in the creation of the beer, and the talent hopes that it will make workers' lives a little easier and more enjoyable. Even those who don't typically like beer might like this slightly fruity taste, so be sure to give it a try if you can!

Aki Rosenthal

A girl who traveled from a different universe. She has hyper curiosity and manages to reach out to all sorts of things. Her trademark pigtails float due to some sort of supernatural power.

Character Design: Azumiu Akitake @akitake_a
YouTube: https://www.youtube.com/channel/UCFTLzh12_nrtzqBPsTCqenA
Twitter: https://twitter.com/akirosenthal

Information

Good Job Again Today!
Preorders Now Available

Where to Preorder:
Kushigin Stand-up Bar (1-8-4 Kanda Sakumacho, Chiyoda-ku, Tokyo)
Robatayaki Kushigin, KS Corner 1F (2-15-1 Kanda Sudacho, Chikyoda-ku, Tokyo)
Kushigin Akihabara #3, Furukawa Building 6, 1-2F (2-12-5 Kanda Sudacho, Chiyokda-ku, Tokyo)

General Online Sales begin August 25 at 21:00
Buy Online: https://hansharo-beer.stores.jp/
Price: ¥3,000 (Set of 4, Tax Included) *Shipping not included

Cafe 'Junkissa Bread & Espresso' to Start Chocolate Fair

Specialty cafe chain 'Bread, Espresso &' will begin selling special items as a part of its chocolate fair at the Harajuku location, 'Junkissa Bread, Espresso &' starting June 1!

Many of the existing items on the shop's menu will be available in chocolate versions. The Chocolate Mint French Toast is chilled and perfect for summer, drizzled with chocolate cream and mint sauce. Additional mint can be added to your heart's content!

The mint cocoa (pictured top right) features blended mint cream on top with cocoa on the bottom. The two halves blend effortlessly as the top warms and the bottom cools.

Come enjoy these chocolate treats during the warm summer months!

Information

Bread, Espresso &

Address: 6-25-5 Jingumae, Shibuya-ku, Tokyo
Hours: 8:00-18:00 (Last order at 7:30)
Open Every Day
Homepage: http://www.bread-espresso.jp/

Honatsugi MYLORD Celebrates 40th Anniversary with Black Cat Burger & Beer at Sankt Gallen Brewery

Sankt Gallen Taproom, a bar directly owned by the original Sankt Gallen microbrewery, has begun selling special menu items to commemorate the 40th anniversary of Honatsugi MYLORD until March 31, 2022. Since ancient times, black cats have been a symbol of prosperous business, and fittingly, the new menu features a black cat motif. 

The 40th-anniversary beer, Congratulations Nya~ England IPA, is a New England IPA-style beer, a style that originated in the New England region of the eastern United States. The orange-yellow liquid was inspired by the eyes of a black cat glowing in the dark. The adorable cat ear burger buns are baked at the city's Good Aging Store. The black color is made by adding unsweetened black cocoa to the flour.

Information

Sankt Gallen Taproom x Honatsugi MYLORD

Running: March 1 – March 31, 2022
Address: Hon-Atsugi MYLORD 2 1F (2-2-1 Nakacho, Atsugi, Kanagawa / Near the North Exit of Honatsugi Station)
Official Site: https://www.sanktgallenbrewery.com/taproom/

Meiji Milk Chocolate Celebrates 95th Anniversary with Laforet Harajuku Collaboration Project

From March 12 until April 3, chocolate lovers will want to visit Laforet Harajuku! 30 different stores are celebrating the 95th anniversary of Meiji Milk Chocolate with over 80 new pieces of collaborative apparel, toys, and snacks.

Collaboration Items at a Glance

Laforet Staff in Unique Collaboration Outfits

Wind and Sea Pop-up Shop

Laforet Harajuku continues to be a place to discover local fashion and culture. Meiji spearheaded this collaboration after realizing the potential to create new and exciting pieces for fashionable chocolate lovers to enjoy! A wide range of products from clothing to chocolate block-shaped home goods are available now, along with Meiji White Chocolate and Meiji Black Chocolate items!





A Wind and Sea pop-up shop will open for the first time at Laforet Harajuku during the event and will also be selling chocolate-themed items. Fashion model and YouTuber Noah Sato will also be featured in event ads as a Meiji Chocolate ambassador! Those purchasing collaboration items will receive a special Meiji Chocolate bar in unique packaging while supplies last.

New Blue Mount Fuji Beer Looks Just Like the Snow-Capped Peak

Fujisan Product, a company that specializes in making Mount Fuji-themed food and beverages, has released a gorgeous blue beer in partnership with distributor Millex Japan and Far Yeast Brewing, an award-winning craft brewery. The refreshing product is being sold mainly through department stores. 

After plenty of trial and error, the drink now resembles a snow-capped mountain when poured into the appropriate glass. The blue color comes from Spirulina and blueberry, and the beer contains natural water from Mount Fuji.

Gelato Pique Cafe Now Serving Valentine's Day Chocolate Sweets

From January 19 until February 15, gelato pique cafe is selling four chocolate-based treats for Valentine's Day! The theme of this new menu is 'Melt,' and guests are asked to enjoy the richness of melting chocolate during this sweet season.

 Fondant Chocolat Crepe (Dine-in: ¥980 / Take-out: ¥970)

This crepe is topped with chocolate fondant that melts into a warm chocolate sauce inside. The chocolate whipped cream is combined with Royal Bourbon gelato, accented with blackberry and black currant sauce, and a bit of crunchiness from the cookie bits.

Chocolate Crepe (Dine-in: ¥980 / Take-out: ¥970)

This mouth-watering crepe includes plenty of whipped cream and a luxurious fresh chocolate sauce topping. Inside, dark chocolate gelato is mixed with cocoa-flavored chocolate whipped cream. 

Hot Chocolate Chai (Dine-in: ¥640 / Take-out: ¥630)

This hot chocolate is a variation of the popular chai beverage. White chocolate is combined with Assam tea leaves, cinnamon, cardamom, ginger, and cloves for that perfect chai flavor. The sweetness of the hot chocolate is enhanced by the rich spices, giving it a more mature flavor!

Hot Dark Chocolate (Dine-in: ¥640 / Take-out: ¥630)

Extra dark chocolate is only enhanced with a roasted flavor creating a less sweet hot chocolate beverage. Available toppings are less sweet whipped cream, milk chocolate, and chocolate sauce.

Pokemon Valentine's Day Sweets on Sale for a Limited Time from Meine Rollen

Western confectionery brand Meine Rollen has begun selling a collection of Pokemon-themed Valentine's day goods for 2022! Although some of these chocolates look too cute to eat, they'll certainly earn top marks with your crush.

Chocolate Set L (Pokemon)

Sleeping Pikachu Pack (Pokemon)

Eevee & Friends Pack (Pokemon)

Last year's designs focused on characters from Pokemon Red, Green, Blue, Gold, and Silver, released between 1996 and 1999. This year's imagery was inspired by all games in the series, appealing to an even larger audience. Which design do you like the most?

Godiva to Sell Valentine's Day Chocolixir for a Limited Time

Godiva Japan has begun selling two special Chocolixir beverages for Valentine's Day! The Chocolixir Valentine Limited Edition Strawberry White Chocolate drink will be available either hot or cold and sweets lovers will feel indulged by their decadent flavors.

Regular Size (270ml): ¥700 (Tax Included) / Large Size (350ml): ¥790 (Tax Included) / Hot (220ml): ¥700 (Tax Included)

These magical elixirs are perfect for the Valentine's season. The gentle sweetness of the white chocolate and the elegant sourness of the strawberry sauce are perfectly balanced, and the whipped cream is topped with adorable pink hearts. Be sure to find a participating location near you to pick up one of these tasty treats while you can!

Information

Chocolixir Valentine Limited Edition Strawberry White Chocolate

Hot Chocolixir Valentine Limited Edition Strawberry White Chocolate

Available: January 12, 2021 – February 15, 2022 *While Supplies Last

Participating Stores: https://www.godiva.co.jp/boutique/storelist/

*Sales period subject to change. Store hours may change. 

The Westin Sendai Launches Fashionable Valentine's Day Chocolate 2022 Sweets Collection

The Westin Sendai is now offering four fashionable chocolates perfect for Valentine's Day. These will be available at the Symphony Restaurant on the 26th floor until February 14, 2022. 

Charming Rose (8 pieces)

Colore Label (8 pieces / 4 pieces)

Parfume (6 pieces)

Tablet Chocolate (2 varieties)

It wouldn't be Valentine's Day without chocolate, and the Charming Rose takes things to a new level. The handbag, which looks good enough to carry through town, is edible down to the handle and decorations. Inside the bag are eight lip-shaped chocolates in colorful cosmetic shades. Some are milk chocolate, others white, and others include fruits and nuts. Parfume offers a superb smoothness, while the Tablet Chocolate is topped with lavish nuts and dried fruits. 

Information

Valentine Chocolate 2022

Available: January 25 – February 14, 2022

Location: Symphony Restaurant (26F)

Hours: 11:30-21:00

*Hours and menu items are subject to change.

*All prices include tax. 

*Reservations are required by 20:00 at least three days in advance for the Charming Rose. Spots are limited.

Official Hotel Website: https://www.the-westin-sendai.com/

Takashimaya Announces 'Amour du Chocolat' Valentine's Day Event

Takashimaya's yearly 'Amour du Chocolat' Valentine's Day event is known as the 'Festival of Chocolates.'

Bringing together chocolates from around the world, this event is a way to highlight brands being introduced to Japan for the first time along with established favorites. This year's lineup will also feature sustainable chocolates and more luxurious sweets to make 2022 feel more uplifting.

The First Chocolate Brand to Land in Japan

Luna Creation Paris Marble Collection

Yvan Chevalier Chocolate Assortment

Chocolatine Yoann Debray Snowflake & Edelweiss Assortment

Sustainable Chocolate

Toshi Yoroizuka Truffle Banane 

Sils Maria Banana & Chocolate

Bvlgari Il Cioccolato Takashimaya Original Chocolate for Sustainability

MAAHA Flower Chocolate

Ma Priere Giandujas Selection

Message de Rose TOKYO Cone Fleury 2022 

International Chocolates

Charbonnel et Walker Assortment Box for Takashimaya – England

Recchiuti Peanut Butter Confections  / Sepia Box – United States

Vincent Vallee Chocolat Amour / Valentine Selection – France

Bubo Barcelona Chocolate Heart Sculpture – Barcelona

Takashimaya Specials

Takashimaya Limited Edition Jacques Genin Valentine's Heart / Classic Selection

Takashimaya Limited Edition Julien Dechenaud Praline Etoile / Praline Nouveau

Luxury Chocolates

divan Valentine Box


The Peninsula Boutique & Cafe Bear Chocolate

Maison Mont Nord Assortment Box

Valentine's Day at Home

Cacao Sampaka / Cacao Esplette