Animal Crossing: New Horizons x gelato pique Clothing Collection Adds More Items
Japanese luxury loungewear and sleepwear brand gelato pique is adding more items along with restocks of its popular collection in collaboration with Animal Crossing: New Horizons. Orders opened in Japan on Thursday (February 4) and will run up until Valentine's Day.
About the Collection
The collection is a collaboration with the Nintendo Switch™ title Animal Crossing: New Horizons. It captures the warm, cosy, laid-back life of the game in the form of comfortable loungewear so you can feel as soft and relaxed as the characters in the game.
Line-Up Excerpt (Pre-Tax Prices Listed)
Jacquard Pullover ¥5,800 | Men's Jacquard Pullover ¥6,800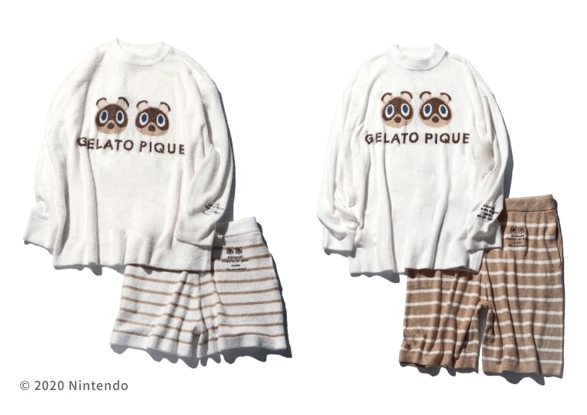 Left: Smoothie JQD Pullover & Short Pants ¥9,800 | Right: Men's Smoothie JQD Pullover & Short Pants ¥11,800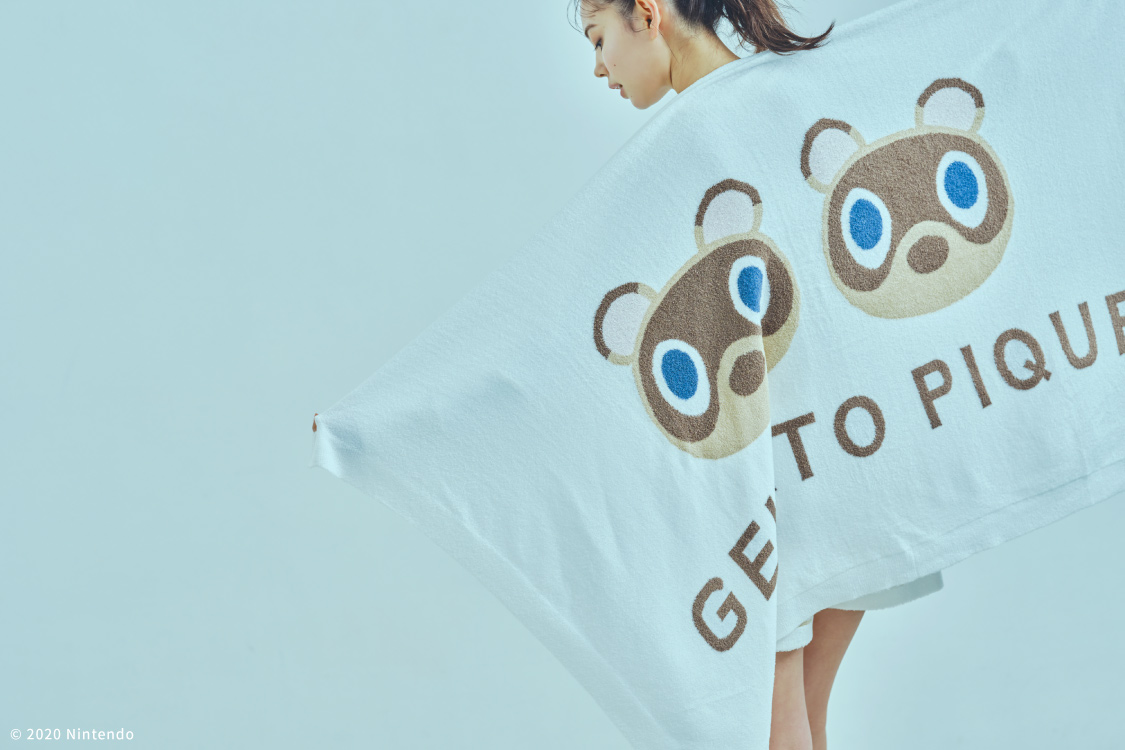 Smoothie Jacquard Blanket | ¥5,800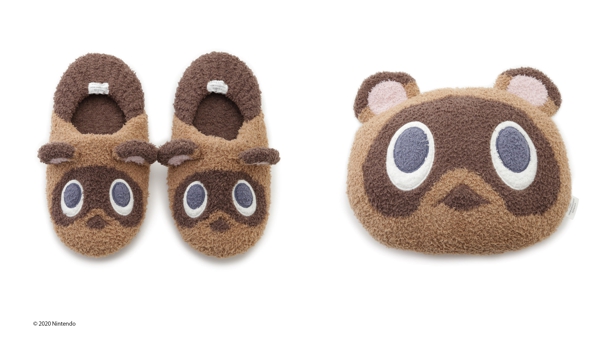 Left: Room Shoes ¥3,400 / Men's Room Shoes ¥3,600 | Right: Cushion ¥3,400
Due to current government guidelines in Japan in response to COVID-19, select stores are currently closed, and so part of this collection will also be made available online in Japan.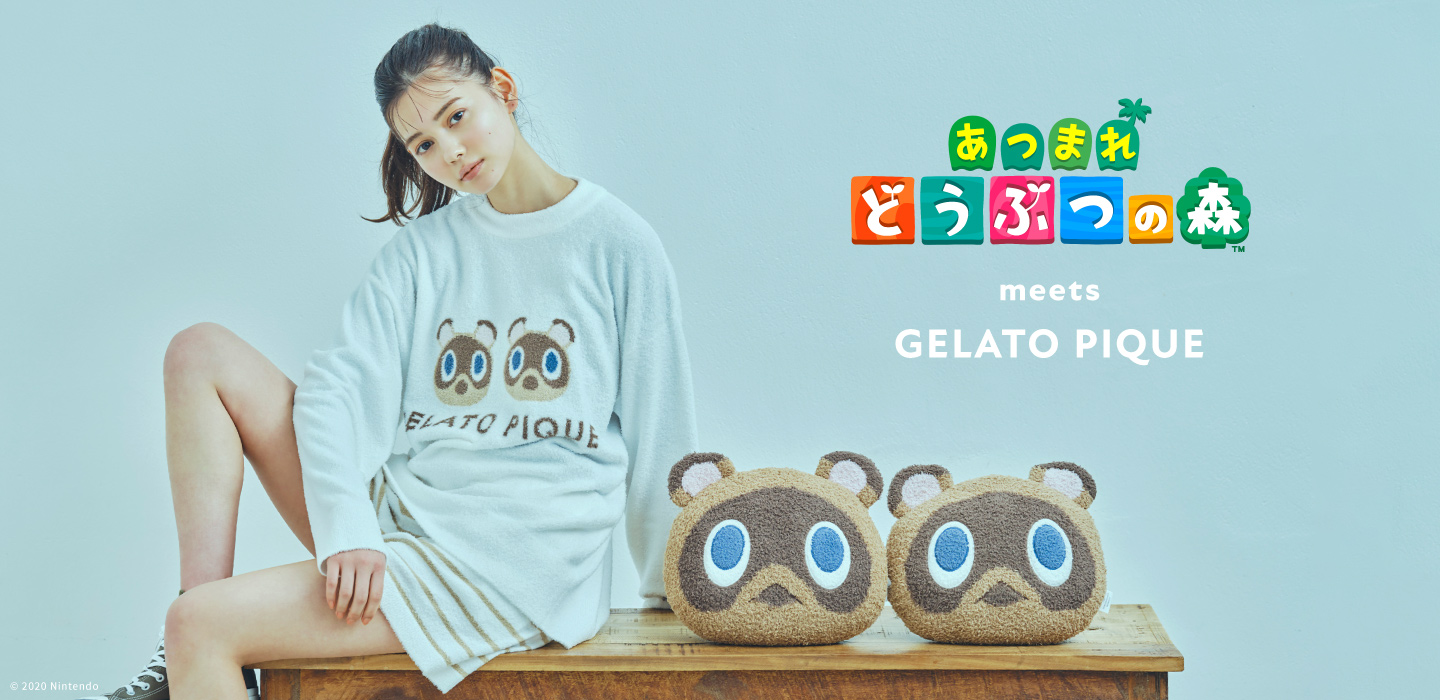 © 2020 Nintendo
"Nintendo Switch" is a trademark of Nintendo.
RELATED ENTRIES
Animal Crossing: New Horizons Original Soundtrack to be Released in Three Versions

Animal Crossing: New Horizons was released for the Nintendo Switch in March last year, and I'm sure many of us who have played it have the soundtrack on repeat in our heads daily. Now fans can get their hands on the game's official soundtrack which will be released in three versions: the BGM Edition which features the background music, the K.K. Slider Edition which has instrumental versions of all of the K.K.'s songs on it, and the First Press Limited Pressing Edition.

The First Press Limited Pressing Edition is a special version which includes a specially-made earphone case for storing your earphones as well as the K.K. Slider Jacket Artworks artbook featuring the CD covers of all of K.K.'s songs you can get in game.

BGM Edition | ¥4,950 (Tax Included) | 4 Discs | COCX-41434~7

Features all in-game background music including all the different tracks that play every hour during the game's 24-hour day cycle, music that plays depending on the weather, at in-game facilities on the island, event music, and more, for a total of 173 tracks. It also features a bonus track that was released back in May 2020 on Twitter.

K.K. Slider Instrumental Music Edition | ¥4,400 (Tax Included) | 3 Discs | COCX-41438~40

This edition features 95 instrumental songs from the beloved K.K. Slider spread across three discs.

BGM Edition + K.K. Slider Instrumental Music Edition | ¥11,000 (Tax Included) | 7 Discs

This version includes the earphone case, both editions, and the artbook, all packaged in a limited-edition box.

©2020 Nintendo

※Nintendo Switchは任天堂の商標です。

Cherry Blossom Loungewear Collection by gelato pique Arrives in Time For Spring

Japanese luxury loungewear brand gelato pique is readying itself for spring with its new pink cherry blossom-inspired 'SAKURA COLLECTION,' set to release at gelato pique stores and its online store on March 19.

The Line-Up

'Smoothie Light' Scallop Cardigan ¥6,820 (Tax Included) / 'Smoothie Light' Scallop Long Cardigan ¥7,480 (Tax Included)'

The 'Smoothie' cardigans are made of light material that's smooth to the touch and come in cute designs.

Petal Motif Satin Shirt ¥6,820 (Tax Included) / Petal Motif Satin Short Pants ¥4,620 (Tax Included)

Pink satin loungewear adorned with gorgeous petals.

Tiered Dress ¥8,140 (Tax Included)

An airy cotton dress with a beautiful feminine silhouette.

Organdy Eco Bag ¥2,640 (Tax Included) / Mask Pouch ¥2,420 (Tax Included) / Mesh Mini Pouch ¥2,640 (Tax Included) / Mesh Pouch ¥2,640 (Tax Included) / Mesh Vanity Pouch ¥3,520 (Tax Included)

Sort your cosmetics and bits 'n' bobs with this heart-filled collection of pouches, and store your face mask away safely with the mask pouch.

Hair Mist ¥1,870 (Tax Included) / Hand Soap ¥1,034 (Tax Included)

gelato pique's popular hair mist and hand soap arrive in spring season limited-edition packaging.

Animal Crossing: New Horizons Releases Osaka's City of Daito as Accessible Island

The city of Daito in Osaka teamed up with the Nintendo Switch title Animal Crossing: New Horizons to release the city as an accessible island, Daito Island, on March 10.

Every March, Daito hosts a PR event to promote the city. Due to the effects of the COVID-19 pandemic, however, the event has seen strict restrictions that do not allow social gatherings. In order that the event not be cancelled entirely, Daito is collaborating with Animal Crossing: New Horizons to promote the city in-game with stalls, historical content like traditional armour and Iimoriyama Castle, and more.

Visitors to the island will receive three kinds of Miyoshi Nagayoshi armour, a family crest, and a hat and outfit of Daito's city mascot Daiton. These are available until April 30.

The access code is: DA-1888-0815-5276

Animal Crossing: New Horizons Collaborates With Komeda Coffee

The popular Nintendo Switch title Animal Crossing: New Horizons launched a collaboration with the Japanese coffee brand Komeda to open Komeda Island in the game which is home to a cafe area, menu area, and forest area, all serving the relaxing vibe that Komeda is known for.

Komeda Island

Komeda Coffee brings its own Cafe to the game

The Menu Area features Komeda's most popular items

In the Forest Area you'll find a small lake shaped like a coffee cup

Find the secret area with a giant slice of bread

The cafe area offers pure relaxation with inviting wooden tables, red sofas, coffee cups with Komeda's logo on them, and other little bits and bobs. In the menu area, players will find some of Komeda's most popular menu items like their cream soda, Komeda Blend coffee, cream-topped Shirono Waru, and more. There's also a forest area to walk around and enjoy the sights, everything a nod to Komeda. There's even a secret area as well as secret words hidden around the island.

Take a trip to Komeda Island with the code below.

Luxury Animal Crossing: New Horizons Clothing Collection by gelato pique Gets More Stock

Japanese luxury loungewear and sleepwear brand gelato pique will open online orders for an additional stock of its Animal Crossing: New Horizons collection on December 22, 2020 at 12:00pm (JST).

Original pre-orders for the collection will begin over on Gelato Pique's official website on November 18. They will subsequently be released at the official Nintento TOKYO store as well as select Gelato Pique stores in Japan on January 13, 2021. Before that, they are also lining the shelves of a Gelato Pique pop-up store called "Gelato Pique Christmas Town" in Omotesando Hills which is running until December 25.

ABOUT COLLECTION

The collection is a collaboration with the Nintendo Switch™ title Animal Crossing: New Horizons. It captures the warm, cosy, laid-back life of the game in the form of comfortable loungewear so you can feel as soft and relaxed as the characters in the game.

Line-Up (Excerpt)

Jacquard Pullover ¥5,800

A Timmy & Tommy knitted jacquard pullover with a simple yet design.

[Colours: Brown/Cream/Grey] Hoodies ¥6,800 | Short Pants ¥4,200 | Set ¥11,000

Become your favourite character with a cosy ear-topped hoodie and pants.

Left: Fruit Pullover ¥5,400 | Fruit Long Pants ¥5,200

Left: Character Pullover ¥5,400 | Character Long Pants ¥5,200

Cut and sewn pyjamas with mini character designs and fruit patterns.

Left: Blanket ¥5,800 | Right: Jacquard Blanket B ¥5,800

Stay warm with these Timmy & Tommy blankets.

Additional Stock Orders

Additional stock orders will take place on gelato pique's online store and USAGI ONLINE. It will run through a lottery system with random people being chosen. You will also need a Japanese address to receive the items.

Running: December 22, 2020 at 12:00 (JST) – January 17, 2021 at 23:59 (JST)

Product Delivery: January 23, 2021

Stay cosy and warm this winter with the critters of Animal Crossing.

© 2020 Nintendo

Information

Gelato Pique x Animal Crossing Collection
Releasing: December 18, 2020 at 12:00pm (JST)
Gelato Pique Official Online Store: https://gelatopique.com/20201116_01
USAGI ONLINE Official Website: https://usagi-online.com/s/201116PIQ/

Gelato Pique Christmas Town
Running: December 18, 2020 – December 25, 2020
Location: Space O, Omotesando Hills Floor B3F
Products: Animal Crossing meets GELATO PIQUE

In-Store Purchasing
Release Date: January 13, 2021
Locations: Select Gelato Pique stores / Nintendo TOKYO
*Only a selection of the products will be sold, the full collection is available online

Animal Crossing: New Horizons Makes Japan's Sado Island as Accessible Location

The city of Sado in Japan's Niigata Prefecture is with the Nintendo Switch™ title Animal Crossing: New Horizons by making Sado Island an accessible location in-game from December 10, 2020. It is unconfirmed whether this is a Japan-only release.

The collaboration comes in response to the decrease in the number of people able to travel as a result of the COVID-19 pandemic. Now, players will be able to freely visit tourist spots and areas around Sado Island remotely and virtually in Animal Crossing: New Horizons.

There are 6 areas that players can visit, including the Paddy Field Art Area which has a design based on the Japanese Crested Ibis—a species listed by Globally Important Agricultural Heritage Systems as endangered—the Sado Kinzan area which is based on the real-life gold mine and World Heritage Site of the same name, the Sado Museum Area, Onogame Area, Lake Kamo Area, and Shukunegi Area. There's plenty of virtual sightseeing to be done, and players can't forget to take a photo next to the tarai-bune boats which are a popular part of Sado's tourism.

Sado Island Original Custom Design

Sado Island have even made their own Custom Design cosmetics including the "I♡SADO" T-shirt, a Crested Ibis hat, and more.

Download Code: MA-5962-3753-4973

Museum Artwork by Local Artists

The virtual Sado Island is home to a hub where real artists of the real Sado Island can display their own custom artwork, allowing for people to come together with a sense of community and support for local artists. More artwork is set to roll out over the coming weeks, and players living in Sado will be able to display their own work in the future too.

Stay Warm This Holiday Season With gelato pique's Cute Christmas Loungewear Collection

Luxury loungewear and sleepwear brand gelato pique dropped its cosy new "GOOD NIGHT MERRY CHRISTMAS" collection on Friday (December 4) featuring a line-up of warm and fuzzy wearables perfect for the holiday season.

Collection Line-up (Excerpt)

Women's


gelato Bear Jacquard Pullover ¥5,800 (Before Tax) | gelato Bear Long Pants ¥4,200 (Before Tax) | gelato Bear Room Shoes ¥3,400 (Before Tax)

The Bear Jacquard series is a special knitted set in sleepy Bordeaux and cosy beige.

gelato Bear Parker ¥6,800 (Before Tax)

The Christmas wine-coloured parker comes with a hood with cute bear ears.

Bear Flannel Shirt ¥6,200 (Before Tax) | Bear Flannel Long Pants ¥6,200 (Before Tax)

Fluffy flannel fabric branded with cute bear illustrations.

Kids & Babies


gelato Bear Kids Jacquard Pullover ¥4,600 (Before Tax) | Bear Flannel Kids Shirt ¥4,400 (Before Tax) | Bear Flannel Kids Long Pants ¥4,400 (Before Tax)


gelato Bear baby Jacquard Romper ¥6,600 (Before Tax)

Animal Crossing: New Horizons Reveals Japan's Sado Island as Accessible Location

The city of Sado in Japan's Niigata Prefecture is collaborating with the Nintendo Switch™ title Animal Crossing: New Horizons by making Sado Island an accessible location in-game from December 10, 2020. It is unconfirmed whether this is a Japan-only release.

The collaboration comes in response to the decrease in the number of people able to travel as a result of the COVID-19 pandemic. Now, players will be able to freely visit tourist spots and areas around Sado Island remotely and virtually in Animal Crossing: New Horizons.

Players can visit various areas like rice and paddy fields based on the Japanese Crested Ibis, a species listed by Globally Important Agricultural Heritage Systems as endangered, a gold mine, woodland areas, and much more.

There will also be a Sado Island hub facility with related exhibits that players can visit. Now players can travel to Sado Island in Japan this Christmas and New Year from the comfort of their own homes.

Strawberry Shortcake Crepe Arrive For Christmas 2020 at gelato pique cafe

gelato pique cafe in Japan is celebrating the holiday season with a series of 'WHITE CHRISTMAS' themed crepes and soft serve ice creams until December 27.

The cafe is a branch of the loungewear brand gelato pique. It aims to create desserts for adults. This Christmas, it is serving up some holiday special crepes and ice creams.

Strawberry Shortcake Crepe | ¥880 (Before Tax)

A fat crepe stuffed with strawberries and adorned in a way that's just like a shortcake. It contains not only strawberries, but raspberries, and cream. The whole wheat biscuit adds texture to the crepe so it's delicious to the last bite.

Pique Bear Crepe | ¥1,180 (Before Tax) *Limited quantity served each day


A snowy, all-white crepe made with sweet strawberries, milk gelato, and whole wheat biscuit. It's topped with a cute white chocolate bear.

Holiday Special Soft Creams – From Left: Strawberry Custard, Rich Milk, Mix | ¥450 Each (Before Tax)

The strawberry custard ice cream is made with smooth, sweet, and rich custard cream and strawberry for a melt-in-the-mouth combination. The rich milk ice cream is a mix of refreshing milk and rich vanilla. The mix option combines both of these flavours which results in a real mouth-watering treat.

If you're in Japan this holiday season, don't miss out on these delightful desserts.

Information

WHITE CHRISTMAS
Running: November 16, 2020 – December 27, 2020
Gelato pique cafe Official site:https://pique-cafe.com/
*The Gotemba Premium Outlets branch of gelato pique cafe is only selling the Strawberry Custard Cream Soft Cream
*The Tamagawa Takashimaya S.C. branch is not selling soft creams

Animal Crossing: New Horizons Clothing & Accessories Revealed by Luxury Japanese Brand Gelato Pique

Nintendo has announced that luxury Japanese loungewear and sleepwear brand Gelato Pique is releasing a collection of clothing and accessories in collaboration with the Nintendo Switch™ title Animal Crossing: New Horizons.

The line-up includes pyjamas, hoodies, shorts, tote bags, blankets, pouches, and more, with the Animal Crossing's beloved Timmy and Tommy appearing as the main character feature on the designs.

Pre-orders for the collection will begin over on Gelato Pique's official website on November 18, but you will most likely need an address in Japan to order. They will subsequently be released at the official Nintento TOKYO store as well as select Gelato Pique stores in Japan on January 13, 2021. Before that, they will also line the shelves of a Gelato Pique pop-up store called "Gelato Pique Christmas Town" in Omotesando Hills which is set to run from December 18 to 25.

Animal Crossing: New Horizons Line-Up

Timmy & Tommy knitted jacquard tops with a simple desig


Jacquard Pullover ¥5,800 | Short Pants ¥4,200 | Cushions ¥3,400 Each (All Tax-Inclusive)

Become your favourite character with a cosy ear-topped hoodie


[Colours: Brown/Cream/Grey] Hoodies ¥6,800 | Short Pants ¥4,200 (All Tax-Include)

Cut & Sewn Series: Character designs and fruit patterns


Left: Fruit Pullover ¥5,400 | Fruit Long Pants ¥5,200

Left: Character Pullover ¥5,400 | CharacterLong Pants ¥5,200

Warm Timmy & Tommy blanket


Left: Blanket ¥5,800 | Right: Jacquard Blanket B ¥5,800 (Before Tax)

Animal Crossing x Gelato Pique Special Book


Pouch and tote bag comes with the book

Japanese publishing company Takarajimasha is also releasing a special book on December 22 entitled Animal Crossing meets GELATO PIQUE SPECIAL BOOK in two versions which come with a Timmy and Tommy design pouch and tote bag. These are limited-edition items available only with the book.

© 2020 Nintendo

Information

Gelato Pique x Animal Crossing Collection
Releasing: December 18, 2020 at 12:00pm (JST)
Gelato Pique Official Online Store: https://gelatopique.com/20201116_01
USAGI ONLINE Official Website: https://usagi-online.com/s/201116PIQ/

Gelato Pique Christmas Town
Running: December 18, 2020 – December 25, 2020
Location: Space O, Omotesando Hills Floor B3F
Products: Animal Crossing meets GELATO PIQUE

In-Store Purchasing
Release Date: January 13, 2021
Locations: Select Gelato Pique stores / Nintendo TOKYO
*Only a selection of the products will be sold, the full collection is available online

Cute and Cosy Snoopy Loungewear Made in Collaboration With Gelato Pique

Luxury loungewear and sleepwear brand Gelato Pique is teaming up with Snoopy to release a cosy new collection via their website and at Gelato Pique stores in Japan on November 12, 2020.

Gelato Pique is inviting people to spend the winter with Snoopy this year with their warm and fluffy 'SNOOPY meets GELATO PIQUE' collection which comes in a variety of comfy sizes for men, women, children, and babies.

SNOOPY meets GELATO PIQUE

Jacquard Series

Baby Moco Headband ¥2,200 | Jacquard Pullover ¥5,800 | Jacquard Long Pants ¥5,800 | Baby Moco Room Shoes ¥3,400 | Big Plush ¥8,800 | Jacquard Blanket ¥5,200

Jacquard Hoodie | ¥6,800

A fluffy series made with jacquard fabric and cute Snoopy prints all over. The hoodie even comes with Snoopy ears on top.

Border Series


Baby Moco Shawl Cardigan ¥7,200 | Baby Moco Long Pants ¥6,600

The shawl cardigan is perfect for the winter season, and the stripes have give the loungewear a casual and comfy look.

Snoopy Pattern Series


Shirt ¥6,300 | Pants ¥6,300

The Snoopy Pattern Series is the kind of thing you want to be wearing with some warm socks while sipping on something hot. Its simple design makes it perfect as a gift to someone under the Christmas tree.

Fleece Series


Fleece Pullover ¥5,600 | Fleece Long Pants ¥5,600

The Fleece Series is perfect for both relaxing and active days. The designs feature Snoopy and Charlie Brown chilling at home. The casual colours also mean you can wear either items together with something else, such as just donning the bottoms with something different on top.

© 2020 Peanuts Worldwide LLC

*All listed prices are pre-tax

Animal Crossing: New Horizons to Host Kanda Shrine's Summer Festival In-Game

Noryo Matsuri is a popular summer festival held every August at Kanda Shrine in Tokyo, bringing in over 40,000 visitors every year to enjoy a variety of fun and exciting activities like the big bon-odori dance to anime songs, live performances, events in collaboration with anime series and more. Unfortunately, the event was cancelled this year due to COVID-19.


However, that isn't stopping the festival from being held in some sort of form. In fact, the festival organisers are teaming up with Animal Crossing: New Horizons to bring the festival to the Nintendo Switch title in Japan.

Players can even get their hands on some original Kanda Shrine outfits, as well as visit Kanda Shrine Island by using Luna's dreaming service in game (until September 30).

Information

Kanda Shrine Noryo Matsuri x Animal Crossing
Release Date: August 28, 2020 at 10:00 (JST)
Official Website: https://www.kandamyoujin.or.jp/atumori/

Dreaming Service: August 28, 2020 – September 30, 2020
Dreaming Service ID: DA-0760-0601-9410