Charisma.com, The tour final was finished in a great success with TEMPURA KIDZ & Calmera
Charisma.com, a unit comprising MC Ituka and DJ Gonchi held their final concert in their national tour titled, 'not not me' " in Akasaka BLITZ in Tokyo. Charisma.com released their original album ""not not me" in March and held concerts in seven cities throughout Japan, finishing the tour in Tokyo.
At the opening, as soon as the SE stared on the excited Akasaka BLITZ floor, MC Ituka and DJ Gonchi appeared on centerstage with their backs to eachother to make an opening pose and "Like it," their first song began.
Then the special guest of the live TEMPURA KIDZ appeared on the floor and boosted up the fever pitch of the audience with their aggressive dancing. They performed songs included in the latest album such as "Chicken boom" and "YAJIMA DANCE" but they also performed "Super Girl," a popular song among the fans and the audience was nailed to the stage.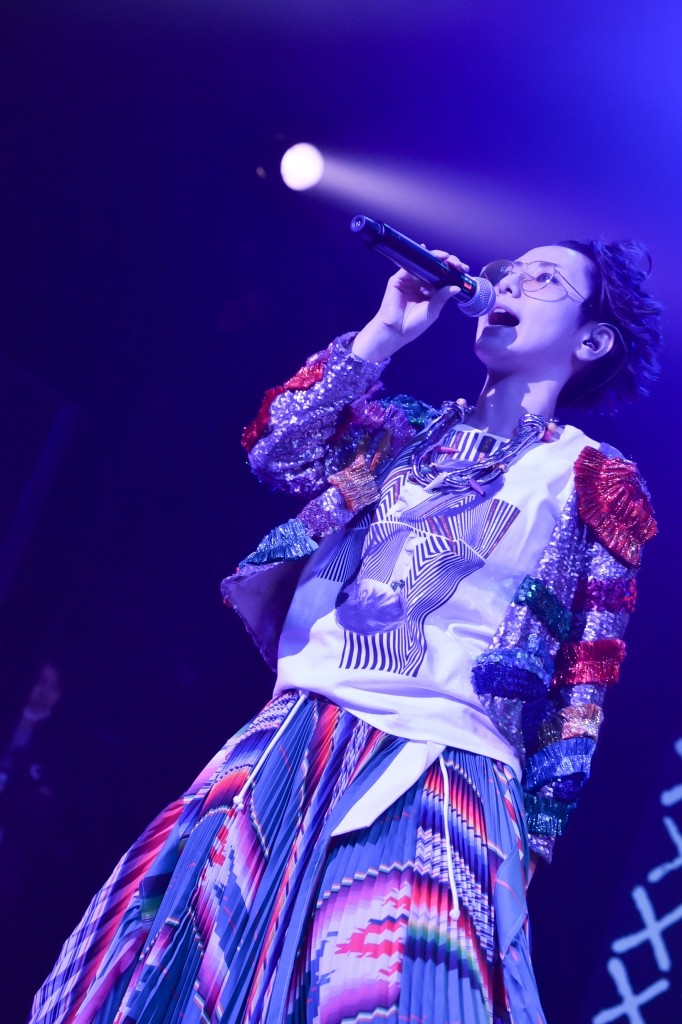 When performing "classic glasses" a song that is made with only bass and rap, Gonchi said "I am going to rap for the first time!!" but he sent out a sampled rap voice from his cellphone application. It could be said that this rendition was very Charisma.com-like.
In the middle of the live, TEMPURA KIDZ reappeared on the stage and performed the collaborative song with Charisma.com called "Miira Killer." After the blackout rendition, the band Calmera which consists of 8 members dressed up in red suits appeared on the stage suddenly and perform "Muko ni Oide" which is included in their latest album with Charisma.com. The floor was filled with excitement again when the set was changed from a DJ beat to a band sound. They arranged songs such as "Lunch time funk" and "#hashdark" and performed a stage arranged with horns based on Calmera's songs.
At the end of the live, they performed "100% Booby" and "HATE" with glamorous laser beams and VJ rendition and showed the audience the power of Charisma.com.
For the encore, they reappeared on stage after the blackout rendition and performed "not not me." After that, they also performed one of the popular songs called "Arasaa Dreaming" with a band arrangement which is rare to be heard in their live concert. The audience seemed very satisfied with this live concert.
Charisma.com will appear at various of events during the summer of this year. We can expect that there will be lots more to come from Charisma.com.
■Information
May 3rd (Wed-Holiday)
Charisma.com One man tour 2017
not not me
Tokyo Akasaka BLITZ
open/start 17:00/18:00
Charisma.com official home page: http://official-charisma.com
−−−
Related article:Charisma.com release recording video for their track "classic glasses" with Hama Okamoto (OKAMOTO'S)
Related article:Charisma.com release artwork and new key visual for upcoming album "not not me"