EGOIST to perform the opening theme for upcoming anime series "Fate/Apocrypha"!
It's been announced that music duo EGOIST is in charge of the opening theme song for the upcoming anime series "Fate/Apocrypha" which is scheduled to broadcast in July. The title of the song is "Eiyuu Unmei no Uta" (translates roughly to "Hero: Poem of Fate"). This news has caused EGOIST to trend all across social media as everyone anticipates the release.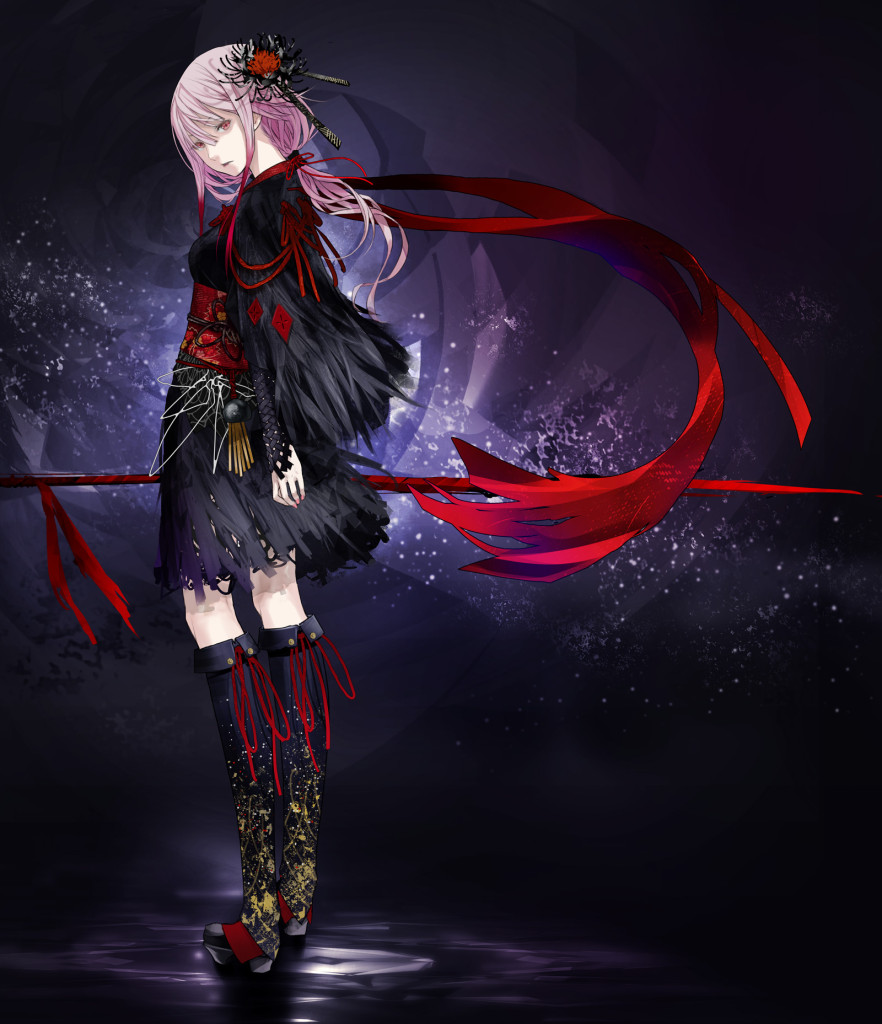 EGOIST was created by Ryo of Supercell and originally formed to perform the music from the anime series "Guilty Crown." The other half of the duo is Chelly who was picked from more than 2,000 other applicants who signed up to join the unit. Every CD they have release to date has featured in the Top 10 on the Oricon Weekly charts. They have performed many songs for numerous hit anime series such as "PSYCHO-PASS," "PSYCHO-PASS 2," "Psycho-Pass: The Movie," the films based on the novels by Project Itoh "The Empire of Corpses," "Genocidal Organ" and "Harmony," Kabaneri of the Iron Fortress," and more.
Fans cannot contain their hype from the announcement that EGOIST will be in charge of producing the opening song for an anime in the "Fate" series – "Fate/Apocrypha."
 《Comment from Chelly》
Hi, I'm the vocalist for EGOIST. We're going to be working on the opening theme for Fate/Apocrypha. I've never even dreamt that a day would come where we'd be able to work with such a big series like "ate/Apocrypha. It's a true honour and I'm very, very happy. The new song "Eiyuu Unmei no Shi" is currently in the early demo stages. But I can describe my singing as having poured every ounce of my strength into my voice. EGOIST give their biggest respects to the staff behind Fate/Apocrypha and all of our fans. Thank you.
 ©東出祐一郎・TYPE-MOON / FAPC
■Information
Fate/Apocrypha
"Fate" is an ongoing series that has been adapted into games, anime, manga and novels. See The Holy Grail War as never before with The Great Holy Grail War in "Fate Apocrypha." (Written by Yūichirō Higashide/TYPE-MOON)
Fate/Apocrypha Official Site: http://fate-apocrypha.com/
EGOIST Official Homepage: http://www.egoist-inori.jp/
−−−
Related article:EGOIST are crossing the dimensional borders – just "who" is EGOIST?
RELATED ENTRIES
EGOIST Announce New Single 'Sakase ya Sakase'

EGOIST, produced by ryo (supercell) have announced that they will release their ninth single Sakase ya Sakase on May 15, 2019. The record will be released in three editions: a Limited Pressing Edition which comes with anime packaging, a Limited Edition which comes with original merchandise, and a Regular Edition.

The single's title track Sakase ya Sakase will be used as the main theme for the upcoming anime film Kabaneri of the Iron Fortress: The Battle of Unato which is releasing on May 10, 2019. Described as a "killer tune," the song was performed during the group's ongoing fan club tour EGOIST showcase*005 and plunges EGOIST into new musical territory with the use of traditional Japanese instruments that reflect the animated film.

The tour was set to end at Zepp DiverCity Tokyo on March 31, but due to demand from the tickets selling out a follow-up show will take place at the same venue on April 6.

The other tracks on the single include a cover of the traditional English nursery rhyme London Bridge is Falling Down as well as The Everlasting Guilty Crown Nightcore mix, a remix of one of the duo's most famous songs from their early days. The illustration above released for the new record was drawn by redjuice.

Information

Sakase ya Sakase

First Press Limited Edition (CD+DVD+GOODS): ¥3,000 (Tax Included) [VVCL-1440〜1442]
Regular Edition (CD-Only): ¥1,300 (Tax Included) [VVCL-1443]
Limited Pressing Edition (CD+DVD): ¥1,800 (Tax Included) [VVCL-1444~1445]

Fan Club Tour
2019/3/31 @ Zepp DiverCity Tokyo (OPEN 16:00 / START 17:00) *SOLD OUT
2019/4/6 @ Zepp DiverCity Tokyo (OPEN 16:00 / START 17:00) *Additional show added due to demand

EGOIST Official Website: http://www.egoist-inori.jp/

Fate/stay night: Heaven's Feel II. lost butterfly New Character Key Visual Revealed

Fate/stay night: Heaven's Feel II. lost butterfly is the second film of a planned trilogy which will premiere in Japan on January 12, 2019. A third key visual for the movie illustrated by Fate/stay night character designer Takashi Takeuchi was unveiled at a special event in promotion of the sequel which took place  in Tokushima on October 7 in collaboration with AbemaTV.

It was also announced at the event that AbemaTV will be partnering up with TYPE-MOON to begin streaming their anime series. The first two series to feature are Fate/stay night: Unlimited Blade Works and Fate/Zero.

Aniplex of America will screen Fate/stay night: Heaven's Feel II. lost butterfly in U.S. theatres in 2019. The film is being directed by animation director Tomonori Sudou (Fate/stay night: Unlimited Blade Works, Fate/Zero) and animated by Ufotable.

Information

Fate/stay night [Heaven's Feel]」Ⅱ.lost butterfly

Release Date: January 12, 2019

Website: http://www.fate-sn.com/

©TYPE-MOON・ufotable・FSNPC

Fate/Grand Order x Sanrio Character Cafés to Open in Tokyo, Osaka & Sendai

Sanrio have teamed up once more with the hugely popular online free-to-play RPG mobile game Fate/Grand Order―which is based on Type-Moon's Fate/stay night franchise―to open three collaborative cafés.

This collaboration first took place at the beginning of this year where cafés opened in Tokyo and Osaka. They are returning again to Tokyo and Osaka alongside Sendai for the first time.

Gilgamesh's Golden Curry – ¥1,480 (Pre-Tax)


Edmond Dantès & Sherlock Holmes' Mont Blanc Parfait – ¥1,180 (Pre-Tax)

All the food, drinks and merchandise available at the cafés are inspired by the Servants of Fate/Grand Order who have been drawn with cute designs.

Pin Badges (16 Designs) – ¥450 (Pre-Tax)

Pouch – ¥850 (Pre-Tax)

16 Servants will make an appearance at the cafés which is even more than last time. The decorations and designs have also been made even cuter and more fun.

Coasters

Stickers

You must book in advance to enter any of the cafés. Those who do book will receive a set of stickers, and those who order any item from the menu will receive one coaster randomly selected from a possible 16!

■Information

Fate/Grand Order Design produced by Sanrio Collab Café
Booking Price: ¥650 (Pre-Tax)

Tokyo Café
Address: B1F Fujiwara Bldg., 1-3-24 Higashi-Ikebukuro, Toshima Ward, Tokyo
Running: September 20, 2018 – October 28, 2018
Opening Hours: 10:00am-9:20pm

Osaka Café
Address: 2F/3F KUS Nipponbashi Bldg., 4-8-16 Nipponbashi, Naniwa Ward, Osaka, Osaka Prefecture
Running: September 27, 2018 – October 30, 2018
Opening Hours: 10:00am-9:20pm

Miyagi Café
Address: 8F Sendai LOFT, 1-10-10 Chuo, Aoba Ward, Sendai, Miyagi Prefecture
Running: September 22, 2018 – October 21, 2018
Opening Hours: 10:20am-8:40pm

Bookings can be made via the official website below.
http://fgo-sanrio-cafe.jp/

Concert Review: EGOIST Announce 2018 Asia Tour at Hong Kong Show on June 23

Pop music duo EGOIST produced by member Ryo (Supercell) released their greatest hits album Greatest Hits 2011-2017 "Alter Ego" at the end of last year which has gone on to perform successfully in both the physical and digital versions.

Songwriter Ryo and vocalist Chelly performed at Kitec-Star Hall in Hong Kong on June 23. At the very end of the show, they announced a 2018 Asia tour which earned wild applause from the crowd.

The venue was packed with 1,500 fans, and a strange air of excitement filled the room as they waited for the anticipated arrival. Everything cut to black, signalling the start of a memorable night, as Euterpe began to play. The song is popular as one of the insert songs heard in the anime series Guilty Crown. EGOIST are known for originating in the anime series where they performed as a fictional band, eventually going on to huge success in the real world.

With the song over, and the crowd already fallen into the world of EGOIST, The Everlasting Guilty Crown began to play. The instant it came on, there were howls of joy so fierce it almost felt like the building was coming down.

A string of popular hits followed, including Extra terrestial Biological Entities, Ame, Kimi o Tsurete, and Suki to Iwareta Hi. The set was hit after hit, leaving no time to breathe and leading the excitement to an ever-growing rise.

When a breather finally came, the duo greeted fans in Chinese. This was their second performed in Hong Kong. They spoke warmly to fans, who clapped over and over.

Things cranked up into full gear as they performed some of their most well-known songs, including Reloaded, Kabaneri of the Iron Fortress, and Namae no Nai Kaibutsu. To finish up the main part of the show they played their treasured ballad Kimi Sora Kiseki which brought fans together as one.

Cries and clapping sounded through the room as fans called for an encore. Chelly stepped out onto stage once more, and surprised everyone with some covers. First up was Désir by GARNiDELiA which she co-performed together at a previous concert. This was followed by the famous Kimi no Shiranai Monogatari by Supercell, another band spearheaded by Ryo. The Hong Kong fans couldn't predict there would be surprise covers like this, and it showed in their explosive excitement. The concert finished with EGOIST's debut single Departures ~Anaya ni Okuru Ai no Uta~.

Just when everyone thought there couldn't be anymore surprises, the words "EGOIST ASIA TOUR 2018" appeared on screen, satisfying the anticipation of fans already waiting for the next show.

EGOIST will begin their 2018 Asia tour at the end of August, which also includes dates in Japan.

■Information
EGOIST ASIA TOUR 2018

August 31, 2018 @ Indonesia Convention Exhibition, Indonesia

Open TBA / Start TBA

September 2, 2018 @ Zepp Osaka Bayside, Osaka

Open 16:00 / Start 17:00

Enquiries: 0570-200-888

September 3, 2018 @ Zepp Nagoya, Aichi

Open 18:00 / Start 19:00

Enquiries: 052-320-9100

September 8, 2018 @ Zepp BIG BOX Singapore, Singapore

Open 18:00 / Start 19:00

September 16, 2018 @ Fukuoka Civic Hall, Fukuoka

Enquiries: 092-714-0159

September 22, 2018 @ SENDAI GIGS, Miyagi

Open 16:00 / Start 17:00

Enquiries: 022-217-7788

September 24, 2018 @ Zepp Sapporo, Hokkaido

Open 16:00 / Start 17:00

Enquiries: 011-614-9999

October 6, 2018 @ 信義劇場Legacy MAX, Taipei

Open 17:00 / Start 18:00

Enquiries: contact@abigart.com

October 19, 2018 @ Zepp DiverCity Tokyo, Tokyo

Open 18:00 / Start 19:00

October 20, 2018 @ Zepp DiverCity Tokyo, Tokyo

Open 16:00 / Start 17:00

Enquiries: 050-5533-0888

Ticket Prices

Japan Dates

1F Standing / 2F Reserved

Advance: ¥5,400 (Includes Tax / Separate Drink Fee Applies)

Door: ¥6,000 (Includes Tax / Separate Drink Fee Applies)

*The Fukuoka Civic Hall, SENDAI GIGS and Zepp Sapporo concerts are all reserved seating.

The Fukuoka Civic Hall concert does not charge a mandatory drink fee.

Overseas Dates

Indonesia: TBA

Singapore: VVIP SG$158 / VIP SG$128 / GA SG$98

Taipei: A Area NT$3,800 / B Area NT$2,800 / C Area NT$2,200 / Wheelchair Area NT$1,400

*A Area Bonus: Original USB stick and poster. Taiwan concert only.

Age Restrictions

Japan Dates

No restrictions. However, those aged 5 and below must be accompanied by a parent or guardian.

Overseas Dates

Taipei: Children preschool age and younger not permitted entry.

Others: TBA

Ticket Purchasing (Japan Only)
Official Fan Club Pre-Sale – Long Term Payment Members

Ticket Window: June 25 at 10:00 – July 2 at 23:59 (Via CN Play Guide. Tickets allocated randomly.)

*2 tickets per person, per concert.

*Target: Long-term members of the EGOIST fan club EGOISTix*fam at 1 year or more. Must have applied before July 1, 2017.

Official Fan Club Pre-Sale – Regular Payment Members

Ticket Window:  July 3 at 10:00 – July 9 at 23:59 (Via CN Play Guide. Tickets allocated randomly.)

*2 tickets per person, per concert.

Official Fan Club Pre-Sale – Free Members

Ticket Window: July 17 at 10:00 – July 23 at 23:59 (Via CN Play Guide. Tickets allocated randomly.)

*4 tickets per person, per concert.

General Pre-Sale Tickets

Family Mart Pre-Sale

Ticket Window: July 10 at 10:00 – July 16 at 23:59

*4 tickets per person, per concert.

Official Homepage Pre-Sale Tickets

Ticket Window: July 17 at 10:00 – July 23 at 23:59 (Via CN Play Guide. Tickets allocated randomly.)

*4 tickets per person, per concert.

General Sale Tickets
Available from August 4.

Luna Haruna to Digitally Release Fate/EXTELLA LINK Theme Song "JUSTICE"

Luna Haruna is a major player in the anime song industry, having sang themes for series including Fate/Zero, Sword Art Online, the Monogatari series, Saekano: How to Raise a Boring Girlfriend, High School Fleet, and more.

The next entru to her theme song discography has been announced. She is set to undertake the opening theme song to Fate/EXTELLA LINK, the latest addition addition to the Fate series set for release on PlayStation®4 and PlayStation®Vita.

JUSTICE marks 6 years since Luna Haruna provided a song for the Fate series, the last being her debut single Sora wa Takaku Kaze wa Utau. The cool rock song covers new ground for Haruna, intertwining a fast-paced feeling with a solid sound.

It will be released as a digital-only song on June 7th, the same day as when the game comes out. The opening clip of the game has been released featuring Haruna's new track, as well as a lyric video showcasing her new look for the release.

Be sure to check out the videos along with JUSTICE.

■Information

Luna Haruna – "JUSTICE" (OP Theme for PS4® and PS®Vita game Fate/EXTELLA LINK)

On Sale: June 7, 2018

Tour Schedule:

Luna Haruna Talk & Mini Live "JUSTICE"

▶︎Tokyo

Venue: TOKYO CULTURE CULTURE Shibuya (Shibuya, Tokyo)

Date: May 2, 2018

Time: 18:30 OPEN / 19:00 START

Venue Website: http://tokyocultureculture.com/

▶︎Osaka

Venue: Flamingo the Arusha (Namba, Osaka)

Time: May 3, 2018

Time: Daytime – 13:00 OPEN / 14:00 START & Evening – 17:00 OPEN / 18:00 START

Venue Website: http://www.flmg.jp/

Luna Haruna Official Website: http://www.harunaluna.jp/

Fate/EXTELLA LINK (PlayStation®4 and PlayStation®Vita): http://fate-extella-link.jp/

The second collaborative eyeglasses of Mash Kyrielight from "Fate/Grand Order" is now on sale

A simple version of Mash Kyrielight's (Fate/Grand Order) collaborative eyeglass which does not have the "shield" design on the frame is now on sale.

These eyeglasses use the motif of Mash Kyrielight from the very popular smart-phone RPG game, "Fate/Grand Order" produced by the game brand, TYPE-MOON.

The current model which is gaining popularity has a "shield" design on the left frame which Mash uses as a weapon, but the new version does not.

The model was created under the concept of "creating a pair of eyeglass that the character wears regularly."

Both versions have an illustration of "Pho kun" on the inner side of the frame.

The product comes with a foldable originally designed case and a "Mash eyeglasses cleaning cloth."

※"Pho kun eyeglass cleaning cloth" will come with the first limited edition as an amenity.

This new version was created by the famous Japanese eyeglasses maker "Less than human." The eyeglasses are comfortable to wear but the intensity is very strong.

It is an eyeglass frame which can be used every day and it is recommended for both men and women.

Why not try using this pair of collaborative eye glasses of "Fate/Grand Order?"

◼︎Information

 "Fate/Grand Order" Mash Kyrielight resembling Collaboration Eyeglass (without the shield design)

Release date: 2018,01,06 (Sat.)

Price: 11,000 yen (tax not included)

Function: Prescription and PC lenes can be attached (fee for the lenses is not included)

URL : https://eyemirror.jp/fgo/

<Available stores>

Animation collaborative eye glass specialized store -Animegane-

Address: Sezon Akihabara Building 1F, 4th avenue, 8-3, Sotokanda, Chiyodaku, Tokyo

Shitsuji Megane eyemirror

Address: 1-31-13, Higashi Ikebukuro, Toshimaku, Tokyo

<Male-order shop>

Shitsuji Megane eyemirror online shop

EGOIST will hold live concerts in Tokyo, Osaka and Nagoya. The cover song of "supercell" will be performed

EGOIST is an imaginary artist produced by ryo (supercell).

The best album of EGOIST (CD/Internet distribution) released on the 27th of December (Wed.) is gaining much popularity and the band held, "EGOIST Special gig 'ALTER EGO'" on the 29th (Fri.) of December last year at Zepp DiverCity.

 

This live was broadcasted at Zepp Osaka Bayside and Zepp Nagoya under the name of " EGOIST sync*001 / Special gig 'ALTER EGO.'"

EGOIST Special gig "ALTER EGO" is a special commemorative live of the best album, GREATEST HITS 2011-2017 "ALTER EGO" which was released on the 27th of December (Wed.). The live was broadcast on Nikoniko Nama Hoso and about 25,000 fans enjoyed their performance.

 

The charm of EGOIST's live is the fact that they use the latest motion capture technology. The performance of the vocal of the band chelly is detected with special cameras and Cho Inori (the vocal of EGOSIT in the animation), the heroin of the animation "Guilty Clown" resonates to chelly's movements.

Shouts of glee went up from the audience as soon as the intro of "The Everlasting Guilty Crown" was played. After that, the band performed two popular songs, "Extra terrestrial Biological Entities" and "Ame, Kimi wo Tsurete" which are not included in the best album. The audience of the venue were filled with excitement with a rapid rendition.

The forth song was "Sukito Iwareta Hi,"a fast-tempo digital song which was distributed on the Internet and the audience were drawn into the world of EGOIST. After the song was finished, they performed MC performance and inflamed the fans. The voice of the audience in the venues of Nagoya and Osaka could be heard at the venue in Tokyo and the whole venue was filled with a sense of unity.

 

They also performed some popular songs including,"Reloaded" and "Namae no Nai Kaibutsu" and the audience were filled with excitement! After that, they performed "KABANERI OF THE IRON FORTRESS" and "Eiyu Unmei no Uta." The strong voice of chelly heated up the venue. Lastly, they performed superb ballads such as"Ghost of a smile," "Kono Sekaide Mitsuketa Mono," "Kimisora Kiseki" and the live was finished.

After the anchor, the vocal cehlly reappeared on the stage and performed a fast-tempo rock number "It's all about you." The set list of the live included many B-side songs, not just songs included in the best album based on chelly's wish to reflect on the history of EGOIST.

The live successfully delivered the charms of the band to many people who listened to EGOIST's music for the first time, not just old fans.

As a second and third song of the anchor part, they performed a cover song which are "The Bravery" and "Kokuhaku" of supercell lead by the producer of the band ryo. The audience went wild while the songs were performed. "Kokuhaku" is the latter ending theme of the animation"Guilty Crown"which is a message song given from the main character of the animation Shu to the heroin/vocal of the band Cho Inori. The venue was filled with excitement with this surprise and the live ended with "All Alone With You."

chelly reappeared on the stage in response to the applause of fans and performed the debut single of EGOIST "Departures ~Anatani Okuru Ai no Uta~." The voice of chelly singing this song gently filled the venue and some of the fans were crying. EGOIST Special gig "ALTER EGO" ended on a high note.

Keep your eyes focused on EGOIST's storm of activities in store for this new year.

◼︎Information

2017/12/27(Wed.) release
GREATEST HITS 2011-2017 "ALTER EGO"
URL:https://egoist.lnk.to/greatesthits2011-2017alterego

Products
[Fully included limited edition] ※quantity limited
CD + Blu-ray + EGOISTAG 2011-2017(original dog tug – 10 set)
Price: 9,500 yen (tax included)

[First limited edition A]
CD + Blu-ray

Price: 4,500 yen (tax included)

[First limited edition B]
CD + DVD

Price: 4,000 yen (tax included)

[Normal edition]
CD Only

Price: 3,000 yen (tax included)

LIVE
EGOIST Special gig "ALTER EGO"
2017/12/29 (Fri.)
Tokyo・Zepp DiverCity Tokyo
17:00 OPEN / 18:00 START

EGOIST sync*001 / Special gig "ALTER EGO"
2017/12/29 (Fri.)
Osaka・Zepp Osaka Bayside
17:00 OPEN / 18:00 START

Aichi・Zepp Nagoya
17:00 OPEN / 18:00 START

EGOIST surprise fans with Christmas street concert in 7 cities around Japan

EGOIST released their greatest hits album GREATEST HITS 2011-2017 "ALTER EGO" this week on December 27th. On Christmas Day, in the run up to the release of the CD, EGOIST also performed a special Christmas street concert simultaneously in seven cities across Japan.

EGOIST is a pop music duo produced by ryo (supercell) that spawned from the anime series Guilty Crown. Originally, EGOIST existed as a fictional band solely within the Guilty Crown universe, with EGOIST's other half Chelly acting as the vocalist for the character Inori Yuzuriha. However, even after the anime's broadcast the music unit have continued to put out content together and have even brought EGOIST to perform the main theme songs for other anime series.

The greatest hits album Christmas live show saw EGOIST steal the spotlight on giant advertising screens across Sapporo, Sendai, Tokyo, Nagoya, Osaka, Hiroshima and Fukuoka. It was recently revealed that a strange countdown clock with the words "Present for the fam*" had appeared on EGOIST's official website which was set to end on Christmas day. The Christmas present for the EGOIST fans was revealed to be the Christmas live show titled EGOIST christmas exhibition "Present for the *fam". The concert was also streamed live on YouTube. Together with the street watchers and the audience at home, a total of around 7,000 people participated in this special night.

Once the clock turned 18:00 the title of the concert appeared simultaneously on all platforms, revealing the mystery surrounding the countdown clock. Shortly afterwards, Inori Yuzuriha stepped into view which sparked a chain reaction of uncontrollable excitement across fans in all locations. The first song to be performed was an a cappella of Silent Night to set the Christmastime mood. The people walking by in the street also found themselves stopping spontaneously from the beautiful voice of Inori Yuzuriha. After a short talk, the performance continued with two more songs: All Alone With You and Departures ~Anata ni Okuru Ai no Uta~. To close the 15-minute performance, a handwritten sign by both ryo (supercell) and Chelly was displayed onscreen together with the message "Merry Christmas." You could catch glimpses of fans moved to tears by the show. It was one Christmas present they will never forget.

EGOIST are set to perform their EGOIST Special gig "ALTER EGO" show on December 29th, a concert to commemorate the release of their greatest hits album. The concert will be performed simultaneously in Nagoya and Osaka, titled EGOIST sync*001 / Special gig "ALTER EGO". Full details for this unprecedented show can be found here.

■Information

▶︎Release Information

GREATEST HITS 2011-2017 "ALTER EGO"

On sale December 27, 2017

[Limited Pressing Edition] *Limited stock

CD + Blu-ray + EGOISTAG 2011-2017 (set of 10 original dog tags)

Price: ¥9,500 (tax incl.)

VVCL-1148~1150

[First Press Limited Edition A]

CD + Blu-ray

Price: ¥4,500 (tax incl.)

VVCL-1151~1152

[First Press Limited Edition B]

CD + DVD

Price: ¥4,000 (tax incl.)

VVCL-1153~1154

[Regular Edition]

CD Only

Price: ¥3,000 (tax incl.)

VVCL-1155

▶︎Tour Information

EGOIST Special Gig – "ALTER EGO"

Friday December 29, 2017

Zepp DiverCity Tokyo (Tokyo)

17:00 OPEN / 18:00 START

*Tickets on sale from December 2nd

[Planning & Production]

INCS toenter inc. / Sony Music Labels / LIFE

EGOIST sync*001 / Special Gig – "ALTER EGO"

(Osaka & Nagoya venues to be synced with EGOIST Special gig "ALTER EGO")

・Friday December 29, 2017

Zepp Osaka Bayside (Osaka)

17:00 OPEN / 18:00 START

Contact: Kyodo Information (0570-200-888)

・Friday December 29, 2017

Zepp Nagoya (Nagoya)

17:00 OPEN / 18:00 START

Contact: Sunday Folk Promotion (052-320-9100)

[Planning & Production]

INCS toenter inc. / Sony Music Labels / LIFE

EGOIST Official Homepage: http://www.egoist-inori.jp/

EGOIST will release their first best album "GREATEST HITS 2011-2017 "ALTER EGO"on the 27th of December and in advance of this release, they will release the content of the album from the 22nd of December (Fri.).

They are distributing the content of the album in high-resolution sound. The album won the first place in mora's high-resolution chart and the animation category of iTunes. The album is gaining much popularity because the songs sound great (all songs included in the album are remastered).

 

In addition, EGOIST announced that they will hold "christmas exhibition"Present for the *fam"in seven big cities in Japan on the 25th of December right before the release date of their best album (the 27th of December (Wed.)).

Also, they will hold a live commemorating the release of their best album called EGOIST Special gig "ALTER EGO" on the 29th of December (Fri.) in Tokyo, Nagoya and Osaka. Don't miss this hot live!

Be sure to check out information RE EGOIST's future work.

■Information

▶︎Release information

GREATEST HITS 2011-2017 "ALTER EGO"

2017/12/27(Wed.)

<Full production limited edition> ※quantity limited

CD + Blu-ray + EGOISTAG 2011-2017 (it comes with 10 original dog tags)

Price: 9,500 yen (tax included)

<First limited edition A>

CD + Blu-ray

Price: 4,500 yen (tax included)

<First limited edition B>

CD + DVD

Price: 4,000 yen (tax included)

<Normal edition>

CD Only

Price: 3,000 yen (tax included)

▶︎Live information

EGOIST Special gig "ALTER EGO"

2017/12/29 (Fri.)

Tokyo Zepp Diver City Tokyo

17:00 open / 18:00 start

Contact: Disc Garage 050-5533-0888

EGOIST official HP:http://www.egoist-inori.jp/

Mysterious countdown clock appears on EGOIST's official homepage: "a present to the fans"

Japanese pop duo EGOIST will release their first ever greatest hits album GREATEST HITS 2011-2017 "ALTER EGO" on December 27th. A recent mysterious post made by EGOIST staff on the staff Twitter account on December 18th has attracted a great deal of attention among fans.

"Present for the *fam"

Date: http://www.egoist-inori.jp/

Place: more to be announced…

The cryptic message appears on EGOIST's official homepage where it simply reads "Present for the *fam" along with a countdown clock. The message brings to mind the duo's digital single "Welcome to the fam*" and can be interpreted as "a present to the fans". Excitement is currently stirring the EGOIST fan base as they anticipate what exactly EGOIST plans to give them.

The release of EGOIST's forthcoming greatest hits album and the strange countdown is the talk of the town right now with fans. The clock will ends on Christmas Day at 6pm. The location at which this present to the fans will take place is currently unknown but is listed as TBA.

We look forward to seeing just what kind of present EGOIST has for its fans this Christmas. Stay tuned for more information.

■Information

▶︎Release Information

GREATEST HITS 2011-2017 "ALTER EGO"

On sale December 27, 2017

[Limited Pressing Edition] *Limited stock

CD + Blu-ray + EGOISTAG 2011-2017 (set of 10 original dog tags)

Price: ¥9,500 (tax incl.)

VVCL-1148~1150

[First Press Limited Edition A]

CD + Blu-ray

Price: ¥4,500 (tax incl.)

VVCL-1151~1152

[First Press Limited Edition B]

CD + DVD

Price: ¥4,000 (tax incl.)

VVCL-1153~1154

[Regular Edition]

CD Only

Price: ¥3,000 (tax incl.)

VVCL-1155

▶︎Tour Information

EGOIST Special Gig – "ALTER EGO"

Friday December 29, 2017

Zepp DiverCity Tokyo (Tokyo)

17:00 OPEN / 18:00 START

*Tickets on sale from December 2nd

[Planning & Production]

INCS toenter inc. / Sony Music Labels / LIFE

EGOIST sync*001 / Special Gig – "ALTER EGO"

(Osaka & Nagoya venues to be synced with EGOIST Special gig "ALTER EGO")

・Friday December 29, 2017

Zepp Osaka Bayside (Osaka)

17:00 OPEN / 18:00 START

Contact: Kyodo Information (0570-200-888)

・Friday December 29, 2017

Zepp Nagoya (Nagoya)

17:00 OPEN / 18:00 START

Contact: Sunday Folk Promotion (052-320-9100

[Ticket Prices]

Advance – ¥3,800 (tax incl. / separate compulsory drink charge)

Same-Day – ¥4,400 (tax incl. / separate compulsory drink charge)

*Tickets on sale December 9, 2017

[Early Tickets]

EGOIST OFFICIAL "EGOISTix*fam" Fan Club – Free Advance Reservations for members (4 per person)

Ticket Window: November 25th @ 12:00 – December 2nd @ 23:59

Result Announcements: December 5th @ 12:00

Payment Window: Open from December 6th @ 22:00

[Planning & Production]

INCS toenter inc. / Sony Music Labels / LIFE

EGOIST Official Homepage: http://www.egoist-inori.jp/

EGOIST's Chelly celebrates 10th anniversary of "Melt" with a vocal cover

EGOIST is a two-member Japanese pop unit produced by ryo of Supercell. ryo's big musical hit "Melt" celebrated its 10th anniversary on niconico on December 7, 2017.

As comments from fans flooded in on the video streaming site to toast the commemoration, EGOIST's vocalist chelly posted a video of herself covering "Melt", causing huge excitement. The video was posted on chelly's official channel which was set up today, so be sure to check it out. Also, in the run up to EGOIST's forthcoming greatest hits album, which is set to be released on December 27th, chelly will post more covers of songs that have influenced her.

While we all wait for EGOIST's greatest hits album to hit shelves, let's enjoy chelly's voice in her cover videos.

■Information

GREATEST HITS 2011-2017 "ALTER EGO"

On sale December 27, 2017

chelly (EGOIST) Official Channel: http://ch.nicovideo.jp/egoist-official

■Release Information

[Limited Pressing Edition] *Limited stock

CD + Blu-ray + EGOISTAG 2011-2017 (set of 10 original dog tags)

Price: ¥9,500 (tax incl.)

VVCL-1148~1150

[First Press Limited Edition A]

CD + Blu-ray

Price: ¥4,500 (tax incl.)

VVCL-1151~1152

[First Press Limited Edition B]

CD + DVD

Price: ¥4,000 (tax incl.)

VVCL-1153~1154

[Regular Edition]

CD Only

Price: ¥3,000 (tax incl.)

VVCL-1155

■LIVE

EGOIST Special Gig – "ALTER EGO"

Friday December 29, 2017

Zepp DiverCity Tokyo (Tokyo)

17:00 OPEN / 18:00 START

*Tickets on sale from December 2nd

[Planning & Production]

INCS toenter inc. / Sony Music Labels / LIFE

EGOIST sync*001 / Special Gig – "ALTER EGO"

(Osaka & Nagoya venues to be synced with EGOIST Special gig "ALTER EGO")

・Friday December 29, 2017

Zepp Osaka Bayside (Osaka)

17:00 OPEN / 18:00 START

Contact: Kyodo Information (0570-200-888)

・Friday December 29, 2017

Zepp Nagoya (Nagoya)

17:00 OPEN / 18:00 START

Contact: Sunday Folk Promotion (052-320-9100

[Ticket Prices]

Advance – ¥3,800 (tax incl. / separate compulsory drink charge)

Same-Day – ¥4,400 (tax incl. / separate compulsory drink charge)

*Tickets on sale December 9, 2017

[Early Tickets]

EGOIST OFFICIAL "EGOISTix*fam" Fan Club – Free Advance Reservations for members (4 per person)

Ticket Window: November 25th @ 12:00 – December 2nd @ 23:59

Result Announcements: December 5th @ 12:00

Payment Window: Open from December 6th @ 22:00

[Planning & Production]

INCS toenter inc. / Sony Music Labels / LIFE

EGOIST to make history by holding simultaneous performances in Tokyo, Osaka and Nagoya

EGOIST have drawn much attention on social media with the recent announcement of their forthcoming greatest hits album GREATEST HITS 2011-2017 "ALTER EGO" to be released on December 27th.

A special live performance titled EGOIST Special gig "ALTER EGO" is planned for December 29th to celebrate the release of the album. But this won't be any ordinary performance, as EGOIST are planning something completely new. The performance will be held across 3 venues in Tokyo, Nagoya and Osaka – all at the same time. Many artists have held "live viewings" in the past, but EGOIST will be changing it up a bit for their concert.

Even if fans are in a different venue they will be synced with the main venue the entire time so they can enjoy the performance live. You could definitely say this is something only possible by EGOIST. Vocalist chelly's movements will be motion captured. That data will be used to project Inori Yuzuriha, EGOIST's fictional lead vocalist, on-stage in real time to simulate her singing and dancing on stage. chelly's movements will be motion captured at Zepp DiverCity Tokyo, the main venue, to bring Inori Yuzuriha to life at Zepp Nagoya and Zepp Osaka Bayside.

The lighting and sound will be exactly the same at all 3 venues, and the crowds in Nagoya and Osaka will be able to see the real chelly's ongoing performance in Tokyo on the big screens so they can enjoy both ends.

If you're in Japan this winter, don't miss out on this one-of-a-kind performance made possible by EGOIST.

■Information

Tour Information:

▶︎EGOIST Special gig "ALTER EGO"

Friday December 29, 2017

Zepp DiverCity Tokyo (Tokyo)

17:00 OPEN / 18:00 START

Contact: DISK GARAGE (050-5533-0888)

▶︎EGOIST sync*001 / Special gig "ALTER EGO"

(Osaka & Nagoya venues to be synced with EGOIST Special gig "ALTER EGO")

Friday December 29, 2017

Zepp Osaka Bayside (Osaka)

17:00 OPEN / 18:00 START

Contact: Kyodo Information (0570-200-888)

Friday December 29, 2017

Zepp Nagoya (Nagoya)

17:00 OPEN / 18:00 START

Contact: Sunday Folk Promotion (052-320-9100

For information regarding tickets, please visit: http://www.egoist-inori.jp