"Shaun the Sheep's" kendama is now available as one item in McDonald's "HAPPY SET!"
Toys based on the clay animation, "Shaun the Shep" which is a very popular animation throughout the world, will now be available as items in the HAPPY SET for a limited time offer at most McDonald's stores nationwide (except for a few stores) from the 12th of May 2017.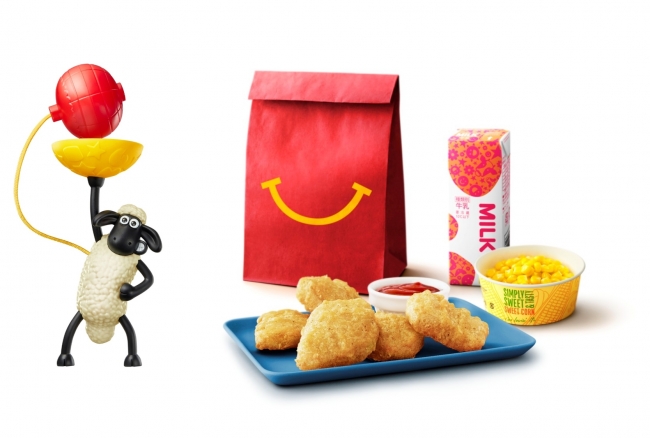 The "Shaun the Sheep"toys included in McDonald's HAPPY SET consist of six kinds of cute and comical toys and will be offered randomly.

The sense of humor that can be found in the "Shaun the Sheep"animation is reproduced in toys such as in toys called,"Shaun who can be used as a kendama," "Shirley who rolls when her body is twisted," Timmy who jumps when pushed against a flat place such as desk." The toys can also be used as decorative figurines.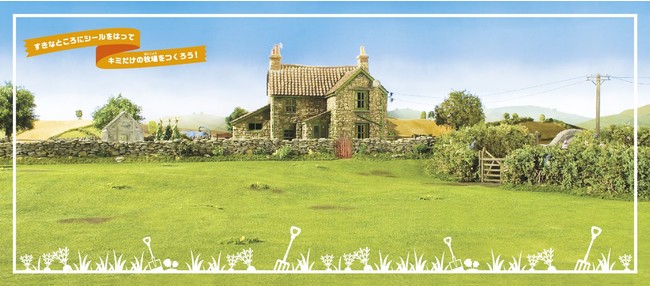 In addition, during this period (the 13th of May, 2017 (Sat) and the 14th (Sun), a"Shaun the Sheep Sticker Book" will be offered to all HAPPY SET receivers as a weekend present. A peaceful farm is depicted on the sticker book and one can create his/her own world of "Shaun the Sheep" by collecting stickers of Shaun, Bitzer and Pasturer.
Don't miss this chance to obtain"Shaun the Sheep"toys at your closest McDonald's.
■Information
HAPPY SET"Shaun the Sheep"
Selling period: May12th, 2017 (Fri)  ~ for about 3 weeks
Selling area: McDonald stores throughout Japan (except for a few stores)
Variety: "Shaun the Sheep" toys (six kinds)
−−−
Related article:Pom Pom Purin becomes a delicious caramel & custard with marshmallow McFlurry!
Related article:【Tokyo Lunch】 Gorge on the best hamburgers at Michelin-starred restaurant known for its exquisite tasting meat
RELATED ENTRIES
Idol Group CANDY TUNE Releases Fast-Paced Coming-of-Age Song 'WAO!AOHARU!' on Streaming Platforms

27.September.2023 | MUSIC

CANDY TUNE, an idol group from ASOBISYSTEM's KAWAII LAB. project, released the new song WAO!AOHARU! on all major streaming platforms today, September 27. The group debuted in March of this year.

Like the group's popular song Kiss Me Patissier, which has created plenty of buzz on TikTok and inspired a recent music video, WAO!AOHARU! also features sound production by Naoki Kubo and lyrics by Suu, both from SILENT SIREN. This catchy and fast-paced coming-of-age track expresses the wide range of emotions felt so deeply at a young age, from love and friendship to depression and melancholy. CANDY TUNE expresses their earnest feelings as girls living through the peak of their youth as idols. WAO!AOHARU! will be performed live for the first time at Nanako Ogawa's Birthday Event at Spotify O-WEST on September 28.

On October 18, CANDY TUNE will hold its long-awaited first solo concert at Zepp Shinjuku in Tokyo. Tickets are available now from a variety of retailers.

CANDY TUNE 1st Solo Concert -NEW WAY-

小川奈々子生誕祭

Information

<Song Information>

WAO!AOHARU!– CANDY TUNE (4th Digital Single)

Streaming URL: https://KAWAIILAB.lnk.to/WAOAOHARU

Available on all major music download and streaming platforms

<Concert Information>

CANDY TUNE 1st Solo Concert -NEW WAY-

Date: October 18, 2023

Venue: Zepp Shinjuku (Tokyo)

Time: Doors open 17:30 / Show starts 18:30

Ticket Sales

[Fee]

VIP: ¥15,000 (Tax Included/Drinks separate) *Exclusively available for members of the KAWAII LAB. Official Fanclub (While supplies last)

General Standing: ¥4,000 (Tax Included/Drinks separate)

Where to Buy Tickets:

Lawson Tickets: https://l-tike.com/candytune/

e+: https://eplus.jp/candytune/

Ticket Pia: https://w.pia.jp/t/candytune-t/

Nanako Ogawa Birthday Event

Date: September 28, 2023

Venue: Spotify O-WEST

Time: Doors open 17:30 / Show starts 18:30

Buy Tickets: https://t.pia.jp/pia/event/event.do?eventCd=2332236

[Contact]

HOT STUFF PROMOTION

050-5211-6077

<Profile>

CANDY TUNE

This seven-member idol group was formed by ASOBISYSTEM's KAWAII LAB.

project. The members include Rino Fukuyama, Mizuki Kirihara, Natsu Minami,

Nanako Ogawa, Bibian Murakawa, Shizuka Miyano, and Kotomi Tachibana.

The group's producer is model and TV personality Misa Kimura, the former leader

of Musubizm and the general producer of KAWAII LAB. With the project's motto

'From Harajuku to the world' in mind, the group is aiming to share their "NEW

WAY" from Harajuku, a fashion town where diverse cultures gather and

individuality reigns supreme.

Just like candy, which comes in tons of different flavors and shapes, the members will bring their own unique personalities and quirks to their pop tunes as they carry on KAWAII LAB's mission of sharing Harajuku style with the world.

Fanclub: https://kawaiilab.asobisystem.com/

X (Twitter):https://twitter.com/candy_tune_

Instagram: https://instagram.com/candy__tune

TikTok: https://www.tiktok.com/@CANDY_TUNE

YouTube: https://www.youtube.com/channel/UCU0PgOXf0lxzVxN2TLzMJkw

note (Live Schedule): https://note.com/candy_tune

Tomioka Silk Fantasia ~Festival of Silk~, an Exciting Event Combining Video, Music, and Fashion, to Be Held at Tomioka Silk Mill, a World Cultural Heritage Site!

An incredible event combining video, music, and fashion, Tomioka Silk Fantasia ~Festival of Silk~ will be held at the Tomioka Silk Mill, a National Treasure and World Cultural Heritage Site. The event will be held with support from the city of Tomioka, Gunma Prefecture, and will run for approximately two weeks starting on October 6, 2023.

 

Guests will be able to enjoy the NAKED Yorusampo -Tomioka- and Tomioka Silk Fantasia as they explore the historic site. The special event was directed by renowned international director Junya Yamada in collaboration with NAKED Inc., which continues to captivate audiences with its digital artworks including projection mapping and illuminations.

<NAKED Yorusampo™ -Tomioka->

'NAKED Yorusanpo™' is an outdoor immersive night walk concept by NAKED. Previously, the unique event has been held in various regions, including the Ikaho Onsen town in Gunma Prefecture and the UNESCO World Heritage site of Zuiganji Temple in Matsushima, Miyagi Prefecture, to promote the nighttime economy of different areas. Even in tourist destinations where businesses tend to close early at night, this event breathes new life into the city's landmarks through illuminations and projection mapping, allowing tourists to make the most of their evenings and supporting measures for dispersed tourism.

Experience NAKED's grand projection mapping, lantern art, and Flower Fortune while enjoying the night at Tomioka Silk Mill, a national treasure and UNESCO World Heritage site.

<Tomioka Silk Fantasia>

On October 14 and 15, guests can enjoy live music and a fashion show on a special stage in front of the Tomioka Silk Mill's West Cocoon Warehouse. Live music performers include DE DE MOUSE, a composer, producer, and DJ from Gunma Prefecture; bala, a Tokyo-based creative collective of female artists and creators; and Yasushi Yamabe, a taiko drummer active both in Japan and abroad.

DE DE MOUSE

bala

Taishi Yamabe

Visitors will also be able to enjoy a tour of the area between Jyoshu-Tomioka Station and Tomioka Silk Mill in cooperation with local restaurants and facilities. Please come experience a fantastic night in Tomioka City, where silk and fantasy are woven together in a fusion of images, music, and fashion, as if you have entered a different dimension.

Contents

・NAKED Distance Lanterns®

Introducing NAKED's unique art-inspired lanterns, born during the COVID-19 pandemic. When you take a leisurely stroll with one of these lanterns in hand, the ground comes alive with colors and patterns unique to each location, allowing you to be a part of the mesmerizing light display.

For this event, inspiration was drawn from the location of Tomioka Silk Mill in Gunma Prefecture, which has strong ties to the art of natural dyeing. As a result, five color variations will be available: red, blue, pink, green, and yellow, all inspired by the vibrant hues of plant-based dyes.

*Lantern rentals: ¥500 per turn (Tax Included)

・NAKED Flower Fortune®

Introducing the wildly popular art fortune-telling, NAKED Flower Fortune®, which even ranked high in domestic rapid retweets on X (formerly Twitter). Choose your favorite flower from a variety of colors and shapes, and you'll encounter the perfect message for that moment. The flower ornaments attached to the fortune can be transformed into art by tying them to a wooden branch to make the flowers bloom, making them a great souvenir to take home as a keepsake.

*Price: ¥500 each (Tax Included)

・Tomioka Silk Mill West Cocoon Warehouse

The highlight of this event is the massive projection mapping show on the stage of the national treasure, Tomioka Silk Mill West Cocoon Warehouse, spanning approximately 45 meters in width. As the giant silk wraps around the building, the lush flora of Tomioka bursts forth. After enjoying the changing seasons of nature, step into a nostalgic world featuring retro signs and lanterns. Experience the unique and culturally rich presentation that is characteristic of Tomioka's deep historical heritage.

・Tomioka Silk Fantasia

A special event will unfold at the Tomioka Silk Mill World Heritage site. Come enjoy an event featuring artistic direction by renowned director Junya Yamada, a mesmerizing live performance by DE DE MOUSE, a high-art fashion show that seamlessly harmonizes with  live music, and a powerful taiko drum performance by Yasushi Yamabe. Additionally, guests can enjoy an energetic performance by the creative collective girls group bala. Projection mapping will enhance the space, adding even more charm to the beautiful Tomioka Silk Mill, where history and the future intersect. From Gunma to the world, immerse yourself over the course of one special night where various cultures can come together to exchange unique experiences and celebrate.

・Tomioka Silk Mill East Cocoon Warehouse Illumination

The Tomioka Silk Mill East Cocoon Warehouse World Heritage site is illuminated, allowing visitors to savor its unique nighttime beauty that differs entirely from daytime. Enjoy the enchanting and fantastical nighttime scenery that you wouldn't typically be able to see.

・The Historic Nirazuka Silk Mill Illumination

The historic Nirazuka Silk Mill is illuminated, offering guests the opportunity to enjoy its beauty in a way that differs from daylight. Enjoy this enchanting and fantastical nighttime scenery that you wouldn't typically be able to see.

・Tomioka Night Gourmet Stroll

A collaborative event with "Tomioka Silk Fantasia – Festival of Silk." We introduce dining and souvenir shops around Tomioka Silk Mill that are open during the event period. Enjoy delicious local cuisine unique to Tomioka.

Presale tickets are now available from ZAIKO and Rakuten Ticket.

Additional information will be announced in the future.

Information

Tomioka Silk Fantasia ~Festival of Silk~

[Schedule]

<NAKED Yorusanpo™ -Tomioka->

October 6~8 / 13~15, 18:00~20:00

<Tomioka Silk Fantasia>

October 14 / 15, 18:00~20:00

<Venue>

<NAKED Yorusanpo™ -Tomioka->

Tomioka Silk Mill, Former Nirazuka Silk Mill, Shirukuru Square Gazebo (In front of City Hall)

<Tomioka Silk Fantasia>

Special stage in front of the Tomioka Silk Mill's West Cocoon Warehouse

[Fees]

<NAKED Yorusanpo™ -Tomioka->

Viewing Ticket (Standing): ¥1,500 (Tax Included) *Included in event fee on October 14 & 15

<Tomioka Silk Fantasia>

Presale (Unreserved Seats): ¥4,500 (Tax Included) / Presale (Standing): ¥3,500 (Tax Included)

<Shared>

NAKED Distance Lanterns®: ¥500 (Tax Included) / NAKED Flower Fortune®: ¥500 (Tax Included) / Local Discount *1 / Student Discount *2

*Local Discount *1

・Locals can receive ¥1,000 cash back at the venue by purchasing a ticket and presenting an official ID that verifies their address on the day of the event. Photocopies will not be accepted.

・Limited to those who purchase tickets on the day of the event (Cannot be handled at a later date).

・If you cannot present an ID or proof of address, you will not be eligible for a refund.

*Student Discount

・Must show proof of age (official ID for elementary school students, student ID for junior high and high school students) to receive ¥1,000 cash back at the venue. Photocopies will not be accepted.

・If you cannot present a valid ID, you will not be eligible for a refund.

[Ticket Agencies]
ZAIKO (Digital Tickets only): https://tomiokasilkfantasia.zaiko.io/item/359609
Rakuten Ticket: https://r-t.jp/tomiokasilkfantasia

[Performers]
DE DE MOUSE / bala / Taishi Yamabe

[Contents]
Projection mapping, fashion show, live music and DJ, illumination, local business participation, etc.

[Sponsors]
Tomioka City / Tomioka Silk Mill World Heritage RUNWAY Executive Committee

[Co-Host]
Tomioka City Tourism Association

[Planning and Production]
Channel47 / ASOBISYSTEM

[Overall Direction]
David J Production

[Spatial Direction]
NAKED / growB Emotions

[Performers]
DE DE MOUSE / bala / Taishi Yamabe

[Contents]

Projection mapping, fashion show, live music and DJ, illumination, local business participation, etc.

[Sponsors]

Tomioka City / Tomioka Silk Mill World Heritage RUNWAY Executive Committee

[Co-Host]

Tomioka City Tourism Association

[Planning and Production]

Channel47 / ASOBISYSTEM

[Overall Direction]

David J Production

[Spatial Direction]

NAKED / growB Emotions

[Video Direction]

Kohei Taki (Only on the 14th/15th)

[Official Website]

https://tomiokasilkfantasia.jp

[Social Media]

Instagram (@tomiokasilkfantasia): https://www.instagram.com/tomiokasilkfantasia/

X (Formerly Twitter) (@silkfantasia): https://twitter.com/silkfantasia

◼︎About Junya Yamada (David J.PRODUCTION)

Junya Yamada presented the stage production "THE SAKE" at the world's largest theater festival, the Edinburgh Festival Fringe, and earned a 5-star rating. In recent years, he has expanded his activities to Asia and served as the overall director for the mega fashion show "TMALL COLLECTION" by China's largest e-commerce site, TMALL, which is part of the Alibaba Group.

In Japan, Junya Yamada has been involved in various large-scale entertainment productions, including "Tokyo Hanabi Taikai EDOMODE," "Hatsune Miku × Kodo Special Live," and the stage production "INSPIRE Onmyoji," starring Takao Osawa. His work spans a wide range of fields, including traditional performing arts, music events, fireworks displays, combat sports, theater, and cultural events, showcasing the diversity of his creative endeavors.

David J.PRODUCTION: https://davidjpro.com/

◼︎About NAKED, INC.

Founded in 1997 by Ryoitaro Muramatsu, a creative company known for its dedication to the philosophy of 'Core Creative, Total Creation, and Borderless Creativity.' Operating across various genres, the company has been actively engaged in a wide range of activities. In recent years, they have been creating diverse experiences that blend the realms of the real and the virtual. Their work spans across art, entertainment, culture, tradition, education, music, urban development, food, sports, and every facet of life, generating new experiences and value.

Starting in 2022, they have embarked on a project called 'NAKED GARDEN ONE KYOTO,' focusing on Kyoto's metaverse and AR/VR initiatives to deliver cultural expression and art experiences that bridge the virtual and the real.

Some of their notable projects include the Tokyo Station Projection Mapping 'TOKYO HIKARI VISION,' the immersive flower art exhibition 'NAKED FLOWERS' held at world heritage sites like Nijo Castle and in cities like Tokyo and Hong Kong, the music experience 'HUMANOID DJ' created by artificial intelligence (AI), the experiential restaurant 'TREE by NAKED yoyogi park,' and 'Sakura Night Garden at Shinjuku Gyoen' among others.

NAKED, INC.: https://naked.co.jp

BG, an apparel brand directed by Toua, has officially launched. The online store began accepting orders on September 7, 2023.

The name 'BG' stands for 'Borderless Gradation,' implying that the brand's creations represent freedom without boundaries. Buyers can expect unisex items with a playful and modern touch.

<CONCEPT>

No matter your age or your gender,

empower yourself just the way you are.

As sure as your heart beats, always keep your curiosity.

Make today the best day of your life.

FRUITS ZIPPER's 1st Single CD 'Watashino Ichiban Kawaiitokoro' Ranks #3 on Billboard JAPAN Top Single Sales Chart!

20.September.2023 | MUSIC

On September 13, 2023, popular idol group FRUITS ZIPPER released its first single CD Watashino Ichiban Kawaiitokoro. Immediately upon release, the album reached the #3 spot on the Billboard JAPAN Top Singles Sales chart and #4 on the Oricon Weekly Single Ranking chart. The titular track was released digitally in April 2022 and has received over 900 million views on TikTok and 13 million music video views on YouTube.

FRUITS ZIPPER is currently holding its first nationwide tour, FRUITS ZIPPER 1st JAPAN TOUR 2023 -AUTUMN- The parlor of FRUITS ZIPPER. The long-awaited tour began on September 3, and on September 16, the group held a semi-final show at KT Zepp Yokohama in Kanagawa.

The title of the tour, 'The Parlor of FRUITS ZIPPER,' hopes to inspire the audience to discover the individuality of each member, akin to a parfait with different layers. Tickets for the Osaka, Aichi, Fukuoka, Hiroshima, and Hokkaido shows have completely sold out. Tickets for the Kanagawa performance were also sold out, and the show was held in front of a completely packed house, even when accounting for the second-floor seats.

Multicolored lasers inspired by the member's colors swept across the venue, cueing the group to start the show with the hit song Pure in the World, which was released digitally in August. The peppy track instantly captured the hearts of fans in the audience, and that excitement carried into the following songs: Kanpeki Shugide☆ and Fre-Fru Summer!

During the MC, the members took the time to explain the theme of the tour and their new costumes prepared exclusively for the long-awaited event. Each member has a representative fruit, and their flashy costumes feature adorable aprons and other details reminiscent of parlor clerks. "Welcome," the members yelled, inviting fans into their unique world for a few hours to have a happy and sweet time.

The concert resumed immediately following the MC with Happy Chocolate, and inspired by the TikTok trend, many fans danced along during the chorus. Transforming the energy into something gentler, Sekaiwa Kimikara Hajimaru began soon after, captivating fans with its addictive sweetness. The girls showed their sexy dance moves during We are Frontier and their cooler side during the upbeat Going! With incredible momentum, FRUITS ZIPPER powered through six songs in a row, including the hyper RADIO GALAXY and Roller Coaster Heart. The audience was lucky enough to experience all sides of this multifaceted idol group, subverting expectations and wowing everyone lucky enough to attend.

After the impressive performance, Mana Manaka and Luna Nakagawa shared memories of the national tour, including a moment in Hokkaido when the two felt their lives were in danger from an enzyme bath, drawing laughter from the audience. Suzuka Chinzei also excitedly announced that she would play the starring role in the upcoming CBC drama Link!, and that the theme song for the drama would be the group's popular track Sekaiwa Kimikara Hajimaru. Mana Manaka touchingly reflected on the group's past performances, which visited each member's hometown. "It felt like our triumphant return home. It was such a great experience, to show everyone how much we've grown."

After the members and audience calmed down after the MC, Nakagawa eagerly began the second half of the show. "Are you excited, Yokohama," she called out. The group ignited fans' hearts with Welcome to the ♡ Furuppa! and Re→TRY & FLY, leading into one of the happiest songs in recent memory, Chou Medetai Song ~Konnani Shiawasede Iinokana?~ The audience called out the members' names in loud voices and clapped in unison, creating a deep sense of unity between FRUITS ZIPPER and their fans. As many would expect, the final song performed was Watashino Ichiban Kawaiitokoro, the group's most popular song which was just released as a physical single. TikTok photography was allowed for this song, and legions of fans kept their phones pointed at the stage. Check TikTok to see the colorful and adorable performance!

In typical FRUITS ZIPPER fashion, the show didn't end there! After fans begged for an encore, the members returned to the stage to perform the new song CO-Kosei. Composed by Sho Yamamoto, the composer of Watashi no Ichiban Kawaiitokoro, the track fit the tour's theme perfectly. The lyrics are filled with overwhelming individuality from each member, and the catchy choreography instantly grabbed the audience's attention, with easily mimicked moves sure to be the next trend. Following the performance, the members showed their eagerness to make the 'CO-pose' more popular.

Following the TikTok shoot with fans throughout the venue–a popular trend during FRUITS ZIPPER concerts–the group performed a few more tracks, including Zutto, Zutto, Zutto! Sending love to the fans, Yui Sakurai announced the last song, asking fans to "make memories together with them." The performance finally came to an end with a heartfelt rendition of Kimino Akaruimiraiwo Oikakete. The audience couldn't help but dance along, making it the most earnest moment of the performance.

After the show ended, Yui Sakurai and Luna Nakagawa were so moved that they immediately hugged each other. "The song Kimi no Akaruimiraiwo Oikakete was where everything started for us, and every time I sing it, I just have so many flashbacks of the past year and a half," Suzuka said with tears in her eyes. "The tour isn't over, and I can't wait to meet the fans at the Tokyo Metropolitan Gymnasium! Let's keep making memories together, all of you and FRUITS ZIPPER." The sweet and incredibly action-packed performance came to an end amidst a sea of loving applause.

During this tour, FRUITS ZIPPER has grown to new heights. Their next appearance on the national tour will take place on October 28 at the Tokyo Metropolitan Gymnasium, the group's first arena performance and their largest venue to date. There's no telling what to expect!

Text: Masatoshi Mayuzumi

Photo: Yuuna Yoshimori

Limited First Edition

Standard Edition

Seven-member edition

Information

<National Tour Finale Information>

FRUITS ZIPPER JAPAN TOUR 2023 -AUTUMN- The Parlor of FRUITS ZIPPER TOUR FINALE

Date: October 28, 2023

Venue: Tokyo Metropolitan Gymnasium

Time: Doors open 16:00 / Show starts 17:30

*There will be no bonus meetup on the day of the event.

[Tickets]

VIP Standing: ¥16,500 (Tax Included) *Fanclub members only / Limit 2 tickets per

application

General Arena Reserved Seats: ¥8,000 (Tax Included) *Limit 4 tickets per application

Reserved Stand Seats ¥5,500 (Tax Included) *Limit 4 tickets per application

[Contact]

HOT STUFF PROMOTION

050-5211-6077

https://www.red-hot.ne.jp/

■See the latest tour info here

https://kawaiilab.asobisystem.com/

<Single CD Information>

Watashino Ichiban Kawaiitokoro – FRUITS ZIPPER (1st Single CD)

Release Date: September 13, 2023

[Editions]

Limited First Edition [CD+Photo Book]: ¥3,000 (Tax Included)

Standard Edition [CD]: ¥1,200 (Tax Included)

Member Edition [CD/7 Varieties]: ¥1,200 (Tax Included)

[Version/Tracklist]

■Limited First Edition *Ichiban Kawaii Packaging

M1. Watashino Ichiban Kawaiitokoro

M2. Pure in the World

M3. Zutto, Zutto, Zutto!

M4. Chou Medetai Song ~Konnani Shiawasede Iinokana?~

■Member Version *Packaging features one specific member

M1. Watashino Ichiban Kawaiitokoro

M2. Pure in the World

M3. (Song varies depending on member's disc*)

M4. Chou Medetai Song ~Konnani Shiawasede Iinokana?~

*Suzuka Chinzei: skyfeelan / Luna Nakagawa: Kanpeki Shugide☆ / Amane Tsukiashi: Re→TRY & FLY / Karen Matsumoto: Happy Chocolate / Noel Hayase: RADIO GALAXY / Yui Sakurai: Sekaiwa Kimilkara Hajimaru / Mana Manaka: Fre-Fru Summer!

 

■Standard Edition

M1. Watashino Ichiban Kawaiitokoro

M2. Pure in the World

M3. Chou Medetai Song ~Konnani Shiawasede Iinokana?~

M4. Watashino Ichiban Kawaiitokoro (Instrumental)

M5. Pure in the World (Instrumental)

M6. Chou Medetai Song ~Konnani Shiawasede Iinokana?~ (Instrumental)

<FRUITS ZIPPER Profile>

FRUITS ZIPPER is a new idol group created by ASOBISYSTEM's KAWAII LAB. project, aiming to introduce Japanese idol culture to the world.

The group's producer is model and TV personality Misa Kimura. Following her idol career as the former leader of Musubizm, Kimura now acts as the general producer of KAWAII LAB. The group's name combines FRUITS, meaning 'to bear fruit,' and ZIP, meaning 'to give energy.'

The group's concept is 'from Harajuku to the world,' and the group will transmit what they call 'NEW KAWAII' from Harajuku, an area known for fashion and individuality, to the world.

Fanclub: https://kawaiilab.asobisystem.com/

X (Twitter): https://twitter.com/fruits_zipper

Instagram: https://instagram.com/fruits_zipper

YouTube: https://www.youtube.com/@fruitszipper3040

TikTok: https://vt.tiktok.com/ZSen7dJAT/

Facebook: https://www.facebook.com/FRUITSZIPPER/

Mitsui Shopping Park's LaLaport TOKYO-BAY to Collaborate with meeco

In collaboration with illustrator meeco, LaLaport TOKYO-BAY is currently holding the cashless 'AUTUMN FESTA 2023 Find Happiness;' event for the entire month of September.

In a special area of the shopping center, the latest fall items and fashions will be displayed along with an art exhibit dedicated to meeco's creations. Visitors will receive an original card featuring a new illustration by meeco (while supplies last).

Be sure to browse the special website for more details.

Utano Aoi and Takuma Usa to Star in Fuji TV Drama 'Ya Boy Kongming!'

Utano Aoi and Takuma Usa will appear in Fuji TV's Wednesday 10 drama series Ya Boy Kongming! scheduled to debut on September 27.

In this miraculous success story, Zhuge Kongming, a famed military strategist from the Three Kingdoms period in China, is reincarnated as a young man in present-day Shibuya. Soon after, he meets a young girl at a nightclub and devises a magical plan to help her achieve her dream of becoming a singer. The drama is an adaptation of the popular manga series Ya Boy Kongming! which has sold over 1.6 million copies. The series is serialized in Kodansha's Weekly Young Magazine.

Utano Aoi will play Ichika, a member of the idol unit AZALEA. Takuma Usa's role has not yet been announced, so tune in to see how the actor appears in the series.

Information

Ya Boy Kongming! (Wednesday 10 Drama)
Premiere: September 27, 2023
Airing Wednesdays 22:00~22:54 *The premiere will be 15 minutes longer.

Starring: Osamu Mukai

Original Work: Ya Boy Kongming! – Yuto Yotsuba (Writer), Ryo Ogawa (Artist) / (Serialized in Kodansha's Weekly Young Magazine)

Official Site
https://www.fujitv.co.jp/paripikoumei/

Actress Utano Aoi will star in the film Boku no Naka ni Saku Hanabi (The Fireworks That Blossom Within Me).

The film is directed by Yuto Shimizu, who won the Best J. Horror Award at the Japan Film Festival Los Angeles 2022 at the young age of 20 for The Soloist. Set in his hometown of Gifu Prefecture, he penned the screenplay after being inspired by his own life experiences. This marks his first feature film as a director.

After a painful incident, protagonist Minoru slowly begins to open up to his family and friends and gradually starts to accept his fear of death, deciding to live entirely in the present. The film focuses on the finite amount of time we have on this earth and Minoru's knowing that even that nature around him will someday disappear, which is all the more reason to show love while you can. The heroine, Jyuri Mizuishi, is played by Utano Aoi.

Crowdfunding for the film is currently underway.

<Comment from Utano Aoi (Jyuri Mizuishi)>

"Strength and weakness, harshness and gentleness…we must juggle these extremes in order to learn how to live in the midst of unfathomable loneliness and despair. I hope to show all sides of Akari with subtlety. I want to feel the sights, smells, people, and emotions of the city. At the moment, I can already feel the power that the cast and crew are bringing to the filmmaking process. I'm also looking forward to the emotional location. I'm so excited. Please look forward to the film!"

Nagomi to Serve as Image Model for PURIMANIA Purikura Machine

YouTuber Nagomi of Nakonako cp has been chosen as the image model for FuRyu's PURIMANIA purikura machine. The machines will be installed at entertainment facilities nationwide starting in early October.

The new model offers an exciting new sticker printing experience, with advanced retouching and makeup functions. Visitors can still look forward to the fun analog feel of creating and printing their own original stickers.

Nagomi visuals will be featured on the exterior of each machine.

SUNNY ONLY 1 Releases New Single 'WASH IT' Co-written by Close Friends and Fellow Musicians

On August 16, SUNNY ONLY 1 released her new digital single WASH IT.

In April, the accomplished artist released her first single in two years, So What? SUNNY ONLY 1 is also an active member of the Tokyo-based girls' creative collective bala, and her previous release Dance like a monkey feat. Mori attracted plenty of attention. A collaboration with close friend Mori from the musical group DONGURIZU, the song was featured on Spotify's official Electropolis playlist.

WASH IT, concluding the trilogy of solo single releases from SUNNY ONLY 1 this year, was co-written by Kyoichi Mikuriya and Hiroto Sugawara of the band Eiji, along with rapper KOHKI. These artists are close friends of SUNNY, and the track itself is a party tune filled with Afro-funk and disco beats that capture the hustle and bustle of the underground scene. WASH IT was produced by Noah Ings, an up-and-coming producer from London who also worked on SUNNY ONLY 1's previous release.

[Comment from SUNNY ONLY 1]
"This is the last song of the trilogy. It's the funkiest song I've ever written and I made it while partying with my friends, so I hope you'll have a listen while you're vibing and feeling good!"

Information

WASH IT – SUNNY ONLY 1 (Digital Single)
Release Date: August 16, 2023
Streaming URL: https://orcd.co/wash_it

Special Thanks:
Kyoichi Mikuriya (Eiji)
Hiroto Sugawara (Eiji)
KOHKI
SENA
MASAO
yoxen
kawasaki

Takuma Usa to Appear on Stage in BREAK FREE STARS Dance Performance

Actor Takuma Usa will appear in the dance stage show BREAK FREE STARS at IHI Stage Around Tokyo starting October 23.

The show is an original work based on the non-verbal dance work BREAK FREE by Go Ueki, the first Japanese creator to win the Asian Arts Award for Best Performance at Edinburgh Festival Fringe, the world's largest theater festival, in 2018. Shinjirou Kameda and Takahito Onishi wrote the adaptation for the stage.

The high-energy dance show takes place in a city where hip-hop is banned and focuses on the conflict between hip-hop stars and prison guards. It promises to make full use of video and lighting to bring the story to life.

<Summary>

New City is a metropolis full of people from all walks of life. In this incredible place, you can have it all. There's one thing you can't have, however–freedom. Young people gather at the club 'BREAK FREE,' a sacred space for hip-hop lovers, to search for peace of mind and a bit of freedom that no one can take away.

However…

The government announces the Hip-Hop Prohibition, taking away these young people's freedom. BREAK FREE's hip-hop stars are thrown into jail and dubbed dangerous criminals.

Hip-hop is not a crime. In order to take back their freedom and protect their music, the jailed stars must fight back against an overwhelmingly powerful force.

Information

BREAK FREE STARS
Running: October 23, 2023 – November 5, 2023
Venue: IHI Stage Around Tokyo

Director: Go Ueki
Screenwriters: Shinjirou Kameda / Takahito Onishi
Music: Tanaka Mush

Starring:
Keito Kimura (FANTASTICS)
Dai Goto / Shunichi Takahashi / Shota Matsuda / Yu Yoshioka / Takuma Usa / Toyotaka / HILOMU / RYO / Yukia Takano
SHINSUKE / Dolton / KIMUTAKU / KENTA / GeN / Ryota Kamiya / Tatsuki Kawashima / Alan Abe

<Tickets>
Admission: ¥12,500 (All seats reserved / Tax Included)
General Ticket Sales start September 30, 2023 at 10:00

<Contact>
Mitt 03-6265-3201 (Weekdays 12:00~17:00)

Official Site: https://www.nelke.co.jp/stage/breakfreestars/

(C)『BREAK FREE STARS』製作委員会

Licaxxx Announces Solo Performance at ZEROTOKYO Titled SINSO-Licaxxx All Night Long Set-

DJ and trackmaker Licaxxx will hold her first solo show since 2019, SINSO-Licaxxx All Night Long Set-, on September 9 at ZEROTOKYO in Tokyo's Kabukicho area of Shinjuku.

Licaxxx will perform a continuous solo set from open to close on the main floor's Z HALL. Visitors can head to the other floors to see other DJs who share a close relationship with Licaxxx to really get the party started.

Information

SINSO – Licaxxx All Night Long Set –
Date: September 9, 2023 / 23:00 Open/Start
Venue: Shinjuku ZEROTOKYO
Admission: Pre-sale ¥2,000 / Day-of ¥3,500
e+: https://eplus.jp/licaxxx_230909/
ZAIKO: https://zerotokyo.zaiko.io/e/SINSO

[Performers]
Z HALL:
Licaxxx – All Night Long Set-

VJ Camel

R BAR:
moodman
DJ KYOKO
Okadada
DJ SHIKISAI
BUDDHAHOUSE

RING:
Reiji Okamoto (OKAMOTO'S)
Ryohu
QN
Giorgio Blaise Givvn
YAGI Friends B2B
ecec/Sugar High/ichichan/Onju

ATARASHII GAKKO! Appointed as Image Characters for the 61st Sendenkaigi Awards

The members of ATARASHII GAKKO! have been chosen to appear as image characters for this year's Sendenkaigi Awards. The monthly Sendenkaigi magazine sponsors the event focusing on creativity and trends in the world of marketing.

Many people from both inside and outside the advertising world submit their creations, and the Sendenkaigi Awards has become a place for creatives to discover words that shine. This year's applicants were encouraged to explore new ways of expression to break stereotypes and foster new ideas. The members of Atarashii Gakko! are a fitting addition to this year's event, as the group is known for its unapologetic individuality.

ATARASHII GAKKO! will appear on official posters displayed at train stations and bookstores. The group will also appear on the cover of the October/November issue of Sendenkaigi magazine.

Information

Sendenkaigi Awards Official Site