Tom and Jerry themed pop-up stores to open in Japan
Tom and Jerry themed pop-up stores in collaboration with Village Vanguard are set to launch in Japan from March 5 to celebrate the Tom and Jerry movie releasing from March 19.
Pop-up store exclusive goods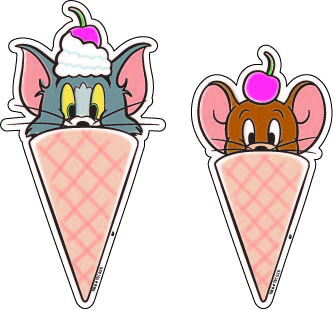 Original stickers (random selection from 2 designs)
Original place mat
The concept of the pop-up stores is 'I Love to eat' which is inspired by the food that appears in the familiar scenes of Tom and Jerry's extreme catch and runs such as cheese, burgers and breads. Don't miss out on the special event to enjoy the world of Tom and Jerry.
RELATED ENTRIES
Blue Bottle Coffee to Open First Pop-Up Store in Tokyo

Blue Bottle Coffee Japan is opening its first-ever pop-up store this spring at Tamagawa Takashimaya S.C. where it will run from April 21 to May 11.

Check out some of the products that will be on offer from the minimalist and stylish coffee brand.

Castella & Coffee Bean Set | ¥3,564 (Tax Included) | Exclusive pre-sale at Tamagawa Takashimaya S.C.

Eco Bag & Instant Coffee Set | ¥4,180 (Tax Included) | Exclusive pre-sale at Tamagawa Takashimaya S.C.

First Light Single Origin | ¥1,944 (Tax Included)

Renewal Blend | ¥1,836 (Tax Included)

Coffee Beans (200g x 2 bags) | ¥3,456 (Tax Included)

Coffee lovers can get their hands on a range of Blue Bottle Coffee's bean range as sold at their cafes across Japan as well as an original tote bag to encourage "Coffee Time, Everywhere," pre-sales on select items like the Blue Bottle Coffee Castella developed in collaboration with Bunmeido Tokyo, seasonal coffee beans, and more.

The pop-up shop will not be serving coffee for customers, but they can enjoy their coffee picks once they get home. And don't worry if you don't have a coffee grinder as there are instant coffees too.

Information

Blue Bottle Coffee Pop-Up Store

Running: April 21, 2021 – May 11, 2021

Where: Tamagawa Takashimaya S.C.

Address: 3-17-1 Tamagawa, Setagaya-ku, Tokyo, 158-0094

Official Website: https://store.bluebottlecoffee.jp/

Japanese Sensu Folding Fan brand BANANA to YELLOW Opens Pop-Up Shop in Shibuya

Japan's long-standing Kyoto-based sensu folding fan brand BANANA to YELLOW, which has been around since 1823, opened a pop-up shop at Shibuya PARCO in Tokyo on Friday, the store's first-ever pop-up shop outside Kyoto.

BANANA to YELLOW's goal is to make traditional Japanese sensu folding fans a fun and stylish experience for the modern day no matter the scene or season. The fans sold at the Shibuya pop-up shop will also include limited-edition designs.

Sensu

The line-up features some of the brand's signature fans which fuse traditional Kyoto-style folding fans with modern designs. Some of the fans are also printed by hand.

The fans can not only be used as they were originally intended—for manners, style, art, warding off evil, and so on—but also as a general accessory.

T-Shirts

The brand also has a collection simple and casual of t-shirts featuring a classic folding fan pocket as originally featured on Japanese kimono.

Bags

A hand two-way tote bag also equipped with a sensu pocket.

Eau de Toilette

Miyawaki Baisen-an's popular eau de toilette makes an appearance at the pop-up shop in four daily fragrances with a Japanese-style scent to them.

Guests

BANANA to YELLOW has collaborated with various artists to develop a range of fans. The first three guests include fashion designer Kunihiko Morinaga (Anrealage), artist Shinro Ohtake, and Mahito the People (Gezan).

Information

BANANA to YELLOW POP-UP STORE

Running: April 9, 2021 – April 22, 2021

Where: Shibuya PARCO's Floor 1F GATE Pop-Up Space

Address: 15-1 Udagawacho, Shibuya-ku, Tokyo

Official Website: https://shibuya.parco.jp/event/detail/?id=3285

Japanese Organic Cosmetic Brand SABON to Open Green Pop-Up Shop in Shinjuku

Japanese natural and ethical cosmetic brand SABON is set to promote its line-up with the opening of its Blissful Green Limited Collection Pop-Up Shop at Isetan Shinjuku on April 14.

The pop-up shop serves as a promotional space and pre-sale opportunity for the brand's upcoming Blissful Green Limited Collection which incudes body scrub, body lotion, shower oil, and more. The collection invites people to a luxurious, natural self-care and shower-time experience. The brand will also hold a four-day calligraphy service for the spring season where customers can buy the items as gifts and include a special message.

Calligraphy Service

Customers who spend over ¥12,000 (tax included) can have a special sticker or gift card penned by a professional calligrapher who will write a name and gift message. Full details here in Japanese.

 

Dates/Times

April 16, 2021 @ 13:00-18:00

April 17, 2021 @ 16:00-20:00

April 24, 2021 @ 13:00-18:00

April 25, 2021 @ 13:00-18:00

Blissful Green Limited Collection

The Blissful Green Limited Collection is the embodiment of the SABON brand and offers thanks to the joy we feel being surrounded by nature. It captures the clean air inhaled in the forest, the gentle light filtering through the trees, and the coming-together of the mind, body, and nature. It includes body, face, and home items all packaged inside gorgeous bottles and tubs.

Information

SABON Blissful Green Limited Collection Pre-Release Pop-Up Shop

Running: April 14, 2021 – April 27, 2021

Where: SABON Isetan Shinjuku

Address: 3-14-1 Shinjuku, Shinjuku-ku, Tokyo

Opening Hours: 10:00-20:00

Product Page: https://www.sabon.co.jp/special_contents/Blissful_Green/

LINE Friends Themed Cafe Opens in Ikebukuro

The popular LINE Friends characters now have their own pop-up cafe inside Ikebukuro PARCO which is running until April 25. The characters form part of a series of stickers used on the Japanese messaging app LINE which is used by other 200 million people worldwide.

The Menu

Brown's Beef Burger | ¥1,250

Lattes | ¥950

LINE FRIENDS Parfaits | ¥1,100 Each

Cafe-Original Merchandise

Alphabet Die-Cut Stickers | ¥330 Each

Lunch Tote Bag | ¥1,650

Brown Mug | Available to the first 300 people who visit to the cafe

Join Brown, Cony, and Sally as they serve up a fun and tasty menu along with a collection of merchandise exclusive to the cafe as well as items also sold at the LINE Friends Store.

Information

LINE FRIENDS POP-UP CAFÉ

Running: April 1, 2021 – April 25, 2021

Where: THE GUEST cafe&diner Ikebukuro

Address: Ikebukuro PARCO Floor 7F, 1-28-2 Minami-Ikebukuro, Toshima-ku, Tokyo, 171-8557

TEL: 03-5391-8604

Official Website: http://the-guest.com/

Kyary Pamyu Pamyu's Fragrance Brand Nostalgia Syndrome Releases Lily & Jasmine Series

Nostalgia Syndrome opened pre-orders for its new Lily & Jasmine series of fragrances on March 31. The products will be released on April 22.

Nostalgia Syndrome is a fragrance brand produced by Kyary Pamyu Pamyu which launched last year. The new Lily & Jasmine series will be available to purchase online and will also be sold at two brand pop-up shops in Tokyo and Osaka. Those who spend over ¥10,000 online or at either of the stores (tax included) will receive a free Nostalgia Syndrome novelty – these are available in limited supply.

Online Store Novelty: Original Thermal Bottle

Pop-Up Store Novelty: Original Big Eco-Bag

Lily & Jasmine Series

Eau de Toilette | ¥8,250 (Tax Included)

Room & Fragrance Spray | ¥3,300 (Tax Included)

Aroma Diffuser | ¥7,150 (Tax Included)

Bath Salts | ¥3,410 (Tax Included)

Hand Soap | ¥3,520 (Tax Included)

Scented Candle | ¥8,140 (Tax Included)

Eau de Toilette Two-Set (9mL)

Kyary Pamyu Pamyu | Comment

"This is Nostalgia Syndrome's second fragrance release. After mixing together various ingredients, I was finally able to catch the right scent. The theme for this one is 'travel fragrance.' Because of COVID, our time spent outdoors has gone down dramatically, but smells tied to our memories make up part of us all. And smelling them brings back those memories. This is a blend of sweet, sophisticated lily and refreshing jasmine, so it's a really easy one to use that can be enjoyed by both guys and girls. We're also opening our first pop-up shop so please be sure to drop by to try out!"

Lily and jasmine are vibrant fragrances and perfect for the spring season. Order yours today!

Information

Nostalgia Syndrome Lily & Jasmine

Pre-Orders: March 31, 2021 (Shipping from April 22)

Release Date: April 22, 2021

Pop-Up Stores

・+SPBS (SHIBUYA SCRAMBLE SQUARE 2F)

Running: April 22, 2021 – May 26, 2021

Where: +SPBS, SHIBUYA SCRAMBLE SQUARE Floor 2F, 2-24-12 Shibuya, Shibuya-ku, Tokyo

Opening Hours: 11:00-21:00

・Shinsaibashi PARCO

Running: May 13, 2021 – May 20, 2021

Where: Shinsaibashi PARCO Floor B1F, 1-8-3 Shinsaibashisuji, Chuo-ku, Osaka-shi-, Osaka

Opening Hours: 10:00-20:00

Nostalgia Syndrome Official Website: https://www.nostalgia-syndrome.com/

Tokyo's New Vegan Dessert Shop the vegan marshmallooow Opens in Ginza

Ginza Mitsukoshi is welcoming a limited-time vegan dessert shop by the name of 'the vegan marshmallooow' which is open from April 1 to June 30. This shop is known amongst the vegan community in Japan for its vegan cakes, and due to that positive response, is now opening its first long-term promotional pop-up shop in collaboration with Mitsukoshi Isetan Group.

Online orders opened at Mitsukoshi Isetan on March 27 with a delicious line-up that includes their signature vegan chocolate cake.

A look at just some of the mouth-watering line-up

Chocolate Cake

Their number one most popular order: a gorgeously gluten-free mirror cake made with rich chocolate.

 

<NEW> Whole Fruit Cake

For those who like something a little more fruity and refreshing, this juicy cake is topped with assorted fruits like setoka orange, peach, kiwi, blueberry, strawberry, and more. The gluten-free sponge and soy cream give it a light texture that's also rich.

 

<NEW> Special Chocolate Cake Slice

An exquisite three-layered version of the shop's iconic chocolate make made with plant-based ingredients. Its triple tier is formed harmoniously of sponge, chocolate mousse, and cream. A single serving for a single sweet tooth.

Strawberry Shortcake

Two moist layers of gluten-free strawberry sponge with a soy milk base. Smooth, creamy, light, and delicious.

 

Mont Blanc

This mont blanc is specially made with Japanese chestnuts. The addition of soy cream elevates the nutty flavour throughout. A crunchy tart and fluffy sponge also makes for a textural sensation.

the vegan marshmallooow's vegan cake now available online at Mitsukoshi Isetan

Vegan Chocolate Cake Set (3 Pieces)

Kiii Presents Kagimatsuri Pop-Up Shop Event to be Held in Shibuya

Kiii has announced a pop-up shop event called Kagimatsuri which is set to run at MAGNET by SHIBUYA109 from April 23 to May 9. It will welcome a range of exclusive merchandise by popular Japanese creators, including a selection of items by famous Japanese illustrator Yuuki Kikuchi who is known for his hit 4-panel comic strip series 100 Nichi Go ni Shinu Wani which follows the story of a crocodile who doesn't know he's going to die in 100 days. 100 panels were released across 100 days on his Twitter page with the final comic strip garnering over 2 million likes.

 

Buy Exclusive LINE Stamps

¥120 Each

In the run up to the event, a selection of LINE stamps made by eight popular creators is know available for purchase over on the LINE store.

Information

~Kiii Presents~ Kagimatsuri

Japanese Event Name: 〜Kiii Presents〜かぎまつり

Running: April 23, 2021 – May 9, 2021

Where: MAGNET by SHIBUYA109

Address: 1-23-10 Jinnan, Shibuya, Tokyo, 150-0041

Event Page: https://kiii.co.jp/news/6859/

SOUR & HIGUMA Doughnuts Pop-Up Shop to Open at THE LIVELY Fukuoka Hakata

Lifestyle hotel THE LIVELY Fukuoka Hakata is opening a two-day pop-up shop in collaboration with the sour mixed drinks shop SOUR and the Tokyo-based doughnut shop HIGUMA Doughnuts on March 26 and 27.

 

The pop-up will serve up a special springtime selection of menu items from both brands, with SOUR bringing their refreshing drinks made with fresh fruits and HIGUMA Doughnuts with their high quality ingredients from Hokkaido.

 

The Menu

HIGUMA Doughnuts

Plain Doughnut: ¥250

Sugar/Cinnamon Sugar/Salted Black Soy Bean Soy Flour Doughnuts: ¥300

Special Honey Mascarpone Doughnut: ¥350

Hokkaido Vanilla Ice Cream/Strawberry Mascarpone Doughnuts: ¥600

Double: ¥800

 

SOUR

Salted Cherry Blossom Lemon Sour: ¥500

Edible Spring Flowers & Herbs Sour: ¥800

Super Strawberry Sour: ¥1,000

Information

SOUR x HIGUMA Doughnuts Pop-Up Shop

When: March 26, 2021 – March 27, 2021 @ 19:00-22:30

Where: THE LIVELY BAR at THE LIVELY Fukuoka Hakata

Address: 5-2-18 Nakasu, Hakata-ku, Fukuoka-shi, Fukuoka

THE LIVELY Official Website: https://en.the-lively.com/fukuoka

LaLa Begin DRY GOODS STORE Opens Pop-Up Shop in Tokyo

BEGIN is holding a pop-up shop event at STANDARD SUPPLY Futako Tamagawa in Tokyo until March 30 where you can get your hands on products from LaLa Begin DRY GOODS STORE.

LaLa Begin appears for STANDARD SUPPLY Futako Tamagawa's 1st anniversary event

STANDARD SUPPLY is a Japanese bag brand. As part of the 1st anniversary celebrations of its Tokyo-based shop, LaLa Begin DRY GOODS STORE, which is an online-only fashion brand, is getting a pop-up shop where customers can actually go and look through the products in person rather than just browsing online.

LaLa Begin's 'Osanpo Sacoche' comes with a Futako Tamagawa guidebook

A standout item at the pop-up shop is a limited-edition Osanpo Sacoche, a popular bag on LaLa Begin DRY GOODS STORE. The bag will be available in a limited-edition greige colour, and the brand tag has been changed to a leather tab. The bag is also coupled with an A6 guidebook on the Futako Tamagawa area of Tokyo which was edited by Lala Begin. It features shops recommended by the staff of STANDARD SUPPLY Futako Tamagawa, must-visit famous places, and more.

Additionally, if you visit three of the spots showcased in the guidebook, take photos of those places, and show your photos to the staff at STANDARD SUPPLY Futako Tamagawa, you'll get a free coupon to spend there.

Information

LaLa Begin DRY GOODS STORE Pop-Up Shop

Running: March 11, 2021 – March 30, 2021

Where: Futako Tamagawa

Address: 3-10-5 Tamagawa, Setagaya-ku, Tokyo

Opening Hours: 11:00-19:00

Closed: Wednesday

TEL: 03-5797-9311

Rascal the Raccoon Anime Series Pop-Up Store to Open in Saitama

Nippon Animation is opening a pop-up store for its adorable anime series Rascal the Raccoon at Aeon Lake Town Mori in Koshigaya, Saitama which will run from March 19 to August 31.

Market Design

Bacteria Elimination Spray | ¥500 (Before Tax)

Notepad Box | ¥800 (Before Tax)

Mousepad | ¥1,280 (Before Tax)

PU Leather Tablet Sleeve Case (8-11″ Size Tablets) | ¥2,000 (Before Tax)

PU Leather Laptop Sleeve Case (Laptops up to 13.5″) | ¥2,273 (Before Tax)

Denim Design / Dreamy-Cute Design

Leather Pins (3 Designs) | ¥500 Each (Before Tax)

Denim Tote Bag | ¥1,500 (Before Tax)

Mousepad | ¥1,280 (Before Tax)

PU Leather Tablet Sleeve Case (8-11″ Size Tablets) | ¥2,000 (Before Tax)

PU Leather Laptop Sleeve Case (Laptops up to 13.5″) | ¥2,273 (Before Tax)

Novelties

Original Magnet Sheet

Romeo's Blue Skies Official Store

Original Sticker

Original Shopping Bag

The pop-up shop will sell a variety of new merchandise with different designs. An official store for Nippon Animation's Romeo's Blue Skies anime series will also open up alongside the pop-up shop. For every ¥1,500 spent on merchandise (including tax), fans will receive a free original magnet sheet.

Information

Rascal's Tail ~Nippon Animation Store~

Japanese Name: ラスカルのしっぽ ~日本アニメーションストア~

Running: March 19, 2021 – August 31, 2021

Where: Aeon Lake Town Mori Floor 3F

Address: 3-1-1 Lake Town, Koshigaya, Saitama, 343-0828

Opening Hours: 10:00-22:00

Official Website: https://www.araiguma-rascal.com/  

A BATHING APE® x Tom and Jerry Collection Releases in Japan

BAPE is set to release a clothing collection in collaboration with Tom and Jerry, which celebrated its 80th anniversary last year, on Saturday (March 13).

The Line-Up

The fun collection features a variety of designs including BAPE's signature "ABC CAMO" as well as Tom and Jerry coming together with the brand's own character BABY MILO as well as their main logo, the ape head, being made out of cheese.

TOM AND JERRY and all related characters and elements © & ™ Turner Entertainment Co. (s21)

©2020 Warner Bros. All Rights Reserved.

Zoo Themed Sumikko Gurashi Pop-Up Shop to Open This Spring

San-X, the creators of many iconic Japanese characters, are set to open multiple pop-up shops around Japan on March 20, 2021. The theme of the shops is "animal park," and fans of the cute corner-dwellers can look forward to getting their hands on lots of exclusive merchandise.

Merchandise Line-Up

Sumikko Gurashi Novelty Stickers

The collection includes plenty of plush toys to keep your company. The full list of pop-up shop locations can be found below, but two of the big venues will include the Sumikko Gurashi Shop in Osaka and KIDDYLAND Harajuku.

©2021 SAN-X CO., LTD. ALL RIGHTS RESERVED.