Meiji Chocolate Announces the Results of its 2020 National Confectionery Elections
In 2018 and 2019, Japanese snack and confectionery brand Meiji held its own National Elections for its long-selling chocolate brands Kinoko no Yama and Takenoko no Sato. In 2019, Jun Matsumoto and Akihiro Miwa represented each of these chocolate snacks respectively by helming the Kinoko Party and Takenoko Party. People across Japan would listen to each side's case and vote for which party, and therefore which chocolate, they liked the most.
The 2020 elections however took a different approach, instead spreading a message of love across Japan rather than a heated debate on which snack is better. The votes opened on September 15 last year and ran for four months where data was collected for each of Japan's 47 prefectures to see where each snack was more popular in each part of the country.
The 2018 and 2019 elections saw an accumulative total of 26,518,982 votes submitted. People passionately made their cases for which snack they liked the most. For 2020, Meiji wanted to bring people together and cheer them up by holding a survey that was catered most towards understanding people's love for their snacks.
Chiba hails as the place in Japan where Kinoko and Takenoko are most popular
46 of Japan's prefectures saw more love poured for Takenoko in 2020. The remaining prefecture, Fukuoka, saw more love given to Kinoko.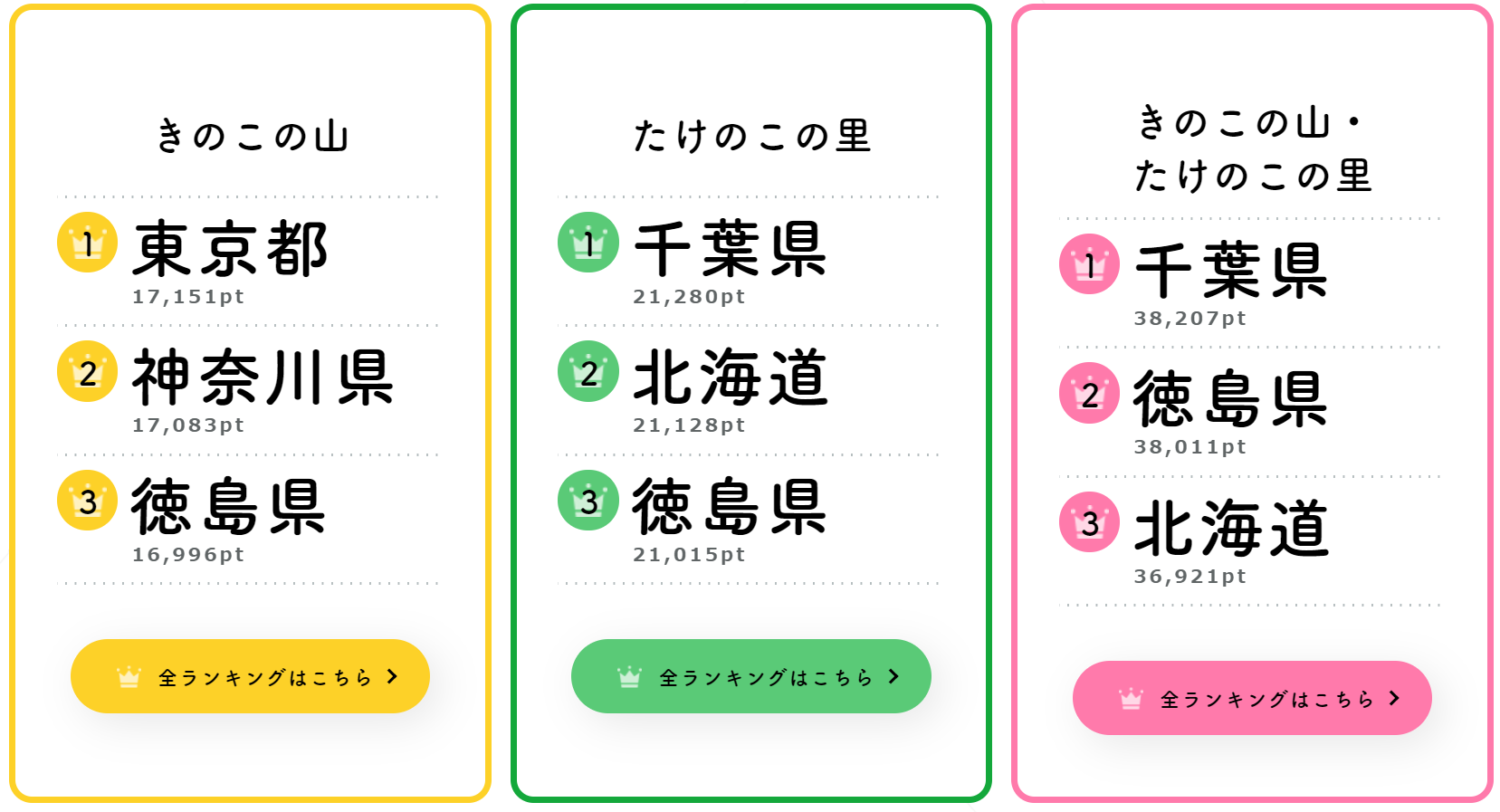 The 2020 elections saw participation by 300,161 more people than previous years.
Illustrations drawn of Team Kinoko and Team Takenoko supporters
The survey ranked each prefecture by popularity, and special illustrations were drawn for four prefectures each where Kinoko and Takenoko were the most popular.
Survey Database
Meiji published the data breakdown which can be downloaded for free.
It contains a wealth of information related to what people voted for.
Have you tried either of these popular snacks? If you travel to Japan, be sure to pick them up at any convenience store near you.
RELATED ENTRIES
KRISPY KREME Reveals Limited Halloween Donuts

KRISPY KREME DONUTS Japan has unveiled its screamingly delicious new Halloween themed donut selection, the "KRISPY KREME SKREMES!," which will be available nationwide between October 1 and October 31 2021.

Halloween Jack Caramel & Custard

Blood Strawberry Skull

Halloween Dozen (12 pieces)

Halloween Half-Dozen (6 pieces)

Halloween Box (3 pieces)

 

Mini Box (20 pieces)

 

Mini Half-Box (10 pieces)

Mini Mini-Box (3 pieces) 

This year's KKDJ Halloween selection will include a new skull donut alongside the ever-popular Jack. In addition, in the lead up to Halloween, Jack and the Skull's expressions will become increasingly scarier between the 25 and 31st! Don't miss out on these ever-changing designs.

 

First in the lineup is the 'Halloween Jack Caramel & Custard,' a pumpkin and caramel flavored Jack-o-Lantern which returns every Halloween. The 'Blood Strawberry Skull,' released this year, featured a monster with a milky white chocolate face, with sweet white and bitter dark chocolate eyes. In addition, you can order 'Halloween Sprinkles' for a colorful Halloween aesthetic, and 'Spider Chocolate Custard" which will turn your custard into a spider web shape!

 

The 'Halloween Dozen' and 'Halloween Half-Dozen,' which feature four types of Halloween donut, and the famous 'Original Glazed®' will be served in limited edition Halloween themed boxes for the season. The 'Mini-box' donuts have even transformed into tiny monsters! Be sure to check out these colorful and exciting new sweets.

Information

KRISPY KREME SKREMES!

Availability: October 1 ~ October 31 2021

Participating Stores: KRISPY KREME DONUTS Stores Nationwide 

Official Site: https://krispykreme.jp/ 

Museum-Hotel Gajoen Tokyo Releases Seven Artistic Christmas Cakes

Museum-Hotel Gajoen Tokyo will be opening pre-orders for their Patisserie 'Shiori Kyou 1928' 2021 Christmas cake selection between October 1 and December 17.

The theme for this year's Christmas cakes is "Art Temptation," with seven unique, artistic cakes to choose from. The hotel is full of Japanese beauty and artistry, while the cake line-up features gorgeous cultural motifs and traditional crafts. 

Tamatebako *Limited to 10 cakes




First Layer

Second Layer

A shortcake with strawberries from Kayama Farm.

Pralines & Pistachio

Cassis & Fig

Coffee & Tonka

Fromage & Cru

Stollen

This year's lineup, of course, features the standard seasonal products; First is the Tamate Box, a two-tiered box made of chocolate, filled with cakes, gateaux, pound cake, and more. The Kayama Farm Strawberry Shortcake is their most popular product and is covered in high quality brand strawberries. The Stollen, with its spicy accents, is perfect for adults.

Alongside them is a selection of four new products; The Praline & Pistachio cake, which is covered in poinsettia and pine-shaped chocolate, and the Cassis & Fig is formed of four delicate, paper-cutting inspired layers. The Coffee & Tonka has a mature, bitter flavor and is topped with a Christmas tree, while the Fromage & Cru is made of a refreshing combination of cheese and apples.

Enjoy a precious moment that can be enjoyed by both adults and children with these beautiful and artistic cakes!

Information

PATISSERIE 'Shiori Kyou 1928″ Christmas Cakes

Reservation Period: October 1 ~ December 17 2021

Delivery Period: December 22 ~ December 25 2021

Reservation Phone Number: 03-5434-5230 (11:00-20:00)

Online Reservations・Official Site: https://www.hotelgajoen-tokyo.com/lien/xmas 

 

Hotel W Osaka x PIERRE HERMÉ PARIS Unveil Limited Halloween Dessert Menu

Opening in March 2021, Japan's first luxury lifestyle Hotel W Osaka works with PIERRE HERMÉ PARIS to produce the 'MIXup' Art & Pastry Bar, which has unveiled a new Halloween themed dessert course and  à la carte cake, available from September 15.

Pumpkin & Choux Cream / Ghost Montblanc / Frankenstein Cheesecake

Rock'n'Roll

Osaka is said to be the birthplace of Japanese cuisine, and in a similar vein,  this unique  'MIXup' dessert course serves 'CHEEKY' sweets which are finished one-by-one in front of the customer. The counter-style serving has proven popular since it began in May of this year, known for the playful presentation and customer participation.

This Autumn, the menu has been transformed into the 'TRICKY CHEEKY HALLOWEEN' course, with eight playful new desserts available to try. The desserts feature well-known Halloween monsters, and incorporate the taste of Autumn with pumpkin, chestnut, and pear, among other seasonal flavors.

The take-out Halloween sweets lineup includes a matcha and red bean Frankenstein Cheesecake, a spooky Ghost Montblanc, jack-o-lantern shaped Pumpkin Choux Creams, and more. A limited Halloween variation of the bar's iconic rose and raspberry Rock'n'Roll cake is also available! The recipe and baking techniques are based on the methods of PIERRE HERMÉ PARIS, with arrangements by The W Osaka.

Try out some scarily tasty sweets this Halloween with The W Osaka and PIERRE HERMÉ PARIS!

Famous Oil Blotting Paper Brand's Yojiya Café Reforms Three Popular Parfait Flavors

The Yojiya Café, opened by the Yojiya brand famous for its Aburatorigami, or facial oil blotting paper, will be renewing its menu from September 13. The popular face parfait, which features the logo alongside a Kyoto woman with a mole, comes in three flavors available – Kinako, Matcha, and Milk Tea. Each parfait comes with a sauce, so you can adjust the taste as you eat.

 

Kinako Parfait: ¥1,200 (Tax Incl.)

Matcha Parfait: ¥1,200 (Tax Incl.)

Milk Tea Parfait: ¥1,200 (Tax Incl.)

The Yojiya Café is currently open in two locations, Gion and Sagano Arashiyama, offering a relaxing space to rest between shopping and sightseeing.

The café has renewed their iconic Kinako Parfait, which combines Japanese Kinako and Western Maple Syrup, along with the Matcha Parfait, which is packed full of matcha ice cream, jelly, and cookies. The Milk Tea Parfait is made with a rich Japanese Tea and Earl Gray ice cream.

Take a trip to Yojiya and find out which parfait is your favorite!

Information

Yojiya Café – Parfait Renewal

Release Date: 14 September 2021

Availability:

Yojiya Café Gion

Address: Izawa Building 2F, 266 Gionmachi Kitagawa, Higashiyama-ku, Kyoto

Opening Hours:

Weekdays 11:00 ~ 17:00 (LO16:30)

Weekends/Holidays: 10:00 ~ 18:00 (LO17:30)

YOJIYA CAFE Sagano Arashiyama

Opening Hours:

Weekdays 11:00 ~ 17:00 (LO16:30)

Weekends/Holidays: 10:00 ~ 18:00 (LO17:30)

Address: 2 Tateishicho, Sagatenryuji, Ukyo-Ku, Kyoto

Official Site: https://www.yojiya.co.jp/

Wildly In-Demand Neko Neko Tiramisu Returns in Limited Quantities

Neko Neko Cheesecake, a sweets shop specializing in cat-shaped treats, is adding the massively popular Neko Neko Tiramisu back to the menu for a limited time only, from September 10 until September 30, 2021.

※Until supplies last. 


Originally sold as a limited-edition release for Father's Day, 800 of these cat-shaped treats sold out instantly. Brought back as a result of constant consumer requests, the Tiramisu will only be available in very limited quantities.

The Neko Neko Tiramisu is filled with soft sponge cake soaked with coffee syrup, with a layer of mascarpone cheese mousse layered on top. Finished with cocoa and coffee powder, it's the perfect mix of bittersweet and rich flavors.

The Tiramisu will also be available at the online store All Hearts Mall, making it easy to send to friends and family. As the pandemic continues to keep people apart, this adorable sweet is a great way to surprise loved ones far away.

What do you think about this Neko Neko Tiramisu? It might be too cute to eat.

Healing 'Panda' Sweets Available at Gelato Pique Café for a Limited Time

A selection of healing monotone panda sweets will be available at the Gelato Pique Café between September 6 and September 25. The collection is titled "everyday PANDA! ~Sweets Time with Pandas~."

Menu


Panda Crepe

Panda Gelato

Panda Float

Goods

Gelato Pique Café Original Panda Glass/Mug
Available from September 6


Gelato Pique Panda Motif Eco Bag / Panda Motif Hand Towel
Online reservations open September 2, available instore from September 8


In 2021, the Gelato Pique Café announced two rounds of animal themed sweets, proving hugely popular on social media. For Easter they released "Bunny Sweets" with rabbit ears motifs, while a series of "Polar Bear Sweets" was released during the Summer. Now, a selection of "Panda Sweets" is the latest to join the animal collection. 

 

The chocolate and banana Panda Crepe is filled with a healing ganache and banana,  while the Panda Gelato has cocoa biscuits studded around the pandas neck, along with rounded eyes and ears. The "healing monotone" Panda Float combines the Gelato Pique Café's original Guatemalan coffee blend with Royal Blue Bourbon.

 

Along with this "everyday PANDA!" Fair, we have a large lineup of panda goods that will make you happy just by having them.  Goods that are perfect for presents, souvenirs, and rewards for yourself can be purchased at each gelato pique cafe store and EC site, so please look forward to that too!

There is a huge lineup of panda goods that will brighten your day releasing alongside the "everyday PANDA" fair, which make perfect gifts for friends – or yourself! You can view the goods lineup in store and on the Gelato Pique website.

Kaori's Easy Recipe: Learn to Make Miffy Parfait Using Tofu!

With just a small bit of ingenuity, turn everyday food into something cute using Kaori's Easy Recipe! With a few simple ideas, an ordinary recipe magically transforms into a cute dish.

In this recipe, I'll show you how to make an adorable Miffy Parfait using tofu shiratama!

Tofu shiratama can be frozen without hardening, so it's great to use for cooking as well as making sweets.

Ingredients

250g refined rice flour

300g silken tofu

✩ This is about 1 bag of refined rice flour and 1 piece of silken tofu.

Canned fruit or fruit of your choice

①

Put the refined rice flour and silken tofu into a bowl and mix well.

⚠️ Do not drain the tofu!

Don't add water, just these two ingredients.

✩I knead all ingredients and then freeze it.

Feel free to freeze it as dough, or boil it first.

You can put them in Tupperware and store them in water in the refrigerator for a day or two. Don't worry, they won't harden!

②

Add the coloring.

Take a little bit of food coloring and add as you like.

Here, I'm adding the yellow that will be the center of the flower.

③

After mixing the dough, place it on parchment paper and put it in the freezer for about 30 minutes.

You can shape it before placing it in the freezer, but chilling it will make it easier to work with.

④

Cut out Miffy and her flowers.

Place the yellow-colored piece into the middle of the flower.

Roll the rest of the shiratama into balls.

⑤

Boil the shaped shiratama while on the baking sheet.

Boil the round shiratama as well. When they float to the top, place them in cool water.

⑥

Place the shaped shiratama on parchment paper or plastic wrap and let dry briefly before adding decoration.

⑦

Mix black cocoa with a little water, and using the mixture, draw Miffy's face.

⑧

Place the flowers and shiratama balls inside the glass, follow up with your favorite fruits!

(If using canned fruit, feel free to add the syrup as well!)

I hope you enjoy decorating this colorful dish!

Kaori Kubota(@kaopan27)

I live in Hokkaido and I love to make character themed foods, desserts and pastries♡

I want to see my family smile, so I enjoy putting in a bit of effort to make character foods and changing food into something cute♡

You can see more of my character foods and character bento boxes on my Instagram page → @kaopan72

SEGA Taiyaki Ikebukuro, Akihabara Stores Reveal Second Collaboration with Chiikawa

GENDA SEGA Entertainment's SEGA Taiyaki Ikebukuro and Akihabara stores have announced a second Chiikawa collaboration, the 'ChiiKawayaki' Taiyaki.  The series will feature a Bunny and ChiiKawa design, in addition to the reversible Tuxedo design from the first collaboration. Customers who purchase any of the 'ChiiKawayaki' products will receive a free collaboration badge! (※Random design)

 

ChiiKawayaki

Front: Bunny

Back: ChiiKawa

ChiiKawayaki: Premium Cream or Chocolate:¥600 each (Tax Incl.)

※Shown images are samples.

Novelties

Original Can Badge 2nd Series: 6 Designs (Random)

※Limited in quantity.

※Shown images are samples and may differ from the final product.

ChiiKawa is a popular manga that is serialized on Twitter by illustrator NAGANO. The comic depicts the daily life of the ChiiKawa's and has become known for its soft artwork, heartwarming story, and occasionally, some contrasting darkness.

SEGA Taiyaki stocks popular food products from the Taiyaki brand Yokohama Kuriko-An, which has 31 stores throughout the Kanto region. They also collaborate with games and characters to produce Collaboration Taiyaki.

The second ChiiKawayaki collaboration will satisfy both your eyes and your stomach!

©nagano

Baumkuchen Specialty Shop Katanukiya Offers Limited-Edition Panda Cake at New Location

On September 1, Baumkuchen specialty shop Katanukia opened its second location on the second floor of Tokyo Solamachi, beneath Tokyo Skytree. These traditionally German cakes are extremely popular in Japan, and using a cookie cutter can transform them into works of art! To commemorate the new shop, the Tokyo Solamachi location will sell a limited-edition Panda Baumkuchen that is almost too cute to eat.

Panda Baumkuchen

Starry Sky Panda Baumkuchen: ¥594 (Tax Included)


 

Starry Sky Panda Baumkuchen & Drawstring Bag Set: ¥1,815 (Tax Included)

The special Starry Sky Panda Baumkuchen is made from soft, moist cake, and depicts an adorable panda character ready to gaze at the night sky from Tokyo Skytree, the tallest tower in the world. Children and adults alike will enjoy its gentle milk flavoring.

The Starry Sky Panda Baumkuchen & Drawstring Bag Set includes the signature Baumkuchen, the Starry Sky Panda Baumkuchen, Panda shortbread, and an adorable bag. There will only be 100 of these sets available, so grab one before they're gone!

Is Baumkuchen popular in your country? How would you like to try these cute sweets in Tokyo?

The Westin Tokyo Hotel to Offer Premium Autumn Parfaits for Limited Time

Three delicious desserts are coming to The Westin Tokyo for a limited time! Beginning October 1, visitors to the hotel can enjoy a collection of premium parfaits filled with seasonal ingredients and western liquors unique to the executive bar, simply named The Bar. These will be available until November 28, on Friday, Saturday, Sunday and holiday nights only.

Chocolate Parfait with Figs and Red Berries

Chestnut and Apple Parfait

Chestnut and Hazelnut Mont Blanc Parfait

The chocolate parfait includes whole figs and bright red berries, and is finished with rich port. Calvados was added to the Chestnut and Apple Parfait, allowing guests to enjoy a refreshing combination of nuts, fruits, and mascarpone. The Mont Blanc Parfait includes a fragrant rum from Martinique, and has a richer dessert flavor.

The executive pastry chef carefully layers each parfait by hand, and these unique treats combining flavors of both east and west can only be found at The Westin Tokyo!

Information

Premium Autumn Parfait

Available: October 1 – November 28, 2021 (Only available Friday, Saturday, Sunday & Holidays)

Hours: 16:30-20:00

Price: ¥3,000 each (Tax and Service Charge Included)

Location: Executive Bar "The Bar" (1F)

Reservations: 03-5423-7285

Official Site:www.westin.com

New Halloween Sweets Collection Arrives at Tokyo's Q-pot CAFE.

Halloween is arriving early at Omotesando's popular Q-pot CAFE. A collection of sweet, scary, grotesquely-adorable sweets are now available for a limited time. Each cake set and macaron set are made to order.

Q-pot CAFE. Three Cake Set: ¥2,030 (Tax Included)

This collection of three unique cakes includes the stomach-turning brain cake, and the much more palatable eye-patch ghost cake. Guests can also enjoy the popular cookie tiramisu.

Halloween Limited Edition ~Eye-Patch Ghost Cake~

As you dig into this fluffy dessert, enjoy the flavor of chopped almonds and feuillantine, wrapped in gyuhi, a type of Japanese traditional confectionery. The pistachio and berry sauce blends into the vanilla mousse, and is sure to appeal to any fan of sweets.

Halloween Limited Edition ~Brain Cake~

This frightening dessert is made with strawberry and other red berry jellies, milk mousse, Genoise, and savory almonds. Dissecting it won't be easy, but the taste is well worth it.

~Cookie Tiramisu~

Mascarpone mousse with chocolate sponge dipped in espresso, topped with bittersweet coffee-flavored ganache cream with caramelized hazelnuts…what more could you want?

Q-pot CAFE. Halloween Macaron Set (3 pumpkin/3 apple cinnamon): ¥2,430 (Tax Included) *Also available at the cafe individually for ¥360 (Tax Included)

Jack-o-Lantern macaroons and spooky eyeball macaroons are available for takeout for a limited time only! Order at the cafe, the online shop, or through Uber Eats.

~Jack-o-Lantern Macaroon~

Full of the rich, sweet taste of pumpkin, these will put you in the mood for the Halloween season.

~Eyeball Macaron~

These scary snacks are filled with apple jelly, cinnamon, and spicy ganache cream.

Do these sweets put you in the Halloween spirit?

Spooky and Super-cute Halloween Treats Coming to Mister Donut

Japanese donut shop Mister Donut is bringing back its popular Ouchi de MISDO HALLOWEEN event starting on September 3, featuring five spooky sweets.

Black Choco Cat

Fluffy Mummy

Floating Ghost

Pink Frankenstein

Pon de Chocolate Devil

MISDO HALLOWEEN Party Set

This year's theme is 'cute ghosts coming to visit you for Halloween!' Rather than aiming for scares, these sweets are intended to make guests smile as they envision themselves playing with ghostly guests. These donuts are perfect for eating at home with friends and family.

The lineup includes some new designs, like the Fluffy Mummy, made with strawberry, chocolate, and whipped cream designed to look like bandages. There are 10 different eye designs, so customers never know which expression these characters will make when the box is opened!

As the COVID-19 pandemic continues, the takeout-only MISDO HALLOWEEN Party Set was created to allow parents and children to enjoy Halloween festivities at home. The set includes a bag and sun visor with an original Pon de Lion Halloween design!

Which donut are you dying to try?

Information

Ouchi de MISDO HALLOWEEN

Running: September 3 until sold out

Where to Buy: Most Mister Donuts shops nationwide

Official Site: https://www.misterdonut.jp