Cherry Blossom Loungewear Collection by gelato pique Arrives in Time For Spring
Japanese luxury loungewear brand gelato pique is readying itself for spring with its new pink cherry blossom-inspired 'SAKURA COLLECTION,' set to release at gelato pique stores and its online store on March 19.
The Line-Up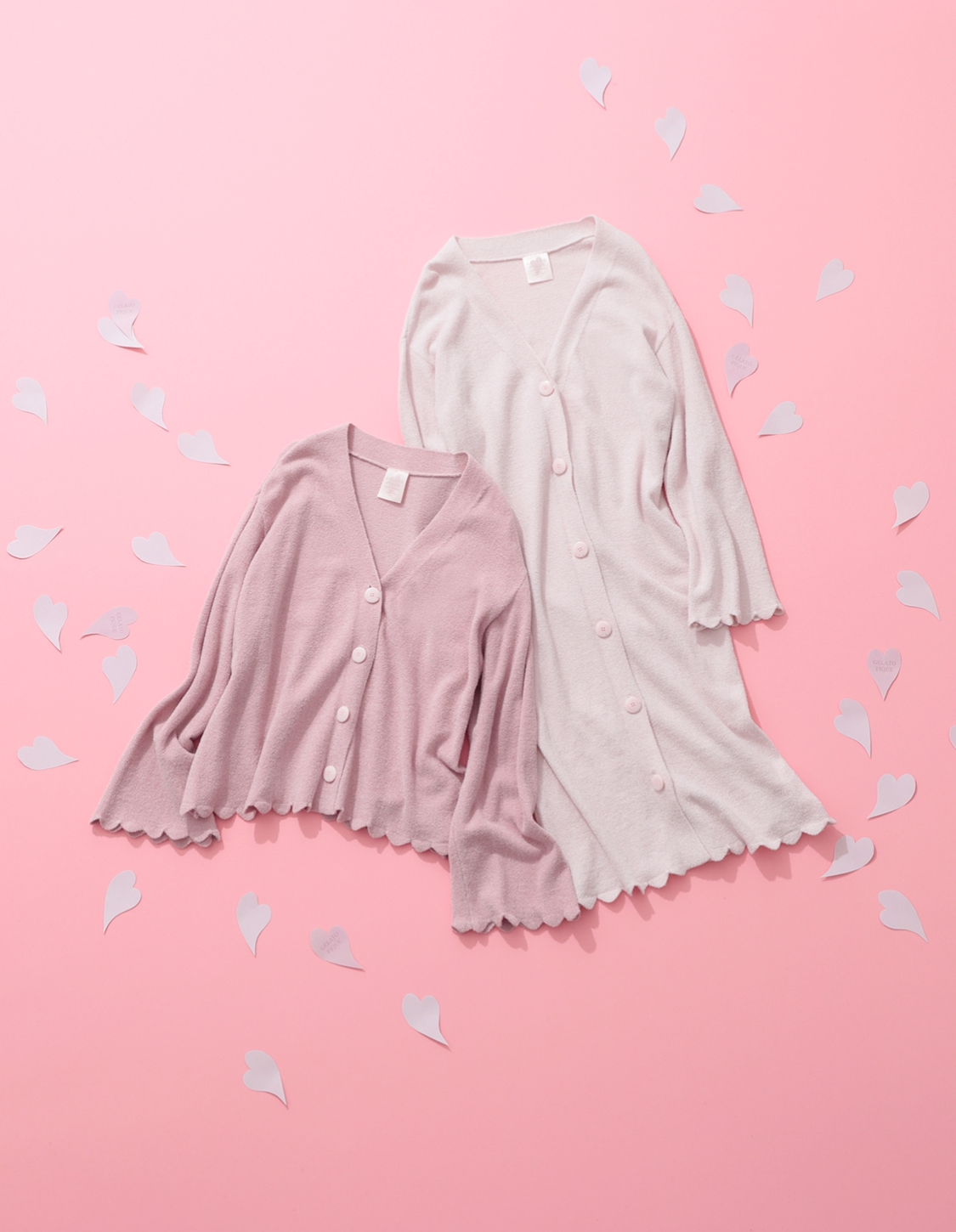 'Smoothie Light' Scallop Cardigan ¥6,820 (Tax Included) / 'Smoothie Light' Scallop Long Cardigan ¥7,480 (Tax Included)'
The 'Smoothie' cardigans are made of light material that's smooth to the touch and come in cute designs.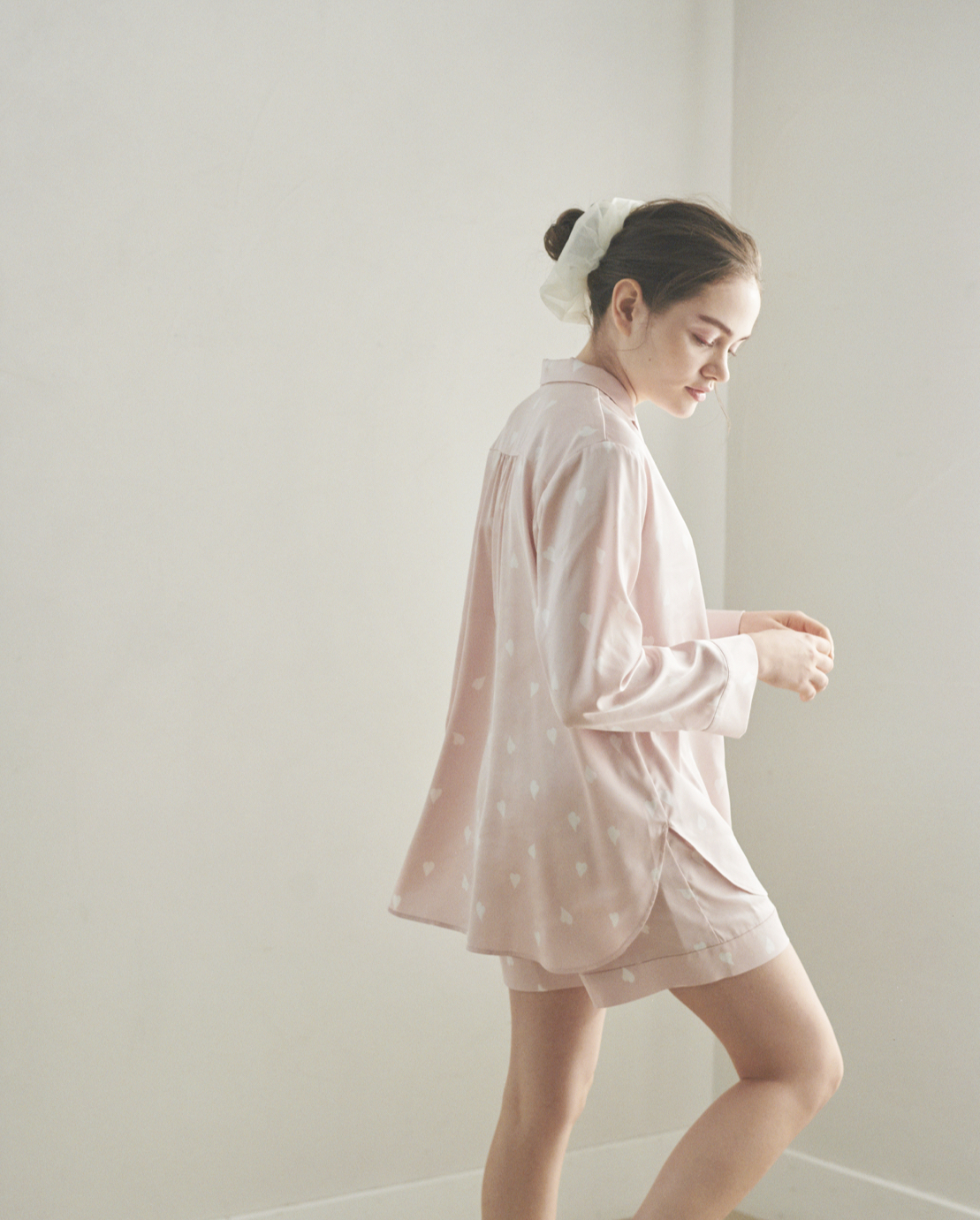 Petal Motif Satin Shirt ¥6,820 (Tax Included) / Petal Motif Satin Short Pants ¥4,620 (Tax Included)
Pink satin loungewear adorned with gorgeous petals.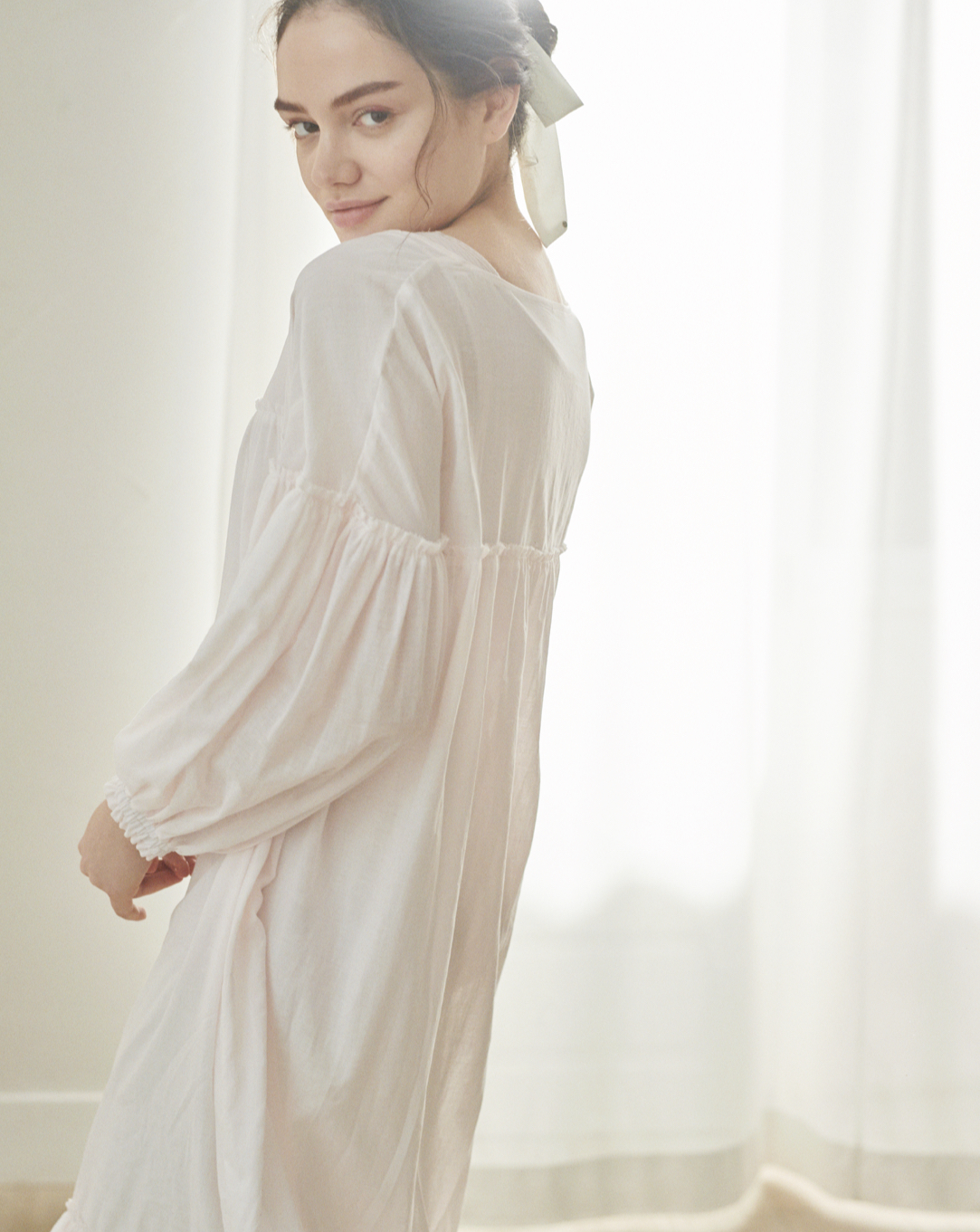 Tiered Dress ¥8,140 (Tax Included)
An airy cotton dress with a beautiful feminine silhouette.
Organdy Eco Bag ¥2,640 (Tax Included) / Mask Pouch ¥2,420 (Tax Included) / Mesh Mini Pouch ¥2,640 (Tax Included) / Mesh Pouch ¥2,640 (Tax Included) / Mesh Vanity Pouch ¥3,520 (Tax Included)
Sort your cosmetics and bits 'n' bobs with this heart-filled collection of pouches, and store your face mask away safely with the mask pouch.
Hair Mist ¥1,870 (Tax Included) / Hand Soap ¥1,034 (Tax Included)
gelato pique's popular hair mist and hand soap arrive in spring season limited-edition packaging.
RELATED ENTRIES
gelato pique Releases Chip 'n Dale Bedding Collection

Chip 'n Dale will appear in a new bedding collection from the roomwear brand gelato pique! As part of the gelato pique Sleep collection, the adorable chipmunks will appear on a number of new products inspired by the theme of 'getting ready for bed.' Fans of the characters won't want to miss the body pillow, nightcap, pillowcase, and other products sure to liven up your bedroom and sleep routine!

Merch Lineup

Chip 'n Dale / 3-piece Set (Single)

Chip 'n Dale Jacquard Cover

Chip 'n Dale Jacquard Pillowcase

Chip 'n Dale Nightcap

Chip 'n Dale Body Pillow

 

The products will go on sale on the official site and online department store USAGI ONLINE starting on September 20, 2022 at 12:00 PM. They will also be available to purchase in select stores starting October 14.

GELATO PIQUE HOMME Limited Concept Store Opens at Hankyu Men's Tokyo for Father's Day

Men's roomwear brand GELATO PIQUE HOMME will open a limited-time concept store at Hankyu Men's Tokyo from June 15 until June 21, 2022. 

The store will offer a wide variety of items, including light and comfortable loungewear perfect for summer and unisex items perfect for partners. In addition, GELATO PIQUE x BE@RBRICK collaboration items will also be available for purchase. 

Popular around the world, Medicom's BE@RBRICK figure can now be purchased in full Gelato Pique loungewear, with customers able to choose between 400% and 1,000% sizes. Shoes are also available for each figure.

The summer collection includes soft and lightweight items perfect for the heat, including sweatshirts, long pants, and ultra-thin shirts.

Hand soap and face wash will also be available. Gelato Pique Homme's original citrus mint blend is made with bergamot and patchouli essential oils sourced from France.

Come pick up some of these items, perfect for Father's Day!

Information

GELATO PIQUE HOMME LIMITED CONCEPT STORE
Running: June 15 – June 21, 2022
Address: Hankyu Mens Tokyo Main Base, 1F (2-5-1 Yurakucho, Chiyoda-ku, Tokyo)
Hours: 11:00-20:00
*Business days and hours are subject to change.

GELATO PIQUE HOMME Official Site: https://gelatopique-homme.com/

Gelato Pique Announces Collaboration with Twin Pandas Xiao Xiao and Lei Lei

The Japanese loungewear brand gelato pique has launched a new series inspired by the twin pandas Xiao Xiao and Lei Lei living at Ueno Zoo! The adorable new items went on sale on May 12, 2022. 

The Ueno Zoo is the oldest zoo in Japan. Located in Taito-ku, it was first opened in March 1882.

To commemorate Xiao Xiao and Lei Lei's first birthday, gelato pique has created an incredible collection of loungewear and sundries. A portion of the proceeds will be given to the Giant Panda Conservation Support Fund to support education regarding pandas and conservation activities at the zoo.

Xiao Xiao & Lei Lei Collaboration

Roomwear Set

Panda Blanket

Panda Multi-use Cover

gelato pique Original Panda Series

Panda Hoodie & Shorts Set

Panda Print T-Shirt / Shorts / Dress

Panda Glass

Small Panda Reuseable Bag

Online Exclusives

3-piece Panda Set

gelato pique Sleep

3-piece Panda Print Bed Set (Single) / Pillow Case with Panda Ears / Panda Nightcap / Panda Rug

The Panda Series celebrates both the cute twin pandas at Ueno Zoo and all other pandas around the world. Still an endangered species, gelato pique wants to help these big animals however they can. The new collection's theme is "happy time at home."

Panda lovers shouldn't miss grabbing something cozy from this new collection!

NIJISANJI EN to Offer Spring Goods at EN Store and NIJISANJI Store

English VTuber group NIJISANJI EN will appear in a collection of spring goods! The Sakura Bloom Goods & Voice 2022 lineup will be available to purchase at the NIJISANJI EN Official Store on April 22 and at the NIJISANJI Official Store on April 27, 2022.

This collection will see the first items inspired by the male VTuber unit Noctyx. In addition, fans can grab goods featuring new illustrations featuring members of Luxiem and Elira Pendora, Selen Tatsuki, and Nina Kosaka.

Sakura Bloom Goods 2022

Clear Folder (Set of 3)

Acrylic Keychain

Pin (Random)

Sakura Bloom Voice 2022

The new lineup includes a clear file set, acrylic keychains, and pins, all completely made to order. 

For Sakura Bloom Voice 2022, 19 NIJISANJI members will participate to bring fans a relaxed spring chat, making it feel as if you were out enjoying the weather with some of your favorite VTubers. Each voice product also includes a special smartphone wallpaper!

Sakura Bloom Voice 2022 Participants


Pomu Rainpuff, Elira Pendora, Finana Ryugu, Selen Tatsuki, Rosemi Lovelock, Petra Gurin, Reimu Endou, Nina Kosaka, Enna Alouette, Ike Eveland, Luca Kaneshiro, Mysta Rias, Shu Yamino, Vox Akuma, Yugo Asuma, Sonny Brisko, Fulgur Ovid, Alban Knox, Uki Violeta


*Sakura Bloom Voice 2022 may be made available again in the future.

Kyo Hayashiya and Hayashiya Shinbei Offering Special Parfaits Perfect for Spring

Hibiya Hayashiya Shinbei in Tokyo Midtown Hibiya is now offering a scrumptious Strawberry Matcha Parfait until April 24, 2022! If that's not up your alley, four Kyo Hayashiya locations in Shinjuku, Omiya, Yokohama, and Ikebukuro will begin offering a Matcha and Berry Mascarpone Parfait from April 1 until May 8, 2022. 

Strawberry Matcha Parfait


The Strawberry Matcha Parfait is an eye-catching mix of green and pink, reminiscent of cherry blossoms and bright green grass. Green tea blends with rose jelly and lychee sorbet, offering a refreshing taste with a hint of bitterness. The sweet accent of crunchy chocolate feuillantine gives each bite a little kick.

Matcha and Berry Mascarpone Parfait


The Matcha and Berry Mascarpone Parfait mixes the deep, bitter taste of Uji matcha, the sweet and sour taste of berries, and the gentle sweetness of mascarpone cream. The berry sauce is blended with crunchy chocolate feuillantine, a layer of whipped cream, green tea jelly, green tea ice cream, and milk panna cotta. To finish, it's garnished with refreshing raspberry sorbet, bittersweet matcha ice cream, and fresh strawberries.

Information

Strawberry Matcha Parfait

Price: ¥1,650 (Tax Included) / with Tea: ¥2,090 (Tax Included)

Available: March 18 – April 24, 2022

Available at Hibiya Hayashiya Shinbei (Tokyo Midtown Hibiya 2F)

Matcha and Berry Mascarpone Parfait

Price: ¥1,430 (Tax Included) / with Tea: ¥1,870 (Tax Included)

Available: April 1 – May 8, 2022

*Available until April 30 at the SOGO Yokohama location.

Available at the following 4 Kyo Hayashiya locations. 

・Takashimaya Times Square (Shinjuku Takashimaya Times Square Main Building 2F)

・Seibu Ikebukuro (Seibu Ikebukuro Main Building 8F)

・SOGO Omiya (SOGO Omiya Main Building 9F) 

・SOGO Yokohama (SOGO Yokohama 10F)

Limited Edition Easter Bunny Sweets Available at gelato pique café

From March 25 until April 27, gelato pique café locations around Japan will be celebrating Easter with three special Easter Bunny-themed sweets.

Easter Bunny Crepe

Easter Bunny Gelato

Easter Bunny Float

Last year, gelato pique café released an Easter Bunny soft-serve ice cream dish which was incredibly popular. In 2022, the brand has decided to release three unique treats under the theme of 'Happy Bunny Hunt.' Those with a sweet tooth can snag a crepe, gelato, or float during the event period, all decorated with white and pink shades perfect for spring. 

Information

Happy Bunny Hunt

Running: March 25 – April 27, 2022
Location: All gelato pique cafe locations

Official Site: https://pique-cafe.com/

Cherry Blossom Menu Appears at Cafe Accueil Ebisu for a Limited Time

Cafe Accueil Ebisu is currently offering a limited Sakura-themed menu featuring pancakes, afternoon tea, and drinks until April 10, 2022.

Sakura & Strawberry Pancakes

Sakura Afternoon Tea

Special Latte with Cherry Blossoms

The seasonal menu includes Sakura & Strawberry Pancakes with pale pink and strawberry red accents, and savory items such as a croissant with cherry cheese cream. Guests can also enjoy Sakura Afternoon Tea, a colorful 12-item menu featuring cherry and strawberry delights. Come enjoy the coming of spring at this gorgeous Tokyo cafe!

Information

Cafe Accueil Ebisu Sakura Season Special Menu

Available until April 10, 2022

Address: 2-10-10 Ebisunishi, Shibuya-ku, Tokyo

Hours: 11:00-22:00 (Last Order at 21:00)

Official Site: http://accueil.co.jp/ebisu/

Wakayama's Adventure World Opens Spring 'Picnic with Animals' Event

Adventure World, located in Shirahama, Wakayama Prefecture, has opened its 2022 Spring Festival until April 10, 2022. The event includes a limited-time picnic menu inspired by adorable animals, with desserts made using fresh local fruits. 

Picnic Offerings


Kannonyama Fruits Garden Collaboration Menu

Adventure World Original Menu

Information

2022 Spring Festival

Running: March 19 – April 10, 2022

Address: Adventure World, Shirahama, Wakayama

Details: https://aws-spring-fes.com


Gelato Pique Releases Bunny-themed Easter Collection

Roomwear brand gelato pique has released a new Easter collection, complete with a bunny rabbit motif! The Innocent Bunny Collection is now available at participating stores nationwide, as well as the gelato pique online store.

Fluffy Bunny Series

Bunny Series Goods

Easter Satin Series

"The soft fur makes it feel like you're holding a rabbit in your arms!" 

A full lineup of roomwear and other items are available, including slippers, eye masks, makeup pouches, and plushies. Celebrate the spring season with these soft and adorable items!


NAKED's Popular Sakura Artwork Transformed into Company's First NFT

The NFT platform 'Adam by GMO' will offer the creative company NAKED's first piece of NFT art. Sakura Ousai has been featured in the hands-on art exhibition NAKED FLOWERS held in Nihonbashi, Nijo Castle, Hong Kong, and Korea. The NFT will be available in late March and a portion of the proceeds will be donated to support Ukraine.

Since its establishment in 1997, NAKED has constantly produced incredibly unique art installations to fit with the times. Starting with the projection mapping of Tokyo Station in 2012, the company has created unprecedented art and entertainment experiences by combining real space with virtual experiences. The current theme is 'borderless creativity,' and creating NFT art fits into this vision.


NAKED FLOWERS, one of NAKED's signature events, has been held since the New Year 2016. The NAKED FLOWERS experience has now been converted into a piece of NFT art for the first time, and buyers can enjoy these cherry blossoms no matter their location!

NAKED Sakura Pilgrimage Event Comes to Kanda Myojin Shrine in Tokyo

People flock to Kanda Myojin to pray for good luck at the start of the new financial year, surrounded by beautiful pink blooms. The shrine offers beautiful sights during the day, and this year, it's collaborating with digital art collective NAKED to host a beautiful light-up event every evening from March 26 until April 10, 2022.

Kanda Myojin is a hidden cherry blossom viewing spot in Tokyo. This spring-only event is held in the hope that people will pray at Kanda Myojin, one of the most popular power spots in Tokyo, for a great start to the new year.



Guests will be able to see cherry blossom trees lit up in iridescent lights with pink petals projected on the ground. Some of the digital sakura are interactive and change shape and color when you're nearby. Digital art is even incorporated at the hand sanitizing station, where you'll see vivid pink sakura projected onto your palms. Visitors will also be handed a special Naked Distance Lantern, which naturally creates distance between others as you hold it up.

Information

NAKED Sakura Pilgimage

Location: Kanda Myojin Shrine
Running: March 26 – April 10, 2022
Hours: 18:00-20:30
Admission: Free

Official Site: https://myoujin-sakura.com/

Lake Biwa Canal's Cherry Blossoms to Come to Life During Spring Illumination 2022 Event

Lake Biwa Canal, one of the best places to see cherry blossoms in Shiga, will be completely illuminated each night from March 25 until April 10! The nearby Onjo-ji Temple will also be lit up during the duration of the event.

Lake Biwa, Otsu Spring Illumination – Cherry Blossoms on the Lake Biwa Canal

The Lake Biwa Canal carries water from the biggest lake in Japan to Kyoto and was built during the Meiji era using the best civil engineering technology of the time. Both sides of the bank are lined with almost 200 cherry trees, making it one of the most beautiful cherry blossom viewing spots with a spectacular view leading to Onjo-ji Temple.

Onjo-ji Spring Illumination 2022

Over 600 lights will be set up around the temple grounds to illuminate the cherry blossoms. The national treasures and designated cultural properties will be completely open to the public for nighttime viewing.


Information

Lake Biwa, Otsu Spring Illumination – Cherry Blossoms on the Lake Biwa Canal

Running: March 25 – April 10 (Dates may change depending on when cherry blossoms bloom)
Hours: 18:00 – 21:30
Location: Lake Biwa Canal
Sponsored by the Lake Biwako Otsu Tourism Association

Onjo-ji Spring Illumination 2022

Running: March 25 – April 10
Hours: 18:00 – 21:30 (Last Entry at 21:00)
Location: Onji-ji Temple
Admission: Adults ¥1,000 / Children ¥500
*Public transportation is recommended due to heavy congestion on surrounding roads during the event period.