Japanese miscellaneous brand L'AMI+ recently released a new collection of its hugely popular 'Scarf Eco Bags' online. The series has sold over 30,000 units and is enjoyed for its handy use being able to be tied up like a scarf. It not only looks stylish, but makes it convenient when out shopping.
Scarf Eco Bag Stripe Series: Ecru/Grey/Red – ¥1,700 Each (Before Tax)
How to Fold
1. Stuff the handles into the bag itself and snap the buttons closed.
2. Fold into a triangle and roll.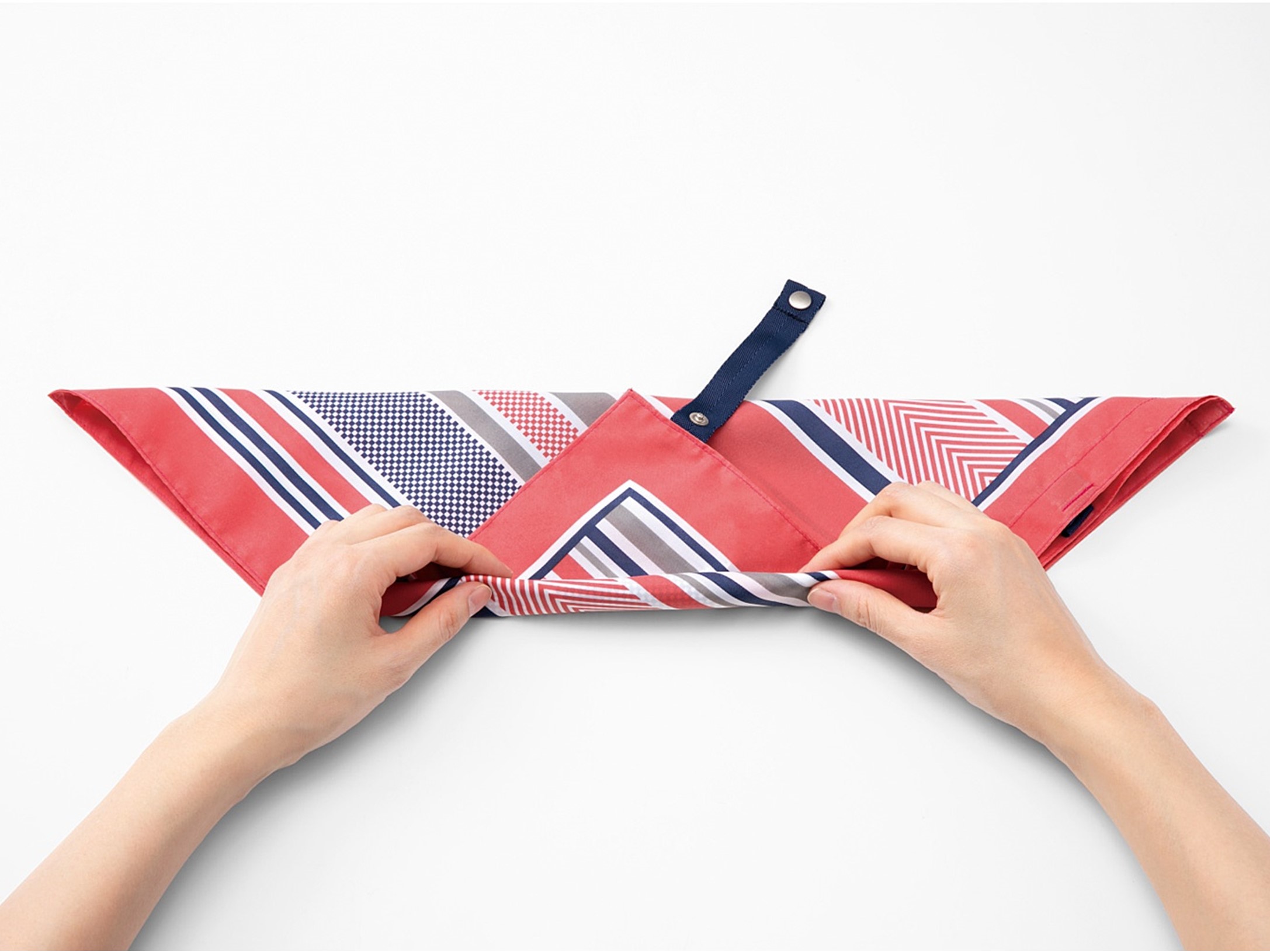 3. Tie around your handbag or rucksack and snap the final button closed to secure.
The new unisex designs feature striped patterns in ecru, grey, and red. They are made from a material that ensures they do not wrinkle so they stay looking fashionable. They are the perfect addition to have if you're someone who goes out and forgets to take a shopping bag – they can conveniently live on your handbag.
RELATED ENTRIES
Stylish Bags and Sneakers Arrive at Camper's Pop-Up Shop in Isetan Shinjuku

Shoe, boots, and sneaker brand Camper opened a pop-up shop at Isetan Shinjuku on Wednesday which is set to run until April 27. The shop is a collaboration with Japanese textile designer Masaru Suzuki who has provided his iconic designs to a collection of bags and sneakers that you can get your hands on. The shop also has a display designed by Suzuki.

Pop-Up Store Line-Up

HOP STEP LIFE | ¥19,800 (Tax Included)

ANIMAL BISCUIT | ¥22,000 (Tax Included)

CHARM POINT | ¥5,500 (Tax Included)

TWINS by MASARU SUZUKI (Women's) | ¥25,300 (Tax Included)

TWINS by MASARU SUZUKI (Men's) | ¥25,300 (Tax Included)

TWINS by MASARU SUZUKI (Kid's) | From ¥12,100 (Tax Included)

Men's Building – "CAMALEON 1975" Pop-Up Store

Men's Building Pop-Up Store Original Novelty

This marks Camper's third long-awaited collaboration with Masaru Suzuki and the first in four years, and this time the series adds shoes to the mix in addition to the popular bags. Suzuki visited Camper's main office in Majorca, Spain, for detailed discussions on the designs.

Suzuki is set to attend the pop-up event on April 17. Customers who spend over ¥5,500 (tax included) on this day will receive a fabric swatch signed by Suzuki. Additionally, the men's building of Isetan Shinjuku is also opening its CAMALEON 1975 pop-up shop once again selling shoes made from recycled materials from Camper. Those who spend over ¥14,300 (tax included) at this shop will receive a free eco-friendly bag made from 100% recycled nylon.

Information

ISETAN x CAMPER Pop-Up Store

Running: April 14, 2021 – April 27, 2021

Where: Isetan Shinjuku

ISETAN x CAMPTER/Masaru Suzuku: Main Building Floors 1F & 2F

CAMALEON 1975: Men's Building Floor B1F
Opening Hours: 10:00-20:00

Official Website: https://www.camper.com/

JIMOTOTE Tote Bag Releases Releases Tokyo Tama Collection

JIMOTO is a company in Japan whose products and concept is designed around returning to your home or a place you love. Their tote bag brand, JIMOTOTE, is now introducing Tama design bags centred on the Tama area of Tokyo on their official website and at shops around Tama on April 16. They will also be sold at a pop-up shop in as well as at Nonowa Kunitachi from April 16 to 18.

JIMOTO stands for jibun ni modoru tokoro, which is Japanese for that concept of returning to your local region – to your roots. The JIMOTOTE brand started in 2015 with bags design around Hokkaido before introducing Kyushu and Shonan. Tama comes as the fourth entry to the series and includes Kunitahci, Tachikawa, Kichijoji, Chofu, and Hachioji.

Harry Potter Design Japanese Randoseru Backpack Released by Q-pot.

Japanese accessory brand Q-pot. has created the world's first 'randoseru' Japanese schoolbag which it released at its stores and online shop on April 1.

Harry Potter x Q-pot. Chocolate Randoseru | ¥110,000 (Tax Included)

Exterior design

Logo closeup

Inside the bag

House logo closeup

Inside pocket

Back and straps

Wand holder

Cover and bag

This backpack is the perfect gift for kids around the world whose sole wish is to one day get into Hogwarts. It's also a great cosplay accessory or to use as your daily backpack. It has that Made-in-Japan quality, with each and every bag being handmade by Japan's expert craftsmen.

Studio Ghibli Fashion Brand Reveals New My Neighbor Totoro Bag Collection

Japanese company Familiar will release a new collection of bags based on the classic Studio Ghibli animated feature film My Neighbor Totoro on March 16 via their online shop. The bags will be released by Studio Ghibli no Ano Fuku ("Those Studio Ghibli Clothes"), a fashion brand created by Ano Fuku and Studio Ghibli.

The two bags feature the iconic movie scene of Mei, Satsuki, Totoro, and the little Totoros sat upon a tree branch.

Denim Bag – ¥19,800 / Sub Bag ¥16,500 (Tax Included)

This is the third and final bag collection to be released in this bag series. The first collection was inspired by the bus stop scene from My Neighbor Totoro as well as Ponyo running along the water in Ponyo. The second collection was the classic scene of Kiki flying over the town with Jiji on her broomstick from Kiki's Delivery Service. Restocks of these two collections are now available too.

1st Collection

Ponyo Denim Bag ¥19,800 / Ponyo Sub Bag ¥16,500 / Totoro Bus Stop Denim Bag ¥19,800 / Totoro Bus Stop Sub Bag ¥16,500 (Tax Included)

 

2nd Collection

Kiki's Delivery Service Denim Bag ¥19,800 / Kiki's Delivery Service Sub Bag ¥16,500 (Tax Included)

KINOKUNIYA x Barbapapa's Second Collaboration Features Cute Bag Collection

The popular French picture book series Barbapapa, which celebrated its 50th anniversary last year, has launched its second collaboration with KINOKUNIYA to release a limited-edition collection of bags at all PLAZA and MINiPLA branches as well as select KINOKUNIYA stores in Japan on March 5.

Barbapapa x KINOKUNIYA Line-Up

Barbapapa x KINOKUNIYA Canvas Tote Bags | ¥2,750 (Tax Included)

PLAZA・MINiPLA Colours / KINOKUNIYA Colours

The adorable bags come in 7 different designs from tote bags to lunch bags. The canvas tote bags in particular are a stylish standout for their casual colouring and design. The tote bags have four pockets on the inside and outside and are a big enough size to fit a 500ml bottle.

Two other collections of the bags will also be released in exclusive PLAZA/MINiPLA and KINOKUNIYA colours, each of which is only available at their respective stores.

©2021 Alice Taylor & Thomas Taylor ALL RIGHTS RESERVED

LeSportsac Reveals My Neighbor Totoro Bag Collection

A new collection of 22 bags inspired by Studio Ghibli's beloved animated feature film My Neighbor Totoro will be released on the animation studio's character merchandise website Sora no Ue and their official store Donguri Kyowakoku on March 10.

The collection is made by American handbag brand LeSportsac. The designs are inspired by children's' ability to discover things when they look at something that adults cannot and feature Totoro, Satsuki, Mei, and other familiar faces. The cute bags' vivid colourings capture the magical world of My Neighbor Totoro.

The Line-Up Excerpt

Totoro botanical DELUXE EVERYDAY BAG | ¥17,500 (Before Tax)

Totoro gray EMERALD TOTE | ¥9,000 (Before Tax)

Totoro botanical HARPER BAG | ¥18,000 (Before Tax)

Totoro gray RECTANGULAR COSMETIC | ¥3,200 (Before Tax)

 It wasn′t a dream SQUARE COSMETIC | ¥3,500 (Before Tax)

Yohji Yamamoto x PORTER Limited-Edition Bags Release From Yoshida & Company

To celebrate the 85th anniversary of Japanese bag and accessory manufacturer Yoshida & Company, Yohji Yamamoto and PORTER collaborated to release a special bag collection on Friday (March 5) in limited quantities.

2WAY HELMET BAG (Large) – ¥98,000 (Bef0re Tax) / 2WAY HELMET BAG (Small) – ¥72,000 (Before Tax) / 2WAY SHORT HELMET BAG  ¥83,000 (Before Tax) / 2WAY VANITY POUCH ¥69,000 (Before Tax)

The line-up features stylish bags equipped with unique fasteners that cater both function and design. The bags have a 'thick' and 'heavy' look to them, something that's distinctively Yohji Yamamoto.

Black is used as the main colour, one that is symbolic of both brands. A deep matte texture is fitted in three layers, while the handles are also a matte black made from steer hide. The removable chain fasteners are a handy addition to let you freely choose their length. Plus, they look super flashy.

Each of the three bags have a removable inside pocket which can be used by itself as a pouch. They are all embroidered with Yohji Yamamoto's signature logo and branded with PORTER's brand tag.

Information

Yohji Yamamoto x PORTER 

Released: March 5, 2021

Where: Yohji Yamamoto Aoyama / Yohji Yamamoto Nagoya PARCO / Yohji Yamamoto Daimaru Kobe

Online Store: https://theshopyohjiyamamoto.jp

Studio Ghibli's Kiki's Delivery Service Bag Serves Free-Flying Broom Witch Vibes

Japanese apparel company Familiar has is releasing a series of limited-edition items in collaboration with Studio Ghibli Anofuku, a fashion brand created by Anofuku and Studio Ghibli in 2018.

Kiki's Delivery Service Sub Bag ¥16,500 | Kiki's Delivery Service Denim Bag ¥19,800 (Prices Include Tax)

The second entries to the series are two bags based on the beloved Studio Ghibli anime film classic Kiki's Delivery Service. The bag designs feature Kiki on her broom with Jiji as they fly over the seaside town of Koriko where the movie is set. It's a direct reference to the same scene in the film itself.

The 1st entries were Ponyo and Totoro denim bags

Ponyo Denim Bag ¥19,800 | Ponyo Sub Bag ¥16,500 | My Neighbor Totoro Bus Stop Denim Bag ¥19,800 | My Neighbor Totoro Bus Stop Denim Sub Bag ¥16,500 (Prices Include Tax)

The first entries to the line-up were a collection of denim bags based on two other Studio Ghibli fan favourites: My Neighbor Totoro and Ponyo. The Ponyo bag is still available at the time this article was written, but the Totoro one is unfortunately sold out.

Information on a third collection is scheduled for release in March, so stay tuned.

Perfectly Pink Sanrio Valentine's Day Collection Heads to Maison de FLEUR

For Maison de FLEUR's annual "PINK MANIA" Valentine's season event, it is teaming up with Sanrio to release a positively-kawaii pink collection of bags at its stores in Japan on February 11. The line-up also made a pre-release on the online shop STRIPE CLUB last week.

PINK MANIA x Sanrio Characters Collection: Azato Melody / Azato My Sweet Piano / Azato Cinnamoroll / Azato Bonbonribbon / Azato Pochacco

PINK MANIA Double Ribbon Tote Bag | ¥5,290 (Before Tax)

PINK MANIA Side Pocket S Tote Bag | ¥5,290 (Before Tax)

PINK MANIA Side Pocket M Tote Bag | ¥5,990 (Before Tax)

PINK MANIA Ribbon Pouch | ¥3,590 (Before Tax)

PINK MANIA Pouch | ¥3,590 (Before Tax)

PINK MANIA Face Mask Case Pouch | ¥3,590 (Before Tax)

Interior design of each bag and pouch

PINK MANIA is an event held by Maison de FLEUR every year around Valentine's Day where select items turn all pink. This year's line-up includes some of the brand's iconic tote bags and pouches as well as some new entries. Familiar faces from Sanrio include My Melody, My Sweet Piano, Bonbonribbon, Pochacco, and Cinnamoroll.

Go pink and kawaii this Valentine's Day with this year's PINK MANIA collection.

Curious George Tote Bag Series Releases in Japan

A new series of tote bags by the Japanese company Marushin has hit Village Vanguard's online shop in Japan. The collection features five designs of the cute character Curious George. Each bag is measured at 34.5cm x 32cm, making them the perfect size for popping out shopping.

Curious George Tote Bag Series

Profile George Tote Bag | ¥1,430

I Wanna Play Tote Bag | ¥1,430

Happy Little Monkey Tote Bag | ¥1,430

Best Day Ever Tote Bag | ¥1,430

George And Friends Tote Bag | ¥1,430

Stylish Pokémon Bags and Accessory Line-Up Revealed by French Luxury Leather Goods Company Longchamp

Longchamp, a French luxury leather goods company which first opened in Paris back in 1948, is collaborating with Pikachu from the Pokémon series on a playful new collection which will be released worldwide on October 14, 2020. Pre-sales of the collection will launch in Japan on October 9, 2020 when it will be released at Longchamp in Omotesando and Ginza, as well as online.

LE PLIAGE® Collection

See Longchamp's iconic LE PLIAGE® collection turn kawaii with Pikachu designs. The line-up maintains the elegance of the brand while adding a chic touch of Japanese pop culture. The items also feature the Longchamp brand name written in an eye-popping monogram font.

LE PLIAGE® Cuir Pokémon (Limited-Edition Model)

This nylon bag features Pikachu wearing a jockey hat like Longchamp's iconic logo.

LE PLIAGE® Cuir Pokémon

Only 500 of these LE PLIAGE® Cuir Pokémon bags will be sold worldwide, each with its own unique serial number. The bags also have a Pikachu hidden on the back, and the strap too features a special logo.

"Our Le Pliage bag has become a platform where all the different aspects of Longchamp can be expressed and can also take us to unknown places," explains Sophie Delafontaine, Artistic Director at Maison Longchamp. "We hadn't explored entertainment and gaming before. It's a very inspiring world, particularly with Pokémon and its iconic mascot, Pikachu. Our two worlds, real and virtual, blend perfectly in this collaboration."

Pokémon GO players will also be able to get their hands on a Longchamp bag on the game's store to fashion up their avatars.

©2020 Pokémon. ©1995-2020 Nintendo/Creatures Inc./GAME FREAKinc.TM, ®, and character names are trademarks of Nintendo.

Information

Longchamp x Pokémon
Japan Pre-Sales: October 9, 2020 (Longchamp Omotesando/Longchamp Ginza/Online Store)

Worldwide Release: October 14, 2020

Official Website (Japan): https://www.longchamp.com/jp/ja/

Overseas Randoseru Backpack Brand 'SICOBA' Launched by Seiban

Japanese randoseru manufacturer Seiban celebrated its 100th anniversary in 2019. Looking forward to the next 100 years, the company is looking to expand overseas, and so has launched its first ever overseas brand SICOBA which will develop products for adults. It began selling online to Germany on August 20, 2020.

Since April 2018, Seiban has manufactured and sold randoseru to the Asian market, with a focus on China. While carrying out surveys to expand themselves further overseas, they began planning for sales in Germany, a country where craftsmanship is considered number one, as well as creating long-lasting products. Seiban believed that they shared an affinity with Germany when it came to the quality of created products. Together with their German partners WEVENTURE, they launched the development and sales of randoseru backpacks for adults to be sold in Germany.

The products in the SICOBA range make sure of bag manufacturing techniques that have been cultivated for over 100 years—by a company that boasts a team of randoseru masters. The company plans to expand their products outside of Germany into the whole of Europe in the future.

SICOBA

 
MODEL NO.01 €399(VAT・送料込み)

"Simply Comfortable, Simply The Best." That's the motto behind these bags, which are available in several designs and colours that are simple but of great convenience when it comes to backpacks. The brand name "SICOBA" is portmanteau of the first two letters of the words "Simple Comfortable Backpack." As evident in their design concept, the bags boast comfort, smart design, and high quality craftsmanship and are made with the business setting in mind.

MODEL NO.02 €389(VAT・送料込み)

The line-up of bags is perfect as carry-on luggage on an aeroplane. The bag straps can be adjusted accordingly for the perfect fit, and the straps and cover can in fact be removed. Inside the bag are various compartments for storing necessities.

SICOBA is currently available in Germany and will expand across Europe in the future, so be on the lookout.