Jujutsu Kaisen Limited-Edition Merchandise Collection Releases as Lottery Draw
The Japanese merchandise lottery draw service Kujibikido released a new collection of items based on the TV anime series Jujutsu Kaisen on Thursday (March 18). The collection is called "Jujutsu Kaisen Kuji ~Pop&Pop~" and fans must pay a fixed amount to have a turn at the lottery which will net them one of the possible prizes.
Jujutsu Kaisen Kuji ~Pop&Pop~
The Line-Up
S-Tier Prize: Tapestry (4 Designs)
A-Tier Prize: Acrylic Stand Figure (4 Designs)
B-Tier Prize: Acrylic Key Ring (12 Designs)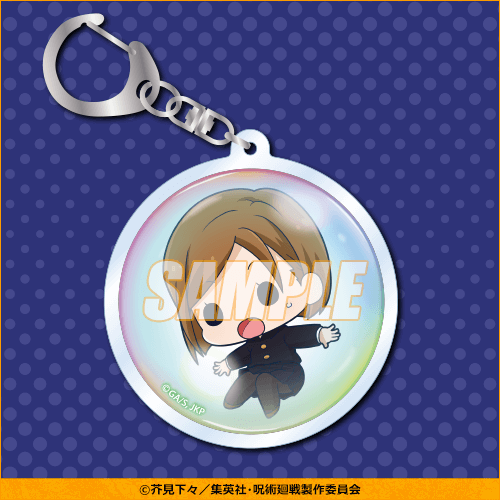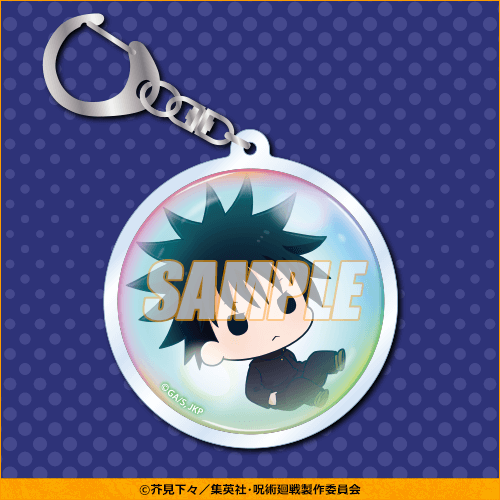 C-Tier Prize: 7.5cm Pins (12 Designs)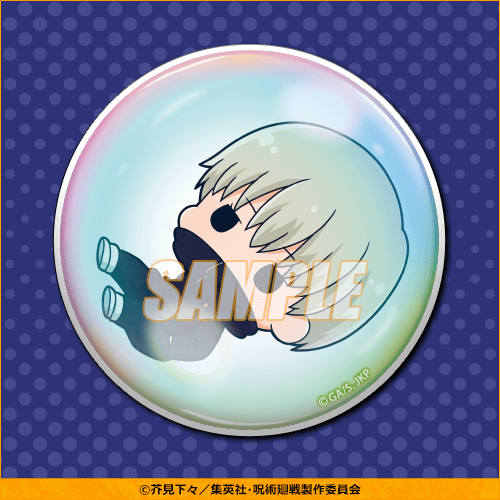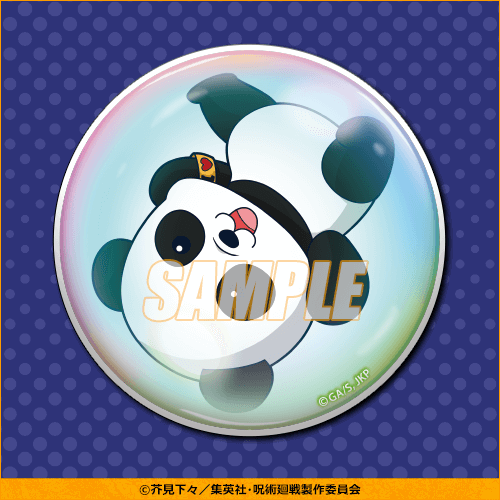 Freebie Campaign
Fans who pay for 10 turns will receive one of the below-pictured bromide pictures for free.
The merchandise collection takes on a 'pop' theme with the characters looking cute and stylish. The illustrations were drawn exclusively for this collection. You can't lose on this lottery draw, you will always receive at least one prize.
RELATED ENTRIES
Special Jujutsu Kaisen Exhibition Highlights Attractions and Products from Kyoto

From November 11 until December 8, a series of Kyoto-inspired Jujutsu Kaisen goods will be on sale outside the West Gate at JR Kyoto Station! Along with the merchandise, fans will also be able to snag local foods at the exhibition. 

Collaborative Packaging: Local Products from Kyoto

*The products shown are under development and may change slightly. 

Purchase Bonus: Limited Edition Kyoto Postcard

*The postcard's design will change during the first and second halves of the exhibition.

*Postcards from the Sendai venue will not be available.

*Postcards will only be available while supplies last.

Be sure to grab some of these Jujutsu Kaisen products packed with Kyoto charm!

©芥見下々/集英社・呪術廻戦製作委員会

CrosSing Cover Song Project Releases Miyu Tomita's Version of Jujutsu Kaisen Theme on Streaming Services

In March 2022, the cover song project CrosSing was launched. Amassing instant popularity, tracks featured as part of the project have pulled in millions of views. The project has featured popular voice actors Maaya Uchida, Kana Hanazawa, and Akari Kito. 

 

On September 28, a recording video of voice actress Miyu Tomita singing the Jujutsu Kaisen opening theme Kaikai Kitan was released. Known for her work in anime series like Made in Abyss and Interspecies Reviewers, Tomita sings Eve's mega-hit with ease, and fans won't want to miss hearing her incredible voice. 

 

Kaikai Kitan from CrosSing – Miyu Tomita (Recording Video)

The track is now available to stream, and those purchasing the high-resolution compilation on mora will be able to hear an exclusive chat with Tomita herself. In addition, those who play the song on LINE MUSIC over 300 times in two weeks starting September 28 will be entered for a chance to win an autographed image. Those following the official CrosSing Twitter and TikTok accounts can repost a specific post to be entered to win a signed autograph card, and two lucky winners will be selected.

 

On September 21, the CrosSing project released its first compilation album, CrosSing Collection Vol. 1. In addition to the 12 incredible tracks currently available on YouTube and streaming services, Kana Hanazawa's cover of Rain from Makoto Shinkai's short anime film The Garden of Words is included as a bonus track. 

 

Stay tuned for more from CrosSing as the third season heats up!

Information

Kaikai Kitan from CrosSing – Miyu Tomita

Streaming Links:

https://CrosSing.lnk.to/TomitaMIyu_KAIKAIKITAN

 

CrosSing Collection Vol.1

Release Date: September 21, 2022

Price: ¥3,850 (Tax Included)

*This product will be sold exclusively through the Canime shop.

Teaser for CrosSing Cover Song Project's 3rd Season Shows Miyu Tomita Performing Jujutsu Kaisen Opening

29.September.2022 | MUSIC

In March 2022, the cover song project CrosSing was launched. Amassing instant popularity, tracks featured as part of the project have pulled in millions of views. The project has featured popular voice actors Maaya Uchida, Kana Hanazawa, and Akari Kito. 

CrosSing's first compilation album CrosSing Collection Vol. 1 was released on September 21, and in addition to the 12 incredible tracks currently available on YouTube and streaming services, Kana Hanazawa's cover of Rain from Makoto Shinkai's short anime film The Garden of Words is included as a bonus track. This song won't be available to stream, so grab the album–and don't miss out on the preview video on YouTube to hear a small snippet!

On September 21, the first performer for the third season of the project was revealed to be voice actress and singer Miyu Tomita. Known for her work in anime series like Made in Abyss and Interspecies Reviewers, Tomita covered Eve's Kaikai Kitan, the opening theme for the popular series Jujutsu Kaisen. The recording video will be released on September 28 at 20:00, so don't miss it!

 

Other performers to appear during CrosSing's third season include Shugo Nakamura, Yoko Hikasa, Ayana Taketatsu, Yurika Kubo, and Megumi Nakajima. 

Information

CrosSing Collection Vol.1

Release Date: September 21, 2022

Price: ¥3,850 (Tax Included)

*This product will be sold exclusively through the Canime shop.

https://canime.jp/product/SCCG000000108/

Kaikai Kitan – Miyu Tomita (from CrosSing)
Release Date: September 28, 2022

CrosSing Official Site: https://cros-sing.jp/

Jujutsu Kaisen 0: The Movie Inspires Limited Time Tamagotchi Collaboration

Premium Bandai has opened orders for three Tamagotchi inspired by Jujutsu Kaisen 0: The Movie! These special items will be available to order until October 7 at 23:00, and fans of the film and the anime series won't want to miss this chance.

The Tamagotchi will come in three designs, inspired by the characters Okkotsu, Gojo, and Geto. 

By feeding snacks to Okkotsu and engaging in mini-games, users can eventually discover and develop 13 different characters from the film!

Players will find three unique mini-games to play. In one, they must avoid a black rope by pressing buttons. In the second, players will be taking photos of crepes, and in the third, users will be pressing specific buttons at just the right moment to correctly line up images of characters from the film. The mini-games include appearances by Panda, Miguel, Mimiko, and Nanako. 

Fans will want to keep an eye out for other appearances and familiar scenes from the film as they play with their Tamagotchi!

(C) 2021「劇場版 呪術廻戦 0」製作委員会 (C)芥見下々/集英社 (C)BANDAI

Eve to Release First Video Collection, Reveals Music Video for 'Kaikai Kitan (Adam by Eve ver.)

01.September.2022 | MUSIC

Eve has announced the release of his first video collection, ZINGAI, on December 13, 2022. The artist has also released the music video for Kaikai Kitan (Adam by Eve ver.) on his official YouTube channel. 

During the additional Nippon Budokan performance of Eve Live Tour 2022 Kaizin, a video rolled after the final song, surprising audiences with the announcement of Eve's first video collection. This release will commemorate the 5th anniversary of the release of Eve's album Culture on December 13, 2017.

Even's first video work ZINGAI features live footage from his performances at Nippon Budokan. Fans will also find Kaikai Kitan, the opening for the popular anime series Jujutsu Kaisen, featured heavily. The track has been streamed over 300 million times and played over 250 million times on YouTube, and became one of the biggest tracks overseas on Spotify in 2021. Music videos for some of Eve's biggest hits, including Dramaturgy, Literary Nonsense, and As You Like It will be included in HD. ZINGAI will also include commentary by Eve himself.

Kaikai Kitan (Adam by Eve ver.) – Eve (Music Video)

The Limited First Edition comes in a special resin case with a framed box along with a special 60-page book featuring live photos, music video art, rehearsal snapshots, storyboards, and more. Fans will also find an original sticker sheet and an original Live Pass. 

The jacket illustration is by Mai Yoneyama, the illustrator who created the music videos for Eve's Raison Detre and YOKU. A special website for the ZINGAI video collection is now open.

 

Be sure to keep an eye out for more news from Eve!

Eve Live Tour 2022 'Kaizin' – Nippon Budokan Additional Performance Set List

The set list from Eve's concert at Nippon Budokan has been transformed into a playlist now available on Apple Music, Spotify, and LINE MUSIC. The image for the playlist is a live photo from the show, and you won't want to miss it!

Information

ZINGAI

Release Date: December 13, 2022

▼ZINGAI Edition (Limited First Edition, Special Box) (Blu-ray or DVD)

Blu-ray: ¥11,000 (Tax Included)

DVD: ¥9,900 (Tax Included)

▼Standard Edition (Blu-ray or DVD)

Blu-ray: ¥7,480 (Tax Included)

DVD: ¥6,380 (Tax Included)

Preorder: TF.lnk.to/ZINGAI

Special Site: https://eveofficial-zingai.com/

Official Site: https://eveofficial.com/

Jujutsu Kaisen 0: The Movie Gets Collaboration Cafe at Three Tower Records Cafe Locations

Tower Records Cafe locations in Tokyo, Nagoya, and Osaka have announced a collaboration with Jujutsu Kaisen 0: The Movie! Starting September 9, fans will be able to grab some tasty treats and special merch. 

Jujutsu Kaisen 0: The Movie opened in theaters on December 24, 2021. A prequel to the beloved Jujutsu Kaisen series, the film was extremely well-recieved, remaining in theaters for over five months. Fans fell in love with the narrative and Yuta's story, as well as the intricate fight scenes crafted by MAPPA and the impressive soundtrack. 

To celebrate the film's release on DVD and Blu-ray in September, Tower Records Cafe locations in Tokyo, Nagoya, and Osaka will hold limited-time collaboration cafes. The menu was inspired by familiar characters and their personalities, and visitors who reserve seats ahead of time will receive a bonus sticker featuring a newly-drawn illustration made exclusively for the event.

Yuta Okkotsu's Salted Cabbage Peperoncino: ¥1,580 (Tax Included)

Panda's Small Dishes & Pancakes: ¥1,580 (Tax Included)

Satoru Gojo's Sweet Meal: ¥1,380 (Tax Included)

Part 1 Design

Part 2 Design

A random postcard will be handed out to those who order from the collaboration menu during the first phase of the cafe. There are a total of five to collect featuring Yuta, Maki, Toge, Panda, and Satoru. 

Collaboration Goods

Character Cards

Guests will also be able to purchase exclusive merchandise featuring brand-new illustrations. For every ¥2,000 spent (including tax), guests will receive a character card as a bonus!

Information

Jujutsu Kaisen 0: The Movie x Tower Records Cafe

Omotesando / Umeda NU Chayamachi:
Part 1: September 9 – September 20 / Part 2: September 21 – October 2

Nagoya Sakae SKYLE:
Part 1: September 9 – September 17 / Part 2: September 18 – September 26

Details: https://tower.jp/jujutsukaisen-cafe

Jujutsu Kaisen Inspires First Theater Show Attraction at Universal Studios Japan

The popular series Jujutsu Kaisen is getting its first theater show at Universal Studios Japan! Jujutsu Kaisen: The Real 4-D will open at the theme park on September 16, 2022 for a limited time only. For the first collab between the park and the globally-popular series, fans will be able to experience the ultra-realistic world of Jujutsu Kaisen through 3D imagery and special effects. 

Jujutsu Kaisen: The Real 4-D

The 4D ride will tell an entirely new story, allowing guests to experience a fight between the main cast and Cursed Spirits. Yuji Itadori and friends are fighting to prevent a conspiracy targeting the opening of a Jujutsu High School in Osaka. This will also mark the first time that characters from the series will appear in 3D. Along with Yuji, fans will be able to see Megumi Fushirugo, Nobara Kugisaki, Aoi Toudou, and Satoru Gojo in an entirely new way. Along with engaging graphics, fans can expect to experience seat vibrations, water splashes, and more. 

Jujutsu Kaisen x Hollywood Dream – The Ride ~Kaikai Kitan~

Along with the 4-D theater show, Hollywood Dream – The Ride will be transformed for the collaboration. The theme song for Jujutsu Kaisen, Kaikai Kitan by Eve, will be played on the ride for a limited time, from September 16, 2022 until January 18, 2023. The track is incredibly popular, and the opening for the series has been watched over 250 million times on YouTube. Listening to it on a roller coaster will be an entirely new experience and one that you can only experience at Universal Studios Japan!

Additionally, there will be Jujutsu Kaisen-themed food and merchandise available during the crossover event. More information will be announced in the future.

WIZARDING WORLD and all related trademarks, characters, names, and indicia are © & ™ WBEI. Publishing Rights © JKR. (s22)
Minions and all related elements and indicia TM & © 2022 Universal Studios. All rights reserved.TM & © Universal Studios & Amblin Entertainment
Universal Studios Japan TM & © Universal Studios. All rights reserved.
© Nintendo
©芥見下々/集英社・呪術廻戦製作委員会

Third Jujutsu Kaisen Cafe to Open in Tokyo and Osaka

The third Jujutsu Kaisen cafe will open for a limited time in both Tokyo and Osaka from August 11 to October 10, 2022!

Jujutsu Kaisen began as a manga series and has been serialized in Weekly Shonen Jump in 2018. Created by Gege Akutami, an anime series aired in October 2020 and became a massive hit with audiences around the world. Jujutsu Kaisen 0: The Movie, a prequel film, was released in Japan in December 2021 and has grossed over ¥13.7 billion. A second season of the anime will premiere in 2023. 

 

Masatsugu Nagasoe, who worked on the anime series as a storyboard artist and unit director, was in charge of creating the newly-drawn illustrations. The cafe has a striking mint green theme and will have a refreshing urban summer atmosphere.


Advance Reservation Bonus: A4-size Clear Folder (1 variety)/ Drink Order Bonus: Original Coaster (8 varieties) / Merchandise Purchase Bonus: Original Shopping Bag (1 variety)

Menu

[Yuji Itadori] Chicken over Rice

[Megumi Fushiguro] Chimera Shadow Garden Sandwich

[Nobara Kugisaki] Spiced Vegetable Curry

Second-year Student Plate

[Kento Nanami] Apple Pork Wrap

[Satoru Gojo] Hollow Technique: Purple Cake

Dagon's Realm – Cursed Plate

 [Yuji Itadori] Passion Cranberry Tea Soda / [Megumi Fushiguro] Green Apple Mint Soda

[Nobara Kugisaki] Orange Rosehip Tea Soda / [Kento Nanami] Coffee Mojito Soda

[Satoru Gojo] Blue Hawaii Lemon Squash / Satoru Gojo's Hot Coffee

Goods


The cafe's menu will include a number of dishes inspired by each of the main characters, including Yuji's Chicken over Rice and sweets inspired by everyone's favorite silver-haired character Satoru Gojo. Each drink is sure to refresh you during the hot summer months, and guests will also be able to grab original merchandise featuring newly-drawn art by MAPPA.

 

This summer, why not spend a relaxing time surrounded by your favorite Jujutsu Kaisen characters?

©芥見下々/集英社・呪術廻戦製作委員会

Jujutsu Kaisen Attraction to Open at Universal Studios Japan for a Limited Time

Universal Studios Japan has announced that it will be opening a selection of Jujutsu Kaisen attractions for a limited time starting September 16, 2022. The anime series has been a global smash hit since it premiered. 

The original Jujutsu Kaisen manga series has sold over 65 million copies worldwide, and the recent Jujutsu Kaisen 0 film grossed over ¥13.7 billion at the domestic box office.

Attractions will focus on the theme of "curses," though there are no details as of yet as to what they will be or involve. Jujutsu Kaisen follows the story of Yuji Itadori, who becomes the host of a powerful curse named Ryomen Sukuna in order to protect his friends. Yuji then joins the Tokyo Prefectural Jujutsu High School to train and become a sorcerer so that he can avoid an execution, as well as to help others fight against Cursed Spirits. Guests will be able to immerse themselves in the series' world, and we're excited to find out more details about what attractions will be coming to USJ this fall. 

WIZARDING WORLD and all related trademarks, characters, names, and indicia are © & ™ WBEI. Publishing Rights © JKR. (s22)
Minions and all related elements and indicia TM & © 2022 Universal Studios. All rights reserved.TM & © Universal Studios & Amblin Entertainment
Universal Studios Japan TM & © Universal Studios. All rights reserved.
© Nintendo
©芥見下々/集英社・呪術廻戦製作委員会

Information

Universal Studios Japan x Jujutsu Kaisen

Open for a Limited Time Only

Opening September 16, 2022

Official Site: http://www.usj.co.jp/

Onigiri Cakes Inspired by Jujutsu Kaisen Character Inumaki Toge Announced

Online cake shop Cake.jp has begun selling a collection of six onigiri-shaped cakes inspired by the character Inumaki Toge from the popular anime series Jujutsu Kaisen! The items were originally released to great fanfare in December, and are now available again for a limited time.

Inumaki Toge is able to use curses simply by speaking, and in order to avoid hurting anyone close to him, the only words he uses are the names of onigiri fillings.

Inumaki Toge's Onigiri Cakes

Orange / Chocolate Mint / Rose / Blue Honeysuckle / Cookies & Cream / Green Soybean


The set contains six cakes, each with a different flavor. Each cake is also wrapped in packaging featuring a scene from the series and this new release includes new flavors like orange and chocolate mint. In the warmer weather, try enjoying these cakes without thawing them!

©芥見下々/集英社・呪術廻戦製作委員会

Jujutsu Kaisen and Dolce & Gabbana Collaboration Visual Appears on the Back Cover of Shonen Jump

The popular anime series Jujutsu Kaisen is getting a collaboration with luxury brand Dolce & Gabbana! The first visual for the collab appeared on the back cover of the newest issue of Weekly Shonen Jump, on sale on April 18, 2022.

The visual was drawn by the same studio responsible for the anime series MAPPA and eight characters from the series will eventually be featured wearing Dolce & Gabbana–Yuji Itadori, Megumi Fushiguro, Nobara Kugisaki, Maki Zenin, Toge Inumaki, Panda, Kento Nanami, and Satoru Gojo. All character visuals were unveiled on April 15 on Dolce & Gabbana's social media and on the project's special website. This first visual focuses on Yuji Itadori.

It's extremely rare for a luxury brand ad to appear in Shonen Jump, but the manga series featured in the magazine have continued to cross boundaries in recent years, and fans have been very happy about this rather strange collaboration.

Along with appearing in Shonen Jump, the visual will also appear in the June issue of SPUR on sale on April 22, and the June issue of MEN'S NON-NO on sale on May 9.

Which character do you think looks the best in their fancy apparel?

©週刊少年ジャンプ2022年20号/集英社 ©芥⾒下々/集英社・呪術廻戦製作委員会

Jujutsu Kaisen 0 Pop-Up Store Opens at Baseyard Tokyo

A Jujutsu Kaisen 0 pop-up shop and exhibition has opened at Baseyard Tokyo until April 5, 2022. 

The main illustration for the pop-up event–featuring Satoru Gojo, Yuta Okkotsu, Maki Zenin, Toge Inumaki, Panda, and Suguru Goto– was made exclusively for Baseyard Tokyo. In addition to offering limited-edition goods, the venue will also show off valuable materials from the anime's production including original drawings. A figure display and 1/1 scale Rika Orimoto photo spot will greet guests at the door.

Round 1 Exclusive Cards available starting February 4~

*Limited to 5 per person while supplies last. 

Round 2 Original Bromides (7 varieties) available February 18~

*Distributed at random while supplies last.

For every ¥2,000 (including tax) spent on merchandise, guests will receive a special card and an original bromide!

© 2021「劇場版 呪術廻戦 0」製作委員会 ©芥見下々/集英社