The New Disney Kyoto Traditional Design Series Combines Disney With Kyoto Craftsmanship
Kyoto City and Japanese company Shintsu are set to release their Disney/Kyoto Traditional Design Series after previously having to postpone the release due to the pandemic. It will be available from April 27 to May 10 and celebrates the skilled, dexterous hands of Kyoto's expert craftsman and their industry which has been passed down for thousands of years. They have innovated to create something brand-new that captures both the craft and culture of Kyoto and the contemporary wonder of Disney.
Comments from the Creators
©Disney
Okazen | Comment
"We have existed inside our town in Kyoto for 200 years. We make a variety of items from garments for maiko apprentice geisha to our own company-originals products. For this Disney/Kyoto Traditional Design Series, we wondered how we could express the world of Disney using the kyoyuzen Kyoto-style method of dyeing. We made something with detailed consideration, looking at all the intricate things in the dyeing process. Our Fantasia furisode long-sleeved kimono features a truly treasured scene which enabled use to incorporate many different methods in order to capture the expression, clothing, and all the stars as much as possible. We believe this piece will suck everyone into Fantasia's world."
©Disney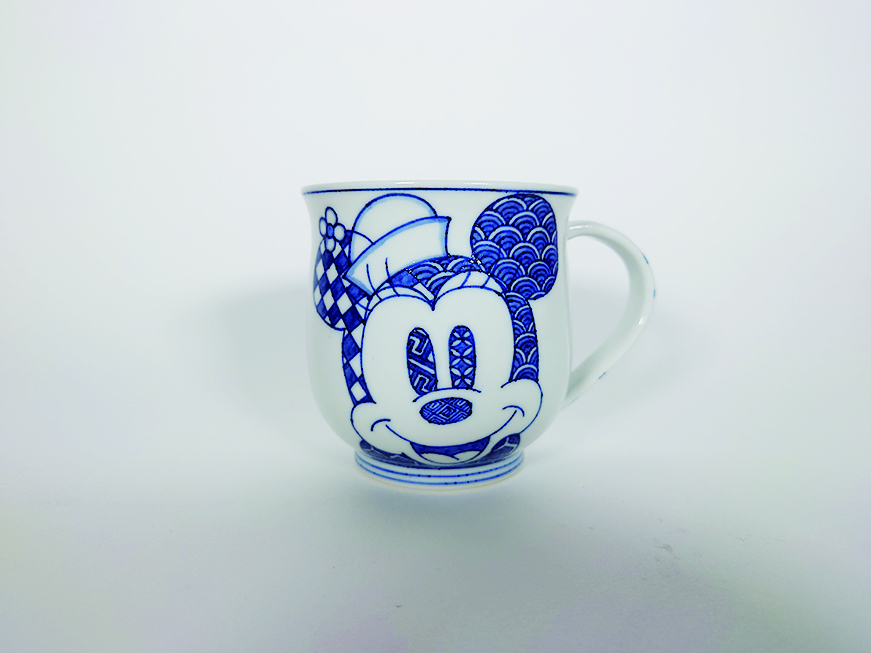 ©Disney
Asahido | Comment
"For producing something for the Disney/Kyoto Traditional Design Series, we asked gave one of our craftsmen free rein to put their own individual self into the work. At the time, they were primarily an illustrator, so we were worried if the judges would overlook them, but the end result was something that looks truly complete and finished. The traditional craftwork of Kiyomizu pottery is a process of hand making and hand drawing each and every little thing. I believe it's this quality that gives the characters warmth and life. I'd love for people to take it in their hands themselves and take their time looking at it in a full 360°."
©Disney
Tsujikura | Comment
Tsujikura is Japan's oldest wagasa Japanese umbrella shop. We've been in Kyoto since 1690. In that small space underneath the washi Japanese paper and bamboo, one enters a rich world where they can feel the four seasons of Japan. Our umbrella for the Disney/Kyoto Traditional Design Series uses a very advanced technique known as kiritsugi, a type of cutting and patching. We displayed Mickey Mouse and Minnie Mouse on handmade washi paper which we dyed. You can feel an affinity with the umbrellas for their simple and minimal designs. Our aim was to incorporate Disney elements into a traditional Japanese umbrella pattern."
Other Featured Works
©Disney
aiba
©DISNEY Based on the"Winnie the Pooh" works by A.A. Milne and E.H. Shepard .
Asahido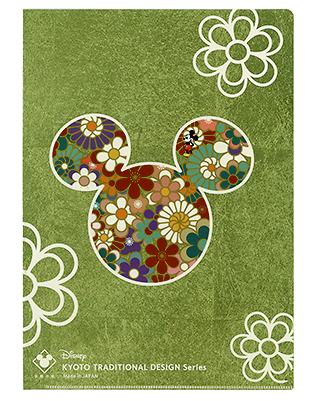 ©Disney
Kamiya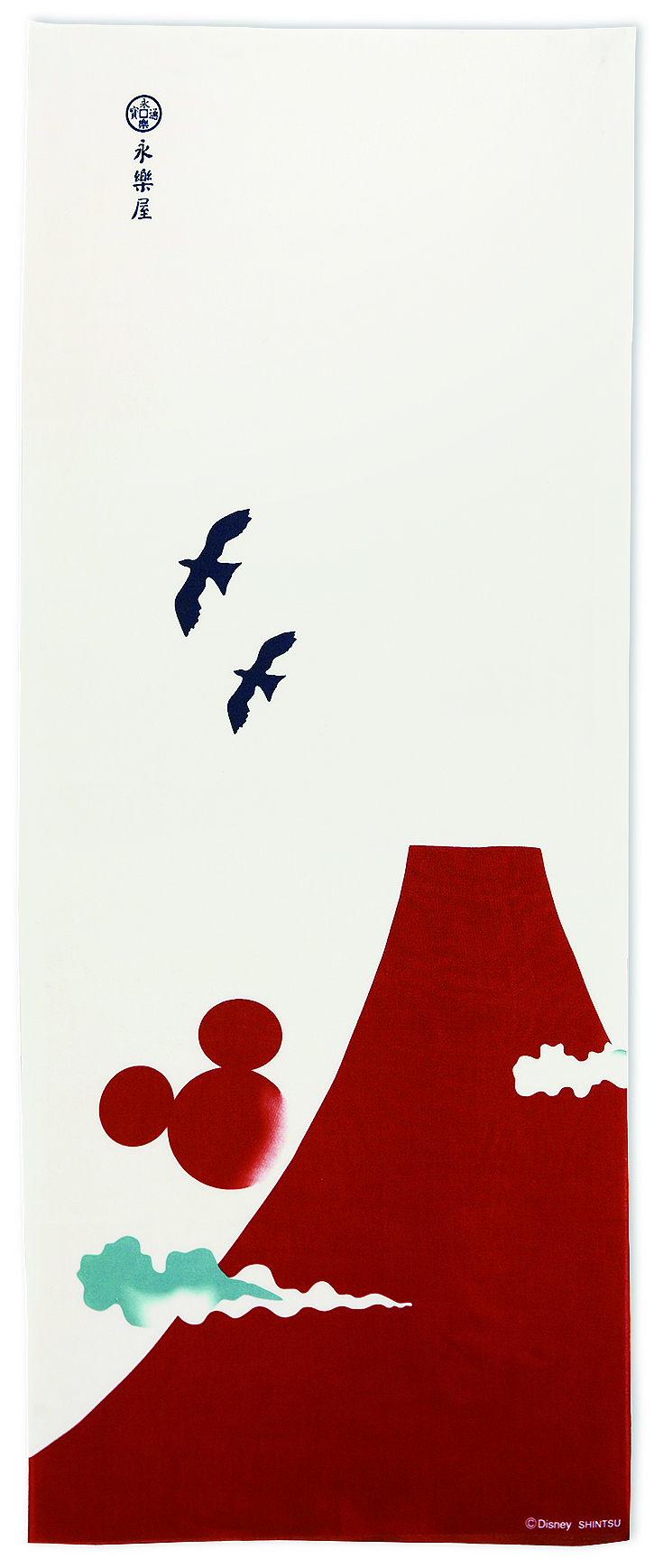 ©Disney
©Disney
EIRAKUYA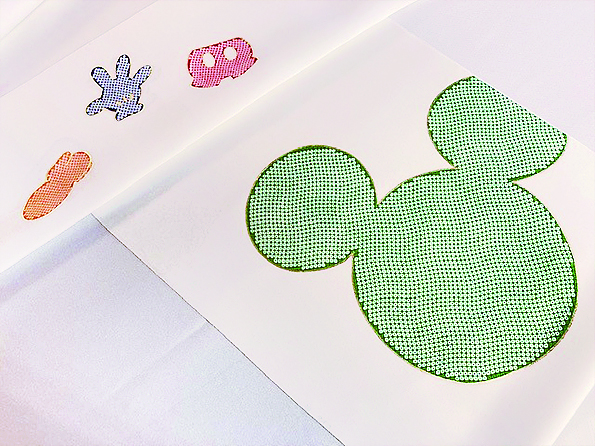 ©Disney
Okazen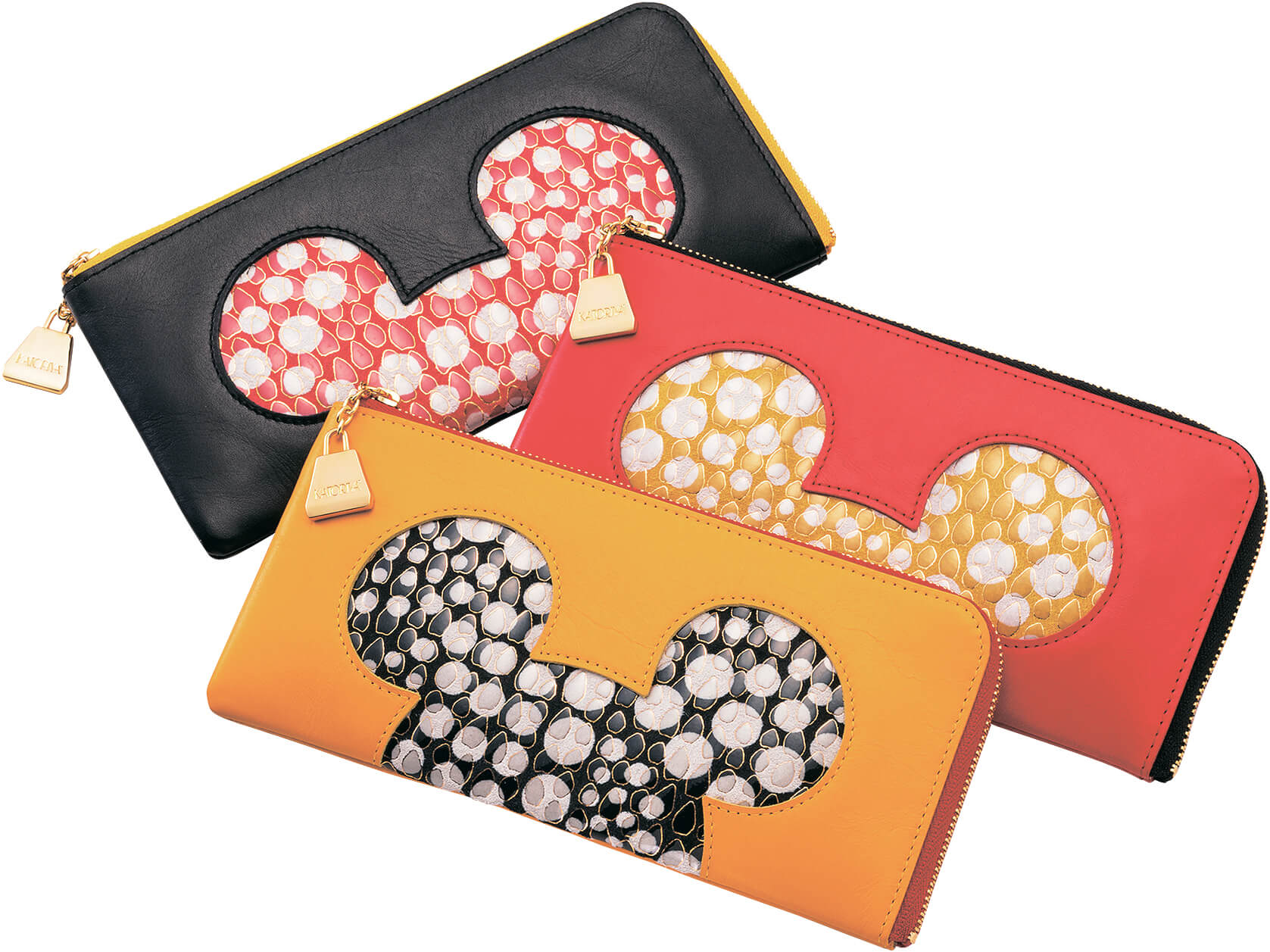 ©Disney
Katoriya
©Disney
Kanbayashi Shunsho Honten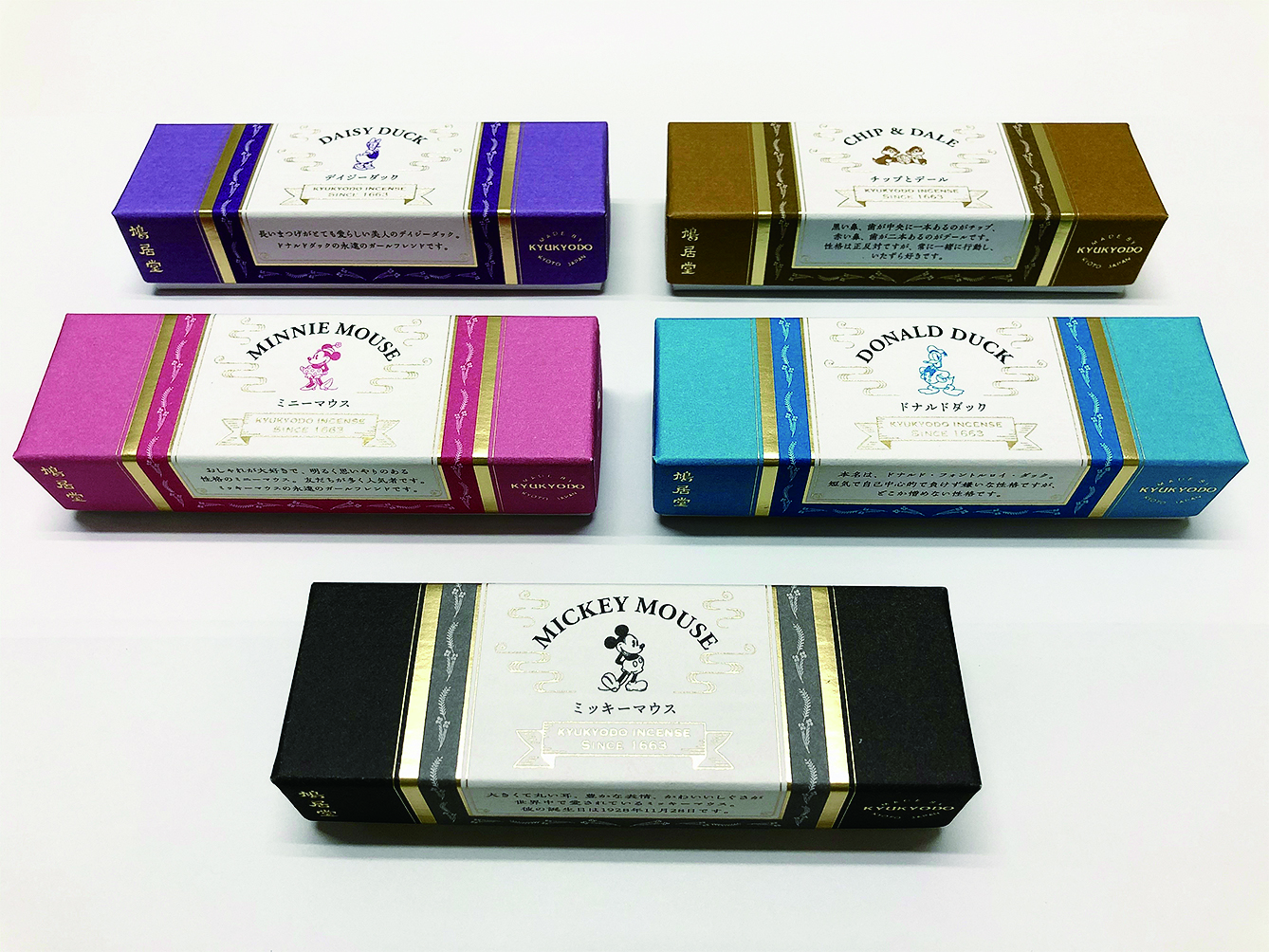 ©Disney
KYUKYODO
©Disney
Shoyeido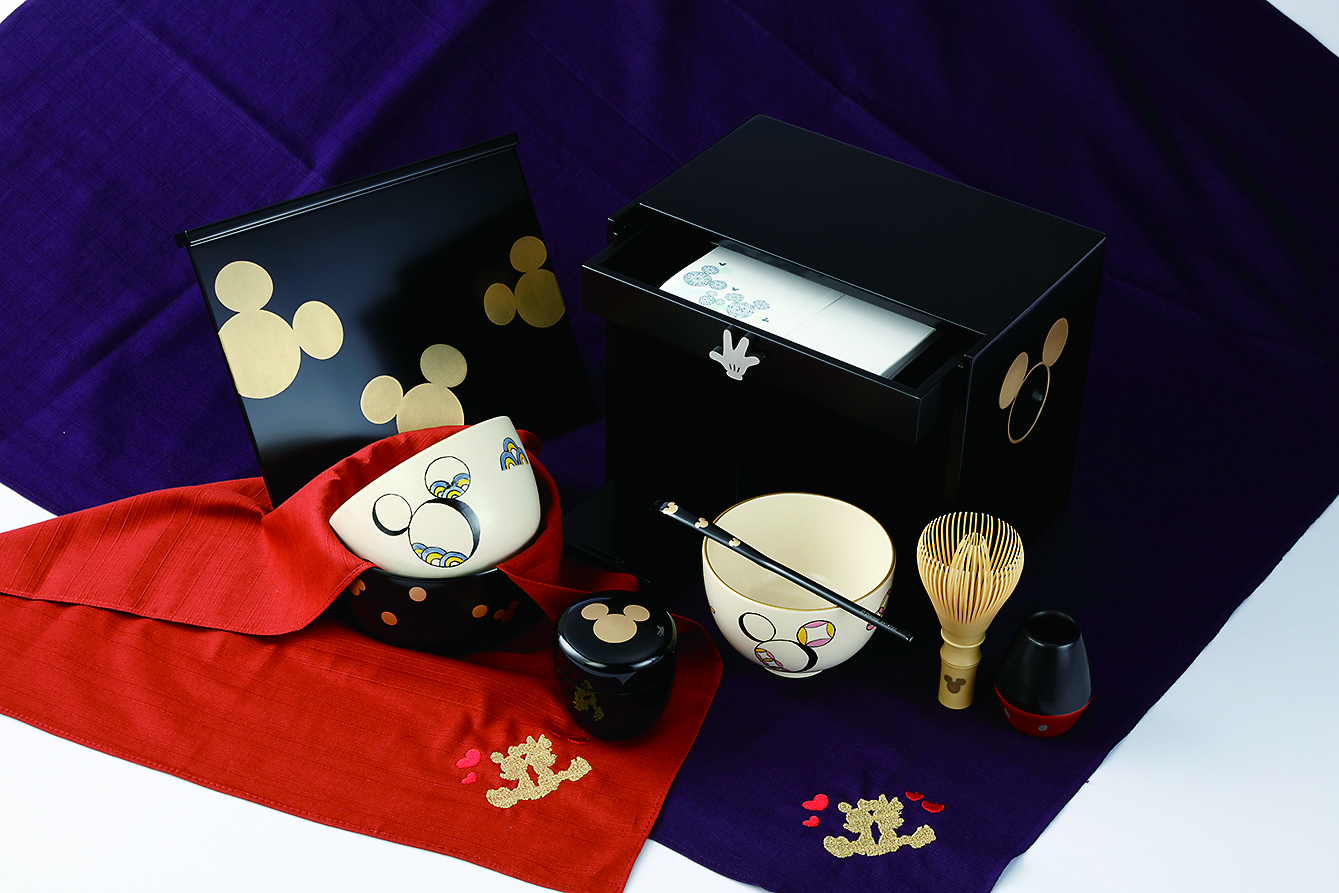 ©Disney
Tankosha
©Disney
Tsujikura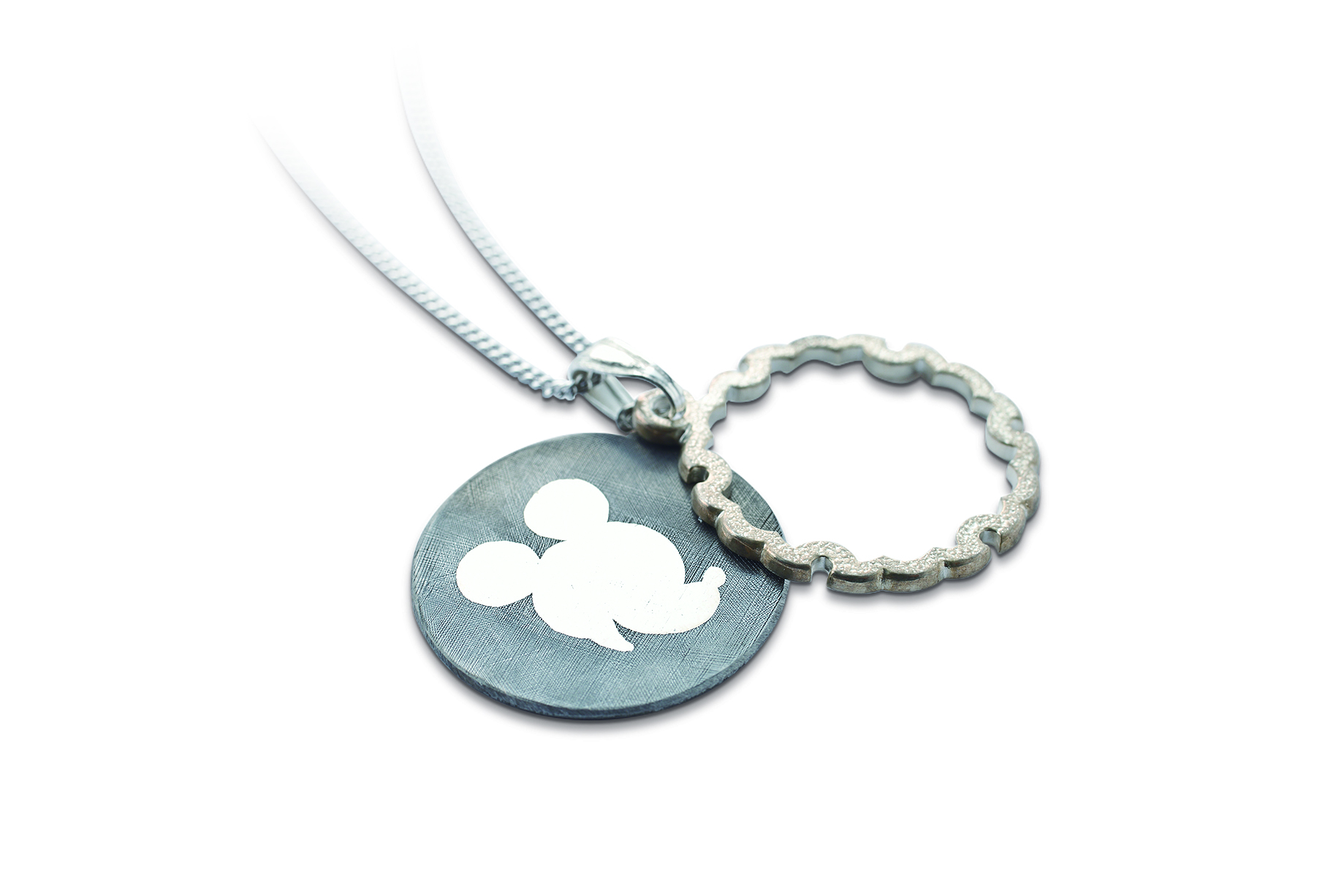 ©Disney
Nakajima Zougan
©Disney
Nakamura Rosoku
©Disney
Miyawaki Baisen-an
RELATED ENTRIES
Demon Slayer: Kimetsu no Yaiba Holds Wisteria Event in Japan to Ward Off Demons

Keifuku Electric Railroad launched an event on Boxing Day last year in Japan in collaboration with the TV anime series Demon Slayer: Kimetsu no Yaiba. The event is still taking place and is set to end on April 11.

At Arashiyama Station on the Randen Line, there is a temporary area draped with wisteria flowers that commuters are encouraged to participate in as part of the collaboration. Built to ward off demons, fans of the anime series can write their own messages to be strung up on the flowers. They can write their thoughts and feelings on the characters and series as well as wishes and prayers for COVID to soon be over for all. It's been a popular photo spot amongst passengers. And if you head from this area up to the roof, you can gaze out at the incredible view of Arashiyama.

Geoffrey Bouillot x Masahito Noto Launch Welcome Katsushika Art Project

Tokyo-based French artist Geoffrey Bouillot has teamed up with Japanese footballer Masahito Noto to launch the Welcome Katsushika Art Project, an artistic initiative to help promote the Tokyo ward of Katsushika by using it as a tourist spot to exhibit their works throughout the town and developing new collaborative items with traditional Japanese crafts as a crowdfunding return.

Katsushika will be decorated with new artwork that will act as photo spots for tourists and sightseers, and the project will collaborate with professionals throughout the town, all in an effort to help revitalise the tourism and traditional industries of Katsushika which have been affected by COVID-19.

Geoffrey Bouillot

Geoffrey Bouillot is a French artist based in Tokyo. In 2019, he was featured as a guest artist at Shibamata Art World, an art event held in Shibamata, Tokyo. His monochromic pieces make use of grey-scale painting and combine cubism and minimalism.

Masahito Noto

Masahito Noto is a Japanese professional footballer and athlete. He is also an artist whose artistic process involves layering paint to create unique pieces.

The project has developed items in collaboration with traditional craftwork companies, such Edo Kiriko glass-cutting with Shimizu Glass and wazarashi hand towels with Tokyo Wazarashi. These will be donated as a return for the crowdfunding that was required to fund this project.

There will also be an art panel showcased by the local soccer team Nankatsu SC as well as items made in collaboration with businesses such as t-shirts and hoodies by CON±RAD, soccer cleats by BMZ, blueberry brownies with a local eatery, and much more.

Disney's Zootopia Themed Cafe to Open in Tokyo, Osaka, and Nagoya for Film's 5th Anniversary

The Tokyo, Osaka, and Nagoya branches of OH MY CAFE are set to pay host to cafe experiences themed on Disney's Zootopia in celebration of the movie's 5th anniversary which hit last month. The cafes will transform into a Zootopia extravaganza from April 23.

Customers who book a table in advance receive one of six possible lunch mats

The Menu

Vegetable Curry ¥1,890 (Before Tax)

Sandwich Plate ¥1,990 (Before Tax)

Corn Cream Pie ¥1,590 (Before Tax)

Salsa Burger ¥2,390 (Before Tax)

Carrot Doria ¥1,490 (Before Tax)

Acrylic Coasters +¥900 (Before Tax)

Iced Milk ¥990 (Before Tax) / With Mug +¥1,600 (Before Tax)

Iced Coffee ¥690 (Before Tax) / With Mug ¥1,600 (Before Tax)

Iced Drink ¥990 (Before Tax)

Exclusive Merchandise

Movie Stills Series

Acrylic Key Rings

Square Magnet ¥550 (Before Tax) / Acryluc Key Ring ¥650 (Before Tax) / A4 Folder ¥350 (Before Tax)

Mask Cases ¥500 (Before Tax) / Masking Tapes ¥800 (Before Tax)

Tiny Animals Series

Acrylic Charms ¥450 (Before Tax) / Mini Notebook Set ¥850 (Before Tax)

A5 Folder Set ¥800 (Before Tax) / Mini Pouch Set ¥1,800 (Before Tax)

Mini Towels ¥1,000 (Before Tax) / Eco Bag ¥1,850 (Before Tax)

Zootopia fans won't be able to resist the tasty and healthy themed menu featuring Nick Wilde and Judy Hopps, as well as getting their hands on a range of merchandise from stationery to fashion.

©Disney

Information

Zootopia OH MY CAFE

OH MY CAFE TOKYO

Running: April 23, 2021 – June 27, 2021

Address: Tokyu Plaza Omotesando, 4-30-3 Jingumae, Shibuya, Tokyo

OH MY CAFE OSAKA

Running: April 28, 2021 – July 6, 2021

Address: 1-6-1 Shinsaibashisuji, Chuo-ku, Osaka-shi, Osaka

kawara CAFE&KITCHEN

Running: June 2, 2021 – July 13, 2021
Address: Nagoya PARCO, 3-29-1 Sakae, Naka-ku, Nagoya-shi, Aichi

Official Website: https://zoo.ohmycafe.jp/

Poké Lid Project Lays Down New Manhole Covers in Kyoto

Five new Pokémon manhole covers were laid in Kyoto on Tuesday as part of the Poké Lid  project to place Pokémon-design manhole covers across the country.

Kyoto Original Poké Lids

The five Poké Lids are located in Arashiyama, Okazaki Park, Maruyama Park, Umekoji Park, and Nishikyogoku Athletic Park.

All of the Poké Lids placed across Japan feature completely original Pokémon designs making each individual one the only one in the world. The Pokémon Company is also working to make each one of them PokéStops for Pokémon GO.

 ©2021 Pokémon. ©1995-2021 Nintendo/Creatures Inc./GAME FREAK inc.

Disney Releases 'Walt Disney Animation Studios Concept Design' Book

Japanese publisher Genkosha released a carefully-curated book of works taken from Disney's archives entitled Walt Disney Animation Studios Concept Design on March 30.

©︎Disney

The book comes as the second in a series of archive tomes that shines a light on the Disney team's artwork. It focuses on the visual development artists and their character designers, background concept art pieces, and more. It's a must-have for Disney fans, containing works from the birth of Mickey Mouse in 1928 to Snow White, Pinocchio, Bambi, Peter Pan, The Lion King, Tangled, and more. The translated version of the book will also contain Frozen 2 and the newest entry to the Disney filmography Raya and the Last Dragon.

Whether you're a fan of Disney or an illustration or concept artist in animation, games, and so on, you won't want to miss out on this special tome.

Godzilla vs. Kyoto Event Begins This Spring

Kyoto Tower is set to be host to the upcoming Godzilla vs. Kyoto event which is running from April 16 to June 30. 

Key visual illustrated by Yusuke Nakamura

Stamp design

Stamp design

Stamp rally postcard

Godzilla vs. Kyoto Official Merchandise

Novelty illustrated by Yusuke Nakamura – available for the first 50 people each day

Kyoto Tower will hold a stamp rally event as part of Godzilla vs. Kyoto which will have people trying to find stamps in six locations in the tower as well as at Toji Temple and elsewhere. There is also a selection of official merchandise, a Godzilla exhibition, and much more planned.

If you're in Japan this spring, don't miss Godzilla taking over Kyoto.

TM & (C) TOHO CO., LTD.

イラスト/中村 佑介 TM & (C) TOHO CO., LTD.

Disney: Twister-Wonderland Designer Glasses to be Released by Zoff

Japanese eyewear brand Zoff is collaboration with the mobile game Disney: Twisted-Wonderland to release a collection of seven glasses this April on their official website.

Specially-crafted frames based on the Dorms

The collection features seven different glasses each inspired by a different Dormitory of Night Raven College as seen in Disney: Twisted-Wonderland. The temple, for example, features inlet parts based on the seven Dorms, so fans can represent their favourite while looking stylish at the same time. The coupling glasses cases, too, are branded with a simple yet sophisticated design of the Dorm emblems, and each case even comes with a glasses cloth bearing the names of the students.

The frames and cloth designs up close

Heartslabyul Design | ¥11,100 (Tax Included)

Looking head on at the glasses, you can see crowns on either side, while looking from the sides are playing card marks.

Savanaclaw Design | ¥11,100 (Tax Included)

Thick frames with gold combination colouring and claw marks featured on the sides. This glasses are made using laser technology.

Octavinelle Design | ¥11,100 (Tax Included)

The front and temple have an octopus leg design and the inner side part has a shell. The black and purple make for a striking colour fusion.

Scarabia Design | ¥11,100 (Tax Included)

These glasses look basic at first glance, but gleaming on either side are cobra heads wrapping around the front. The golden temple section features delicate metal engraving.

Pomefiore Design | ¥11,100 (Tax Included)

The metal engravings and crowns on the front sides elevate your countenance without going over the top. The curvy temple also serves to make the wearer look even more beautiful.

Ignihyde Design | ¥11,100 (Tax Included)

An iconic mix of black and blue. The blue temple has a transparency to it, and if you're a fan of Ignihyde, you'll be able to spot the motif on the front sides.

Diasomnia Design | ¥11,100 (Tax Included)

The spinning wheel motif gives the temple a three-dimensional feel. A basic but stylish colour choice perfect for work.

Glasses Case

The glasses case bears the Dorm symbols on the front while the inside has the game title logo.

 

Each glasses cloth is different for each Dorm as pictured throughout

Information

Disney: Twisted-Wonderland Zoff Eyewear Collection

Orders: Open Mid April 2021 (Limited Edition)

Delivery: Late October 2021

Matcha and Latte Cookies and Drinks Released by Yojiya

Kyoto makeup brand Yojiya is now selling its own collection of snacks and drinks which it released via its website last week.

Yojiya Matcha Sandwich Cookies | ¥1,400 (Tax Included)

Yojiya Cafe Latte Chocolate Cookies | ¥1,350 (Tax Included)

Yojiya Matcha Milk | ¥950 (Tax Included)

Yojiya's snack line-up is made with the idea of being able to enjoy high-quality food products at home. Their collection includes crunchy matcha and cafe latte cookies along with matcha milk, the latter of which is made with famous Uji matcha from Uji, Kyoto. Perfect for a tea/coffee break or as a souvenir.


Disney Japan Celebrates 30th Anniversary of Disney Fan Magazine With Special Event

Walt Disney Japan will celebrate both the 30th anniversary of its Disney Fan monthly magazine and the 10th anniversary of its Disney Store original character UniBEARsity with a special event titled "Disney FAN 30th anniversary FAN!FAN!FAN!" which will run at the Shibuya Koen-dori branch of the Disney Store from April 2 and the Shinsaibashi branch from May 14.

©Disney

The event will pay homage to the 30-year history of the much-loved Disney Fan magazine as well as feature a special art exhibition of past front covers. This artwork will be included on new and exclusive merchandise sold at the store. UniBEARsity will also see the spotlight as its history is also covered along with a range of 10th anniversary items.

Disney Fan 30th Anniversary Celebrations: Art Exhibition, History, and Merch

©Disney

The Disney Fan exhibit will include a silhouette of Mickey Mouse made from a collage of old-time magazine covers. It will also feature an exhibit of back numbers, statues and papercrafts made from past magazine covers, commentary on certain issues, and more.

Fans can also get their hands on a collection of merchandise made with exclusive artwork from the magazine covers, from folders and face mask cases to magnets, frames and more – check out an excerpt of what's on offer below.

UniBEARsity: 10th Anniversary Exhibition

©Disney

UniBEARsity is a line-up of Disney teddy bear characters which came to life after Minnie taught Mickey and friends how to sew them. In celebration of its 10th anniversary, a special exhibition will take place including a special feature taken from Disney Fan when it first debuted, as well as a showcase of 89 teddy bears.an original story that bear characters. Check out what merchandise you can get here.

Information

Disney FAN 30th anniversary FAN! FAN! FAN!

Disney Store Shibuya Koen-dori

Running: April 2, 2021 – May 9, 2021

*The first three days of the event (April 2-4) are exclusive to users of the Disney Store app

Address: Humax Pavilion Shibuya Koen-dori, 20-15 Udagawacho, Shibuya, Tokyo

Opening Hours: 11:00-20:00 (Until 17:00 on May 9)

Entry: Free

Disney Store Shinsaibashi

Running: May 14, 2021 – June 20, 2021

Address: 2-1-13 Shinsaibashisuji, Chuo-ku, Osaka-shi, Osaka

Opening Hours: [Weekdays] 10:00-19:00 / [Weekends & Holidays] 11:00-19:00 (Until 17:00 on June 20)

Entry: Free

Event Page: http://shopDisney.jp/store/DisneyFAN30th/

Pixar Japan Announces 'PIXAR! PIXAR! PIXAR!' Event to Take Place in Tokyo

Seibu Ikebukuro will pay host to the upcoming 'PIXAR! PIXAR! PIXAR!' event which will take place from April 8 to 19 in cooperation with Pixar Animation Studios and Walt Disney Japan. Pixar fans can look forward to viewing a special selection of valuable concept art, buying merch, and more.

A Look at Pixar Animation's History

Feel Like You're at Pixar Animation Studios

The event will be a celebration of all things Pixar, from their early animation shorts to their upcoming film Luca. This will include a special area that recreates the real-life Pixar Animation Studios.

Pixar Office Photo Postcards (3 Designs) | ¥220 Each

BnL T-Shirt (One Size Fits All) | ¥3,520

Canvas Panel (29.7cm x 21cm) | ¥3,850

Event-Original Merchandise (Excerpt)

Plates | ¥990 Each

Shopping Bag | ¥880

Pins 8 Designs)

There will also be a trivia quiz to test how much fans know about their favourite films, as well as a special video showcasing the making of the original artwork displayed at the event. Around 200 pieces of merchandise will also be sold.

PIXAR! PIXAR! PIXAR! is a popular annual festival in Japan and a must-visit for any fan of Disney/Pixar.

©DISNEY/PIXAR All rights reserved. No reproduction or republication without written permission.

Information

PIXAR! PIXAR! PIXAR! 2021 First Run

Running: April 8, 2021 – APril 19, 2021

Where: Seibu Gallery at Seibu Ikebukuro Bekkan Floor 2F

Opening Hours: 10:00-20:00

Official Website: https://www.sogo-seibu.jp/ikebukuro/

HOSHINOYA Kyoto Announces Traditional Boat Ride Experience With Musical Performance For Guests

HOSHINOYA Kyoto has announced that this summer it will hold its Kyo no Ohayashibune boat-riding service which allows one group of guests to rent a boat on which they will ride down the Ōi River and enjoy a traditional musical performance while tucking into some chimaki bamboo-wrapped cake, a confection seen only during the run of Kyoto's Gion Matsuri festival.

Experience 1: Traditional hayashi orchestra aboard a Heian aristocratic boat

One group of guests will board their rented boat at Togetsu Bridge and be taken down the river where they can enjoy the verdant expanse of the valley while listening to a traditional Japanese Gion hayashi musical performance. The Ōi River was formerly a river boated down by Heian nobles who would have waka poetry and orchestral music performed to them on board. HOSHINOYA Kyoto guests will also be able to feel like a Heian aristocrat with this exclusive experience.

Experience 2: The sounds of Konchi Kichin

Konchi kichin is another Japanese term to express Gion hayashi musical performance. These performances are composed of Japanese gongs, flutes, and taiko drums, which are played on yamaboko floats by several dozen people during processions at the Gion Festival. The boat ride will recreate this experience so guests can enjoy the performance more up close as well as learn how to play the gong.

Experience 3: A taste of chimaki

Guests will be able to feel like they are at the Gion Festival by kicking back and enjoying a cup of green tea together with a chimaki, a traditional bamboo-wrapped cake that's only served at the festival. These cakes are often used to decorate the entrances of people's houses in Kyoto to ward off illness and disasters.

Gion Matsuri is one of Japan's three biggest festivals. It has been around for over 1,000 years and last a month. When July hits, the Japanese Gion hayashi orchestras begin popping up around the city signalling the start of the festival. It's a summer tradition of Kyoto and one which can now be enjoyed on board a special boat experience.

Information

HOSHINOYA Kyoto – "Kyo no Ohayashibune"

Japanese Service Name: 星のや京都「京のお囃子舟(はやしぶね)」

Running: July 2021 (July 2nd, 3rd, 9th, 10th, 30th, and 31st)

Times: 17:30-18:30

Boarding Point: HOSHINOYA Kyoto

Notes: Guests only

Bookings: https://hoshinoya.com/kyoto/

*Bookings must be made 3 days in advance

Disney's Chip 'n' Dale Celebrate Screen Debut With shopDisney Merchandise Collection

Walt Disney Japan is celebrating the original screen debut of the lovable chipmunk brothers Chip 'n' Dale with a special merchandise collection which will go on pre-sale at select Disney Japan stores and shopDisney on March 19.

Chip 'n' Dale made their screen debut on April 2, 1943 in the 7-minute cartoon Private Pluto. Disney's new merch collection pays homage to the duo with a range of items ranging from plush toys to stationery, products created in collaboration with FOOD TEXTILE—which turns food wastage into dye—as part of Walt Disney Japan's "Healthytainment" initiative, and more.

©Disney

Excerpt of Products

©Disney

©Disney

Plush Toy Key Rings ¥2,750 / iPhone 11 Case ¥3,520 / Ballpoint Pens ¥880 Each / Key Rings ¥1,760 / AirPods Case ¥1,980 / Stereo Earphones ¥3,300 / Notebook ¥660 / Mobile Battery Charger ¥4,400 / Mobile Ring ¥1,760 (Tax included in prices)

FOOD TEXTILE x Disney Store Collaboration

©Disney

Baby Gift Set ¥7,700 / Baby Bib Set ¥5,060 / Tote Bag ¥5,060 / T-Shirt ¥4,620 / Pouch ¥2,090 (Tax included in prices)

The collection includes a set of adorable items for babies decorated with cute illustrations of Chip 'n' Dale. These sets are made in a collaborative project between Disney Store and FOOD TEXTILE. Pre-sales will open on shopDisney on April 2 with general sales to release on April 6. They are made from organic cotton and are dyed with natural colours extracted from food waste such as coffee, cherry blossom, lettuce, and more. This eco-friendly method ensures food waste doesn't stay as waste but is instead reused.