Kaori's easy recipe – Learn how to make "Hello Kitty's Tear & Share Bread"
With just a small bit of ingenuity, turn everyday food into something cute using Kaori's recipe series! With a few simple ideas, an ordinary recipe magically transforms into a cute dish. Let us introduce to you, "Hello Kitty's Tear & Share Bread"
 ■Ingredients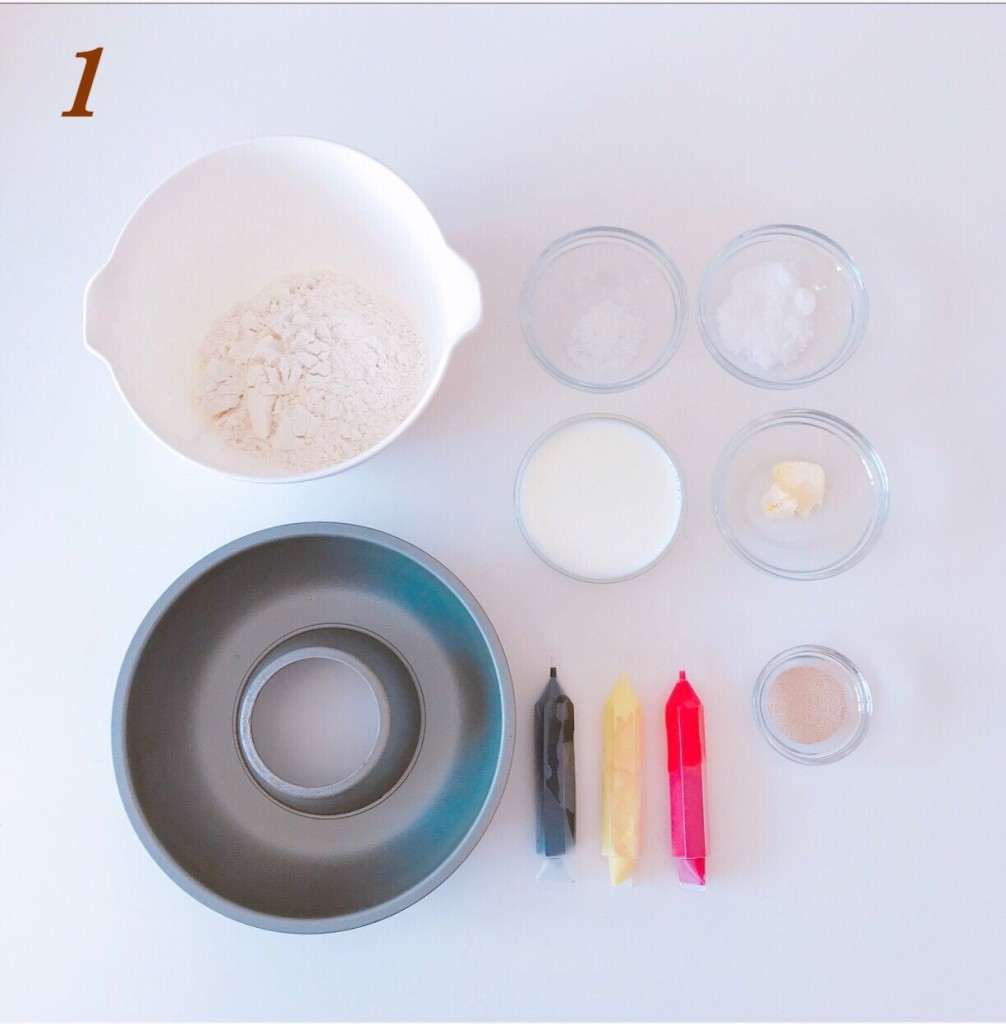 1:
・A giant donut cake pan 18cm
・Bread flour – 140g
※She used"Haruyutaka"
・Dry yeast – one teaspoon
・Sugar – 1 tablespoon
・Salt – one teaspoon
・Unsalted butter or unsalted margarine – 5g
※If you use butter, make it soft into room temperature
・Milk -100g
※Warm it to 35 degrees Celcius
■How to make
2: Put the bread flour, sugar, salt and dry yeast into a bowl
*Add sugar and dry yeast setting this at the side
*Add the salt and dry yeast separately so as to avoid fermentation
3: Pour the warm milk on the dry yeast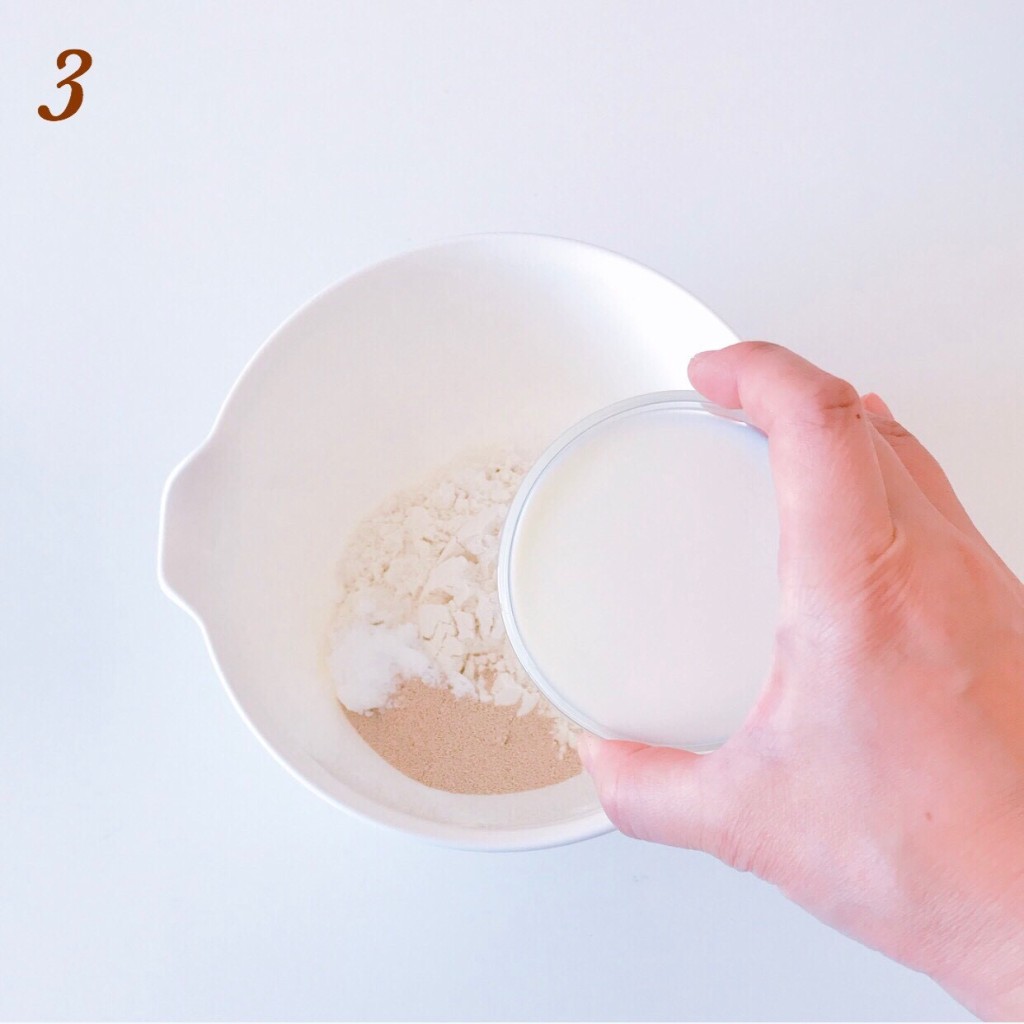 4: Pour all the milk into the bowl as you can see in the photo
*Mix with a wooden spatula until it forms a batter and then knead it with your hands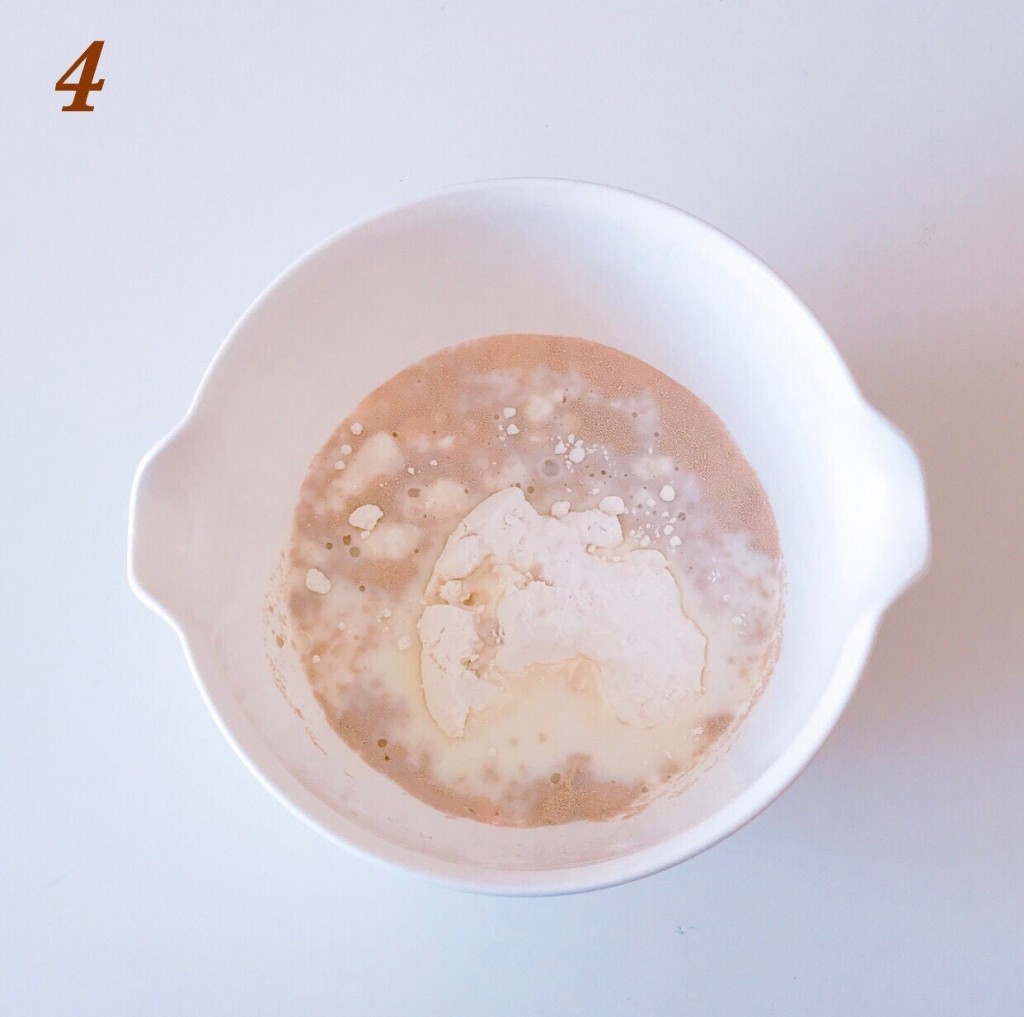 5: When it becomes a batter like in the photo, add the soft unsalted butter or margarine and knead it again
6: When it becomes a dough, place it on a cutting board and knead it again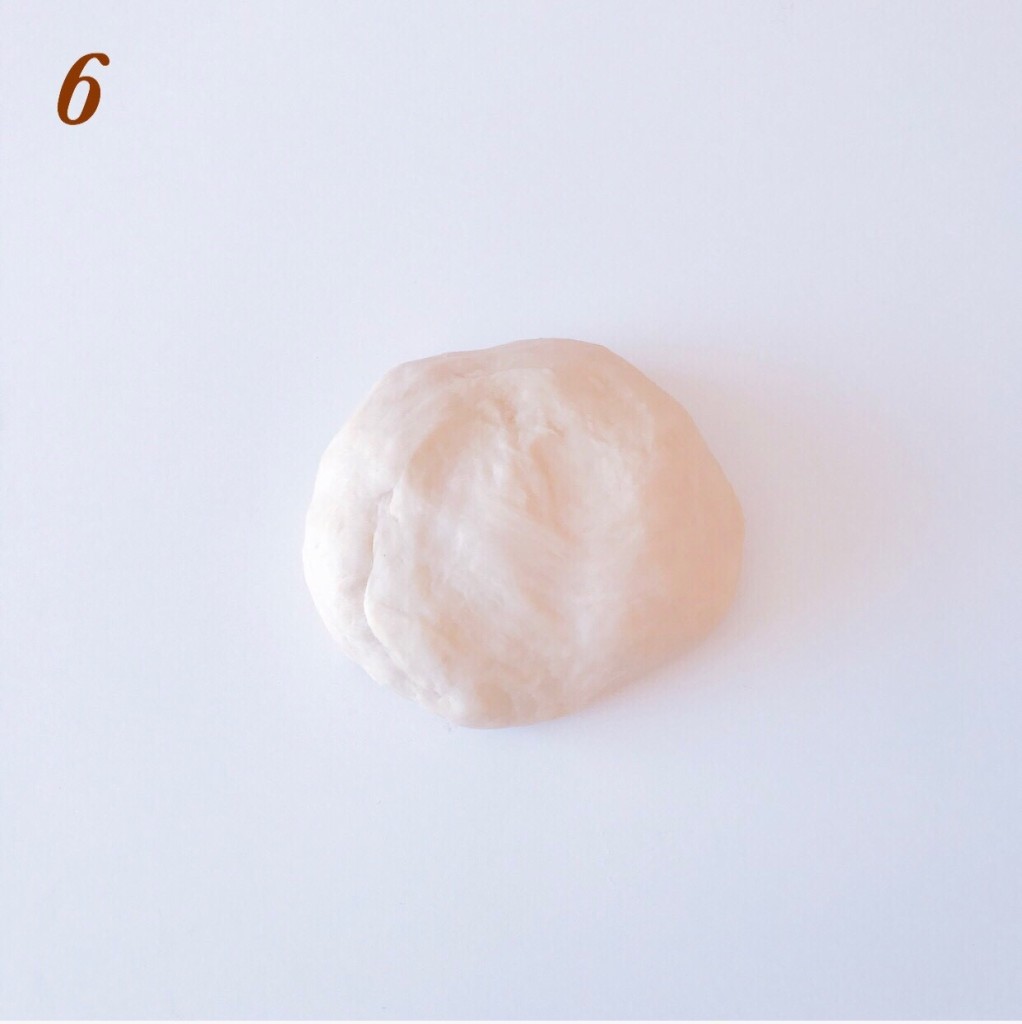 7: Knead it in a V shape in the direction of the arrow ↑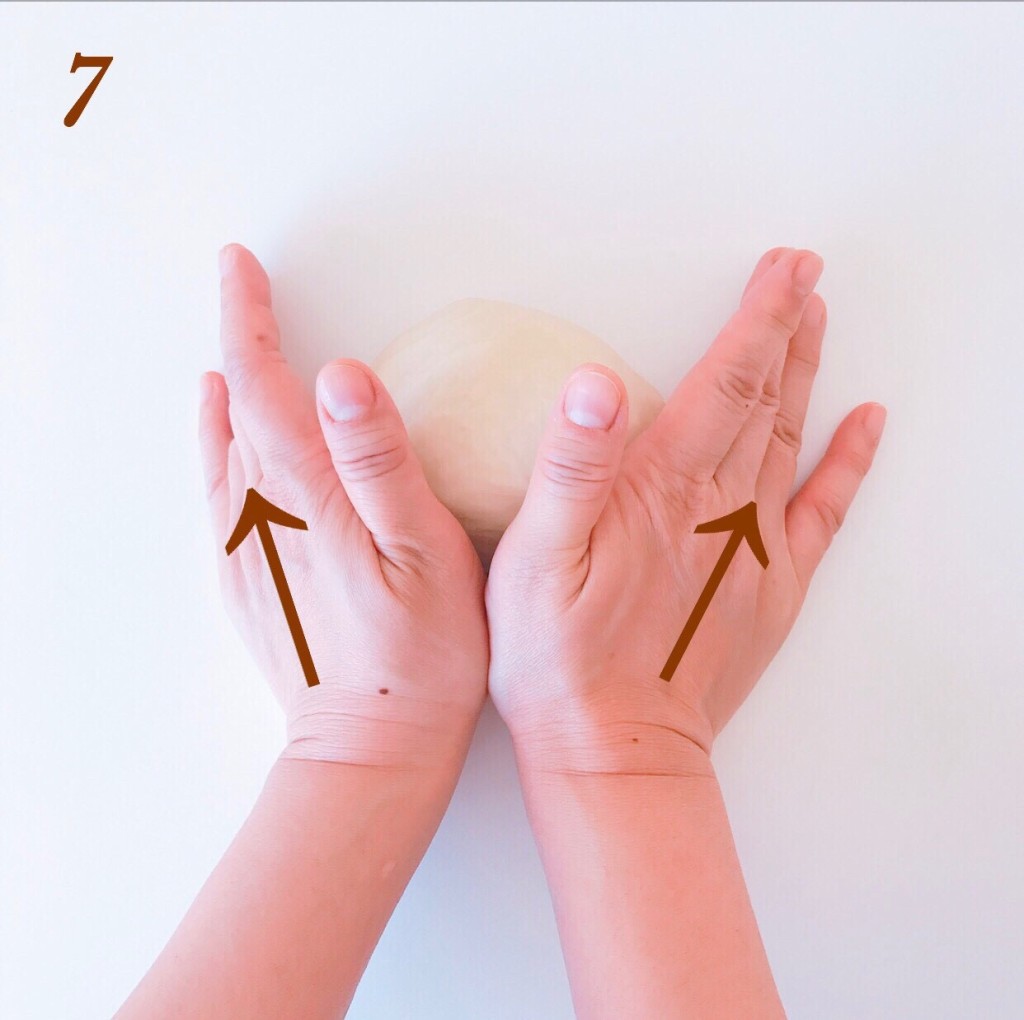 8: When it becomes smoothly, fold it and shape it
*Do this quickly so as to avoid it from drying out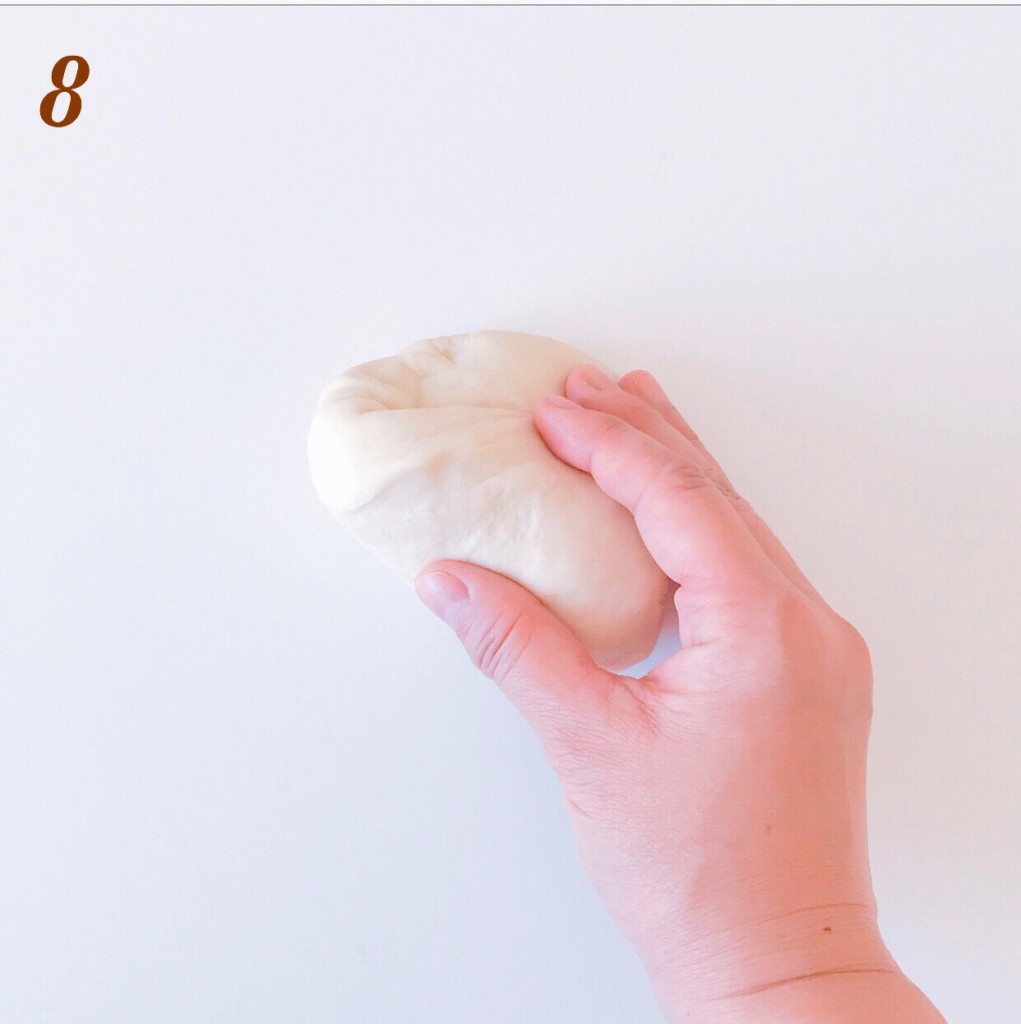 9: When the dough becomes smooth, shaping it into circle shapes
*Handle the dough kindly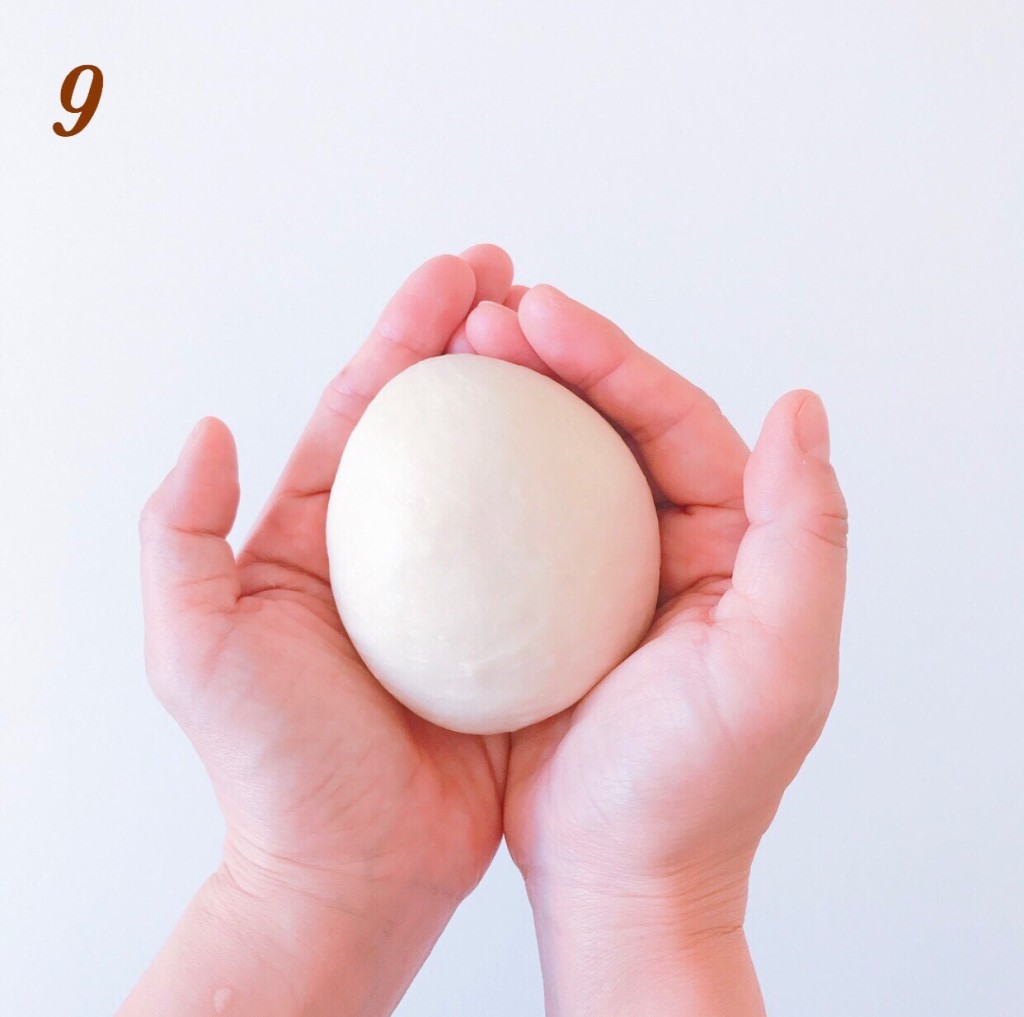 10: Form the dough into a ball and cover with wrap and let it ferment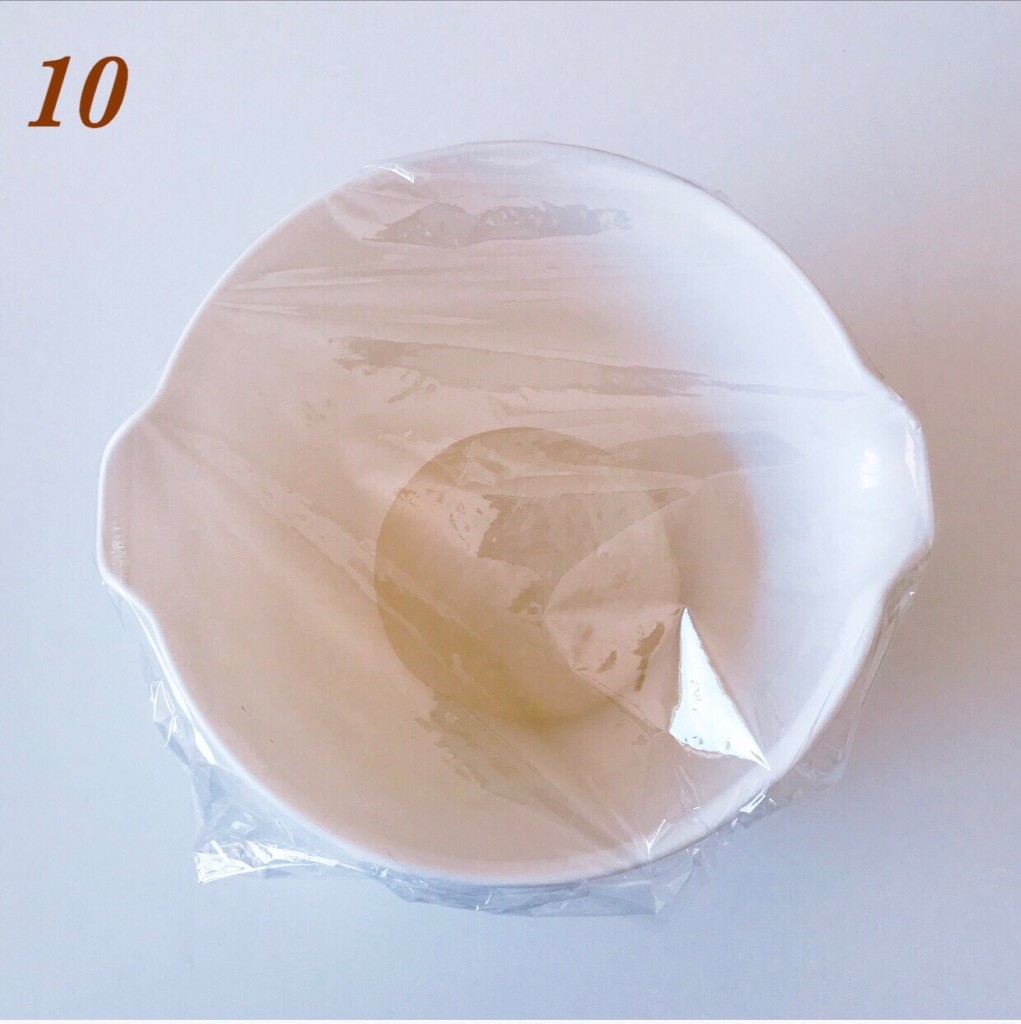 —
Now, let's introduce Kaori's way of fermenting
①put it in a warm place
It takes about 50-60 minutes to ferment
②If you want to speed up this process
Place a big cup of hot water into a big foam container. Form the dough into a ball and put it beside the foam container.
③If you want to do this process slowly
Put the dough in a bowl and cover it with a wrap. Next, put the bowl in the refrigerator. The fermentation process will go very slowly. It will be possible to leave the dough in the fridge overnight.
★It is important to separate the dough into the size you want
—
11: After the fermentation, push the dough with your hand and if it maintains its shape, it's ok. If it isn't, ferment again for a while
12: Weight the dough (it should be between 230 to 250g) and divide it into 8 equal parts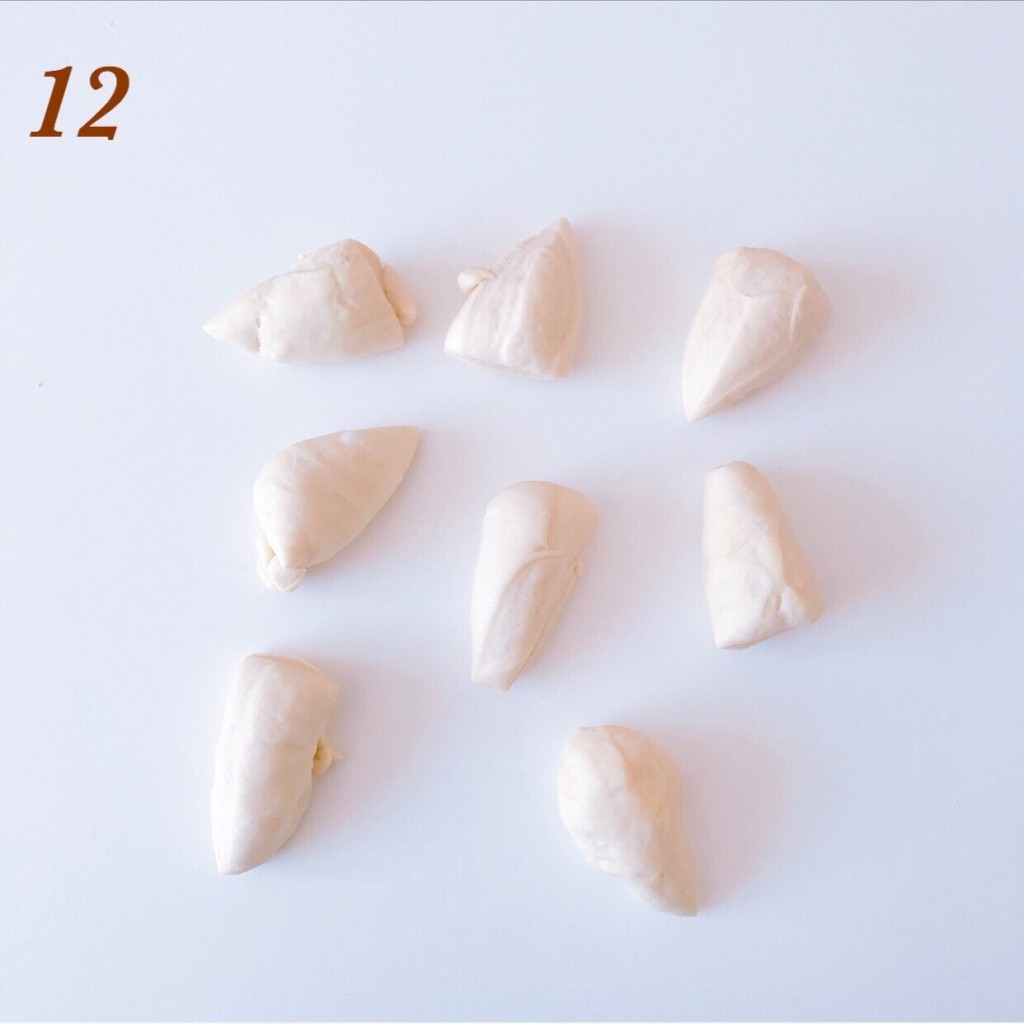 13: Set the cut ends at the center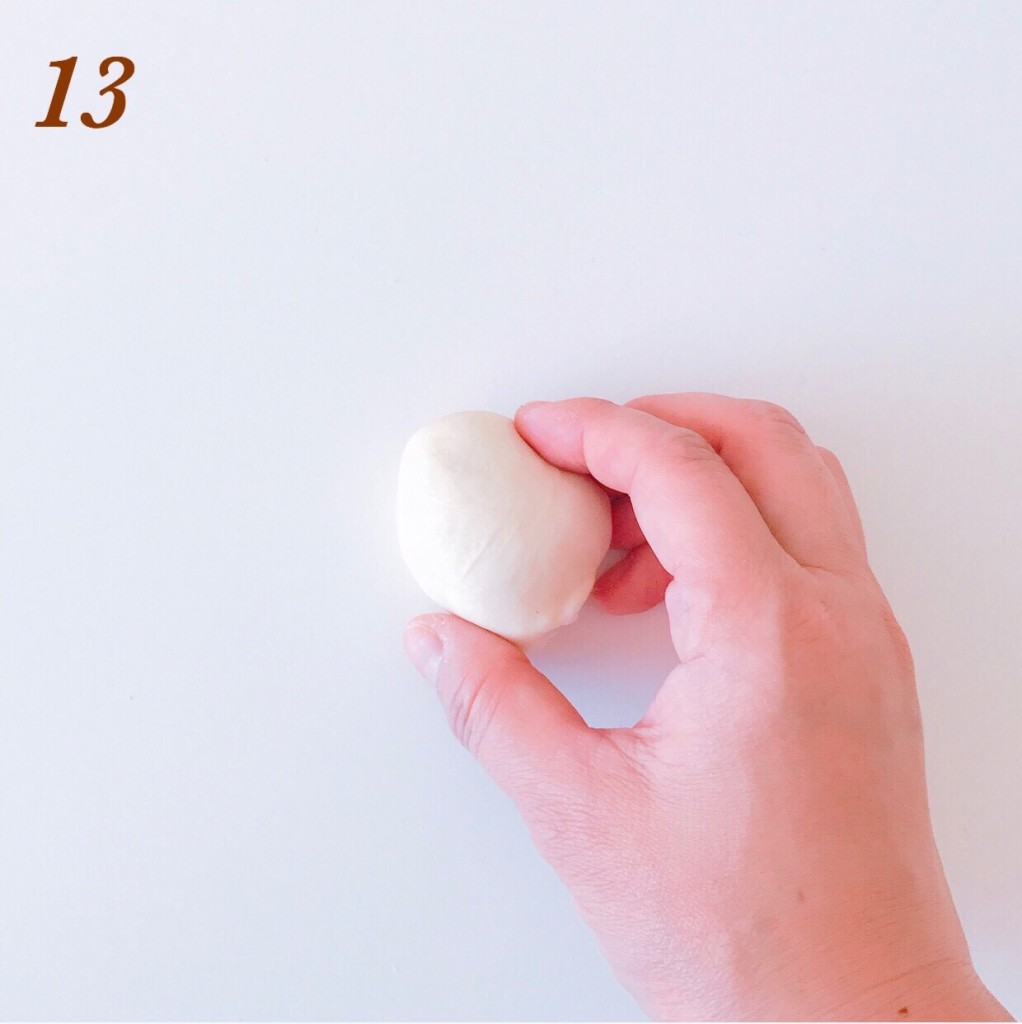 14: Round it so that the sections disappear
15: Make 8 equal-sized balls
16: Put a wet cloth and leave it for 5 minutes at room temperature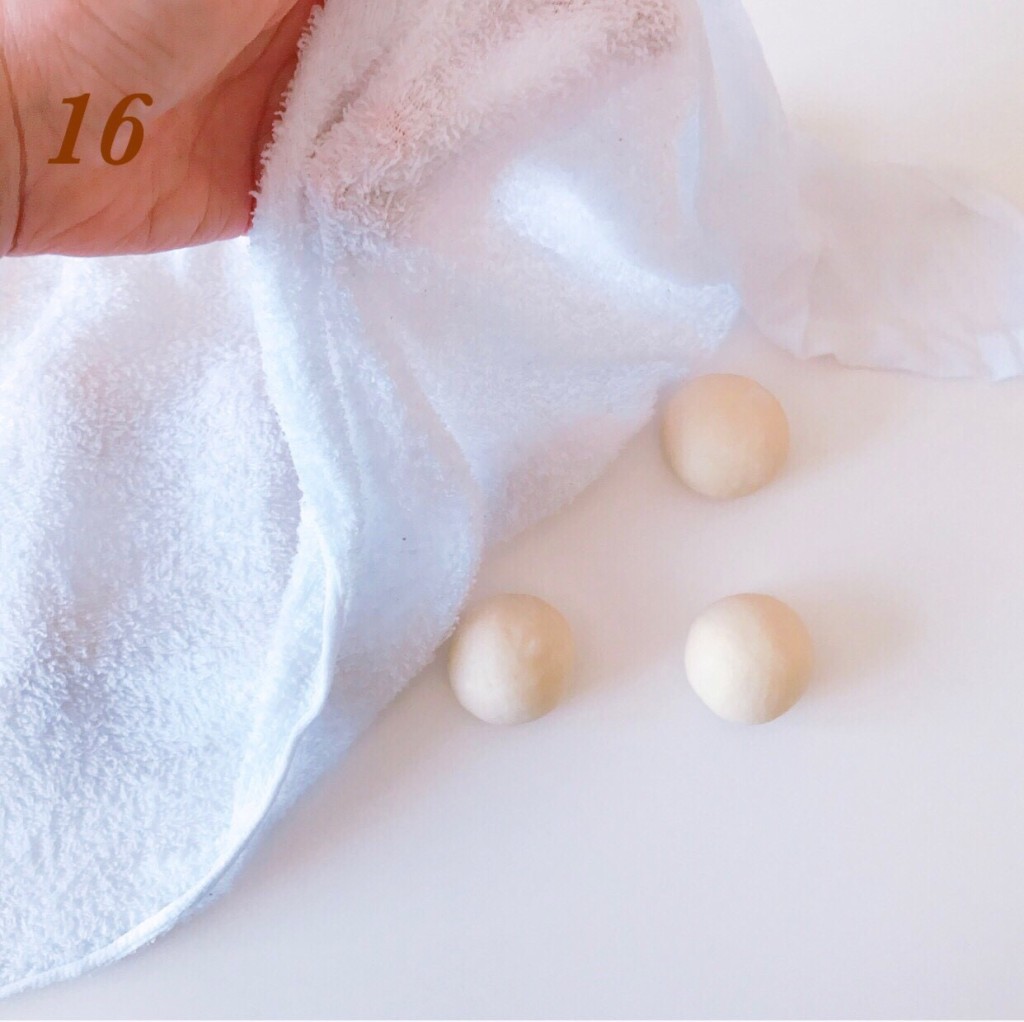 17: Press it lightly to release gas and round out again
18: Put the cut sections down

19: Line up the dough balls into a ring shape
*It's easy to put it like this number 1-8
20: Put a wrap and ferment again for 25-30 minutes at room temperature
21: If its stick together and becomes bigger, it's done
22: Preheat the oven to 180 degrees for 5 minutes, lower the temperature to 140 degrees and bake it for 10 minutes. Put a sheet of aluminum foil on top so as to avoid it from becoming grilled and bake it for 10-12 minutes
23: How to make a face
①Melt chocolate pens using hot water
②Write a nose using a toothpick
*It's easy to make a balanced face if you write from the nose
③Write ribbons by using the tip of a chocolate pen. Write a circle and when it is dry, and write the circular part
④Write eyes by using a toothpick.
⑤Draw its beard by using a tooth pick. Be careful not to poke a hole
24: Your "Hello Kitty's Tear & Share Bread"is completed!
Kaori also invites you into her world of character-themed rice dishes in her recipe series! Please check out her Instagram where she has uploaded many pictures of her character dishes!
■Profile
Kaori Kubota(@kaopan27)
Kaori lives in Hokkaido and enjoys making dinners, sweet treats and character food using bread ♡
Kaori also loves to experiment with small tricks to crate easy character-themed sweets @kaopan27
Related article:Kaori's easy recipe – learn how to make a "Kero Kero Keroppi's Green Tea Pound Cake"
Related article: Kaori's easy recipe – learn how to make a "Duffy & Shellie May's grilled rice ball"
RELATED ENTRIES
Japanese Music Artists Talk About Music They Listened to When They Were 14

TOKYO FM and 37 other Japan FM radio networks are set to air a special program on April 22 at 19:00 (JST) titled Life Time Audio~My First Music "14-Year-Old's Playlist."

TOKYO FM celebrated its 50th anniversary on April 26, 2021. In line with the milestone, the radio network launched a new brand promise: Life Time Audio, a radio special that promotes audio content that enrichens people's lives through music will weaving stories that connect with everyday people. It aims to be a place where people encounter musical experiences and audio content that gives people meaning as they broadcast each and every day their new show Life Time Audio~My First Music "14-Year-Old's Playlist" is inspired by a New York Times article published in 2018 titled The Songs That Bind which looks at how music heard when you are 14 years of age sets in stone your music preferences.

The live broadcast will be hosted by Daisuke Tooyama who worked as the principal of the Japanese radio show SCHOOL OF LOCK! for 10 years until 2020. Listeners can submit the music they listened to when they were 14-years-old either on the show's official website or on social media using the Japanese hashtag #14歳のプレイリスト ("14-Year-Old's Playlist") which will be discussed each episode. Guest artists will also talk about what music they were listening to back then. In the first episode, Masamune Kusano of Spitz talks with Aimyon. Aimyon has publicly stated that she has loved Spitz since elementary school. Masamune will talk Aimyon about other artists she listened to growing up, her music roots, and more. They will also talk about Spitz's latest single Murasaki no Yoru o Koete as well as Aimyon's new song Koi o Shiru Made wa which will be released on May 26 and is used as the main theme for the Japanese drama show Konto ga Hajimaru.

Official HIDE DANdism will also feature as guests on the show. The band formed while they were all in university. It is mentioned that members will talk about not having gone to school much, not getting along with people, their first live shows, and more. They will also talk about what music they want 14-year-olds to listen to.

Information

Life Time Audio~My First Music "14-Year-Old's Playlist."
Broadcast Date: April 22, 2021

Time: 19:00-21:00 (JST)

Where: TOKYO FM / 38 JFN Networks
Official Website: https://tfm.co.jp/fourteen

Laforet Harajuku Welcomes New Stores For Spring 2021

Starting this month, Laforet Harajuku is readying itself for Spring 2021 with the rollout of items by high-end brands and shops, all with an audience in mind who simply love culture regardless of their age or gender.

4.23 | New Store Opening
《Floor 3.5F》circle in circle

circle in circle welcomes a diverse selection of brands such as l'atelier du savon, CHILD WOMAN, and more. The new store's concept is to act as the perfect place for an appointment with your wardrobe. Every month, the store will collaborate with various different people, and line the shop floor with outfits that will have customers feeling like a kind in a candy store. For its initial opening, circle in circle is collaborating with photographer Kensuke Hosoya.

4.9 | New Store Opening

《Floor 1.5F》LIBERTY TOKYO

"Freedom" is the keyword at LIBERTY TOKYO, where customers are encouraged that it's great to get your hands on the things you want, and great to wear the things you want to wear. The shop stocks a range of apparel and items that combine accessories and fashion. They even sell stickers, merchandise, and more. This custom select shop offers made-to-order products, making each and every one unique and the only one in the world. It also collaborates with artists and other brands.

3.12 | New Store Opening

《Floor 5F》OSEWAYA TOKYO

OSEWAYA TOKYO is an accessory shop offering everything from basics to trends. Their motto is "bring your happiness" which is melded into their range, spanning the latest trends to must-have dailies. They have everything you hope a store specialising in accessories would have.

4.9~6.6 | New Store Opening

《Floor B0.5F》GLAZE KOHL x NUTTY VINTAGE

GLAZE KOHL x NUTTY VINTAGE is a limited-time collaboration shop between chic apparel brand GLAZE KOHL and NUTTY, a vintage shop that first opened in 1995. They line-up features new Spring 2021 items as well as the "GLAZE KOHL add VINTAGE" corner which features a selection of vintage items picked out by designers who themselves are vintage buyers. NUTTY VINTAGE is also offering a huge selection of the best authentic vintage items. Customers can enjoy some little limited-edition gifts when shopping there which are being given out to commemorate the shop's opening.

5.22~6.4 | New Store Opening

《Floor 4F》Mansion Mikura

Mansion Mikura's main store is located at Harajuku Cat Street. This limited-time rendition is a 'mansion' with four tenants – a collection of four second-hand shops including SAUCE which stocks miscellaneous items and second-hand clothes, top ranking vintage name STEP A HEAD, side car charlie which specialises in 'maniac items,' and the long-selling brand vintagesheets.

6.5~7.25 | New Store Opening

《Floor 4F》SAUCE

SAUCE is another vintage store located behind Cat Street. For its limited-time opening, it's selling hats in collaboration with Antage which previously sold out, as well as its own upcycled vintage clothing, as well as vintage clothes, rugs, and more from overseas.

5.22~5.30 | New Store Opening

《Floor 0.5F》vanilla(B0.5F)

vanilla will provide a diverse line-up of unique fashion as well as brands such as att production, room boy pony, phemesaccessories, and more.

5.31~6.6 | New Store Opening

《Floor 0.5F》Ochame Department

At Ochame Department, they believe simply being cute is being, and being the same as others is boring. Their fashion stock and handmade bits and bobs are imbued with the magic to make customers smile.

CLEAN KEEPERS Regular Member Uniforms

CLEAN KEEPERS is a cleaning project that takes place every Saturday at Laforet Harajuku in the hopes of creating a clean town and in turn clean hearts for all. Their uniform worn by regular members has changed into a blouson and one piece produced by ehka sopo on Floor B1F of Laforet. The blouson has a retro feel to it while the one piece has long sleeves and is inspired by 19th century British maids.

CLEAN KEEPERS

Running: Saturdays @ 10:30-12:30 (Booking Required/Cancellation if it rains)毎

Tokyo's Sensorial Experience Cafe INTERSECT BY LEXUS Welcomes The Path of Color Installation

The ground-floor Garage space at INTERSECT BY LEXUS – TOKYO is welcoming the The Path of Color installation in collaboration with the creative unit SPREAD starting on April 28.

Past installation collaborations

Anti-Splash Flag Partitions

After Image installation recreates afterimages seen from the car window

The Path of Color is a kaleidoscopic sensory experience that hangs freely overhead as a 'path' and expresses the energy to make it unto the morrow. This colourful installation features a scarlet net with motifs of life and which is filled with colourful fragments torn by hand. Colours have an influence on the memories and feelings of people, and so by gazing at the rainbow hues of this overhanging fragmented path, visitors' imaginations will be stirred, resulting in recollection and emotional experience. The installation hopes to give people the positivity to make it through to tomorrow during the difficult COVID era.



Each colourful paper fragment was printed using an old-time printer which has created a unique gradation that can only be recreated by such a machine from that time. Together with the relaxing lights of LEXUS, customers are sure to sink into their chairs as they kick back and recall old times. LEXUS is a place that treasures moments of beauty, such as falling cherry blossom petals and the arrival of autumn. This richness will serve as a kick-starter to customers finding their own colourful paths.

SPREAD and INTERSECT have come together on numerous occasions, such as for the bistro/cafe's current flag partitions for creating a safe environment during the pandemic, and for 2019's After-Image installation.

SEGA to Open Love Live! Themed Cafe in Akihabara and Around Japan

GENDA SEGA Entertainment is set to open a themed cafe in collaboration with Love Live! Nijigasaki High School Idol Club on April 29, 2021.

A completely original menu themed on the characters

Fans can tuck into a very special menu inspired by the members of the Nijigasaki High School Idol Club with drinks, desserts, and food. The cafe will run over the course of three periods each of which will also include their own unique menu items.

Drinks | ¥660 Each (Tax Included)

Period ①: Hamburger Plate / Yaki Udon | ¥1,320 Each (Tax Included)

Nikujaga Plate / Clam Chowder | ¥1,320 Each (Tax Included)

Period ②: 1st Year Banana Parfait / 2nd Year Strawberry Parfait / 3rd Year Grape Parfait | ¥1,100 Each (Tax Included)

Period ③ menu exclusives to be revealed

Get some freebies simply by ordering

Period ①: Drinks Coaster / Food Coaster / Parfait Costers

Period ②: Drinks Coaster / Food Coaster / Parfait Costers

Period ③ exclusive freebies to be revealed

Character birthday cards

Kanon Shibuya – May 1, 2021 / Sarah Kazuno – May 4, 2021

Ai Miyashita – May 30, 2021 / Nozomi Tojo – June 9, 2021

Mari Ohara – June 13, 2021

Merchandise to add to your collection

Releasing: April 29, 2021

Acrylic Stands | ¥1,320 Each (Tax Included)

Art Panels | ¥660 Each (Tax Included)

Releasing: May 15, 2021

Chibi Key Rings | ¥770 Each (Tax Included)

Bonus merch for every ¥2,000 spent

Bromides | Available April 29, 2021 – May 14, 2021

Bromides | Available May 15, 2021 – May 28, 2021

©2013 プロジェクトラブライブ! ©2017 プロジェクトラブライブ!サンシャイン!!
©2020 プロジェクトラブライブ!虹ヶ咲学園スクールアイドル同好会 
©2021 プロジェクトラブライブ!スーパースター!!
©GENDA SEGA Entertainment Inc.

Information

SEGA x Love Live! Nijigasaki High School Idol Club Collaboration Cafe
Running: April 29, 2021 – June 13, 2021

Where: SEGA Collaboration Cafe Akihabara 3 (SEGA Akihabara 3 Floor 7F) / SEGA Collaboration Cafe Stand / SEGA Akihabara 4 / Nanbasennichimae / Sendai / Okayama / Fukuoka Tenjin / Sasashima
 

Schedule

Period ①: April 29, 2021 – May 14, 2021

Period ②: May 15, 2021 – May 28, 2021

Period ③: May 29, 2021 – June 13, 2021

Cafe Details: https://sega-collabocafe.com/top/nijigasaki03.html

Love Live! Official Website: https://www.lovelive-anime.jp/nijigasaki/

City Hunter Manga Pop-Up Store to Open at Umeda LOFT in Osaka

Anime, manga, and tokusatsu event organiser CRAZY BUMP has announced the opening of a pop-up store centred on Tsukasa Hojo's manga series City Hunter which will run from May 12 to 25.

The pop-up shop first ran in Nagano in Tokyo last month and is now heading to Osaka. It's themed on Ryo Saeba versus Umibozu.

©北条司/コアミックス 1985,版権許諾証AG-301

Information

City Hunter Pop-Up Store: Ryo Saeba vs. Umibozu in Umeda LOFT

Japanese Shop Name: POP UP STORE~冴羽獠VS海坊主墓場の決闘編~in梅田ロフト

Running: May 12, 2021 – May 25, 2021

Where: Umeda LOFT (Floor 1F Market)

Address: 16-7 Chayamachi, Kita-ku, Osaka-shi, Osaka

Opening Hours: 11:00-21:00 (Until 18:00 on May 25)

Entry: Free

Special Page: https://hakabanogarou.jp/archives/17920

Surround Yourself in Atami's Natural Environment and Relax With a Special Hot Spring Plan

Onsen ryokan hot spring inn SOKI ATAMI is collaborating with Shiseido's skin and mind brand BAUM to offer a special new accommodation plan for the spring season. SOKI ATAMI x BAUM -Fresh Verdure & Healthcare- will run from May 1, but pre-bookings are already open on SOKI ATAMI's website.

Free gift bag to the first 100 people who make a reservation

Enjoy deep relaxation with sachets filled with natural smells like wood

A candle-lit night under the starry sky

Fresh verdure and caring for one's health is the theme of this event which takes place deep within Atami. The plan includes the Forest Twin bedroom which is fitted with a half open-air hinoki area that faces the mountains and lets guests feel like they are surrounded by the new green leaves of spring. Rooms are also kitted out with amenities such as BAUM's Hydro Essence Lotion which captures the essence of fresh trees and shrubs. Guests are invited to experience Atami's hot spring culture and cuisine as they allow their mind and body to relax, ultimately benefitting their health. This season is known for its bounteous verdure and refreshing breeze, but it's also said to help alleviate the May blues which many Japanese people experience after starting school or work again, the negative feelings of the rainy season, and more, all of which can put one's spiritual state out of kilter. The scent of trees will rid guests of stress, nerves, and tension, and bring about relaxation, peaceful sleep, and a good detoxing.

BAUM is a skin and mind brand that helps support the strength of one's skin by focusing attention on the water storage, growth, and environmental protection of trees and forests while showing the importance of looking after your mind and body. The brand is giving free gift bags to the first 100 people that make a reservation to show how anyone can enjoy a sustainable life using an everyday item.

On the top floor of the inn is a tearoom where guests can make their own sachets using hinoki cypress. Guests can also enjoy the Aroamtic Room Spray and Aromatic Candles provided by BAUM, all to further aid in relaxation and restoration. In the evenings, the lights will be switched off at the cafe and be replaced with candlelight which will serve as a romantic replacement to shine against the overhead backdrop of the starry night sky.

Information

SOKI ATAMI x BAM -Verdure & Healthcare-

Japanese Plan Name: SOKI ATAMI × BAUM 〜新緑と養生〜

Running: May 1, 2021 – Late June 2021

Reservations: Now Open
Make a reservation here: https://x.gd/rH5wO
Official Website: https://www.so-ki.jp

Mini Pixar Cakes by Ginza Cozy Corner Includes Toy Story, The Incredibles, Finding Nemo, and More

Japan's confectionery shop Ginza Cozy Corner are releasing a new collection of petite Pixar cakes at all branches on April 23.

The cakes comes in time for celebrating Children's Day in Japan, as well as making a perfect snack for Golden Week and for kids and parents to enjoy together. Pixar fans have nine to enjoy in the collection such as the Little Green Men from Toy Story, Nemo and Dory from Finding Nemo and Finding Dory, Sully from Monster's Inc., the Pixar Ball, and more.

Pixar Collection (9 Included) | ¥2,700 (Tax Included)

Flavours include the strawberry mousse Lightning McQueen, the Jack Jack raspberry jelly and mango cream, the Buzz Lightyear blueberry jam and cheese mousse, and more.

Pixar Cake Assortment (6 Included) | ¥540 (Tax Included)

The packaging also features cute artwork of everyone's favourite Pixar characters. Choose between the whole nine cake box collection or this assortment of six white chocolate and strawberry cookies.

Pixar Sweets Box (10 Included) | ¥918 (Tax Included)

There's also a 10-piece box of six cookies and four madeleines.

Japan's The Star Wars Book Compiles the Saga of the Galaxy Far Far Away

The Star Wars Book is a new publication being released in Japan that chronicles the entire Star Wars Saga, from the 1977 film A New Hope to the 2019 The Rise of Skywalker. It also includes spin off stories, information on the animated series as well as the characters, creatures, weapons, vehicles, and more.




©&TM LUCASFILM LTD.

The book is a must-have for fans of the series whether you have full knowledge of its rich world and want to relive it in its entirety, or if there is more you want to read into.

Enjoy a Healthy Junk Food Menu at Shibuya LOFT's New Cafe 2foods

Shibuya LOFT opened its new '2foods' cafe on April 15 which serves junk food healthily.

2foods uses absolutely no eggs or milk in their menu – everything is plant based and healthy, making it a haven for vegan foodies, especially in Japan where there aren't as many vegan places as other countries. What's better is that everything's reasonably priced too. There are around 60 menu items to choose from, like curry and soba as well as desserts, organic coffees and lattes, cold pressed juice, and more.

Artist's rendition of the cafe

Curry | ¥1,023 (Tax Included)

A hearty and spicy curry served with brown rice which is better for digestion.

Tantanmen Ramen | ¥968 (Tax Included) | Shibuya LOFT exclusive

A ramen soup with 100% gluten free rice flour noodles, soy milk, sesame seeds, peanuts, soy meat, and other healthy and natural ingredients.

Egg Doughnut Sandwich | ¥528 (Tax Included)

A vegan egg sandwich that doesn't use eggs but tastes just like them.

Gateau Chocolate | ¥528 (Tax Included)

A rich chocolate gateau made with brown rice powder and soy cream.

Information

2foods Shibuya LOFT

Opened: April 15, 2021

Address: Shibuya LOFT (Floor 2F), 21-1 Udagawacho, Shibuya, Tokyo
Opening Hours: 11:00-20:00 
TEL: 03-6416-4025 

Official Website: https://www.loft.co.jp/

KitKat Japan Releases New Mini Maple Chocolate Bars For Earth Day

In accordance with Earth Day, which is set for April 22, Nestlé released its limited-time KitKat Mini Maple on Monday to raise awareness of environmental issues and the future of the planet.

KitKat Mini Maple (3 Included)

KitKat Mini Maple (12 Included)

9 packaging designs with different messages related to the environment

'KitKat Always For Earth Day' online talk event to take place on April 30

In September 2019, Nestlé began packaging five of its major large-sized KitKat bags in paper bags rather than plastic, and since autumn 2020, most of their large sized bags are now made from paper. This has helped reduce 450 tonnes of plastic per year.

Now, Nestlé is releasing a new collection of packages for Earth Day featuring original designs by up-an-coming young artist SUGI. Each features messages from members of MIMO, a group managed by Japanese model Mila Aina, stating messages about helping to protect the environment and the future of planet earth.

Music-Eating Space Hamsters BLUE HAMHAM Get Pop-Up Store in Tokyo and Osaka

CHOCOLATE Inc. is set to open the BLUE HAMHAM POP UP STORE at Shibuya PARCO in Tokyo on May 14 and Shinsaibashi PARCO in Osaka on June 4. The pop-up shops are centred on Arimura Taishi's characters BLUE HAMHAM.

BLUE HAMHAM are four music-eating space hamster brothers from a planet called 'Proxima b.' Their animations on Twitter, TikTok, and other social media platforms have garnered over 300 million views worldwide. In 2020, they began collaborating with overseas artists. Their musical animations have garnered popularity across the globe.

At the pop-up shop, fans can get their hands on over 30 new BLUE HAMHAM items. This also marks the brothers' first pop-up shop in Osaka. From exclusives to free novelties, there's plenty to enjoy.

At the store, fans will also be greeted by four 1-meter tall BLUE HAMHAM statues, the only ones in the world. There will be a display showing their animations, a chance to learn about the characters, and more.

©CHOCOLATE Inc.

Information

BLUE HAMHAM POP UP STORE

Tokyo Store: Shibuya PARCO B1F GALLERY X

Address: 15-1 Udagawacho, Shibuya, Tokyo

Running: May 14, 2021 – May 30, 2021

Osaka Shinsaibashi PARCO 10F EVENT SPACE

Address: 1-8-3 Shinsaibashisuji, Chuo-ku, Osaka-shi, Osaka

Running: June 4, 2021 – June 21, 2021

Special Page: https://art.parco.jp/shinsaibashi/detail/?id=656

Snoopy Town Shop to Open in Kobe

Peanuts fans will be excited to know that KIDDYLAND is set to open the new Snoopy Town Shop in Kobe on April 29, 2021.

The theme of the new shop is "Happiness is…a warm puppy" which will be echoed in its cute decor and line-up of merchandise. The shop is incorporating a farmhouse style which combines traditional Kobe designs with a contemporary taste that elicits a sense of nostalgia. Inside, shoppers will find the Peanuts gang relaxed and chilling around the shop along the shelves and up the official gallery wall where scenes from the comics trip will be depicted.

This Japan-official shop will also sell an exclusive line-up of items with the theme "Welcome Home" which features Snoopy and his friends relaxing at home.

Freebie for fans

The first 1,000 people to spend over ¥3,000 (tax included) in the shop will receive a free face towel.

A small look at some of the limited-edition line-up

The following items will be sold on the opening day only and will be limited to one piece per customer, per transaction.

Pin Set | ¥1,518 (Tax Included)

Bandana | ¥1,100 (Tax Included)

Glasses | ¥1,650 (Tax Included)

Tote Bag | ¥2,530 (Tax Included)

The following items will be sold on the opening day only and will be limited to two pieces per customer, per transaction.

From Left: Buffer Knife ¥660 / Small Spoon ¥660 / Small Fork ¥660 / Medium Spoon ¥770 / Medium Form ¥770 (Tax Included)

Left: Folder ¥308 / Right: Set of 2 Art Cards ¥330 (Tax Included)

Left: Wash Towel ¥1,100 / Right: Flat Pouch ¥1,100 (Tax Included)

T-Shirt | ¥2,420 (Tax Included)

© 2021 Peanuts Worldwide LLC