Maruoka Castle Turns Into Kaleidoscopic Wonder With Colourful Projection Mapping
Japanese creative company NAKED began a new projection mapping event at Fukui Prefecture's Maruoka Castle on March 31 as part of its Future Creation Project.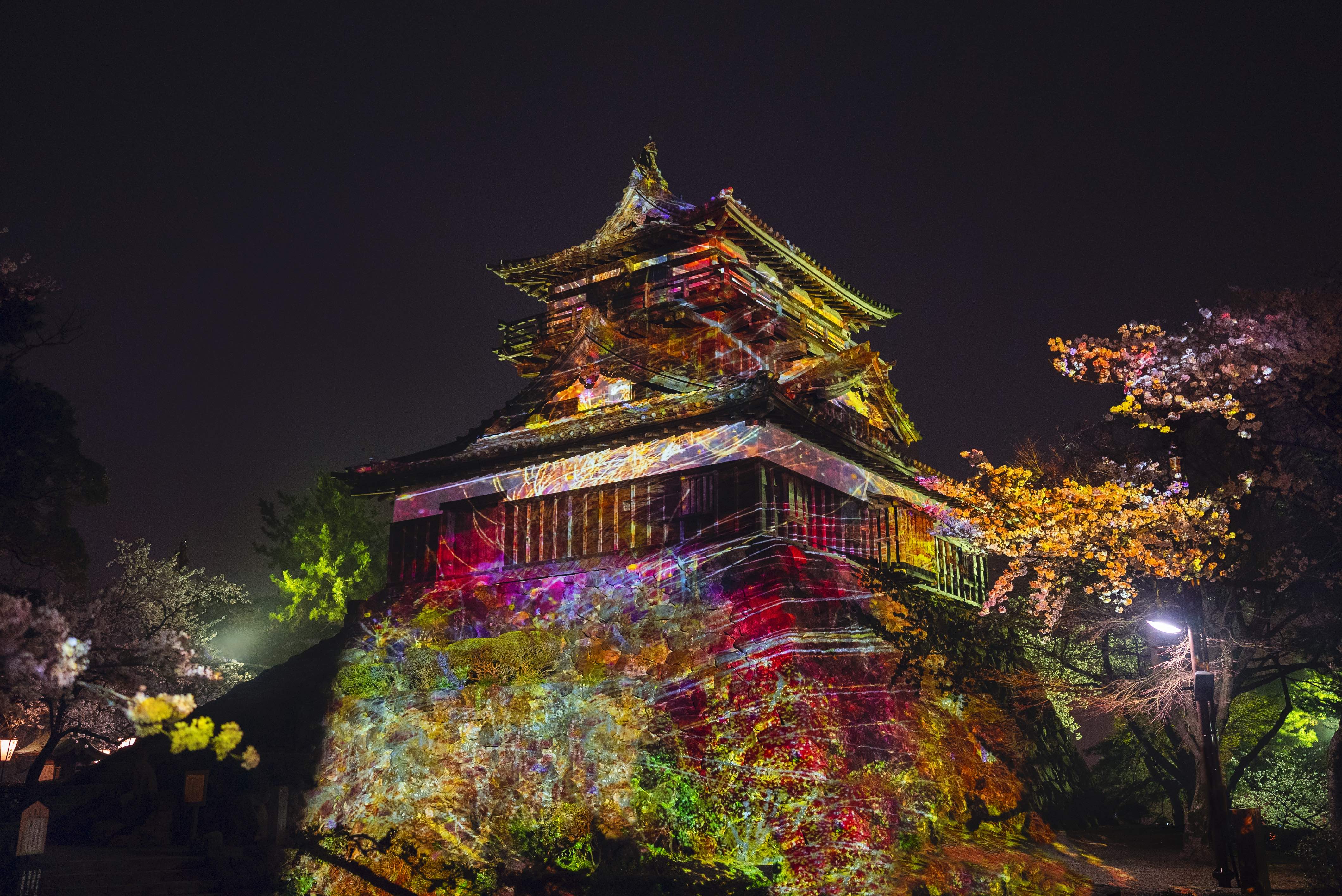 Maruoka Castle Castle Tower
Castle Tower Parkお天守前公園
NAKED launched its Future Creation Project back in 2014 as a way to express local sites around Japan in a creative manner going into the future. The project is held together with local children, grown-ups, and businesses, and takes place both inside and outside Japan.

The company took its projection mapping technology to Shinsen Izumi Elementary School in Tokyo in 2014 and again to Kesennumakoyo High School in Miyagi in 2015. It then rolled out its 0 x 0 Mugen Project in collaboration with Osaka University of Arts in 2016 which supports the projects and productions of students at the university as well as students looking to study there.
This year, NAKED joined hands with the locals of Fukui to set up a one-year projection mapping event at Maruoka Castle as part of the Future Creation Project.
Information
Maruoka Castle x NAKED Hikari Musubi
Japanese Event Name: 丸岡城×ネイキッド ヒカリ結び
Start Date: March 31, 2021
Where: Maruoka Castle (1-59 Maruokachō Kasumichō, Sakai, Fukui
Times: 20:00 / 21:00 (Twice a day for 20 mins)
Castle Opening Hours: 09:00-21:00

Official Website: https://www.city.fukui-sakai.lg.jp/
RELATED ENTRIES
NAKED's New Dandelion Art Installation to be Put Up at Moominvalley Park

Japanese company NAKED is set to install its main Dandelion installation of its new art project Breath / Bless Project at Moominvalley Park in Saitama on November 21, 2020.

The Bless / Breath Project was created by Ryotaro Muramatsu which aims to install Dandelion art pieces around the world to create a network of peace. There are currently dandelions at MIYASHITA PARK and Tokyo Tower in Tokyo as well as at Gardens by the Bay in Singapore.

The Dandelion art installation normally acts like a real dandelion whereby blowing on it release its fuzz. However, as a precaution against COVID-19, the design has been changed so that visitors can hold up their smartphones and see the piece in action on their screens.

Tripadvisor Reveals its Top 20 Most Popular Japanese Castles For Japanese People

The Japanese branch of the world's largest travel platform Tripadvisor® has posted its 2020 list of the Top 20 most popular castles in Japan amongst Japanese people.

This year marks the 8th run of the most popular Japanese castles ranking. Crowning the number one spot for the fourth year in a row in the list is Himeji Castle in Hyogo Prefecture. Kanazawa Castle and Iwakuni Castle have appeared for the first time ever on the list, while Shurijo Castle—which saw the main courtyard structures destroyed last year in a fire—and Kumamoto Castle—which was damaged as a result of the 2016 Kumamoto earthquake—both placed in the Top 10. This shows the greatness of these last two castles, Shurijo Castle and Kumamoto Castle, that despite their damage people still revere them, and their visiting them calls for a quick repairs and rebuilding.

User posts for all the castles in this year's list commended each site's incorporation of measures against the spreading of COVID-19, such as making it mandatory to wear masks, and providing alcohol gel everywhere.

Top 20 Most Popular Japanese Castles Amongst Japanese People | 2020 Edition

1st Place: Himeji Castle (Himeji, Hyogo)

2nd Place: Matsumoto Castle (Matsumoto, Nagano)

3rd Place: Matsuyama Castle (Matsuyama, Ehime

4th Place: Matsue Castle (Matsue, Shimane)

5th Place: Nijo Castle (Kyoto, Kyoto)

6th Place: Katsuren Castle (Uruma, Okinawa)

7th Place: Kochi Castle (Koch, Kochi)

8th Place: Shurijo Castle (Naha, Okinawa)

9th Place: Kumamoto Castle (Kumamoto, Kumamoto)

10th Place: Nakagusuku Castle (Kitanakagusuku, Okinawa)

Full Top 20 List (Japanese): https://www.tripadvisor.jp/Trips/99877580

The Reviews

1st Place: Himeji Castle | Himeji, Hyogo

Himeji Castle has placed on this list four years in a row. The castle also gets the name Hakuro-jo, or "White Egret Castle," due to the structure's white exterior and resemblance to a bird taking flight. Many users on Tripadvisor commented on their multiple visits to the castle, with one saying they have visited over 10 times, and another having visited 10 years after the castle's repair work. Another said that although you have to pay to get in, you can learn much and more about the castle if you just ask the guide. Himeji Castle also has its own app you can download which has videos on different spots around the castle grounds.

16th Place: Kanazawa Castle | Kanazawa, Ishikawa

Kanazawa Castle has a rich history that dates back to being the headquarters of the Kaga Domain, also known as the Kanazawa Domain. Many users praise the beauty of the castle's appearance, often highlighting the bricks various that make it up. The castle is lit up at night, and the scenery during winter is a sight to behold. Numerous events are held there throughout the year.

17th Place: Iwakuni Castle | Iwakuni, Yamaguchi


From the castle keep visitors can enjoy a panoramic view of the city of Iwakuni, Kintai Bridge, the islands of the Seto Inland Sea, Miyajima, and more. This is one of the main highlights commended by users on Tripadvisor. One hiker recommended visiting the castle as a set together with a walk along Kintai Bridge.

If you're planning a trip to Japan, then be sure to use this list as reference so you know which castles are must-visits.

Tokyo's Sumida Aquarium Begins Summer Evening 'Penguin Firework' Projection Mapping Event

Sumida Aquarium began its new "Penguin Firework" projection mapping show on July 23 which is set to run on weekends and public holidays up to August 30.

Due to the situation surrounding the COVID-19 pandemic, summer firework festivals up and down Japan have had to be cancelled. Sumida Aquarium conceived the idea of this event in response to this, since fireworks are a summer pastime in Japan.

Penguin Fireworks is an 8-minute show that uses projection mapping around the aquarium's penguin pool to create kaleidoscopic firework patterns. Together with an original music score and the sound effects of fireworks, visitors are pulled into a magical performance as the penguins swim and dance around the lights.

Enjoy Japan's summer fireworks this year at Sumida Aquarium.

Information

Penguin Fireworks
Running: July 23, 2020 – August 30, 2020 (Weekends & Public Holidays Only)
Location: Sumida Aquarium's Penguin Pool
Times: ①17:45, ②18:30, ③19:30 (8 minutes each)

*Times subject to change in the case of other events

Official Website: https://www.sumida-aquarium.com/

1→10, Inc. Brings Magical Shores Interactive Land Art to Siloso Beach in Singapore

Japanese creative studio 1→10, Inc. opened up Singapore's first ever permanent interactive land art exhibition "Magical Shores" on January 23 this year together with Lighting Planners Associates (LPA), a lighting company based in both Tokyo and Singapore.

Magical Shores spans 400 meters of Sentosa's Siloso Beach, turning it into an immersive, multi-sensory experience of AI-operated lights and sounds which elevate the beauty of the surrounding natural environment.

Guide To Magical Shores | Siloso Beach, Sentosa:

AI technology responds to visitors on the beach, giving them a breathtaking and unique performance. Sensors are dotted around the area which use sensing data to react based on people's movement around the beach. The AI is constantly developing as it collects big data about the temperature and climate of Siloso Beach as well as that of people's movements.


In two of the interactive areas, people can witness the "Circle of Life" beginning with the big bang. After that there is magma, followed by heavy rainfall and eventually flowing water which gives birth to life. Cells divide as plants begin to sprout, fish swim in the sea, and birds and insects sing in the mountains. At the end, life falls, and the process begins again.


Japanese musician Masakatsu Takagi was put in charge of the music and sound design of the exhibition. Takagi is known for having written the music for Wolf Children and The Boy and the Beast. He took inspiration from his music project "Marginalia," a sound diary where he would record the sounds of birds, insects, the wind, rain, and so on from his studio window. Takagi did field recording on the beach to capture the sounds of nature to use for the art exhibition.

Kuniyuki Takahashi also offered his musicianship to the exhibition. Based in Sapporo, he is an internationally-recognised composer. He also recorded the sounds of Siloso Beach, and together with Takagi, created the perfect soundtrack for Magical Shores.

Magical Shores is currently temporarily closed as a result of the coronavirus but will resume once more as soon as the situation allows it.

Experience Hanami and Cherry Blossoms With Digital Art at FLOWERS BY NAKED 2020 – Sakura –

FLOWERS BY NAKED is an annual flower-themed digital art event held by NAKED Inc. As part of this year's event, FLOWERS BY NAKED 2020 – Sakura –, a special addendum event entitled "Nijo Castle Sakura Matsuri" will take place during the evenings at the World Heritage Site Nijo Castle From March 20 to April 12 this year.

FLOWERS BY NAKED is an interactive digital art experience. It has been held at Nijo Castle during the autumns of 2018 and 2019, but this will be the event's first time being held in Kyoto during the spring season. 2020's theme is cherry blossoms, and this will be showcased in a number of wonderful ways.

Prologue | NAKED BIG BOOK

"NAKED BIG BOOK, a monument of the beginning of this exhibition, will show collaboration works by an artist Ryotaro Muramatsu and a photographer LESLIE KEE. LESLIE KEE contained energy into photographs as the quiet expression, and Ryotaro Muramatsu reinterprets his works to dynamic photography art.​"

Arrival of Spring | Kara-mon Gate (Important Cultural Property)

"Projection mapping expresses the coming of Spring on Karamon-Gate as an important cultural property."

Flowers Wall ~ SAKURA ~ | Inner Moat

"Projection mapping of impressive sakura on the moats in Nijo-jo Castle. The landscape will transition following sakura."

Sakura Droplets | Seiryu-en Garden

"A mystical space surrounded by real sakura where bubbles confined spring fragrance float as the sakura droplet.​ ​"

The event is working on countermeasures against the coronavirus, such as installing disinfectants and having staff wear masks. It requests that visitors take normal measures against the infection such as cough etiquette and washing your hands. Click here for more information.

Information

FLOWERS BY NAKED 2020 −Sakura− World Heritage Nijo-jo Castle

Running: March 20, 2020 – April 12, 2020
Opening Hours: 18:00-21:00 (Closed at 22:00)
Location: Nijo-jo Castle
Admission Fees:

Early Bird Tickets (Available until March 19, 2020) / Junior High School and Older ¥1,000, Elementary School Students ¥800
General Tickets (March 20, 2020 – April 12, 2020) / Junior High School and Older ¥1,400, Elementary School Students ¥800
*All prices above include tax. Free for preschoolers. Disability discount available.

Official Website: https://flowers.naked.works/2020nijojo-sakura/

Flower Themed Projection Mapping Show to Take Place at Kyoto National Museum

A special projection mapping show directed by NAKED is set to take place at Kyoto National Museum from March 6, 2020 to March 15, 2020. This breathtaking light performance is entitled "Light & Food Ensemble 2020 ~Evening Flower Banquet Directed by NAKED~".

The special evening performance is part of the Kyoto Higashiyama Hanatourou 2020 event, which is centred around lanterns.


NAKED aims to bring new light on Kyoto's gorgeous evenings with an incredible display of music, lights and projection mapping at Kyoto National Museum's gardens. Lasting 10-15 minutes, projection mapping will spread cross the wall of the Meiji Kotokan Hallーan Important Cultural Property of Kyoto with a history spanning over 120 yearsーwith kaleidoscopic patterns including yuuzenzome, or "Yuzen silk printing," which is used on kimono displayed in the museum.

Meiji Koyokan Hall has been protected since the Meiji Period. Spectators will be able to witness a story unfold of beautiful flowers over the generations through music and lighting.

The entire garden will be lit up and bring life to many great spots for taking photos. This special event will allow visitors to experience the cool spring evening like never before. It will also see the first ever display in collaboration with Oniwa Ueji, which has a 250+ year history and is part of Higashiyama's culture.

There will also be food available to eat at the event full of the flavours of Kyoto. Enjoy ticking into dishes you won't be able to taste anywhere else.

Information

Light & Food Ensemble 2020 ~Evening Flower Banquet Directed by NAKED~

Location: Kyoto National Museum

Running: March 6, 2020 – March 15, 2020
Time: 18:00-20:30 (Last Entries 20:00)
*Open until 21:30 (Last Entries 21:00) on Fridays and Weekends
*Kyoto National Museum will close at 17:00 (Last Entries 16:30) on March 6, 7, 13, and 14
Official Website: http://ensemblekyoto.com/

NAKED SAKURA AQUARIUM: Cherry Blossoms and the Sea Come Together at Tokyo's Maxell Aqua Park

Maxell Aqua Park Shinagawa has announced the holding of a new exhibition entitled "NAKED SAKURA AQUARIUM" which will run at the Tokyo-based aquarium from March 1, 2020 to April 19, 2020.

Offering "cutting-edge Tokyo entertainment," the exhibition is combined music, lighting, and visuals with living beings. Using the latest in leading edge tech, visitors will be treated to a visual treat of animals living harmoniously with the season. The exhibition promises you will notice something new with each visit. Enter a world of spring like never before as cherry blossoms and the ocean come together through digital art.

Cherry Blossom Tayori

The entrance to the aquarium will be in full bloom with cherry blossoms. The water tanks in the centre will be perfectly pink and house madai snapper, a type of fish also nicknamed "sakura-dai" around this season.

Spilling Cherry Blossoms

This area will be like an atrium, with water tanks and showcases lined up beautifully next to each other and decorated with cherry blossom art flowers. The water tanks, which bring to mind the image of a "banquet," will house sakura-dai, sea goldie, and other fishes.

Dancing Cherry Blossom Garden

In the immersive Patterns area, you can see the "possibilities" of the four seasons as digital art works to combine a seasonal landscape with the sea creatures on display.

Also in the Dancing Cherry Blossom Garden will be Cape penguins who will put on a performance using their physical abilities. The performance, which is split into two parts, will make use of projection mapping. The first part will see the bloom of yaezakura cherry trees, while the second part will have jacaranda, also called the "purple cherry blossom," a flower that blooms in South Africa where Cape penguins originate.

Dolphin Performance Day Version – Cherry Blossom Dance

The daytime dolphin performance sees visitors gathering in the amphitheatre. This interactive performance is inspired by springtime banquets and Hanami flower-viewing. Enjoy seeing the dolphins dance high-speed to the rhythm of Japanese rock music.

Dolphin Performance Night Version – Cherry Blossom Story

The nighttime dolphin performance uses the water, lighting, visuals, and music to celebrate cherry blossoms in the evening. Enjoy a more delicate, but powerful performance from the dolphins, and see the flowers in all their beauty.

Jewellery Fish Rumble

The ceiling and walls of the spacious Jewellery Fish Rumble area all have reflective mirror surfaces. Countless pink and blue illuminations light up this evening cherry blossom-themed area, where you can enjoy a digital Hanami experience together with the jellyfish.

Katou Flower Lantern

The NAKED SAKURA AQUARIUM cafe and bar is adorned with a cylindrical water tank with illuminated coral. The cafe/bar is inspired by Katou, which is when the evening light feels like it is being lit up by fully bloomed cherry blossom flowers. The menu includes a selection of cherry blossom and matcha drinks, as well as a selection of sweet treats perfect for the Hanami season.

3 Dango & Mini Taiyaki – ¥500 (Red Bean Paste/Cream)

Sakura Mizu-warabi Rice Cake – ¥500

Enjoy a completely different kind of Hanami experience at Maxwell Aqua Park.

*Photos are for illustrative purposes only

Information

NAKED SAKURA AQUARIUM at Maxell Aqua Park Shinagawa

Running: March 1, 2020 – April 19, 2020
Address: Shinagawa Prince Hotel, 4-10-30 Takanawa, Minato Ward, Tokyo
Opening Hours: 10:00-22:00
Prices: General (High School Students and Older) ¥2,300 / Elementary-Middle School Students ¥1,200 / Children (4+ Years) ¥700
Exhibition Page: http://www.aqua-park.jp/special/snowaquarium2019/en_index.html

Maxell Aqua Park Shinagawa Official Website: http://www.aqua-park.jp/aqua/en/

FLOWERS BY NAKED 2020: Details Revealed For Tokyo's Flower-Themed Art Event

FLOWERS BY NAKED is an annual flower-themed art event held by NAKED Inc., and the company has announced its next run: FLOWERS BY NAKED 2020 – Sakura – will take place from January 30 to March 1 next year at Nihonbashi Mitsui Hall in Tokyo, where visitors can enjoy flowers an a wholly new kind of interactive experience. Tickets went on sale on December 17, 2019, and this event will mark its 5th anniversary of taking place in Nihonbashi.

To date, FLOWERS BY NAKED has seen over 500,000 people attend the events, which have become a place for Instagrammable photos with over 660,000 posts made with the hashtag #flowersbynaked.

2020's theme is cherry blossoms, so to celebrate, NAKED has unveiled four key visuals for four gardens set for the event along descriptions. As visitors journey through the gardens, they will experience an immersive story melding the worlds of flowers and art.

■Prologue

"When a butterfly telling the spring dances in the snowy winter world, the page is turned and the world changes from winter to spring."

This is where the story begins: where winter flowers bloom. But as the pages of the big book are turned, the space is transformed into springtime as the snow melts.

■Dandelion Hill

"When you blow dandelion as if you were playing as a child, the fluff soars up to the sky with your old memories."

Watch as the scenery changes when you blow on the towering dandelions in this incredible interactive experience that combines real life with digital technology.

■Glowing Garden

"In a shimmering space that seems to be lost in a kaleidoscope by a mirror, the sun shines even more."

When you step into this radiant garden which is lit by the pouring sunlight, it will seem as if the entire world around you glows with the fiery light of our burning star.

■OUSAI Garden

"The fastest cherry blossom viewing space in Japan where you can enjoy the five senses, such as the blossoming cherry blossoms and the scent of spring."

The river seen at the beginning of the story leads to here, a holy cherry blossom garden watched over by an enormous pink cherry tree. There is plenty to interact with in this area for visitors to experience cherry blossoms with all five of their senses.

Advance tickets for this event are now on sale, so don't miss out.

Information

FLOWERS BY NAKED 2020 – Sakura –

Running: January 30, 2020 –  March 1, 2020

Opening Hours: 10:00-20:00 (Last entries 30 minutes before closing time)

*Opening hours subject to change

Location: Nihonbashi Mitsui Hall COREDO Muromachi Floors 1F + 5F (Entrance is on 4F)

Official Website (English/Japanese): https://flowers.naked.works/2020nihonbashi/

Himeji Castle Places Number 1 On Japan's Top 20 Castles For 4th Year in a Row

TripAdvisor® has just released its list of the top 20 castles in Japan from 2019 as reviewed by travellers and tourists.

Himeiji Castle

This is the 7th time the website has run this list. Coming in at No. 1 for the fourth year in a row is none other than Himeiji Castle, located in the city of Himeiji in Hyogo Prefecture.

Matsumoro Castle

Kumamoto Castle

Moving up from 4th place to 2nd place this year is Matsumoto Castle in Nagano Prefecture, and from not ranking at all last year to 3rd place this year Kumamoto Castle. These top three castles comes as a package as they are considered Japan's three premier castles.

Kumamoto Castle is set to re-open this autumn after reconstruction work is complete. The castle suffered damages after the 2016 Kumamoto earthquakes. Although time is required for the full restoration, you can still see the majestic tower keep surrounded by paling. Japanese users on TripAdvisor have commended it as a symbol of restoration and their joy with the repairs being done.

Hirosaki Castle

For the first time in four years, Hirosaki Castle ranks on the list in 12th place. Situated in central Hirosaki in Aomori Prefecture, the castle is a known living symbol of the Edo Period (1603-1868). Construction work has been taking place since 2015 to repair the base of the castle structure on the east side due to deterioration. In summer 2015, the castle tower was moved 70 meters without taking the castle apart to allow for work to be carried out. A moving castle is certainly a rare sight to see in Japan-and something you only imagine from a Studio Ghibli movie!

The castle has been praised on TripAdvisor for how beautiful its surrounding nature is, from the cherry blossoms in spring to the red and yellow leaves in autumn. The castle can be enjoyed throughout all the seasons.

Tsuyama Castle

Making the list for the first time ever is Tsuyama Castle which can be found in the beautiful Kakuzan Park in Okayama. When you ascend the magnificent stone steps of the castle and turn around you can enjoy a panoramic view of the city of Tsuyama. In spring, the castle's white watchtowers look picturesque next to the pink cherry blossom trees.

From castles that have been maintained since they were first built to others that have been rebuilt from their former forms, there are countless sites to behold while in Japan. Be sure to use the Top 20 list as reference when travelling there!

Japan is home to many castles, but which are the most searched for online? Hankyu Travel International has answered this very question by ranking the top 10 most searched Japanese castles over the past year.

Japan's castles are ever-popular, lauded and enjoyed for their elegant architecture, their natural surroundings which transform with each passing season, and their eventful histories.

In recent years they have enjoyed much social media attention on websites like Instagram and are one of the big tourist spots with foreigners visiting the island nation. Some castles have even incorporated the latest cutting-edge technology, like AR and VR, to provide modern tour guide service. The appearance of the castles change with every era, and for each one the Japanese castle boom never lets up.

1st Place: Himeji Castle (Hyogo Prefecture)

Himeji Castle hails as Japan's first designated World Heritage Site. It has also been appointed a national treasure and Important Cultural Property. It continues its reign from last year by once again taking the No. 1 spot. It is known by its nickname Shirasakijou (White Heron Castle) as its graceful exterior is like that of the spread wings of a white heron. Visitors not only enjoy the castle's appearance but its history too which told by the display items situated up and down its floors, from the basement up to the sixth. Waiting atop the apex is a vantage point to take in the sights and scenery spread around and beyond the castle grounds. What's more, is that every day from sunset to midnight the castle is illuminated with lights, offering a completely different visiting experience for people in the evening. Besides the main castle, Some of its iconic spots include the Keshou Yagura where Senhime, or Lady Sen, was said to use as a resting place. There is also Okiku's Well which features in the Japanese ghost story Banshō Sarayashiki.

Himeji Castle Website: https://www.himejicastle.jp/en/

Hankyu Travel Information Page: https://www.hankyu-travel.com/kinki/hyogo/himejijo/?p_baitai=9597

2nd Place: Takeda Castle (Hyogo Prefecture)

Takeda Castle is located in Hyogo Prefecture's city of Asago on a mountain 353.7m above sea level. This ruined castle was abandoned some 400 years ago and is now just home to its old stone walls. Surrounding the castle is a bellowing bed of thick fog which looks like a sea of clouds. This has led the castle to be nicknamed the "castle in the sky," and in recent years it has enjoyed bustling popularity. In the plaza in front of the Tenku no Shiro Information Center, which is attached to Takeda Station, a special ice cream called "Mofu Mofu Soft" is sold on weekends and during holidays which is wrapped in a big fluffy serving of candy floss to look like the mountain and fog. Its Instagram-worthy appearance makes it popular with tourists. The closest cat park to the castle is about a 20-minute walk, so put on some comfy trainers or mountain climbing shoes and begin your ascent.

Takeda Castle Website: http://www.city.asago.hyogo.jp/takeda/

Hankyu Travel Information Page: https://www.hankyu-travel.com/kinki/takeda_castle/?p_baitai=9597

3rd Place: Matsumoto Castle (Nagano Prefecture)

In Nagano Prefecture's special city of Matsumoto you will encounter the famous Matsumoto Castle. It is admired for the beauty in its outer walls which are covered in white plastering and black lacquering. It is also a must-visit for its view of the Japanese northern Alps. Various smartphone apps have been developed related to Matsumoto Castle including a quiz game (国宝松本城クイズ) as well as Street Museum (ストリートミュージアム) which offers a VR experience of the Edo period. There are also people dressed in armour and ninja gear in the castle, so be sure to track one down and have your photo taken with them.

Matsumoto Castle Website: https://www.matsumoto-castle.jp/lang/

Hankyu Travel Information Page: https://www.hankyu-travel.com/kokunai/castle/kanto.php?p_baitai=9597#Anc01

4th Place: Nagoya Castle (Aichi Prefecture)

It is said that Nagoya Castle was constructed in order for Tokugawa Ieyasu to unify the whole of Japan. It is just a 10-minute train ride from Nagoya Station. Since June 2018 the Honmaru Palace has been on full display to the public, and visitors can also visit the Jourakuden which was built in full luxury for the third Tokugawa shogun Iemitsu to stay in. The newly-opened Kinshachi Yokocho is also drawing attention, a commercial facility connected to the Nagoya Castle area which recreates the castle town. In 2018, 2.2 million people visited Nagoya castle. The castle has been ranked third place many times and has moved up to 4th this year from its last position in 10th place.

Nagoya Castiel Official Website: https://www.nagoyajo.city.nagoya.jp/en/

Hankyu Travel Information Page: https://www.hankyu-travel.com/kokunai/castle/chubu-hokuriku.php?p_baitai=9597#Anc05

Details on 5th-10th place can be found on Hankyu Travel's official website here. Use this valuable reference when planning your next trip to a Japanese castle.

Information

Top 10 Most Search For Japanese Castles

1st Place – Himeji Castle (Hyogo Prefecture)

2nd Place – Takeda Castle (Hyogo Prefecture)

3rd Place – Matsumoto Castle (Nagano Prefecture)

4th Place – Nagoya Castle (Aichi Prefecture)

5th Place – Hikone Castle (Shiga Prefecture)

6th Place – Goryōkaku (Hokkaido)

7th Place – Matsue Castle (Shimane Prefecture)

8th Place – Osaka Castle (Osaka Prefecture)

9th Place – Hirosaki Castle (Aomori Prefecture)

10th Place – Inuyama Castle (Aichi Prefecture)

*Ranked from the most searched castles from April 1, 2019 – March 31, 2019.

Webpage: https://www.hankyu-travel.com/kokunai/castle/?p_baitai=9597

Japan's Oldest Kabuki Theatre to be Dazzled by Projection Mapping

To celebrate the reopening of Minami-za, Kyoto's oldest kabuki theatre, an event bringing together innovative entertainment entitled Kyoto Mirai Matsuri 2019 is taking place in April and May. Japanese creative company NAKED has announced that it will participate in the festival's HIRUMATSURI and YORUMATSURI events which will run from May 12 to 25.

Several companies are getting involved in the event, including movie studio and production company Shochiku and event organiser and talent/model agency ASOBISYSTEM. They will come together to bring people the latest in technology and culture for both HIRUMATSURI and YORUMATSURI which will be held in the daytime and evening respectively, each with their own unique atmospheres that will imagine a futuristic festival.

NAKED will use art to picture what an old-fashioned, traditional Japanese matsuri, or 'festival' will look like in the future.

During HIRUMATSURI they will use projection mapping to project a huge waterfall. There will also be the "Hyper Target Practice" which will have you putting your hands into the shape of a gun and shouting "bang!" The company will deliver plenty of other digital and technology-driven fun too.

A DJ booth will be placed in front of the waterfall for YORUMATSURI to combine music and visuals and bring nighttime entertainment to Minami-za.

Information

Kyoto Mirai Matsuri 2019
OTOMATSURI: April 30, 2019 – May 5, 2019 (*Times and prices TBA)

HIRUMATSURI/YORUMATSURI: May 12, 2019 – May 25, 2019

HIRUMATSURI

Time: 11:00-17:30 (subject to change)

Price (Tax Included): Adults ¥2,000 / Children ¥1,000

YORUMATSURI

[Monday-Thursday]

Time: 18:30-22:00 (subject to change)

Price (Tax Included): ¥2,000

[Friday & Weekend]

Time: 18:30-23:00

Price (Tax Included): ¥3,000

NAKED Inc. Official Website: https://naked.co.jp

Hanami Event 'FLOWERS BY NAKED 2019' to be Held in Nihonbashi

FLOWERS BY NAKED is set to return for the flower-viewing season again next year with an event titled FLOWERS BY NAKED 2019 -Tokyo・Nihonbashi- at Nihonbashi Mitsui Hall which will run from January 29 to March 3.

This immersive and artistic flower themed event has brought in 400,000 people in the past with over 54,000 Instagram posts including the hashtag #flowersbynaked on Instagram coupled with beautiful photos.

2019 will mark the fourth run of the event where attendees can lose themselves in its gorgeous floral world. It will be made up of several areas, one of which is called "OUSAI 2019," an art space that symbolises "Japan's earliest hanami flower bloom." The entire space uses projection mapping, artwork and more to create a 360° cherry blossom experience. This same area uses a riverbed as the core space, a place that has been enjoyed by Japanese people for its scenery since old times.

Those in attendance can also enjoy a limited edition original beverage from FLOWERS BY NAKED made in collaboration with the tea company Lipton.

There will be a flower arrangement display from Akane Teshigahara, the head of the Sōgetsu-ryū school of ikebana flower arrangement art, as well as a special performance from the head of the Shino school of incense Souhitsu Hachiya that combines waka poetry with circular windows, and much more. Nine of the twelve displays at the event are brand new. As well as all of this there will be workshops, a walk through Nihonbahsi and much more.

Experience a different kind of hanami in Japan next year that utilises the latest in technology to create a fully immersive experience.

Information

FLOWERS BY NAKED 2019 -Tokyo・Nihonbashi-

Location: Nihonbashi Mitsui Hall, COREDO Muromachi 1 (Floor 5F) *Entrance is on floor 4F

Running: January 29, 2019 – March 3, 2019

Time: 10:00-20:00 (Last entries 30 minutes before closure)

*Opening hours subject to change

Price

[October 15, 2018 – January 28, 2019]

Advance Tickets:

Adults ¥1,400 (Weekdays) / ¥1,800 (Weekends)

Children ¥800 (Weekdays) / ¥800 (Weekends)

[January 29, 2019 – March 3, 2019]

Same-Day Tickets:

Adults ¥1,600 (Weekdays) / ¥2,000 (Weekends)

Children ¥1,000 (Weekdays) / ¥1,000 (Weekends)

Enquiries: nihonbashi@flowers.naked.works

Event Website: https://flowers.naked.works/