LINE Disney Tsum Tsum Puzzle Game Breaks 90 Million Downloads
Japanese messaging app LINE announced that their casual puzzle game LINE: Disney Tsum Tsum has broken 90 million views. The popular game launched a collaboration with the Star Wars franchise on Tuesday which is set to run until May 31.
LINE: Disney Tsum Tsum is based off Disney's collectable stuffed toy series. The game launched first in Japan on January 29, 2014, before rolling out to the US, UK, Europe, Asia, and elsewhere on July 1 of the same year. Tsum Tsum and 400-or-so characters are popular around the world with the toys having appeared in Disney films, commercials, at events, and more.
In celebration of the puzzle game reaching 90 million downloads, the Today's Mission feature is offering a 10x bonus. The game is also collaborating with Star Wars until the end of May where Darth Vader and a Stormtrooper are making an appearance. And for the duration of May, the game's title logo and background music has been changed into traditional Japanese styles.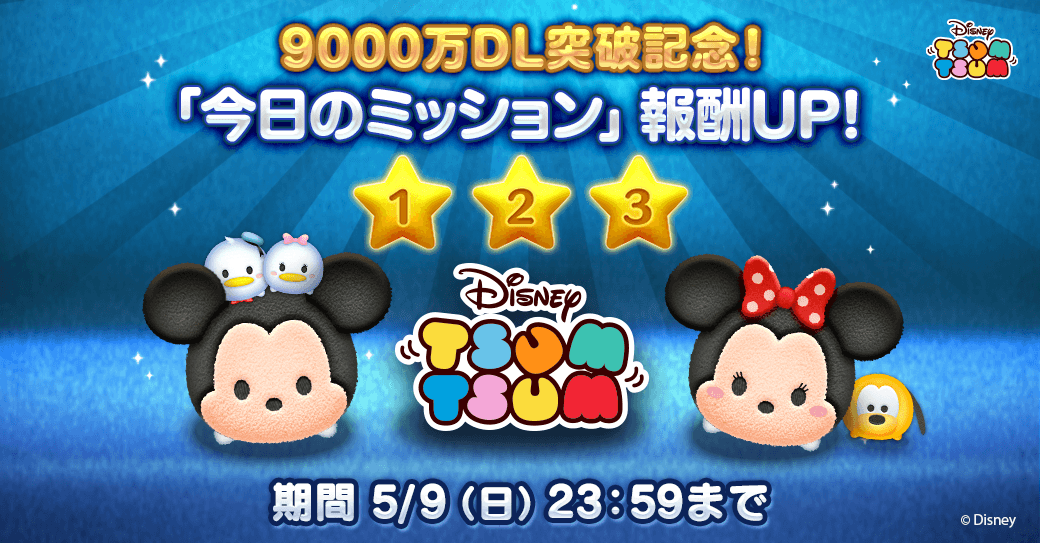 Tsum Tsum Tenka Touitsu Event
Another in-game event is also ongoing where players can receive pins and a Princess Minnie by clearing the mission.
©Disney 
©Disney/Pixar 
©& TM Lucasfilm Ltd.
RELATED ENTRIES
LINE FRIENDS Collaborates With Minions For 10th Anniversary

As part of the LINE FRIENDS 10th anniversary celebrations, Illumination Entertainment and Universal Brand Development released the MINIONS X BROWN & FRIENDS collection at the LINE FRIENDS Harajuku store and the online store on July 22. A collection of digital accessories, camping items, and golf goods will also roll out in August. This includes a release at 17 branches of KIDDYLAND on August 7 as part of PLAY LINE FRIENDS.



BROWN & FRIENDS began as a stamp series on the Japanese messaging app LINE. The characters are now featured just about everywhere including as merchandise. See Brown and Sally meet Kevin, Bob, and Stuart from the hit animated films Despicable Me and Minions in the form of digital accessories aimed at tech lovers such as AirPods cases and smartphone clips as well as eco bags, golfing equipment, camping necessities, and more.

As part of the collaboration, Brown & Friends and Minions LINE stickers and Instagram filters will also be released in August. Check out the official LINE FRIENDS social media pages for related promotional videos too.

And for Japanese fans of both franchises, they get some Japan-exclusive merchandise too including a mini towel, hand towel, face towel, bath towel, denim tote bag, denim pouch, eco bag, hat, stationery, bottle, mug, neck pillow, and more.



©LINE/©UCS LLC

Disney's Winnie the Pooh themed limited edition merchandise

Walt Disney Japan will release items featuring Western- style Winnie the Pooh and honeybees to celebrate August 3 the Honey Day at Disney Store shops nationwide and the official Disney online store shopDisney from August 3, 2021. 


The Line-Up

T-shirt ¥3,520/Tote Bag ¥4,290/Plush Toy Size M ¥3,850/Plush Key Chain ¥1,980 each / Figurine ¥6,600 (Tax Included)

 

Tsum Tsum Plush Toy ¥660 (Tax Included)


UniBEARsity Costumes for Plush Toys Size M ¥6,930 each/Size S ¥5,280 each (Tax Included)


nuiMOs Costumes for Plush Toys ¥1,980/Holder ¥1,980 (Tax Included)

The Western Pooh series based on "The New Winnie the Pooh: Masked Bear, Hero of the West" is set to release. Set in a western town, the motif of Pooh and his friends in western style is inspired by the unique story of Pooh dressed as a masked bear who confronts a gang of thieves with an ice cream in his hand for his friends.

The western-inspired products were designed with art works featuring a masked Pooh holding an ice cream in his hand, and Piglet and Tigger in western costumes. In addition to plush toys and figurines, a wide range of stationery such as clear files and clipboards, mobile-related goods such as smartphone cases and rings, home sundries such as tissue box covers, and even fashion items will be released.

Also, the popular series TSUM TSUM designed a plush toy celebrating Honey Day which Pooh, Piglet, Eeyore and Roo each wears a bee costume and a flower full of cuteness.

Disney Store's original character UniBEARsity and fashion models of the plushie world nuiMOs will also be releasing special plushie costumes for Honey Day.

The UniBEARsity's bee-inspired yellow costumes are rich with flowers and bee embroidery for a glamorous look. The costume for nuiMOs has a honeybee design with a cute fluffy hood. Additionally, there is a limited-edition honey pot motif holder for nuiMOs, so you can enjoy going out with your favourite nuiMOs dressed up stylishly. Why not dress up your favourite plush toys for Honey Day and take some great photos?

Look out for Winnie the Pooh merchandise coming in precious designs only the Disney Store can offer!

©Disney

©Disney. Based on the "Winnie the Pooh" works by A.A. Milne and E.H. Shepard.

Disney's Lilo & Stitch and Donald Duck Recipe Kits Revealed

Japanese online supermarket Oisix released its "Donald Duck Summer Nasi Goreng Mountain" meal kit on July 15, and will release the new "Lilo & Stitch Hawaiian Loco Moco" version on July 29. Both are part of the "Kit Oisix" series of recipe kits which lets people cook up a meal inspired by characters.

Kit Oisix Donald Duck Summer Nasi Goreng Mountain

Kit Oisix Lilo & Stitch Hawaiian Loco Moco

Recipe book contents page

Recipe book step example

Summer Challenge from Donald section

Summer Challenge from Donald work sheet

A child taking on Donald's summer cooking challenge

The ingredients and recipe book delivered with the Donald Duck Kit Oisix

Lunch Mat

The ingredients and recipe book delivered with the Lilo & Stitch Kit Oisix

Lunch Mat

Both meal kits arrive with all the necessary ingredients and condiments needs to make delicious themed meals. They also come with a recipe book which features step-by-step breakdowns of how to prepare the meal as well as other fun bits such as a work sheet. The kits are aimed at parents and children and fostering their relationship, but if you love Disney, anyone can enjoy these cooking experiences.

BT21 Cafe to Open in Five Japanese Cities For Summer 2021

The BT21 Cafe is set to see its 9th run in Japan when six of them begin opening in Tokyo, Yokohama, Nagoya, Osaka, and Okinawa from July 22. The theme this time around is "MY LITTLE BUDDY."

Main Visual

Uchiwa Fans (7 Designs) / Coasters (8 Designs)

Customers who book a table in advance will receive a free fan, and if they buy a drink, a free coaster.

The Menu

KOYA Gapao Rice | ¥1,870 (Tax Included)

RJ Omelette Stew | ¥1,870 (Tax Included)

SHOOKY Loco Moco Don | ¥1,870 (Tax Included)

MANG Coconut Green Curry | ¥1,870 (Tax Included)

CHIMMY Chicken Over Rice | ¥1,870 (Tax Included)

TATA Bibimbap | ¥1,870 (Tax Included)

COOKY Sushi Bowl | ¥1,870 (Tax Included)

Parfaits (Mango/Melon/Grapefruit) | ¥1,540 (Tax Included)

Mini Parfaits | ¥550 (Tax Included)

Milk Drinks (Strawberry/Mango/Blueberry) | ¥990 (Tax Included)

Shuwa Shuwa Fruit Tea | ¥990 (Tax Included)

Fuwamoko Latte | ¥990 (Tax Included)

Original Merchandise

Pins | ¥660 (Tax Included)

Acrylic Keyrings | ¥770 (Tax Included)

Folders ¥440 (Tax Included) / Clear Pouches ¥1,320 (Tax Included)

Pin Case | ¥1,320 (Tax Included)

Stickers ¥770 (Tax Included) / Acrylic Coasters ¥1,320 (Tax Included)

Milk Caramels | ¥1,080 (Tax Included)

The menu line-up is based on Asian cuisine and features cute dishes, drinks, and dessert combined with the BT21 characters. There's also a collection of exclusive merchandise for fans to get their hands on.

©BT21

Information

BT21 Cafe 9th Run ~MY LITTLE BUDDY~


Tokyo Cafe ①

Address: TOKYO BOX cafe&space Omotesando Hills (4-12-10, Jingumae, Shibuya, Tokyo)

Running: July 22, 2021 – August 29, 2021



Tokyo Cafe ②

Address: BOX cafe&space Lumine EST (3-38-1 Shinjuku, Shinjuku-ku, Tokyo)

Running: July 22, 2021 – August 22, 2021


Yokohama Cafe

Address: Collabo_Index Lumine Yokohama (2-16-1 Takashima, Nishi-ku, Yokohama, Kanagawa)

Running: July 22, 2021 – August 29, 2021


Nagoya Cafe

Address: Address: Nagoya Box Cafe&Space (B1F LACHIC, 3-6-1 Sakae, Naka Ward, Nagoya, Aichi Prefecture)

Running: August 26, 2021 – September 26, 2021


Osaka Cafe

Address: kawara CAFE&DINING Shinsaibashi (Shinsaibashi OPA 9F, 1-4-3 Nishishinsaibashi, Chuo-ku, Osaka)

Running: July 29, 2021 – August 29, 2021

Okinawa Cafe

Address: OKINAWA BOX cafe&space (Naha OPA 2F, 1-20-1 Izumizaki, Naha, Okinawa)

Running: July 22, 2021 – August 29, 2021



Table Bookings
Price: ¥715 (Tax Included) *Includes freebie

Cafe Website: https://2021-1.box-cafe.jp/


Toy Story Inspired Ice Cream Cakes Release at Baskin-Robbins Japan

Baskin Robbins released a new collection of ice cream cakes inspired by the characters from the Pixar film Toy Story. There are 15 delicious flavours to enjoy, so let's take a look.

Buzz Lightyear

Popping Candy / Chocolate Chips / Strawberry / White Sponge

Ham 

Love Potion / Chocolate / Chocolate Sponge
 

Rex

Matcha Cookie / Vanilla / Chocolate Sponge

Ducky & Bunny

Very Berry Strawberry / Chocolate Chips / White Sponge

Forky

Dark Chocolate / Chocolate Bits / Milk Chocolate / Chocolate Sponge

Little Green Men

Popping Candy / Melon / White Sponge

Bo Peep

Strawberry Cheesecake / Strawberry / White Sponge

Woody

Caramel Ribbon / Chopped Chocolate / Chocolate Sponge

Pick

Mat

The ice cream cakes include designs based on everyone's favourite toys such as Woody and Buzz, as well as their new friends Forky, Ducky, and Bunny.

Information

Baskin-Robbins Japan's Toy Story/Palette 8

Released: July 9, 2021 (Available all year)

Price: ¥4,200 (Tax Included)

*Price different by branch

Size: 18.5cm x 5cm

Baskin-Robbins Japan Official Website: https://www.31ice.co.jp/

Star Wars: Visions First Look and Release Date Revealed

Lucasfilm and Disney+ have unveiled the first look at their new anime anthology series Star Wars: Visions and revealed that all nine episodes will be released on September 22, 2021.

The announcement was shared during Anime Expo Lite 2021, the digital version of the annual Anime Expo in the US, where it was revealed that the anthology of animated short films is being created by seven Japanese anime studios that will use "their signature animation and storytelling styles to realize their own visions of the galaxy far, far away."

George Lucas has publicly expressed how Japanese folktales and the films of Akira Kurosawa have had and continue to have an influence on his work, including Star Wars, which has been poured into its themes, stories, and characters. Now things are being flipped around as Japan's animation studios create their take on the franchise.


Below is the list of studios and the titles of their upcoming animated shorts:

Kamikaze Douga – The Duel

Geno Studio (Twin Engine) – Lop and Ochō

Studio Colorido (Twin Engine) – Tatooine Rhapsody

Trigger – The Twins

Trigger – The Elder

Kinema Citrus – The Village Bride

Science Saru – Akakiri

Science Saru – T0-B1

Production IG – The Ninth Jedi

 

Check out a special look of the series below which was posted on the official Star Wars YouTube channel.





The video features some of the Japanese anime industry's top creators each expressing their love for Star Wars. It also looks at how the unique style of Japanese anime is a perfect lens for expressing the franchise.

Star Wars: Visions will release on Disney+ on September 22, 2021.

©2021 TM & c Lucasfilm Ltd. All Rights Reserved.

Disney's Alice in Wonderland 70th Anniversary Celebrated With Luxury Maison de FLEUR Collection

In celebration of Disney's Alice in Wonderland hitting its 70th anniversary, Japanese fashion brand Maison de FLEUR released a new bag and accessory collection on June 17.

The Line-Up

Alice Square Frill Handle Tote Bag | ¥5,489 (Tax Included)

Alice Frill Handle Tote Bag | ¥5,049 (Tax Included)

Alice Ribbon Pouch | ¥4,389 (Tax Included)

Alice Tissue Case | ¥3,619 (Tax Included)

Alice Ribbon Charm | ¥2,629 (Tax Included)

The insides of each item

The collection is made up of five items including Maison de FLEUR's iconic frilly handle bags. Each item captures the wonderful and mysterious world of Alice and Wonderland, including the square tote bag which features Alice when she grows in size, the ribbon charm which includes gold leaf prints of the titular character, roses, and teapots, the frill handle tote bag which depicts Alice singing with the flowers, and the ribbon pouch which captures the scene of Alice falling into Wonderland.


Disney's Pride Collection Arrives in Tokyo For Shibuya Pride Month

SHIBUYA109 Entertainment is set to release The Walt Disney Company's Pride Collection at SHIBUYA109 and MAGNET by SHIBUYA109 as part of Shibuya Pride Month. The collection will be available from June 18 to July 1.

The Walt Disney Company's Pride Collection

The Walt Disney Company's Pride Collection/SHIBUYA109

Free multipurpose case for buyers

SHIBUYA109's ethos is about making today's dreamers shine. Their collaboration with Shibuya Pride Month is to spread the positive message of creating a society where people can live however they want to live.

The Walt Disney Company's Pride Collection is a unisex line-up of original items by five popular brands at SHIBUYA109 and MAGNET by SHIBUYA109 with Disney, Pixar, Marvel, and Star Wars logos and character designs featuring rainbow colours.

A digital catalogue by creative director Wataru LINDA Igarashi was released showcasing each item in the collection. Special online events by SHIBUYA109 will also take place as part of the Pride celebration. Igarashi also created a collection of bucket hats, hoodies, sweaters, bandanas, stickers, and more as part of The Walt Disney Company's Pride Collection.

Information

SHIBUYA PRIDE MONTH
Running: June 18, 2021 – July 1, 2021

Locations: Shibuya109 (2-29-1 Dogenzaka, Shibuya, Tokyo) / MAGNET by SHIBUYA109 (1-23-10 Jinnan, Shibuya, Tokyo)
Official Page: https://www.shibuya109.jp/blog/?pi3=257211

The Walt Disney Company's Pride Collection

Release Date: June 18, 2021 (Available while supplies last)

Participating Brands:

<Shibuya109> GYDA (Floor 5F) / SPIRALGIRL (Floor 5F) / dazzlin (Floor 6F)

<MAGNET by SHIBUYA109> PONEYCOMB (Floor 2F) / A'GEM/9 (Floor 4F)

SHIBUYA109 Online Store: https://www.shibuya109.jp/onlinestore/

Popular LINE Sticker Series YOSISTAMP Opens Travel Themed Pop-Up Shop

The YOSISTAMP Premium Shop, a pop-up shop themed on the popular sticker series YOSISTAMP from the LINE messenger app, has been making its way around Japan since 2019. It recently opened inside Abeno Harukas Kintetsu in Osaka.

The store's merch line-up

The pop-up shop is themed on travel, and fans of the series can get their hands on a cute selection of exclusive merchandise. The shop even has a special photo spot for snapping pictures.

©YOSISTAMP

Information

YOSISTAMP Kaputto Premium Shop
Location: Abeno Harukas Kintetsu Wing Building Floor 9F

Address: 1-1-43 Abenosuji, Abeno Ward, Osaka, 545-0052, Japan
Running: June 2, 2021 – June 15, 2021 (Closed Weekends)

Opening Hours: 10:00-20:00 (Until 15:00 on 15:00)

*Subject to changes or closure depending on COVID-19
Abeno Harukas Kintetsu Official Website: https://abenoharukas.d-kintetsu.co.jp/

YOSISTAMP Official Website: http://yosistamp.co.jp/

Disney's Mickey & Friends Teams Up With Tokyo's Souvenir Sweet Tokyo Banana

Disney SWEETS COLLECTION by Tokyo Banana, a joint confectionery shop between GRAPESTONE and Tokyo Banana, released its new Mickey & Friends collection on Thursday.

Tokyo Banana Mickey & Friends Collection | ¥1,300 (Tax Included)

Mickey, Minnie, Donald, Daisy, Goofy, and Pluto join hands in a heart-warming new collection of Tokyo Banana, a cream-filled sponge cake and the official souvenir sweet of Tokyo's official souvenir sweet: Tokyo Banana.

 

Mickey & Friends arrive in all the colours of the rainbow

The colourful packaging features the Disney group of best friends including Mickey, who loves his friends, his girlfriend Minnie, the anger-prone Donald, stylish Daisy, silly Goofy, and trusty Pluto.

Six cute patterns decorate the sponge cakes

There are six super cute Mickey & Friends designs you could get in your Tokyo Banana, and each one is random. They are filled with chocolate banana-flavoured custard cream.

Collect all the postcards

All boxes of these treats come with two of eight possible postcard designs which you can use for sending to someone or even as room decoration.

 © Disney

These Disney Ceramic Teacups and Plates Are Traditional Kiyomizu Wares From Kyoto

Asahido is now selling a collection of Disney-inspired ceramics made using a traditional Japanese pottery technique known as Kiyomizu which originated in Kyoto.

Winnie the Pooh Hundred Acre Wood Teacup

This collection of teacups features hand drawn designs of Winnie the Pooh and his friends relaxing in their home of the Hundred Acre Wood. They are dyed indigo using a traditional dyeing technique known as gosu which makes the colour run deep into the design. There are cups to pick from, one big and one small and both with different designs. More details here (in Japanese).

Mickey & Minnie Traditional Dyed Pattern Mugs

These smiley teacups are made using the same dyeing technique and feature Mickey and Minnie made from collages of traditional Japanese patterns that have long been used in Kyoto.

Disney Princess Plates

Seven Disney Princesses have been feauted in this hand-painted Kiyomizu ware plate collection, all of which are lined with gorgeous colours including gold. They make for beautiful decorations for any Disney fan's room.

Mickey & Minnie Kiyomizu Dolls

"Rakuyaki" is the name of the hand-mouldered pottery technique used to crafts these Mickey and Minnie Mouse dolls, one which has been used since the Taisho Period. Compared to the other ceramics on this list, these dolls are baked at a lower temperature, giving the colours a softer look. Red and black are classic colour combinations used in this technique, so Mickey and Minnie were the perfect candidates. Only 100 of each will be sold.

Sanrio Character Ranking 2021 to Announce Winner in Collaboration With Tokyo Girls Collection

Sanrio has announced that the announcement ceremony for the winner of the 2021 Sanrio Character Ranking will take place in collaboration with Tokyo Girls Collection (TGC), a semi-annual fashion festival in Tokyo, on June 8. The event will be streamed live on Hello Kitty and TCG's respective LINE accounts, as well as Sanrio's official YouTube account, so that more people can tune in to this year's announcement and see which of Sanrio's characters will take the crown.

80 characters are participating in this year's Sanrio Character Ranking which will be announced in order from 80 to 1. This year also sees the return of the sub-award categories including Collaboration. Hosting the event as MC is tarento and actress Nao Asahi and the Japanese comedy duo Wagyu ga Tsutome.

But the winner announcement is not the only event scheduled for 2021's ranking. Since this time is a collaboration with TGC, there will be a fashion runway where popular models will show off their looks, a live performance with JO1 and the Sanrio characters, a rap battle, and more.

Fashion Runway: Famous models display the Sanrio character aesthetic

On the fashion stage, a line-up of well-known Japanese models will serve fashion inspired by Sanrio's most famous characters including My Melody, Kuromi, Little Twin Stars, and Pompompurin.

Marie Iitoyo and Maika Yamamoto will use a real-time composite photography system as they dress up as the adorable My Melody and her rival Kuromi. Serving the dreamy star-filled world of Kiki and Lala are Kaane and Sakura Saiga, Yoshiaki & Michi, and Rikariko. For the Pompompurin section, which is themed on the golden retriever's daily life, we have Nana Kato, Ami Komuro, Natsuki Deguchi, Sachi Fujii, and Roy. But that's not all as Sakachin, Yuki Higashihara, and Reina, who won the LINE LIVE auditions to appear on this year's fashion runway, will also appear.

A heated rap battle between the Sanrio characters

In the rap battle, KIRIMI-chan, Kuromi, Kogimyun, and Pompompurin will go head to head against special guests Tsukasa Saito of comedy duo Trendy Angel and Yuriyan Retriever. 

The Sanrio cast join music artists for a concert

The adorable Cinnamoroll, who is also expanding his work as an idol, will perform alongside JO1, while Hello Kitty will sing with singer-songwriter Sonoko Inoue.

A new virtual experience using the latest technology

Japanese digital advertising company CyberAgent, who produced virtual events and 3DCG content, will be using the latest in 3DCG and XR tech to blur the lines between reality and the virtual space with an interactive experience, such as people's comments on social media and the video displaying in real time, and more.