Jujutsu Kaisen x UNIQLO T-Shirt Collection Announced
UNIQLO are set to collaborate with Jujutsu Kaisen for the first time ever in a new t-shirt collection from their UT brand on June 4. The Jujutsu Kaisen manga series written and illustrated by Gege Akutami has sold over 45 million copies, making it one of the best-selling series of all time.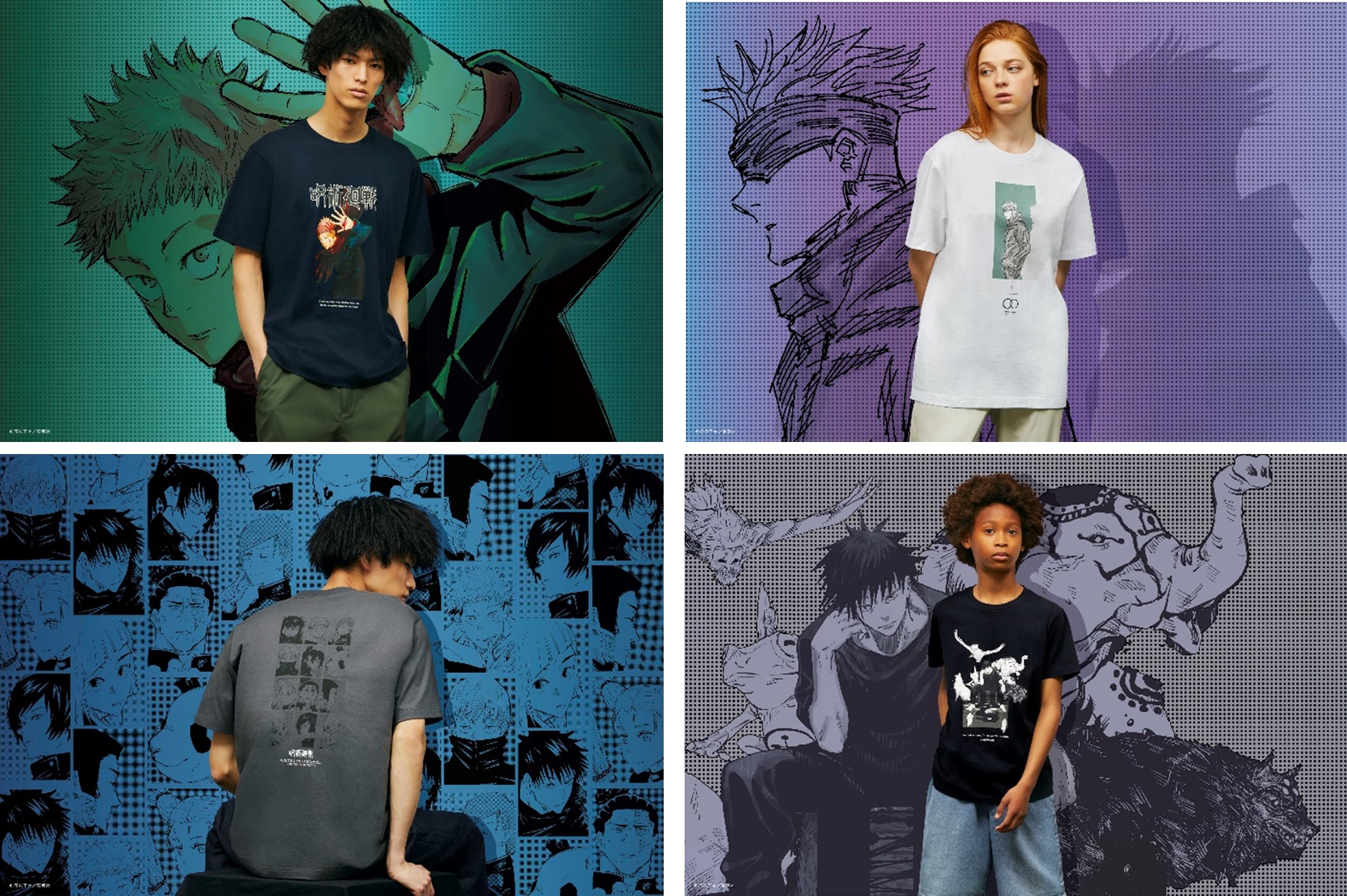 The Line-Up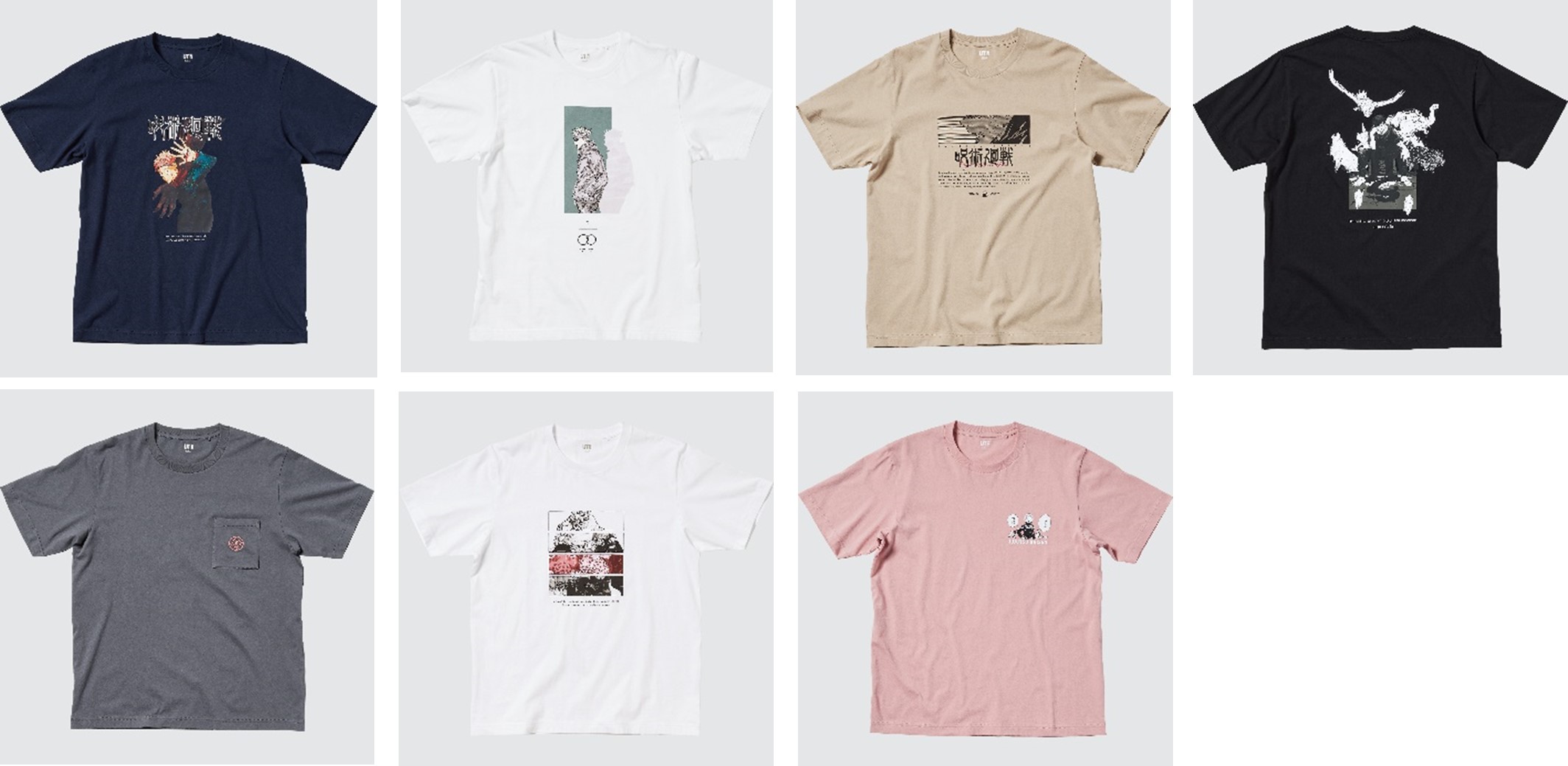 Men's T-Shirts (7 Designs)

Kids T-Shirts (4 Designs) 
This first collection features iconic scenes and lines taken from the main characters of the manga series. The line-up is a must-grab for fans looking to express their love of the series, which saw the first season of its anime adaptation conclude in March. A second collection is planned for release.
©芥見下々 / 集英社
RELATED ENTRIES
Jujutsu Kaisen 'One Mile Wear' Clothing Collection Announced For Summer Release

Chugai has announced the release of a new collection of Jujutsu Kaisen clothing items which will be available in two types: the one piece type and a set type, both of which will be released this August.

Named the 'One Mile Wear' collection, it features designs based on the characters from the TV anime series Jujutsu Kaisen.


The clothing items feature simple yet stylish designs and all made with material that is soft on the skin and comfortable to wear.

The Line-Up

One Mile Wear One Piece Type | ¥7,700 (Tax Included)

 

One Mile Wear Set Up Types | ¥7,700 (Tax Included)

Who is your favourite Jujutsu Kaisen character and which item from the line-up do you want the most?

©芥見下々/集英社・呪術廻戦製作委員会

Jujutsu Kaisen x WIND AND SEA Clothing Collaboration Launched

Japanese apparel brand WIND AND SEA opened orders for a new collection in collaboration with the anime series Jujutsu Kaisen on Saturday.

The collection includes t-shirts, long-sleeve shirts, and pullover hoodies featuring character designs from the popular anime series coupled with WIND AND SEA's logo.

Jujutsu Kaisen Themed Sento Bath House Merchandise to be Released

Japanese bath house chain Gokuraku-yu, which is known for its diverse line-up of baths from open-air to jet, will launch a campaign in collaboration with the anime series Jujutsu Kaisen on April 23.

Jujutsu Kaisen x Gokuraku-yu RAKU SPA Collab Campaign

RAKU SPA Ticket + Jujutsu Plus Set

Those who buy the Jujutsu Kaisen ticket set at RAKU SPA (¥760) will receive one of 4 possible hand towels

Merchandise Batch ①

Pins (8 Designs) | ¥500 Each (Tax Included)

Acrylic Stands (8 Designs) | ¥780 (Tax Included)

Hand Towel | ¥780 (Tax Included)

Pouch | ¥1,320 (Tax Included)

Pin Set | ¥1,980 (Tax Included)

Acrylic Stands (4 Designs) | ¥1,650 Each (Tax Included)

Acrylic Key Ring | ¥980 (Tax Included)

Bag | ¥1,680 (Tax Included)

Sticker Set | ¥1,280 (Tax Included)

T-Shirt | ¥1,980 (Tax Included)

Die-Cut Postcard Set (2 Designs) | ¥1,580 Each (Tax Included)

Folder Set | ¥890 (Tax Included)

Merchandise Batch ②

Key Rings Each ¥480 (Tax Included) / Flags ¥1,080 Each (Tax Included)

Online Shop Exclusives

A1 Poster ¥1,680 (Tax Included) / A2 Poster ¥1,480 (Tax Included) / Four Posters Set ¥1,980 (Tax Included)

Themed Food (10 Items)

Drinks (4 Flavours) | ¥770 Each (Tax Included)

Coasters (12 Designs)

Fans can stock up on a range of sento bath house-related merchandise featuring both chibi and normal designs of their favourite Jujutsu Kaisen characters. A second batch of merchandise will also be added on May 14. There's even themed food to be enjoyed at Gokuraku-yu restaurants which comes with a free coaster.

Gokuraku-yu branches will be decorated with pictures and tapestries of Jujutsu Kaisen for the duration of the collaboration, and there will be photo spots where fans can snap pictures at the bath houses. The campaign can be followed on Japanese social media with the hashtags #極楽じゅじゅやすみ #極楽湯 #らくスパ.

(C)芥見下々/集英社・呪術廻戦製作委員会

Jujutsu Kaisen Collaborates With Bakauke Rice Crackers

Japanese snack company Befco, which is known for a range of different products like Bakauke, Hoshi Tabeyo, Seto Shio, and more, is collaborating with the anime series Jujutsu Kaisen on its Bakauke rice cracker snacks. The items went on pre-sale at select convenience stores on April 12 and will roll out elsewhere on April 19.

Jujutsu Kaisen x Bakauke Soy Sauce Flavour | ¥120 (Before Tax)           

Following the success of the first collaboration in February, Befco is coming together with Jujutsu Kaisen again with all-new packaging for the soy sauce flavour of its bite-sized Bakauke senbei rice crackers.

Each bag also comes with one of the five stickers pictured above.

©芥見下々/集英社・呪術廻戦製作委員会

Information

Jujutsu Kaisen x Bakauke

Pre-Sale: April 12, 2021 / General Sale: April 19, 2021

Befco Official Website: https://www.befco.jp/

Jujutsu Kaisen Clothing Collection Releases in Collaboration With Luxury Rock Fashion Brand glamb

"Grunge for Luxury" is the concept of glamb's wardrobe, a Japanese fashion brand that fuses rock with elegance. The brand released a special collection in collaboration with the TV anime series Jujutsu Kaisen on April 1 at their stores and official website.

glamb have captured the cursed techniques known as 'jujutsu' of three characters from the show—Yuji Itadori, Nobara Kugisaki, and Satoru Gojoin—in a collection of five items.

Take a look at the line-up below.

Fushiguro reversible ska JKT | ¥38,500

This reversable satin piece is made in the style of an authentic Japanese sukajan jacket which is influenced by baseball jackets. The item features an embroidered bade of the school from the anime and a colourful collage of the demonic shikigami.

Sukuna long sleeves T | ¥11,000

These long-sleeve t-shirts represent the anime's antagonist Ryomen Sukuna with his 'King of Curses' title at the top and a demonic cave-like mouth underneath a Japanese torii gate.

Itadori T | ¥7,590

This t-shirt features series protagonist Yuji in a classic glamb-style splash paint look and with a punk-style font, capturing his personality.

Kugisaki T | ¥7,590

Nobara's tee features her hammers and has her surrounded by floating nails.

 Gojo T | ¥7,590

Finally, Satoru's tee showcases his Unlimited Void in two cuts as seen in the anime series – a memorable scene for fans.

©芥見下々/集英社・呪術廻戦製作委員会

Jujutsu Kaisen Takes Over Tokyo's Yomiuri Land Amusement Park

Contents Seed is hosting an event at Yomiuri Land, an amusement park in Tokyo, in collaboration with the popular TV anime series Jujutsu Kaisen which will run from March 27 to May 5.

Solve the puzzle and win an original pin

Amusement park rides take on a Jujutsu Kaisen design

Exclusive merch for fan collections

Pins | ¥440 Each (Tax Included)

Chibi Design Mini Acrylic Stands | ¥660 Each (Tax Included)

Acrylic Figures | ¥1,540 Each (Tax Included)

Long-Sleeve T-Shirts | ¥4,400 Each (Tax Included)

Fans of Jujutsu Kaisen won't want to miss out on the fun line-up which includes new and exclusive merchandise, a puzzle game, a themed drink, plenty of photo opportunities, and more. They can also get free postcards when they buy any of the merch.

©芥見下々/集英社 ・ 呪術廻戦製作 委員会

Paul & Joe x UNIQLO to Launch UT Collection

UNIQLO has announced the worldwide release of its new "Paul & Joe UT Collection" which will hit the brand's site on March 26. The line-up features a variety of t-shirts with a fun and colourful springtime feel to them.

The Line-Up

Women's T-Shirts (2 Designs – 9 Colours) ¥1,500 | Blouses (1 Design – 3 Colours) ¥2,990

 Women's Skirts (1 Design – 4 Colours) ¥2,990 | One Piece (1 Design – 3 Colours) ¥4,990 | Scarfs (1 Design – 4 Colours) ¥990 | Bag (1 Design – 3 Colours) ¥1,500

Girls T-Shirts (2 Designs – 6 Colours) ¥990 | Girls One Piece (1 Design – 4 Colours) ¥2,990 | Baby T-Shirts (1 Design – 4 Colours) ¥990 | Baby Leggings (1 Design – 3 Colours) ¥790

Freebies

Hairbands

Customers who buy two or more of the items in this collection will receive a free hairband. These are limited in stock so are first-come, first-served. Additionally, those who use the gift service will have their items wrapped in a special gift sleeve case.

The collection features motifs that are symbolic of the Paul & Joe brand, such as chrysanthemums, and lilies, which are believed to bring happiness, in pastel colours. It also features cats, another iconic motif of the brand. The line-up includes all the wardrobe essentials such as t-shirts, dresses, blouses, scarfs, and bags for women, girls, and babies.

ALL PAUL & JOE PRINTS ARE COPYRIGHTED

Jujutsu Kaisen Limited-Edition Merchandise Collection Releases as Lottery Draw

The Japanese merchandise lottery draw service Kujibikido released a new collection of items based on the TV anime series Jujutsu Kaisen on Thursday (March 18). The collection is called "Jujutsu Kaisen Kuji ~Pop&Pop~" and fans must pay a fixed amount to have a turn at the lottery which will net them one of the possible prizes.

Jujutsu Kaisen Kuji ~Pop&Pop~

The Line-Up

S-Tier Prize: Tapestry (4 Designs)

A-Tier Prize: Acrylic Stand Figure (4 Designs)

B-Tier Prize: Acrylic Key Ring (12 Designs)

C-Tier Prize: 7.5cm Pins (12 Designs)

Freebie Campaign

Fans who pay for 10 turns will receive one of the below-pictured bromide pictures for free.

The merchandise collection takes on a 'pop' theme with the characters looking cute and stylish. The illustrations were drawn exclusively for this collection. You can't lose on this lottery draw, you will always receive at least one prize.

Jujutsu Kaisen releases necktie collection

The necktie collection featured TV anime and manga series Jujutsu Kaisen released on March 10. The preorder of the collection has started on Bandai online store.

Jujutsu Kaisen Necktie Yuji Itadori/Megumi Fushiguro/Nobara Kugisaki/Gojo Satoru/Ryomen-Sukuna/ All (6 desgins ) | ¥2,189 each (Tax included)

Large necktie features each character's motif which can be used in various scenes. For the small necktie, each character's illustration is applied which allows you to express your love for Jujutsu Kaisen. Don't miss out the exclusive neckties and enjoy your unique style.

©芥見下々/集英社・呪術廻戦製作委員会

Eve's Song 'Kaikai Kitan' Breaks 100 Million Streams

Eve's hit track Kaikai Kitan has made it onto Billboard Japan's "Stream Songs" charts for the week of March 15 after having broken 100 million streams.

Eve – "Kaikai Kitan" Music Video

Kaikai Kitan serves as the first opening theme for the TV anime series Jujutsu Kaisen. The song was released on music streaming services on October 3 last year, the same day the anime began airing, and after just 22 weeks in the charts the popular track has surpassed 100 million streams. Eve comes as the 5th fastest male solo artist to reach this milestone following Yuri's Dry Flower, Eito's Kousui, Masaki Suda's Niji, and Kenshi Yonezu's Kanden. This is a huge achievement considering Eve is an artist who has never shown his face and works entirely online.

You can listen to Kaikai Kitan on Spotify and other major music streaming and download platforms.

Jujutsu Kaisen Anime Series Releases New Japan-Themed Chibi Merchandise

Pirates Factory is rolling out a new collection of merchandise for the popular TV anime series Jujutsu Kaisen. The items are inspired by over 30 regions across Japan, from Hokkaido all the way down to Okinawa, and feature everything from key rings to acrylic stands, cookies, and more.

Fans of the series will find the characters illustrated in chibi form together with tourist and sightseeing references to locations all across Japan, making them perfect souvenirs.

 

Metal Key Rings | ¥400 (Tax Included) | 150 designs available from March 8

Clear Key Rings | ¥495 (Tax Included) | On sale from late April

Acrylic Stands | ¥880 (Tax Included) | Available from late May

Square Cookies | ¥972 (Tax Included) | Available from late April

©芥見下々/集英社・呪術廻戦製作委員会

Information

Jujutsu Kaisen Japan Region Series

Japanese Product Name: ご当地限定「呪術廻戦」シリーズ

Release Date: Rolling out from March 8, 2021

Where: Souvenir shops, train stations, general goods stores, and elsewhere across Japan

Pirates Factory Official Website: https://piratesfactory.com/contents/

Jujutsu Kaisen Anime Series Releases Clothing, Accessories, and Merchandise in Collaboration With RAGEBLUE

Japanese casual brand launched a new collection of merchandise in collaboration with the popular ongoing anime series Jujutsu Kaisen on Friday (March 5) at their stores across Japan and online.

Jujutsu Kaisen is a manga series written and illustrated by Akutami Gege that's serialised in Weekly Shonen Jump. It has over 10 million copies in circulation. A 24-episode anime adaptation began airing in October 2020.

The merchandise line-up features artwork and anime stills of the series characters.

The Line-Up

Coach Jacket | ¥8,250 (Tax Included)

Designs: 4

Sizes: Medium/Large

Long Sleeve T-Shirt | ¥4,400 (Tax Included)

Designs: 11

Sizes: Small/Medium/Large

iPhone Case | ¥2,200 (Tax Included)

Designs: 7 (iPhone 11 / XR compatibility)

Acrylic Stands | ¥1,650 (Tax Included)

Designs: 5

Mugs | ¥2,200 (Tax Included)

Designs: 5

Face Towel | ¥2,750 (Tax Included)

Design: 1

©芥見下々/集英社・呪術廻戦製作委員会