MAN WITH A MISSION conclude their final show with support from JIMMY EAT WORLD and announce joint US tour with them!
With their latest single "Dead End in Tokyo" in hand, MAN WITH A MISSION recently held the last of their extra shows for their "Dead End in Tokyo Tour" at Shinkiba STUDIO COAST. Joining them as special guests on stage for this string of encore shows was American rock band JIMMY EAT WORLD, who haven't performed in Japan for almost 6 years (and almost 9 years as a solo act). MAN WITH A MISSION announced at the final show that they will be joining JIMMY EAT WORLD in a joint tour in America for September this year.
JIMMY EAT WORLD stepped onto the stage as the opening act, who released their 9th album "INTEGRITY BLUES" back in October 2016 which marked their 20th anniversary since their major debut. The show was a joint gig with set lists that focused around enjoy the bands' old and new music rather than just the newer material.
From the get go the crowd gave a huge round of applause and cheered for the band as they walked onto stage. The crowd were devoured by the sound of JIMMY EAT WORLD who played songs such as "Work" and "Lucky Denver Mint."
The crowd sang along for their final two tracks, "Sweetness" and "The Middle," before their set came to a close. They are two universally love tracks by fans, so people made sure to give it their all for the last of JIMMY EAT WORLD's performance.
MAN WITH A MISSION were then welcomed on stage. Guitarist and vocalist Jean-Ken Johnny screamed, "It's been a while, Tokyo. Let's go!" The band stirred up the crowd even more with their performances of "Get Off of My Way" and "Hey Now."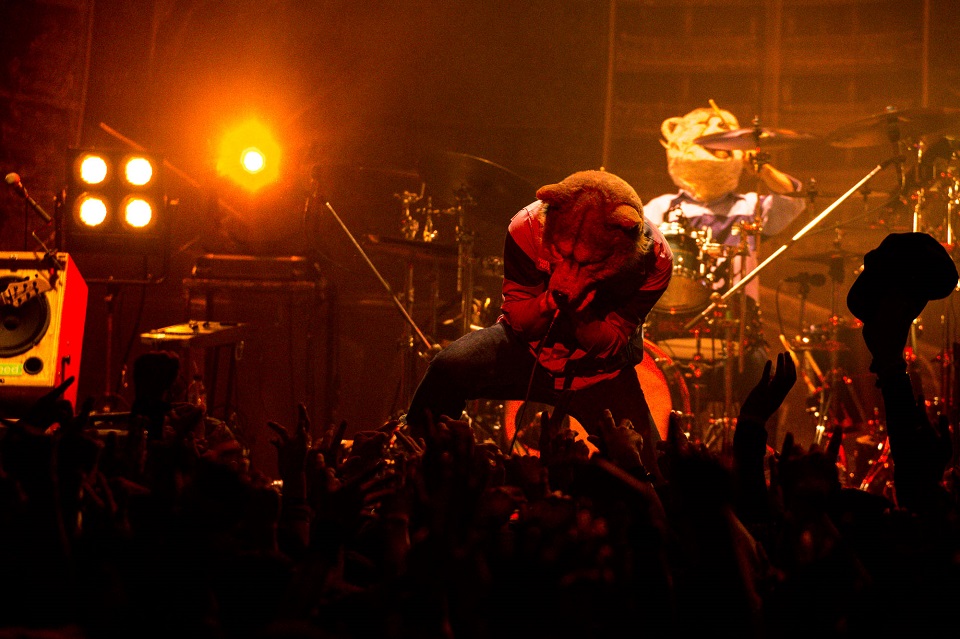 Bassist for the band Kamikaze Boy ran around the stage, and DJ Santa Monica also left his booth to join in with the madness on the floor in front of the stage. The band went full high-speed from the very beginning, before performing the next song, "Give it Away."
Amongst a powerful ensemble of instruments, the music was amplified to 100 by Tokyo Tanaka's powerful vocals and Jean-Ken Johnny's rapping.
DJ Santa Monica braved a stage dive into the pumped up crowd for "distance" and was joined by Kamikaze Boy who was held up by the crowd as he continued to play his bass.
The latter half of the performance began with "NEVER FxxKIN' MIND THE RULES" where the band got creative and technical with their sound and played freely.
Spear Rib upped the drive of the crowd even more with his drumming skills. The band then began to play the famous guitar riff of "Smells Like Teen Spirit" which sent everybody in the venue wild.
The band were also having a huge blast, but it was the crowd whose overwhelming power reverberated throughout the room.
Jean-Ken Johnny described the fact that the band had been lucky enough to not only play alongside Hi-STANDARD at the end of 2016 for AIR JAM 2016, but now JIMMY EAT WORLD, as "indescribable."
The members of MAN WITH A MISSION talked about their ups and down as a band for the past 7 years, looking back at how their path had not just been full of fun times, but also how they had been put down many times before. But they also said to look back at themselves as guys who always have a smile on their face, and to continue working hard together. Their drive and self-confidence is linked to the scale of their sound and their toughness as a band which has continued to pierce through, rather than what kind of music they like or what principles they subscribe to.
Their almost 3-month long tour ended with a 'let's meet again at our next show' to the crowd and a performance of "Dead End in Tokyo."
The encore consisted of a special digest video entitled "Ookami Daizenshuu V" (Japanese: 狼大全集Ⅴ) and the announcement of their joint tour in America with JIMMY EAT WORLD scheduled for September 2017.
Be sure to keep your eyes on this wolf pack and their endeavours as they continue to pierce through the scene even further.
Information:
■Latest Release Information
 <MAN WITH A MISSION>
New Film "Ookami Daizenshuu V"
On Sale June 14th, 2017
[First Press Limited Edition] Includes 2 DVDs (SRBL-1744~5) ¥5,093+tax
[Regular Edition] Includes 2 DVDs (SRBL-1746~7) ¥4,630+tax
[Blu-ray] Includes 1 Blu-ray (SRXL-123) ¥5,556+tax
<JIMMY EAT WORLD>
Jimmy Eat World
9th Album "Integrity Blues" (SICP-4999)
Now on sale at ¥2,200+tax.
Related article: MAN WITH A MISSION's song "Dog Days" features in the new "Asahi Dry Zero" TV commercial song!
Related article: MAN WITH A MISSION is appearing on the video "FENDER FEEDBACK" as a non-human head artist
RELATED ENTRIES
[Live Report] Kyary Pamyu Pamyu Slays the Stage at Packed Anime Central Show in Chicago

Heading towards the concert venue inside the Hyatt Regency in Chicago, it was no surprise to see the line for Kyary Pamyu Pamyu's show snaking through the halls to wrap around the building. Anime Central–the largest anime and manga convention in the midwest United States–played host to the concert, and fittingly, plenty of fans were clad in over-the-top cosplay, while many others proudly wore past Kyary concert tees, touting their steadfast devotion to Japan's most kawaii pop princess.

This would be the third stop on Kyary's first world tour in five years, following successful shows in New York and Los Angeles.

Since her debut over a decade ago, Kyary Pamyu Pamyu has steadily amassed a global following, bringing new fans into the fold with every catchy tune and feast for the eyes she releases. Her name conjures thoughts of oversized bows and danceable earworms, and just last year, the artist performed for a hyped crowd at Coachella, a music festival that needs no introduction.

In October 2022, Kyary wrapped up her lengthy 10th Anniversary Tour around Japan, performing the majority of her 105 songs at the legendary Nippon Budokan in Tokyo. During this tour, the artist made global headlines by announcing the Local Japan Project, a way to revitalize towns and cities around Japan suffering from the pandemic's aftermath through collaborative releases with small businesses. From limited-edition foods to special pink KPP-inspired train cars, the impact was palpable–if not by sheer funds, by contagious cheeriness.

Named Japan's Kawaii Harajuku Ambassador by the Mayor of Shibuya, Kyary dabbles in a little of everything, from fashion and dance to cultural endeavors. Her natural ease in front of a crowd has a way of pulling in an audience–and Chicago was no exception. She came prepared to share the deeper meaning of kawaii while challenging stereotypes, accepting individuality, and sharing thoughts of a more open and artistic future.

Prior to the start of the show, French DJ and trackmaker Moe Shop warmed up the crowd with an intense set that had the room shaking with a combination of bass and mass jumping. Although seating was provided for audience members, it was impossible to stay standing as the set began, featuring some of the electro-artist's biggest hits from Baby Pink to GHOST FOOD (feat. TOREINA). As the first few seconds of CANDY CANDY (Moe Shop Remix) began, the room seemed to burst open, with more and more pink glowsticks beginning to illuminate the crowd.

Packed with kawaii devotees from wall to wall, brief quiet fell as stagehands rushed to decorate the set with POPPP icons, cueing some guests in the front to begin chanting Kyary's name. As the venue lights dimmed, a brief film briefly introduced Kyary Pamyu Pamyu's history as if she was a character in a storybook, a hero desperate to illuminate the darkness in the world with all things pink and cute.

With her trusty dancers in tow, she finally took the stage as De.Ba.Ya.Shi. 2021, the techno-heavy first track on Kyary's newest album Candy Racer, set the stage for a night of addictive tunes and carefree fun.

A highlight of the concert's first half was Dodonpa, sending the crowd into an absolute frenzy. The experimental track's erratic energy, heavy house influence, and gibberish lyrics invite anyone to sing along, regardless of mother tongue, making it an immediate fan-favorite with international Kyary fans.

Upon its release as the fifth single from Candy Racer, Kyary encouraged anyone interested to use the song in their online videos, also opening an official contest encouraging creators to send their best interpretation. The artist navigated through the tricky lyrics with relative ease as the audience egged her on, jumping along with the chorus's hypnotic beat.

As the song concluded, fans screamed and cheered as Kyary finally began her brief English MC clad in a completely pink princess dress, complete with crown. Asking the audience their favorite color, the correct answer was obvious, and the artist nodded enthusiastically. "This is a pink show," she stressed.

Leaping into Ninja Re Bang Bang, the artist and dancers performed the legendary choreography with ease as diehard fans imitated the shinobi hand gestures in time with the track.

In 2011, Kyary leaped from the local scene in Harajuku to the outside world with the release of PONPONPON. The bizarre and colorful music video immediately made the rounds on YouTube, and despite being relatively unknown at the time, the artist instantly had a viral hit on her hands. During the Chicago show, a remixed intro of the song, originally produced by Yasutaka Nakata, struck fans with the promise of lethal nostalgia. As the track began in earnest, Kyary bid the fans to dance along–it seemed that the request wasn't necessary, as the audience was already in full swing.

KYARY ANAN pic.twitter.com/aw77siGxOL

— きゃりーぱみゅぱみゅ (@pamyurin) May 20, 2023

Cherry Bonbon and Kyary ANAN followed, the latter of which saw fans chanting the singer's name along with the lyrics. Though some present at the concert were likely unfamiliar with the music filling the hall, the energy was unrivaled, and it was nearly impossible to escape the waves of exhilaration and feverish fondness that penetrated the air.

If you weren't a Kyary Pamyu Pamyu fan when you walked in, you certainly were when you walked out, whether her sound was your typical poison or not.

Invader Invader and Fashion Monster, tracks used in popular GU ads in Japan during the early 2010s, have similar staying power in the U.S., and are both credited as some of Kyary's most popular songs. Prior to the start of Fashion Monster, a brief interlude began, in which the video monitors broadcast an impressive collection of snapshots of Kyary's fashion over the past decade. A costume change was imminent, and when the artist returned to the stage, she donned a pink mask and pink ruffled dress, both seen during her Budokan performance late last year. Holding her mic beneath the mask seemed like an annoyance, but Kyary seemed to thrive off of the challenge, not missing a beat.

In its entirety, the setlist included nearly 20 tracks, easily checking off a bucket list item for hundreds of fans in the audience. Entry to the concert was included with a pass to the popular convention, though seating wasn't guaranteed, causing dedicated fans to line up for hours prior to the show's 6:30 start time.

But there were no complaints to be heard–instead, there was immense gratitude towards Kyary, her management company, and Anime Central for bringing the singer to Chicago.

Considering Kyary's upward trajectory to date, it's impossible to imagine a future in which the singer doesn't continue catapulting towards the zenith of bubble pop legends in a global sense. The singer will now travel to Europe for the remainder of her world tour, and reports from there are sure to reflect the same general sentiment. Kyary Pamyu Pamyu is here to stay, and kawaii culture is sure to continue its spread.

Written by Carley Garcia

Kyary Pamyu Pamyu World Tour: Future Funk Guru Moe Shop to Perform at 3 U.S. Shows

Kyary Pamyu Pamyu will embark on her world tour POPPP in May, performing in seven cities around the world. Trackmaker and DJ Moe Shop, a leader in the world of Future Funk, will appear as the opening act for three U.S. tour dates.

Moe Shop's unique fusion of French house music and Japanese pop and club tunes has earned the artist over 26 million views per year on YouTube and over 31 million views per year on Spotify, making them one of the most popular electronic music artists around the globe. The artist has gone on record to say that they have been largely influenced by Yasutaka Nakata, Kyary Pamyu Pamyu's producer, and their addictive sound is making waves in both Japan and abroad.

To celebrate this incredible collaboration, a playlist of songs selected by Moe Shop is now available on Spotify. Be sure to give it a listen!

【Spotify】Kyary Pamyu Pamyu meets Moe Shop

Kyary Pamyu Pamyu to Embark on First World Tour in Five Years

The Kyary Pamyu Pamyu World Tour 2023, titled POPPP, will begin this May!

This will be the singer's first world tour in five years, as last year's planned international tour was canceled. Kyary will perform in six cities–New York, Los Angeles, Madrid, Barcelona, Paris, and London. The Spain shows will take place during the massive Primavera Sound music festival.

In 2022, Kyary Pamyu Pamyu performed as the final act on the Gobi Stage at Coachella, the world's largest music festival held in Indio, California. The artist received accolades from both the American audience and viewers from around the world. This year, Kyary is continuing to attract attention as the first Japanese solo artist to be featured in Global Spin, an original showcase of artists from around the world made by the Recording Academy in the U.S., the organizer of the Grammy Awards.

Information

Kyary Pamyu Pamyu WORLD TOUR 2023 – POPPP –

May 15, 2023
New York, U.S. – Webster Hall
https://www.axs.com/events/471552/kyary-pamyu-pamyu-tickets?skin=websterhall

May 17, 2023
Los Angeles, U.S – The Novo
https://www.axs.com/artists/1262/kyary-pamyu-pamyu-tickets

June 2, 2023
Barcelona, Spain – PRIMAVERA SOUND 2023 Parc del Forum
https://www.primaverasound.com/

June 5, 2023
Paris, France – Cabaret Sauvage
https://www.seetickets.com/fr/d/event/kyary-pamyu-pamyu/cabaret-sauvage/8769451

June 7, 2023
London, England – London EartH Halll
https://www.gigsandtours.com/tour/kyary-pamyu-pamyu

June 9, 2023
Madrid, Spain – PRIMAVERA SOUND 2023 Ciudad del Rock
https://www.primaverasound.com/

More Details
https://wt2023.kyary.asobisystem.com/

London-based Japanese Artist Rina Sawayama Covers Hikaru Utada's Legendary 'First Love' at Tokyo Concert

Born in Niigata and living in London, international singer-songwriter Rina Sawayama released her second album Hold The Girl on September 16, 2022. Her Japan-based Hold The Girl Tour saw successful shows in Nagoya, Osaka, and Tokyo, with Sawayama generating plenty of buzz. During the final show on the tour, the singer surprised the audience with a cover of Hikaru Utada's hit songFirst Love. The video of this incredible performance is now available to watch on YouTube!

First Love – Rina Sawayama (Hikaru Utada Cover, Tokyo Garden Theatre)

Prior to the Tokyo show, Sawayama took to Instagram, posting a comment for fans. "Since this is the biggest show I've ever done, I think I should cover a special Japanese track to commemorate the event," she said. The singer had previously asked fans to share the songs they'd most like to see performed.

"Without this artist and without this song, I probably wouldn't have become a musician or an artist. I heard this track when I was around six years old, and I remember dancing for my parents who were sitting on the sofa. This artist also celebrated her 40th birthday yesterday. This is my first cover, but I think it's the perfect way to commemorate this special event. Please enjoy," Sawayama concluded.

The audience responded to this surprise with a chorus of excitement, and this was surely an unforgettable night for many fans.

Rina is currently on the Hold The Girl Tour in Europe. At the end of March, she will make her Hollywood debut in the fourth John Wickmovie.

BAND-MAID Reveals 10th Anniversary Tour in Japan and America, Additional Festival Appearances

Having amassed a global audience, BAND-MAID is starting off 2023 in the best possible way. The group performed their largest-ever concert, BAND-MAID TOKYO GARDEN THEATER OKYUJI, on January 9. Soon after, they announced a domestic and overseas tour set to begin in March 2023.

BAND-MAID's 10th-anniversary tour will commence with a show in Kumamoto on March 23 and will then travel to 20 cities around Japan for a total of 23 performances. The legendary finale will take place at Yokohama Arena on November 26, marking the largest-ever solo performance for the band. In May and August, the girls will tour the U.S. and appear at a number of major festivals. More details will be announced soon.

The sold-out TOKYO GARDEN THEATER performance is also available to stream. Tickets are now available through February 8 and fans around the world are welcome to enjoy this
incredible show from the comfort of their own home!

To commemorate BAND-MAID's 10th anniversary, a high-resolution stream of all works
after the group's transfer to Pony Canyon will be available on streaming sites starting January 10.

MAN WITH A MISSION's Famous Track 'Emotions' Used as Theme for Horse Racing Festival

03.September.2022 | MUSIC

Emotions, one of the most iconic songs by MAN WITH A MISSION, recently appeared in a special promotional video for JBC 2022, known as the festival of dirt horse racing.


The video, produced by the National Association of Racing, has been posted on the NAR official YouTube channel and is being broadcast at horse racing facilities nationwide. It has also been shown on television.

JBC 2022 Special Promotional Video (60-second ver.): https://youtu.be/WSmgBrB-sdM


Emotions, the second single from MAN WITH A MISSION, was released in 2013 and became an instant hit, often played during concerts. At the time of its release, it was featured on Music Station and was used as the theme song for the film HK: Forbidden Super Hero.

 

Be sure to check out the video above and get ready for some serious horse racing!

Information

Emotions – MAN WITH A MISSION
Released: February 20, 2013
Price: ¥1,257 (Tax Included)

MAN WITH A MISSION Releases Music Video for 'GUNDAM Iron Blooded Orphans Special Edition' Theme Song

Rock band MAN WITH A MISSION is getting ready to release a new album, Break and Cross the Walls II, on May 25. Ahead of this exciting date, the group has revealed the music video for Blaze on YouTube!

Blaze has been featured as the opening theme for Mobile Suit GUNDAM Iron Blooded Orphans Special Edition, the nine-episode digest edition of the 2015-2017 anime series, since April. The clip is packed with the anime's memorable scenes, so be sure to check it out! 

The theme song is also available on all popular music streaming sites.

Blaze – MAN WITH A MISSION (GUNDAM Iron Blooded Orphans Special Edition Anime Music Video)
https://youtu.be/rTamYmhLOaw

MAN WITH A MISSION will start a nationwide tour, MAN WITH A MISSION Presents Break and Cross the Walls Tour 2022, on June 16.

Japanese Pop Icon Kyary Pamyu Pamyu Announces Her First World Tour in Four Years

Following her storming sets at this year's Coachella Festival and the 10th anniversary of her debut album, globally celebrated Japanese Pop Icon Kyary Pamyu Pamyu will return to the UK for the first time in four years to perform at London EarTH Concert Hall on Friday 25th November. Tickets go on sale Friday 29th April at 10am via www.gigsandtours.com and www.ticketmaster.co.uk. Full European tour dates here.

The new UK show not only in celebration of the 10th anniversary of her debut album but will also see her perform tracks off her fifth album Candy Racer. The show also succeeds a major Japanese tour and dates across Europe.

Kyary Pamyu Pamyu began her career working as a model for a number of Harajuku-based magazines. Appearing on countless covers, her outspoken style and unique worldview have attracted global attention, with her captivating doll-like appearance inspiring many to learn more about Tokyo street fashion. Kyary made her music debut in 2011 with the mini-album Moshi Moshi Harajuku produced by Yasutaka Nakata of CAPSULE fame.

The music video for PONPONPON has been viewed over 180 million times. Her hit song Ninja Re Bang Bang was remixed by globally-renowned DJ Steve Aoki for the Nintendo Switch title Ninjala. In addition to her numerous performances around Japan, Kyary has also embarked on four successful world tours. In 2021, the artist's 10th debut anniversary, Kyary launched the new KRK LAB label.

Kyary Pamyu Pamyu continues to fascinate her fans with her free-spirit and original expressions that one would never imagine from her cute appearance. Her presence as an icon of "HARAJUKU," a combination of artist and fashion activities, has attracted attention from all over the world.

Information

KYARY PAMYU PAMYU

When: FRIDAY 25 NOVEMBER 2022

Where: UK, LONDON EARTH CONCERT HALL

TICKETS ON SALE FRIDAY 29TH APRIL AT 10AM

WWW.GIGSANDTOURS.COM / WWW.TICKETMASTER.CO.UK

 

KYARY PAMYU PAMYU IN EUROPE

http://cw.kyary.asobisystem.com

MON 14 NOV 2022 GERMANY, COLOGNE GLORIA

WED 16 NOV 2022 GERMANY, BERLIN COLUMBIA THEATER

FRI 18 NOV 2022 FRANCE, PARIS ÉLYSÉE MONTMARTRE

SUN 20 NOV 2022 SWITZERLAND, ZURICH PLAZA

MAN WITH A MISSION Unveils Track List and Artwork for First Album in Over Three Years

Japanese rock band MAN WITH A MISSION will release their new original album Break and Cross the Walls I on November 24, 2021. The group's first new album in three and a half years, the tracklist and artwork have just been revealed to the delight of anxious fans. 

Break and Cross the Walls I Limited Edition

Break and Cross the Walls I Regular Edition

The album will be the band's sixth original album. Originally conceived as a two-disc set, MAN WITH A MISSION decided to instead release two consecutive albums to give fans new music as soon as possible. With so much delayed or canceled due to the pandemic, it was the group's way of giving back to those who have supported them through the continuing crisis. The sequel,  Break and Cross the Walls II, is scheduled to be released in spring 2022. 

Break and Cross the Walls I will include seven previously released tracks, including Merry-Go-Round, the opening theme song for the popular anime series My Hero Academia and INTO THE DEEP, the theme for the Japanese release of the film Godzilla vs.Kong. The newly-released jacket art shows five wolves standing symbolically atop a chessboard. The December 2021 issue of ROCKIN'ON JAPAN magazine will feature these five animals on the front cover, along with an exclusive interview with the band. 

MAN WITH A MISSION Presents Merry-Go-Round Tour 2021, the band's first arena tour in two years, will start on November 30 at Yokohama Arena. The first day of the two-day event is titled 'Day 1: Songs of Innocence,' and will feature songs released between 2010 and 2013. The second day, 'Day 2: Songs of Experience,' will cover songs post-2013. 

MAN WITH A MISSION Announces Two Consecutive New Albums

After three and half years, rock band MAN WITH A MISSION is back! The group's new album, Break and Cross the Walls I, is set to release on November 24, 2021. 

This will be the band's sixth original album and is the first album since Chasing the Horizon was released on June 6, 2018. Fans have been anticipating a new drop from the group, and this ambitious work, conceived originally as a two-disc set, won't disappoint. Instead of waiting until all tracks were complete, MAN WITH A MISSION has decided to release two consecutive albums instead. In an interview, the band stated that with people still suffering the effects of the pandemic, it was vital to provide fans with new music to raise their spirits as soon as possible. The second album, Break and Cross the Walls II, is scheduled to release next spring. 

Break and Cross the Walls I will include 14 songs, including the popular track Merry-Go-Round which serves as the theme song for the anime series My Hero Academia. Fans will also recognize INTO THE DEEP, the theme for the Japanese release of the film Godzilla vs.Kong. Those buying the new album at specific stores will receive special bonus goods while supplies last.  

MAN WITH A MISSION Presents Merry-Go-Round Tour 2021, the band's first arena tour in two years, will start on November 30. The first day of the two-day event is titled 'Day 1: Songs of Innocence,' and will feature songs released between 2010 and 2013. The second day, 'Day 2: Songs of Experience,' will cover songs post-2013. A guest artist will also be performing an opening act, so be sure to stay up-to-date with more tour news to come!

MAN WITH A MISSION Perform My Hero Academia Opening Theme, MV Premieres On YouTube

The music video for MAN WITH A MISSION's new single Merry-Go-Round will be premiering on their official YouTube channel at 18:00 on August 21.

Premieres August 21, 18:00~


 

The song is being used as the opening theme for the second cour of anime My Hero Academia's 5th season, which is currently airing on YTV and NTV.

Merry-Go-Round First Edition

My Hero Academia THE MOVIE: World Heroes was a huge hit, showing in 321 cinemas nationwide and overtaking all previous My Hero Academia box office records by exceeding ¥940 million in just four days.

Merry-Go-Round Regular Edition

The anime is extremely popular overseas, while MAN WITH A MISSION have been focusing both within Japan and abroad, adding to the excitement for the new single.

It has been announced that on the day of the premiere, the members will be chatting with the fans in real-time. You can set a reminder to watch the stream using the official URL. If you're a fan then don't miss this!

©堀越耕平/集英社・僕のヒーローアカデミア製作委員会

Information

Merry-Go-Round

Release: September 9, 2021

<Limited First Edition> (CD+DVD) SRCL-11872~11873 Price: ¥1,500 / Tax Incl: ¥1,650

<Regular Edition> (CD+DVD) SRCL-11872~11874 Price: ¥1,000 / Tax Incl: ¥1,100

<Limited Edition> (CD+DVD) SRCL-11875~11876 Price: ¥1,500 / Tax Incl: ¥1,650

New TV Anime My Hero Academia

Official site: https://www.mwamjapan.info/

Zebrahead to Perform at MAN WITH A MISSION's Music Festival 'THE MISSION'

American punk rock band Zebrahead are set to perform solo in Japan for the first time this June as part of their tour. But their time in Japan won't be finished after that, as it has been announced that they will perform on the Saturday of MAN WITH A MISSION's upcoming outdoor festival, set to take place at Naeba Ski Resort in Niigata on Saturday August 29 and Sunday August 30.

The wolf pack rock band MAN WITH A MISSION turned 10 years old on February 9, 2020. To celebrate this milestone, the  band announced a 10th anniversary project entitled MAN WITH A "10th" MISSION for which they have lots of exciting things planned for fans. "THE MISSION" is part of this, the first ever outdoor music festival created by the band. Artists from around the world who are close to the band will make up the line-up.

The main stage of the festival will be the Green Stage of Fuji Rock Festival 2020 which will take place one week prior to THE MISSION.

MAN WITH A MISSION and Zebrahead performed together at Download Festival and Summer Sonic last year, and the two bands collaborated on the song Out of Control.

In a statement released on their official Twitter page in Japanese, Zebrahead explained that they have had their full attention on writing music so they can put out great music. They said they are "stoked" to be performing in Japan.

Information

MAN WITH A MISSION – "THE MISSION" Festival
Dates: August 29, 2020 / August 30, 2020 (Zebrahead to perform on August 29)
Venue: Naeba Ski Resort, Niigata

Official Website: https://themission.mwam10th.com/