Brew Yourself a Gundam Tea With the Zaku Japanese Iron Kettle
Premium Bandai released a Japanese nanbu tekki iron kettle last week which fuses traditional Japanese craftsmanship with the internationally-celebrated Mobile Suit Gundam franchise. Available via Bandai Nambo's ecommerce site, the kettle can also be picked up in Japan at the Gundam Cafe and all GUNDAM SQUARE stores starting in late June.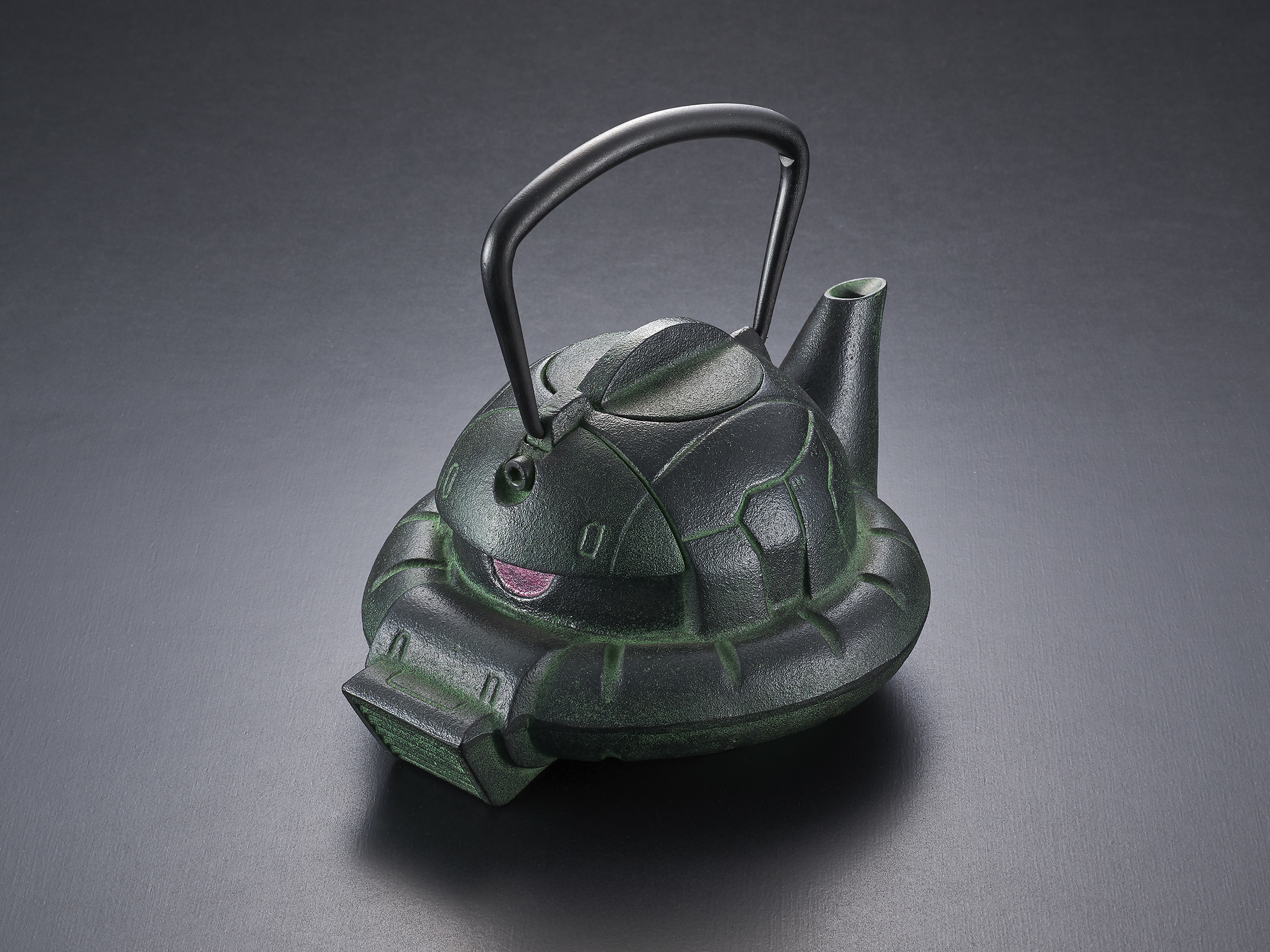 Nanbu Tekki Zaku (Green)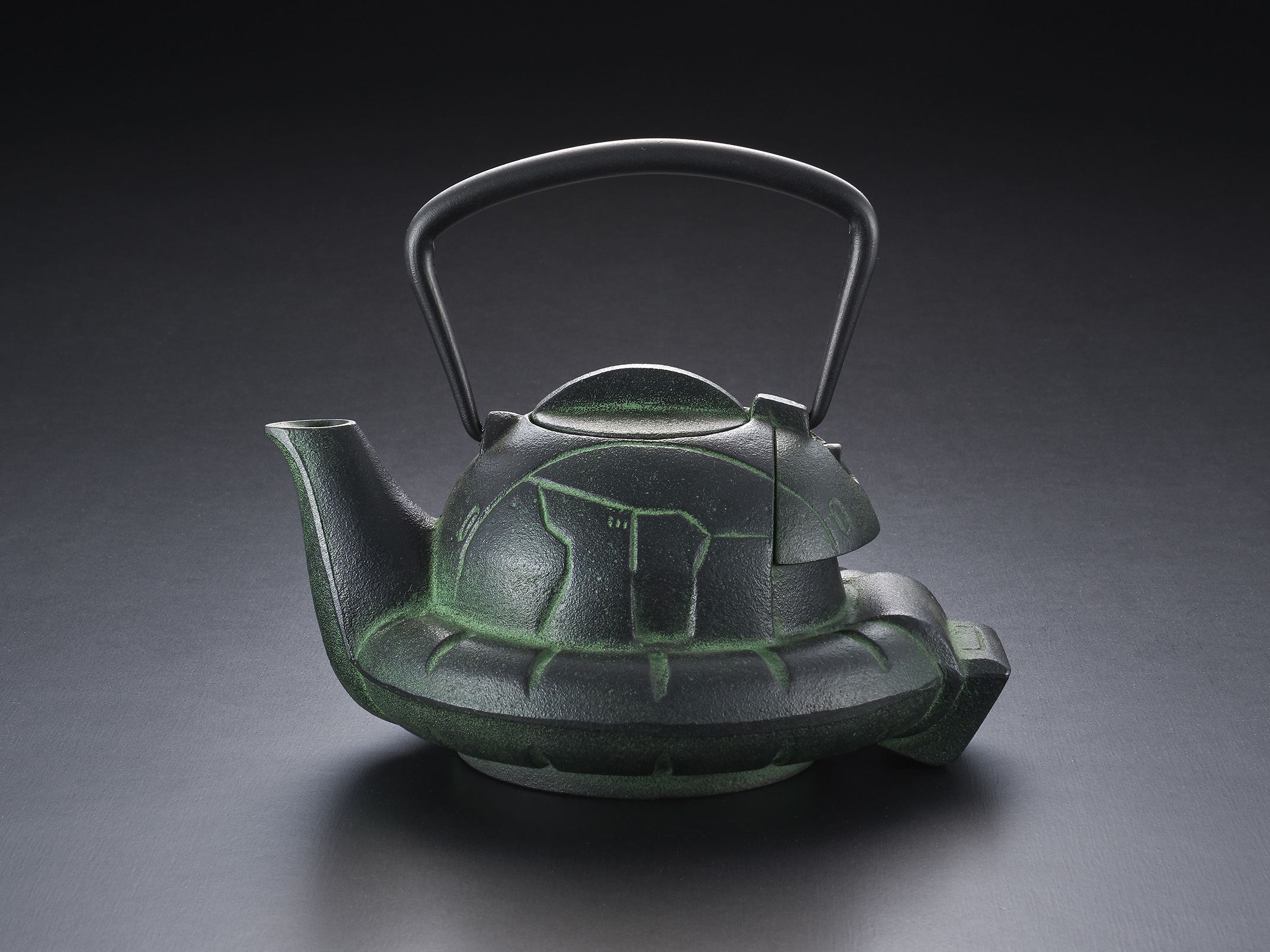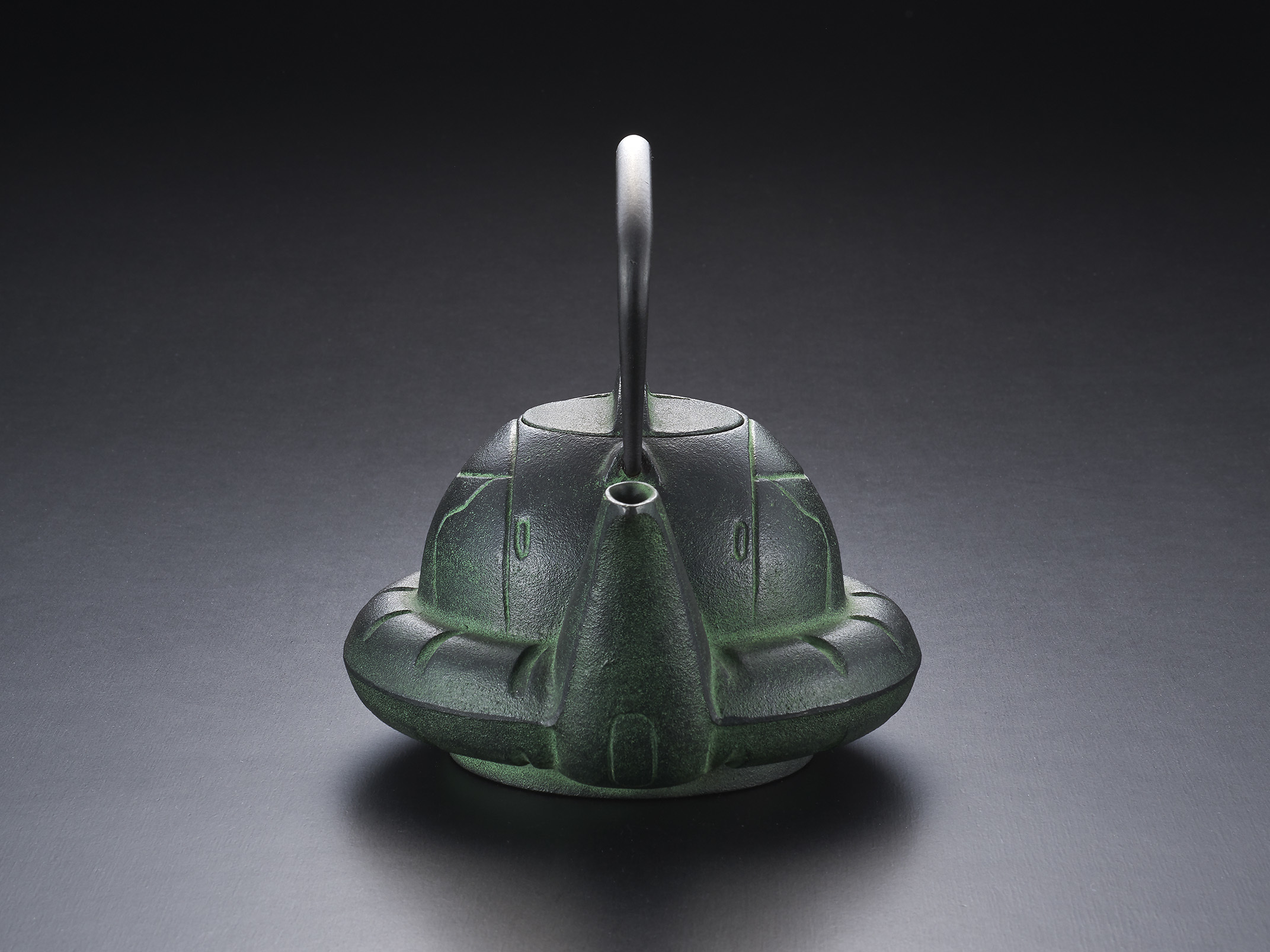 This green model is one of several nanbu tekki kettles released in the Discovery-G line, a series of products that combines the world of Gundam with Japanese tradition. It's an upgrade of the green Zaku kettle previously released in 2018.
Nanbu tekki is a form of metalwork from Japan with a long history dating back to 1088 where it originated in Oshu. The name 'Nanbu' originates from a feudal clan known as the Nanbu-han who established the cast iron industry in the northeastern part of Honshu. Since the region had easy access to the resources required to make ironware, the industry was quickly established. In 1975, the nanbu tekki made in Morioka and Oshu were officially registered as a Traditional Craft of Japan by the Minister of Trade and Industry in Japan. This technique was most prevalent in the '30s as items such as iron pots and Buddhist altars and ornaments were in high demand.
These teapots are lauded for their high quality and last a lifetime. This Zaku version allows Gundam fans to enjoy the tradition of the nanbu tekki with a cup of tea alongside their love of the anime franchise.
(C)創通・サンライズ
Information
Nanbu Tekki Zaku Green
Released: May 12, 2021 (Limited-Edition)
Shipping: June 2021
Price: ¥27,500 (Tax Included/Shipping & Handling Fees Not Included)
Buy Here: https://p-bandai.jp/item/item-1000158125/?rt=pr
*Also available at Gundam Cafe and GUNDAM SQUARE in Japan
RELATED ENTRIES
Rock Band SCANDAL Writes 'Line of Sight,' Theme Song for Mobile Suit Gundam Arsenal Base LINXTAGE

On February 22, the popular rock band SCANDAL will release the documentary MIRROR on Blu-ray and DVD. In April, the artists will embark on the SCANDAL TOUR 2023 – Unlimited UTOPIA, performing in seven cities across Japan.

The new song Line of Sight was written by the band to serve as the theme song for the arcade card game Mobile Suit Gundam Arsenal Base LINXTAGE, scheduled to release in late February. Read SCANDAL's comment below!

Mobile Suit Gundam Arsenal Base LINXTAGE〈LINXTAGE SEASON:01〉PV

—
"We're pleased to announce that we've been put in charge of the theme song for Mobile Suit Gundam Arsenal Base LINXTAGE.
This summer, SCANDAL will celebrate our 17th anniversary. What a great time to get this incredible offer!
We met with the team behind Arsenal Base and shared our thoughts and feelings before starting production on the song.
In the game, music is played during battle scenes, where players' emotions are heightened. Considering that, we wrote a fast-paced, danceable track.
In the end, we combined our own thoughts and feelings with the world of Gundam. Be sure to listen to the lyrics closely!
Please enjoy our music as you play Arsenal Base!
—

Mobile Suit Gundam Arsenal Base is a real-time strategy arcade card game in which players take on the role of a commander in control of five mobile suits and five pilots fighting to destroy a collection of enemy battleships. Found in many arcades across Japan, players place pilot cards on the terminal in dedicated boxes. The terminal then reads a QR code on each card. The series will soon introduce tons of new content including the LINXTAGE BATTLE system, in which two players can enter battle at the same time. Be sure to listen to a snippet of Line of Sight in the new PV!

Soundtrack to Mobile Suit Gundam: Char's Counterattack Sees Vinyl Rerelease by Bernie Grundman

Released in 1988, the film Mobile Suit Gundam: Char's Counterattack remains popular with fans of the series over 30 years later. A rerelease of the original soundtrack on vinyl has been announced, coming on February 18, 2023. The record will be cut by Bernie Grundman and will feature Shigeaki Saegusa's magnificent score and the theme song BEYOND THE TIME ~Beyond the Mobius Universe~ by TM Network.




The three-sided panoramic jacket for the record was illustrated by Naoyuki Kato, and fans will love the red record itself reminiscent of Char's personal emblem and Gundam.

(C)創通・サンライズ

MAN WITH A MISSION Releases Music Video for 'GUNDAM Iron Blooded Orphans Special Edition' Theme Song

Rock band MAN WITH A MISSION is getting ready to release a new album, Break and Cross the Walls II, on May 25. Ahead of this exciting date, the group has revealed the music video for Blaze on YouTube!

Blaze has been featured as the opening theme for Mobile Suit GUNDAM Iron Blooded Orphans Special Edition, the nine-episode digest edition of the 2015-2017 anime series, since April. The clip is packed with the anime's memorable scenes, so be sure to check it out! 

The theme song is also available on all popular music streaming sites.

Blaze – MAN WITH A MISSION (GUNDAM Iron Blooded Orphans Special Edition Anime Music Video)
https://youtu.be/rTamYmhLOaw

MAN WITH A MISSION will start a nationwide tour, MAN WITH A MISSION Presents Break and Cross the Walls Tour 2022, on June 16.

Mobile Suit Gundam 00 Collaborates with GiRLS by PEACH JOHN for Apparel Collection

Japanese lingerie brand PEACH JOHN has begun selling a new collaboration with the popular anime series Mobile Suit Gundam 00. These items are available at select PEACH JOHN stores and online, and consists of two lingerie sets, loungewear, and a reusable bag. Those wanting to buy these pieces in-store will need to go to the Shibuya, Shinjuku Sanchome, or Osaka locations.

Peasy001 / Peasy Panties

Mobile Suit Gundam 00 Bra Set (No Wires)

Oversized PJ Set

Haro Reusable Bag

Many popular emblems and logos from the popular series appear on these pieces. The Peasy001 set features a non-wired bra top that is extremely comfortable, with fabric made of glossy stretch satin. 

The soft and warm pajamas are available in pastel tones matching the image colors of the main characters, and all are available in loose sizes to make them extra cozy. 

The reuseable bag is large enough to hold A3-sized items, and is made of a light and durable polyester fabric with the beloved character Haro printed all over it. It also includes a storage pouch which can be used as a coin purse or small accessory case.

Earthenware Pot Shaped Like Char's Z'Gok from Mobile Suit Gundam Released

Premium Bandai is now accepting orders for a new Earthware Pot resembling Char's Z'Gok from the anime series Mobile Suit Gundam. This is perfect for cooking up some stew this winter season!

Char's Z'Gok Earthenware Pot: ¥7,480 (Tax Included) *Shipping and Handling not included

The pot is large enough to make food for 1-2 people and is designed to look like Char's Z'Gok from the "ascending from underwater" scene in the Battle of Jaburo. The pot's steam vent is the Mobile Suit's missile launch port!

This product is available to purchase at GUNDAM Cafe locations around Japan and online at the Premium Bandai store. Items ordered online will ship in December. 

©創通・サンライズ

Information

Char's Z'Gok Earthenware Pot

Dimensions: W210 x D187 x H126mm

Materials: Pot, Heat-resistant Ceramic / Lid, Porcelain

Made in Japan

Where to Buy: Bandai Namco's Premium Bandai Website (https://p-bandai.jp) /

GUNDAM Cafe's Nationwide

*Now available to order, items will ship in December. 

Product Details: https://p-bandai.jp/item/item-1000167119/

Gundam World Contrast Touring Event Starts at Nagoya PARCO

Nagoya PARCO will host the Gundam World Contrast event from December 24, 2021 until January 16, 2022. The event will feature a deep-dive of Mobile Suit Gundam and Mobile Suit Gundam SEED from various perspectives and will show the contrasts between the two popular series. The event will then travel nationwide after finishing in Nagoya.

Plastic Model for Advanced Ticket Holders

Bonus: Gundam World Contrast Limited Design Special Promo Card

Story Wall

Special Photo Spot

Exhibition of Katsumi Kawaguchi's Contrast Diorama

Conceptual Exhibitions

Limited-Edition Merchandise

Only at Gundam World Contrast

MG 1/100 RX-78-2 Gundam Ver 3.0 (Event Exclusive)

1/100 Aile Strike Gundam Ver.RM (Event Exclusive)

ENTRY GRADE 1/144 Strike Gundam (Event Presale)

Clear Folder (Set of 2, Gundam World Contrast Exclusive)

Pop Socket (Gundam World Contrast Exclusive)

Acrylic Stand (10 varieties, Gundam World Contrast Exclusive)

Choco Crunch (Gundam World Contrast Exclusive)

Mug (Gundam World Contrast Exclusive)

Visitors can enjoy the exhibition corner, which shows the history of both works including famous scenes and the emotional growth of the main characters. The merchandise corner will feature a number of goods only available at the event including Gunpla. Fans of the franchise shouldn't miss this, as visitors will get a promo card to use for Bandai's latest arcade card game Mobile Suit Gundam Arsenal Base, scheduled to release in spring 2021.

©創通・サンライズ

Mobile Suit Gundam Coffee Bottle Keeps Your Caffeine Kick Nice and Hot

Japanese lifestyle brand CB JAPAN has released its new Gundam Coffee Bottle online at Village Vanguard.

Gundam Coffee Bottle | ¥3,850 Each (Tax Included)

Available in Zeon Green and Zeon Red, the bottles are designed specifically for coffee.

The bottles are marked with the Principality of Zeon emblem using a laser which gives it a high quality look and shimmer.

Keep your coffee freshly brewed with the new Gundam Coffee Bottle.

Mobile Suit Gundam Gamer Merchandise Collection Releases in Japan

ASUS JAPAN release a collection of Mobile Suit Gundam items for gamers on Friday (March 26) including a PC case, gaming mouse, and more. There are also two t-shirts available exclusively online at ASUS Store.

Product Line-Up

ROG Strix Helios GUNDAM EDITION PC Case

TUF Gaming GT301 ZAKU II EDITION PC Case

ROG DELTA GUNDAM EDITION Headset

ROG Strix Scope TKL GUNDAM EDITION Keyboard

ROG STRIX IMPACT II GUNDAM EDITION Mouse

ROG Sheath GUNDAM EDITION Mousepad

ROG T-Shirt ZAKU II EDITION T-Shirt

ROG T-Shirt GUNDAM EDITION T-Shirt

Gundam x Hello Kitty Collaboration Merchandise Now Available to Buy Outside Japan

Online Japanese proxy shopping service ZenPlus is now stocking items of the ongoing Gundam x Hello Kitty collaboration by the anime apparel brand R4G. This means if you're outside Japan, you can now finally get in on this unique and exciting collaboration.

Gundam x Hello Kitty

Gundam x Hello Kitty T-Shirt / Field Coat

Gundam x Hello Kitty Anime Scene T-Shirts

The Gundam x Hello Kitty collaboration began in 2019 to tie in the 40th anniversary of the popular Mobile Suit Gundam franchise and the 45th anniversary of Sanrio's most popular character Hello Kitty. Now the project is heading overseas for fans worldwide to enjoy the collaboration.

GUNDAM FACTORY YOKOHAMA x my route Launch Collaborative Campaign

Japanese company @YOKOHAMA is helping to promote the regional development of Yokohama by collaborating with GUNDAM FACTORY YOKOHAMA using the multimodal mobility service app "my route" with the launch of a campaign.

The campaign is taking place for residents of Yokohama, running from February 8 to 28. All people need to do is download and open the app and fill out the form. Fifty lucky people will have the chance to win a free ticket to GUNDAM FACTORY YOKOHAMA, an amusement park themed on the popular Gundam franchise.

my route is an app that lets users search for the most affordable way to travel as well as letting them book and buy tickets. @YOKOHAMA's portal site is also now linked to the app, offering information about local stores, events, and other information regarding Yokohama.

Information

GUNDAM FACTORY YOKOHAMA Collaboration Download Campaign
Running: February 8 – 28 2021

GUNDAM FACTORY YOKOHAMA
Open: December 19, 2020 – March 31, 2022
Location: Yokohama, Yamashita Futo
Address: 279-25, Yamashitacho, Naka Ward, Yokohama, Kanagawa

Access: Minato Mirai Line

7-minute walk from Motomachi-Chukagai Station (Minatomirai Line)
Yokohama BAYSIDE BLUE Bus: 3-minute walk from Yamashitafuto Bus Stop

GUNDAM FACTORY YOKOHAMA Official Website: https://gundam-factory.net/

Special Edition Website: https://www.at-yokohama.net/topics/article20210208_02.html

Gundam Robot Facility with Giant Moving Gundam Robot Opens in Yokohama

GUNDAM FACTORY YOKOHAMA has successfully created a giant 18-metre-tall moving gundam robot which can be seen on the outside of the facility – a legendary dream made into reality. The facility opened on December 19, 2020 and will remain open for a limited time only.

The facility is split into two areas: The GUNDAM-DOCK and the GUNDAM-LAB. The GUNDAM-DOCK is for the storage and maintenance of the giant robot whereas the GUNDAM LAB is an exhibition space where you can learn about gundam robots and understand how they are built. Visitors can enter the GUNDAM-DOCK TOWER located on the GUNDAM-DOCK to witness the incredible moving body and head of the giant up close from a 15-18 metre height on the special viewing deck.

Gundam is a much-loved franchise by the Japanese and foreigners alike. This is a great chance to witness Japan's latest breathtaking technology in person.

Information

GUNDAM FACTORY YOKOHAMA
Location: Yamashitafuto, Yokohama,
Open: December 19, 2020 – March 31, 2022
Running: 10:00 – 21:00 (Last Entries: 20:00)
Entry Fees:
Adults: ¥1,650 (13 years and above)
Children: 7-12 years: ¥1,100
*For more information, please visit the official website.
Access: 7-minute walk from Motomachi-Chukagai Station (Minatomirai Line)
Yokohama BAYSIDE BLUE Bus: 3-minute walk from Yamashitafuto Bus Stop

GUNDAM FACTORY YOKOHAMA Official Website: https://gundam-factory.net/

Epic Hello Kitty Gundam Figures Revealed For Summer 2020 Worldwide Release

Two new figurines have been revealed by BANDAI SPIRITS, which sees the worlds of Hello Kitty and Gundam come together as part of the longtime selling brand Chogokin ("Super Alloy") which has been selling since 1974. The figures will go on sale in Japan and 22 countries around the world in July 2020.

In April 2019, a projected began entitled Gundam vs Hello Kitty, which we covered throughout its run in detail. In the end, Gundam came out victorious, but both competitors made peace and began a new project named "Gundam x Hello Kitty Love & Peace." The two figurines are the first realisation of that new project.

In 2014, Chogokin celebrated its 40th anniversary, the year in which Hello Kitty celebrated her own 40th anniversary too, from which the incredibly popular "Chogokin Hello Kitty" was released. Last year, Mobile Suit Gundam commemorated its own 40 years since its release. The two figures are based on Amuro Ray's RX-78-2 Gundam and Char Aznable's MS-06S Zaku II which appear in the original series.

Over on the product website, you can watch a short animation showcasing the two figures, so be sure to check it out.

©Sotsu Co., Ltd. ・Sunrise ©1976, 2020 SANRIO CO., LTD.

Information

Chogokin Gundam★Hello Kitty

Price: ¥7,480 (Tax Included)

Release Date: July 2020

Chogokin Char Zaku II★Hello Kitty

Price: ¥7,480 (Tax Included)

Release Date: July 2020

Japan Release: Available at hobby shops, toy shops, internet shops, Sanrio's online shop, select Sanrio stores, and elsewhere

Product Website: https://tamashii.jp/special/sanrio/