Make a Winnie the Pooh Themed Disney Dinner With This Meal Kit
Japanese organic food delivery service Oisix released a cute new Winnie the Pooh tomato curry meal kit on Thursday.
Kit Oisix "Winnie the Pooh" Tomato Curry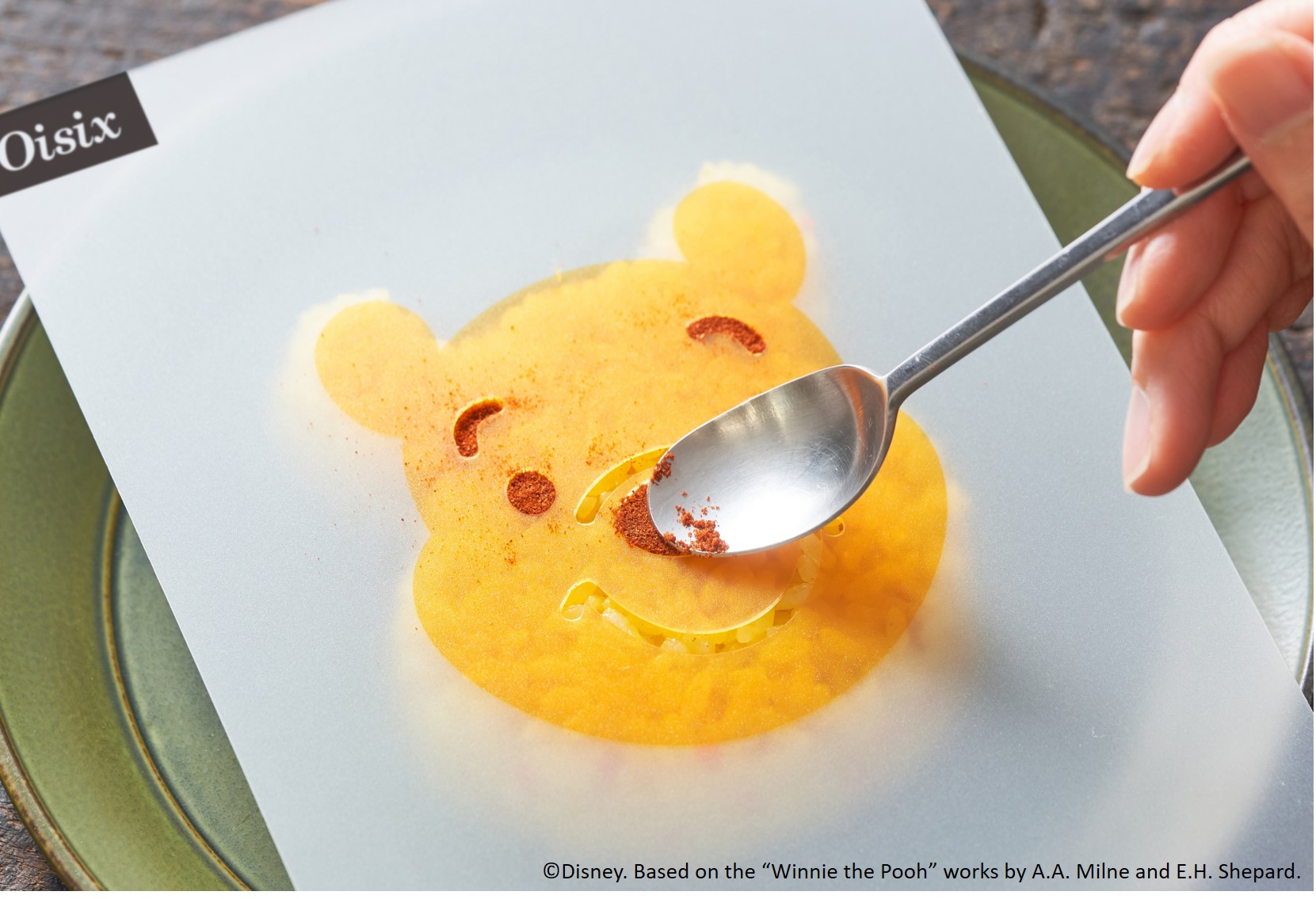 Make Pooh's face easily with a stencil sheet
Message cards come with the kit
The packaging
Lunch mats and pick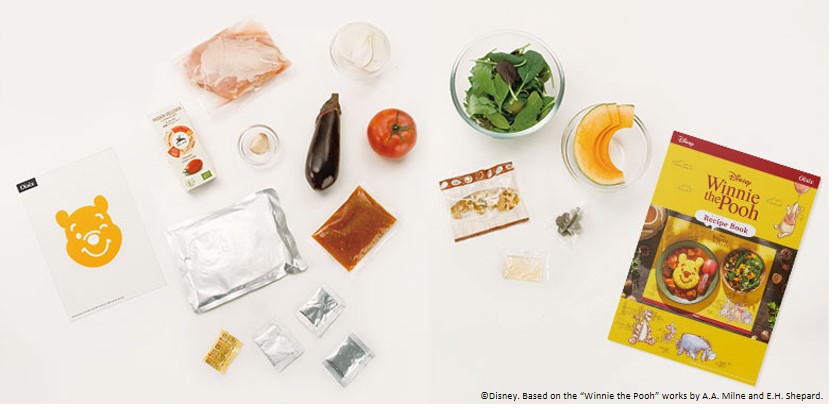 The story of Winnie the Pooh follows the titular character who lives in the Hundred Acre Wood and his adventures to find honey. The meal kit was designed with friendship and bonds in mind: in a time when we can't travel as often to see the people we love, Pooh is the perfect comrade and the embodiment of friendship perfect .
Pooh's yellow face is made from rice seasoned simply with saffron-infused sofrito. His face, which would be a lot of effort to try and create from scratch, can be made easily with the stencil sheet and paprika powder provided.
The meal kit is made to capture the feeling that your friends and loved ones are always with you. In the kit, you'll find a recipe card detailing how to make the food, a lunch mat with an illustration of Pooh and his friends on it, and a message card which you can mail to someone special.
To promote the kit, Oisix is holding a social media campaign. If you tweet a photo of your completed meal on Twitter or Instagram to someone you love with the Japanese hashtag #いつも一緒だよ you'll receive a free virtual background you can use on Zoom and other services.
Information
 Kit Oisix "Winnie the Pooh" Tomato Curry
Order Window: June 3, 2021 – June 17, 2021
Price: ¥2,950 (Tax Included)
Ages: 4+
Product Page: https://www.oisix.com/winniethepooh/press/
#いつも一緒だよ Social Media Campaign
Running: June 3, 2021 – June 24, 2021
How to Participate
Step 1: Post a photo related to the curry along with a message to someone you love (the photo can be the completed meal, a photo of you cooking it, the message cards, and so on)
Step 2: Add the following hashtags to your post on Twitter or Instagram: #いつも一緒だよキャンペーン #プーさん #tablefortomorrow
RELATED ENTRIES
Disney's Pride Collection Arrives in Tokyo For Shibuya Pride Month

SHIBUYA109 Entertainment is set to release The Walt Disney Company's Pride Collection at SHIBUYA109 and MAGNET by SHIBUYA109 as part of Shibuya Pride Month. The collection will be available from June 18 to July 1.

The Walt Disney Company's Pride Collection

The Walt Disney Company's Pride Collection/SHIBUYA109

Free multipurpose case for buyers

SHIBUYA109's ethos is about making today's dreamers shine. Their collaboration with Shibuya Pride Month is to spread the positive message of creating a society where people can live however they want to live.

The Walt Disney Company's Pride Collection is a unisex line-up of original items by five popular brands at SHIBUYA109 and MAGNET by SHIBUYA109 with Disney, Pixar, Marvel, and Star Wars logos and character designs featuring rainbow colours.

A digital catalogue by creative director Wataru LINDA Igarashi was released showcasing each item in the collection. Special online events by SHIBUYA109 will also take place as part of the Pride celebration. Igarashi also created a collection of bucket hats, hoodies, sweaters, bandanas, stickers, and more as part of The Walt Disney Company's Pride Collection.

Information

SHIBUYA PRIDE MONTH
Running: June 18, 2021 – July 1, 2021

Locations: Shibuya109 (2-29-1 Dogenzaka, Shibuya, Tokyo) / MAGNET by SHIBUYA109 (1-23-10 Jinnan, Shibuya, Tokyo)
Official Page: https://www.shibuya109.jp/blog/?pi3=257211

The Walt Disney Company's Pride Collection

Release Date: June 18, 2021 (Available while supplies last)

Participating Brands:

<Shibuya109> GYDA (Floor 5F) / SPIRALGIRL (Floor 5F) / dazzlin (Floor 6F)

<MAGNET by SHIBUYA109> PONEYCOMB (Floor 2F) / A'GEM/9 (Floor 4F)

SHIBUYA109 Online Store: https://www.shibuya109.jp/onlinestore/

Disney's Mickey & Friends Teams Up With Tokyo's Souvenir Sweet Tokyo Banana

Disney SWEETS COLLECTION by Tokyo Banana, a joint confectionery shop between GRAPESTONE and Tokyo Banana, released its new Mickey & Friends collection on Thursday.

Tokyo Banana Mickey & Friends Collection | ¥1,300 (Tax Included)

Mickey, Minnie, Donald, Daisy, Goofy, and Pluto join hands in a heart-warming new collection of Tokyo Banana, a cream-filled sponge cake and the official souvenir sweet of Tokyo's official souvenir sweet: Tokyo Banana.

 

Mickey & Friends arrive in all the colours of the rainbow

The colourful packaging features the Disney group of best friends including Mickey, who loves his friends, his girlfriend Minnie, the anger-prone Donald, stylish Daisy, silly Goofy, and trusty Pluto.

Six cute patterns decorate the sponge cakes

There are six super cute Mickey & Friends designs you could get in your Tokyo Banana, and each one is random. They are filled with chocolate banana-flavoured custard cream.

Collect all the postcards

All boxes of these treats come with two of eight possible postcard designs which you can use for sending to someone or even as room decoration.

 © Disney

These Disney Ceramic Teacups and Plates Are Traditional Kiyomizu Wares From Kyoto

Asahido is now selling a collection of Disney-inspired ceramics made using a traditional Japanese pottery technique known as Kiyomizu which originated in Kyoto.

Winnie the Pooh Hundred Acre Wood Teacup

This collection of teacups features hand drawn designs of Winnie the Pooh and his friends relaxing in their home of the Hundred Acre Wood. They are dyed indigo using a traditional dyeing technique known as gosu which makes the colour run deep into the design. There are cups to pick from, one big and one small and both with different designs. More details here (in Japanese).

Mickey & Minnie Traditional Dyed Pattern Mugs

These smiley teacups are made using the same dyeing technique and feature Mickey and Minnie made from collages of traditional Japanese patterns that have long been used in Kyoto.

Disney Princess Plates

Seven Disney Princesses have been feauted in this hand-painted Kiyomizu ware plate collection, all of which are lined with gorgeous colours including gold. They make for beautiful decorations for any Disney fan's room.

Mickey & Minnie Kiyomizu Dolls

"Rakuyaki" is the name of the hand-mouldered pottery technique used to crafts these Mickey and Minnie Mouse dolls, one which has been used since the Taisho Period. Compared to the other ceramics on this list, these dolls are baked at a lower temperature, giving the colours a softer look. Red and black are classic colour combinations used in this technique, so Mickey and Minnie were the perfect candidates. Only 100 of each will be sold.

Disney's The Little Mermaid Gets Cute Cupcake Release by Ginza Cozy Corner

Ginza Cozy Corner is releasing a new collection of cupcakes and confections at its stores on June 11 in collaboration with the Disney classic The Little Mermaid. The cupcakes feature designs that will be familiar to any fan of the animated film, from Ariel to Flounder, King Triton's Trident, and others that capture the wonderful underwater world of Atlantica.

Some of the Disney delights include the Mermaid Ariel Apple & Strawberry Whipped Cream Tart, Princess Ariel Raspberry Jam & Strawberry Mousse Cake, Ursula Blueberry Jam & Blueberry Whipped Cream Cocoa Tart, Eric's Cheese Mousse & Berry Jam Cake, and more.

The Little Mermaid Collection | Includes 9 | ¥2,700 (Tax Included)

The cakes come in a gorgeous box

Information

The Little Mermaid Collection

Running: June 11, 2021 – July 29, 2021

Order Start Dates

[In-Store] June 1, 2021 until all sell out

[Online] June 7, 2021 – July 24, 2021

Pick-Up Dates

June 12, 2021 – July 29, 2021 (Except June 18-20)

Ginza Cozy Corner Official Website: http://www.cozycorner.jp/

Saori Kimura Produces Disney Volleyball T-Shirt

Japanese former professional volleyball player Saori Kimura has teamed up with HER7 to release two special volleyball-themed t-shirts in collaboration with Mickey & Friends. The tees released on HER ONLINE STORE on May 26.

"I've loved Mickey since I was a kid," explains Kimura, "and even now, after becoming an adult, I frequent the Disney Store, so it has been a great honour and made me really happy to produce this."

She continues: "The theme is Mickey and volleyball, so I ummed and ahhed about various things. One thing I really wanted to express was the teamwork that goes into volleyball, so I was able to have an illustration of the Friends on there. The picture is taken to look like everyone getting together to snap a photo after a fun volleyball game."

"Another thing I wanted was for Mickey Mouse to be playing volleyball. He's someone loved by people around the world. He's doing a blocking pose. (He looks happy, like he's saying, 'I did it!')."

"Both types capture the fun you can have in volleyball, so I really like them!"

Both t-shirts feature an apple logo specially designed by Kimura.

The Mickey & Friends design comes in two colours – khaki and sand beige. They are available in six sizes: M, L, and XL for adults and 110, 130, and 150 for kids.

The Mickey design comes in two colours – charcoal and grey. They are available in seven sizes: S, M, L, and XL for adults and 110, 130, and 150 for kids.

Both tees are oversized as designed by Kimura.

Disney's Fantasia Adds Exclusive Bag to Tokyo Banana Biscuit Collection

GRAPESTONE released a new tin of Fantasia themed chocolate biscuits last Wednesday as part of the 'Disney SWEETS COLLECTION by Tokyo Banana.'

Disney Fantasia Chocolate biscuits | ¥5,500 (Tax Included)

The biscuits arrive in a limited-edition tin!

Disney SWEETS COLLECTION by Tokyo Banana opened on the JR Line side of Tokyo Station in November 2019. The shop is a joint-collaboration with Tokyo Banana—the official souvenir sweet of Tokyo—and Disney. This is the first release to be themed on Disney's Fantasia which will mark its 80th anniversary this year on July 21. The tin is limited-edition and so stock is limited.

The special tin celebrates the 80th anniversary of Disney's Fantasia

The tin's gorgeous design captures the magical and mysterious world of Fantasia. It features Mickey Mouse as the Sorcerer's Apprentice commanding the sparkling stars in the dreamy night sky.

 Receive an original navy blue bag


All tins come with a cute exclusive bag which once again features Mickey and the iconic scene of him casting magic on the wizard's brooms. Each motif on the bag is embroidered, giving it a beautiful, high-quality finish. Now you too, like the brooms, can go everywhere with Mickey Mouse.

Was it a trick? The chocolate biscuits came out like this!

The cat tongue biscuits feature a fun design as if someone has played a prank. They are banana milkshake and chocolate flavoured, light, and crunchy. They are also nice and big so you don't need to eat them all at once, each featuring different designs including Mickey Mouse, the wizard's hat, and one of the brooms.

Don't miss out on a chance to get the exclusive Fantasia bag by Tokyo Banana.

Disney's The Aristocats x SNIDEL HOME Clothing Collection Released

Japanese loungewear brand SNIDEL HOME released a paw-sitively purrfect new collection of clothing items and accessories on Wednesday in collaboration with Disney's animated feature film The Aristocats.

T-Shirt | ¥5,940 (Tax Included)

Dress | ¥6,930 (Tax Included)

Satin Pajamas Shirt | ¥8,800 – Pants | ¥5,940 (Tax Included)

Pouch | ¥3,520 (Tax Included)

Tote Bag | ¥3,740 (Tax Included)

Eco Bag | ¥3,300 (Tax Included)

Novelty: Pouch

The collection focuses on the character Marie. If you spend over ¥11,000 (tax included), you'll also get your paws on a free novelty pouch.

Information

SNIDEL HOME x The Aristocats

Released: May 19, 2021

Buy on SNIDEL HOME: https://snidel.com/snidel_home/

Buy on USAGI: https://usagi-online.com/brand/snidelhome/

Buy in-store

SNIDEL HOME Lumine Shinjuku 2

SNIDEL HOME Shibuya Hikarie ShinQs

SNIDEL HOME Seibu-Ikebukuro

SNIDEL HOME JR Nagoya Takashimaya

SNIDEL HOME Kanagawa Forus

*These products were made in agreement with Walt Disney Japan

MAC Reveals Disney's Cruella de Vil Makeup Collection

MAC Cosmetics is set to launch its new "Cruella" makeup collection inspired by the Disney villain and fashion icon Cruella de Vil from the Disney classic 101 Dalmatians on May 13, 2021. The collection arrives ahead of the upcoming live-action movie Cruella which is set for release on May 28, 2021.

Disney Cruella Collection by MAC

The collection features nine products that bring to life the Disney villain's look, whose origin story about aspiring to become a fashion designer will be portrayed by Emma Stone in the upcoming movie which is set in '70s London during the height of the punk rock era. The line-up combines punk reds with metallic colours, and everything comes packaged in tubes and palettes bearing Cruella's instantly-recognisable black and white colour combo.

Terry Barber, the Director of Makeup Artistry at MAC, said: "With there being such a huge trend for recycling the more niche counterculture moments of previous decades, this collection feels like MAC returning to a celebration of the kind of DIY styling and brave transformation that originally made it such a maverick brand."

A Look at the Collection

MATTE LIPSTICK | $21

A rich matte lipstick formula with high-colour payoff and a creamy matte finish in three Cruella-inspired shades.

RETRO MATTE LIQUID LIPCOLOUR | $25

A liquid lipstick that provides a rebellious rush of Disney's Cruella-inspired colour in a velvety, mattest-matte finish.

PRO LONGWEAR DUAL ENDED EYE LINER | $26

A long-lasting, dual-ended eyeliner featuring creamy, dense colour that glides smoothly across lids.

POWDER BLUSH DUO: CRUEL-LA INTENTIONS | $31

A Cruella-inspired blush duo that provides fantastic colour with ease and consistency.

76 SUPERMODEL LASH | $18

A limited-edition pair of backstage-favourite lashes featuring wispy, full volume for a runway-ready look.

EYESHADOW X 8: CRUELLA TO BE KIND | $45

A magnetic two-piece eye palette packed with a wondrous wave of eight statement shades inspired by the most iconic looks of Disney's Cruella.

The full collection will drop worldwide this Thursday at MAC.

©2021 Disney

Disney: Twisted-Wonderland Mirrors Are Inspired by the Six Dorms

Realize Corporation released a new collection of six acrylic standing mirrors on the anime and hobby website CharaDepa on Sunday which are inspired by the six Dormitories of the popular game.

Acrylic Standing Mirrors (6 Designs) | ¥3,600 Each (Before Tax)

Check you look as dashing as the students with a mirror based on your favourite Dorm!

©Disney

Disney Princesses Help You to Answer the Question 'What is Love?' at This Tokyo Event

As part of Disney's Ultimate Princess Celebration, a worldwide festival themed on courage and kindness that began in April, an event titled "What is Love? ~The Secret to Shining Bright Lies in the Princess World~" will take place at Shibuya Marui in Tokyo from June 23 to July 29 this year. It will subsequently move to JR Nagoya Takashimaya from August 4 to 23 and finally conclude next year in Shizuoka where it will run from January to March.

This event tries to answer the question "What is Love?" through a range of content that encourages the use of all five senses: visually, digitally, musically, through scent, and more.

 

What is Love? ~The Secret to Shining Bright Lies in the Princess World~

Visitors are guided by 12 Disney princesses who will take them on a journey of their 'love' in six different areas.

 

A Look at the Event

1. Introduction: 12 Shining Princesses

At the event, you will meet the 12 princesses and learn their story, what their personality is like, and more.

2. Opening Theater: Discover the Secrets to Shining Bright

Attend the theatre and watch the stories of the princesses with your own eyes.

3. 7 Keywords Unravelled From Their Stories

Seven keywords that appear in the princesses' stories will be explored, each of which are tied back to love. This will include exhibits of scenes from the Disney animated movies, an AR experience using smartphones, and more.

From Beauty and the Beast

Using their smartphones, visitors can hold up their phones and utilise AR technology to see various scenes from Beauty and the Beast in an area inspired by the library that Beast bestowed upon Belle.

From Tangled

In Tangled, the King and Queen release lots of sky lanterns on Rapunzel's birthday each year in hopes that she will see them and return. Let your own lanterns fly like in the movie and witness a beautiful spectacle.

4. Music and Fragrance: Clad in Radiance Unseen to the Eye

A unique experience combining music and fragrances inspired by the princesses, who radiate from love, will let visitors feel closer to them.

5. Glowing Lines: Words That Make the World Shine

At the Closing Theater, words and lines said by the princesses will be displayed, offering another way of enjoying their world that radiates from love.

6. Prologue: Your Own Unique Story Begins

Pick up a range of merchandise featuring designs of the exhibition's main visual, the seven key words, and more.

 

Services and Content Offered by Disney at the Exhibition

Disney+

Disney+ is a streaming service that brings together all Disney, Pixar, Marvel, Star Wars, and National Geographic content in one place, as well as exclusives. Those at the exhibition can watch the content offered by Disney+ at the Opening Theater.

 

Disney DX App

The Disney DX is an app exclusive to Japan that comes as a set with Disney+. It offers the chance to see cut scenes from movies, behind-the-scenes content, and more. The exhibition utilises this app through AR experiences, so if downloaded, you're sure to have an even more fun time.

A curated list of Disney Princess music is played at the exhibition. If you head to the shop, you can pick up movie soundtracks and other albums. Disney even created a playlist themed on the princesses that's now available on music streaming services.

Information

What is Love? ~The Secret to Shining Bright Lies in the Princess World~

Japanese Event Title: WHAT IS LOVE? ~輝くヒミツは、プリンセスの世界に。~

Running: June 23, 2021 – July 29, 2021

Where: Shibuya Marui (Floors 7F & 8F) *Reception is on floor 7F

Address: Shibuya Marui, 1-22-6 Jinnan, Shibuya-ku, Tokyo

Opening Hours: 11:00-20:00

Official Website: https://PrincessExhibition.jp

*Exhibition will subsequently move to JR Nagoya Takashimaya (August 4, 2021 – August 23, 2021) and Shizuoka (January 2022 – March 2022)w

LINE Disney Tsum Tsum Puzzle Game Breaks 90 Million Downloads

Japanese messaging app LINE announced that their casual puzzle game LINE: Disney Tsum Tsum has broken 90 million views. The popular game launched a collaboration with the Star Wars franchise on Tuesday which is set to run until May 31.

LINE: Disney Tsum Tsum is based off Disney's collectable stuffed toy series. The game launched first in Japan on January 29, 2014, before rolling out to the US, UK, Europe, Asia, and elsewhere on July 1 of the same year. Tsum Tsum and 400-or-so characters are popular around the world with the toys having appeared in Disney films, commercials, at events, and more.

 

In celebration of the puzzle game reaching 90 million downloads, the Today's Mission feature is offering a 10x bonus. The game is also collaborating with Star Wars until the end of May where Darth Vader and a Stormtrooper are making an appearance. And for the duration of May, the game's title logo and background music has been changed into traditional Japanese styles.

 

Tsum Tsum Tenka Touitsu Event

Another in-game event is also ongoing where players can receive pins and a Princess Minnie by clearing the mission.

©Disney 

©Disney/Pixar 

©& TM Lucasfilm Ltd.

Studio Ghibli's Earwig and the Witch Gets Recipe Picture Book

Japanese publisher SHUFUNOTOMO released a new recipe picture book based on the Studio Ghibli's 3D CG movie Earwig and the Witch on April 28.

Earwig and the Witch Recipe Book | ¥1,540 (Tax Included) 

The book features simple to follow recipes including famous British meals, desserts inspired by the movie, and lots of other mouth-watering delights that look like something straight out of Earwig and the Witch.

St. Morwald's Home for Children's Shepherd's Pie

Shepherd's pie is a classic British meal and makes an appearance in the movie when Earwig eats it at St. Morwald's Home for Children. It's her favourite meal: mash sat on top of a tomato sauce-loaded mince, carrots, green beans, onion, and paprika combo.

 

Boy Scout Fried Toast

Fried toast is another common food on the British breakfast menu. The recipe takes thickly-sliced bread and fries it in the juices of bacon and sausage. It's based on the scene where Earwig messes up making her fried toast. The recipe is made Frech-style with egg, milk, sugar, and butter.

 

Earwig's Pretzels

Using hot cake mix, learn how to make frosted white chocolate pretzels that look like Bella Yaga's magical worm minions

Goro Miyazaki | Comment (Taken From Recipe Book)

"Cooking is fun, isn't it? I myself love cooking: taking various ingredients and peeling them, chopping them, crushing them, and mixing them. You boil, you steam, you simmer, you fry. Using fire makes it all the more fun. What I make doesn't always turn out perfect, but you can turn off and forget everything while you're cooking, but it's an amazing feeling when you sit down to eat the fruits of your labour and people tell you what you made is delicious. It's even more amazing when you eat something that someone else made for you. Tasty food is like magic. Speaking of which, the magical spells that Earwig learns at Bella Yaga's house are a lot like cooking. Carving, crushing, mixing. I'm sure that if you're a skilled witch you'll be a skilled cook too. I hope the people who read this book and think for the first time that they want to try out cooking will try making all sorts. Getting better at cooking might even lead you on the path to becoming a witch."

The recipe book's front cover was designed specially for this book by Goro Miyazaki.