NiziU Feature in Skin Type Friendly Face Mask Collection Promo
Japanese girl group NiziU are set to feature in a new television commercial for LOHAS Pharmaceutical's "ALFACE+" cosmetic face masks which will roll out in Japan on July 1.
ALFACE+ is a skincare brand that sells products that are not only moisturising but accessible to a variety of skin types too. Their face mask collection includes 10 different designs, all of which are presented by each of the nine NiziU members.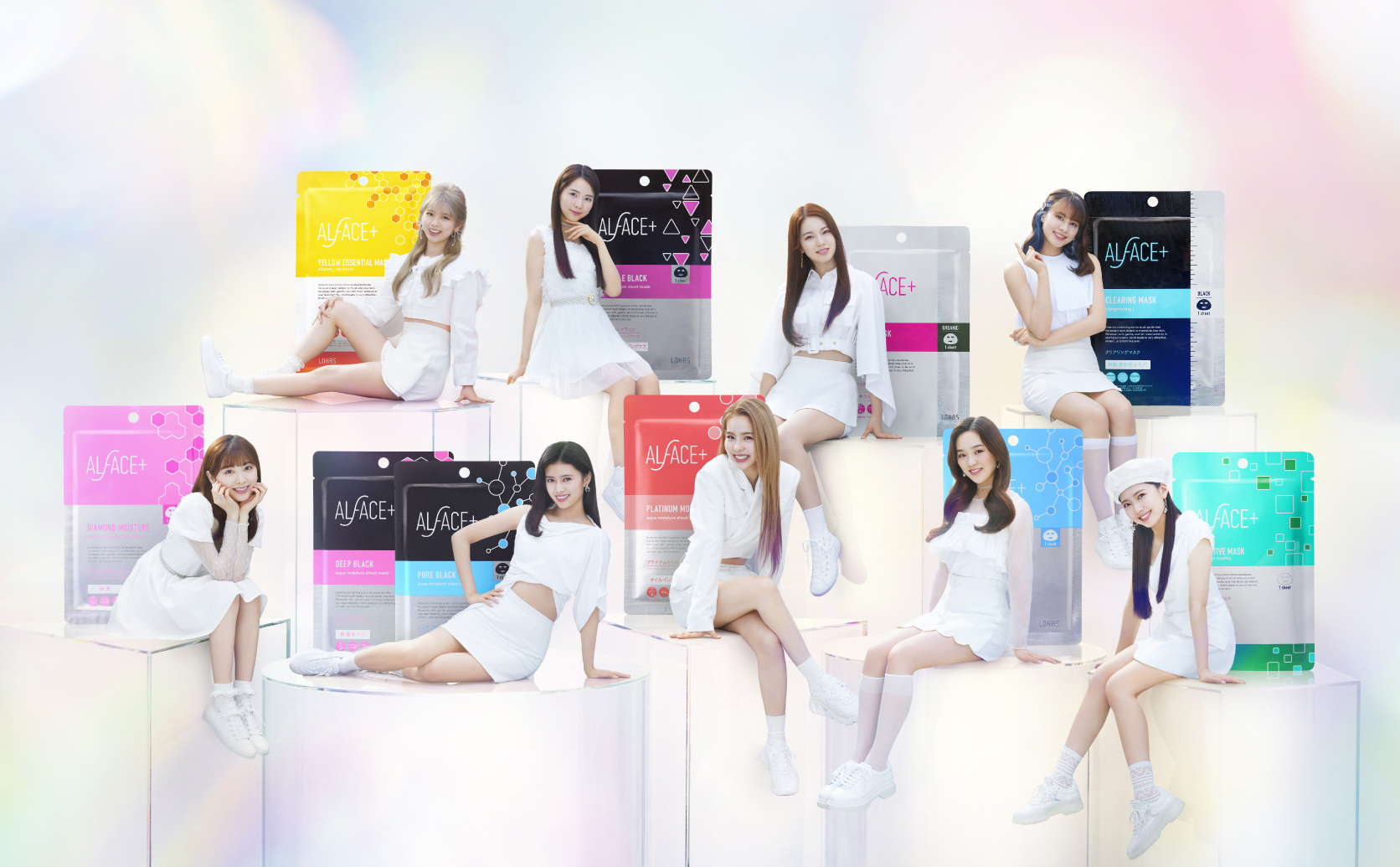 NiziU have stepped away from their usual energetic look for this shoot, instead serving more grown-up vibes.
RELATED ENTRIES
Shu Uemura Releases Sustainable 'Mindfully Crafted in Japan' Collection

Japanese cosmetic brand Shu Uemura is set to release its new origami-inspired 'mindfully crafted in japan' collection on June 18, but presales opened on their online shop last Tuesday. The collection is a display of Japanese tradition and craftsmanship with sustainability at the core of its concept.

ultime8 ∞ sublime beauty cleansing oil (Limited Edition Design) | ¥12,650 (Tax Included)

hard formula hard 9 (seal brown 02) (Limited Edition Design) | ¥2,860 (Tax Included)

petal 55 foundation brush (Limited Edition Design) | ¥6,600 (Tax Included)

The collection focuses on three aspects of mindfulness with Japan as its focus: mindful of Japanese nature with locally and sustainably resourced ingredients, mindful of Japanese resources by taking only what is needed, and mindful of Japanese traditional craftsmanship by preserving traditions from the past.


Shu Uemura's Cleansing Oil is one of the brand's most notable sustainable products, preserving everything important about Japanese culture from its history to its natural environment. Using traditional methods passed down the ages, the product is made from plant-derived ingredients sourced sustainably, and the packaging is made from 100% recyclable plastic. The Cleansing Oil bottles were also added to Shu Uemura's new recycling program which began on May 5 which enables bottles to be reused.

Don't miss out on this special new collection by Shu Uemura.


Information

mindfully crafted in japan collection

Release Date: June 18, 2021

Available: shu tokyo makeup box

Address: B-SIDE 5-11-2 Jingumae, Shibuya, Tokyo, 150-0001

Pre-Sale: Online from June 1, 2021

Official Online Shop: https://www.shuuemura.jp

Japanese music streaming site RecoChoku has revealed the top song and album rankings of artists for April 2021 who earn the site's RecoChoku Award for the month.

RecoChoku Award Monthly Music – April 2021

Single Ranking

1st Place: "Take a Picture" – NiziU (Released digitally March 29, 2021)
2nd Place: "Renegades" – ONE OK ROCK
3rd Place: "Film out" – BTS 
4th Place: "Yoru ni Kakeru" –  YOASOBI
5th Place: "Usseewa" – Ado


Album Ranking 

1st Place: "THE BOOK" – YOASOBI (Released January 6, 2021)
2nd Place: "Take a picture/Poppin' Shakin'" – NiziU
3rd Place: "BAN (Special Edition)" – Sakurazaka46
4th Place: "Walpurgis" – Aimer 
5th Place: "Ketsu no Paradise" – Ketsumeishi

In 2020, NiziU took home the Newcomer Ranking award for RecoChoku Yearly Ranking 2020. The girl group takes first place once again in April 2021's song charts with Take a picture which is taken from Take a picture/Poppin' Shakin', their first double A-side single which released on CD on April 7, 2021. The leas track was released digitally on March 29 for a Coca-Cola commercial. It placed at No. 3 in its first week of release. It climbed to No. 2 the following week, and by its third week it hit No. 1 thanks to its CD release and the group performing it live on Nippon TV's Sukkuri, NHK's SONGS, TV Asahi's Music Station 3 Hour Special, and more. The double A-side's other track, Poppin' Shakin', placed at No. 2 on its release but also climbed to No. 1.


The four-track Take a picture/Poppin' Shakin' even made it to No. 2 on RecoChoku's monthly album charts. And on April 30, NiziU released their new "NiziU Scout" content on their official YouTube channel which broke one million views on the same day. 2021 is looking to be a big year for the group.
 

YOASOBI take the No. 1 spot on the Album Ranking for their EP THE BOOK for the fourth month in a row. They are a Japanese music duo formed of composer and Vocaloid producer Ayase and singer-songwriter ikura whose music turns novels in songs. Their popularity grew online with the release of their first song Yoru ni Kakeru in November 2019. The track peaked at No. 5 in the RecoChoku Yearly Ranking for 2020. YOASOBI performed on NHK's annual New Year's Eve television special Kōhaku Uta Gassen in the same year. When the new year opened, the duo released their first EP, THE BOOK, on January 6, 2021 which included Yoru ni Kakeru as well as Ano Yume o Nazotte which adapted Sota Ishiki's novel Yume no Shizuku to Hoshii no Hana, Tabun which adapted Shinano's novel of the same name, Harujion which was used in with food product and film promos, Gunjo which was used in Bourbon's Alfort Mini Chocolate commercial, Encore which was used for a Google Pixel commercial, and more. The track Harujion in particular has helped with downloads of the albums after it was used in a Nintendo Switch television commercial.



YOASOBI's new song Mou Sukoshi Dake was released digitally on May 10. The song serves as the latest theme song for the Fuji TV show Mezamashi TV. The track hit No. 1 on RecoChoku's Single & High Res Single Ranking.

MAC Reveals Disney's Cruella de Vil Makeup Collection

MAC Cosmetics is set to launch its new "Cruella" makeup collection inspired by the Disney villain and fashion icon Cruella de Vil from the Disney classic 101 Dalmatians on May 13, 2021. The collection arrives ahead of the upcoming live-action movie Cruella which is set for release on May 28, 2021.

Disney Cruella Collection by MAC

The collection features nine products that bring to life the Disney villain's look, whose origin story about aspiring to become a fashion designer will be portrayed by Emma Stone in the upcoming movie which is set in '70s London during the height of the punk rock era. The line-up combines punk reds with metallic colours, and everything comes packaged in tubes and palettes bearing Cruella's instantly-recognisable black and white colour combo.

Terry Barber, the Director of Makeup Artistry at MAC, said: "With there being such a huge trend for recycling the more niche counterculture moments of previous decades, this collection feels like MAC returning to a celebration of the kind of DIY styling and brave transformation that originally made it such a maverick brand."

A Look at the Collection

MATTE LIPSTICK | $21

A rich matte lipstick formula with high-colour payoff and a creamy matte finish in three Cruella-inspired shades.

RETRO MATTE LIQUID LIPCOLOUR | $25

A liquid lipstick that provides a rebellious rush of Disney's Cruella-inspired colour in a velvety, mattest-matte finish.

PRO LONGWEAR DUAL ENDED EYE LINER | $26

A long-lasting, dual-ended eyeliner featuring creamy, dense colour that glides smoothly across lids.

POWDER BLUSH DUO: CRUEL-LA INTENTIONS | $31

A Cruella-inspired blush duo that provides fantastic colour with ease and consistency.

76 SUPERMODEL LASH | $18

A limited-edition pair of backstage-favourite lashes featuring wispy, full volume for a runway-ready look.

EYESHADOW X 8: CRUELLA TO BE KIND | $45

A magnetic two-piece eye palette packed with a wondrous wave of eight statement shades inspired by the most iconic looks of Disney's Cruella.

The full collection will drop worldwide this Thursday at MAC.

©2021 Disney

SHIRO Reveals New Cosmetic Items For Summer 2021

Japanese cosmetic brand SHIRO is set to release its Ice Mint Body Mist, Ice Mint Body Lotion, and all-new Ice Mint Clay Hand Soap as part of its limited-edition Ice Mint fragrance series online on May 27 before the products head to stores on June 10.

Ice Mint Body Mist | ¥1,980 (Tax Included)


Ice Mint Body Lotion | ¥2,530 (Tax Included)


Ice Mint Clay Hand Soap | ¥2,200 (Tax Included)

The refreshing products arrive in time for the summer season for cooling down on those hot and humid days. Each is imbued with ethanol and refreshing mint for that relieving feeling of refreshment.


Information

SHIRO Ice Mint Series

Online Release Date: May 27, 2021 @ 10:00am (JST)

In-Store Release Date: June 10, 2021

Official Website: https://shiro-shiro.jp/

Hello Kitty x INTERGRATE Design Cosmetics Releasing This Spring

Shiseido's self-makeup brand INTERGRATE is set to release select beauty products with limited-edition Hello Kitty packaging on May 21. The theme of the collection is Meet "LOVELY." In the run up to its release, Hello Kitty cans can enjoy three filters of the popular Sanrio character over on INTERGRATE's official Instagram page.

INTERGRATE Limited-Edition Pro Finish Foundation Special Set K (2 Types) | ¥1,430 Each (Tax Included)

Colour palette

INTERGRATE Limited-Edition Pro Liquid Special Set K | ¥1,760 Each (Tax Included)

Colour palette

INTERGRATE Limited-Edition Water Jelly Crush Special Set K (2 Types) | ¥2,200 Each (Tax Included)

Colour palette

INTERGRATE Limited-Edition Triple Recipe Eyes Special Set K (2 Types) | ¥2,200 Each (Tax Included)

Colour palette

The limited-edition designs feature Hello Kitty and her cute friends who are ready to help you apply your makeup. The collection focuses on three each of INTERGRATE's iconic foundations and eye shadows. This includes the Pro Finish series which has foundation in a compact case, durable liquid foundation, and water jelly crush. Pick from three foundations too which come in a triple set. For this limited-edition collaboration, you can enjoy the pink PK704 and brown BR703, both of which are popular colours.

Hey! Say! JUMP Feature in New smash. Commercial

The vertical theatre app smash., which lets users shoot professional quality short videos, released a new commercial in Japan on May 8 which features the eight-member boy band Hey! Say! JUMP and their new single Negative Filter which dropped on May 12.

The commercial features all eight members performing using the app. Each of them shot their own solo videos which were string together for the video.

Look as Good as Marvel's Captain America With the New Pomade by BROSH

BROSH released its pomade hair styling product with all-new Captain America packaging on the men's cosmetic site DRESSKIN on April 27.

BROSH is a Japanese haircare brand available in 22 countries worldwide. Its popular pomade is an original recipe which Marvel fans can now use to look as good as the popular superhero Captain America. The new tub design features red and blue colouring as well as retro comic book art.

MARVEL | ¥2,750 (Tax Included)

BROSH's pomade was first released in 2019 and sold out on DRESSKIN. This second batch has received a texture update to better match Japanese people's thick hair type. It has the same strong holding power as gel or wax and has a new floral fragrance.

Macaroni Enpitsu's New Song 'Tomason' Features in Bourbon Chocolate Brownie's Animated Commercial

Bourbon's five-episode audiobook no doubt created for its Noukou Choco Brownie snack was released as an animated TV commercial last week. The video features Japanese pop rock band Macaroni Enpitsu's new song Tomason which was written for the commercial.

The audiobook no doubt becomes a TV commercial

The no doubt audiobook was written by the popular Japanese author Yoru Sumino who is perhaps best known for writing I Want to Eat Your Pancreas. It tells the story of two boys who are in high school. They aren't part of an afterschool club, and they don't have part time jobs. They come to realise that this time will be what they look back on when they grow up. The characters were designed by Itsuka, an illustrator popular online.

The commercial features the song Tomason by Macaroni Enpitsu.

"no doubt" Animated TV Commercial

"no doubt" Recording Behind The Scenes

Japanese voice actors Hiro Shimono (Attack on Titan; Demon Slayer: Kimetsu no Yaiba) and Yuki Kaji (Attack on Titan; My Hero Academia) voiced the characters in the commercial. Below is an interview with both of them on the commercial, part of which we have translated.

Hiro Shimono x Yuki Kaji Interview

A snippet of the interview, translated 

Q1: How did your performances go? Tell me about your shoot.

Hiro Shimono: "The commercial portrays two boys who are neither adults nor children, so going through puberty I suppose. Their dialogue is elaborate, it was super interesting."

Yuki Kaji: "Right up to wrapping up, the entire shoot was a lot of fun, including the intervals during our breaks."

Q2: You both play the roles of high school boys. Tell me about a time from your youths.

Yuki Kaji: "One memory I have from school being young, which is like something out of a painting, was my time a the theatre club. You need real physical strength when it comes to acting, so before dress rehearsal, I'd run around the school building. That's a memory that's stuck with me. I'd change into my jersey, and go die– I mean, run to the nearby river embankment too. Being reminded of that now it's too much like a youth film or something, it's making me laugh <laughs>. "

Hiro Shimono: "I have a story from my youth too. It was on the day of the Culture Festival [at school]. After the festival finished, I was on my way home with some people, and there was a park with a water fountain in it. I said, 'Well, it's already raining, so why the hell not!' Of course it wasn't the thing to do, but we jumped into the water fountain and splashed about. That's what being young is all about, right!?"

Q3: What's your favourite Noukou Choco Brownie flavour, the regular or the rich milk?

Hiro Shimono: "Noukou Choco Brownie."*

*Translator's Note: Implying all of them

Yuki Kaji: "Me too! <laughs>"

Q4: Please give a message to fans.

Yuki Kaji: "I was lucky to have the opportunity to performance Yoru Sumino's novel no doubt. I'm over the moon about it. The script was of course wonderful, and me and Shimono have known each other for a long time, so I think that comes across in the video with a pleasant atmosphere. The commercial is a youthful drama about two high school boys, and it's linked to the bittersweetness of Noukou Choco Brownie. Be sure to tuck into one yourself while you listen to the story."

Hiro Shimono: "[The commercial's characters] Igarashi and Imai have a great conversation, and getting to do it with Kaji was a lot of fun. It made me think we've always had that kind of vibe with each other. Noukou Choco Brownie is the keyword, so please be sure to check out the audiobook to see how it plays its part."

no doubt Synopsis

One day, high schooler Imai skips school by feigning illness. He is at home in his room, when all of a sudden another boy from his class, Igarashi, comes to visit him. He has the handouts to give to Imai from class, but the high school they go to doesn't have that custom where a classmate has to give handouts to someone who's off ill. And the two of them aren't that class where Igarashi would suddenly pop to see Imai like that. Imai finds it suspicious. Igarashi is interested in the clay work Imai has in his room. Both of them have some free time, so begin to make a town together out of clay.

NiziU Feature in Commercial for KOSÉ's Makeup Fix Product Make Keep Mist EX

KOSÉ rolled out their new commercial in Japan on April 15 for their makeup fix mist product Make Keep Mist EX. The commercial features Japanese music group NiziU along with their new song I AM.

I AM was written specifically for this commercial, which has the NiziU members performing the "mist dance" showing how to use the product. The commercial emphasises how well the Make Keep Mist EX keeps makeup applied to one's face without worrying about it coming off.

The NiziU members released this comment with regards to the product and commercial: "Applying makeup can be a real pain when wearing a face mask, so we use this all [product]! We'd love for you to do this dance while you apply your Make Keep Mist!"

If you're wondering how the shoot went for this commercial, check out the official story released below. 

The Commercial Shoot

The NiziU members entered the studio dressed in full-pink spring suits. They rolled up to the studio's blue set where they looked super cute and readied themselves for the shoot.

 

The take-away from this commercial is the new Mist Dance which has the nine members lined up beautifully together as they spray the mist on their face simultaneously to the tune of the music. It's reported that it took them a while to get it down perfect at first, but after some practice and looking at the monitor, they were able to create something iconic.

"Do it like RIO!" instructed the shoot's director, which prompted RIO to show the other members how it's done.

 

During their break, the other members complimented MAKO's blonde hair and MAKO's blue tips, and MIIHI stroked RIKU's dango hair while saying "Looky here, ice cream! Looks delicious."

In one part of the dance, the members have to go all out and use their whole bodies. They switch up their formations several times and not once did they bump into each other. The members gave tips to each other too, like MAYUKA suggesting a better position during one formation, and RIMA asking which angle looks more beautiful for a certain move in relation to the camera. The result was an incredible display that was shot in one take, resulting in a round of applause from the studio staff.

Check out the commercial below.

Make Keep Mist EX

The new EX version of Make Keep Mist has stronger holding power to keep makeup smudge-free and looking fresh and beautiful all day. The product is available in a normal size and smaller 'trial' size. A new cool type, Make Keep Mist EX Cool, was released on April 16.

 

Make Keep Mist EX ¥1,320 / Make Keep Mist EX Trial Size ¥880 / Make Keep Mist EX Cool ¥1,320 (Tax Included)

Information

KOSÉ x NiziU Make Keep Mist EX Commercial

Initial Broadcast: April 15, 2021

Product Available: KOSÉ / Maison KOSÉ / Drugstores, online, and elsewhere in Japan

Official Website (English): https://www.kose.co.jp/makekeepmist/eng/

Hio Miyazawa and Suzu Yamanouchi Feature in Special Rainwear Commercial

Japanese rainwear brand Wpc. released a special new commercial featuring actors Hio Miyazawa and Suzu Yamanouchi. The collaborative video is entitled "What's Changed, What Hasn't Changed."

The Rainwear Items

Basic Jump Umbrella – Off Paint

Big Silhouette Rain Poncho – Unisex Caramel

Floral Pink Gradation


Colour Mesh Coat – Beige

Free Lookbook

The message of the commercial is one of positivity: that though somethings might change, others do not. It refers to the state of the world during the COVID-19 pandemic, that despite being unable to see our loved ones, and that we're unable to lead the lives we once did, our feelings towards those special to us, and those around us, is eternal.

Information

What's Changed, What Hasn't Changed

Lookbook: Free distribution at Wpc. Shinsaibashi PARCO and Wpc. pop-up shops

Official Website: https://bit.ly/3uw2BFn

Japanese Organic Cosmetic Brand SABON to Open Green Pop-Up Shop in Shinjuku

Japanese natural and ethical cosmetic brand SABON is set to promote its line-up with the opening of its Blissful Green Limited Collection Pop-Up Shop at Isetan Shinjuku on April 14.

The pop-up shop serves as a promotional space and pre-sale opportunity for the brand's upcoming Blissful Green Limited Collection which incudes body scrub, body lotion, shower oil, and more. The collection invites people to a luxurious, natural self-care and shower-time experience. The brand will also hold a four-day calligraphy service for the spring season where customers can buy the items as gifts and include a special message.

Calligraphy Service

Customers who spend over ¥12,000 (tax included) can have a special sticker or gift card penned by a professional calligrapher who will write a name and gift message. Full details here in Japanese.

 

Dates/Times

April 16, 2021 @ 13:00-18:00

April 17, 2021 @ 16:00-20:00

April 24, 2021 @ 13:00-18:00

April 25, 2021 @ 13:00-18:00

Blissful Green Limited Collection

The Blissful Green Limited Collection is the embodiment of the SABON brand and offers thanks to the joy we feel being surrounded by nature. It captures the clean air inhaled in the forest, the gentle light filtering through the trees, and the coming-together of the mind, body, and nature. It includes body, face, and home items all packaged inside gorgeous bottles and tubs.

Information

SABON Blissful Green Limited Collection Pre-Release Pop-Up Shop

Running: April 14, 2021 – April 27, 2021

Where: SABON Isetan Shinjuku

Address: 3-14-1 Shinjuku, Shinjuku-ku, Tokyo

Opening Hours: 10:00-20:00

Product Page: https://www.sabon.co.jp/special_contents/Blissful_Green/

Kyary Pamyu Pamyu's Fragrance Brand Nostalgia Syndrome Releases Lily & Jasmine Series

Nostalgia Syndrome opened pre-orders for its new Lily & Jasmine series of fragrances on March 31. The products will be released on April 22.

Nostalgia Syndrome is a fragrance brand produced by Kyary Pamyu Pamyu which launched last year. The new Lily & Jasmine series will be available to purchase online and will also be sold at two brand pop-up shops in Tokyo and Osaka. Those who spend over ¥10,000 online or at either of the stores (tax included) will receive a free Nostalgia Syndrome novelty – these are available in limited supply.

Online Store Novelty: Original Thermal Bottle

Pop-Up Store Novelty: Original Big Eco-Bag

Lily & Jasmine Series

Eau de Toilette | ¥8,250 (Tax Included)

Room & Fragrance Spray | ¥3,300 (Tax Included)

Aroma Diffuser | ¥7,150 (Tax Included)

Bath Salts | ¥3,410 (Tax Included)

Hand Soap | ¥3,520 (Tax Included)

Scented Candle | ¥8,140 (Tax Included)

Eau de Toilette Two-Set (9mL)

Kyary Pamyu Pamyu | Comment

"This is Nostalgia Syndrome's second fragrance release. After mixing together various ingredients, I was finally able to catch the right scent. The theme for this one is 'travel fragrance.' Because of COVID, our time spent outdoors has gone down dramatically, but smells tied to our memories make up part of us all. And smelling them brings back those memories. This is a blend of sweet, sophisticated lily and refreshing jasmine, so it's a really easy one to use that can be enjoyed by both guys and girls. We're also opening our first pop-up shop so please be sure to drop by to try out!"

Lily and jasmine are vibrant fragrances and perfect for the spring season. Order yours today!

Information

Nostalgia Syndrome Lily & Jasmine

Pre-Orders: March 31, 2021 (Shipping from April 22)

Release Date: April 22, 2021

Pop-Up Stores

・+SPBS (SHIBUYA SCRAMBLE SQUARE 2F)

Running: April 22, 2021 – May 26, 2021

Where: +SPBS, SHIBUYA SCRAMBLE SQUARE Floor 2F, 2-24-12 Shibuya, Shibuya-ku, Tokyo

Opening Hours: 11:00-21:00

・Shinsaibashi PARCO

Running: May 13, 2021 – May 20, 2021

Where: Shinsaibashi PARCO Floor B1F, 1-8-3 Shinsaibashisuji, Chuo-ku, Osaka-shi-, Osaka

Opening Hours: 10:00-20:00

Nostalgia Syndrome Official Website: https://www.nostalgia-syndrome.com/