Takara Tomy's 'Pretty Series' Releases Rice as Part of 10th Anniversary Project
Last year, Takara Tomy launched a special project in celebration of the 10th anniversary of the Pretty Series rhythm game, which has continued into and through 2021. As part of the project, the company introduced a side project called the 'Support Everyone's Home Project' to bring together fans and locals across all regions of Japan to help promote those regions, their products, and famous sightseeing spots.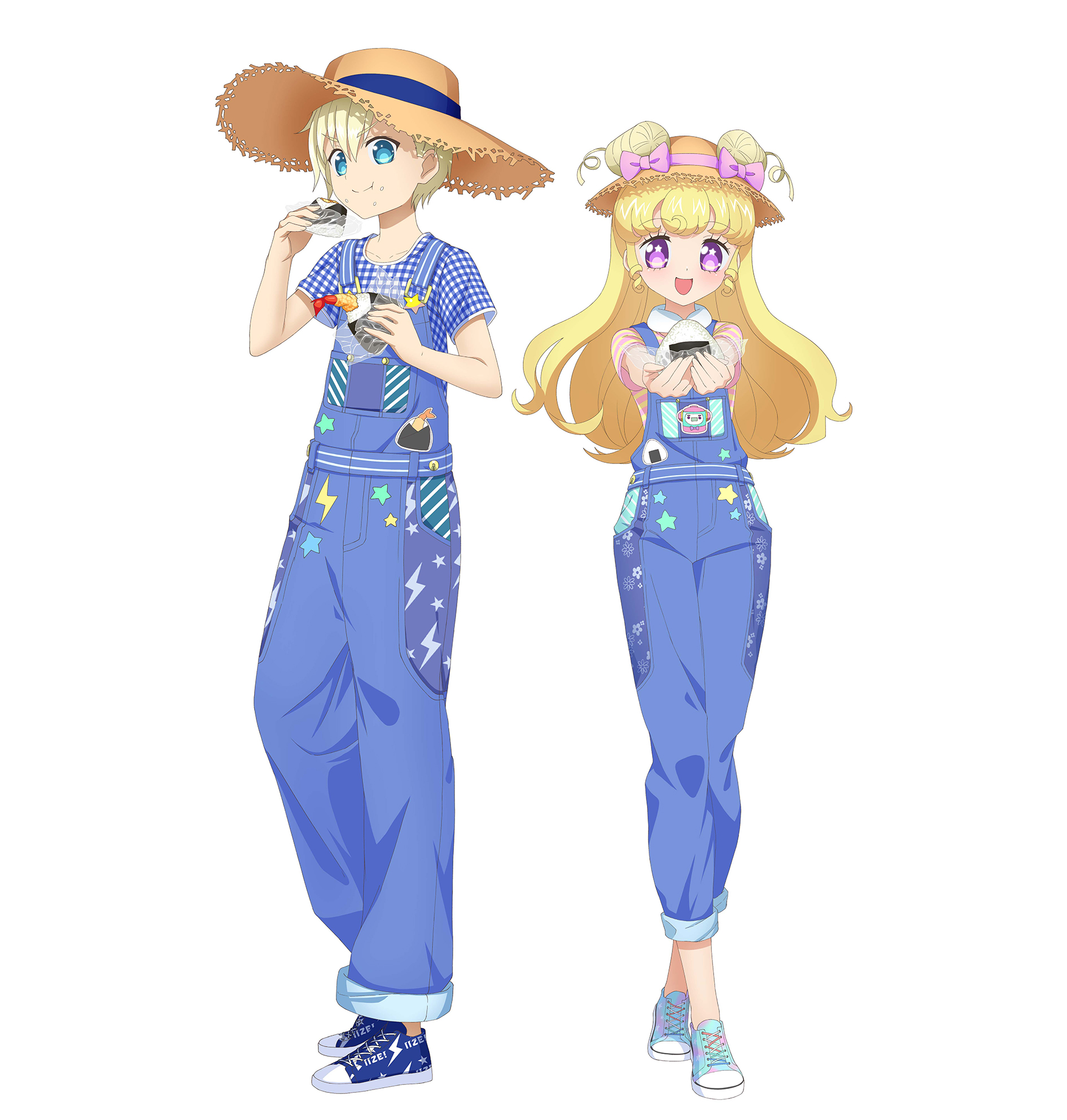 Pretty Rice promo illustration
Planting the rice
The first location to be part of the project is the town of Ugo in Akita Prefecture. Yui Yumegawa, the blonde-haired, rice-loving idol character and protagonist of Idol Time PriPara, has been appointed the official ambassador of Ugo. The town is known for its Akita Komachi brand of rice which Yui is helping to promote. As part of the project, people will be able to help farm the rice together with local children in Ugo. The rice they are cultivating is packaged and sold as Pretty Rice. The packaging of the rice features a cute illustration of Yui.
The project has much more planned for the future with even more characters set to become spokespeople for regions across Japan.
© T-ARTS / syn Sophia / テレビ東京 / PSプロジェクト
Information
Akita Pretty Rice
Released: June 2, 2021
Shipping: Late November 2021
Price: ¥5,940 (Tax Included)
Bonus: Includes an original novelty
Official Website/Buy Here: https://minnano-furusato-ouen.jp/
RELATED ENTRIES
Takara Tomy's 'Pretty Series' Launches 10th Anniversary Project

In celebration of the 10th anniversary of the Pretty Series rhythm game, a special project has launched to bring together fans and locals across all regions of Japan to help promote those regions, their products, and famous sightseeing spots.



The first location to be part of the project is the town of Ugo in Akita Prefecture. Yui Yumegawa, the blonde-haired, rice-loving idol character and protagonist of Idol Time PriPara, has been appointed the official ambassador of Ugo. The town is known for its Akita Komachi brand of rice which Yui is helping to promote. As part of the project, people will be able to help farm the rice together with local children in Ugo. The rice they cultivate will be packaged and sold as Pretty Rice.



The project has much more planned for the future with even more characters set to become spokespeople for regions across Japan.

Odate City in Akita to open new tourist exchange centre featuring cute and fluffy Japanese Akita dogs!

In the cultural northern region of Japan, a tourist exchange centre will open in front of JR Odate Station in Odate city, Akita! The centre, which is called the Akita Dog Visitor Centre (Akita Inu no Sato) will open on Wednesday 8th May.

At the Akita Dog Visitor Centre, you can fully discover Akita's most beloved furry friend the Japanese Akita dog! The centre also contains a museum where you can learn about the history of Japanese Akita and their characteristics. There is also a tourist information desk, souvenir corner and much more! You can also visit the Japanese Akita exhibition area where you can get close to the Akita dogs or pop by the large lawn area located right next to the exhibition room to play with the dogs!

A statue dedicated to the faithful Akita dog Hachiko will be located right outside the centre. Hachiko was born in Odate city back when it was called Niidamura. Hachiko is known worldwide as the dog who waited faithfully for his owner's return in front of Shibuya station from the Taisho era to the start of the Showa era. The Hachiko statue will be moved from its current position in the front of JR Odate station to in front of the Akita Dog Visitor Centre in order to properly greet the people and dogs who come to visit. At the grand opening ceremony on the 8th May, there will be a photo stand-in board allowing anyone to transform into the faithful dog Hachiko. You can also see a red and white curtain made to take on the appearance of the fur of a Japanese Akita ー this is going to be one fluffy ceremony!

There are also two special promotion measures to support the grand opening!

The first promotion measure is an original web video series called "Akita Inu ga Odate no Miryoku o shinan!? Odate Lesson by Akita Dog". This is an official web series released by Odate city featuring an Akita dog teaching the world about the famous cultural wonders of Akita! From local food such as Kiritanpo (rice sticks) and delicious Hinaichidori chicken to crafts made from Akita sugi cedar wood, and spots such as the mountainous region of Tashiro Dake, this dog will show you everything! The web series is available on the YouTube channel called Akita Inu no Sato (秋田犬の里).

The second promotion measure is the release of a newspaper which will feature a countdown to the grand opening. The newspaper will contain the latest information and will be launched on Wednesday 1st May and lead up to the grand opening! The contents will be like Japan's famous newspaper Mainichi Shimbun, but its main design theme will be the Japanese Akita. The contents will really bring out the wonders of the region's loyal Akita dogs!

 

Through the Akita Dog Visitor Centre, Odate city is aiming to spread the news of the beloved Japanese Akita dog. They hope to create a facility that is loved by many people, so please come attend the grand opening ceremony of the Akita Dog Visitor Centre on Wednesday 8th May!

Information

Akita Dog Visitor Centre (Akita Inu no Sato)

Open from: 8th May 2019.

Address: 1-13-1, Onarimachi, Odate city, Akita.

Website: https://akitainunosato.jp/

Akita the Dog is Taking Over Shibuya to Promote Akita Prefecture

Akita is the name of a dog (who is also of the dog breed Akita) who has been used to promote tourist information about Akita Prefecture in northern Honshu since 2016. The 4th promotional campaign will be run from September 3 to October 31.

The campaign is being taken to Shibuya in Tokyo. This is an ideal location because not only are there many tourists in Shibuya, but it's also affiliated with the famous dog Hachiko, who was also an Akita dog born in Akita Prefecture

The campaign's catchphrase "GO! AKITA" has been changed to "Yeah! AKITA" to express Akita the dog's joyful voice for his hometown as well as to capture traveller's reactions to visiting the prefecture.

Look out for the big advertising posters of Akita the dog featuring photos posted on his social media that show the beauty of Akita Prefecture such as at Nekobari Iwa and next to a Kashima (above).

10,000 free rubbish bags will also be handed out featuring an Akita the dog "Happy HalloWan!" design – with wan being the Japanese equivalent of 'woof.' The streets of Shibuya become very messy during Halloween, so Akita will be there to lend a paw!

Akita will be dotted all around Shibuya promoting Akita Prefecture, so be sure to find him everywhere!

■Information

Advertising Locations

( 1 ) Keio Inokashira Line trains (body of train and posters hanging inside)

Running: September 3, 2018 – September 30, 2018

( 2 ) JR Shibuya Station – Shibuya Hachiko Cross

Details: A 1.75m x 3.7m sized board will be placed in the northern passageway inside the Hachiko Entrance ticket gates.

Running: September 16, 2018 – September 29, 2018

( 3 ) Shibuya Station, Tokyo Metro (Hanzomon) pillars

Running: September 17, 2018 – September 23, 2018

( 4 ) Omotesando Station, Tokyo Metro pillars

Details: 11 pillars will be used inside the ticket gates of Omotesando Station

Running: September 24, 2018 – September 30, 2018

( 5 ) Happy HalloWan! Rubbish Bags Sampling

Details: To help clean up the streets of Shibuya during Halloween, 10,000 free rubbish bags will be handed out in front of Shibuya Mark City and in two places in front of the Moyai statue.

Available: October 27, October 28 and October 31

Nanavi reports on the latest news in Tohoku and Niigata for your travel plans

Nanavi is a news website that provides information on seven prefectures in Japan: Aomori, Iwate, Akita, Miyagi, Yamagata, Fukushima, and Niigata. New reports for 2018 detailing must-see information for these prefectures is currently spilling forth.

Secret Charms of Yamagata: The Foot of Mount Zaō!

Yamagata-shi, the capital of Yamagata Prefecture, is a place of scenic and natural beauty famous for many reasons, including being home to the Zaō Onsen and being the stage for Matsuo Basho's poems, the most famous Edo period poet. It's a popular tourist with a very unique culture, including a big food culture that centers on imoni simmered potatoes, ramen and more.

Website: https://nanavi.net/series

Aomori Prefecture Latest News: 'Apple Park Winter Festival'

Snow, apples… we're talking wintertime in Aomori! Aomori Prefecture is the leading producer of apples in Japan. Its city of Hirosaki is known as 'apple town' and celebrates winter with the Ringo Kouen Winter Festival (Apple Park Winter Festival) where you can enjoy their famous apples together with the piling snow. There are plenty of fun workshops and activities to enjoy – and you can even try eating a cooked apple.

Aomori-shi, the capital city of Aomori Prefecutre, hosts the Aomori Yuki Akari Matsuri (Aomori Snow Light Festival) where your heart and mind will be healed by the soft, warm lights possible only in winter.

Website: https://nanavi.net/keyword/96

Iwate Prefecture Latest News: Spectacular Ice Sculptures at Iwate's 'Snow Festival'

The 'Iwate Snow Festival' is held in the town of Shizukuishi in Iwate Prefecture. When talking about ice sculptures in Japan, most people will think about those at the annual Sapporo Snow Festival, but the sculptures in Iwate are also a dazzling sight to see. When lit up, they are truly impressive. The festival also holds various exciting events.

The latest reports also highlight 'Iwachu Tekkikan,' a long-standing shop that shelves traditional handicrafts and ironware form the south. They have typical traditional items as well as more colourful and contemporary ones.

Website: https://nanavi.net/keyword/108

Akita Prefecture Latest News: Witness Animals You Can Only See Here

News from Akita Omoriyama Zoo puts spotlight on the "Yuki no Doubutsuen" (Snow Zoo) that is praised every year. During this event, you can examine bears in hibernation, as well as witness how animals live life in the snow. It's a fresh experience indeed, made possible only by this special zoo that is situated in a region that receives heavy snowfall.

In the city of Odate, they will hold an event titled 'Hinai Tori no Shi' where you can try eating Japan's 3 main chickens that have been locally raised, Kiritanpo and lots of other delicious food.

Website: https://nanavi.net/keyword/122

Fukushima Latest News: If you're looking for winter activities, look no further!

Fukushima has a lot of snowfall. 'Urabandai Lake Resort' is a spot where you can enjoy fun winter activities to the fullest. All items in the establishment are free to rent and use. If you're looking to enjoy yourself, then this snow country is the place to be.

Website: https://nanavi.net/keyword/135

The new year has arrived, which means the real winter is here for these prefectures. Although the cold is bitter, the snow country shines even brighter in winter.

If you're thinking of heading to Tohoku or Niigata, be sure to check "Nanavi" first!

Yokote Kamakura Snow Festival In Akita – A Fantastic Winter Landscape!

The Yokote Kamakura Snow Festival is an annual winter festival held from January to February in Yokote, Akita prefecture, in the Tohoku region of Japan. Not only can you experience seeing kamakura or cave-like houses made from snow, but you can also see the bonden, a large offering ceremony at a Shinto shrine during this amazing event.

Kamakura have been built as a part of the 14th-16th days of the lunar calendar New Year celebrations in the northern areas of Japan for the past 450 years or so; these are built to worship the water gods. After making a monetary offering to the water gods that are enshrined within the kamakura during this time, worshipers pray for blessings regarding the safety of their family, business prosperity, abundant harvests, and for other wishes.

The bonden is a 300 year old traditional event in this region where 5 m tall, gigantic shrine tools are dedicated at a shrine. The men in this procession wear splendid implement-shaped headdresses while competing against one another as they head towards Asahiokayama Shrine, where they battle against one another to enter the main shrine area for the dedications – it is an exciting spectacle to behold.

【MOSHI MOSHI Pick-Up Spot】Traditional Culture Festival: Shin Akita no Gyoji in Odate 2016

Experience a variety of Akita's traditional culture all in one place

Akita prefecture has 17 different kinds of nationally designated, intangible, folk cultural properties which is the largest number throughout Japan. The big event that gathers festivals, traditional cultures and other folk events is coming up this fall. It's named "Traditional Cultures Festival: Shin Akita no Gyoji in Odate 2016." It is a new type of event where you will be able to experience Akita's traditional culture in Odate Jukai Dome, Odate city.

There is a main stage inside the dome which holds more than 2000 seats where you can see the strong and powerful performances. There are also booths near the stage where you will be able to see other performances. The program consists of "Akita no Kanto" from Akita city, "Kemanai no Bonodori" from Kazuno city, "Honkai-Shishimai-Bangaku" from Yurihonjo city, "Tsuzureko no Odaiko" from Kita-Akita city, "Odate-Shinmeisha-Reisha no Hikiyama Gyoji" from Odate city, "Sannai-Bangaku" from Gojome-machi, and "Namahage Daiko" from Oga city. You will also be able to participate in some experience such as holding "Kanto" which is a bamboo pole bearing many lanterns and dressing up as "Namahage" which is a Japanese folklore demon-like being. The traditional craft of making containers such as lunch boxes by bending wood called "Odate Magewappa" from Odate city will be exhibited as well.

At the same time, there will be a food festival for many different kinds of meat dishes from this area called "Niku Haku ~Niku no Hakurankai in Odate 2016." Outside of the Odate-Jukai Dome, booths which sell Hinaijidori, one of the most popular chicken brands in Japan, Odate-Sakura pork, Akita beef, and horse meat will be lined up. Other than these, there will be a lot of booths that advertise sightseeing spots, foods, sake, hot springs, and special products from this area. These events in Odate where people can enjoy watching and experiencing many different traditional events from Akita will attract a great deal of public attention.

▪️information

Event Schedule : October 29th Sat 12:00~7:00PM

                               October 30th Sun 10:00AM~6:00PM

Place : Odate-Jukai Dome

Access : A free shuttle bus will be running from JR Ou Main Line, Odate station to the Dome.

It takes about 2 hours to go from Akita station to Odate station on the JR Ou Main Line.

Admission Free

Call for inquires : Shin Akita no Gyoji Executive Committee Office (018-860-1530)

▪️Related article:MOSHI MOSHI Pick-Up Spot:Go on tours with the new convenient Hokkaido Bullet Train!