Collaboration for the first time in four years! "ONE PIECE" designed T-shirts produced for UNIQLO by"UT" will be released.
"UT"brand T-shirts are now arriving in stores as UNIQLO's 2017 spring / summer collection  offering contents representing the art scene and POP culture which is the foundation of UT. The products which will be released this year is the collaboration works with the famous manga (comic) "ONE PIECE."The products will be released from the 26th of June (Mon.).
This is the fifth time UT and "ONE PIECE"have collaborated together and  it has been four years since the last collaboration. The collaboration was decided in commemoration of the"20 years since the serialization" of "ONE PIECE" in Shukan Shonen Jump and they will offer UT-limited designed (based on the popular characters of "ONE PIECE") T-shirts which makes everybody (including the fans) happy.
A design featuring the hat of the three blood brothers (Luffy/Ace/Sabo), impressively designed products based on Chopper, Ace, Brook and monotone designed products based on Law, Zoro, Sanji, Sabo which adults can wear will be offered.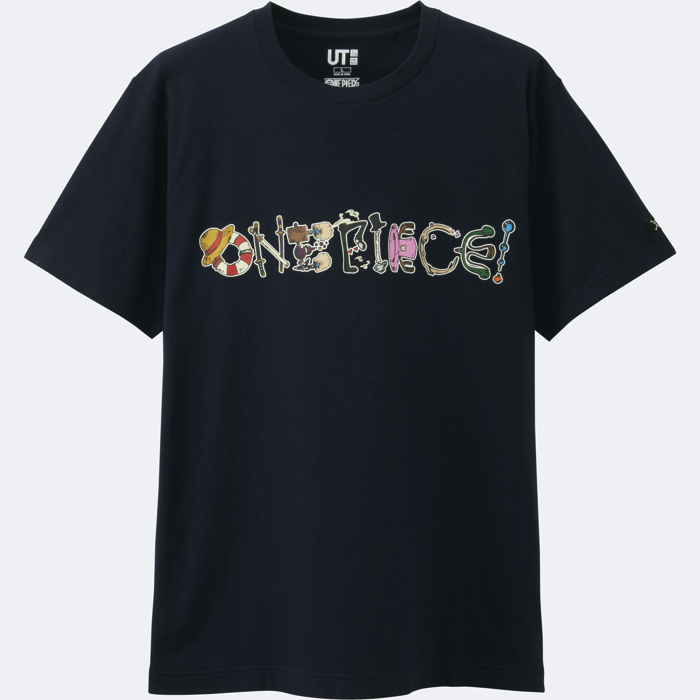 The label of black flag of "Mugiwara no Ichimi" leaded by Luffy will be printed on each and every item and the graphic of the design is awesome.
Don't miss this chance to purchase a UT originally designed T-shirt of "ONE PIECE." Stock is sure to sell out so get yours early.
Information:
Price: 12 designs 990 yen + tax
Sizes: Mens XS-4XL (2XL-4XL are only available on the online store)
Available stores: UNIQLO stores throughout Japan and on the online store
*Sales will begin from June 19 on UNIQLO's online store.
Oda/Shueisha, Toei Animation
©Eiichiro Oda/Shueisha/Fuji Television/Toei Animation
Related article:All music fans should attention to the UNIQLO's T-shirt Brand "UT" Releasing 『DAYS OF SONG』
Related article:New Studio Ghibli themed adult fashion brand "GBL" begins its sales in July!
RELATED ENTRIES
Uniqlo U, the brand created by Artistic Director Christophe Lemaire and his team in Paris, is giving us the warm welcome of its Spring/Summer 2021 collection which is set to drop first in Japan on January 22, 2021 and globally on January 28, 2021. The line-up features a fitting silhouette comfortable for the warmer seasons and focuses on simple and comfy threads perfect for today's modern lifestyle. The items come in earth tones that serve us season-changing vibes. This 10th season of Uniqlo U also welcomes a kids line-up to the collection.

The women's collection features light and airy items made from viscose and cotton-polyester blends as well as 3D knits to give that refreshing summery feel. The sheer shirt comes in men's stripes while the regular fit jeans have been updated with a straight silhouette. The shiny rayon tunic and dress present fluidity and soft colors while the twill skirt will come in an A-line silhouette. Coats have been cut shorter for those who are active.

The new kid's collection added to Uniqlo U features all the classic one pieces, T-shirts, and short pants made into children's sizes so that they too can enjoy the thrills of dressing well in comfortable, sophisticated styles.

Don't miss the Uniqlo U Spring/Summer 2021 Collection.

Jason Polan x UT Collection to Drop at UNIQLO

UNIQLO's T-shirt brand UT is set to collaborate with American artist Jason Polan with a special collection featuring his art that will drop on January 29, 2021.

Polan was a New York-based artist who passed away in January 2020 at the age of 37. He become a partner of UNIQLO in 2016 and has since collaborated with UNIQLO on three separate occasions with his collections being made available worldwide.

Honouring Polan's favourite iconic drawings

In 2008, Jason Polan gave himself a challenge to draw every person in New York. Each drawing in this project featured a description of what Polan saw when drawing people along with the date of when he saw them, giving people an insight into his world as he saw it. He is also known for his love of giraffes, hamburgers, and tigers, which make up some of his most iconic art pieces. He even did some drawings while in Tokyo.

Join in continuing his legacy with artists around the world.

Jason Polan's passion for bringing people together to create their own art gave birth to the World's Biggest Drawing Club. This has inspired people from across the globe to share their own sketches of everyday life. UNIQLO will commemorate Polan's death anniversary with a special online drawing event on their Instagram page on January 27, 2021.

The World's Biggest Drawing Club – Online Event

Help continue Jason Polan's mission and join the The World's Biggest Drawing Club. For more information, visit UNIQLO's website here.

Running: January 8, 2021 – February 21, 2021
How to Join: https://www.uniqlo.com/jp/en/contents/feature/jason-polan/campaign/
#worldsbiggestdrawingclub (Global hashtag)
#ドローイングクラブ (Japan hashtag)

Every Person in "UNIQLO TOKYO"

On January 27, the first anniversary of Polan's death this year, UT will host a special one-night drawing workshop hosted by prominent artists. UNIQLO TOKYO will also welcome pre-sales of the T-shirt collection on the same day.

Date: January 27, 2021

Time: 19:00 (JST)

Where: UNIQLO's official Instagram page.

Special Items

Novelty

Those who buy two or more items from the collection at select UNIQLO stores and UNIQLO's online shop will receive the uni-ball Vision Elite, a pen loved by Polan, with the artist's name inscribed on it. Limited quantities available.

Original Box

Those who order from the collection online will have their items shipped in an original box. Limited quantities available.

Leaflet Book

All UNIQLO branches in Japan are now handing out a special Jason Polan leaflet book have also have dedicated drawing spaces to encourage people to make art.

Yu Nagaba x Snoopy Clothing Collection to Release at UNIQLO

Japanese illustrator Yu Nagaba is collaboration with the popular Peanuts comics to release a collection of T-shirts from UNIQLO's graphic T-shirt brand UT. It is a follow up to his last year's collaboration with Snoopy and the Peanuts gang and will release at UNIQLO in Japan on January 1, 2021.

A heart-warming collection filled with positivity

Yu Nagaba himself is a fan of Peanuts and has used his iconic drawing style to capture the gang's positivity to create a collection that's sure to keep you uplifted throughout the day.

T-Shirts (6 Designs) ¥1,500 Each (Before Tax)

Kids Line-Up (Excerpt)

Merchandise Line-up 

The collection also includes a line-up of merch too like caps, umbrellas, bags, and more.

Yu Nagaba Interview (Japanese):

UNIQLO Harajuku's Enormous Snoopy by Yu Nagaba

Nagaba has also illustrated an enormous 1.5-meter canvas of Snoopy which will be put into the UNIQLO Harajuku store on December 26. The illustrator will also be present on January 9, 2021 to do signings. But that's not all—customers who spend over ¥5,000 (before tax) in the store between January 1-3 next year will also receive a Yu Nagaba original sign bag along with sweets. These are available on a first-come, first-served basis. Additionally, for every two Yu Nagaba x Peanuts items bought at all UNIQLO stores in Japan, customers will receive a special sticker.

Information

PEANUTS x Yu Nagaba UT
Release Date: January 1, 2021
Available: UNIQLO Japan stores / UNIQLO Japan online store
Product Page: https://www.uniqlo.com/jp/ja/spl/ut-graphic-tees/peanuts-yu-nagaba/

Yu Nagaba Signing
Date: January 9, 2021

Time: 11:00-13:00

Location: UNIQLO Harajuku
Attending: You must buy something from this collection by January 9, 2021 at 13:00 to attend

*More details will be announced on UNIQLO Harajuku's official website at a later date

UNIQLO x JW ANDERSON Unveil Their First Ever Holiday Collection For 2020

London-based fashion brand JW ANDERSON is following up its Autumn/Winter collaboration with UNIQLO with the two companies' first ever holiday collection. Centring around the theme "A Cozy Countryside British Cottage," the collection captures the vibe of spending time in a cozy cottage on the outskirts of London.

Traditional and uplifting British prints for a brighter winter

The holiday collection is made up of everything you need for surviving winter: beanies, gloves, socks, and snoods, all decorated with traditional British prints like argyle and jacquard. All the colours match together perfectly so the line-up works perfectly as a set. It features an JW ANDERSON-esque twist and incorporates HEATTECH technology to get you through the cold months.

Limited-edition argyle gift boxes

Gift Box | ¥290 (Small/Medium/Large)

This collection is boxed in an argyle gift box to make for the perfect Christmas packaging.

Stay warm this winter with the soft and cozy new JW ANDERSON x UNIQLO holiday collection, rolling out December 4, 2020.

UNIQLO Announces Loungewear Collaboration With Pokémon and Sumikko Gurashi

Japanese clothing retailer UNIQLO has announced a loungewear collection for the holiday season in collaboration with Pokémon and Sumikko Gurashi—the latter being a set of fictional characters created by San-X. Set to roll out in Japan from November 19, the fleece line-up is the perfect gift for the coming winter months.

Pokémon Line-Up

Everybody's favourite Pokémon are coming together for this cosy collaboration. The fleece set's theme is "Night Explorer" which imagines the wearer exploring the night together with their Pokémon. The designs feature moon and star motifs with neon colouring.

When the collection launches, those who purchase one of the Pokémon fleece sets in Japan will receive a set of two clear-coloured Pokémon figurines. And if they order online via UNIQLO's website, their order will be shipped in a special Pokémon box.


Buyers will also receive a card with a code on it to participate in a special campaign.

Sumikko Gurashi Line-Up

The corner-dwelling Sumikko Gurashi character merchandise is themed on a sleepover with items made warm, fluffy, and cosy.


The three Sumikko Gurashi sets will launch online only on December 18.


Picking up either of the fleece sets or poncho blanket sets from December 18 will land you one of the above-pictured plush toys.




UNIQLO will also be selling limited-edition Sumikko Gurashi gift cards too both online and in-store when the sets are released.

UNIQLO's Collaboration With Jil Sander Returns With the +J Autumn/Winter 2020 Collection

It's been 11 years since Jil Sander first teamed up with UNIQLO, but now she's set to bring back her signature modern style as the legendary collaboration returns with the +J Autumn/Winter 2020 Collection which is serving "sophisticated essentials."

   

The collection is "inspired by a sense of enlightened understatement" and "consists of versatile, iconic pieces." Each item boasts trendy volume and sophisticated silhouettes while maintaining comfort and style.

+J 2020 Autumn/Winter 2020 Collection

 Outer: ¥7,900-¥24,900 / Pants: ¥3,990-¥9,990 / Skirt: ¥6,990 / Shirt: ¥3,990-¥8,990 / Cut & Sewn: ¥1,990-¥4,990 / Knitwear: ¥3,990¥12,900 / Dress: ¥4,990-¥5,990 / Accessories: ¥2,990-¥9,990

The sophisticated and modern line-up includes the Down Volume Hooded Coat, Hybrid Down Oversized Fit Parka, Ultra Light Down Hooded Coat, Cashmere Blend Chesterfield Coat, and more.

"I set out to define the global modern uniform with this in mind: Clothes should be long-lasting and enduring," Sander said in a statement. "They should serve the wearer and give her or him the energy and self-assurance which is so much needed in our global reality."

UNIQLO's UT Brand Collaborates With London-Based Accessory Brand CHAOS

UNQILO launched a new collaboration titled "#REALTALK CHAOS UT" with its own graphic T-shirt brand UT and London-based accessory brand on September 28, 2020.

CHAOS is an accessory brand created by popular fashion stylists Katie Lyall and Charlotte Stockdale. Their fresh new collaboration with UT is centred on "girls' real talk."

Capturing the girls of today in words


Women's T-Shirts (7 Designs) – ¥1,500 / Women's Hoodies (4 Designs) – ¥2,990 (Before Tax)

The creative collection features sassy lines like "Absolutely Not!," "Can't Talk," and "A Little Chaotic" printed large on boxy t-shirts and hoodies with eye-catching colours

"We've wanted to collaborate with UNIQLO since launching the brand," explains CHAOS. "Our dream has come true, and we're super excited about it. Honesty and humour are the themes of #REALTALK CHAOS."

They continue: "This collection features colours, graphics, and typography that's typical of the CHAOS brand. It's a coming-together of everything we love. It's been a wonderful experience creating our first-ever collection with UNIQLO."

*Comments translated from Japanese

UNIQLO TOKYO Begins Knitwear Focused Exhibition

UNIQLO TOKYO, the global flagship store of UNIQLO, is now holding an exhibition themed on its knitwear at its first floor LifeWear Square area until October 11, 2020. It's a consolidation of everything that goes into wearing the symbolic style of their LifeWear lineup, covering the art, science, and craftsmanship behind the items.

About UNIQLO TOKYO

UNIQLO TOKYO opened back in June this year in Ginza, Tokyo, as the country's biggest store and global flagship store. UNIQLO TOKYO is the embodiment of UNIQLO's "LifeWear," clothing that the company has created to "improve everyone's life."

SCIENCE: 3D knit installations by Rhizomatiks Architecture

Rhizomatiks Architecture have created a range of installations including mannequins centred on knitwear. Customers will be able to see knitwear being made by the machines right before their eyes.

CRAFTSMANSHIP: Tools used in the manufacturing process

See the strict standards and measures taken to carefully craft each and every UNIQLO cashmere sweater, from the processes carried out to the materials and tools used in the manufacturing process, samples, and more.

ART: Styling

See the headpieces created by Shiseido's top hair and makeup artist Tadashi Harada for displaying the knitwear. Each and every one was made with care and attention for the 20 mannequins.

UNIQLO Collaborates With Ryan McGinley On UT Autumn & Winter 2020 Collection

The Autumn/Winter 2020 Collection for UNIQLO's graphic T-shirt brand UT features a pop culture line-up of photos, art, movie stills, character pictures, and more. This year, the brand is collaborating with American photographer Ryan McGinley for the very first time. Designs will also include the superheroes drawn by artist Jean-Michel Basquiat, Keith Haring's iconic Mickey Mouse, and artistic renditions of Marvel characters.

Ryan McGinley, the American artist in the limelight

Men's T-Shirts (6 Designs): ¥1,500 (Before Tax) | Release Date: August 31, 2020

New York-based photographer Ryan McGinley has been called "America's most important photographer" in recent years. This collection of six T-shirts features prints of his photo work, including pieces showcasing young people on an ordinary day. The addition of overlayed text adds a street vibe to the designs.

An exciting collection of heroes and villains

Men's T-Shirts (6 Designs): ¥1,500 (Before Tax) | Men's Hoodies (5 Designs): ¥2,990 (Before Tax) | Release Date: September 7, 2020

This exciting collection from UT lines up the Instantly-recognisable heroes and villains of Marvel, like Venom—who is getting the sequel movie Venom: Let There Be Carnage next year—and Morbius, who is also getting a film adaptation in 2021.

Popular Warner and DC characters drawn in Jean-Michel Basquiat's unique style

Men's T-Shirts (6 Designs): ¥1,500 (Before Tax) | Men's Hoodies (5 Designs): ¥2,990 (Before Tax) | Release Date: September 18, 2020

Jean-Michel Basquiat was an American artist whose style, which was influenced by art history, music, and pop culture, was huge in the art scene back in the 80's. Basquiat was influenced by DC Comics superheroes and Loony Tunes when he was a kid which can be seen in his early work, and that has been captured in this UT collection.

Mickey Mouse's influence on Keith Haring

Men's T-Shirts (6 Designs): ¥1,500 | Men's Hoodies (5 Designs): ¥1,990 | Women's T-Shirts (6 Designs): ¥1,500 | Kid's T-Shirts (4 Designs): ¥990 (All Before Tax)

Keith Haring's early influences included Walt Disney cartoons, and learned how to draw using a book his grandmother owned a Disney 'how-to-draw' book. Haring saw Mickey as a symbol of America, and this collection captures his dream of wanting to work at Disney.

Eco bags

エコフレンドリー プリントバッグ4柄 590円(税別)発売日:10月以降順次発売

In line with the UT collection, UNIQLO will also sell a variety of eco bags including a "Mickey Mouse x Keith Haring" design and one of Jean-Michel Basquiat's wall art. The collection will include not just UT items, but a variety of merchandise capturing the latest in pop culture.

It has been 11 years since Jil Sander's first collaboration with UNIQLO, which ran from 2009 to 2011. The minimalist German fashion designer is now set to bring back her signature modern style to UNIQLO with the +J collection this autumn. The new line-up is fit for all occasions and is available in men's and women's sizes.

Jil Sander | Latest Interview

UNIQLO Japan interview Jil on the new collection which you can read here in Japanese.

+J in Autumn 2020 will bring a sense of sophistication, luxury, and comfort.

Global clothing retailer UNIQLO has announced that its Uniqlo U 2020 Autumn/Winter Collection will launch on September 18. The line-up is a delicate fusion of sophistication and comfort, incorporating a balance of natural colours and deep vivid colours to create designs that are both simple yet high quality.

New for women: details and comfort

Inspired by minimalism, the line-up is a collection of clean and functional pieces to be worn throughout autumn and winter. The items are made with details and comfort, with beige and skin tones eliciting a sense of warmth and comfort. The greys and blues provide a beautiful contrast, while satins and viscose bring a refinement to the silhouettes.

A padded coat combines elegant volume with warmth. One piece dresses are inspired by vintage styling with sophisticated details, and knits hug comfortably around you in a perfect fit. The wool-blend jersey jacket has a touch of masculine to it while evoking delicate colours and form.

New for men: sophisticated warmth

The inspiration for the men's collection comes from the sportswear seen in European street culture, bringing flashy colours and lots of volume weaved into classic designs. Neutral colours like beige and brown are balanced with black, white, and dark blue, while orange and Bordeaux red evoke a rich accent. Textures like corduroy and wool-blend fleece provide warmth and comfort.

The padded corduroy blouson with a round silhouette offers sophisticated warmth. The box silhouette half-coat features an oversized collar as well as a placket to fend off the wind. The fleece shirt jacket can be worn in autumn as an outer while in the cold winters it can be worn under a coat as an inner.

Information

Uniqlo U 2020 Autumn/Winter Collection
Release Date: September 18, 2020

Available: 67 UNIQLO stores and UNIQLO Online

Line-Up: Women's (38 Items) | Men's (39 Items) | Merchandise (4 Items)

Official Website: https://www.uniqlo.com/UniqloU

Kenshi Yonezu x UNIQLO's UT Collaboration to Hit UNIQLO Stores Worldwide

UNIQLO is collaborating with Kenshi Yonezu for the first time for their graphic T-shirt brand "UT." The collection will first drop in Japan on August 14, 2020 before rolling out to UNIQLO stores in New York, Shanghai, and Guangzhou.

This also marks Yonezu's first foray into an apparel collaboration, who has brought his unmatched creativity born from his talent as one of the top Japanese singer-songwriters in the industry as well as being an illustrator. It's a must-grab for fans of Yonezu and style.

Kenshi Yonezu's Unique Illustrations & Fantastical Pictures

The clothing line-up sees a range of original character designs including Kenshi Yonezu's trademark cat. Designs include the characters printed large on the T-shirts, designs featuring whimsical photos, and more, all of which were supervised by Yonezu himself. The collection is made up of a range of base colours including black, white, green, pink, and more.

Special Store Decorations

UNIQLO 5th Ave in New York has been decorated in an illustration created by Kenshi Yonezu. This design is set to roll out at 8 UNIQLO branches around the world, including UNIQLO PARK Yokohama. The artist also took to the stage in a video premiere concert for Fortnite on August 7, 2020.

US:

New York 5th Ave | August 7, 2020 – August 18, 2020

China:

Shanghai (Video Monitor), Guangzhou | August 11, 2020 – August 24, 2020

Japan:

UNIQLO PARK Yokohama Bayside | August 10, 2020 – August 24, 2020

Canal City Hakata | August 12, 2020 – August 31, 2020

Sendai Izumi | August 13, 2020 – August 16, 2020

Harajuku | August 14, 2020 – August 28, 2020

Shinsaibashi | August 14, 2020 – August 27, 2020

Kenshi Yonezu | Comment

"UNIQLO is a store that has always been there since I was a kid […] and I want to give my respect to them for taking responsibility for always being there."

Information

UNIQLO UT x Kenshi Yonezu Collaboration
Initial Release Date: August 14, 2020 (In-Store/Online)

Price: ¥1,500 Each (Before Tax) *Japan

Sizes: XXS-4XL (XXL-4XL available online only) *Japan

Product Page: https://www.uniqlo.com/jp/ja/spl/ut-graphic-tees/kenshi-yonezu/men
*UNIQLO Harajuku and UNIQLO TOKYO are also selling Regular Edition copies of Kenshi Yonezu's latest album STRAY SHEEP