Unko Museum: Japan's Poo Museum Heads to Hiroshima
The poop-themed Unko Museum is heading to Hiroshima Marina Hop for a limited time from July 17 to September 12. The museum has been around both inside and outside Japan since 2019. It has popped up in Yokohama, Tokyo, Shanghai, Fukuoka, and online.
The museum is an educational facility that teaches visitors (also called poopers at the museum) everything they ever wanted (or didn't want) to know about poo.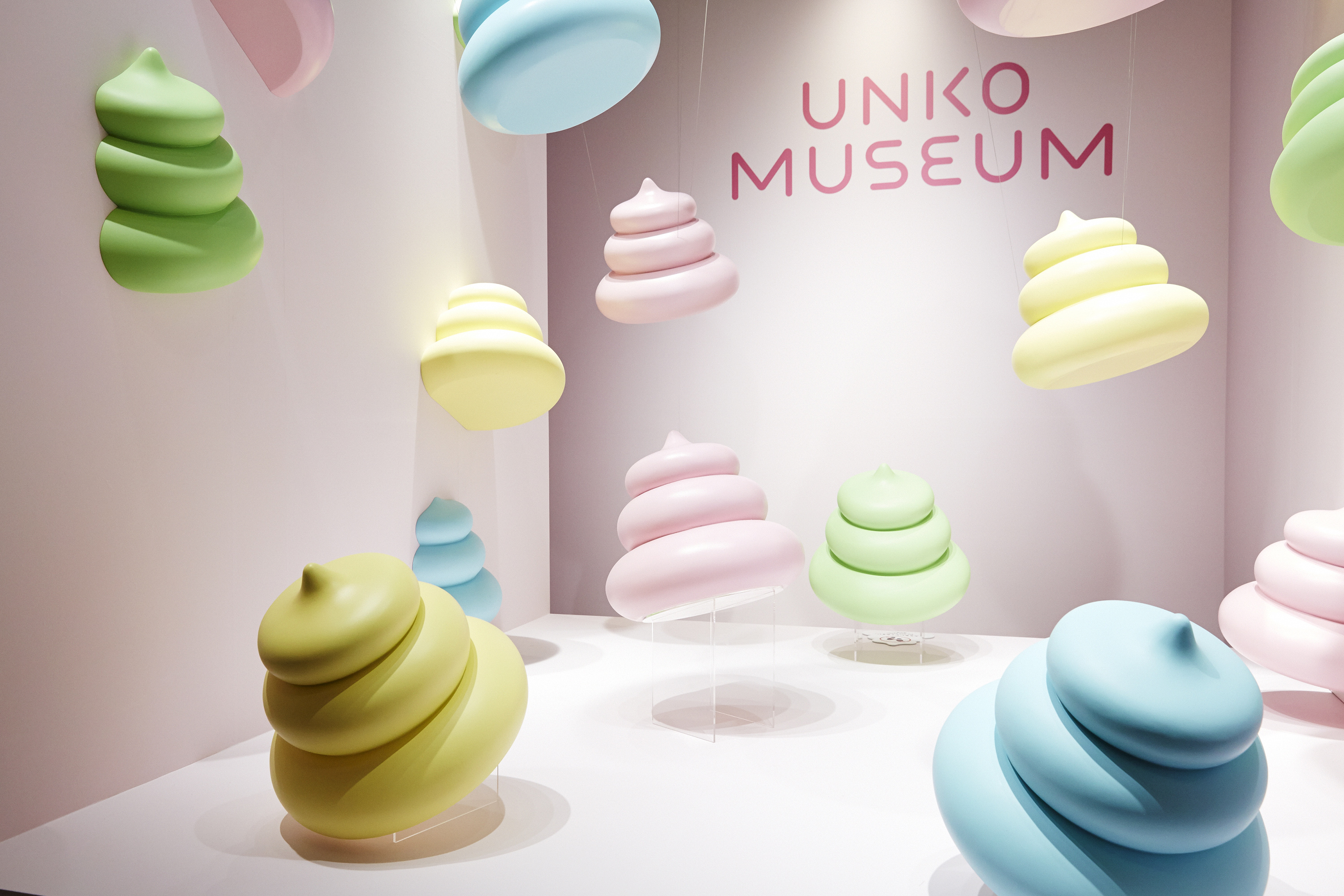 All the classic installations and facilities are making an appearance including the poop-spurting Unko Volcano, the Poopteractive Area which is filled with games, the Poopogenic Area which is covered in cute sparkly poo decorations, and more.
RELATED ENTRIES
Sailor Moon Museum Details Second Round of Exclusive Merchandise

The Sailor Moon franchise's 30th-anniversary museum will run from July 1 to December 30 at Tokyo's Roppongi Museum. The series became a global phenomenon in the 1990s and remains massively popular to this day.

 
The exhibition will feature the largest-ever exhibition of original illustrations by Sailor Moon's creator Naoko Takeuchi, at over 600 pieces. The museum will have three phases, each swapping out different pieces, so fans can have a different experience depending on when they visit!

The event will include an 'immersive experience theater,' which will display colored images on a massive 4.5 x 8-meter screen with special effects. Fans can also enjoy a 'hologram manuscript exhibit,' which will display the Sailor Scouts' famous dialogue. Plenty of merchandise will also be available for purchase, with the second round of available goods just announced!

Original Merchandise (Second Lineup)

Clear Folder ('90s Anime Logo)

Clear Folder (Random, 5 varieties)

Masking Tape Holder

Masking Tape (Luna, Artemis & Diana)

Hat ('90s Anime Logo)

Cloth Shirt ('90s Anime Logo)

Aurora Sticker (Random, 10 varieties)

Reversible Cushion (Luna & Artemis)

Pochette (Luna)

Face Powder Collection (5 varieties)

The second round of original merchandise features many items utilizing the '90s anime logo, including a shirt, hat, and clear folders. A themed masking tape holder was made to resemble Sailor Moon's Moon Stick, and the tape itself features the cats Luna, Artemis, and Diana.

 

The interior of the special store created for the exhibition was designed by Wataru LINDA Igarashi, an art director known for his cute pieces based on the concept of 'window shopping.' 

Come experience some serious nostalgia at the Sailor Moon museum later this year!

© Naoko Takeuchi

Information

Sailor Moon Museum

Running: July 1 – December 30, 2022

Vol.1: July 1 – September 4

Vol. 2: September 10 – November 6

Vol. 3: November 12 – December 30

Closed: September 5-9, November 7-11

Hours: 10:00-18:00 (Last entry at 17:30)

Venue: Roppongi Museum (5-6-20 Roppongi, Minato-ku, Tokyo)

Official Site: sailormoon-museum.com

Sailor Moon Museum Details Exclusive On-Site Merchandise

The Sailor Moon franchise's 30th-anniversary museum will run from July 1 to December 30 in Tokyo's Roppongi Museum. The series became a global phenomenon in the 1990s and remains popular to this day.



The exhibition will feature the largest-ever exhibition of original illustrations by Sailor Moon's creator Naoko Takeuchi, at over 600 pieces. Rare original color drawings and some never-before-scene creations will be on display, and fans won't want to miss this incredible chance. The museum will have three phases, each swapping out different pieces. Fans can have a different experience depending on when they visit!

Postcard Set (A): ¥880 (Tax Included)

Clear Folder A (Set of 2): ¥770 (Tax Included)

Nakayoshi Extras Reprint – Premium Card Collection Graffiti Ver. 1 / Ver. 2: ¥1,650 

 

A special store at the exhibition will sell original goods featuring original artwork by the original series creator Naoko Takeuchi. Postcards and clear folders feature colorful designs of famous scenes from the series, and longtime fans will appreciate a reproduced collection of trading cards that appeared in Nakayoshi Magazine.

 

New original goods will be available during each period of the museum. In late June, the interior of the exhibition and the second batch of original merchandise will be revealed!

© Naoko Takeuchi

Information

Sailor Moon Museum

Running: July 1 – December 30, 2022

Vol.1: July 1 – September 4

Vol. 2: September 10 – November 6

Vol. 3: November 12 – December 30

Closed: September 5-9, November 7-11

Hours: 10:00-18:00 (Last entry at 17:30)

Venue: Roppongi Museum (5-6-20 Roppongi, Minato-ku, Tokyo)

Official Site: sailormoon-museum.com

UNIQLO Releases UT Collection Inspired by the Great Museums of the World

UNIQLO's graphic T-shirt brand UT has launched an artful new collection! The Museums of the World collection of men's shirts features beloved museums like the Tate Modern, the Louvre, the Museum of Fine Arts Boston, and more. This valuable collection was made possible by UNIQLO's continued art initiative, as the company has continued to work with museums around the world to share the wonders of art with as many people as possible.

A Collection Allowing Customers to Enjoy the World's Best Museums as Part of Their Daily Lives

This collection brings together some of the world's most beloved museums, with designs inspired by the exteriors of these well-known homes of art. The Louvre design fully captures the iconic pyramid, while the contemporary MoMA is expressed with simple lines. The name of each museum is also printed on one sleeve for extra style.

UNIQLO's Art Initiative


UNIQLO has partnered with some of the world's leading museums over the years. Through free admission programs, sales of collaborative products and various events, these museums aim to provide opportunities for more people to experience and deepen their understanding of art.

May 2013 – Present / The Museum of Modern Art (New York, USA) 

March 2016 – Present / Tate Modern (London, England) 

September 2017 – Present / Museum of Fine Arts (Boston, USA) 

March 2018 – Present / Barcelona Museum of Contemporary Art (Barcelona, Spain)

February 2021 – Present / Louvre Museum (Paris, France)

Don't miss this unique collection! Which museum would you like represented in your wardrobe?

Ueno's National Museum of Western Art Celebrates Reopening with Live Commentary for 'In Dialogue with Nature' Exhibit

The National Museum of Western Art, located in Ueno Park, reopened in April 2022 after being closed for renovations for 18 months. The first special exhibition post-reopening will feature Van Gogh's works in Japan for the first time, along with paintings depicting modern nature from both the National Museum of Western Art and the Museum Folkwang in Essen, Germany.

To commemorate the post-renovation reopening of the National Museum of Western Art in Tokyo, this exhibition traces the development of modern art born out of the dialogue between nature and humankind.

The event was realized in collaboration with the Museum Folkwang, and both institutions were founded on private collections: that of Karl Ernst Osthaus (1874–1921) in Germany and Matsukata Kojiro (1866–1950) in Japan.

The exhibition will feature over 100 paintings, drawings, prints, and photographs from both museums, spanning from German Romanticism to the art of the twentieth century, ranging from Impressionism to Post-Impressionism. 


Guests can enjoy all aspects of the infinite expanse of nature as shown in both collections, from the smallest roadside flowers to the vast universe and all humanity contained within. Would you like to come and experience this unique exhibition?


Information

The National Museum of Western Art Reopening Event
In Dialogue with Nature: From Friedrich, Monet and Van Gogh to Richter

Running: June 4 – September 11, 2022

Closed Mondays, July 19 (*Open July 18 and August 15)

Venue: The National Museum of Western Art (Ueno Park, Tokyo)

Hours: 9:30-17:30 (Open until 20:00 on Fridays, Saturdays)

Niconico Museum Homepage: https://ch.nicovideo.jp/niconicomuseum

Popular Unko Museum to Open First Pop-Up in Shizuoka with a Stunning Mt. Fuji View

The poop-themed Unko Museum is heading to Shizuoka for the first time! Guests will be able to visit the unique exhibition from July 15 until September 25, 2022.

The Unko Museum has previously popped up in Yokohama, Tokyo, Shanghai, Fukuoka, Hiroshima, and even online. In Shizuoka, it will be held inside S-Pulse Dream Plaza, a spectacular venue with a view of Mt. Fuji. The educational museum features tons of poo-themed attractions, from the poop-spurting Unko Volcano to a game area. 

The museum first opened in 2019 and made news around the world. Since the flagship location opened in Tokyo, over 800,000 visitors have come to openings around the world.

While it may seem like a strange way to spend a day, would you like to come and experience this museum for yourself?

Information

Unko Museum Shizuoka

Address: S-Pulse Dream Plaza, 3F Special Event Space (13-15 Irifunecho, Shimizu-ku, Shizuoka)

Running: July 15 – September 25, 2022
Hours: 10:00-18:00 (Last entry at 17:30) *Open 13:00-18:00 on weekdays in September (Last entry at 17:30)
Open Daily
Details: https://www.sut-tv.com/event/exhibit/shizuo/

PAC-MAN Celebrates 42nd Birthday with Theme Song, Music Video, and Fortnite Collaboration

PAC-MAN is one of the most important characters in video game history, so celebrating his birthday is a given! Bandai Namco has announced a number of projects to take place in 2022 based on the theme of 'Be PAC-TIVE!!'

PAC-MAN Official Theme Song, We are PAC-MAN!

The 'Be PAC-TIVE' initiative wants to inspire people to eat well and live well, and to place more importance on cultivating a healthy body and mind. PAC-MAN's circular shape is also symbolic of a circle of friends, harmony, the spirit of cooperation, and the shape of the planet we all inhabit. Who knew that a simple character and game like PAC-MAN could be so deep?


We are PAC-MAN! (Japanese ver.):  https://youtu.be/JKque0N2bww
We are PAC-MAN! (English ver.): https://youtu.be/5_JzxszEpmc
We are PAC-MAN! (Chinese ver.): https://space.bilibili.com/287390748

PAC-MAN MUSEUM+ Commemorative T-Shirt

The PAC-MAN MUSEUM+, which includes 14 classic and modern titles from the PAC-MAN universe, will soon be available. New T-Shirts commemorating the release will be available on Amazon starting May 23. The birthday version of the shirt will be released on June 23, and will feature the key visual alongside a festive newly-drawn illustration. 

Collaboration with Popular Online Game Fortnite

PAC-MAN will also be teaming up with the globally-popular online game Fortnite starting June 2! Players will be able to purchase items with a PAC-MAN motif.

It's likely that you haven't played a PAC-MAN game in a while, so why not pick one up for old times' sake?

PAC-MAN MUSEUM™+ & ©BANDAI NAMCO Entertainment Inc.
"PlayStation"および"PS4"は、株式会社ソニー・インタラクティブエンタテインメントの登録商標または商標です。
Nintendo Switchは任天堂の商標です。
STEAM および STEAM ロゴは、米国およびまたはその他の国の Valve Corporation の商標およびまたは登録商標です。

Sailor Moon Commemorates 30th Anniversary with Museum, Details Revealed

The Sailor Moon franchise's 30th-anniversary museum will run from July 1 to December 30 in Tokyo's Roppongi Museum. The series became a global phenomenon in the 1990s and remains popular to this day.

The exhibition will feature the largest-ever exhibition of original illustrations by Sailor Moon's creator Naoko Takeuchi, at over 600 pieces. Rare original color drawings and some never-before-scene creations will be on display, and fans won't want to miss this incredible chance. The museum will have three phases: volume 1 (July 1 – September 4), volume 2 (September 10 – November 6), and volume 3 (November 12 – December 30). 

The event will also include an 'immersive experience theater,' which will display colored images on a massive 4.5 x 8-meter screen with special effects. Fans can also enjoy a 'hologram manuscript exhibit,' which will display the Sailor Scouts' famous dialogue. Anime materials and a selection of classic merchandise from the 90s to the modern-day will be available to peruse, as well as outfits from the musicals.


More information regarding original merchandise and the on-site cafe menu will be announced soon, so stay tuned!

© Naoko Takeuchi

Information

Sailor Moon Museum

Running: July 1 – December 30, 2022

Vol.1: July 1 – September 4

Vol. 2: September 10 – November 6

Vol. 3: November 12 – December 30

Closed: September 5-9, November 7-11

Hours: 10:00-18:00 (Last entry at 17:30)

Venue: Roppongi Museum (5-6-20 Roppongi, Minato-ku, Tokyo)

Official Site: sailormoon-museum.com

Moomin Market 2022 to Open at Hiroshima PARCO for a Limited Time

Hiroshima PARCO is currently hosting Moomin Market 2022, an exhibition offering special merchandise inspired by the Finnish character Moomin. The event is open now at PARCO FACTORY in the facility's main building until May 8, 2022. 

Selected Goods Lineup

The Moomins have continued to be loved by audiences around the world since the release of Tove Jansson's novel The Moomins and the Great Flood in 1945. The event is offering a number of new goods, including those from the Moominmamma's Rose series, which are perfect for Mother's Day. Guests should also look forward to the Moomin House on display at the venue!

Hands-On Circle View Exhibition Unveiled at Science Museum Tokyo

The Science Museum Tokyo has unveiled a new hands-on exhibition, Circle View, in the Illusion B area on its 5th floor.

 

The exhibit is equipped with 30 cameras placed entirely around guests. By using these cameras to simultaneously take 360° photographs of visitors, they can discover things they would not normally see, such as how they look posing or jumping and the complete shape of their own bodies.

Circle View

This peculiar exhibit will have the effect of making guests feel as though they are stars in a film as well, and visitors will be able to control video playback. Don't miss out on this unique experience!

Information

Science Museum Tokyo
Address: 2-1 Kitanomarukoen, Chiyoda-ku, Tokyo
*Advanced Reservations Required

Official Site: http://www.jsf.or.jp/

Pola Museum of Art to Celebrate 20th Anniversary with Exhibition Featuring Monet, Matisse

Pola Museum of Art opened in September 2002, its huge collection amassed by the second-generation founder of Pola, Tsuneshi Suzuki (1930-2000), over a period of about 40 years after World War II. The museum has since held various special exhibitions based on this collection–for the 10th anniversary in 2012, the Forest Promenade was opened along with a collection of outdoor sculptures, the opening of a contemporary art gallery, and more hands-on exhibitions. From April 9 until September 6, 2022, the POLA will host an exhibition to celebrate the 20th anniversary of the venue's opening. This event will focus on new additions to the gallery, including works by Claude Monet, Henri Matisse, and Gerhard Richter.

Water Lilies. Claude Monet, 1907. Oil/Canvas. (93.3 x 89.2 cm)

In planning the exhibition, the theme chosen was 'light.' Impressionist painters such as Monet were experts at capturing light, and this is easily seen in Water Lillies.

Expanding the Existing Collection, New Pieces Connect the Modern and Contemporary Periods


Woman with a Parasol. Robert Delaunay. 1913. Oil/Canvas. (123.5 × 90.3 cm)

While the collection is largely composed of modern Western and Japanese paintings from the 19th and 20th centuries, the new additions include postwar contemporary pieces, with some on display for the first time ever.

The Largest Project in the Museum's History


Woman with a Mirror. Fernand Léger. 1920. Oil/Canvas. (55.6 x 38.7 cm)

Woman Reading by the Window. Vilhelm Hammershøi. 1899. Oil/Canvas. (46.2×51.0 cm)

In order to showcase as much of the existing and new collections as possible, the exhibition will be held in five exhibition rooms in the museum, the Atrium Gallery, which was newly established in 2017 to showcase contemporary art, the lobby space, and even the forest promenade. This is the largest event since the opening of the Pola Museum of Art.



From Impressionism to the Present Day: Works Featuring 'Light'

Abstract Painting. Gerhard Richter. 1987. Oil/Canvas. (200.7 × 200.8 cm) © Gerhard Richter 2021(20102021)

The exhibition introduces numerous works related to light from the height of the Impressionist movement to the present day. Be sure to visit if you can!

Information

From Monet to Richter: Focus on New Acquisitions― Pola Museum of Art 20th Anniversary Exhibition
Running: April 9 – September 6, 2022 (Open Daily)
Location: Pola Museum of Art Exhibition Rooms 1-5, Atrium Gallery, Atrium Lobby, Forest Promenade
Sponsored by the Pola Museum of Art, The Pola Art Foundation

Official Site:https://www.polamuseum.or.jp/exhibition/20220409c01/

Kyary Pamyu Pamyu Collaborates with Hiroshima's Nishikido for LOCAL POWER JAPAN Project

Celebrating the 10th anniversary of her major label debut, Kyary Pamyu Pamyu is staying active in 2022. The artist will perform at this year's Coachella, one of the largest music festivals in the United States, and released her first full-length album in three years 'Candy Racer' in October 2021.  On January 16, Kyary embarked on the largest tour of her career, 'Kyary Pamyu Pamyu 10th ANNIVERSARY JAPAN TOUR 2022 CANDY WAVE,' which will see the singer performing 30 shows across Japan. In conjunction with the nationwide tour, the "LOCAL POWER JAPAN Project" was launched to energize Japan through the appeal of regional towns and cities, and has been attracting major attention. Kyary's tour is scheduled to visit Hiroshima on March 11, and the details of her next collaboration have been revealed!

Kyary will be collaborating with Nishikido, the largest manufacturer of Hiroshima Prefecture's famous momiji manju. This tasty sweet is a buckwheat and rice cake shaped like a Japanese maple leaf and filled with red bean paste. Nishikido's well-known logo has been reimagined as a tribute to Kyary's 2014 album Family Party.

A special box of momiji manju will include five pieces in both traditional red bean paste and cheese cream, and is a perfect souvenir for fans of the singer. This special product is available for pre-order at the LOCAL POWER JAPAN Project website and will also be on sale at the tour venue, Hiroshima Ueno Gakuen Hall, on March 11. 

A collaborative T-shirt is also on sale featuring the new logo and the singer's 10th-anniversary logo. The shirt is available on the LOCAL POWER JAPAN Project website for two weeks only. 

Information

Kyary Pamyu Pamyu & LOCAL POWER JAPAN Project x Nishikido (Hiroshima) Momiji Party Special Box

Shelf Life: 14 days from manufacturing date at room temperature
On Sale until April 7, 2022
Where to Purchase: LOCAL POWER JAPAN Project Online Shop
https://store-localpowerjapan.com/

Collaboration T-shirt
Where to Purchase: LOCAL POWER JAPAN Project Online Shop
Available until March 21 at 23:59
https://store-localpowerjapan.com/

Official Site: https://localpowerjapan.com

MoMA Launches 'MoMA Art Icons UT,' an Apparel Collection by Modern Artists

Uniqlo's graphic tee brand UT is teaming up with the Museum of Modern Art in New York City for a new apparel collection. The new clothing items were made under the concept of 'Art for All,' aiming to make art more accessible to the masses. 

The artwork on each T-shirt and sweatshirt were created by masters of modern art featured in the MoMA, from Van Gogh to Monet. Each product is also adorned with the MoMA logo to commemorate the collaboration.

Art lovers, don't miss this sale!

Information

MoMA Art Icons UT

Release Date: February 7, 2022
Products: Men's T-shirts (5 varieties): ¥1,500 / Men's Sweatshirts (3 varieties): ¥1,990
Where to Buy: UNIQLO stores nationwide, UNIQLO Online Store
*Some products are only available at select stores.
*Some products will only be available at MoMA Design Store Omotesando, Kyoto, and Shinsaibashi.

Special Site: https://www.uniqlo.com/jp/ja/spl/ut-graphic-tees/moma-art-icons/men