World's First Traditional-Style Starbucks With Tatami Rooms to Open in Kyoto!
If you're in Kyoto and in need of coffee but also want to keep with the traditional vibe, you should check out the new Starbucks coffee shop opening in Ninenzaka on June 30th. It will be the first Starbucks ever to have its own old style 'noren' – an entryway door curtain. As well as that, you can indulge in your delicious beverage while sat on tatami.
The new Starbucks goes by the name of "Starbucks Coffee Kyoto Ninenzaka Yasaka Tea Shop" (translated from Japanese). Ninenzaka is a sloping street that leads down from Kiyomizu-dera, a Buddhist temple and World Heritage Site. It's a quintessential example of traditional Kyoto and close by to many shrines and temples that you can enjoy visiting.
The building being used for the new Starbucks shop is a two-storey traditional Japanese house with a history spanning over 100 years. It is a remnant of the Taisho Period and maintains its historical look and feel alongside all the other shops on the street. The building itself and wall were chosen as historical structures to be preserved as part of a plan to protect traditional buildings in Sannenzaka. The wall in particular has been preserved due to its precious architecture. This is a Starbucks that fully respects and values maintaining the feel of a bygone age and will do all it can to ensure the building is conserved. It's a completely new experience that combines Kyoto's tradition and culture with the modern Starbucks coffee culture.
The first floor takes advantage of the building's shape and recreates the experience of walking through a 'tori-niwa' (pictured above), a hallway with an earthen floor leading from the entrance to the back of the house. Barista staff will be waiting at the counter to welcome customers into the house. By taking time to look after each customer one by one, the new Starbucks will continue combining tradition with serving coffee.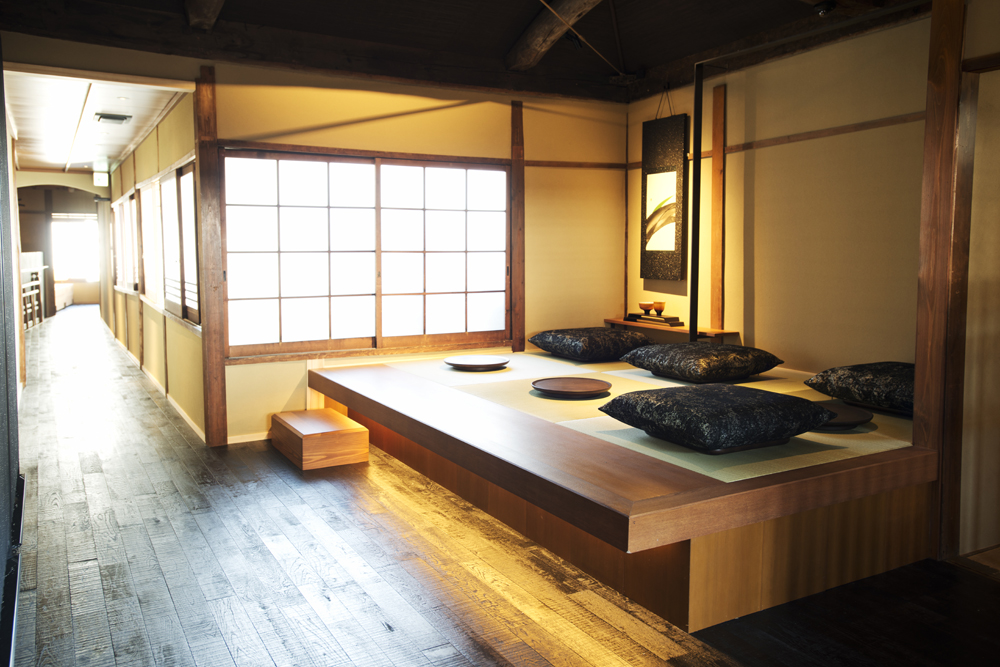 There are 3 tatami rooms on the second floor where you take your shoes off to relax and feel at home. This is certainly the best way to enjoy your favourite coffee from Starbucks. Each tatami room also has its own original hanging wall scroll to maintain that combination of Kyoto culture and Starbucks culture.
The neighbourhood in Ninenzaka surrounding the shop value the scenery and look of the street more than anything and make a conscious effort to consider history, culture, tourism and lifestyle. This is something that you will notice straight away when visiting—you can almost feel the breath of the people looking after the area. The staff at this Starbucks are also part of the neighbourhood so will most definitely work hard to produce the kind of hospitality and space for you to visit that you would expect.
Kyoto is the best place to be if you want to throw yourself into traditional Japan, and what better place to open up an old style Starbucks for you to enjoy. What are you waiting for?
Information:
■Store Name: Starbucks Coffee Kyoto Ninenzaka Yasaka Tea House (Japanese: スターバックス コーヒー 京都二寧坂ヤサカ茶屋店)
■Address: 349 Higashi-iru, Masuya-cho, Shimogawara, Minamimon-dori, Kōdai-ji, Higashiyama-ku, Kyoto (Japanese: 京都市東山区高台寺南門通下河原東入桝屋町349番地)
■Grand Opening: Friday June 30th 2017
■Opening Hours: 8:00-20:00
※The shop will be open from 13:00-20:00 on the day of the grand opening (Friday June 30th 2017)
■Holidays: No fixed holidays
■Seats: 51
■Please read the notes below before visiting:
Please do not line up in front of the shop as it will cause inconvenience for the neighbourhood and people passing by.
The number of people allowed inside the shop will be limited during busy hours.
Please note that there is no car park or place to park your bicycle near the shop so please use public transport.
To preserve the town's environment, please take your takeout cups home or dispose of them in the bin.
Related Article:【Tokyo Stroll】Renting a bike and riding through Yanaka – the town reminiscent of old-fashioned Tokyo
Related Article:Starbucks Coffee Japan will release a rich tasted "Chocolate Cake Top Frappuccino® with Green tea shot"
RELATED ENTRIES
Next-Generation Town-Walking Project NAKED GARDEN -ONE KYOTO- to Begin this Fall

The creative team at NAKED is teaming up with Kyoto City, Uji City, and Otsu City in Shiga Prefecture for a one-of-a-kind project. This fall, guests will be able to experience NAKED GARDEN -ONE KYOTO, a next-generation town-walking project blending the real world and the Metaverse together. Visitors will be able to experience Kyoto's shrines, temples, and history in a whole new way.

NAKED has been working with the city of Kyoto since 2017, creating new cultural outreach and tourism programs. A number of nighttime events have taken place at Nijo Castle, including 'virtual flower viewing' in the midst of the pandemic. Last year, the DANDELION PROJECT began at Kamigamo Shrine, a World Heritage Site. The project brings guests around the world together virtually to pray for peace. Events have also taken place at Kiyomizu-dera, Heian Shrine, and Ninna-ji.

In 2022, NAKED will collaborate with Kyoto City, Uji City, Otsu City, and their respective tourism associations to create a Metaverse where visitors can enjoy Kyoto not only in the real world but also virtually. Art being experienced by visitors in real life can be reflected in the Metaverse, and experiences in the Metaverse can be enjoyed in a way that is unique to real events. As hard to describe as it may be, more details will be available on the NAKED GARDEN website when it opens this summer. 

Information

NAKED GARDEN -ONE KYOTO-

Coming Fall 2022

NAKED, INC. Official Site: https://naked.co.jp

Rhythm Game BlackStar ~Theater Starless~ Gets Collaborative Event at Toei Kyoto Studio Park

Toei Kyoto Studio Park will be holding a special collaboration with the rhythm game BlackStar ~Theater Starless~ for a limited time, from June 4 until July 10, 2022.

Goods Lineup

Newly-drawn Illustrations

Mini Characters

The Theater Starless Uzumaki Branch will be open inside the park during the event period. 26 themed cast members will even be greeting guests! 


A stamp rally will be taking place along the Keifuku Randen Tram Line and during the event, a special train featuring a newly-drawn illustration of the five main characters and 26 mini-characters will be running through the streets of Kyoto!

Limited tickets will be sold for a number of collaborative events being held in the park, so be sure to grab yours while you can!

©DOUNUTS

Information

BlackStar ~Theater Starless~ in Uzumaki

Running: June 4 – July 10, 2022

Venues: Toei Kyoto Studio Park, Arashiyama Station, etc.
Official Site: https://blackstar-uzumasa.jp/
Official Twitter: @Blackstar_uzms

Kyoto Sweets Shop Otabe Rereleases Demon Slayer: Kimetsu no Yaiba Snacks with New Designs

Otabe, one of the most popular sweets souvenir shops in Kyoto, Otabe, is known for its delicious matcha and mini-desserts. Starting May 12, the company has released nine uniquely packaged sweets inspired by Demon Slayer: Kimetsu no Yaiba. The limited-edition packaging will feature popular characters from the series. Previously, the company released matcha cakes for the crossover–this time, fans can enjoy choco-an flavor!

Demon Slayer: Kimetsu no Yaiba Choco-an

Demon Slayer: Kimetsu no Yaiba Matcha

Demon Slayer: Kimetsu no Yaiba Otabe (with Original Sticker)

Original Sticker: 15 varieties, 1 given at random

Focusing on the hashira from the series, fans will want to be on the lookout for their favorite character. These sweets can be bought at select stations in the Kyoto and Osaka area, major Kyoto tourist attractions, and online. In addition, matcha flavored treats will also be on sale featuring Tanjiro Kamado, Nezuko Kamado, Zenitsu Agatsuma, Hashibira Inosuke, Kagaya Ubuyashiki, and Muzan Kibutsuji.



©吾峠呼世晴/集英社・アニプレックス・ufotable

Information

Demon Slayer: Kimetsu no Yaiba Choco-an
Release Date: May 12, 2022
Price: ¥432 (Tax Included)
Where to Buy: Train station in Kyoto & Osaka area, Major Kyoto tourist attractions, online.
Details: http://www.otabe.kyoto.jp/kimetsunoyaiba/

Hydrangea Parfait Featuring Local Matcha Available at Itohkyuemon in Kyoto

Located in Uji, Kyoto, matcha shop Itohkyuemon was founded in the late Edo period. Three cozy locations have just launched a Hydrangea Parfait, perfect for spring.

Hydrangea Parfait

Hydrangea Coaster

The shop's main location is headquartered in Uji, which is also home to Mimuroto Temple, known for its hydrangeas. The flowery location attracts thousands of tourists during the rainy season. 

The Hydrangea Parfait has been offered since 2013, now celebrating its 10th year. The popular seasonal treat features matcha hydrangea mashed sweet potatoes, hydrangea-colored jelly, leaf-shaped matcha cookies, and blueberries. Those ordering a parfait will also receive a hydrangea coaster as a gift, so why not enjoy the rainy season with something sweet to lift your spirits?

Yunohana Onsen Resort Reveals Contemporary Art-Inspired Guest Rooms

Sumiya Kihoan, a cozy inn at Yunohana Onsen in Kameoka City in Kyoto, opened a unique new guest room on April 28, 2022. The room's concept is "where guests can stay in the middle of contemporary art," and was inspired by the works of internationally-acclaimed contemporary artist Yukinori Yanagi. The new room, created as part of the Art Room Project, has been named 'Kofuu.'

The Icarus Corridor Connecting Heaven and Earth

Heavenly Bath Welcoming a Rainbow at Dusk

In-Ground Bath Featuring Oribe Glazed Ceramic

Concept Drawing of the Art Room Project by Yukinori Yanagi


The new room includes an open-air bath where guests can be transported into the world of Yanagi's contemporary art while gazing at the gorgeous Kyoto landscape. Upon entering the inn, guests are greeted by a long corridor leading to the bedrooms, dining room, and two creative open-air baths. The space was created in collaboration with Yanagi and local artists and craftsmen, such as potter Ishii Naoto, obi craftsman Yamaguchi Genbei X, plasterer Kusumi Akira, and Japanese paper craftsman Hatano Wakaru. A delicious menu is prepared by chef Hosoi Kunihiko.

Kyoto's Garden Museum Hiei Opens Limited-Time Collaboration Event with Violet Evergarden Anime Series

Kyoto's Garden Museum Hiei has announced that it will host a collaboration event with Kyoto Animation's Violet Evergarden anime franchise, entitled 'A Story of Flowers and Letters,' from May 3 to July 10, 2022.

The Garden Museum Hiei, an outdoor facility inspired by French Impressionism, sits near Mt. Hiei and is known for its incredible floral displays which change colors each season. "This scenery matches the image of the landscape depicted in the Violet Evergarden anime series, which led to the decision to hold this collaborative event," the press release reads.

Visitors can enjoy collaboration visuals and standees that will only be available to see at the gardens. The event will also feature original merchandise, collaboration drinks, and a voice-recorded introduction to the facilities by Violet herself, voiced by Yui Ishikawa.

Violet Evergarden

Violet Evergarden premiered in 2018. The main character, Violet, was trained to be a soldier and therefore has trouble expressing her emotions. In order to learn the meaning behind her commander's final words, "I love you," she embarks on a new path in life, writing letters on others' behalf. A spin-off film was released in Japan in 2019, and a second film premiered in September 2020.

Information

Violet Evergarden x Garden Museum Hiei ~A Story of Flowers and Letters~

Venue: Garden Museum Hiei

Running: May 3 – July 10, 2022

The Heike Story, INU-OH Character Concept Art on Display at Kyoto International Manga Museum

The Heike Story anime series premiered in Japan on Fuji TV's +Ultra programming block on January 12. With character designs by Fumiko Takano, fans instantly fell in love with the show's cast of characters, and an art book will be released soon, with preorders opening this week.

 

The Kyoto International Manga Museum has opened an exhibition displaying character concept art from SCIENCE SARU's The Heike Story and INU-OH anime from April 21 to June 27. The exhibit commemorates The Heike Story's TV broadcast and INU-OH's theater opening in Japan. Fumiko Takano (The Heike Story) and Taiyo Matsumoto (INU-OH)'s character concept drawings are on display in Gallery 4. 

Both titles are based on Hideo Furukawa's modern language rendering of the classic Japanese epic The Tale of the Heike.


The Heike Story will additionally release an art book titled The Colors of The Heike Story in June. The book will feature an interview between art director Tomotaka Kubo and series director Naoko Yamada, and is scheduled for release in June. Those pre-ordering the book will receive a special gift.

©高野文子 /「平家物語」製作委員会 
©松本大洋 /2021 "INU-OH" Film Partners

Information

The Heike Story – Fumiko Takano and INU-OH's Taiyo Matsumoto Character Concept Art Exhibition

Running: April 21 – June 27, 2022

Venue: Kyoto International Manga Museum Gallery 4 (452 Kinbukicho, Nakagyo-ku, Kyoto)

Access: 2-minute walk from Exit 2 of Karasuma Oike Station on the Kyoto Municipal Subway Karasuma Line and Tozai Line



The Colors of The Heike Story

Price: ¥5,500 (Excluding Tax)
Format: A4 size, 112 pages
ISBN: 978-4-908062-41-4
Publisher: HeHe / hehepress.com

The Heike Story Anime Series
Official Site: HEIKE-anime.asmik-ace.co.jp

Shoujuin Temple and THE THOUSAND KYOTO Collaborate on Special Afternoon Tea

THE THOUSAND KYOTO hotel will begin selling a special afternoon tea set in conjunction with the Buddhist Temple Shoujuin on May 9, 2022. These scrumptious treats can be enjoyed at the hotel's second-floor cafe and bar TEA AND BAR until July 15.

This offering was made with the thought of escaping the summer heat in mind. Customers can enjoy eight kinds of sweet and savory dishes, from quiche and salmon sandwiches to scones with honey and sweet bean paste.

Souvenirs


Kanouhimo

Sange

The entrance to the cafe will also be transformed to reflect the majesty of Shoujuin Temple.

The early summer scenery will be captured with majestic hydrangeas, which will surround guests and prove the perfect background for photos.


Guests can also go home with two traditional souvenirs. Both the kanouhimo and sange are lucky charms typically available at Shoujuin on holidays.

Hydrangea Afternoon Tea Available at Art Grace Wedding Hills in Kyoto for a Limited Time

Art Grace Wedding Hills, a wedding venue in Kyoto, will offer a hydrangea-themed afternoon tea service from May 1 until June 24, 2022. Guests can enjoy this dreamy event each Friday, Saturday, and Sunday.

Top Tier

Middle Tier

Bottom Tier

Welcome Drink

Hydrangea Parfait

Come taste these delectable dishes to welcome the summer season.

Studio Ghibli Secrets Revealed in Kyoto Exhibition Featuring Miyazaki Collaborator Toshio Suzuki

The Toshio Suzuki and Ghibli Exhibition opened at The Museum of Kyoto on April 23, 2022.

Toshio Suzuki, a producer at Studio Ghibli, has worked with both Hayao Miyazaki and Isao Takahata on a number of beloved masterpieces. The exhibition will feature a large bookshelf housing 8,800 of Suzuki's publications. Many of these were published before Suzuki joined Studio Ghibli, and guests are invited to see how the producer was inspired to join the legendary studio after working as an editor at a manga magazine. 

This exhibition was realized after Suzuki himself proposed the idea of exhibiting his books for the first time. At the press preview, Suzuki made a statement. "My dream was to collect all the books I've read over the past 70 years and display them in one room. Today, I'm so happy to stand in the middle of it. On one hand, I'm amazed by how much there is. On the other hand, I feel like there could always be more."

©TS ©Studio Ghibli

The giant bookshelf containing 8,800 tomes was based on a brick-and-mortar store that once served as Suzuki's 'hideout.' The wallpaper was designed by William Morris, a favorite of the producer since his youth. Among the many books on display, one area is lined with issues of Kinema Junpo, Japan's oldest film magazine. Suzuki notes that he thought about throwing them out each time he moved, but luckily, he decided to keep them! Some issues are from the Taisho era and are incredibly valuable. If you want to read them yourself, you are welcome to do so at the exhibition!

Many of Studio Ghibli's most famous works were born from casual conversations between Isao Takahata, Hayao Miyazaki, and Toshio Suzuki. Suzuki has played a large role in film advertising, including many of the memorable posters and ads almost everyone has seen. He has always included each film's most inspiring song in television ads, which has dramatically increased audience attendance. After all, who doesn't love the music in Studio Ghibli films?

What's your favorite Ghibli film?

Information

Toshio Suzuki and Studio Ghibli Exhibition

Running: April 23 – June 19, 2022
Closed on Mondays *Open on April 25, May 2

Hours: 10:00-18:00 *Open until 19:30 on Fridays (Last entry 30 minutes before closing)

Venue: The Museum of Kyoto 4F, 3F Exhibition Room (623-1 Higashikatamachi, Nakagyo Ward, Kyoto)

Official site:https://suzukitoshio-ghibli.com/

Oakwood Hotel Oike Kyoto Reveals Room Plan with UNDERSON UNDERSON Washi Underwear

The lifestyle brand UNDERSON UNDERSON is all about making skin healthier by using washi paper. The unique brand has teamed up with Oakwood Hotel Oike Kyoto, known for its traditional washi decorations, for a special accommodation plan! Booking a room will get you a fancy new pair of underpants and some other popular items. The plan began on April 11, 2022, and will continue through the end of the year.

UNDERSON UNDERSON Underwear

UNDERSON UNDERSON Stretchy Washi Mask

john masters organics × UNDERSON UNDERSON Mask & Air Refreshener

The plan wants to allow visitors to enjoy their stay in Kyoto while experiencing traditional Japanese washi paper with both their eyes and their skin. The walls of the Oakwood Hotel Oike Kyoto feature artwork and furnishings with Japanese flare and have been upgraded to include HAMADAWASHI's Tosa washi paper. This material has been used in the restoration of cultural heritage sites such as Nijo Castle and Ginkaku-ji Temple. Tosa washi can also be found on the partitions at Cafe O and on the walls of the coworking space!


To celebrate the collaboration, UNDERSON UNDERSON will be giving away underwear and other items made of its iconic WASHIFABRIC.


While this may sound like a strange collab, how would you like to give this underwear a try?

Information

Oakwood Hotel Oike Kyoto
UNDERSON UNDERSON Underwear Collaboration Room Plan
Available: April 11 – December 31, 2022
Reservations / Official Site: https://oakwood.jp/kyoto-oike/

The Royal Park Hotel Iconic Kyoto to Offer Immersive Meditation Rooms

The pandemic has caused problems for people all over the world. Mental health has taken a beating over the last few years, and in order to help people take back control of their mental wellness, The Royal Park Hotel Iconic Kyoto will begin offering immersive meditation rooms for guests only! These rooms will allow guests to enjoy a soothing private space and will be available starting April 1, 2022.

Blank meditation 

tea mediation 

The Medicha meditation rooms consist of two spaces: 'blank,' where guests are surrounded by mist, and 'tea,' where guests will immerse themselves in beautiful water patterns. An original program shown on in-room televisions at the hotel will also instruct guests in the art of meditation. 

In 'Blank Meditation,' guests will stand in a cool mist and immerse themselves in layers of diverse sounds and shifting colors of light. This will help quiet the mind and create a 'blank slate' mentally. 

The 'Tea Meditation' room invites visitors to spend time with themselves while getting lost in shimmering water patterns in a dimly lit space as they carefully brew their own tea. Two types of tea are on offer, each with distinct aromas and flavors.