'átoa,' Part Art Museum and Part Aquarium, Opening in Kobe
Blending living creatures with art, átoa, a new urban aquarium, will open in Kobe's Shinkocho on October 29, 2021. New images have just been revealed, and we now have an idea of what the interior will look like!
'átoa' comes from a combination of the words 'aquarium' and 'art,' and as the name suggests, the space will blend over 100 pieces of digital and performance art with 3,000 ocean creatures to provide a never-before-seen experience.  
The exterior of the Kobe Port Museum looks like a contemporary art gallery
The stairway leads guests to a cave entrance, making the visit feel more like an adventure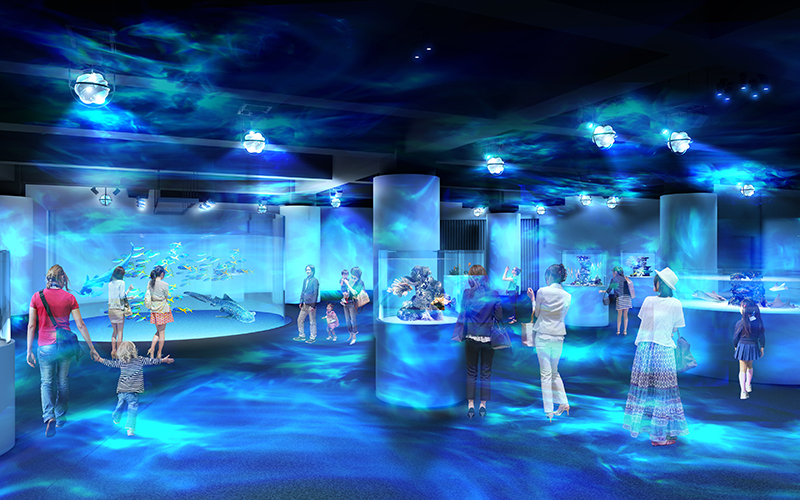 'MARIN NOTE – The Movement of Life' embodies underwater life 
'ELEMENTS – The Forest of Spirits' welcomes you to a foggy sea of trees
Light cutout show by famed cutout artist Atsumi Sakai
A mysterious walk through a traditional Japanese garden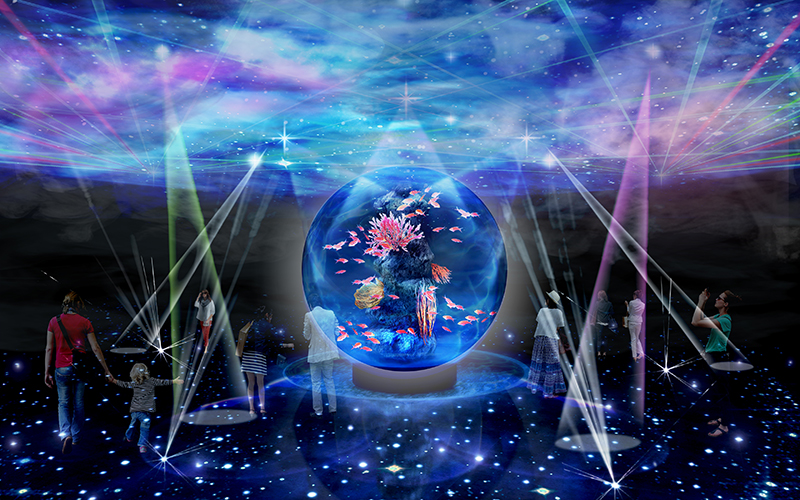 'PLANETS,' a journey through the darkness of outer space and the deep sea
Food & drink offerings worthy of posting on social media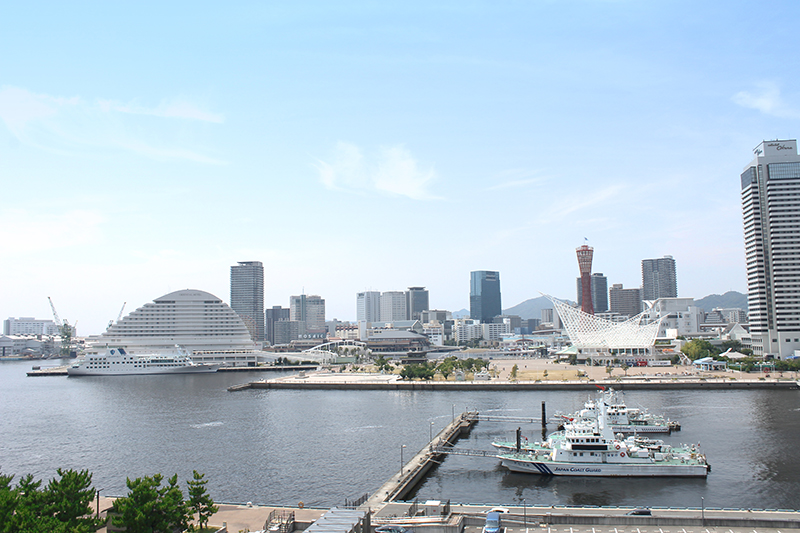 A spectacular view of the Kobe Bay area
イント
átoa original products on sale
Rokko, the land on which Kobe City sits, is said to have been formed over one million years ago by the upheaval of the Earth and consistent water erosion. The Kobe Port Museum (KPM), where átoa is located, has long attracted visitors with its unique exterior, embodying the ancient origins of the surrounding lands.

átoa will be divided into eight different zones, each with its own theme and distinctive presentation. Visitors will first enter the 'Cave of Beginnings,' where fish-shaped lights reflected on the walls and floor lead you deeper into the space, as if through a kaleidoscope. 
After emerging, 'MARIN NOTE – The Movement of Life,' a visual embodiment of underwater life, will greet you. The sound and scents of the sea will surround guests, with a cylindrical water tank at the center of the room filled with zebra sharks, spotted garden eels, and many more underwater creatures. 
On the second floor, enter 'ELEMENTS – The Forest of Spirits,' a foggy sea of trees straight out of a fairy tale. This is where you can find freshwater fish, amphibians, and adorable tree-dwelling animals not typically found in aquariums, like woodchucks! This is another highlight of átoa: you might find more animals you wouldn't expect!
The third floor houses both 'MIYABI' and 'PLANETS,' where guests can enjoy a 'theatrical aquarium experience.' Discover Atsumi Sakai's famed cutout art in the 'MIYABI' area, meant to simulate a Japanese garden. Enjoy the magical experience of fish swimming just beneath your feet as you stroll along a glass-covered floor. 
The 'PLANETS' area houses AQUA TERRA, one of Japan's largest spherical water tanks, with a diameter of 3 meters. Guests are welcome to ponder the vastness of both outer space and the deepest stretches of the sea. The area is bathed in the light of countless stars thanks to optical fibers embedded in the floor, while mist will continuously pour from above. 
Housed on the fourth floor, an outdoor exhibit, the 'SKYSHORE Sky Garden,' will soothe your soul as you play with only the most adorable marine life, from penguins to otters. This is also where visitors can enjoy the átoa cafe, offering a lineup of Instagram-worthy food and drink. 
The observation deck 'ROOF TOP' also provides a breathtaking view of Kobe. Whether you visit during day or night, take in the views of Kobe Harborland and Meriken Park to your heart's content. A full museum shop will be stocked with adorable plushies and other original products. 
Information
átoa
Address: 7-2, Shinkocho, Chuo-ku, Kobe, Hyogo
Open Date: October 29, 2021
Hours: 10:00-21:00 (Open Every Day)
Official Site: https://atoa-kobe.jp
RELATED ENTRIES
Kobe's Storytelling Restaurant FARM TO TABLE KANBE Now Open

Fans of Japan and Japanese culture may know that Kobe's food scene is not to be missed. A new restaurant, KANBE, is now open and tells the story of the city's food culture. The grand opening was on November 30 in Sannomiya.  

The story begins with water, the source of Kobe's food. The city's famed fare like Kobe beef, Suma salmon, and seasonal vegetables  will take the stage through storytelling, projection mapping, and uniquely planed dishes. Ingredients are served to guests the same day that they are delivered to the restaurant, offering the freshest possible experience. The restaurant also offers a wide selection of drinks made in Kobe, including Nada Gogou sake and Kobe wine. These are made using Nunobiki water from the Rokko mountain range, meaning that everything guests enjoy was truly made in Kobe.

At KANBE, visitors will chat with a storyteller who weaves the story of Kobe's food into the experience. A chef himself, he is well-versed in cooking methods, food history, and nutrition. 

The 18-meter-long counter adds to the experience by displaying seasonal scenery, the water of Nunobiki, and the night view from Mt. Rokko. Nature sounds, like the murmuring of Nunobiki Falls and the chirping of birds, also echo through the restaurant in time with the projection mapping, creating an atmosphere that feels alive.

Why not come enjoy a new kind of dining experience?

Information

FARM TO TABLE 'KANBE'
Opening Date: November 30, 2022
Reservations Required (May be made up to 3 days prior.)
Address: Taishin Sunset Building 7F (2-5-1 Kitanagasadori, Chuo-ku, Kobe)


Reservations/Official Site: https://www.ko-z.com/

Report: Kyary Pamyu Pamyu's Tasty Time in Gastropolis Kobe – Sweets Edition

Kobe is filled with famous sightseeing spots like the nostalgic Ijinkan neighborhood and port. The city is packed with fashionable shops and restaurants and is highly regarded for its selection of tasty sweets!

The port city, with over 150 years of history, has fostered a unique and diverse culinary culture.

Recently, Kyary Pamyu Pamyu began starring in a series of promotional videos for the Gastropolis Kobe project. The artist traveled to the city to partake in plenty of delicious treats, and MOSHI MOSHI NIPPON went along for the ride! Here are some of the singer's favorite spots around town.

Kobe, known as a city where East meets West, is lined with sweets shops that are unique to the area.

The tea salon TOOTH TOOTH Dekoboko Sabo opened in 2019 in the Kobe City Museum and offers a menu that mixes Western food and sweets with tea and ingredients from traditional Japanese cuisine. Kyary ordered the Dekoboko Sabo Afternoon Tea Set, a collection of western sweets blended with the essence of traditional Japanese flavors. Guests are invited to enjoy their tea and sweets in a one-of-a-kind space filled with Meiji period flare and retro Western furniture. Those interested will need to make a reservation, so be sure to remember the next time you're in Kobe.

TOOTH TOOTH Decoboco Sabo

Address: 24 Kyomachi, Chuo Ward, Kobe (Inside the Kobe City Museum)

Hours: 9:30-17:30 (Last Order at 16:30) 

Closed Mondays

Official Site: https://toothtooth.com/restaurant/decoboco-sabo

The next stop was Kobe Nankin-machi, one of the three major Chinatowns in Japan. Kobe MILK is known nationwide for its Apricot Pudding, which is made with local ingredients. The raw apricot pudding is mixed with milk brought from the foot of Mt. Rokko and other ingredients from Hyogo Prefecture. Of course, Kyary ordered some, and was amazed by its fluffy texture. You can only enjoy it in Kobe–also, the shop sells other puddings mixed with seasonal fruits, so don't miss those either!

Kobe MILK

Address: Shin-Motomachi Building 1F (1 Motomachi-dori, Chuo-ku, Kobe)

Hours: Weekdays 9:30-19:00 / Weekends 9:30-19:30

Official Site: https://kobe-milk.com

For Kyary's final stop, the singer visited the Moore House, a cafe located in a building with over 100 years of history. Guests are surrounded by greenery, and the Western-style building is incredibly elegant. The Strawberry Mille-feuille Kyary ordered was created by an expert patissier and based on the strawberry mille-feuille recipe from the legendary French restaurant Maxim's de Paris in Ginza. A generous amount of custard cream complements the crispy pie crust and enhances the sweetness of the fresh strawberries. We'd recommend it with a glass of champagne–if you're of age.

Kitano Ijin-kan Moore House

Address: 2-9-3 Kitanocho, Chuo-ku, Kobe

Hours: 11:00-17:00

Closed Tuesdays

Official Site: https://www.kitanomoore.com/cafe/

The streets of Kobe are packed with sweets that you can only enjoy if you visit. Why not come experience these incredible spots like Kyary did?

Kobe Sweets Trailer: https://youtu.be/Sx9B1ZdAvlI

Report: Kyary Pamyu Pamyu's Tasty Time in Gastropolis Kobe – Kobe Beef & Nada Sake Edition

Kobe is filled with famous sightseeing spots like the nostalgic Ijinkan neighborhood and port. The city is packed with fashionable shops and restaurants and is highly regarded for its Kobe beef restaurants and tasty local spirits.

Facing the Seto Inland Sea, Kobe is surrounded by rich nature and produces plenty of tasty veggies while also bringing in tons of fresh fish. The port city, with over 150 years of history, has fostered a unique and diverse culinary culture.

Recently, Kyary Pamyu Pamyu began starring in a series of promotional videos for the Gastropolis Kobe project. The artist traveled to the city to partake in plenty of delicious fare, and MOSHI MOSHI NIPPON tagged along. Let's take a look at her top picks!

Kobe beef is the first thing that comes to mind when you hear the name of this Japanese city, right?

Teppanyaki restaurant Tajima, located in the Kobe Portopia Hotel, serves Kobe beef along with other Japanese black beef, seafood, and seasonal vegetables.

Kyary ordered the Kobe beef loin and seasonal grilled vegetables, watching with excitement as the chef prepared the meal in front of her. The steak is made from carefully selected Kobe beef and melts in your mouth. Tajima has private rooms as well as counter seating, making it a perfect location for everything from a family get-together to a first date.

Teppanyaki Tajima

Address: Kobe Portopia Hotel 2F (6-10-1 Minatojima Nakamachi, Chuo-ku, Kobe)

Hours:

11:30-14:30

17:30-21:30 *Open at 17:00 on weekends and holidays

Open Daily

Official site:https://www.portopia.co.jp/restaurant/detail/tajima/

What goes better with Kobe beef than local sake? One area of the city, Nada Gogou, has an incredibly high concentration of sake breweries.

Nada Gogo Sake Brewery opened in April 2022 in a renovated building that was formerly the location of Kenbishi, a long-established local sake brewer with over 500 years of history.

Visitors can enjoy sake and cuisine from 26 breweries in the area under the themes of 'Seasonal, Local, Compatible, Fermentation.' Here, Kyary ordered the Nada Gogou Set which includes the best possible food and drink pairings. Limited to 100 servings each day, the set includes five different sake and three seasonal small plates perfecting for pairing. The drinks and food offerings change with the seasons, allowing guests to enjoy tons of unique flavors from the region no matter what time they visit.

Nada Gogou Brewery

Address: 3-11-2 Mikagehonmachi, Hagashinada-ku, Kobe

Hours: 12:00-21:00 *Opens until 20:00 on Sunday and holidays

Closed Monday-Thursday

Official Site: https://nadagogo.com/

GOCOCU is an all-day buffet restaurant in the Kobe Portopia Hotel where guests can enjoy dishes using carefully selected ingredients from the five Hyogo provinces (Settsu, Harima, Tajima, Tanba, and Awaji) with a spectacular view of Kobe. Visitors can enjoy the chef's specialties including roasted and grilled dishes cooked in a custom-made stone oven. The restaurant is also known for its selection of alcoholic beverages, and Kyary enjoyed the Fukuju Junmai Ginjo. This particular sake has won many awards in Japan and abroad, including a gold medal at the National Sake Competition for three consecutive years. Popular for its smooth rice flavor, this well-loved brand uses rice and rice malt grown in Hyogo Prefecture. Adults can enjoy this and many more delicious beverages during buffet hours and cocktail hours after 8:30 or 9:00 on Saturdays, Sundays, and holidays.

GOCOCU ~Blessings of the Five Kingdoms~

Address: Kobe Portopia Hotel 30F (6-10-1 Minatojima Nakamachi, Chuo-ku, Kobe)

Hours: 7:00-10:30, 11:30-15:00, 17:30-21:00, 20:30-23:00

Open Daily

Official Site: https://www.portopia.co.jp/restaurant/detail/gococu/

Founded in 1659, Kiku Masamune is a leader in the sake industry. We visited the Kiku Masamune Sake Factory, opened to commemorate the 50th anniversary of its handy barreled sake, perfect for allowing customers to enjoy barrel-aged sake at home easily. Visitors can enjoy browsing sake barrels, with many created using traditional barrel making techniques that are still used today. They can also enjoy an exhibition of Yoshino cedar, the material used to make the barrels. Tours are by appointment only. Reservations are taken on a first-come, first-served basis, so early reservations are recommended!

Kiku Masamune Sake Factory

Address: Uozaki Nishimachi, Higashinada-ku, Kobe

Tour Times: 10:30~, 14:00~, 15:00~ (Each tour is approximately 30 minutes.)

Closed during New Year's holidays.

Official Site: https://www.kikumasamune.co.jp/tarusake-mf/

*No outside food or beverages are allowed inside the factory. Tastings are available at the Memorial Hall after the tour.

After reading this, you're interested in coming to Kobe, right? Enjoy some of this savory fare the next time you're in the area. 

Kobe Beef Version:https://youtu.be/-HrNq6JGO3A

Nada Sake Version: https://youtu.be/cd9_f59NWIw

TeamLab Unveils Three New Works at Singapore's Permanent 'Future World' Exhibition

Art collective TeamLab has redesigned two exhibitions at Marina Bay Sands Singapore. The world's first permanent exhibition from the creators, Future World: Where Art Meets Science, was opened in 2016 at the Museum of Art and Science. Guests can now enjoy three new works along with the Digital Light Canvas, a huge, interactive space inviting guests to share their own pieces of art.

Drawing Flight

Visitors can immerse themselves in these impressive new works while experiencing a complex, three-dimensional world. They can also create new worlds with others!


Future World


The Drawing Flight, part of the Amusement Park of the Future series, is based on the concept of co-creation, allowing visitors to not only draw an airplane that will fly but also allowing them to operate it from a pilot's point of view using a tablet. Whether visitors draw a butterfly or a hawk, they'll see the world from the perspective of each creature and enter a world constructed by the creature's unique perceptions.

Aerial Climbing through a Flock of Colored Birds

In Aerial Climbing through a Flock of Colored Birds, guests are asked to perceive the world with their entire bodies. Visitors cross a space with sticks floating three-dimensionally in the air.

Autonomous Abstraction, Continuous Phenomena from the Universe to the Self

Autonomous Abstraction, Continuous Phenomena from the Universe to the Self offers a new and abstract concept. As people touch the dots, the rhythm of the dots flickers and their hue changes and disintegrates. The picture will then change dramatically, and despite these changes, the beauty remains.

Digital Light Canvas

Graffiti Nature – Red List Digital Light Canvas

 

Digital Light Canvas is a space consisting of a 15-meter-diameter circular link of light and a 20-meter-high cylinder of light made up of a collection of light dots.  Team Lab's interactive artwork, which changes depending on how many people are around, is on permanent display.

Drawing Factory

By visiting the Digital Light Canvas area, guests can also enjoy the Drawing Factory, where they can turn their own drawings into pins, T-shirts, and other items!

Come fully experience this curious art exhibition!

© チームラボ

Information

Future World: Where Art Meets Science

Final Fantasy Artist Yoshitaka Amano Holds Art Exhibition at Myoshin-ji in Kyoto

Yoshitaka Amano, known by international fans as the artist behind the legendary Final Fantasy video game series, is celebrating his 70th birthday with a unique art project from November 23 until December 8 at Myoshin-ji in Kyoto. 

On the first day of the event, the venue, decorated with autumn leaves, was crowded with visitors including foreign tourists, who marveled at the fantastic space filled harmoniously with gold and blue. The exhibition will be held at Myoshin-ji, the head temple of the associated branch of Rinzai Zen Buddhism. This collection of works was designed to question visitors' sensibilities and provide a new kind of art exhibition for fans to enjoy.

After the exhibition, the main art piece by Yoshitaka himself will be converted to 3DCG, and a Virtual Golden World will be developed in collaboration with the Yoshitaka Amano VR Museum. By integrating traditional and modern art methods, guests will be able to engage more deeply in the art by enjoying digital works, the metaverse, and NFTs.

Don't miss this curious exhibition!

Information

Golden World: Infinite Light by Yoshitaka Amano 

~GOLDEN VIEW OF THE WORLD~

Running: November 23 – December 8, 2022

Venue: Myoshin-ji

Hours: 9:00-12:00 / 13:00-16:00

Tickets on sale until 15:30 each day.

Official Site: https://www.myoshinji.or.jp/


Nagoya Castle to Hold Special Autumn Night Art Viewing for a Limited Time

The historic Nagoya Castle will hold a special nighttime viewing event for 14 days only, from November 25 until December 8, 2022. During this period, Honmaru Palace will be open to the public at night, and the Chrysanthemum Corridor inside will be open to visitors for the first time. 


The Ninomaru Garden will also be illuminated and will transport guests to a different place and time by showing a space only possible during dark hours.

Inspired by the relationship between light and shadow, this event focuses on changes that occur over time and the creation and emergence of new ideas and things.

Honmaru Palace, Typically Closed to the Public, to be Open at Night

Nagoya Castle's Honmaru Palace was completed in 1615 and served as the primary residence of the Lord of the Owari Domain and as the Domain's government office. The interior of the palace was lavishly decorated with paintings and other art pieces and was praised as a masterpiece. Sadly, it was destroyed by an air raid in 1945. Restoration work began in 2009 and was completed in 2018 with unparalleled accuracy. The Honmaru Palace gives off a completely different aura at night. 

First Public Viewing of the Jodan-no-ma in the Joraku-den

The Joraku-den was added to Nagoya Castle to accommodate the third Shogun, Iemitsu, on his way to Kyoto. It is the most luxurious of all the Honmaru Palace buildings, and this event marks the first time that the Chrysanthemum Corridor on the north side will be open to the public. Visitors are welcome to admire the golden-blue paintings as they stroll through the historic site.

See Spectacular Paintings when Entering the Tsugi-no-ma Room

During this period, visitors can enter the Tsugi-no-ma room to view classical period paintings, giving a more clear idea of how people acted and dressed during this time in history.

[Ninomaru Garden Special Viewing] 


~Witness a Never-Before-Seen Feudal Lord's Garden through a Spacial Presentation~

Scenography for this unique show was provided by the creative label PERIMETRON. In order to show another side of the Ninomaru Garden at night, the company focused on light's characteristics, from reflection and transmission to refraction and absorption. Light and shadow intertwine in various ways, and guests will be transfixed by this curious showing.

Information

Nagoya Castle: Autumn Night Special Viewing ~KEI~

Running: November 25 – December 8, 2022

Viewing Hours: 9:00-19:30 (Gates close at 20:00)

Official Site: https://www.nagoyajo-kei.jp/

Naruto Anime Series Celebrates 20th Anniversary With New Gallery Featuring Collaborations With Five Animators

To celebrate the 20th anniversary of the globally popular Naruto anime series, NARUTO THE GALLERY will be held at AKIBA_SQUARE inside Akihabara UDX from December 10, 2022 until January 31, 2023. The gallery will feature collaborations with five animators. 

This will be the first Naruto exhibition held since 2015. The event will focus on the growth of the characters, the bonds they share with their friends, and the many fights that have taken place over the past two decades. 

 

Iconic scenes from the Naruto anime series will be on display in collaboration with five up-and-coming animators: Ai Niina, Kohei Kadowaki, que, Kosuke Sugimoto, and Kohta Morie. This will give fans the chance to see an unprecedented and unique view of the world of Naruto which can only be seen at the event. 

Admission Bonus: Gemaki-style Card

Goods

An original Gemaki-style Card featuring a newly-drawn visual will be handed out to those visiting the exhibition. 

 

The first lineup of exclusive event-only merchandise has been revealed and longtime fans of the series won't want to miss adding some of these goods to their collection. 

Participating Artists / Episode

Ai Niina / Sasuke's Ninja Way

Kohei Kadowaki / Naruto's Path

que / The Land of Waves

Kosuke Sugimoto / Sasuke's Vessel

Kohta Morie / Naruto and Kurama

©NARUTO THE GALLERY実行委員会

Information

NARUTO THE GALLERY (Naruto 20th Anniversary Project)

Running: December 10, 2022 – January 31, 2023
Hours: 10:00-20:00 (Last entry at 19:30)
Venue: AKIBA_SQUARE (Inside Akihabara UDX)
Official Site: https://naruto-20th.jp

Final Fantasy Artist Yoshitaka Amano Holds Art Exhibition at Myoshin-ji in Kyoto

Yoshitaka Amano, known by international fans as the artist behind the legendary Final Fantasy video game series, is celebrating his 70th birthday with a unique art project in Kyoto. 

The exhibition will be held at Myoshin-ji, the head temple of the associated branch of Rinzai Zen Buddhism. Stepping into the temple, guests will be met with colorful autumn leaves and a sea of gold and blue art pieces.


"I want people to enter this world of light and experience being part of it," Amano said. "Rather than art being something flat on a wall, I want to present something new and unique." This collection of works was designed to question visitors' sensibilities and provide a new kind of art exhibition for fans to enjoy.

The main art piece, newly painted by Amano himself, will be on display in the Dharma Hall, which was decorated by one of Kano Tan'yu's masterpieces. Tan'yu was an Edo-period painter. 

The three meter tall column features Amano's own interpretation of Hiten, part of Mount Meru, a part of Buddhism cosmology considered to be the centre of all the physical, metaphysical and spiritual universes. Four smaller pieces will be displayed on all four sides to create a three-dimensional mandala. 

Information

Golden World: Infinite Light by Yoshitaka Amano 

~GOLDEN VIEW OF THE WORLD~

Running: November 23 – December 8, 2022

Venue: Myoshin-ji (1 Hanazonomyoshinjicho, Ukyo-ku, Kyoto)

Hours: 9:00-12:00 / 13:00-16:00 *Tickets sold until 15:30

Admission: Adults ¥700 / Children ¥400

Details: https://goldenworld.jp/

Official Site: https://www.myoshinji.or.jp/

Popular Illustrator and Character Designer Mika Pikazo Holds Solo Exhibition in Shibuya

Mika Pikazo is an illustrator and character designer. The artist has designed characters for many popular titles including Fire Emblem Engage, the latest in Nintendo's Fire Emblem series, as well as book covers and CD jackets.

Starting December 10, the artist will hold his second solo exhibition in three years at the Hz event space in Shibuya.

According to a press release, the exhibition is being held to show a number of creations Pikazo has made recently, and aims to show off new animation and past illustrations to merge his past and future selves. The creator hopes to challenge himself more going forward.

The first main visual, REVENGE, can be seen on the exhibition's official website. A total of three visuals have been newly drawn for the event and will be released sequentially. In addition, a number of collaborative works with other creators will be on display, so art fans won't want to miss out.

Limited-edition merchandise featuring new illustrations will be on sale at the venue, and autograph sessions are planned to be held. For more details, check the official Twitter page!

Be sure to come to see Mika Pikazo's colorful pieces in person!

Information

Mika Pikazo Exhibition – REVENGE POP

Running: December 10 – December 29, 2022

Hours: 10:00-20:00

Venue: Hz, 1F (4-3 Udagawacho, Shibuya-ku, Tokyo)

Admission: Free

Official Website: https://revenge-pop.mikapikazo.info/

Gastropolis Kobe, Featuring Kyary Pamyu Pamyu, Now Available to Watch

Kyary Pamyu Pamyu is now starring in a series of promotional videos for Gastropolis Kobe, a project aiming to share the city's incredible food culture with both domestic and international travelers. The project began on November 3, 2022.

[Kobe Beef Version] https://youtu.be/-HrNq6JGO3A

In the new videos, Kyary experiences the wonders of Kobe beef as well as local sake and desserts while exploring the city's best sightseeing spots. T

The main video will be aired on a massive screen near Shibuya Station in Tokyo starting in mid-November, and will also be available to watch online.

[Nada Sake Version] https://youtu.be/cd9_f59NWIw

[Kobe Sweets Version] https://youtu.be/Sx9B1ZdAvlI

To celebrate the campaign, four popular restaurants in Tokyo will participate in the Gastropolis Kobe Fair, inviting guests to enjoy cuisine from the capital of Hyogo Prefecture.

Interview with Kyary Pamyu Pamyu

Q: After filming, what was your impression of Kobe? 

A:  "I took pictures in all kinds of places, but honestly, they were all so close to each other. It was easy to get around and see everything–it only took between 15 and 20 minutes to get somewhere, and shooting went smoothly, so I was really able to enjoy every second!"

Q: What's your overall impression of Kobe's cuisine?

A: "There was so much amazing food. Everything was delicious and I ate and drink so much…because of how much drinking was involved in this shoot, I felt like food and alcohol were really connected in Kobe. Even between takes, the staff would ask if I wanted to try something or have another drink. I was so moved by the warmth and kindness of the people I met. This trip was filled with love and hospitality."

Q: You traveled around Kobe, right? What was your favorite place? 

A: "I love fashion and history, and Kobe had so many incredible historical buildings. I wanted to have tea at a place like that, and the view at night was unbelievable. I thought it was a great date spot or even a place you could spend time with your family and friends. I loved watching the big boats in the harbor." 

Q: There are only two months left in 2022. Is there anything you still want to do? 

A: "I've been on my Japan tour since January, so I'd finally like to relax a little bit. Maybe eat some good food and go to a hot spring. 

Q: Do you have a message for the readers?

A: "The two days of shooting in Kobe were incredible. The weather was perfect, the food was delicious, and the drinks were divine. I'd love to return on my own trip! I hope everyone enjoys the videos!"

Information

Gastropolis Kobe Web Series

Streaming: November 3, 2022 at 0:00

Gastropolis Kobe Fair

Running: November 3 – November 9, 2022

*Shiseido Parlor Harajuku will be closed from November 7 until November 10

Participating Venues: 

・TAVERN by the green

Address: THE STRINGS Omotesando 2F (3-6-8 Kitaaoyama, Minato-ku, Tokyo)

・Shiseido Parlor Harajuku

Address: WITH HARAJUKU 8F (1-14-30 Jingumae, Shibuya-ku, Tokyo)

・Ginza Onodera

Address: Il Palazzino Omotesando (5-1-6 Jingumae, Shibuya-ku, Tokyo)

・Tokyo Jugatsu

Address: Ohararyu Kaikan B1F (5-7-17 Minami-Aoyama, Minato-ku, Tokyo)

Saiyuki 25th Anniversary Art Exhibition to Open in Osaka, Tokyo, and Fukuoka

Anime and manga merchandise seller AMNIBUS will hold an exhibition to celebrate the 25th anniversary of Kazuya Minekura's Saiyuki series! The art exhibition will be held in Osaka, Tokyo, and Fukuoka, with the Osaka event beginning on December 30, 2022, and running through January 15, 2023. The Tokyo event will run from May 12 until May 28, 2023, and the Fukuoka event will run from August 11 until September 3, 2023. Additional events will be held in other locations to be announced at a later date.


Minekura's Saiyuki manga series has sold over 25 million copies as of January 2021. Loosely based on the 16th-century Chinese novel Journey to the West, the series tells the story of four heroes traveling west to stop demons from killing all of mankind. Over the past 25 years, the manga series has spawned several anime adaptations, live-action musicals, video games, and more.


The exhibition will feature plenty of must-see items for fans, from original manuscripts to full-color drawings by the original creator. Will you be attending this once-in-a-lifetime event?


*Addition venues, exhibition details, ticket and merchandise sales information, and additional details will be announced at a later date.

©峰倉かずや/一迅社

Information

Saiyuki 25th Exhibition
▼Osaka Venue

Address: Nanba Marui 5F Event Space
(3-8-9 Nanba, Chuo-ku, Osaka)
Running: December 30, 2022 – January 15, 2023
*Details on New Years' holiday closures will be announced at a later date.

 ▼Tokyo Venue

Address: Yurakucho Marui 8F Space 7, 8
(2-7-1 Yurakucho, Chiyoda-ku, Tokyo)
Running: May 12 – May 28, 2023

 ▼Fukuoka Venue

Address: Hakata Marui 7F Event Space
 (9-1 Hakataekichuogai, Hakata-ku, Fukuoka)
Running: August 11 – September 3, 2023

Details: https://event.amnibus.com/saiyuki25th-exhibition/


NAKED GARDEN ONE KYOTO Night Walk Project Invites Guests to Stroll Through the Tale of Genji

From November 11 until December 4, NAKED will hold the unique NAKED GARDEN ONE KYOTO event in Uji. The one-of-a-kind art project is being produced through a partnership with Kyoto City, Uji City, and Otsu City in Shiga Prefecture. Several events and art exhibitions will appear in the Kyoto area until December 25, 2022.

The project first began on September 15 at Kyoto City Hall, and it will move to Uji on November 11. NAKED's unique digital art will bring color to Uji, a place steeped in Japanese history and the heart of Japanese tea culture. The Asagiri Bridge, appearing in The Tale of Genji, will be illuminated, and the Zen temple Kosho-ji will be offering tea ceremonies and a digital teamaking experience for guests to enjoy. NAKED's popular Distance Lanterns will return, allowing visitors to explore Uji at night while properly socially distancing. 

At Kosho-ji, guests can enjoy the renewed DANDELION PROJECT. Created by Ryotaro Muramatsu, the art project has appeared in a number of towns and cities around the world, inviting participants to create flowers and send them around the globe digitally as a hope for peace. Visitors can use their smartphones to send dandelion fluff with their name on it to the metaverse version of Kosho-ji and beyond, eventually causing a digital flower to bloom. 

Why not come take a quiet walk through the streets of Uji, Kyoto? 

Works

Urasenke Tea Ceremony and Digital Teamaking Experience

『DANDELION PROJECT』by RYOTARO MURAMATSU / NAKED

NAKED Distance Lantern®︎

Asagiri Bridge and Kotosaka Interactive Illuminations

NAKED Tsukubai®︎

Chazuna's New Mobility C⁺walkT Experience