Anime Theme Park Nijigen no Mori to Hold Second Kakashi & Obito-themed Escape Game
A special event is coming to the Naruto-themed area of Nijigen no Mori, an anime theme park located on Awaji Island in Hyogo prefecture! The Naruto Shippuden x Escape Game: #009 Kakashi & Obito event is taking place from August 21 to October 10!
A look at NARUTO & BORUTO Shinobizato
A look at the game
Participation bonus: 4 special wooden phone straps with new illustrations
The first escape game in the series was held in 2020 to positive feedback. It was first held to celebrate Kakashi's birthday, which is September 15, and all visuals of both him and Obito are completely new and made for the event. 
Guests can also write their celebratory messages on special 'petal stickers' and place them on the character panel of their choice!
Would you like to come celebrate Kakashi's birthday?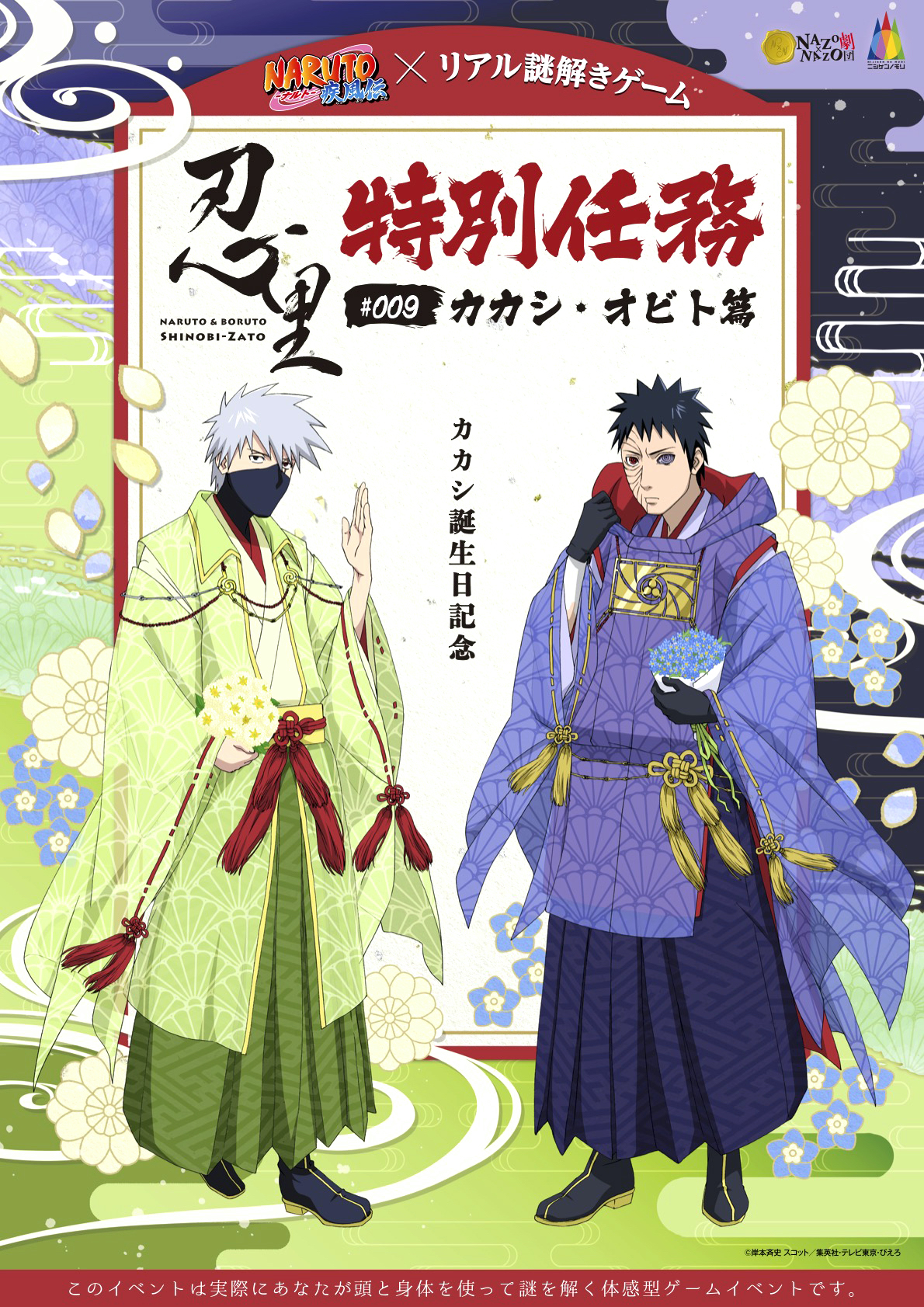 ©Masashi Kishimoto /Shueisha・TV Tokyo・Pierrot
Information
Naruto Shippuden x Escape Game: #009 Kakashi & Obito
Running: August 21-October 10, 2021
Opening Hours: 10:00-20:00
Estimated Play Time: 30 minutes
Nijigen no Mori
Address: 2425-2 Kusumoto, Awaji, Hyogo
Official Website: https://nijigennomori.com/
RELATED ENTRIES
Naruto Anime Series Celebrates 20th Anniversary with Traditional Kokeshi Dolls

To commemorate the 20th anniversary of the Naruto anime series, Usaburo Kokeshi has created two traditional dolls modeled after Naruto Uzumaki and Sasuke Uchiha. The original manga series by Masashi Kishimoto has become a global phenomenon, and fans won't want to miss out on these unique pieces! Preorders are now open.

Usaburo Kokeshi makes each of these pieces by hand, transforming them from children's playthings into traditional works of art. The wood used to create these pieces is from trees in Gunma Prefecture.

Usaburo Kokeshi Doll – Naruto Uzumaki

Usaburo Kokeshi Doll – Sasuke Uchiha


These adorable dolls completely recreate both character's outfits and hairstyles, and the designers clearly focused on the small details. Enjoy these palm-sized versions of your favorite Naruto characters!

©岸本斉史 スコット/集英社・テレビ東京・ぴえろ

Grand Chariot Big Dipper 135° Hotel Offers Special Gift for Guests Reserving the Crayon Shin-chan Collaboration Room

The Grand Chariot Big Dipper 135° Hotel is a luxury hotel located within Awaji Island Park in Hyogo Prefecture. The hotel has an incredible Crayon Shin-chan collaboration room, and guests reserving this room will receive an original postcard featuring a new illustration for a limited time starting on August 1, 2022. Those finding Buriburizaemon within the room will receive this exclusive gift only available at the hotel!

Original Postcards

The collaboration room, dubbed 'My Cocoon,' is a one-of-a-kind suite filled with Crayon Shin-chan imagery. Perfect for fans, the room is filled with playful gadgets, a massive skylight, and a large rug in the shape of the dog Shiro. 

©臼井儀人/双葉社・シンエイ・テレビ朝日・ADK ©臼井儀人/双葉社・シンエイ・テレビ朝日・ADK 1993-2022

Nijigen no Mori's Naruto & Boruto Ninja Village Sakura Birthday Event Stickers Now Available

The Naruto and Boruto Ninja Village located at the Nijigen no Mori anime theme park in Hyogo is celebrating its third anniversary! A new event has begun celebrating Sakura's birthday, and fans of the characters will be able to grab some neat merch.


Those who purchase tickets to this special event will receive a Mission Accomplished Sticker featuring an original, newly-drawn design. The celebration is running until June 30!

The escape game will have park guests running around the park looking for panels with hints on how to progress. For this event, the panels contain keywords and illustrations related to Sakura. Visitors will really have to use their brains to figure out the solution!

Guests will also be able to write congratulatory messages on cherry blossom petal stickers associated with Sakura and stick them to life-size character panels. Original goods featuring characters in original event costumes will be on sale.

© 岸本斉史 スコット/集英社・テレビ東京・ぴえろ

'VOLTAGE' by Anly Chosen as Ending Theme for BORUTO Anime Series

Anly's new song VOLTAGE will serve as the new ending theme song for the TV Tokyo anime series Boruto. 

This will be the second time that Anly has teamed up with the Naruto series, having previously performed the opening theme Kara no Kokoro from Naruto Shippuden. The track has been streamed over 20 million times globally.


Comment from Anly


It's been a long time since I've worked with the Naruto series, and I'm deeply moved to be returning to contribute. VOLTAGE is a song meant to cheer people up and to inspire friends to overcome anything standing in their way. While it's similar in many ways to Kara no Kokoro, I feel like this is even cooler than Boruto's dad's song! I hope everyone enjoys it.

The new ending theme song will premiere with the new episode of Boruto airing on TV Tokyo on January 9, 2022.

©岸本斉史 スコット/集英社・テレビ東京・ぴえろ

Dragon Quest Themed Room Opening at Awaji Grand Chariot Hotel

Nijigen no Mori Anime Park, located on Awaji Island in Hyogo Prefecture, brings anime, manga, and game worlds to life. Starting on November 6, a Dragon Quest-themed hotel room will be available to commemorate the six-month anniversary of the park's Dragon Quest attraction! Reservations for the room are now open.

The room itself is called 'The Slime's Cocoon,' and features plenty of decorations from the popular RPG series as well as in-room treasure chests, slime-shaped lights, and more! The walls and windows will be covered with characters and familiar items, so fans won't want to miss this exclusive opportunity!

Guests staying in the room will receive an original yukata only available at Nijigen no Mori. A limited-edition picture frame can be earned by completing a mission asking guests to find a number of hidden medals in the room!

Does this look like the Dragon Quest experience of your dreams?

Information

Dragon Quest Collaboration Room 'The Slime's Cocoon' 

Open: November 6, 2021

Reservations Begin October 23, 2021

Check-in between 15:00-18:00 / Check-out at 11:00

4 Guests Maximum

Address: 2425 Kusumoto, Awaji, Hyogo (Inside the Nijigen no Mori Anime Theme Park)

Reservations/Details: https://awaji-grandchariot.com/

FujiQ Highland Holds Limited Time "Uzumaki Naruto Birthday Celebration 2021"

FujiQ Highland's 'NARUTO x BORUTO Fuji Konohagakure Hidden Village,' will be holding the 'Uzumaki Naruto Birthday Celebration 2021' birthday event to commemorate NARUTO protagonist Uzumaki Naruto's birthday, held between October 10 and November 7 2021. 

 

Happy Birthday, NARUTO! Miso Tonkotsu with Extra Char Siu Special

Yakitori Set

Arcade Game Corner 'Game Area – Ninjutsu Carnival'

"Uzumaki Naruto Birthday Celebration 2021" Specially Designed Sweets

NARUTO Birthday Commemorative Big Sticker


Stamp Rally with Impressive Prizes

During the event period, Satouchi's 'Ramen Ichiraku' will be offering ramen based on Naruto's beloved Miso Tonkotsu with Extra Char Siu, topped with six pieces of Char Siu (available Sat. and Sun. only, 30 portions a day). Meanwhile, YakitoriQ will be reducing the cost of their ultra popular 'Family Pack' yakitori from ¥1,200 down to ¥1,010 to mark the date on October 10. Plus, if you say "NARUTO HAPPY BIRTHDAY" at the Game Area Ninjutsu Carnival game, the staff will offer you an extra round, boosting your chance of winning the prize.

The Fuji-Q Official Highland Resort Hotel & Spa's restaurant "Makaroni Club" is also hosting a series of fun events to liven up the celebration, including event-exclusive latte art, macaroons, and themed cakes!

In addition, customers who purchase event merchandise or use the facilities will receive a free 10cm 'NARUTO Commemorative Big Sticker' which will be sure to leave an impact. The stickers are available in limited quantities.

If you collect three stamps on your rally card then you will be eligible to enter a lottery, with the chance to win a variety of impressive prizes, such as FujiQ Highland Free Passes or NARUTO or BORUTO dolls, so why not give it a shot?

If you're a NARUTO fan then be sure to celebrate his birthday at FujiQ Land!

 

Information

Uzumaki Naruto Birthday Celebration 2021

Duration: October 10 ~ November 7 2021

Location: NARUTO x BORUTO Fuji Konohagakure Hidden Village

Address: 5-6-1 Shinnishihara, Fujiyoshida, Yamamashi 

Official Site: https://www.fujiq.jp/ 

Luxury Inn ICHIJO with only Six Rooms Opens In Kami, Hyogo Prefecture

Accommodation and restaurant company Saika opened ICHIJO, a luxury inn with six rooms, on September 22 2021.

Restaurant Monomi Yuyama

ICHIJO Jigokumushi

ICHIJO Jigokumushi Matsuba Crab

Guest Room 'Miyabi (elegant)'

Guest Room 'Soso (graceful)'

Private Bath 'SANKEI (mountain view)'

Private Bath 'KAI (sea)'

Open Lounge 'ISARIBI'

Meditation Room 'MU'

Smoothie & Soup Shop 'mellow'

A buffet is available offering wonderfully fresh and seasonal seafood, Tajima beef, Yaka pork, and a selection of local vegetables. Saika have made the most of the inn's location in a town known for its fish, offering a delicious all-you-can-eat menu. In addition, local brand crabs such as Kasumi and Matsuba will be added to the butter throughout the autumn and winter seasons. You can also enjoy a bowl of Takikomi rice with seasonal soup stock, fresh sashimi, and even charcoal-grilled dried fish.

The ICHIJO Jigokumushi is a fascinating area where a large amount of steam can be seen rising from the ground. The area can be used as a lounge, workspace, and reading area outside of meal times. The hall is all-inclusive, meaning you can make the most of the variety of local sake, draft beer, soft drinks, and snacks at no additional charge. 

 

You can relax in the two private baths, which both boast water from the Kasumi hot springs. The 'KAI' bath has an infrared sauna installed, while the SANKEI features a mist sauna, allowing you to chill out while enjoying the fresh hot springs. 

The inn also provides a large communal bath with open air facilities through the Sadasuke sister inn, which is adjacent to ICHIJO.

If you're looking to heal both body and heart, why not try the meditation room?

Smoothie and soup shop 'mellow' will be opening at the same time as ICHIJO. Guests staying at the inn will be able to purchase food and drink from inside the store, while general customers can use the takeout window. The delicious fruit and vegetables used in the food were grown in the San'in region by Saika, who are experienced in agriculture production.

 

Relax your body and soul with the new ICHIJO inn!

Information

ICHIJO

Address: 636 Shimohama, Kami-ku, Kami-cho, Mikata, Hyogo, 669-6564

TEL: 0796-36-1010

Details & Reservations: https://ichi-jo.com/ 

Nijigen no Mori Amusement Park Starts Naruto Birthday Event

The anime-themed amusement park Nijigen no Mori in Hyogo Prefecture will hold a special Naruto event from October 2 until November 28, 2021. The Naruto Shippuden x Real Puzzle Solving Game will feature popular characters from the Shikamaru Hiden arc!

NARUTO&BORUTO Ninja Village

This marks the second version of the event to date, with the first taking place in 2020. Naruto's birthday is October 10, and to celebrate, this event will open with new visuals of the titular ninja along with popular character Shikamaru!

Flower Petal Stickers

Fans of Naruto won't want to miss their chance to leave a congratulatory message for the birthday boy! Just write your message on one of these stickers, and stick them to the character panel of your choice. 

Event Contents

Gameplay

Players will solve a number of riddles placed all over the Naruto & Boruto Ninja Village, with certain keywords related to each character playing a role. 

Wooden Phone Straps (4 varieties) featuring new illustrations

The event will take around 30 minutes, even for beginners. Those buying a ticket will receive a wooden phone strap. 

©岸本斉史 スコット/集英社・テレビ東京・ぴえろ

Information

Naruto Shippuden x Real Puzzle Solving Game – Ninja Village Special Mission #010: Naruto/Shikamaru Arc

Running: October 2, 2021 – November 28, 2021

Address: Nijigen no Mori Naruto & Boruto Ninja Village (Awaji, Hyogo Prefecture)

Hours: 10:00-20:00

*Please check the official website for hours. 

Noseden Artline Festival 2021 Bringing Light, Sound, and Food to the Kawanishi Area

A celebration of light, sound, and food, the biennial Noseden Artline 2021 Festival will take place from October 30 until November 23, 2021. Set in one city and three towns along the Nose Electric Railway, the regional art event began in 2013 to celebrate the 100th anniversary of the rail line, and brings local artists and residents together. 

The festival will be in Kawanishi and Inagawa in Hyogo Prefecture, as well as in Toyono and Nose in Osaka Prefecture, with Mt. Myoken marking the center point. Each part of the event will connect the history, industry, and tradition of the area with new and engaging creations. 

The theme of the 2021 Noseden Artline Festival is 'Enlarged Mentality.' By taking things that are subjective, like an artist's thoughts and senses, and applying them to the objective world that can be shared, it creates a one-of-a-kind way to connect fully with others. The event will feature local cuisine and music, as well as art focused on light, inspired by the North Star. After a year of solitude due to the pandemic, the festival hopes to remind people to cultivate, nourish, and preserve local relationships. 

Art can make life more enjoyable, so why not come and see what the area has to offer?

 (C)Kousei Ikeda(SPEKTRA)

Information

Noseden Artline Festival

Running: October 30 – November 23, 2021

Location: Nose Electric Railway Line ~ Near Summit of Mt. Myoken

Official Site: http://noseden-artline.com/2021/

Japan's Poké Lid Project Lays Down New Manhole Covers in Hyogo Prefecture

Three new Pokémon manhole covers were unveiled in Awaji, Hyogo Prefecture on August 11, as part of the Poké Lid project. The new designs depict the legendary Pokémon Lugia, Bayleef, Aromatisse, and Cloyster. These are the first Poké Lids to be placed in Hyogo. 

Including these new additions, the total number of Pokémon-themed manhole covers across Japan is now 201. The project began with the installation of a Eevee manhole cover in Ibusuki City, Kagoshima Prefecture in December 2018. 

Each one features completely original Pokémon art, and going on a pilgrimage to visit each of them has become a popular new fad. The project aims to promote local tourism by using these internationally-loved characters. 

There are also plans to turn each cover into Pokéstops, used in the popular location-based Pokemon GO smartphone game. 

Which Poké Lid would you like to find first? 

©2021 Pokémon. ©1995-2021 Nintendo/Creatures Inc./GAME FREAK inc.

Pokemon, Pokémon and Pokémon are registered trademarks of Nintendo, Creatures and Game Freak.

Naruto and Boruto Summer Event Begins at Nijigen no Mori

Nijigen no Mori, an amusement park located on Awaji Island in Hyogo, began a summer event at its Naruto and Boruto-themed zone on July 22 which is set to run until September 30.

Event-exclusive stickers

The event includes a huge water gun event where 25 litres of water will be sprayed to cool down guests during the hot summer event. With themed character panels displayed around the park, join Naruto and the gang, including Zabuza and Haku, for some summer fun. All guests receive a free original sticker too.

© 岸本斉史 スコット/集英社・テレビ東京・ぴえろ

Information

NARUTO&BORUTO SHINOBI-ZATO
Running: July 22, 2021 – September 30, 2021

Location: Nijigen no Mori

Opening Hours: 10:00-18:00
Price: Free (But park entry payment required)
Official Website: https://nijigennomori.com/naruto_shinobizato/

Milkshake Shaved Ice and Milk Frozen Desserts Served Up at Motosue in Hyogo

The new Motosue Hanare has opened next to Motosue Kurakuen in Hyogo where they are selling a range of desserts including the Milkshake Shaved Ice and Milk Frozen.

Milkshake Shaved Ice Pudding | ¥1,290 (Tax Included)

Milkshake Shaved Ice Sweet Potato | ¥1,350 (Tax Included)

Milkshake Shaved Ice Matcha Adzuki | ¥1,200 (Tax Included)

Milk Frozen Chocolate Banana | ¥650 (Tax Included)

Milk Frozen Strawberry | ¥720 (Tax Included)

Eggy Bread | ¥750 (Tax Included)

Using milkshake as the base ingredients, the shave ice line-up gets its super fluffy texture from free range eggs. There are three flavours to enjoy, such as the pudding one which is topped with a whole Japanese pudding, adding a smooth and velvety texture to the fluffy shaved ice. Each is a perfect pick for cooling down during the summer season.

The 'Milk Frozen' desserts use frozen milk for the base and are topped with fruit. Each is made carefully handmade one by one, and they are even more refreshing than the shave ices. The eggy breads also come in a range of flavours including plain and custard.

Information

Motosue Hanare

Japanese Shop Name: 本巣ヱ 離れ

Address: 1-28 Kikutanichō, Nishinomiya, Hyogo 662-0078, Japan

Access: 3-minutes from Kurakuenguchi Station

Opening Hours: 10:00-19:00 (Last Orders 18:30)

Closed: Every 2nd and 4th Tuesdays of the month

Official Website: https://supertamago.com/