Nature and Art Scene of Jozankei, Hokkaido on Display in New Night Walk Attraction
The Jozankei Tourism Association is currently hosting the JOZANKEI NATURE LUMINARIE -WATER LIGHT VALLEY- event until October 20, 2021. This marks the sixth year of the event, which presents the natural beauty of the rivers, valleys, and forests of Jozankei in a new light. 
Guests can enjoy an illuminated walk along the Toyohira River in the Jozankei area of Hokkaido, and wander across the picturesque Futami Suspension Bridge. The night walk takes places to the southwest of the Sapporo city center. 
Forest Illumination
Futami Valley
Visitors will encounter a variety of unique light art as they stroll through the rich nature of Jozankei guided by the elusive kappa, known to be the guardian Gods of the region. 
Nature Light Canvas
River Road
As visitors approach, the river begins to glow while flowers bloom in this interactive art experience. By using projection mapping across the Futami Suspension Bridge and an all-encompassing light show within the canyon, the event hopes to remind visitors that nature is important and worth preserving. 
Which part of the nature walk would you be most excited to see?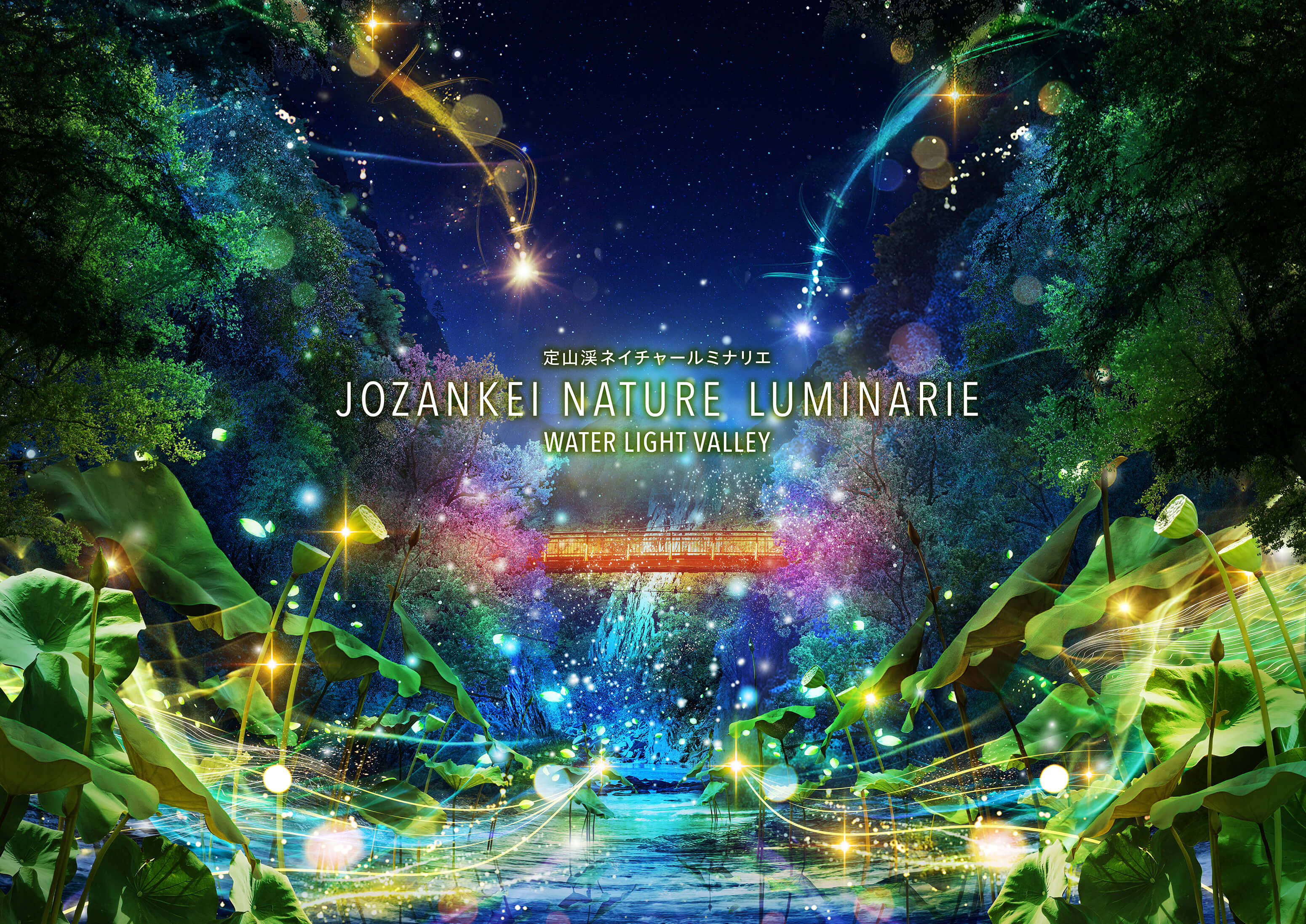 Information
JOZANKEI NATURE LUMINARIE-WATER LIGHT VALLEY
Address: Jozankei Futami Park – Futami Suspension Bridge
Jozankei Onsen Nishi 4-chome, Minami-ku, Sapporo, Hokkaido
Running: July 1-October 20, 2021
Opening Hours: 
July/August: 19:00-21:00
September/October: 18:00-21:00
Tickets: Guests of Jozankei Onsen only
Official site: https://jozankei.jp/jozankei-nature-luminarie
RELATED ENTRIES
Art Charity Auction Opens to Support the Fight Against COVID-19

Last year, the Pola Museum Annex in Tokyo hosted a charity auction to support the fight against the COVID-19 pandemic breaking out across the globe. As the world continues to feel the effects of the virus, the charity event is returning for a second year, and is set to be held from November 12 until December 5, 2021. The title for this year's art exhibition is 'Find Your Travel.' 

Lemon Tree – Yuka Kashihara. Acrylic and oil on canvas.  2020. 

POLA Dot or snowball ~Based on Tosa Mitsuyoshi's Colored Painting of Yugiri from The Tale of Genji~ – Tetsuya Noguchi. Acrylic. 2020. 

our whereabouts – Moe Nakamura. Camphor, bronze, oil. 2021. 

Philanthropy – Yuko Higuchi. Hemp paper, pen, watercolor. 2020. 

Baby Heel-less Shoes – Noritaka Tatehama. Cowhide, pigskin, dye, metal zipper, coated crystal glass. 2020. 

Last year's charity auction raised over ¥9,145,000 (about $83,000) for the Japanese Red Cross. As the COVID-19 pandemic continues around the globe, and as Japan remains locked down, this year's event hopes to raise even more useful funds to help medical professionals on the front lines. 

 

20 artists are participating in the exhibition, with each creating one work based on the theme of 'travel.' In addition to simply viewing these pieces at the exhibition, a silent auction will also be held online. With travel being severely restricted, these works of art seek to inspire and encourage visitors to imagine a better future, when the world is open once again. All proceeds will once again be donated to the Japanese Red Cross. 

 

 

Information

Find Your Travel Charity Auction

Running: November 12 – December 5, 2021

Hours: 11:00-19:00 (Last entry 18:30) / Admission Free

Address: Pola Museum Annex 3F (1-7-7 Ginza, Chuo-ku, Tokyo)

Official Site: http://www.po-holdings.co.jp/m-annex/

Contemporary Painter Yasunari Ikenaga Opens Shou Inspired New Exhibition in Ginza

Tsutaya Ginza, located inside Ginza Six, will hold an exhibition of new works from artist Yasunari Ikenaga starting September 25, 2021. Titled 'Shonen, Shou,' the pieces in the collection were all inspired by up-and-coming actor and model Shou. 

Physical Education, Shou – Yasunari Ikenaga. 2021. 

Glaring, Honami – Yasunari Ikenaga. 2015

Yasunari Ikenaga is a leading figure in the world of contemporary beauty painting. In 2012, he won Honorable Mention at the 8th Tatehiko Suga Grand Prize Exhibition, which attracted a great deal of attention in the art world and established the genre of contemporary beauty painting. Ikenaga's paintings are characterized by their unique coloring, which is created by using mineral-based pigments. This style, as individual as the models he paints, has a uniqueness and presence that has redefined the art of painting human beings in the Japanese art world. 

'Shonen, Shou' is an exhibition focusing on new model and actor Shou, born in 2006. This is the first time Ikenaga has used a boy as his muse, and various prints of past works will also be on display during the event. 

Magnificent Work of Art on Display at Sado Island Galaxy Art Festival Until October 2

Sado Island, sitting off the Japanese mainland close to the Niigata coast, has been holding an incredible art festival since August 8, 2021. The highlight of the event is a massive glowing sculpture, made as a collaboration between Koiwa Kanaami Co., Ltd. and the Nobuaki Furuya+Yuri Fujii Laboratory at Waseda University. The eye-catching installment is meant to honor the historical Sado gold mine, one of the largest in the country, and a designated National Historic Site of Japan.

The peak production period of the mine was 400 years ago, between 1615 to 1645. The mines on Sado produced over 400 kilograms of gold and nearly 38 tons of silver each year, making it one of the largest producers in the world at the time. The town of Aikawa, where the mine is located, is now filled with historical and tourist sites, with many buildings preserved and used as museums to teach visitors about mining technology over the years. A number of rail lines once ran around today's Oma Port, carrying ore and other mining materials.

The Sato gold mine was developed by Takato Oshima, one of the most important engineers in Japanese history, and the man also responsible for creating the first blast furnace and Western-style gun in Japan.

Headlining the event, the 'Scene Spinner' installation consists of two spiral concepts: one, based on the spiral pumping machine used to drain water seeping into the mine, and the other inspired by the rail system around Oma Port. These spirals were made by using a wire mesh frame, which resembles the silhouette of the Sado gold mine. Each piece shown at the Galaxy Art Festival is meant to express the remaining historical importance of this often-overlooked area.

The exhibition site, the former Oma Port, marks the location where materials were brought from the mines, and where the remains of the modern mining industry remain today. Oma Port, which has served as the gateway between Sado Island and the mainland, seems the perfect spot to hold this inspiring event, asking visitors to look around and think about the history made on this beautiful island.

Information

Sado Island Galaxy Art Festival

Running Until October 2, 2021

Address: Aikawa, Oma Terminal (16 Aikawa Shibamachi, Sado City)

Official Site: https://www.koiwa.co.jp/sado-art

The National Museum of Modern Art in Kyoto Opens Meiji Era Exhibition

A special exhibition titled 'Japanese Landscapes Discovered: Views from and for the Outside World,' showcasing a private collection of Meiji era paintings, is now on display at the National Museum of Modern Art in Kyoto until October 31, 2021.

Inside the Exhibit

Inside the Exhibit

 

This exhibition is designed to take visitors on a journey through the Meiji period (1868-1912), the beginning of Japan's modern era, through oil and watercolor paintings of the time, and through the landscapes and customs depicted in these pieces of art. During this time, many foreign painters visited Japan, and were inspired to paint the country's beautiful landscapes and unfamiliar customs, bringing these creations back to their countries of origin. Japanese artists studied these unfamiliar painting techniques, and made their own culturally-inspired paintings, often selling them to foreign visitors as souvenirs.

Many works on display in this exhibition have never been shown publicly, with many being brought back to Japan from locations abroad. These include long-lost oil paintings by Kuroda Seiki and a massive newly-discovered work by Tamura Soryu. Other Japanese artists inspired by Western-style on display include Hiroshi Yoshida, Jirokichi Kasagi, Shotaro Koyama, and Ioki Bunsai.

Also on display are works by foreign artists who visited Japan during this period, including British news painter Charles Wirgman, French news painter Georges Bigot, and British landscape painters Alfred Parsons, Alfred East, and John Varley Jr. These three men in particular triggered a watercolor boom in Japan during the late Meiji period. Vibrant female painters such as British watercolorist Ella du Cane, a lover of Japanese gardens, also make an appearance.

Be sure to see these incredible depictions of Japan before they're gone.

Information

Japanese Landscapes Discovered: Views from and for the Outside World

Running: September 7 – October 31, 2021

Hours: 9:30-19:00 (Until 20:00 on Friday and Saturday)

Closed: Mondays, and on September 21. *The museum will be open September 20.

Tickets/Official Site: https://www.momak.go.jp/

*Admission is open until 30 minutes before closing.

*To prevent the spread of COVID-19, hours are subject to change. Please check hours before visiting.

Enjoy Contemporary Art in Nature with the 'Rokko Meets Art -Art Walk 2021-'

The Kobe Tourism Bureau will be opening the limited time 'Rokko Meets Art -Art Walk 2021-' tour on Kobe City's Rokko Sanjo between September 11 and November 24 2021.

Rokko Mountain was developed as a leisure spot by foreign residents during the Meiji Era, and is still beloved to this day for its magnificent views and abundant nature.

The 'Rokko Meets Art -Art Walk-' tour opened in 2010 in order to convey the charms of Mt. Rokko to as many people as possible while introducing them to contemporary art. Over 400 artist groups have exhibited since its opening, with visitors being able to enjoy the innovative works and scenery which changes with the art.

The 'Rokko Meets Art -Art Walk-' is not only for art fans but also for those who wish to visit Mt. Rokko for sightseeing and leisure, allowing each visitor to experience art with their five senses as the seasons change.

Some pieces are modified by the artist throughout the exhibition period, allowing you to feel the changes of the works each time you visit. Due to the Covid-19 travel restrictions, opportunities to come into contact with nature and art have greatly decreased. In response, the 'Rokko Meets Art -Art Walk-' has started a variety of projects, including online exhibitions and workshops.

Experience this fun combination of nature and contemporary art for yourself at the 'Rokko Meets Art -Art Walk 2021-!'

Information

Rokko Meets Art -Art Walk 2021-

Duration: September 11 ~ November 23 2021

Opening Hours: 10:00 ~ 17:00

Location: 12 spots throughout Rokko Sanjo

Satellite Venue: Arima Onsen Area

JR Sannomiya Station Square Special Exhibition: 'Rokko Meets Art -Art Walk-' Selection

Tickets・Official Site:  https://www.rokkosan.com/art2021/

Nihonbashi Art Aquarium Museum Closes for Renewal and Relocation

The Nihonbashi ART AQUARIUM will be closed on September 26 2021 to make way for new exhibits and works. The museum is scheduled to be relocated in the first half of 2022.

The ART AQUARIUM Museum opened in Nihonbashi, Tokyo on August 28 202 with the concept of "a museum where life dwells." This will be the largest renewal in the history of the museum Museum, opened by writer and general producer Hidetomo Kimura, with the addition of more exhibits and new and improved interactive areas.

The Nihonbashi Art AQUARIUM Museum opened alongside the 2020 Tokyo Olympics and Paralympic, with the expectations that visitors would come from both within Japan and overseas, thanks to the exhibitions which easily explain and represent Japan's proud traditional culture and performing arts, but due to Covid restrictions, foreign tourists are still unable to enter the country. Despite this, the Museum saw many customers and with the closing of the Olympic and Paralympic Games, the museum will be closed in preparation to relocate to the new ART AQUARIUM. If you want to see the Nihonbashi location for yourself then this is your last chance!

In addition, the "ART AQUARIUM" digital tour is being held from September 12, allowing you to appreciate the Museum in a digital format until the reopening.

Make sure to check out the Nihonbashi ART AQUARIUM while you have the chance!

Information

ART AQUARIUM Museum

Address::1-3-9 Nihonbashihonchō, Chuo-ku, Tokyo

Opening Hours: 10:00~19:00 (L.A 18:30)

Official Site: https://artaquarium.jp

teamLab Announce New Autumn-Limited Scenery for Art Exhibition in Mifuneyama Rakuen Park in Kyushu

The natural art exhibition "VOLVO teamLab: A Forest where Gods Live," hosted by teamLab at the Takeo Onsen in Mifuneyama Rakuen park, will be decorated in autumnal scenery for a limited time to mark the season. The lights will be lit up in the shades of autumn leaves, while interactive seasonal flowers will bloom in your tea. The Light Sculpture of Flames will also be unveiled, exhibiting until November 7 2021.

VOLVO teamLab: A Forest where Gods Live

Works that change with the seasons 

Forest and Spiral of Resonating Lamps in the Forest – One Stroke, Autumn Mountain, teamLab, 2018.

Flowers Bloom in an Infinite Universe inside a Teacup, teamLab, 2016.


Newly Opened Works

Light Sculpture of Flames, teamLab, 2016.

The Mifuneyama Rakuen Park was built on a 500,000 square metre site that has been surrounded by nature for over three million years. This year marks the seventh year of the 'VOLVO teamLab: A Forest where Gods Live" outdoor exhibition, which opens every summer and autumn. The exhibition combines nature and art on a grand scale, even featuring in CNN's list of "Outdoor art exhibitions to see around the world."

One of the special features of teamLab's works is that they change with the season, including this one, where the colours will be changed to match the Autumn.

The lamps in the Forest and Spiral of Resonating Lamps, which can be found in the lobby of the Mifuneyama Rakuen Hotel, will light up in warm fall shades to create the Autumn Mountain. In addition, you can enjoy drinking tea brewed using seasonal flowers at the Flowers Bloom in an Infinite Universe inside a Teacup installation. This is a unique Autumn experience!

The Light Sculpture of Flames has been on display at teamLab's large-scale solo exhibition and will be shown in public for the first time, having been described as the "first art piece to be accepted in Silicon Valley."

The interactive light sculpture forms a 3D flame using multiple light points and will be shown in a collaboration space with VOLVO, the exhibits main partner.

 

Why not immerse yourself in the nature of Autumn with teamLab?

MOUSSY Announces Third Installment of Art and Fashion Venture PROJECT U

High-casual brand MOUSSY launched a new art and fashion venture in March 2021 titled PROJECT U. The third installment of the project is launching on September 10, and has been made in collaboration with artist JUN INAGAWA.

 

PROJECT U was created to bring MOUSSY together with a variety of talented creators and artists, and to see what possibilities could open up from different collaborations. MOUSSY has fused fashion and culture together countless times in the past along with popular characters from Disney and other brands. PROJECT U focuses exclusively on art!

The third installment of PROJECT U will feature plenty of apparel, from T-shirts and hoodies to tote bags and skateboards. JUN INAGAWA helped design these limited-edition items, with some featuring imagery from his 'Otaku x Street' collection, as well as a theme he works with often: destruction and rebirth. Apparel will be available in two unisex sizes.

The SHEL'TTER TOKYO and MOUSSY FLAGSHIP SHOP will also be holding JUN INAGAWA's solo exhibition and accompanying workshop. For more info on the apparel or exhibition, head to the PROJECT U special site!

Information

PROJECT U Third Installment

 

Release Date & Location:

September 10, 2021

MOUSSY Lumine EST Shinjuku, SHEL'TTER WEB STORE

September 17, 2021

The SHEL'TTER TOKYO / MOUSSY FLAGSHIP SHOP, MOUSSY Stores

PROJECT U: https://www.moussy.ne.jp/project_u/

Official Site: http://www.moussy.ne.jp

French Artist Jean Jullien Provides Main Visual for Shibuya PARCO Art Week 2021

Last year's Shibuya PARCO Art Week was met with incredible fanfare, and the 2021 event is now set to begin on September 17! This year, acclaimed French artist Jean Jullien is in charge of the main visual for the showing.

The exhibition will be held at NANZUKA 2G, located on the 2nd floor of Shibuya PARCO, as well as within the PARCO MUSEUM TOKYO on the 4th floor.

Shibuya PARCO Art Week 2021 Features

Martin Margiela: In His Own Words

© 2019 Reiner Holzemer Film – RTBF – Aminata Productions

#HotelKawashima

Kensaku Kakimoto Exhibition 'Devoting Time' Collaboration with Luke Bubb, Piotr Stopniak

mono100 x Natsuki Kurachi POP UP

Nori Okawa Solo Exhibition 'Good Boy, More Drunk'

Hikaru Ichijo Exhibition 'CHIDORI ASHI,' with a motif of 'people who are carried away by alcohol'

Mariko Enomoto Solo Exhibition 'Moments,' depicting the fluctuations of daily life

Emi Ozaku Solo Exhibition 'Good something for you'

Exhibition of Tetsuji Aoyama's works, '21XX A Future Odyssey ~Someday in a Hundred Years~

Exclusive collaboration products by VOILLD x FACE on sale

Shun Komiyama Photo Exhibition 'The Wind Responds,' by MIDORI.so Gallery

A group exhibition '' DONOKO? '' Portrait series Curated by TOKYO URBAN ART

"Welcome back to your "Home Position" – Selecting art for the interior based on 'likes'





At 'WHITE CINE QUINTO' on the 8th floor of Shibuya PARCO, visitors can see a powerful documentary film about Martin Margiela, Martin Margiela: In His Own Words. Also on the 8th floor, a hands-on exhibition titled #HotelKawashima will feature Akira Kawashima of the comedy duo Kirin becoming the manager of a hotel. The comedian's voice will also be used for the in-house announcements throughout Shibuya PARCO.

An ART PASSPORT, distributed by the gallery and other stores throughout the complex, contains plenty of information about the events throughout the museum, as well as exclusive special offers. Be sure not to miss the interview with Jean Jullien!

Jean Jullien Exhibition「PAPER PEOPLE」/「POCKET PARENTS」

©Jean Jullien Courtesy of NANZUKA

©Jean Jullien Photo by Shigeru Tanaka Courtesy of NANZUKA

©Jean Jullien Photo by Shigeru Tanaka Courtesy of NANZUKA

Jean Jullien's solo exhibition "PAPER PEOPLE," curated by NANZUKA, will be held at the PARCO MUSEUM TOKYO on the 4th floor, and will depict the creative process of the artist through the medium of paper. Jullien, who has a deep knowledge and love of Japanese manga culture, is sure to bring some charm and comedy to the showing, as is typical of his style. The artist, from Brittany in France, has always been inspired by Japan, and also by the natural beauty of his homeland. Each of the nearly 50 works in the exhibition were created during the Coronavirus pandemic, and 25 special screen prints will be on sale via lottery, both at the event and online.

In the "POCKET PARENTS" exhibition at NANZUKA 2G on the 2nd floor of the complex, Jullien's upbringing and experiences as a parent are expressed in a hilarious story about aging and responsibility. Compared to "PAPER PEOPLE," this offers a different perspective from the artist, which visitors can learn more about in his interview.

'Rilakkuma & Sumikko Gurashi Festival' Photo Event Starting in Sapporo

The 'Rilakkuma & Sumikko Gurashi Festival Commemorative Photo Event' will be held between September 17 and November 28 2021 on the third floor of the Sapporo Factory San Jō-kan Building.

 

After enjoying yourself at the joint event, you can take some commemorative photos with Rilakkuma and the Sumikko's, who will be wearing new costumes especially for this event! 

October 9: 11:00/ 13:00/ 15:00/ 17:00 (Approx. 30 slots) (Each session lasts approx. 30 minutes)
Featured Characters: Korilakkuma and Tokage


October 31: 11:00/ 13:00/ 15:00/ 17:00 (Approx. 30 slots) (Each session lasts approx. 30 minutes)
Featured Characters: Chairokoguma and Neko

Weekday Limited Admission Freebies: 'RilaSumi Festival' Original Bookmark (Selected from 8 random designs: Rilakkuma & Kiirotori, Korilakkuma, Chairokoguma, Shirokuma, Penguin?, Tonkatsu & Ebifurai no Shippo, Neko, Tokage)


Don't miss out on this limited time opportunity! 

Information

'Rilakkuma & Sumikko Gurashi Festival'  Sapporo

Duration: September 17 ~ November 28, 2021

Closures: Every Thursday (excluding September 23)

Opening Hours:

Weekdays: 13:00 ~ 17:00(September 17 opening hours 10:00 ~ 17:00)

Weekends, Holidays: 10:00 ~ 17:00 ※Admissions close at 16:30

Location: Sapporo Factory San Jō-kan 3F

Address: 4-chome, Kita 2 Johigashi, Chuo Ward, Sapporo

Ticket/Event Information: https://www.ntv.co.jp/rilakkuma-and-sumikko-fest/ 

Official Twitter:  https://twitter.com/rk_sumikko_fest (@rk_sumikko_fest)

 

Commemorative Photo Spot Location: Sapporo Factory Event Space

Lottery Appilcation Period: September 1 ~ September 26 at 23:59

Details & Application Info: http://www.stv.jp/event/rilakkuma-and-sumikko-fest/photo.html 

World-Renowned Illustrator Chocomoo Teams Up with ROXY for New Line

Active lifestyle brand ROXY has collaborated with globally popular Kyoto-based illustrator Chocomoo for a funky new fall collection.

CHOCOMOO LOGO LONGSLEEVE TEE

CHOCOMOO HOODIE

 CHOCOMOO PANTS

CHOCOMOO JACKET


CHOCOMOO GO OUT

CHOCOMOO TOTE BAG

CHOCOMOO BEANIE

Chocomoo is a Japanese artist who has collaborated with a number of apparel brands and musical artists both in Japan and abroad. Her original pop-art pieces are drawn in black and white, and her unique designs are instantly recognizable as being her work at a single glance.

Are you a fan of this collection? Which pieces are your favorites?

Information

ROXY×Chocomoo

Collection Available Now

Where to Buy: ROXY TOKYO, ROXY WEB STORE, QUIKSILVER STORE, etc.

Official Site: https://www.roxy.jp

TOY MACHINE x TM paint Collaboration Coming to Murasaki Sports

Starting September 4, sports shop Murasaki Sports will begin selling a limited number of 'MURASUPO x TOY MACHINE x TM paint' T-shirts at Murasaki Sports stores nationwide and on its official website.

Murasupo x TOY MACHINE x TM paint (White/Black/Forest Green): ¥5,720 each (Tax Included)

The shirt is a collaborative work with TM paint, a Japanese artist, and TOY MACHINE, a brand established in 1993 by professional skateboarder and artist Ed Templeton. The branding includes TM paint's signature phrase 'TM SUCKS,' often said by the artist in self-deprecation. The Murasaki Sports logo 'RIDE LIFE' is also featured on these unisex T-shirts, which come in three colors. They will also be worn as uniforms by staff at Murasaki Sports stores.

Murasaki Sports has been a part of street culture for 49 years, and this collaboration is sure to turn heads both in Japan and abroad.