Nature and Art Scene of Jozankei, Hokkaido on Display in New Night Walk Attraction
The Jozankei Tourism Association is currently hosting the JOZANKEI NATURE LUMINARIE -WATER LIGHT VALLEY- event until October 20, 2021. This marks the sixth year of the event, which presents the natural beauty of the rivers, valleys, and forests of Jozankei in a new light. 
Guests can enjoy an illuminated walk along the Toyohira River in the Jozankei area of Hokkaido, and wander across the picturesque Futami Suspension Bridge. The night walk takes places to the southwest of the Sapporo city center. 
Forest Illumination
Futami Valley
Visitors will encounter a variety of unique light art as they stroll through the rich nature of Jozankei guided by the elusive kappa, known to be the guardian Gods of the region. 
Nature Light Canvas
River Road
As visitors approach, the river begins to glow while flowers bloom in this interactive art experience. By using projection mapping across the Futami Suspension Bridge and an all-encompassing light show within the canyon, the event hopes to remind visitors that nature is important and worth preserving. 
Which part of the nature walk would you be most excited to see?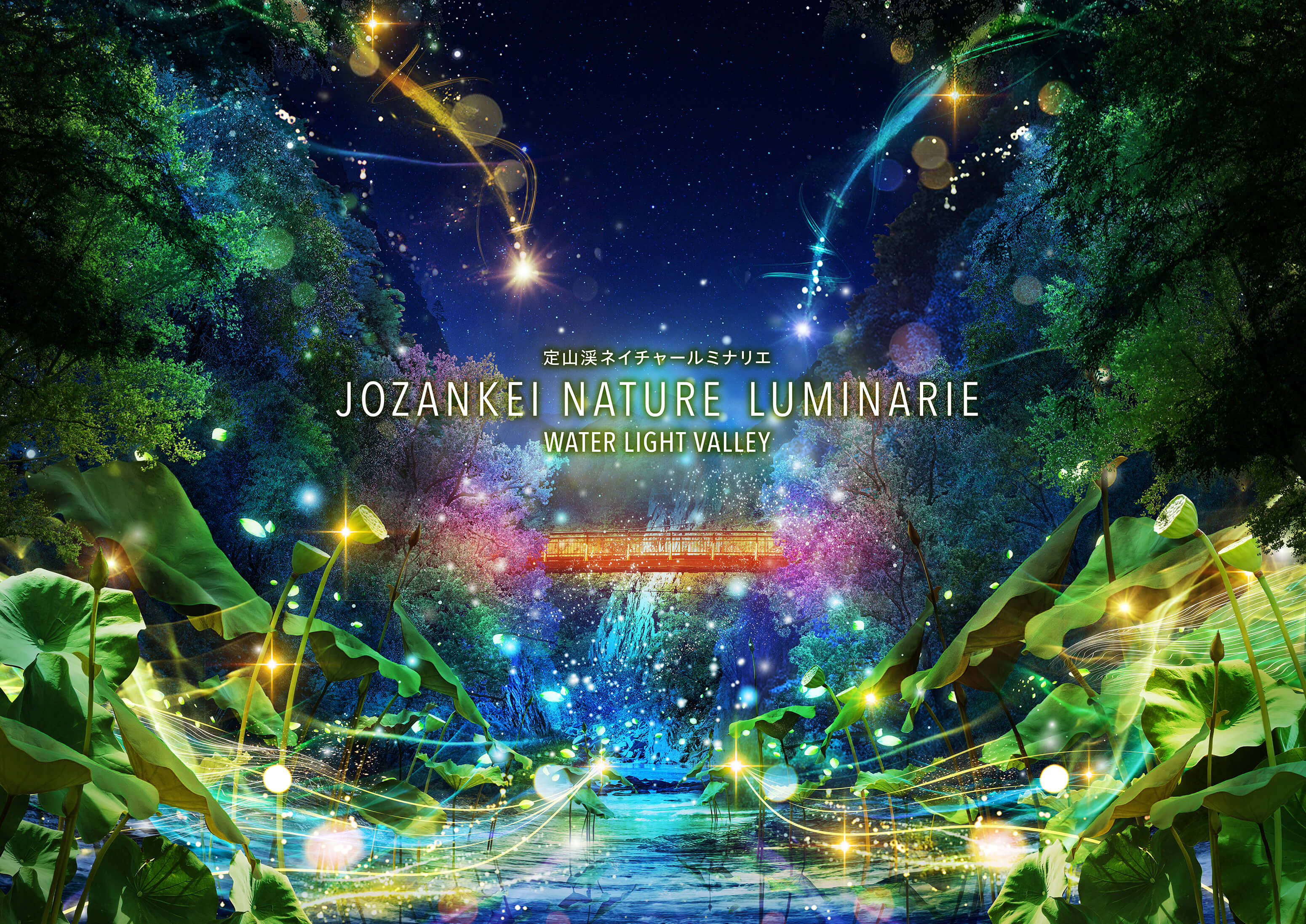 Information
JOZANKEI NATURE LUMINARIE-WATER LIGHT VALLEY
Address: Jozankei Futami Park – Futami Suspension Bridge
Jozankei Onsen Nishi 4-chome, Minami-ku, Sapporo, Hokkaido
Running: July 1-October 20, 2021
Opening Hours: 
July/August: 19:00-21:00
September/October: 18:00-21:00
Tickets: Guests of Jozankei Onsen only
Official site: https://jozankei.jp/jozankei-nature-luminarie
RELATED ENTRIES
Keyakizaka Lights, a Tokyo Winter Tradition, to be Held Again in 2022

From November 11 until December 25, 2022, Roppongi Hills Christmas will cover Tokyo in glittering lights once again. The Keyakizaka Lights, one of Tokyo's most popular winter attractions, will also take place in 2022, with the 400-meter-long Keyakizaka street covered in over 800,000 blue and white LED lights.

For the first time in three years, the Mohri Garden will be covered in lights as well. The annual Christmas market will invite guests to experience an authentic German Christmas, and Christmas cakes and gourmet food unique to Roppongi Hills will be for sale. 

The Roppongi Hills Christmas event utilizes LED lights and has done so since the first event was held in 2003. Clean power will be used again this year, and the lights will be switched on from 5 PM until 11 PM each night. 

Information

Roppongi Hills Keyakizaka Lights

Running: November 10 – December 25, 2022 *Daily from 5:00 – 11:00 PM

*Lights may begin at a different time on November 10 only.

Location: Roppongi Keyakizaka Street

Official Site: https://www.roppongihills.com

teamLab Forest Fukuoka's Interactive Digital Art Installation Gets Autumn Theme

Starting September 23, teamLab Forest Fukuoka will be transformed for the autumn season! The interactive digital art installation will feature animals made entirely of fall foliage, and guests can enjoy red and orange leaves fluttering through the one-of-a-kind 3D world. 

teamLab's prolific works are known for changing with the seasons. This autumn version of the popular exhibition will only be on display for a limited time, and visitors can use their
smartphones in the Catching and Collecting Forest to catch and collect the animals on display! The forest and ocean scenery will change as you explore, and starting on September 23, the trees will begin to show off beautiful autumn colors.

In the Forest of Movement, guests can enter the 'Shifting Valley, Living Creatures of Flowers, Symbiotic Lives' exhibit, where creatures made of autumn flowers exist in a three-dimensional space. The space is meant to make guests think about the cycle of death and rebirth, as flowers blossom and die each and every year.

The 'Soft Terrain and Granular Topography' will display tons of colorful grains raining down on visitors, while the 'Flutter of Butterflies, Ephemeral Life' will change the usual butterflies to have autumn colors as they fly around guests. This is a kind of autumn scenery you can't see anywhere else, so be sure to come to Fukuoka during this beautiful season!

Information

teamLab Forest Fukuoka – SBI Securities Co., Ltd.

Venue: BOSS E・ZO FUKUOKA 5F (Next to Fukuoka PayPay Dome)

Address: 2 Chome-2-6 Jigyohama, Chuo-ku, Fukuoka

Official Site: https://www.teamlab.art/jp/e/forest/

NAKED Night Walk Art Project to Open at Famed Zuiganji Temple in Matsushima

Japanese creative company NAKED will hold a Night Walk event at Zuiganji Temple in Matsushima, located near one of the top three most scenic spots in Japan. The event will run from October 29 until November 23, 2022.

The NAKED Night Walk was created to revitalize hot spring resorts and other tourist spots during the pandemic. This special event will bring the illuminated experience to Zuiganji Temple, one of the Tohoku Region's most famous Zen temples. Guests will be invited to carry beautiful lanterns around the grounds, maintaining social distancing while enjoying the cool evening weather. These lanterns will cast one of three unique designs onto the ground below–a starry sky, a camellia flower, or a lotus. 

Guests can also enjoy NAKED's Flower Fortune Telling, pulling unique paper flowers from a massive wall, with each holding a personalized fortune. These flowers can then be tied to a nearby tree to further spread NAKED's art. You can also take home your flower as a souvenir!

The event will only run for a limited time. For more information including admission fees and hours, see the official website!

Information

NAKED Night Walk – Matsushima, Zuiganji Temple (National Treasure)

Address: Zuiganji Temple (Chonai-91 Matsushima, Miyagi District, Miyagi Prefecture)

Running: October 29 – November 23, 2022

Hours: Weekdays 17:00-20:00 / Fridays, Weekends, Holidays 17:00-21:00

Official Site: https://zuiganji.or.jp/

Kansai's Largest Illumination Event to Start Third Phase on October 8

The third phase of the popular illumination event at the English Garden Rosa & Berry Tawada will be held from October 8, 2022 until February 12, 2023! One of the largest light-up events in the Kansai region, this year's theme is 'Evolutionary Lights!' 

Let Time Pass in The Golden Forest

Visitors will be welcomed into a glorious forest of golden lights as they arrive in the main area. 

The clock tower rises in the center, and the spectacular production begins at the start of nightfall when the tower itself begins to glow and 100 trees are enveloped in golden light.




The White and Silver Garden of the Fairies

The area has undergone a major transformation, from the warm European-inspired colors of last year's event to a mysterious silvery-white color scheme. Visitors can also enjoy the popular light-up experience Miraculous Blue Roses and the Seven-Colored Prayer Tree.

※Details: Lights and effects are triggered in response to the sound of bells rung by visitors and special pedals stepped on as they explore the event.

Shaun the Sheep Area

A special Christmas display inspired by the new Shaun the Sheep movie, releasing in December 2022, will be on display.

*Images of the special display will be available in mid-September.

​SHAUN THE SHEEP AND SHAUN'S IMAGE ARE ™ AARDMAN ANIMATIONS LTD. 2022

Galactic Express Milky Way

The Milky Way is said to be a magnificent shade of blue. The Milky Way Galaxy Railroad, which requires a separate fee, runs through the area, inviting guests to explore a sea of stars. Why not take a trip through this glittering world of lights while taking some incredible photos?

Why not visit this incredible sea of lights this winter?

Information

Rosa & Berry Illumination 2022-2023 – Evolutionary Lights

Running: October 8, 2022 – February 12, 2023 *Closed on Tuesdays
Hours: 17:30-21:00 *Subject to change depending on the season
Venue: English Garden Rosa & Berry Tawada (Maibara, Shiga)

Official Site: https://www.rb-illumi.com/

Hotel Gajoen Tokyo Displays India-Ink Painting from the Film 'Sen wa, Boku o Egaku'

From October 1 until November 27, Hotel Gajoen Tokyo will hold a special event in conjunction with the film Sen wa, Boku o Egaku. Visitors to the hotel's historic One Hundred Steps Staircase will be surrounded by a world of color and paintings made from India Ink.

Fisherman and Woodcutters Room with Colored Wood Carvings

Grapevine, Hiromasa Togami.

Atelier (Image courtesy of Toho)

The coming-of-age story Sen wa, Boku o Egaku won 3rd place in the 2020 Honya Taisho and the 2019 TBS King's Brunch Book Grand Prize. The book received rave reviews from booksellers nationwide and has now been adapted into a live-action film by Norihiro Koizumi, best known as the director of the Chihayafuru film adaptation. The film will be released on October 21, 2022. As a tie-up project with the film, the One Hundred Steps Staircase, a Tangible Cultural Property of Tokyo built in 1935, will be the setting for an incredible display of paintings that appear in the film.


Information

Sen wa, Boku o Egaku at the One Hundred Steps Staircase
~The World of India-Ink Filled with Color~

Running: October 1 – November 27 *Open daily during event period
Hours: 11:00-18:00 (Last entry at 17:30)
Venue: Hotel Gajoen Tokyo, One Hundred Steps Staircase (Tangible Cultural Property of Tokyo)
Tickets/Details:
https://www.hotelgajoen-tokyo.com/100event/senwabokuoegaku

Sumikko Gurashi Characters Appear at Lake Sagami Pleasure Forest

From November 12, 2022, until April 2, 2023, visitors to Lake Sagami Pleasure Forest in Kanagawa Prefecture will be able to enjoy an incredible light-up event featuring Sumikko Gurashi characters! The outdoor resort is only an hour from Tokyo and won't disappoint.


A World First! Illuminated Sumikko Gurashi Area

Visitors can enjoy riding the 250-meter-long Rainbow Lift for an aerial walk above the millions of lights. The adorable Sumikko Gurashi characters will be waiting for guests in a special themed area.

Goods Featuring Original Illustrations Available–with a Collab Menu!

The event will also offer goods decorated with newly-drawn art inspired by the Lake Sagami lights, with Sumikko and her friends enjoying the show. Along with merchandise, guests will also be invited to sample collaboration food and drinks at the park's restaurant Wild Dining. Each dish will also come with a bonus!

Come enjoy these incredible lights along with everyone's favorite Sumikko characters! With 6 million lights on display, this is one of the largest in the Kanto area. More details will be coming soon, so keep an eye out!

Information

Sumikko Gurashi x Lake Sagami Illumination

Running: November 12, 2022 – April 2, 2023

Special Site:

teamLab to Hold Solo Exhibition at Seoul's Pace Gallery

Art collective teamLab will hold a solo exhibition at Pace Gallery in Seoul from September 2 until October 29, 2022. Titled 'teamLab: Massless Suns,' the exhibition will mark the opening of the expanded gallery space at the internationally-recognized art landmark. The collective will also be unveiling a new work, Massless Suns and Dark Spheres, in which countless light and dark objects without boundaries fill the space around guests.

Massless Suns and Dark Spheres

Dissipative Figures – Human

Dissipative Figures – 1000 Birds

 

As visitors stare into the strange balls of light and darkness, it will seem as though the space around them is warped. If you reach out to try to touch the light spheres, they will shine brighter, and the orbs around them will respond in succession. The work questions the nature of existence and relies entirely on visitor perception.


Continuous Life and Death at Now of Eternity II

Waves of Light

Resonating Microcosms – Solidified Light Color, Sunrise and Sunset

In March, the Pace Gallery opened a new exhibition space dedicated to experimental and immersive interactive works. Those familiar with teamLab will recognize some of their most popular works appearing during the exhibition, including the Dissipative Figures series and Waves of Light. 

In the newly-opened outdoor courtyard, the work 'Resonating Microcosms – Solidified Light Color, Sunrise and Sunset' will be on display, constantly transforming due to wind and rain, as well as influence from guests. A new concept work, 'Solidified Light Color,' will shine with 61 colors, inviting the environment and visitors to become a part of the art itself.

 © チームラボ

Information

teamLab: Massless Suns
Running: September 2 – October 29, 2022
Venue: Pace Gallery Seoul (267 Itaewon-ro, Yongsan-gu, Seoul)

NAKED Exhibition Inspired by Tea Master Sen no Rikyu Opens at 21st Century Museum of Contemporary Art in Kanazawa

NAKED's newest work, inspired by Sen no Rikyu, has opened at the 21st Century Museum of Contemporary Art in Kanazawa! The exhibition will run through September 3 and blends physical art pieces found in the museum with the Metaverse. 

NAKED's first exhibition at this popular Kanazawa Museum brings visitors a modern version of chanoyu, or the 'Way of Tea.' This year marks the 500th birthday of Sen no Rikyu, a historical figure who had a significant influence on the tea ceremony still found in Japan today. NAKED wants to honor his contribution to shaping this massive part of Japanese culture. Visitors are invited to a traditional tea ceremony room, but the experience itself has been modernized by NAKED. This unprecedented art exhibition allows both those who know nothing about Sen no Rikyu and those who know him well to experience his philosophy and aesthetics in an entirely new way.

Gate: Greetings from the Master

Open-air: The Crossroads of this Transient World

Wash Basin: Where the Four Seasons Float

Dry Landscape Garden: The Teachings of Rikyu

Tea Whisk: "Make a Good Tea for your Guest."

Hanging Scroll: The Master's Memories

Small Room: Evolution

Tearoom: The End and the Beginning

NAKED Fuji Canele

Tsukubai, or a low stone basin filled with water, is used to cleanse the hands before entering a tearoom. Using interactive art, the water's surface is covered in digital flowers that blossom when a guest's hands pass over the basin. 

In the 'Small Room: Evolution' area, guests will find the Sustainable Contemporary Golden Tearoom, which was created by NAKED staff together with sixth graders using golden trash collected at Kanazawa University Elementary School. The calligraphy on display in the tearoom was also done by children, with the best creations selected to be included in the exhibition. The scent was produced by EarthRing, an aroma brand located in Hakusan, Ishikawa Prefecture. The 'Tea Whisk' area offers a unique experience for all five senses, including the scent of matcha, which guests can smell when they mimic the act of prepping tea. 

In addition, guests can purchase special NAKED Fuji Canele and a Kutani ware Original Tumbler with special tea-inspired motifs. The Canele is a triple collaboration with Fukumitsuya, the oldest sake brewery in Kanazawa, so don't miss out!

Information

NAKED Meets Sen no Rikyu

Venue: 21st Century Museum of Contemporary Art, Kanazawa, Civic Gallery B
(1-2-1 Hirosaka, Kanazawa, Ishikawa)

Running: August 6 – September 3, 2022
*For more information about tickets, please visit the official website.
Tickets / Details: https://meets.naked.works/kanazawa21/

Light and Shadow 2022 Event at Hotel Gajoen Tokyo Attracts Over 10,000 Visitors

Hotel Gajoen Tokyo, which blends a hotel and a traditional Japanese museum, is celebrating summer in the spookiest way possible. From July 2 until September 25, guests can enjoy the 'Wa no Akari x Hyakudan Kaidan 2022 ~Light and Shadow: 100 Stories~' event, inspired by the tradition of telling ghost stories in summer to send a chill down your spine. Since opening, over 10,000 visitors have come to experience this once-in-a-lifetime event. 

Each of the seven exhibition areas is connected to the stairway, and each has its own theme pulled from the overarching theme of light and darkness. From Light of Passion to Midnight Light, guests will be surrounded on all sides. As you ascend the stairs, a festive atmosphere transforms into a more frightening one. Although the ghosts are out to play, guests are welcome to enjoy the many art pieces and crafts on display. 

Sokyu Room / Lights of Passion

This Kabuki stage is filled with the passion of women who are addicted to love, a common theme in many traditional plays. The eye-catching Japanese umbrellas and lanterns will no doubt leave an impression, and the wistful music is titled Red Thread. The tale depicted here tells the story of a woman who becomes a haunting specter clad in flames of passion, sobbing and laughing in time with the song. 

Still Water Room / Inverted Light

The three trees crowned with horse heads were created by the artist Eros Nakazato. Guests will feel as though they've been transported to the middle of a meadow as they explore this fantastical room covered in traditional paintings. In the work The Reverse of the Reverse, there are no wild horses on the earth, and those who have been tamed by humans sway in a beautiful and sad way. To make this scarier, the story has been reimagined as guests look through a crystal ball–now, humans are ruled by horses

Starlight Room / Midnight Light

Passing through a corridor of suspiciously flickering yokai lanterns, you will find that the clock has struck midnight. In the darkness, as most humans are asleep, specters are having a lively party. Playful cats dance and play and a number of artistic works by contemporary artists are on display. The music played fuses Japanese and ethnic instruments, some of which are interspersed with the voices of creatures of the night.

Experience this immersive art experience that will delight all five senses through light and shadows while you can!

Information

Wa no Akari x Hyakudan Kaidan 2022 ~Light and Shadow: 100 Stories~

Running: July 2 – September 25, 2022

Hours: 11:30-18:00 (Last entry at 17:30) *Closing at 17:00 on August 20 (Last entry at 16:30)

Venue: Hotel Gajoen Tokyo Hyakudan Staircase (Tangible Cultural Property Designated by the Tokyo Metropolitan Government)

Tickets/Details: https://www.hotelgajoen-tokyo.com/100event/wanoakari2022

Official Site: https://www.hotelgajoen-tokyo.com/

teamLab Opens Art-Filled Nighttime Botanical Garden Exhibition in Osaka

Art collective teamLab will open a permanent nighttime exhibition at the Nagai Botanical Garden in Osaka starting July 29, 2022. On-site video footage shows off several new works, such as Sculptures of Dissipative Birds in the Wind, a digital work impacted by the environment. Birds flying around the work and the wind's strength impact how the art moves.

Life is Flickering Light Floating in Darkness – Sunflowers

In summer, 20,000 sunflowers bloom in the Life Garden, where seasonal flowers are transformed into an interactive space filled with illumination. This was opened to the public for a limited time to celebrate the exhibition's opening and will be open until August 5.

The Nagai Botanical Garden covers 240,000 square meters and is home to roughly 1,200 species of plants. teamLab has transformed the space, with the digital art pieces changing according to the behavior of guests. 

In the future, teamLab plans to introduce seasonal works, making use of plants that bloom in spring, summer, fall, and winter.

Resonating Microcosms in the Common Camellia Garden – Liquified Light Color, Sunrise and Sunset

Floating Resonating Lamps on Oike Lake

teamLab's art project Digitized Nature explores how nature can become art. The concept of the project is that non-material digital technology can turn nature into art without harming it.





Field of Light Color – Muhlenbergia Capillaris

 

teamLab Botanical Garden Osaka is a botanical garden by day and an art space by night. The art space transforms interactively, influenced by wind and rain, as well as by the behavior of the people and birds in it. People become a part of the artworks along with nature, and a part of the long continuity of time. The artworks, people, and nature; the self and others; the past, present, and future; all form a continuity without boundaries.

Come soothe your soul in the heart of Osaka.

©チームラボ

Tomakomai Mirai Fest 2022 Announces Second Round of Performers, Additional Details

New performers and events have been announced ahead of the start of Tomakomai Mirai Fest 2022 in Tomakomai, Hokkaido on September 17 and 18. The event will be held in one of the most gorgeous towns on the island and excitement is building!

The purpose of this event is to promote the appeal of the Tomakomai region, not only to those living in Japan but to those living abroad. In addition to music, the event will also feature art, food, technology, and more content that can be enjoyed by kids, families, and people of all ages and genders.

Tomakomai Civic Hall, Large Hall

Incredible live performances will be held in a futuristic setting. Along with Awesome City Club, Kyary Pamyu Pamyu, and Little Glee Monster, guests can look forward to seeing HY, Wednesday Campanella, Taichi Mukai, and Atarashii Gakko!

Tomakomai Civic Hall, Parking Lot

DJ performances and food trucks will welcome guests to the futuristic area, and the illuminations are sure to impress!

Kirakira Park

An AR system accessible by smartphone will allow guests to take pictures of the Tomakomai Mirai Fest logo for a surprise. During the daytime, a food truck area will provide visitors with different types of gourmet offerings and a stage will showcase local dancers and musicians from Tomakomai. A family-friendly picnic area will allow guests to relax and enjoy good food and live music.

At night, in addition to impressive illuminations and a live stage showcasing Hokkaido's best talent, an island bar will amplify the mood.

O-machi/Nishiki-machi

During the daytime, a gourmet area will feature Tomakomai's famous curry ramen, local craft beer, craft spices, and more. At night, visitors can enjoy restaurants in the O-machi and Nishiki-machi areas while still enjoying the vibe of the event.

And More!

A stamp rally will be held during the event, and guests finding stamps at each location will be eligible to win fantastic prizes. A bus service is also planned.

More performers and details will be announced soon, so stay tuned!

Information

Tomakomai Mirai Fest 2022

Dates: September 17 and 18, 2022

Tomakomai Civic Hall, Large Hall (Admission Fee Required)

September 17 / Doors Open 16:30, Event Starts 17:30

September 18 / Doors Open 14:30, Event Starts 15:30

Tomakomai Civic Hall, Parking Lot / Kirakira Park / O-machi, Nishiki-machi (Free Entry)

September 17: Open at 12:00

September 18: Open at 11:00

*May be earlier or later depending on the venue. Detailed event times will be announced at a later date.

Locations: Tomakomai Civic Hall, Large Hall / Parking Lot / Kirakira Park / Around Omachi, Nishikimachi

Ticket Agency: Ticket Pia

[1-day or 2-day Tickets Available]
Official 2nd Advance Ticket Lottery: July 28, 12:00 – August 7, 23:59

https://w.pia.jp/t/tomakomaimiraifest22/

Official Site: http://miraifest-tomakomai.jp/

teamLab Botanical Garden in Osaka Debuts Illuminated Nighttime Sunflower Field and More

Art collective teamLab will open a permanent nighttime exhibition at the Nagai Botanical Garden in Osaka starting July 29, 2022. Tickets for teamLab Botanical Garden Osaka are on sale now at the official website, and a new group of exhibits take full advantage of the beautiful setting. In summer, 20,000 sunflowers bloom in the Life Garden, where seasonal flowers are transformed into an interactive space filled with illumination. As the flowers change each season, so will the art.

Resonating Microcosms in the Common Camellia Garden – Liquified Light Color, Sunrise and Sunset 

Life is Flickering Light Floating in Darkness – Sunflowers

Other works on display include Life is Continuous Light – Bald Cypress and Life is Continuous Light – Crepe myrtle, both taking advantage of the natural environment. The 240,000 square meter park will be completely transformed, with the digital art pieces changing according to the behavior of guests. More exhibits will be added in the future.

Crepe myrtles at Nagai Botanical Garden

Nagai Botanical Garden opened in 1974, and had its reopening on April 1, 2022 following extensive efforts to create an environment where plants can thrive and grow into the future, involving tree thinning, replanting of trees in anticipation of root growth, and soil improvement.

Nagai Botanical Garden's Bald Cypress

 

teamLab's art project Digitized Nature explores how nature can become art. The concept of the project is that non-material digital technology can turn nature into art without harming it.

Floating Resonating Lamps – One Stroke

Universe of Fire Particles – Secondary Forest

teamLab Botanical Garden Osaka is a botanical garden by day and an art space by night. The art space transforms interactively, influenced by wind and rain, as well as by the behavior of the people and birds in it. People become a part of the artworks along with nature, and a part of the long continuity of time. The artworks, people, and nature; the self and others; the past, present, and future; all form a continuity without boundaries.

Come visit another dimension right in the heart of Osaka!

©チームラボ