Afternoon Tea LIVING Celebrates 40 Years with Seasonal Snow Globe Giveaway
To commemorate 40 years during September 2021, Afternoon Tea LIVING will be giving away an original series of seasonal snow globes to 3,000 customers who spend at least ¥4,400 yen on September 10, 11, 17, and 18. Limited-edition gifts for Afternoon Tea members and commemorative T-shirts made of sustainable recycled polyester will also be available on September 10.
Four Seasons Snow Globes
SPRING: September 10
SUMMER: September 11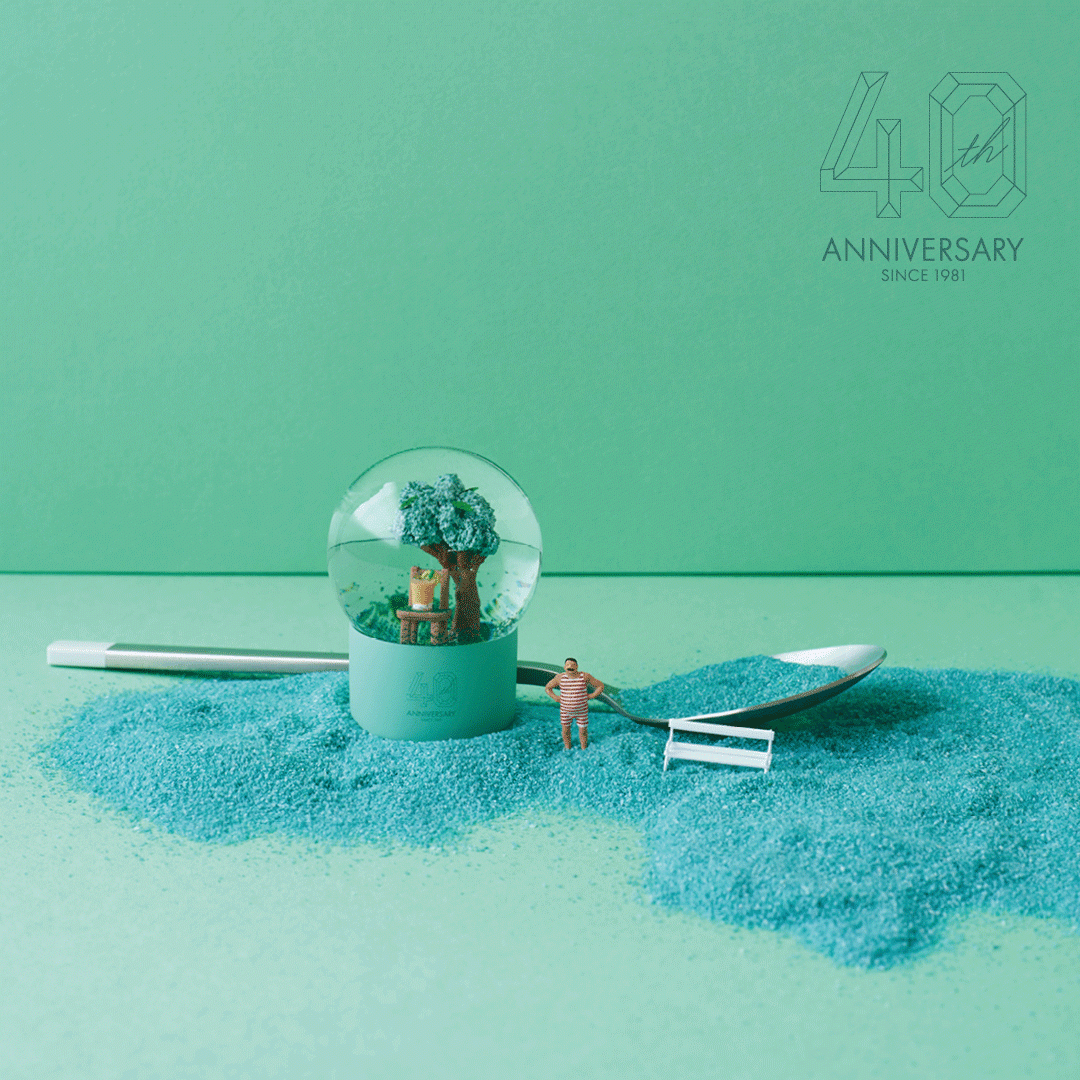 AUTUMN: September 17
WINTER: September 18
Members-only 40th anniversary mini bag and tape
PINK: September 10~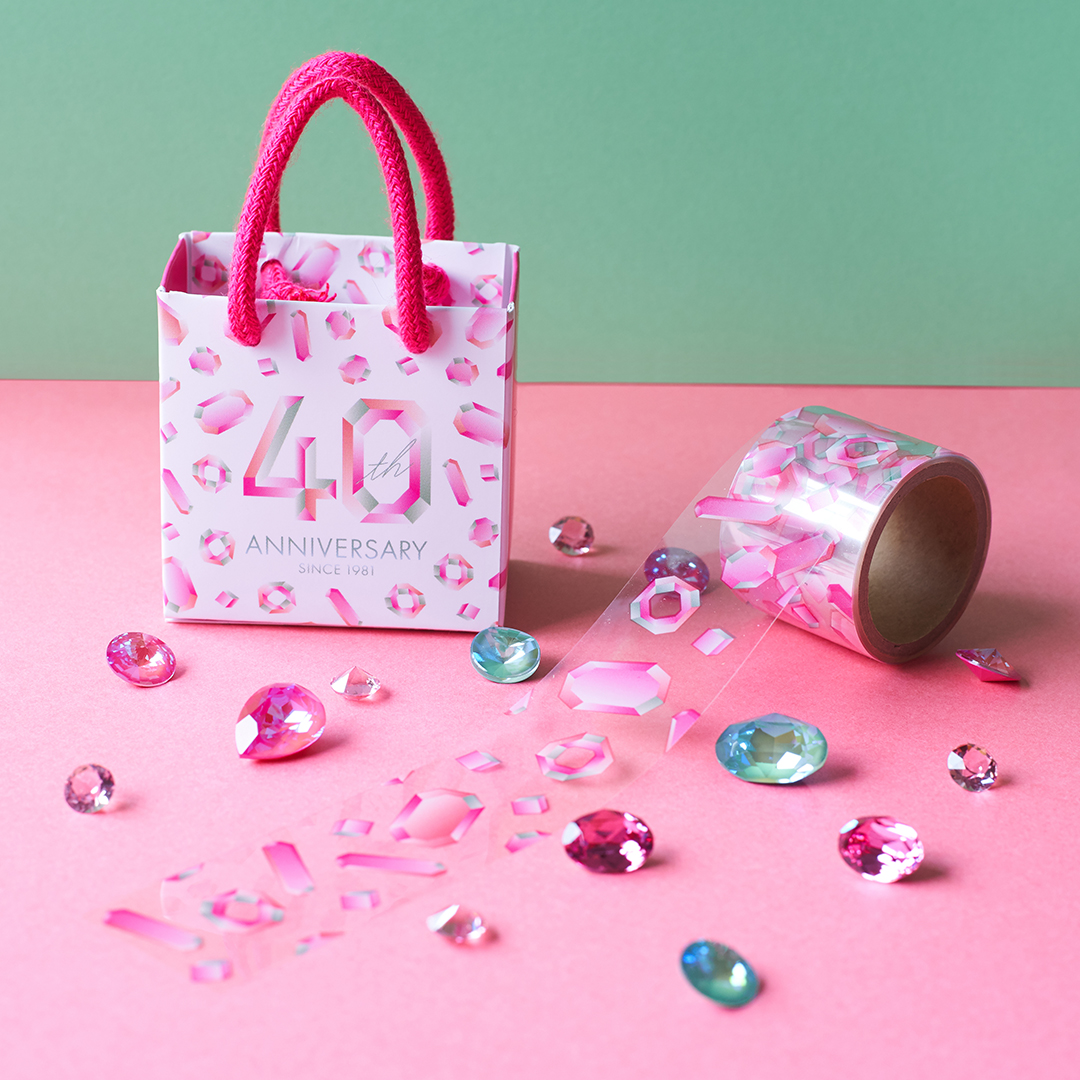 GREEN: September 17~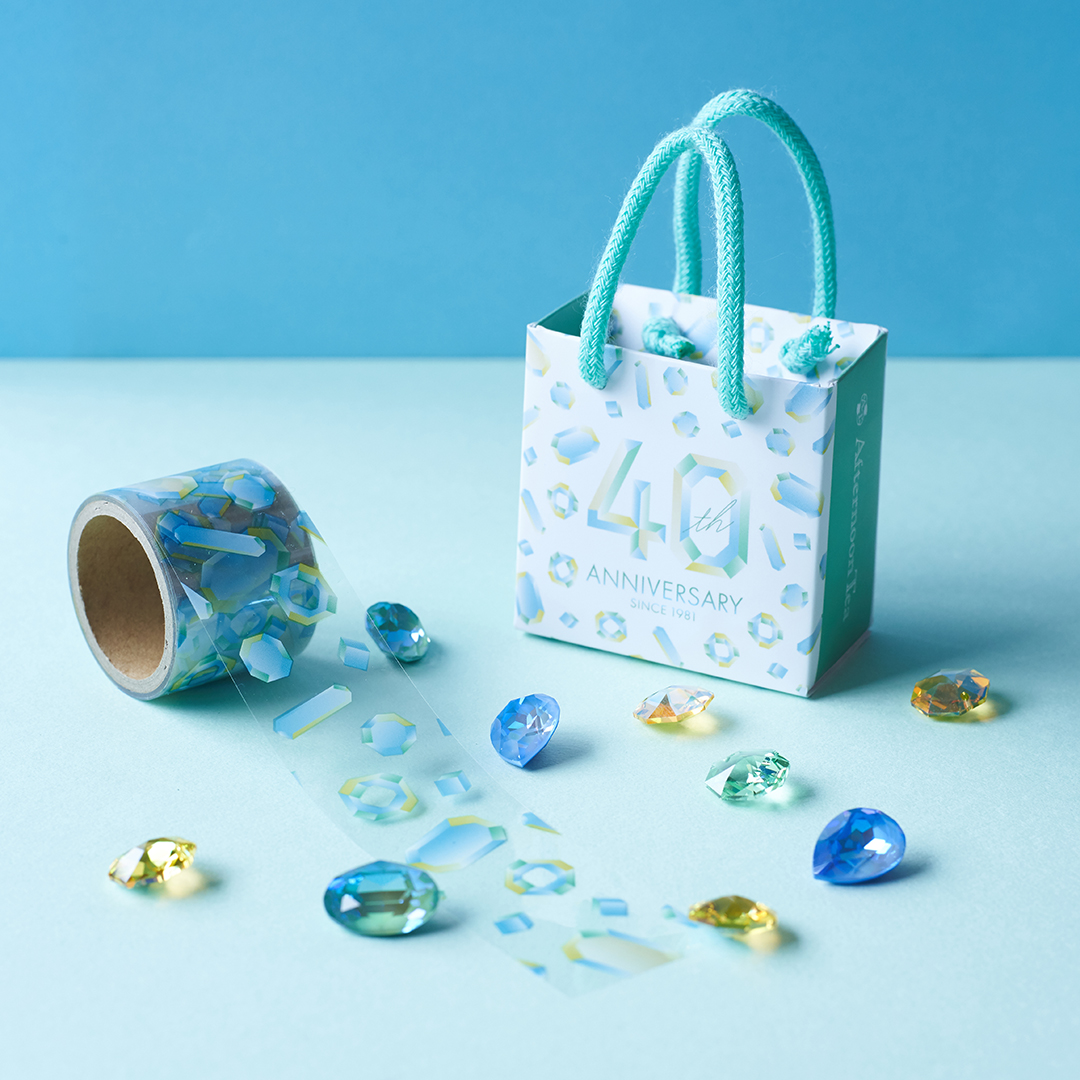 40th Anniversary Commemorative T-shirt: ¥4,950 each (Tax Included)
A limited number of mini bags and tape featuring the 40th anniversary logo will be given to the first 5,000 customers on September 10 and 17.
The BRING brand creates new clothes from old clothes by chemically decomposing used garments. The company has collaborated with Afternoon Tea LIVING, a brand always committed to sustainability, to produce its new 40th anniversary T-shirt using BRING material, partially made of recycled polyester. The design on the front features two photo prints: one of a meringue cake by confectionary researcher Rika Fukuda, and the other of a cat sitting in a windowsill, selected from one of Afternoon Tea LIVING's past free papers.
Which snow globe is your favorite?
Information
Afternoon Tea LIVING 40th Anniversary Celebration
When: September 10, 11, 17, 18
Where: Afternoon Tea LIVING Stores, Online Shop
Official Site: https://www.afternoon-tea.net/living/
RELATED ENTRIES
British Beauty Brand Elemis Sponsors Christmas Afternoon Tea Bus Tour Through Tokyo

There are plenty of events going on in Tokyo to celebrate the holiday season, but this one might be the most peculiar. Elemis, a skincare brand from England, has teamed up with bus operator Upstar for Japan's first bus tour featuring afternoon tea! This extremely limited event will drive guests around the city to see some of the most impressive Christmas lights in Shibuya, Roppongi, Omotesando, and other spots. Only 60 seats are available each day and the bus will run from December 1 until December 25, 2022.

 

5 Unique Features of the Elemis Special Christmas Afternoon Tea Bus Tour

① Enjoy a Special Christmas Afternoon Tea Menu by Elemis

A special Christmas menu will be available on board, including a Santa Claus shortcake and a party popper-inspired sandwich. 

② Travel on a Bus Filled with Elemis Christmas Decorations

Inside the bus, guests can enjoy fir trees and original decorations inspired by the Elemis holiday collection!

③ Best-Selling Elemis Goods will be Gifted to Guests!

Guests will receive a trial size of Elemis' best-selling Pro-Collagen Cleansing Balm as a Christmas present!

④ A Special Gift Campaign will run from November 15 until December 25

Prior to the start of the bus tour, a campaign will be held on Instagram and Twitter. Winners will snag tickets for the bus tour and an Elemis makeup set worth over $12,000!

⑤ Travel on a Special Route to Enjoy Tokyo's Christmas Lights!

The bus tour will take visitors to some of Tokyo's best Christmas locales, from Shibuya and Omotesando to Keyakizaka and Roppongi. The 90-minute journey starts and ends in Omotesando.

How would you like to enjoy Tokyo's Christmas lights on a British bus enjoying some of the best beauty products on Earth? Get into the holiday spirit with this unusual and unique tour!

Information

Elemis Christmas Afternoon Tea

Running: December 1 – December 25, 2022 *Not running December 12, 13

Times:
1st Service / 15:00~16:30
2nd Service / 17:00-18:30
3rd Service / 19:00-20:30

Length: 90 minutes

Departure Point: In front of the Shioda Building (5-10 Minamiaoyama, Minato-ku, Tokyo)

Price: ¥6,800 (Adults, Tax Included) / ¥3,000 (Children, Tax Included)

Reservations: https://www.upstar-londonbus-travellingnewtokyo.com/booking

Japanese-Style Strawberry Afternoon Tea Arrives at Hoshinoya Tokyo

Hoshinoya Tokyo, a Japanese-style inn in Otemachi, Tokyo, will offer a strawberry-filled afternoon tea set from January 7 until May 31, 2023.

Fragrant Strawberry Afternoon Tea

The Fragrant Strawberry Afternoon Tea is a modern-day expression of the traditional Japanese tea ceremony. A major part of Edo culture, guests can enjoy small dishes, sweets, and more. All 10 dishes are made with seasonal strawberries and fermented foods. Visitors can enjoy a plethora of unique textures and flavors, from a French cake with four layers of strawberry sauce to a strawberry confiture in dough kneaded with amazake.

Enjoy Unique Pairings

Dim sum, sweets, and dried goods will each be served with a proper pairing. The oshizushi is paired with a sparkling sake that perfectly matches the seasonal ingredients, and accompanying the main sweets is original coffee brewed in a French press. This coffee was developed exclusively for the afternoon tea set by the specialty coffee shop Sarutahiko Coffee. 

Original Box

Since ancient times, the fuchidaka has been used as a sweets dish to accompany stronger tea. This afternoon tea will be served in an eye-catching original decorated stacked box decorated with jewel beetles. Come enjoy this elegant treat with a loved one to celebrate the new year!

Information

Fragrant Strawberry Afternoon Tea

Available: January 7 – May 31, 2023
Available after 14:00
Capacity: 1 couple (2 people) per day
Price: ¥12,000 per person (Includes tax and service charge) *Doesn't include hotel charges
Venue: Hoshinuya Tokyo 2F Tatami Room
Reservations: Required at least 3 days in advance (https://hoshinoya.com/tokyo/)

Interior Shop Francfranc Reveals Disney Princess Collection

Japanese furniture and home decor company Francfranc has just launched a collection inspired by popular Disney princesses! The PRINCESS DAYS by Francfranc collection was inspired by five beloved Disney princesses, and fans can find these unique items at Francfranc stores nationwide and online. 

To celebrate the launch, customers can take a quiz on the Francfranc website to find out which Disney princess they are and which goods they should buy!

Cinderella

Ariel

Belle

Jasmine

Rapunzel

Original Emblem

Customers can choose from items inspired by Rapunzel, Cinderella, Ariel, Jasmine, or Belle. Which princess do you think would best accent your home decor?

© Disney

Halloween Afternoon Tea with Black Cat Motif Coming to Tokyo's Grand Prince Hotel New Takanawa

During the month of October, Grand Prince Hotel New Takanawa in Tokyo will be offering a special Autumn Afternoon Tea. Inspired by Halloween–and particularly black cats–Lounge Momiji on the first floor will invite guests to devour some tasty treats. 

This year's Halloween theme is 'black cats,' which are said to be the messengers of witches. Guests will be able to enjoy Halloween-specific sweets and afternoon tea to fully enjoy the flavors of autumn.

 

In addition to sweet and sour macaroons filled with blackcurrant with a black cat motif, visitors can enjoy a bat-themed purple sweet potato Mont Blanc and cream puffs made with pumpkin. The black cat cookies are also perfect for posting to Instagram, so come enjoy lots of sweet and savory goods made with autumn fruits and vegetables such as grapes, persimmons, and figs.



Come enjoy afternoon tea and get into the Halloween spirit this October!

Halloween Afternoon Tea with a Ghost Theme Coming to Kyoto for a Limited Time

Art Grace Wedding Hills, a wedding venue in Kyoto, will be offering a ghostly Halloween Afternoon Tea experience in September and October!

Mischievous Ghost Halloween Parfait *Sample Image

Sweets *Sample Image

Savory Dishes *Sample Image

Adorable ghosts and Halloween-inspired sweets made with autumn flavors such as pears, apples, chestnuts, pumpkins, and sweet potatoes will be on the menu. The Mischievous Ghost Halloween Parfait has a refreshing finish with blackcurrant mousse and blood orange jelly. The marshmallows, made to look like ghosts wearing witch hats, are perfect for posting on social media.

 

How would you like to spend a sweet time in Kyoto this Halloween season?

Information

~Trick or Treat~ Halloween Autumn Afternoon Tea

Dates:
September 4, 9, 16, 18, 25, 30
October 2, 7, 14, 15, 16, 21, 23, 30

Times: Seating 1, 13:00-14:30 / Seating 2, 15:15~16:45 (90 minute seatings)
*Must make a reservation a minimum of 15 minutes before seating.
*Only 1 seating on weekdays.

Venue: Kyoto Art Grace Wedding Hills
Details/Reservations: https://www.bestbridal.co.jp/guestparty/kyoto/artgrace_kyoto/2022event-37/


Halloween Afternoon Tea Featuring AR Technology Coming to Shinjuku

From September 1 until October 31, the District Brasserie, Bar, and Lounge at the Kimpton Shinjuku Tokyo will be offering a spooky Halloween-themed afternoon tea set. The tasty treats won't be the only scary thing on the plate–the event will incorporate AR technology! By holding up your phone, you'll be able to see monsters moving around on your plate.

The goodies will also be available for take-out, making them perfect for souvenirs or at-home Halloween parties! Nine types of Halloween sweets, six small dishes, and two tea sachets will be included. Why not spend Halloween in a more elegant way in 2022?

Information

Kimpton Halloween MONSBLANC Afternoon Tea
Running: September 1 – October 31, 2022
Hours: 11:30-17:00 (Last Order at 15:00), 2-hour seatings
*Reservations must be made by 16:00 on the previous day.
Venue: Kimpton Shinjuku Tokyo, District Brasserie, Bar, and Lounge
Reservations/Details: https://bit.ly/3Qi5d3K

Official Site: https://www.kimptonshinjuku.com/jp/

Fruit-Filled Afternoon Tea Inspired by Japanese Folktale Momotaro Announced

Kawagoe Prince Hotel, located in an Edo-period castle town in northwest Tokyo, will begin offering a special afternoon tea set starting July 1, 2022. Inspired by the Japanese folktale Momotaro, the summer fruit-filled tower of treats will be available until August 31, 2022.

Top Plate

Middle Plate

Bottom Plate

Savory

 

The top plate of the three-tiered set features tasty peach and cheese mousse, peach meringue, macadamia nut chocolate, and Kibi Dango put together to resemble the hero of the story, Momotaro. On the middle tier, visitors will find sweets inspired by the many animals found in the story, from the monkey and dog to the pheasants. Guests can enjoy many summer fruits including mango and kiwi. 

Those who come to the store in a yukata (summer kimono) and follow the official Kawagoe Prince Hotel Instagram will receive a special fruit platter.

Come enjoy the world of Momotaro as you wander around this historical Japanese town!

Unique Summer Afternoon Tea Available at Haute Couture Cafe in Tokyo

Located along the Meguro River, Haute Couture Cafe is known for serving up some of the best afternoon tea in Tokyo. The location is incredibly photogenic and often pops up on social media, covered in flowers welcoming guests to what feels like a fairy tale land. From July 1 until September 4, visitors to the cafe can enjoy a Peach and Shine Muscat Afternoon Tea set, perfect for summer and incorporating seasonal fruits. 

The fresh peaches and shine muscat (a type of luxurious grape found in Japan) are delivered from a nearby market daily. By using peaches without heating them, such as in the compote, guests can enjoy the juiciness of the raw fruit in a new way.

The lineup of delicately prepared and hearty savory dishes includes Peach and Prosciutto Cappellini, and guests wanting to enjoy more can order this as a lunch or dinner course as well. There are six courses in total, including the fresh-squeezed grape and muscat Mont Blanc plan and a Peach Cheesecake plan with a drink included. The cafe also offers anniversary plans, so why not bring your sweetheart?

The theme of this summer afternoon tea is 'an adorable purple space.' Guests will be surrounded by light purple wisteria as they enjoy this colorful spread.

Why not enjoy this summer treat as you look out over the river? 

Blue Afternoon Tea Ready to Bring Happiness to June Brides in Aoyama, Tokyo

The Vino Buono Restaurant, located just across the street from the Aoyama St. Grace Cathedral, will offer a special blue-themed afternoon tea set from June 1 until July 31, 2022. The blue theme is meant to bring happiness, and guests will be able to enjoy treats inspired by the deep blue sea.

The summer lineup includes a grapefruit-flavored ocean jelly topped with meringue coral, lemon-flavored macaroons in the shape of pearl oysters, coconut mousse, a galette resembling a mussel, and other ocean blue and crashing wave white-colored sweets with coral and shell motifs. Seafood-infused savory treats such as smoked salmon sandwiches on croissants and seaweed salt french fries will also be served. Guests can also enjoy two types of scones as well as unlimited black and herbal tea.



An old European legend claims that women getting married in June will always be happy. During this wonderful wedding season, why not come enjoy a romantic afternoon tea experience?

Conrad Tokyo Hotel to Offer Peach Afternoon Tea in Collaboration with Luxury Brand Wedgwood

Starting July 1, guests visiting the five-star Conrad Tokyo hotel can enjoy a new peach-filled afternoon tea menu for a limited time. Designed in collaboration with the British luxury brand Wedgwood, the lineup includes both savory and sweet items perfect for summer. The afternoon tea will be available on the 28th floor at the aptly named Twenty Eight Bar and Lounge.

In collaboration with Wedgwood, a 260-year-old porcelain and fine china brand used by the British royal family, this special service will feature an afternoon tea plate with a tempting array of sweets. The plate itself is from Wedgwood's world-renowned Gio collection and features a honeycomb pattern embossed on fine bone china. The contrast between the modern setting, the classic and refined shape of the white tableware, and the beautiful pink treats will come together to create the most memorable summer moment imaginable.

Coconut & Earl Grey Panna Cotta / Rose Jelly / Peach Compote

Wine and Peach Gelatin / Vanilla Mousse

White Peach Mousse / Raspberry Gelatin

White Peach and Soy Milk Sandwich

Apricot Tart / Peach Cream

Peach Soup / Lobster Consomme Jelly

White Peach and Chicken Mousse Tart

Pork Rillettes and Peach Slider

Highlights from the sweets menu include coconut & Earl Grey Panna cotta served with rose jelly and peach compote, peach gelatin infused with red wine and vanilla mousse, and a delectable white peach and soy milk sandwich. For those with less of a sweet tooth, the afternoon tea service also offers delectable dishes like a white peach and chicken mousse tart, a pork rillettes and peach slider, and more. Guests can also enjoy a selection of scones in either plain or coconut, each served with clotted cream and either peach or guava jam. Over 20 beverages will be on offer, including Wedgwood teas.

Shoujuin Temple and THE THOUSAND KYOTO Collaborate on Special Afternoon Tea

THE THOUSAND KYOTO hotel will begin selling a special afternoon tea set in conjunction with the Buddhist Temple Shoujuin on May 9, 2022. These scrumptious treats can be enjoyed at the hotel's second-floor cafe and bar TEA AND BAR until July 15.

This offering was made with the thought of escaping the summer heat in mind. Customers can enjoy eight kinds of sweet and savory dishes, from quiche and salmon sandwiches to scones with honey and sweet bean paste.

Souvenirs


Kanouhimo

Sange

The entrance to the cafe will also be transformed to reflect the majesty of Shoujuin Temple.

The early summer scenery will be captured with majestic hydrangeas, which will surround guests and prove the perfect background for photos.


Guests can also go home with two traditional souvenirs. Both the kanouhimo and sange are lucky charms typically available at Shoujuin on holidays.

Hydrangea Afternoon Tea Available at Art Grace Wedding Hills in Kyoto for a Limited Time

Art Grace Wedding Hills, a wedding venue in Kyoto, will offer a hydrangea-themed afternoon tea service from May 1 until June 24, 2022. Guests can enjoy this dreamy event each Friday, Saturday, and Sunday.

Top Tier

Middle Tier

Bottom Tier

Welcome Drink

Hydrangea Parfait

Come taste these delectable dishes to welcome the summer season.