Afternoon Tea LIVING Celebrates 40 Years with Seasonal Snow Globe Giveaway
To commemorate 40 years during September 2021, Afternoon Tea LIVING will be giving away an original series of seasonal snow globes to 3,000 customers who spend at least ¥4,400 yen on September 10, 11, 17, and 18. Limited-edition gifts for Afternoon Tea members and commemorative T-shirts made of sustainable recycled polyester will also be available on September 10.
Four Seasons Snow Globes
SPRING: September 10
SUMMER: September 11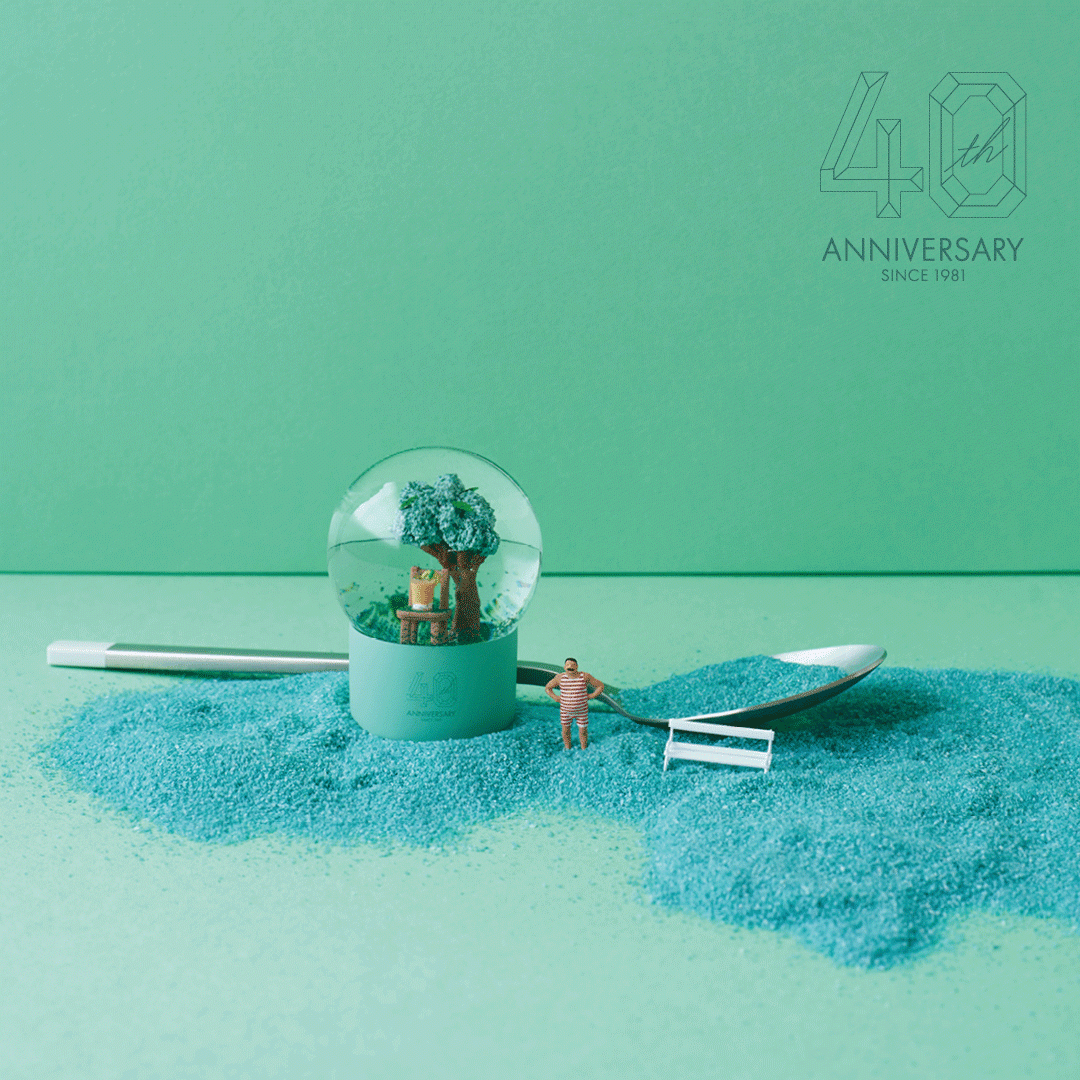 AUTUMN: September 17
WINTER: September 18
Members-only 40th anniversary mini bag and tape
PINK: September 10~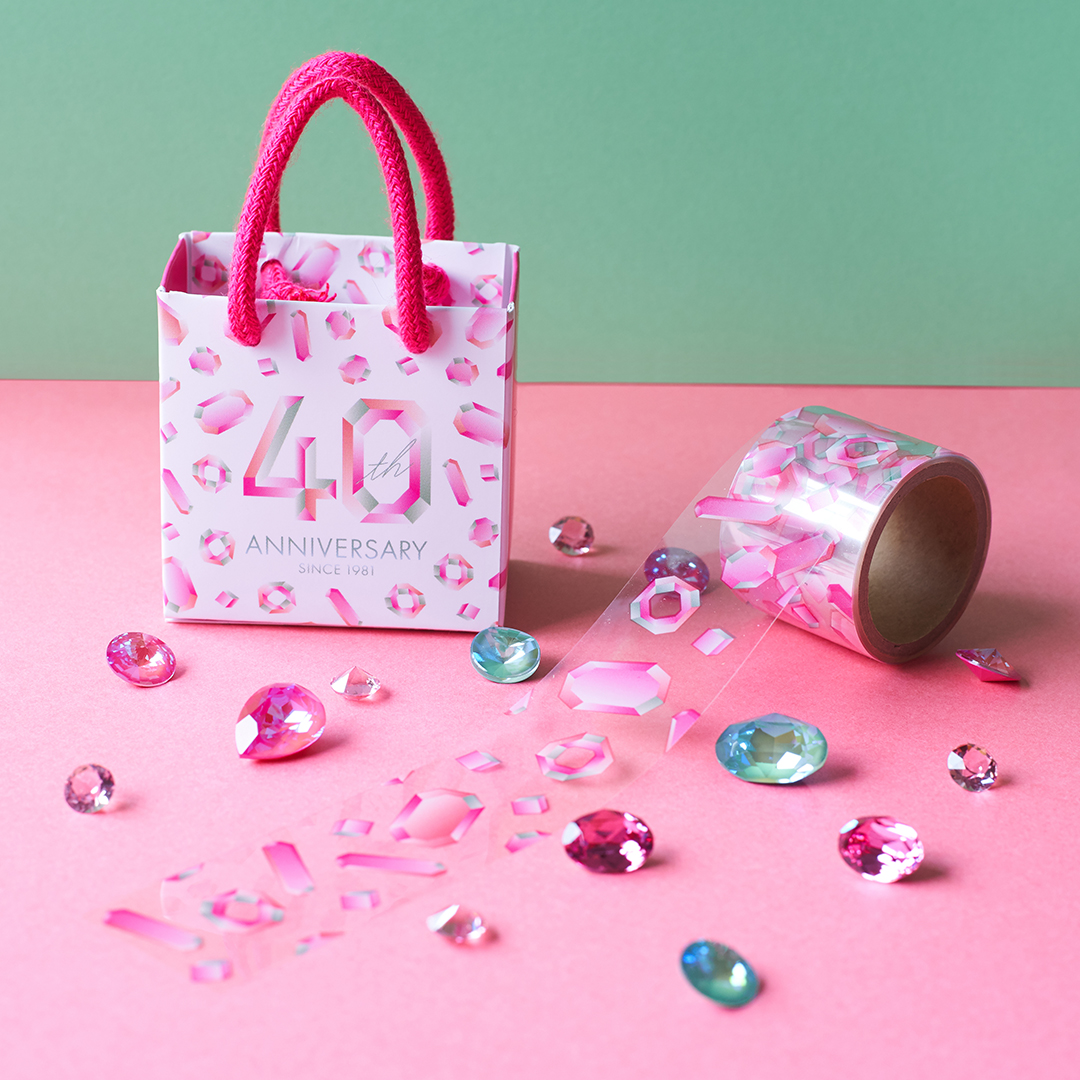 GREEN: September 17~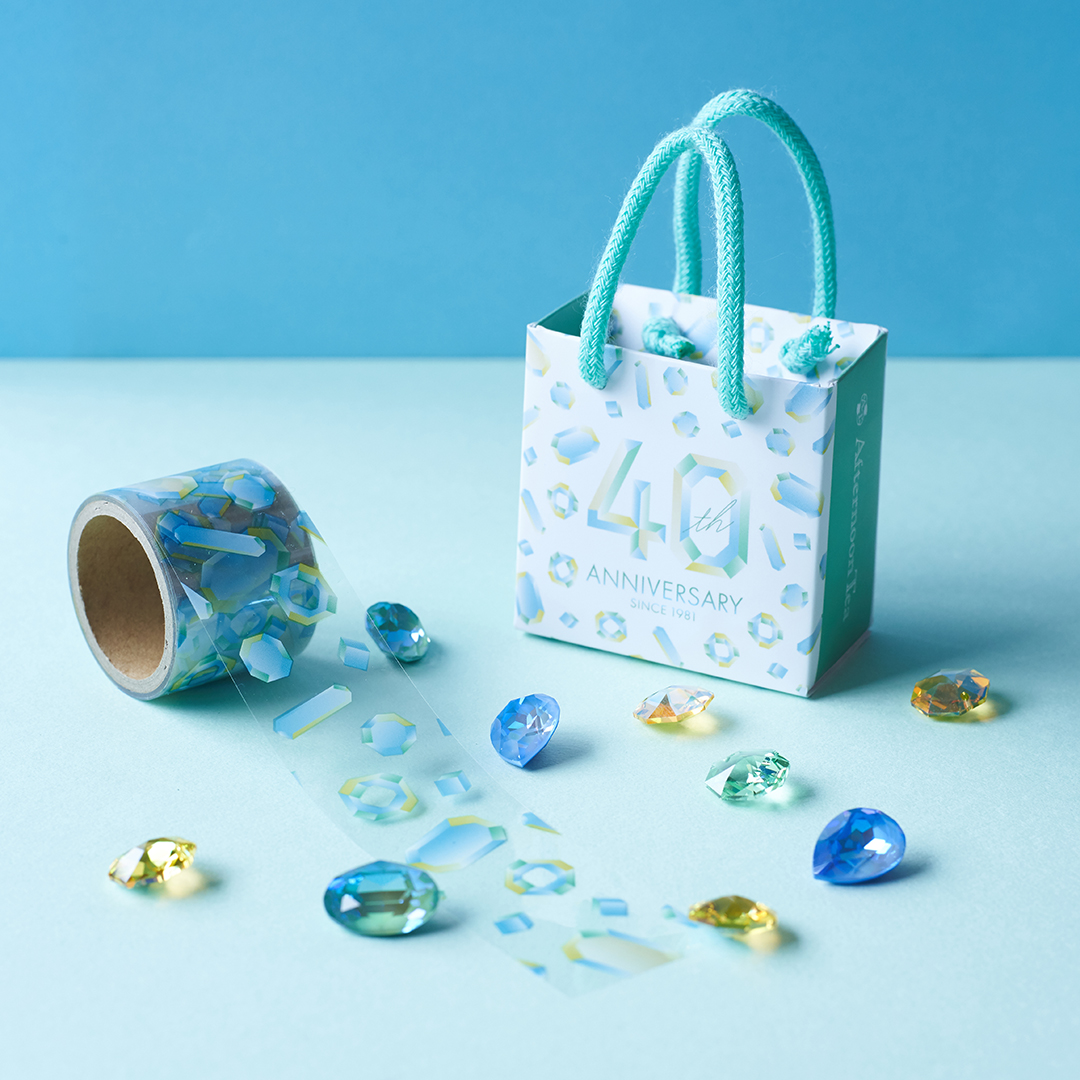 40th Anniversary Commemorative T-shirt: ¥4,950 each (Tax Included)
A limited number of mini bags and tape featuring the 40th anniversary logo will be given to the first 5,000 customers on September 10 and 17.
The BRING brand creates new clothes from old clothes by chemically decomposing used garments. The company has collaborated with Afternoon Tea LIVING, a brand always committed to sustainability, to produce its new 40th anniversary T-shirt using BRING material, partially made of recycled polyester. The design on the front features two photo prints: one of a meringue cake by confectionary researcher Rika Fukuda, and the other of a cat sitting in a windowsill, selected from one of Afternoon Tea LIVING's past free papers.
Which snow globe is your favorite?
Information
Afternoon Tea LIVING 40th Anniversary Celebration
When: September 10, 11, 17, 18
Where: Afternoon Tea LIVING Stores, Online Shop
Official Site: https://www.afternoon-tea.net/living/
RELATED ENTRIES
Yokohama Spaghetti & Cafe Offering Afternoon Tea with Cute Miniatures

If you're looking to feel like a kid again, Yokohama Spaghetti & Cafe is offering a chance to have afternoon tea with some adorable miniatures in a dollhouse atmosphere. The popular set will be reimagined during December to feature a Christmas motif, and is the perfect backdrop for Twitter or Instagram pictures!

'Afternoon Tea for 'me' and 'my friends,' drink included: ¥1,380 per person (Tax Included)

The set includes seven beautiful desserts crafted by a pastry chef and features seasonal fruit. Whether you enjoy tea and cakes by yourself or with friends, feel free to take pictures of the miniatures for a jolt of cuteness. 

Information

Yokohama Spaghetti & Cafe

'Afternoon Tea for 'me' and 'my friends' 

Available: Daily after 15:00

No reservations needed

Address: Tokyu Square 1 B1F, 2-3-2 Minatomirai, Nishi-ku, Yokohama (Connected to Minatomirai Station)

Hours: 11:00-21:00 

Official Instagram: https://www.instagram.com/hama.spa/

THE STRINGS Omotesando Introduces New 'Violet Halloween Afternoon Tea'

THE STRINGS Omotesando will be offering a new and limited 'Violet Halloween Afternoon Tea' at the 'Cafe & Dining ZelkovA' 1F between October 5 and October 31 2021.

 

The Halloween themed afternoon tea offers a selection of cute sweets, including black monster themed Maritozzo and purple taro Mont Blanc cream puffs topped with witch hats.

The cool Autumnal menu is made up of sweet and savory violet snacks, with purple potatoes, cassis, blueberries and more. You'll find yourself able to taste the season, with the rich fig cheesecake and sweet chestnut scones.

Enjoy bottomless drinks with a selection of 16 herbal and flavored teas, coffees and lattes. You can even enjoy a cup of tea from TWG, a luxury brand from Singapore.

This adult-aimed afternoon tea is full of luxurious ingredients, such as parfait-like organic vegetables and salmon micuy, roasted Angus beef, and violet desserts. Spend your afternoon relaxing on the French and Italian crafted sofas while you take a break from the hustle and bustle of the city.

 

  

Why not spend an elegant Autumn afternoon enjoying a luxurious afternoon tea, watching out over the iconic zelkova-lined streets of Omotesando?

Interior Shop FrancFranc to Launch New Products in Collaboration with ANNA SUI

Japanese furniture and home décor company FrancFranc is teaming up with global fashion brand ANNA SUI for a new product collection. ANNA SUI HOME FrancFranc will be released at FrancFranc stores nationwide and online starting September 3.

Product Lineup

2-seater Sofa, Dark Red: ¥149,000 (Tax Included) / 1-seater Sofa, Dark Red: ¥79,000 (Tax Included) / Ottoman, Dark Red: ¥39,000 (Tax Included)

Side Table, Black: ¥39,000 (Tax Included) / Medium Rug, Dark Purple: ¥35,000 (Tax Included)

Pillow Covers (Purple Logo / Beige Retro Flowers / Multicolor Flowers / Black and Gold): ¥5,000 each (Tax Included)

Flower Pillow Cover: ¥4,000 (Tax Included) / Flower Quilt Cover, Single: ¥15,000 (Tax Included) / Semi-Double: ¥16,000 (Tax Included) / Double: ¥17,000 (Tax Included) / Large Purple Cushion: ¥5,800 (Tax Included)

Removable Wallpaper (Purple Flower / Pink Flower / Black Swan): ¥3,200 each (Tax Included)

Roomwear, Navy: ¥10,000 (Tax Included) / Slippers (Black / Navy): ¥4,000 each (Tax Included)

Drawstring Bag (Navy / Black / Red / Pink): ¥3,000 each (Tax Included)

Travel Jewelry Box: ¥2,500 each (Tax Included) / Small Jewelry Box: ¥7,500 each (Tax Included) / Large Jewelry Box: ¥10,000 each (Tax Included) / Multi-level Box: ¥9,500 each (Tax Included)

Room Fragrance (Black / Gold / White): ¥4,800 each (Tax Included) / Candle (Black / Gold / White): ¥3,800 each (Tax Included)

Mug with Lid (Pink Flower / Blue Flower / Red Lace Flower / Beige Retro Flower / Purple Logo / Pink Storefront): ¥2,200 each (Tax Included)

Tea for One Teapot (Purple / Green): ¥5,000 each (Tax Included) / Mini Plate Set: ¥3,000 (Tax Included)

This marks the first time ANNA SUI has collaborated on an interior design collection in the brand's history. FrancFranc will celebrate its 30th anniversary in July 2022, and the release of these 47 unique products will mark this auspicious occasion. From furniture and home décor to candles and jewelry boxes, there's something for everyone!

How would you like to decorate your space with these one-of-a-kind pieces?

Four Seasons Hotel Kyoto to Begin Autumn Harvest Festival-themed Afternoon Tea Service

The Four Seasons Hotel Kyoto will begin offering Autumn Harvest Afternoon Tea for a limited time starting on September 13. This seasonal menu was designed by pastry chef Reiko Yokota, who has experience at Michelin Star restaurants and Four Seasons Hotels around the world. The menu is filled with healthy treats for both mind and body, utilizing fall ingredients like sweet potato, pumpkin, persimmon, and apple. 

Autumn Harvest Afternoon Tea

Five-sweets collection using fresh autumn ingredients to present the true flavor of local fruits and vegetables

Four savory treats presented in a bowl made to look like an autumn field, inviting guests to dig up autumn's bounty

Luxurious western and Japanese chestnuts compliment these premium autumn parfaits

A collection of take-home sweets featuring warm colors and autumn ingredients such as pumpkin and chestnut are perfect for decorating your home table

Halloween cupcakes, available for a limited-time, are the perfect souvenir

Guests can overlook the Sekisuien Gardens while dining from the terrace, a unique experience at the Four Seasons Hotel Kyoto


 

Afternoon tea begins with a collection of sweets, including jellies, tarte tatin, and crème brûlée, each bringing out the complex flavor of local Japanese fruits and vegetables. The featured jalapeno cornbread, inspired by Chef Yokota's childhood in Texas, is one of the more unique dishes. 

 

The savory dish, prepared by Brasserie restaurant head chef Ryuji Koga, presents each morsel in a bowl reminiscent of an autumn field, giving guests the chance to experience a bountiful harvest themselves by using a spoon as a makeshift shovel. 

 

For drinks, patrons can enjoy a selection of premium teas from Ronnefeldt in Germany, including the Four Seasons Hotel Kyoto's original blend. Two autumn-only tea mocktails are also present on the menu. 

 

The premium parfait, limited to 10 servings per day, is made from two types of chestnut-forward Mont Blanc. The Western chestnuts have a rich flavor, while the Japanese varieties are gentler and more delicate in their sweetness. The Mont Blanc with Chestnuts, Rum, and Cassis has a more adult flavor, balancing the sweetness of French chestnuts with the complex flavor of rum. Interwoven with pear compote and black currant jelly, this is a parfait that's as delightful to look at as it is to eat. 

 

The Japanese Chestnut Mont Blanc with Uji Green Tea and Yuzu is a more traditional Kyoto dish, bringing with it lavish amounts of green tea from Marukyu Koyamaen in Uji, along with refreshing yuzu sorbet. 

 

Those not wanting to leave this experience behind quite yet can feel free to take some pastries and baked goods home. In addition to the popular Mont Blanc and Strawberry Millefeuille, the Sweet Potato Shortcake will also be available. Why not pick up a Chestnut and Rum Pound cake, or perhaps an Orange and Earl Gray Pound Cake made with Ronnefeldt tea leaves? 

 

Halloween cupcakes will also be available for the first time this year, from October 15 to October 31. These include the Pumpkin and Cream Cheese Cupcake, and the Chocolate and Raspberry Cupcake. 

 

Featuring colorful and delectable seasonal ingredients, how would you like to partake in this magnificent afternoon tea service? 

Information

Autumn Harvest Afternoon Tea

Available: September 13 – November 30, 2021

Seating Times: 

12:00-14:30 (Last order at 14:00)

15:00-17:30 (Last Order at 17:00)

*There are two sessions at the above times.

Location: Four Seasons Hotel Kyoto 1F, Brasserie Restaurant

Premium Autumn Parfait

Available: September 13 – November 30, 2021 from 11:30-18:00

Location: Four Seasons Hotel Kyoto 1F, Brasserie Restaurant

(Limited to 10 per day.)

Autumn Sweets

Available: September 13 – November 30, 2021 from 11:30-18:00 from 10:00-21:00

Location: Four Seasons Hotel Kyoto 1F, Brasserie Restaurant


Official Site: https://www.fourseasons.com/jp/kyoto/

New Cocktail Menu Gets Served at KYOTO YURA HOTEL MGallery

KYOTO YURA HOTEL MGallery is now serving a new cocktail and afternoon tea menu in collaboration with Perrier Promotion.

KYOTO YURA HOTEL MGallery is a hotel group based in Paris, France which operates over 5,000 hotels and resorts in 110 countries worldwide. Together with the mineral water brand Perrier, the two companies launched the 'Perrier Promotion with KYOTO YURA HOTEL MGallery' on July 21 which includes a special cocktail and afternoon tea line-up being served up at Lounge & Bar 1867.

Perrier x MURAKAMI Tote Bag

Perrier Cacao & Orange Asian Fizz Mocktail | ¥1,300 (Tax Included)

Perrier Umami & Ryokucha Green Tea Sour Mocktail | ¥1,300 (Tax Included)

Perrier Citrus Iced Tea Mocktail | ¥1,300 (Tax Included)

Perrier Evening Iced Coffee Cocktail | ¥1,700 (Tax Included)

Perrier Flower & Fruit Afternoon Cocktail | ¥1,700 (Tax Included)

Perrier Promotion with KYOTO YURA HOTEL MGallery is an all-day special event taking place at the hotel. At both the hotel entrance, as well as Lounge & Bar 1867, an artwork collaboration by Takashi Murakami and Perrier is being displayed for the duration of the event, adding a colourful vibe to the spaces.

The drinks line-up includes three mocktails which are available on the free flow drinks menu when ordering the hotel's popular afternoon tea. The afternoon tea set was conceived by pastry chef Jennie Chiu and is packed full of summer fruits like passion fruit and mango.

During the collaboration, the first 200 people to order either the afternoon tea set or high tea set will also receive a free novelty tote bag featuring the Takashi Murakami's characters Kaikai and Kiki.

In the evenings, the Perrier Pop-Up Bar are serving two alcoholic cocktails alongside the mocktails.

Tendo Mokko Rethinks Japanese Modernity With 'Japanese Modern / 80 Project' to Celebrate 80th Anniversary

In commemoration of Tendo Mokko's 80th anniversary, DAIKANYAMA TSUTAYA BOOKS is hosting the "Tendo Mokko & Japanese Modern" fair from July 7 to August 6 where the new products from the interior design brand is being sold. This includes a new book titled the same as the fair which details the brand's most famous furniture works. New furniture by Hiroshi Nakamura, Koichi Futatsumata, and Wataru Kumano is also being exclusively sold there.

Each participating artist's signed nameplate

Tendo Mokko is a Japanese furniture maker. After the Second World War, they made huge developments the country's architect and design culture in collaboration with architects and designers by creating products rooted in the climate and natural features of Japan. One of the spearheads of this movement was Kenmochi Isamu, a modernist designer who played a pivotal role in the development of Japanese industrial design after World War II. Through the history of Japanese architecture, Tendo Mokko has joined hands with countless famous designers to manufacture furniture.

Last year, the company turned 80 years old. As part of the commemoration, it is looking to dive deep into and rethink Japanese modernity at the Tendo Mokko & Japanese Modern fair where visitors can see their latest wares as well as learn about the process of developing new furniture and more. All of this, along with interviews, is also detailed in the book. Those who pre-order products at the fair will also receive one of the above-pictured nameplates depending on who designed it.

Yoshinori Takemura x journal standard Furniture Reveal Limited-Edition TAKEMURA LAMP Collection

Renowned Japanese ceramicist Takemura Yoshinori is releasing his iconic TAKEMURA LAMP collection at the Nihonbashi branch of journal standard Furniture on June 26.

TAKEMURA LAMP

¥71,500 Each (Tax Included)

There are 22 lamps in this collection, all of which are individually crafted with the utmost care and detail. Takemura is known for his gorgeous colour choices and combinations. Takemura used to love chemistry and studied enamel compounds by himself. This has led to him using over 60 colours in his creations. The lamps serve not only to light up a room, but adorn it as an art piece too. They're also a show of journal standard Furniture's craftsmanship.

Information

TAKEMURA LAMP
Quantity: 22
Release Date: June 26, 2021
Available: journal standard Furniture Nihonbashi
Address: Nihonbashi Takashimaya S.C. 3F, 2-4-1 Nihonbashi, Chuo-ku, Tokyo
TEL: 03-5542-1600
Opening Hours: 10:30-20:00

Official Website: http://acme.co.jp/

Enjoy a Japanese Summer Afternoon Tea Set From Home

InterContinental Tokyo Bay will begin selling its new fruit-loaded 'Summer Afternoon Tea Set' at its hotel restaurant The Shop N.Y.LOUNGE BOUTIQUE on June 1. Available until August 31, the afternoon tea set is one to be enjoyed at home.

Summer Afternoon Tea Set | ¥3,780 (Tax Included)

This marks the third Summer Afternoon Tea to be sold by the restaurant which began its takeout and delivery service for the set last summer. The line-up is packed with a range of seasonal summer fruits, including the Mango Coconut which is a coconut mousse topped with mango sauce along with fresh mango and passion fruit, the Peach Mousse which combines peach mousse with peach jelly, refreshing Lemon Macarons, the cream, mango, and passion fruit-filled Mango Passion Cream Puff, and more. An afternoon tea set isn't complete without scones either – this one has separate chocolate and raisin ones which go nicely with the pistachio whipped butter and raspberry jam.

On the savoury side of things are mini hamburgers with a pineapple and BBQ sauce, caprese salad with ham, peach, mozzarella, and more.

Petit Fours Set | ¥2,700 (Tax Included)

Treat yourself to an indulging afternoon tea at home this summer.

Sanrio Character Themed Afternoon Tea and Cafe Items Arrive at EGG & SPUMA

The Shinjuku branch of EGG & SPUMA is now hosting "Sanrio Characters CAFE," a menu of food and drink themed on Sanrio's beloved characters. Running until August 31, the cafe has also been decorated in colourful and cute Sanrio designs.

Receive a free coaster with your order

The menu line-up features lots of fruits, including the Cinnamoroll crème brûlée which is served on weekdays only, fruit sandwiches which will include My Melody themed ones this month and June, Hello Kitty and Keroppi ones in July, and Little Twin Stars in August. There's also fruity jelly and more.

If you're a Sanrio fan look to indulge a little more, then there is also a two-tiered afternoon tea set. The upper plate includes Kiki & Lala sandwiches, a Keroppi tart, the Cinnamoroll crème brûlée, and more. On the bottom plate there is Hello Kitty apple jelly, My Melody strawberry caprese salad, Kuromi canapé, and so on. There will also be special pancakes and a jelly dessert arriving in June which must be booked in advance.

Which of these Instagram-worthy delights do you want to tuck into?

Information

Sanrio Characters CAFE
Address: EGG & SPUMA Shinjuku Lumine EST (Floor 8F), 3-38-1 Shinjuku, Shinjuku-ku, Tokyo,  160-0022
Running: May 15, 2021 – August 31, 2021

Opening Hours: 11:00-20:00 (Last Orders 19:00)
TEL: 03-6273-0255
Official Website: http://www.salt-inc.co.jp/egg-and-spuma/

Parfait Inspired by Kyoto Zen Garden Arrives at AMAN KYOTO

The Kyoto-based luxury resort and spa AMAN KYOTO is now serving a special parfait for spring and early summer until June 30 which is inspired by traditional Japanese zen gardens.

Zen Garden Parfait

The Living Pavilion by Aman

Situated quietly in a secret garden at the heart of a forest, AMAN KYOTO is just a stone's throw from Kyoto's famous golden Kinkaku-ji Temple. This secluded spot is home to abundant nature with green filling your vision at every turn.

The Zen Garden Parfait is enjoyed at the resort's dining space, The Living Pavilion. The sponge of the cake and the cookies are made with matcha and made to look like the moss of a zen garden. The delicious 'stones' are made from houjicha tea cookies, while the crunchy cocoa-flavoured cat tongue biscuits are reminiscent of trees. White chocolate sits hidden underneath the garden panna cotta while fragrant matcha tiramisu, which is made from organic matcha from Uji, helps to complete that garden look. Other sweet additions include rich matcha cream, a nine-layered tiramisu, yuzu ice cream, yuzu jam, and more.



The parfait is served in an original matcha bowl made by Japanese ceramics artist George Nakamura.

Information

Zen Garden Parfait
Available: Until June 30, 2021
Price: ¥5,300 (Tax Included)
TEL: 075-496-1335 (9:00-18:00)
Book Online: https://www.aman.com/ja-jp/resorts/aman-kyoto/dining/living-pavilion-aman
*Bookings required

*Limited number of parfaits per day

*Parfait available as an additional dessert with lunch, dinner, and afternoon tea courses

*Those ordering the parfait on its own as a visitor must book for 3:00pm or 3:30pm

Exquisite Afternoon Tea to be Served in Tokyo in Collaboration With Pierre Hermé

InterContinental Tokyo Bay is set to serve up a special afternoon tea by French pastry chef Pierre Hermé at five of its restaurants including New York Lounge from June 1 to August 31.

A colourful, fruit-filled line-up

From the left: Mosaic Cheesecake, Macarons, Ispahan, Emotion Satine

From the left: Jardin de Misole, Jardin de L'atlas, Infiniment Cassis

Chocolate gateaux line-up

Two jam scones, one with raspberry and one with lemon

The savoury items are made by the French restaurant next door

The full afternoon tea at New York Lounge

The full afternoon tea at Hudson Lounge

The full afternoon tea at Manhattan

The full afternoon tea at La Provence

The full afternoon tea at Italian Dining Zillion

The afternoon tea line-ups are a collaboration between French pastry chef Pierre Hermé, who has been called the pastry industry's Picasso, and award-winning executive chef Junji Tokunaga. Their first time working together, the duo have created an afternoon tea service packed with fruits like passion fruit, raspberry, orange, lychee, lemon, and more. Tokunaga also baked up chocolate gateaux as an homage to Hermé.


Items on the menu include Pierre Hermé's signature Ispahan which is a rose-flavoured macaron stuffed with rose cream, fresh lychee, and raspberry; Mosaic Cheesecake which harmoniously combines griotte cherries and pistachio; the refreshing Emotion Satine in all its passion fruit, orange, cream cheese, and mascarpone richness; four original gateaux chocolate oranges by Tokunaga; scones, and more.

The afternoon tea served at French Dining Manhattan, a restaurant which has a terrace overlooking Tokyo Bay, also comes with its own original savoury line-up, while Fine Dining La Provence and Italian Dining Zillion serve up lunch plates with theirs.


Information

Pierre Hermé x Junji Tokunaga

Running: June 1, 2021 – August 31, 2021

Venues

<Pierre Hermé x Junji Tokunaga Summer Sparkle Afternoon Tea>
New York Lounge/Hudson Lounge/Rainbow Bridge View Dining & Champagne Manhattan


<Pierre Hermé x Junji Tokunaga Summer Sparkle Afternoon Tea-Style Dessert w/Lunch Plan>
La Provence/Italian Dining Zillion

Alice in Wonderland Themed Afternoon Tea Buffet 'Lost in Europe' Heads to Nagoya

This spring, Hilton Nagoya is set to serve up a special afternoon tea set and buffet plan at its first floor all-dining restaurant IN PLACE 3-3. The theme of the afternoon tea line-up, which will be served either as a set-only plan or the set plus a buffet, is 'Lost in Europe.' Fans of Lewis Carroll's beloved novel Alice's Adventures in Wonderland can look forward to jumping in the rabbit hole as they indulge in a colourful and delicious line-up that sends them straight to wonderland.

The plans will run for three months during which three different menu line-ups will be served, each with a European feel to them as Alice finds her curiosity tending away from Japanese cuisine to the delectable assortments of overseas.

Spain will serve as the first menu. Travelling to Spain, Alice finds the country one overflowing with creativity in the arts, so says the story of this fun afternoon tea. Dishes will be plated with desserts fusing together Spain's food culture with that of Wonderland, traditional Spanish desserts, sweet treats inspired by Spanish art, and more. Many of the irresistible items will also be made with almonds – Spain being the second largest producer of almonds in the world.

Inside the restaurant, diners will feel like they have travelled to a Spanish rendition of Wonderland with a mix of styles from both locations, such as Spanish sunflowers, mosaic tiles, stained glass windows, and more.

A little look at the menu (some of it)

1. Afternoon Tea Set Menu: ¥4,600 (Tax Included)

Cubism Cheshire Cat Arroz Con Leche

A coconut-flavoured Spanish rice pudding made with coconut lavender jelly. Its design, from the stripes to the grinning teeth, are references to the Cheshire Cat.

Blue Caterpillar Siesta Cake

A cake covered in striking blue chocolate, made with pistachio mousse, and filled with a mixed berry jelly.

Butterfly Windmills Mousse

An artistic delight made with smooth chestnut mousse and colourful butterfly wings attached.

Plate Menu

Pistachio Crema Catalana in Berry Sauce

A traditional dessert of Catalonia, this crema catalana features a rich pistachio-flavoured custard cream and is served with a berry sauce.

Savoury Items

Salted churros that are crunchy on the outside and fluffy in the inside, and a checked bocadillo filled with Spanish omelette.

Lost in Europe Afternoon Tea Set Summary

10 desserts, two savoury items, and a choice of a soft drink, coffee, or tea.

2. Afternoon Tea Set & Dessert Buffet: Adults ¥5,000 / Children ¥2,500

Mischievous Crazy Clock Cake 

A warped, melted clock made with passion fruit cream and orange and mango mousse.

Mosaic Tile Sangria Jelly (Non-Alcoholic)

A refreshing beverage made with non-alcoholic white wine and grape, strawberry, and grapefruit jelly, all made to look like mosaic tiles.

Savoury Items

Pick from nine different savoury items like paella, sopa de ajo garlic soup, patatas bravas, tapas, and more.

There are also a range of other desserts like a coffee jelly ice cream, a melon cake, and more, as well as fruity iced candies.

Afternoon Takeout Box

Customers can also get their afternoon tea set to go with a mix of desserts and savouries.