It's possible to make Japanese food in 10 seconds?! Marukome X MMN shows you how with cute pop cooking videos!
In recent years, Japanese cuisine has taken the world by storm.  MOSHI MOSHI NIPPON (MMN) has teamed up with food company Marukome to make videos showing you how to make delicious but easy Japanese dishes at home in just roughly 10 seconds!
Today we're going to talk about the "Kawaii Miso Soup" recipes that are bursting with cute pop!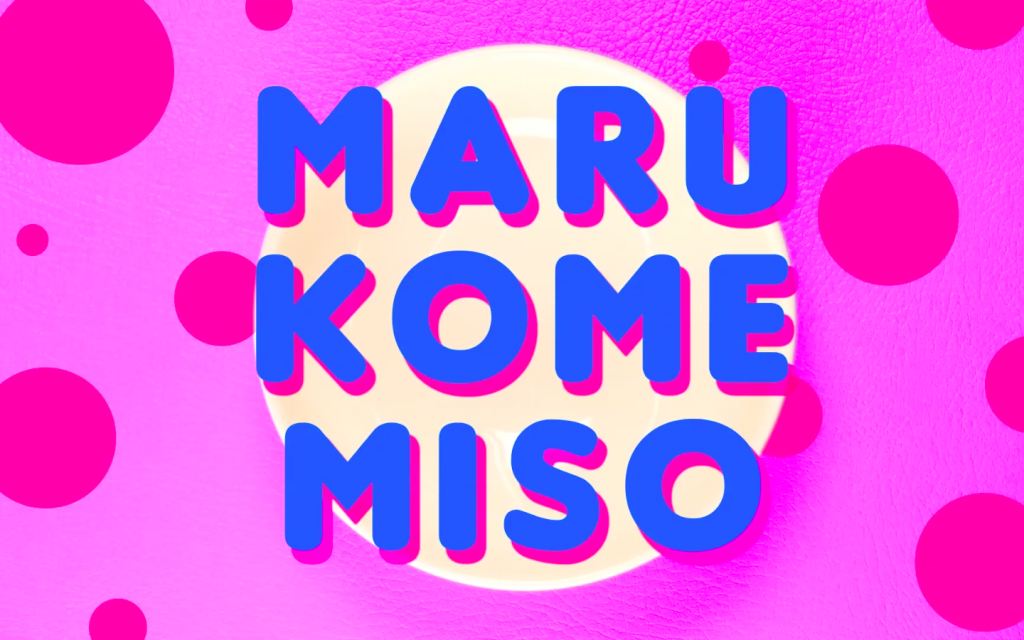 Let's talk a bit about miso soup first. For the Japanese, miso soup is soul food. When traveling to a foreign country, many Japanese people bring instant miso soup with them so they can enjoy a nice cup by just adding hot water. Using store-bought miso soup that is even available in foreign countries, let's make some delicious miso soup!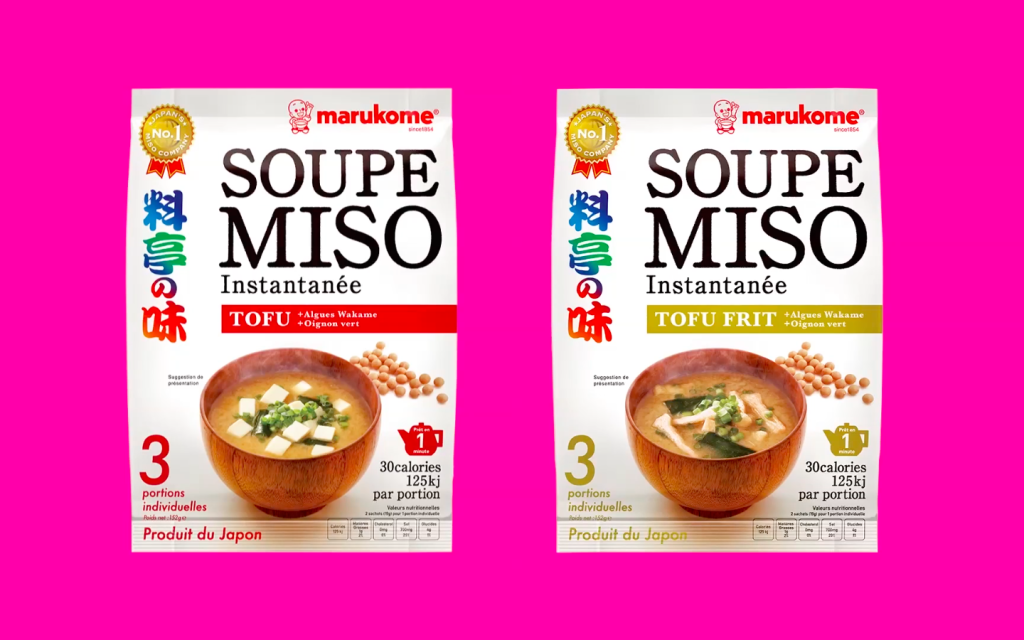 The videos begin with a "piko-piko" tune, which resembles a Japanese game. There are 5 videos in total and each video features a different flavour of miso soup. Whilst the ingredients are presented on screen, listen closely and you will hear a catchy melody sung by vocaloid characters! The first video shows the contents of the bag of dry ingredients – Japanese tofu, wakame seaweed and spring onion. This is poured into a cup, followed by the bag of miso and hot water. Mix well and the perfect cup of miso soup is complete!
CAPRESE MISO SOUP 
 "Kawaii Miso Soup" videos also show us miso soup recipes that are packed with nutritious ingredients. These would make for the perfect side dish to a main meal. Butter popcorn, cherry tomatoes with mozzarella cheese, chickpeas and mascarpone cheese, tomatoes with black pepper and much more – whichever country you're living in, you can get your hands on the ingredients for these recipes. Italian and even French – no matter what cuisine you're cooking up, these miso soup recipes should be a new addition to your home cooking menu.
In addition, the Marukome booth will be present at JAPAN EXPO – the Japanese culture event that starts on 6th July! Pop by the Marukome bar to try a variety of miso soup flavours that appear in the video – all for free! Don't spend your time speculating on how they taste – come and taste it for yourself! The booth area is packed to the brim with events and interesting contents so please do not miss out!
From the addictive piko-piko opening to the delicious ingredients – watch the Marukome X MMN cooking video that's bursting with cute pop and you won't be able to stop!
Related article:Interview with WASUTA – find out more about the idol group who will be performing at JAPAN EXPO!
Related article:MOSHI MOSHI NIPPON to Embark Overseas to Japanese Cultural Events for 2017!
RELATED ENTRIES
Check Out The CD Artwork For New Anime Granbelm Ending Theme Song Negai By Uru

Uru's new single Negai will be released on September 11 but for now, we get a sneak peek at the stunning single art. Negai is currently being used as the ending theme song for the brand new anime Granbelm, which just went on air this month. 

 

The artwork for Negai was created by Yuichi Miyashi, who also took Uru's artist photos. The photo for the single jacket is of a neverending horizon upon which the gentle light of the moon is reflected. This pure image perfectly links to Uru's artist photos and to her song Negai (Wish).

First-Press Edition

Regular Edition

The First-Press and Regular Editions of the single come with a special edition colourful CD tray. The First-Press edition comes in the same jewell case as the regular edition as well as a limited edition three-sided box case decorated with Uru's logo pressed into the casing in silver foil. 

Anime Edition

The Anime Edition comes in the form of a Digipak. The illustration features the main characters Mangetsu and Shingetsu, who are gazing into each other's eyes on the night of a full moon.

Before the CD is released, Negai will be available for downloading and streaming from July 26. We have only ever witnessed the short ending version of the song from the anime. The short version music video was released on YouTube recently, too. Fans are eagerly waiting for the release of the full version of the song. 

RADWIMPS Release Weathering with You Album And Music Video For Ai ni Dekiru Koto wa Mada Aru Kai

Following the successful film Your Name, Makoto Shinkai has produced yet another masterpiece called Weathering with You (Tenki no Ko), collaborating yet again with RADWIMPS. RADWIMPS' released their brand new album called Weathering with You (Tenki no Ko) on July 19. Until now, their song Ai ni Dekiru Koto wa Mada Aru Kai has made quite a few brief appearances in the promotion in the movie including in the movie trailers and has stirred quite a sensation. 

Today, along with the release of the album, the official music video went public. Each scene of the video has been depicted beautifully. As the weather changes, each scene shifts perfectly in response, portraying the beautiful world of the film flawlessly. The music is filled with the strong and intense yet gentle and kind vibes of RADWIMPS that you absolutely cannot miss. 

The new album includes a total of 31 songs, consisting of the five main theme songs and the 26 songs that are used as background music in the film. Please check out their emotion-filled album and then see the movie for yourself to see just how RADWIMPS have added colour and emotion to scenes of the film. All songs from the album have been released by major streaming services such as iTunes and Rekchok, so please check it out. 

There is also a special bonus scheme running to treat those who purchase the new album from a shop. The bonus involves the free giveaway of a CD-sized card with a special design that represents the five main songs from the album. The pattern on the card varies from shop to shop, so please find out more information about this scheme by visiting their official website if you are interested. 

©2019 Weathering with You Production Committee

Eir Aoi Just Dropped The Music Video For Granbelm Anime Opening Tsuki wo Ou Mayonaka

Eir Aoi's LIVE TOUR 2019 Fragment oF took her on a journey across the country, performing at eight different locations to approximately 10,000 wild fans. She saw her final tour performance at Kanagawa Kenmin Hall on July 15.  

The overpowering digital rock song UNLIMITED sent an instant surge of energy through the crowd. Her heart-throbbing setlist included a range of big hits that were used as theme songs for the anime Sword Art Online including Iris, INNOCENCE, Cynthia no Hikari, Ryusei and IGNITE . Her strong vocals and the passion etched onto her face enthralled the crowd. 

For the encore, she performed Tsuki wo Ou Mayonaka, which is the new opening theme song for the anime Granbelm. The urgent beat of the song energised the audience, who were dancing and singing as one. For the last song, she performed AURORA, which she especially prepared for this day only. 

"There are times that I just cannot sing this song, but seeing the encouraging and excited faces of my fans gave me the support I needed to sing," she said.

Eir Aoi: Tsuki wo Ou Mayonaka Music Video

After the encore was over, there was a surprise for the fans. The music video for Tsuki wo Ou Mayonaka, the new theme song for the anime Granbelm, was played before the crowd. Fans could not contain their wild joy at being the first people to watch the video. The music video was just released on July 16 at 8pm, so please check it out. 

Attack on Titan The Final Season To Be Released in Autumn 2020

On June 30, NHK General TV finished broadcasting season 3 of popular anime Attack on Titan. Following the end of the broadcast, a 15-second trailer was released where we hear Mikasa pleading for Eren to come back. The short video also advertised the release of "The Final Season" which will be broadcasted in the autumn of 2020.

15-second trailer video

Fans are eagerly waiting to snatch up more information to fuel their excitement for the new season. 

©Hajime Isayama, Kodansha Ltd./Attack on Titan Production Committee

Information

Attack on Titan The Final Season

Autumn 2020 release on NHK General TV (subject to change).

Official Website: http://shingeki.tv/season3/

Watch the video of Tokyo's natural heritage – Ogasawara Islands "Tokyo's hidden islands"

The documentary video, "Tokyo's hidden islands" created based on the theme,"Ogasawara Mura (village)" released in February 2018 by Ogasawara's Sightseeing Information Center was played more than 5,000 times within a month.

This 8-minute video representing the "real charms of Ogasawara" was created with the theme of "Ogasawara, a place which moves your heart."

The footage of beautiful nature and the residents of the village were taken by two photographers who have traveled the world. They swim with dolphins, enjoy the nature of Ogasawara Village which was designated as a natural heritage site and interact with the residents of the village.

In this video, the two photographers find "something that they had lost" in Tokyo by interacting with the residents of the village.


They say they learned many new lessons while staying in the village.
Let's learn of their "insights" by watching this video.

Marukome's collaboration with Asobisystem has opened Kawaii Miso Soup Shop at Harajuku Moshi Moshi Box.

Marukome's collaboration with Asobisystem, based on the concept of "Miso Kawaii", has produced many things, among them a mascot named Marukome chan.

This time, as part of our efforts to develop a "Miso Kawaii" miso soup, we are opening Kawaii Miso Soup Shop at Harajuku Moshi Moshi Box.

At Kawaii Miso Soup Shop, customers will be able to select from eight different flavors ranging from The Miso Soup, a standard fare with fried tofu, seaweed and leeks, the Harajuku-style, with cheese and tomatoes, and the Omotesando-style with butter, bacon and corn, to Fire Street-Style, a spicy Korean-esque concoction with kimchee and Korean seaweed. The soups, usually 100 yen per bowl, will be complimentary for foreign nationals!

The soups will be available to go in Kawaii cups and paper bags, making it perfect to sip while walking about or as a gift. Warm your heart and body with a hot cup of miso soup!