Hyatt Centric Kanazawa Reveals Halloween Inspired Menu for October
All-day restaurant FIVE – Grill & Lounge, located within the Hyatt Centric Kanazawa hotel, will begin serving up a selection of Halloween-inspired treats beginning October 1, including cake sets, parfaits, muffins, and various lunch and dinner items.
Guests will also be able to enjoy some mischievous cocktails and mocktails inspired by witches and ghosts!
Halloween Cake Set 
Black Sesame Pudding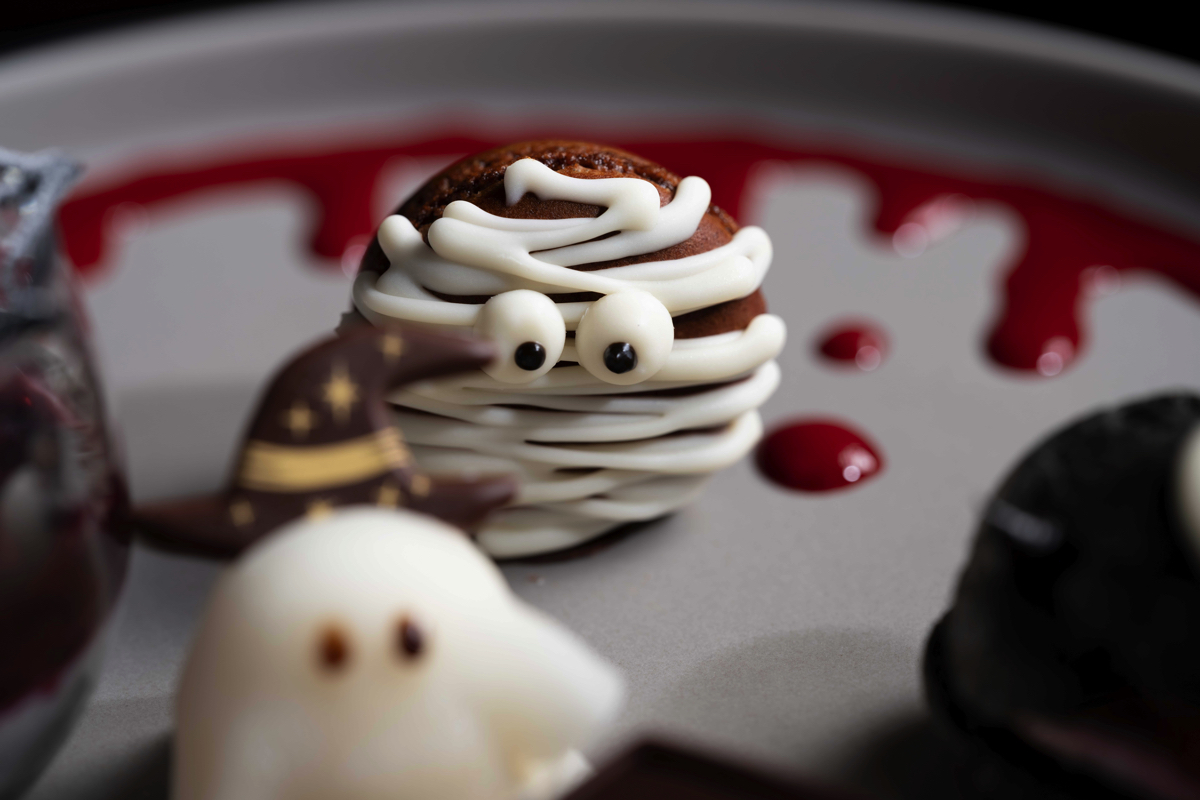 Mummy Macaron
Ghostly Mousse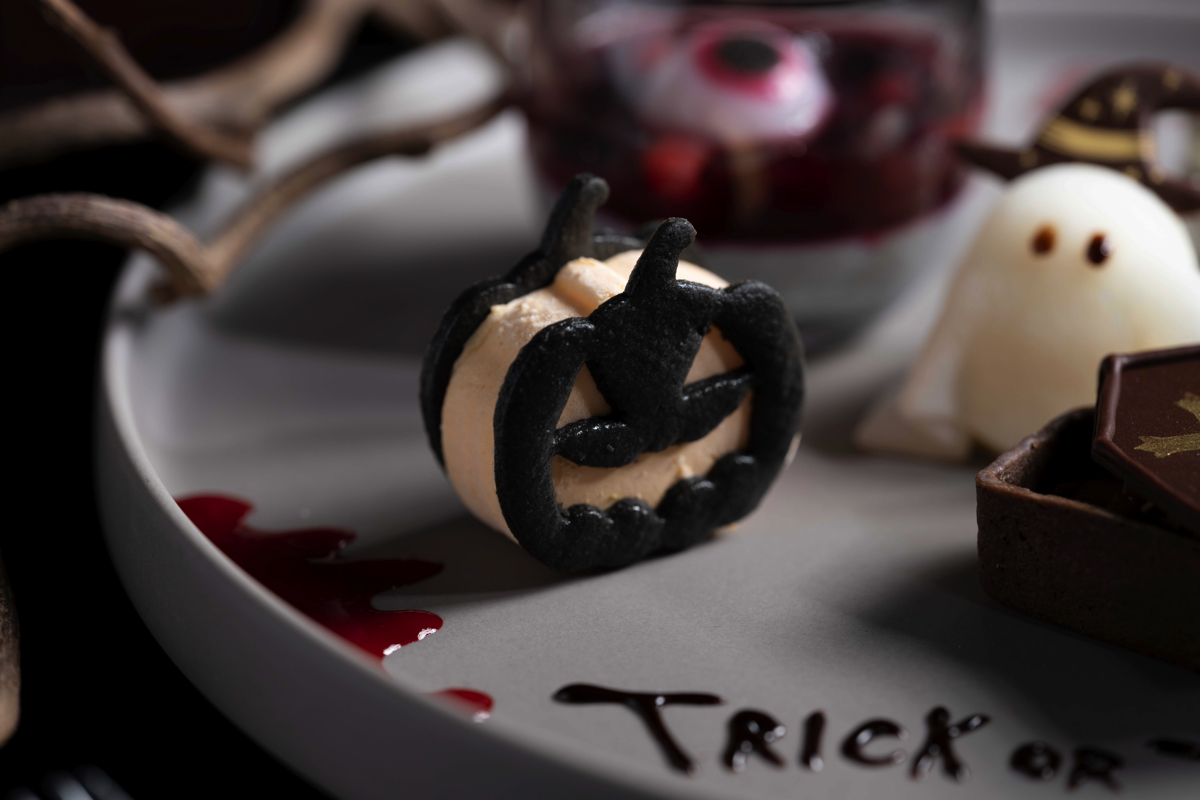 Pumpkin Ice Cream Sandwich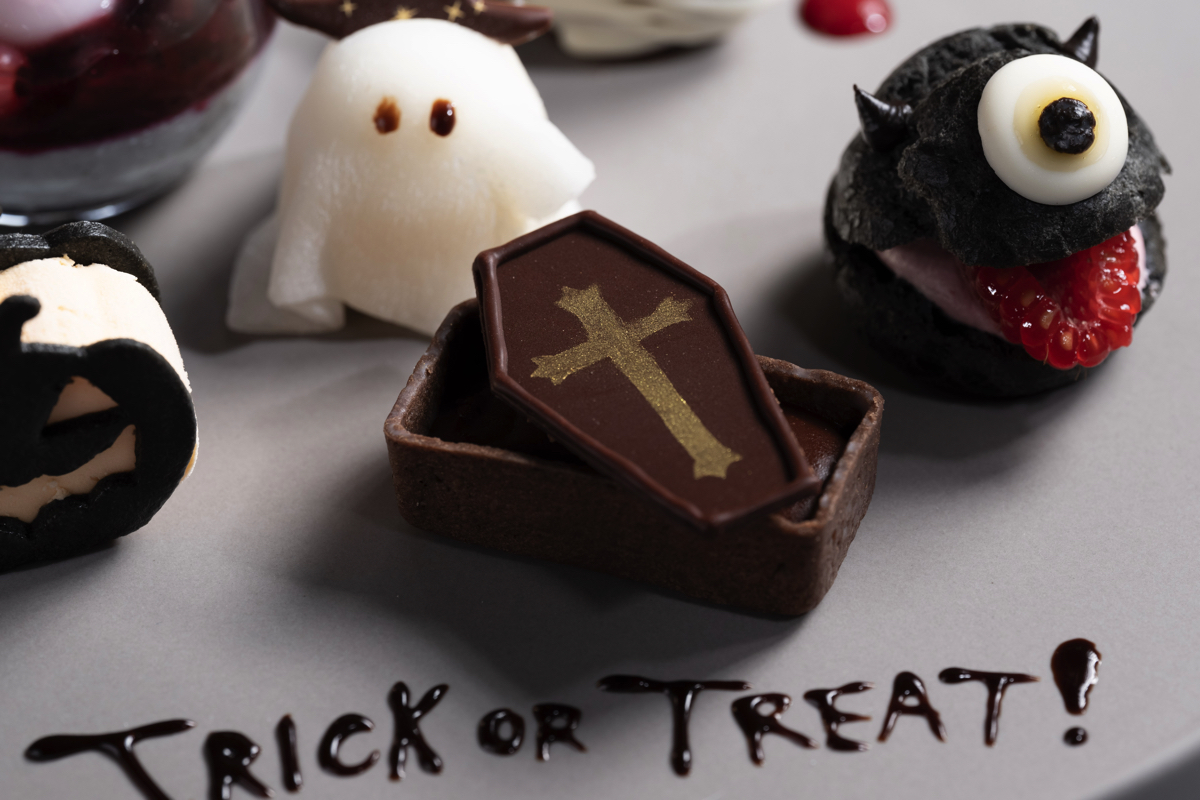 Coffin Tart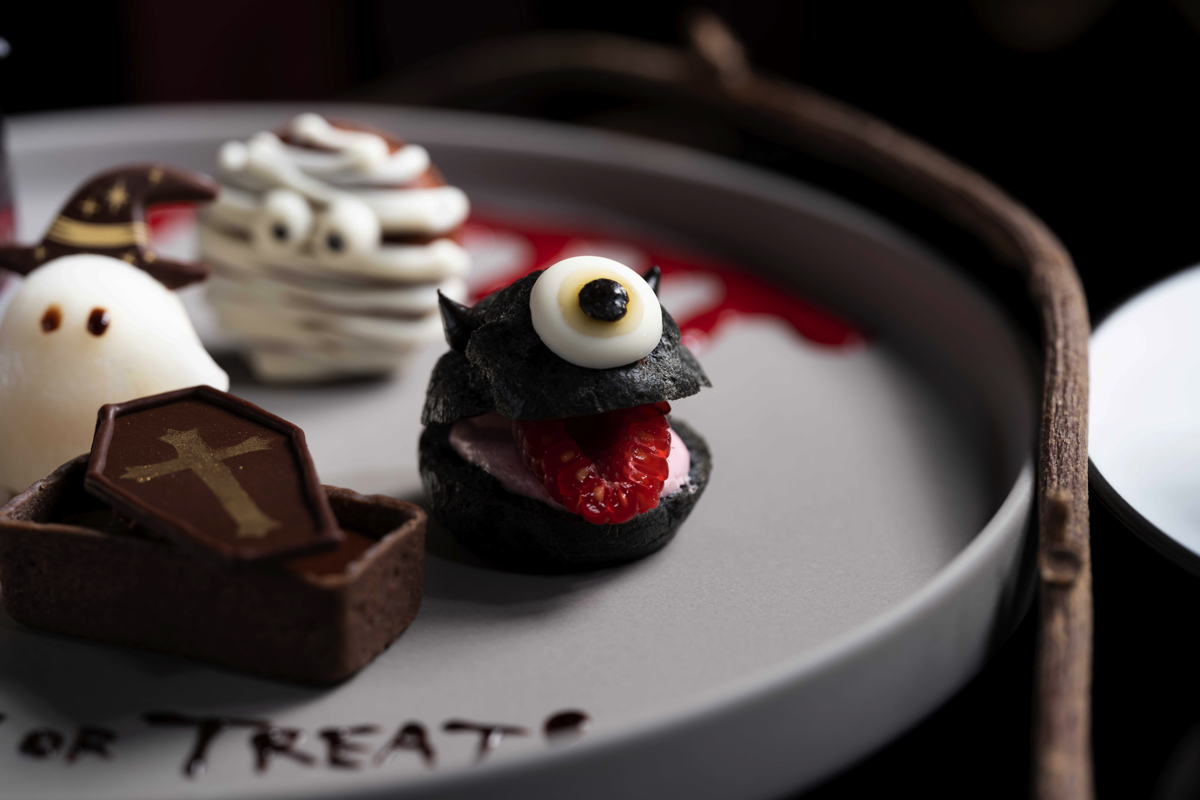 Monster Cream Puff
Halloween Parfait Set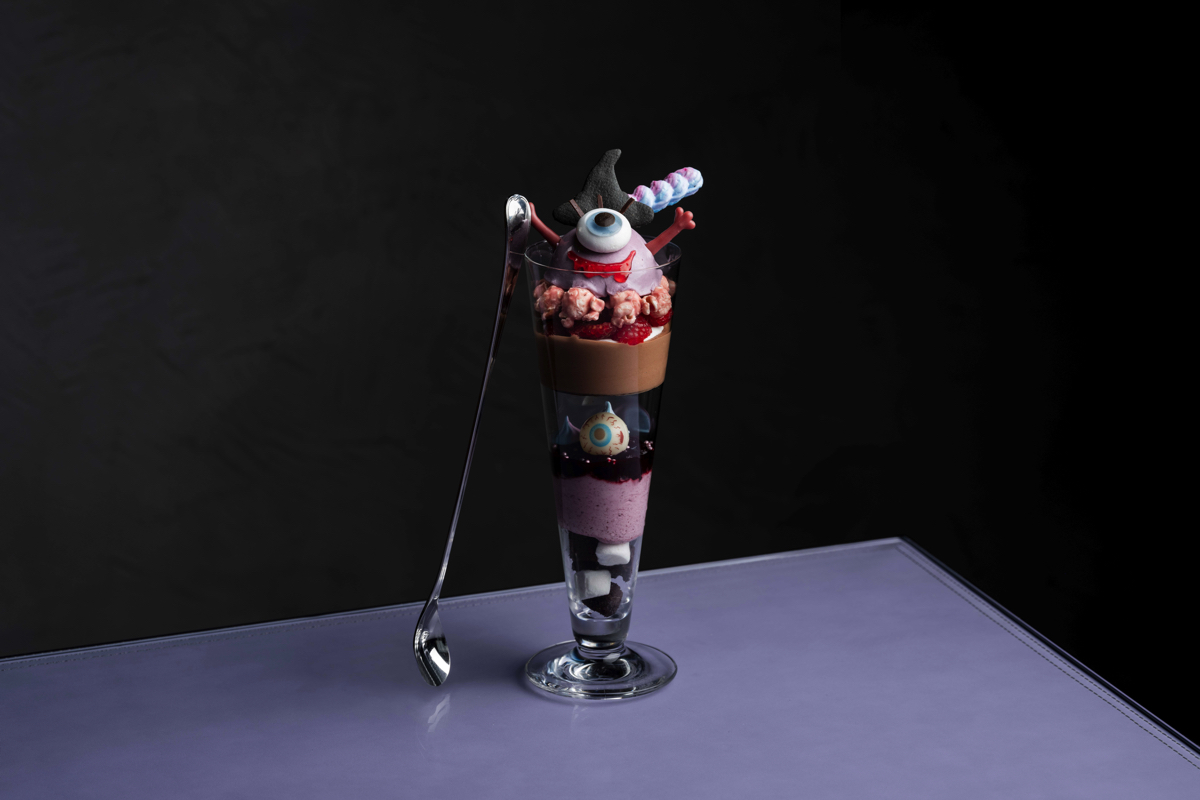 Halloween Dinner/Lunch Course
Halloween Muffin Box
Halloween Cocktails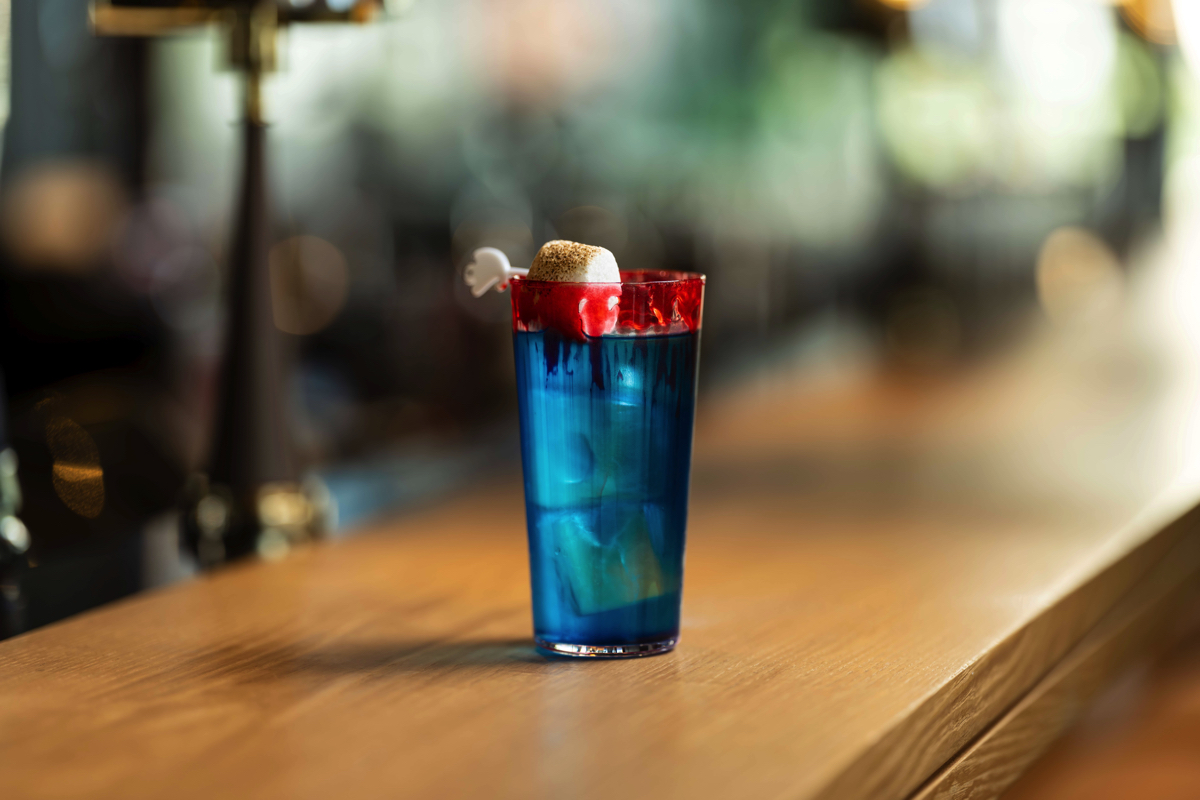 Spooky Night
Hallo-Wine Sangria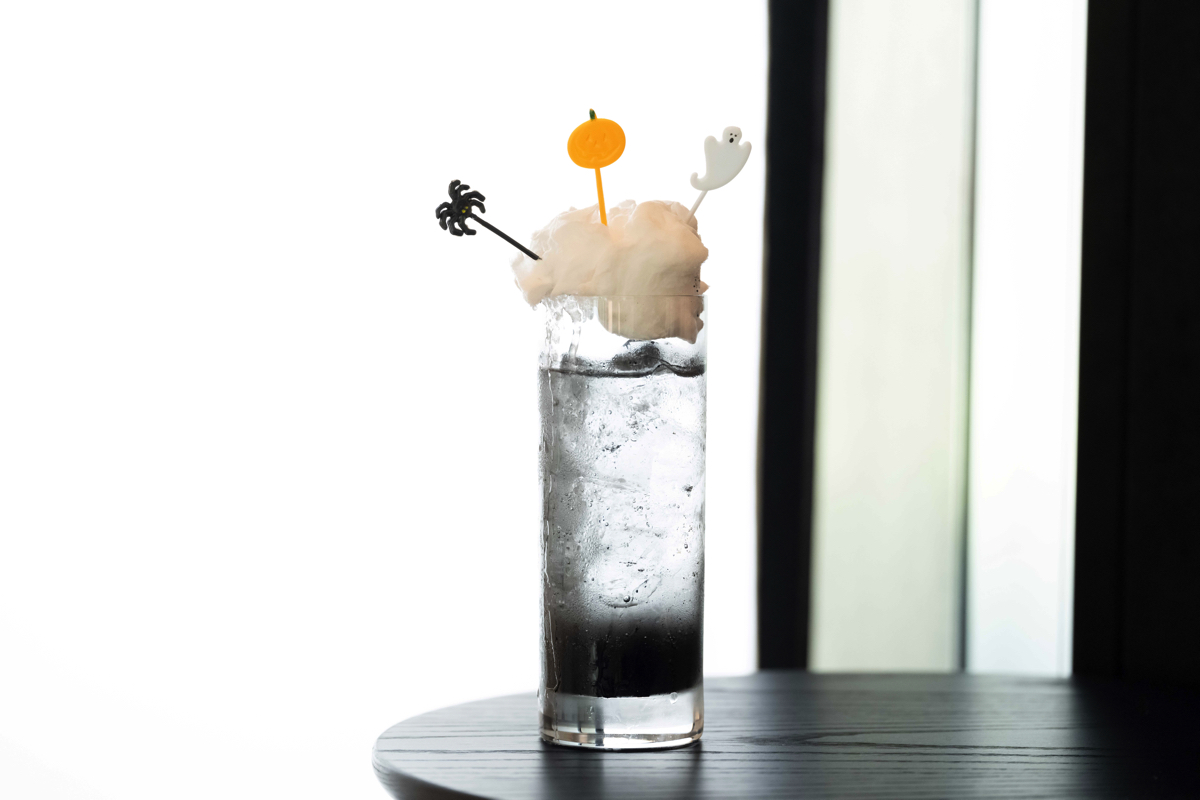 I sWitch (Mocktail)
The Halloween Cake Set is filled with ghoulish treats, each one displaying incredible attention to detail. In the Halloween Parfait Set, guests can enjoy a tower of different sweets, including black currant and chocolate. Themed with creepy eyeball decorations throughout, it offers a variety of overlapping textures and tastes guests will want to savor until the last bite.
When thinking of Halloween, the colors orange and purple instantly come to mind. For the Halloween Dinner/Lunch Course, the menu's creators went with a more dark theme, envisioning a ghost appearing at any moment. The entire restaurant will be decorated in black and gray, creating a truly haunting dining experience.
Don't miss out on the Halloween Muffin Box, a set of mini-muffins made with fresh autumn ingredients, and offering a much cuter feel. Quantities are limited!
The gin-based Spooky Night cocktail is refreshing, with a bold blue color and red-rim on the glass, sure to turn your mouth bright crimson. Hallo-Wine Sangria, house-made with autumn fruits, has a unique design, with a skeleton rising from the glass! For those wanting a mocktail, the I sWitch asks guests to pour the accompanying red syrup over the cotton candy, changing both the appearance and flavor of the drink as if by witchcraft!
Which of these treats would you be after?
RELATED ENTRIES
Hotel MIMARU Offering Christmas Room in Collaboration with Awesome Store

Lifestyle shop Awesome Store is collaborating with the MIMARU hotel chain to create a secluded and supremely cozy Christmas Room. The special room will only be available from December 1 until December 25, 2021. Each spacious room features a kitchen and is decorated with plenty of holiday goodness, making it the best place to spend the Christmas season with family and friends. 

Original tableware from Awesome Store will be left in each room, so guests can easily throw a Christmas party by having food delivered or grabbing takeout. There's no need to decorate, as the space will be completely overrun by ornaments and garlands. How would you like to spend Christmas here? 

Information

Awesome Store Christmas Room

Available: December 1 – December 25, 2021

Participating Hotels:
MIMARU Tokyo Akasaka

MIMARU Tokyo Nihombashi Suitengumae

MIMARU Tokyo Ueno Okachimachi

MIMARU Tokyo Ueno Inaricho

Reservations/Official Site: https://mimaruhotels.com/

OMO7 Asahikawa Resort in Hokkaido Offers Polar Bear Valentine's Day Girls' Party Package

Not a fan of Valentine's Day? Want to get away from all the in-your-face romance and just have a good time with your gal pals? OMO7 Asahikawa by Hoshino Resort in Hokkaido is offering a limited-time polar bear-themed Valentine's Day Girls' Party package for all of February 2022. The single polar bear room, opened in November 2020, will be transformed into its Valentine's Day version. 

Valentine's Day has been popular in Japan for many years and is a day when women give gifts to men to express their feelings. However, in recent years, it has also become a less romantic event for some–people are buying chocolate for themselves, or giving candies to friends. The polar bear room is perfect for girlfriends who just want to relax and have a good time. Why a polar bear? The Asahikawa Zoo is nearby and is an incredibly popular attraction.

The Polar Bear Valentine Room, Only Available for One Party per Day

Decorated from top to bottom in cute bears, guests can also wear matching polar bear loungewear, perfect for those Instagram shots. This will be a girls' gathering you'll never forget!

Polar Bear-inspired Snacks for the Perfect Girls' Night

When girls get together, they just love to chat. But talking so much can make you hungry, so plenty of snacks will be waiting in the guest room! If you're not in the snacking mood, they also make wonderful souvenirs. 

Polar Bear Desserts, A Must-Have in Asahikawa

The area around OMO7 Asahikawa is lined with stylish cafes where you can take a break from your daily life. After enjoying the Valentine's Room, head out into the nearby neighborhood to Fukuyoshi Cafe for some polar bear sweets. The treats are included with the price of the room, so there's no reason to miss it!

Discover the wonder of Kanazawa with AMIAYA and ETSUNA with new "HAKKEN" videos produced by Channel 47

Fashion icons show the modern and historical charm of Kanazawa, Japan

TOKYO, JAPAN (16 November, 2021) – Channel 47, a company focused on globally promoting the appeal of local and popular Japanese culture through the power of entertainment, is excited to debut their new "HAKKEN" video series today, 16 November, highlighting the wonderful modern and historical tourism aspects of Kanazawa City in Ishikawa Prefecture. "HAKKEN" is the Japanese word for discovery, which is the core feeling this new video series is aiming to convey. Channel 47 wants toinspire viewers to discover the wonders of Japan's local culture through these shortfilms.

The debut videos feature fashion icons AMIAYA and ETSUNA (both represented by ASOBISYSTEM), each exploring a different facet of what Kanazawa has to offer curious visitors. These films were produced by Channel 47 as a part of promotional efforts for the Kanazawa Film Festival held in September of 2021. These entries in the "HAKKEN" series were informed by Channel 47's shared philosophy with the Kanazawa Film Festival, to disseminate the culture of Japan's countryside and promote its appeal worldwide.

In the first video, twin model & singer duo AMIAYA discover the "pop" elements of the city at locations such as the Omi-machi market, the 21st Century Museum of Contemporary Art, the Nagamachi Samurai District, and more. Along the way they sample delicacies from some of Kanazawa's highly rated restaurants. Through their experiences viewers will see art, food, shopping, and scenery that has high appeal among visitors.

Watch "HAKKEN – Discover Kanazawa with AMIAYA"

https://www.youtube.com/watch?v=a9-gD-ftTE0

Find AMIAYA online

Official Website: https://asobisystem.com/talent/amiaya/

AMI Instagram: https://www.instagram.com/amixxamiaya/

AYA Instagram: https://www.instagram.com/ayaxxamiaya/

Twitter: https://www.twitter.com/AMI__AYA

In the second video, fashion designer and influencer ETSUNA takes a different approach and wanders the traditional side of Kanazawa. Starting with a stroll in the Higashi Chaya District, her journey takes her to make ceramic art at Hokutoh, and to see historic locations such as the Ishikawa Bridge, the Gyokusen'inmaru Garden, Sannomaru Square, and more. To fit the traditional theme of her visit, she visits Kimono & Antiques Soki and gets dressed for the occasion. Viewers will see through ETSUNA's exploration the beauty and historical legacy of Kanazawa City.

Watch "HAKKEN – Experience Kanazawa's History with ETSUNA"

https://www.youtube.com/watch?v=Z3h-57mhouU

Find ETSUNA online

Official Website: https://asobisystem.com/talent/etsuna/

Instagram: https://www.instagram.com/etsunaotsuka/

Twitter: https://www.twitter.com/etsuna_artist/

ABOUT KANAZAWA FILM FESTIVAL

The 15th Kanazawa Film Festival was held from September 18-20, 2021 in Theater 21 at the 21st Century Museum of Contemporary art in Kanazawa. The festival has a reputation not only for the high quality of films presented each year, but also for its "New Directors with Promising Talent" program. This year 83 films were entered in the "New Directors with Promising Talent" program, and 11 of them won screening rights. The Grand Prix was awarded to MELIA's "Experiential Tour", for which she also received the special Channel 47 Award.

More information on the Kanazawa Film Festival can be found at

 https://www.eiganokai.com/event/filmfes2021/kanazawa/

ABOUT CHANNEL 47

Channel 47 is a project that using the power of entertainment to communicate the appeal of Japan and its different regions to overseas audiences. Through planning and producing events with celebrities and personalities, Channel 47 creates content that conveys the appeal and charm of Japan's many different regions to viewers all over the world. Channel 47 created the post-movies for the 15th Kanazawa Film Festival, held in September 2021. Additional efforts to promote the event overseas include producing

English subtitles for "Alien Painter" which was screened as a Kanazawa Film Festival Scholarship Film.

For more information about Channel 47 please contact: info@channel47.jp

Hoshinoya Tokyo Offers New Safe & Mask-Free Dining Experience Using 'Lantern Partitions'

Hoshinoya hotels each offer a unique experience with their own theme. The Otemachi-based Yoshinoya Tokyo has announced the new "Tokyo Lantern Dinner," which has been proposed to suit the 'New Normal' of the Covid-19 generation. The new dining option was opened to customers from October 13 2021 and blends the new rules of restaurant partitions and mask wearing with Japanese culture, using lantern partitions to allow customers to enjoy their food with peace of mind. Customers can remove their mask as they sit under the lantern partition, which lights up your face and meal with a soft glow, meaning you can safely enjoy conversation and see your partner's face as you talk and eat. Conveniently, the lantern also prevents splashing, making eating out in the Covid-19 era even easier! 

The Lantern Partition was Developed with a Long-Established Lantern Company

Nippon Cuisine ~Fermented~

The partition lanterns were created by Kojima Shoten, a long-established lantern shop based in Kyoto which was founded in the Kansei-Edo period. The original lantern-shape was crafted by the professionals, from the structure all the way to the painting. The unique shape of this elastic lantern allows customers to enter and exit freely, and part of the lantern has been made using a 0.15mm transparent vinyl meaning that face-to-face conversations can be held with ease. In addition, the lantern is equipped with a light that gently illuminates the face and food of the person seated beneath it.

 

 

Yoshinoya Tokyo usually only accepts dining reservations from those staying at the hotel, but customers can now invite non-guests specifically to enjoy the main meal together.  They have prepared a variety of options for meetings and events that previously couldn't meet up due to the Covid situation, such as meetings between families before marriage, anniversaries, birthdays, business dinners, and more. 

 

 

Hoshinoya Tokyo is a Japanese Inn that respectfully combines the comforts of the modern day with traditional Japanese culture. The dining room, located on the first basement floor, offers 'Nippon Cuisine' made using a combination of Japan's historical fermentation culture and French cooking techniques.  The menu includes a wide variety of ever-popular fermented foods and seasonings, such as soy sauce and miso, along with preserved foods such as pickles and salted fish. The lactic acidosis bacteria found in these foods is referred to as a "Good Bacteria," known for its positive effects on the body and its ability to regulate gut bacteria. 

The taste and nutritional value of each meal has increased due to fermentation and aging, using seasonal ingredients from around Japan and French cooking techniques to bring out the flavor, resulting in a new and original taste. 

 

Why not check out Hoshinoya Tokyo and experience this new-era Japanese dining experience for yourself?

Information

Tokyo Lantern Dinner

Available From: October 10 2022 

Reservations: https://hoshinoya.com/tokyo (Must be made at least five days in advance)

Capacity: One group per day

Ikumi Mama Animal Doughnuts Selling Limited-Time Happy Halloween Sweets Set

Happy Halloween Set

Ikumi Mama Animal Doughnuts sells some of the most adorable sweets in Japan. Made from safe and high-quality ingredients, the shop in Kawasaki is now selling Halloween goodies for a limited time. Which one is your favorite? 

Ghostly Kitty (Black)

 

Ghost (Purple)


Mummy Kitty


Frankenstein


Spider


Ghostly Pumpkin


Pumpkin Calico

Mini Halloween Set

Ghostly Kitty (Orange)


Ghost (White)


Ghost (Black)  


Spider

Each doughnut is made with carefully selected ingredients, and the colored chocolate coating is made from natural coloring from things like purple sweet potato and pumpkin. While the colors may be striking, don't worry: they don't contain any synthetic coloring. These doughnuts aren't only cute, but delicious, perfect for a fun night at home with family and friends, online drinking parties, or posting on social media!

Doughnuts ordered online are shipped frozen and can be stored for a month.

Starbucks' Sweet Potato Frappuccino Gets a Halloween Makeover

Earlier in the fall season, Starbucks Japan unveiled their popular Sweet Potato Frappuccino to herald in the cool weather. Now, the drink has been transformed for the mischievous Halloween season, with the Treat with Trick Frappuccino now available at participating stores nationwide. 

Treat with Trick Frappuccino Tall, Takeout: ¥678 / Dine-In: ¥690

What's different about this drink? While it may contain the same base ingredients, the color has been changed with the addition is chocolate powder and purple potato-flavored sauce. Customers can also add the "Popping Topping" for an extra charge, basically adding Pop Rocks to the drink. Each is made of white chocolate. 

Popping Topping, Takeout: ¥108 / Dine-In: ¥110

Be sure to stop in for these limited-time treats before they're gone!

Information

Treat with Trick Frappuccino

Popping Topping

Available: October 20, 2021

Where to Buy: Participating Starbucks Locations Nationwide

Official Site: https://www.starbucks.co.jp/

Halloween Festival Coming to Virtual Shibuya

Tokyo's Shibuya Ward and au 5G are coming together to promote this year's Halloween events online through Virtual Shibuya, a digital space accessible from smartphones, PCs, and VR devices. A number of events will be held from October 16 until October 30, incorporating popular artists, companies, and popular anime series. The concept for the event is 'FUN FOR GOOD,' aiming to inspire people to contribute to their community while also enjoying the holidays. 

Sadly, this year's Halloween celebration in Shibuya will be canceled again due to the COVID-19 pandemic. To ease any congestion on the streets, the ward is promoting the Virtual Shibuya au 5G Halloween Festival 2021, which will be available to anyone, anywhere. That's right: you won't need to be in Tokyo to participate!

Event Lineup

Special Anime Talks


A simultaneous global virtual fan meetup for Sword Art Online Progressive: Aria of a Starless Night will be held on October 16! Yoshitsugu Matsuoka, who plays Kirito, and Haruka Tomatsu, who plays Asuna, will appear in Virtual Shibuya in avatar form to discuss some highlights of the upcoming film. 

Also, to commemorate the release of the 100th volume of Detective Conan, the Conan Edogawa x Furuya Rei Special Talk in Virtual Shibuya event will take place on October 30th, featuring voice actors Minami Takayama and Tohru Furuya. 

Virtual Concerts

Three artists are scheduled to perform live in Virtual Shibuya during the Halloween event!

・October 24 – povo Presents Creepy Nuts
・October 26 – au 5G Presents MY FIRST STORY
・October 31 – au 5G Presents Atarashii Gakko!

Attraction Lineup

A number of attractions will be available during the two-week event period. Check the website for complete details! 

https://vcity.au5g.jp/shibuya/halloween2021

Official Shop

Starting October 16, an official store selling original event merchandise will be accessible in Virtual Shibuya and on the special event website. These goods will feature characters from select anime series and artists who have supported the project, with all proceeds being reinvested into Shibuya ward. The above items aren't the only things that will on sale, so be sure to check the website for more details!

Limited-Time Only! Make a Collaboration Anime Avatar During Halloween!

In collaboration with avatar platform AVATARIUM, visitors will be able to generate custom avatars wearing costumes from Sword Art Online Progressive: Aria of a Starless Night and Detective Conan! Choose from characters Asuna (SAO), Kirito (SAO), Conan Edogawa (Detective Conan), Ran Mori (Detective Conan), Furuya Rei (Detective Conan), and The Criminal (Detective Conan). 

Even if you're not in Japan, be sure to check out the event while you can!

Information

Virtual Shibuya au 5G Halloween Festival 2021

Running: October 16 – October 31, 2021

Location: Virtual Shibuya (authorized by Shibuya Ward) 

How to Participate: Virtual Shibuya can be accessed using VR Devices, smartphones, and PC/Mac. Users will need to create a free cluster account and install the cluster app on the device you will be using. 

Create a cluster Account: https://cluster.mu/

Download the cluster app: https://cluster.mu/downloads

Official Site: https://vcity.au5g.jp/shibuya/halloween2021

'Kyoto Yura Hotel M Gallery' New Halloween Menu Features Adorable Monster Motifs

The '1F Lounge & Bar 1867' at the Kyoto Yura Hotel M Gallery will be hosting a Halloween themed afternoon tea from October 1 2021, with tea sets and cocktails available. The premium hotel is owned by Accor, a Paris, France based group that owns over 5,000 hotels and resorts in 110 countries.

The Halloween-themed afternoon tea has been made by Jennie Chiu, a pastry chef who grew up in America, the home of Halloween. The afternoon tea features cute and playful monster motifs, including a witch-hat Mont Blanc, a Cassis and Chestnut Cake topped with a small ghost, and a spider-web topped Raspberry and Chocolate Mousse. For savory treats, Chef Nishimura Niki has prepared Foie Gras soaked in Salted Koji, plus two luxurious lobster dishes.

The creative Halloween cocktails were brainstormed by Yamazaki Sousei, who ranked in the Japan Top 10 category of bartending competition 'WORLD CLASS 2021.' The Halloween and apple pie inspired lineup was inspired by Scotland and the Celtic people, looking back to when Halloween was first celebrated. 

Enjoy some adult-only time in this retro-modern "family mansion" themed space. 

Information

Halloween Afternoon Tea Set

Availability: October 1 ~ October 31 2021

Location: Lounge & Bar 1867 

Serving Hours: 12:00 and 15:00 *Please reserve your table by 17:00 on the day prior to your arrival

Halloween Cocktails

Availability: October 1 ~ October 31 2021 

Price: ¥1,900
Location: Lounge & Bar 1867

Serving Hours/Opening Hours: 11:30 ~ 21:00 (L.O. 20:30) 

Official Site:  https://kyotoyurahotel-mgallery.com/ja

New 'Uramichi Oniisan' Collab Hotel Room Designed Using 'URA' and 'OMOTE' Motifs

Sunshine City Prince Hotel has revealed a new "Uramichi Oniisan" themed plan, available to reserve for a limited time between October 2 and December 31.

Hotel Staff Costume Illustration

 Pajama Costume Chibi Illustration


©Kuze Gaku・Ichijinsha / Uramichi Oniisan Production Comittee

Star Can Badge / Hotel Keychain / Mask Case (URA & OMOTE ) / Original Notepad / Hotel Key Card 

Cafe & Dining 'Chef's Palette' Original Drink with Bonus Coaster

'URA-Room' with Chibi Character Illustration

 

The 'Uramichi Oniisan' anime became a hit in Summer 2021, known for its cast of famous voice actors.

The new artwork produced for the hotel features the characters in hotel staff uniforms and pajamas, perfect for the hotel-themed collaboration. The 'OMOTE ROOM' is designed using the new illustrations, while the 'URA ROOM' uses the chibi characters. Each room features a sound clip from Uramichi Omoteda (CV: Kamiya Hiroshi). Original merchandise and drinks are available to guests, plus the famous "Bird Finding Game" is available to play in each room, making it a must-see for fans!

Dive into the 'Uramichi Oniisan' world with this new collaboration hotel room!

Eggs'n Things Popular Halloween Menu Returns for Limited Time

EGGS'N THINGS JAPAN have announced that between October 15 and October 31, their most popular Halloween item ever – the 2018 Halloween Trick Pancakes – will be returning to Eggs'n Things and Eggs'n Things Coffee stores nationwide. 

 

 

The black pancake batter is kneaded with cocoa and is topped with subtly sweet pumpkin cream shaped in a cute spider pattern, finished with a swirl of purple taro whipped cream. Eggs'n Things have even hidden a colorful, popping trick inside the pancake. 

 

Have some fun this Halloween at Eggs' Things!

Information

Halloween Trick Pancake

Cost: ¥1,730 (Tax Incl.)

Availability: October 15 ~ October 31 2021 

Participating Stores: Eggs'n Things, Eggs'n Things Coffee stores nationwide 

※This item is not available to take out.

Halloween Sweets Now Available at Historical Kyoto Sweets Shop Tsuruya Yoshinobu

Founded in 1803, Tsuruya Yoshinobu is a famous Japanese sweets shop specializing in wagashi, or traditional Japanese confections. To celebrate Halloween, the shop is now selling some themed treats through the end of October. 

Halloween Pumpkin/Halloween Ghost Japanese Sweets

Happy Halloween Cookie Assortment

The celebration of Halloween dates back to the ancient Celtic festival of Samhain, before later being Christianized as All Hallow's Day. A day to ward off evil spirits and celebrate the fall harvest, it has become a much less serious holiday in recent decades. Children dress up in costumes and go door-to-door asking for candy, and the past is largely forgotten. The sweets available at Tsuruya Yoshinobu are decorated with cute expressions and are sure to be a hit at tea time with friends and family. Be sure to keep an eye out for the ghosts, featuring six different expressions!

Japanese sweets aren't as strong as their American counterparts, and each is sculpted like a work of art. These will melt in your mouth and are perfect for enjoying with matcha, tea, or coffee! Be sure to fill out the blank card along with the cookie gift box for a thoughtful gift this holiday season.

Information

Tsuruya Yoshinobu Halloween Wagashi

On Sale: 

Happy Halloween Cookie Assortment, Available October 10 – Late October: ¥1,620 (Tax Included)

Halloween Pumpkin Japanese Sweets, Available October 16-31: ¥486 each (Tax Included)

Halloween Ghost Japanese Sweets, Available October 16-31: ¥486 each (Tax Included)

Where to Buy: Tsuruya Yoshinobu

*Please note that products are only available in-store, not online. 

*Certain locations may not offer these products. 

Official Site: https://www.tsuruyayoshinobu.jp/

Shirahama Marriott in Wakayama to Offer Panda-Themed Getaway

Adventure World, a zoo and theme park in Shirahama, Wakayama prefecture, is teaming up with the Nanki-Shirahama Marriott Hotel to celebrate the first birthday of baby panda Fuhin. This room plan will only be available from November 1, 2021, until March 31, 2022, and will include a fully themed room, an original mini-photo book of the panda's growth to date, and plenty of other Fuhin amenities and goods!

Fuhin 1st Anniversary Room

Collaboration Burger 'Marriott Panda Burger' 

The Fuhin 1st Anniversary Room is a mixed Japanese-Western style room with an ocean view. The walls, blankets, and tatami are all covered in panda imagery, while portions of the room's lighting are made from bamboo as a part of Adventure World's quest to create more sustainable products. The special 'COCOAR' app will also allow guests to enjoy a moving photo frame featuring Guhin by holding their smartphone over the word 'Fuhin' on the wall. 

The limited-time Marriott Panda Burger uses the same recipe as the normal burger, but with a panda-shaped bun created along with Adventure World staff. How would you like to come and celebrate Fuhin's birthday beside the sea? 

Your Favorite Panda Instagram Campaign

By taking a picture of one of the seven giant pandas at Adventure World (Eimei, Rauhin, Ouhin, Touhin, Yuhin, Saihin, Fuuhin) and posting it to Instagram with the two campaign hashtags (#推しパンダマリオット and #InsertFavoritePandasNameHere), 20 winners will be selected to receive special Adventure World goods!

Information

Kaedehama 1st Anniversary Room Stay

Address: Nanki-Shirahama Marriott Hotel

Reservations Open October 6, 2021

Running: November 1, 2021 – March 31, 2022

Details: https://www.shirahama-marriott.com/special/panda/

Official Site: www.MarriottHotels.com

Marriott Panda Burger

Available Starting November 1, 2021

Price: ¥3,270

Where: Nanki-Shirahama Marriott Hotel Lounge

Your Favorite Panda Instagram Campaign

Running: November 1, 2021 – January 31, 2022

How to Enter: 

① Install the Instagram App.

② Follow Adventure World (@adventureworld_official) and Nanki Shirahama Marriott Hotel (@nankishirahamamarriott).

③ Post a picture of your favorite panda along with the hashtag MyFavoritePandaMarriott (#推しパンダマリオット) and the second hashtag including your favorite's name along with a picture of your favorite panda!

The winners will be announced on the official Nanki-Shirahama Marriott Hotel Instagram page in February 2022.