New Balance 327 Web Commercial Features AKB48 Performing New Single
AKB48's new single Nemohamo Rumor has been making waves with its catchy beat and incredible choreography. The group's first new single in a year and a half, members Nana Okada, Yui Oguri, Hitomi Honda, and others are performing the track in a new web commercial for New Balance 327 sneakers! The CM is available on ABC Mart's official website, as well as AKB48's official YouTube channel. 
To commemorate the release of the new commercial, 48 lucky people will receive a purchase bonus, including an original photo card and snapbook in a new app lottery campaign. A special pop-up will also be held on the second floor of ABC-MART GRAND STAGE Ginza starting September 23, 2021.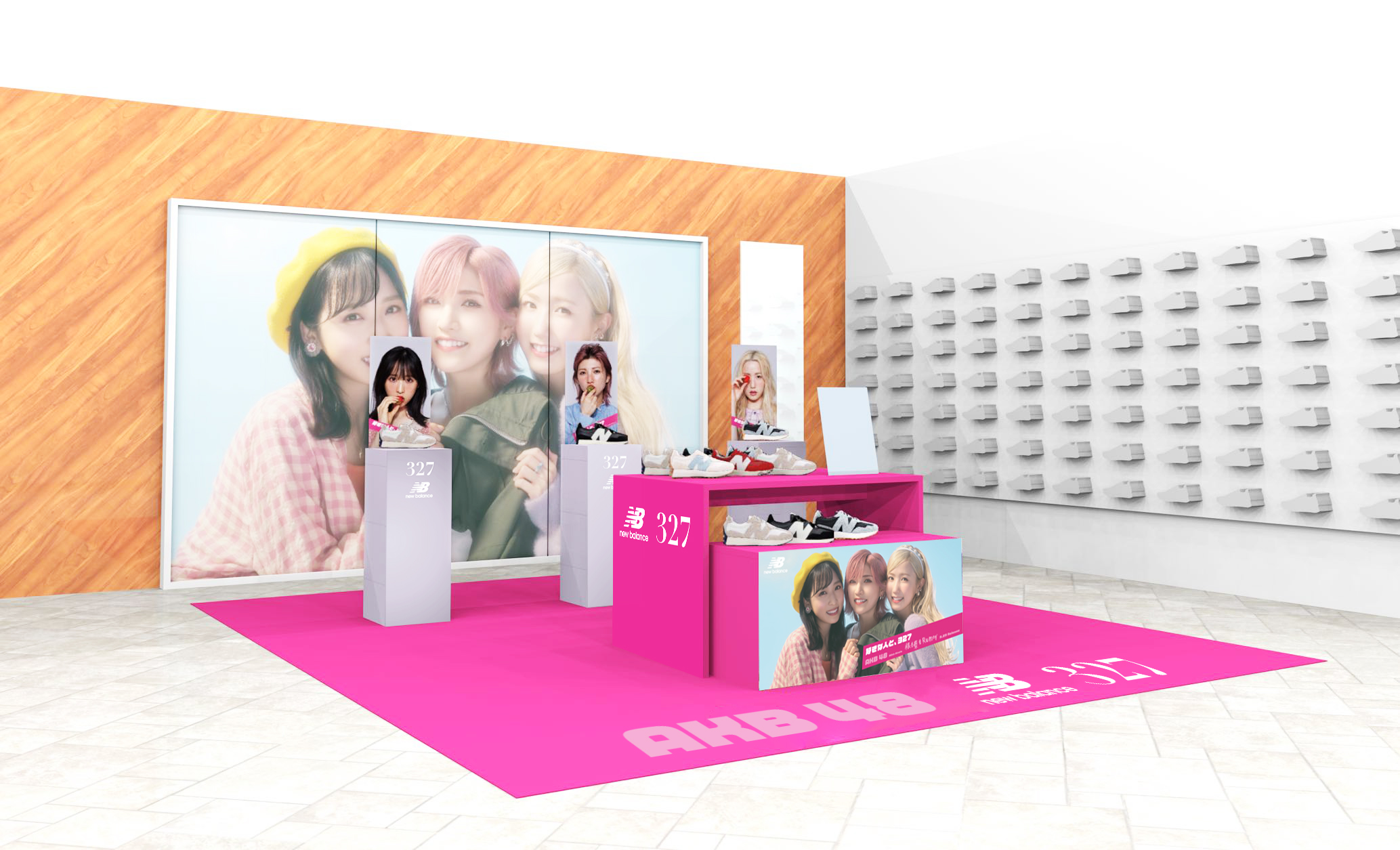 ABC-MART GRAND STAGE Ginza 2F Special Pop-Up
Participating AKB48 Members
Behind-the-Scenes
While the choreography for Nemohamo Rumor is incredibly complex and demanding, the members didn't show a single sign of exhaustion or fatigue during shooting, instead happily chatting with each other and commenting on each other's performance the entire time. As we checked the footage, we were incredibly impressed by how the shoes looked as they performed.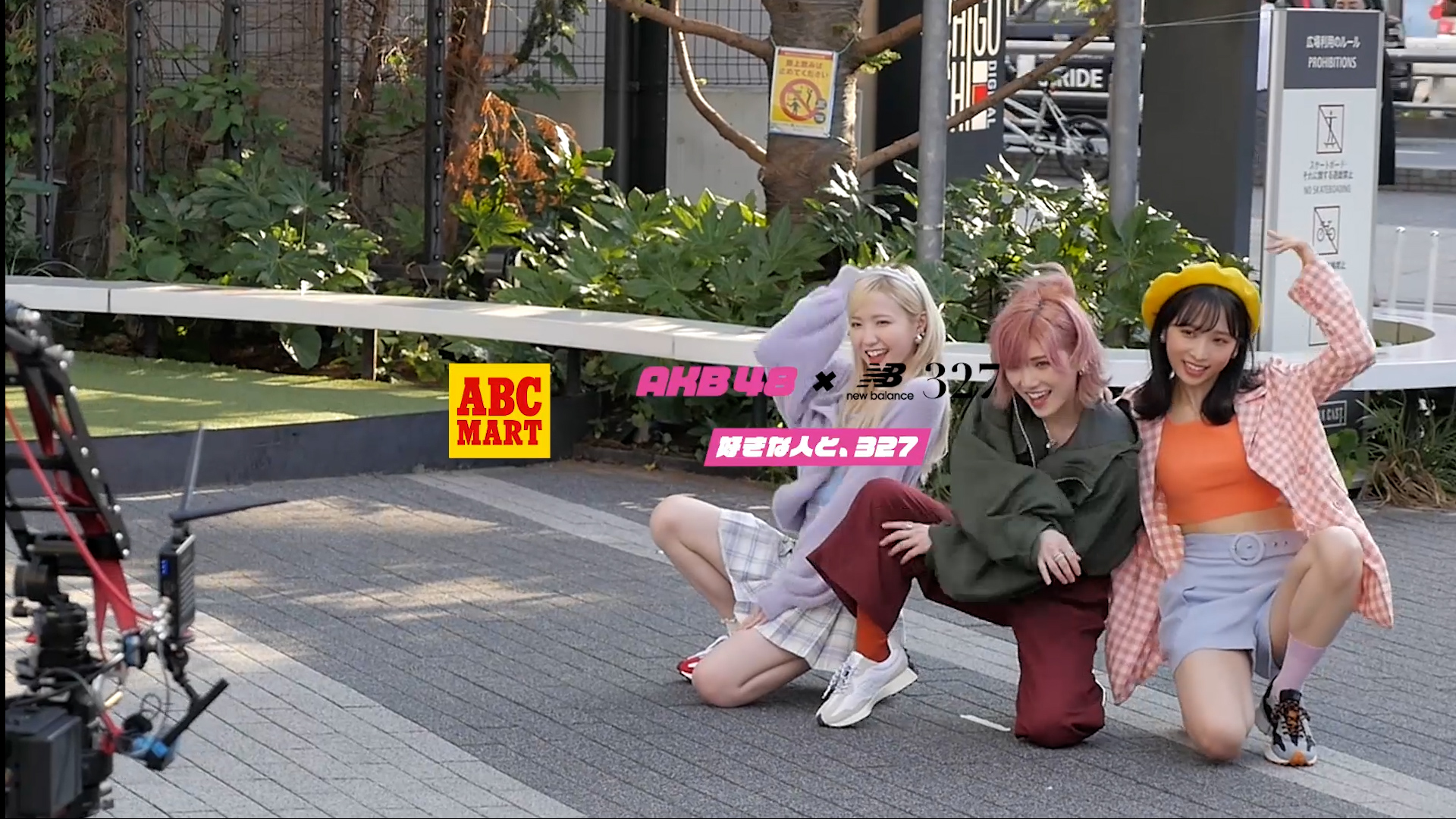 RELATED ENTRIES
Cardcaptor Sakura Inspires Four Pairs of Gorgeous Pumps

Women's fashion brand mayla classic is now accepting orders for four unique pairs of pumps inspired by Cardcaptor Sakura: Clear Card!

Original Box

Rocket Beat

Clear

Candy Lotus

Eternal Girly

Purchase Bonus

The collection features four pairs of shoes inspired by Sakura's iconic battle costumes seen in the anime series.

The elaborate finishes make it seem like the costumes have been directly transformed into shoes! These are perfect to wear for a special occasion or to simply put on display in your home.

©CLAMP・ST/講談社・NEP・NHK

KAWAII LAB. Report #2: FRUITS ZIPPER Group Interview ①

FRUITS ZIPPER, a new idol group from ASOBISYSTEM, has a simple concept: "From Harajuku to the World." Ready to transmit what they call 'NEW KAWAII' from Harajuku, an area known for fashion and individuality, to their soon-to-be global fanbase, the group consists of seven members: Amane Tsukiashi, Suzuka Chinzei, Yui Sakurai, Luna Nakagawa, Mana Manaka, Karen Matsumoto, and Noel Hayase.

Three members of FRUITS ZIPPER sat down with us for an interview. 

"Could you introduce yourself?" 

–Noel Hayase

"Hi, everyone! I'm the youngest member of FRUITS ZIPPER, Noel Hayase, and I'm 18 years old. I'm half-German and half-Japanese, but I attended an international school, so I'm pretty good at languages. I speak Japanese, English, German, and a little French! I like to play games, watch videos, and just hang out with friends, but I also love dancing and moving my body. I also like to work with technology, and edit my own videos and songs." 

–Suzuka Chinzei

"Everyone reading this on Moshi Moshi Nippon, it's nice to meet you! 

My name is Suzuka Chinzei, but you can call me Osuzu!

I spend about ⅓ of my waking hours thinking about food, especially gyoza 🥟and fried tofu. I'd prefer my gyoza with a thin skin and filled with veggies. I'm a big fan of pairing alcohol with my food too!

I grew up in Nishinomiya in Hyogo Prefecture. Fans of the anime series The Melancholy of
Haruhi Suzumiya will be familiar with the town–I used to do the dance from that show all the
time. I've loved dancing since I was a kid. My mom told me that once when I was young, I
started dancing to the song Kawaii Kakurenbo, but I was crying because I didn't WANT to dance–I just couldn't help it. I guess I just want to dance on a cellular level. 

I started appearing on NHK Educational TV's Tensai Terebi-kun MAX when I was in 5th grade.
Since then, I've started appearing on different variety shows, and I'm currently working on
Nyanchuu! Uchuu! Housou Chu-! and German for Travel. 

–Mana Manaka

"Nice to meet everyone!

I'm Mana Manaka–nicknamed Manafy–and my member color in FRUITS ZIPPER is light blue!

Previously, I worked at KAWAII MONSTER CAFE HARAJUKU, and I did my best to transmit 'KAWAII' from Harajuku to the world❤️

This is my first time working as an idol, but I'm going to work hard to embody the idea of 'KAWAII' and to create the 'NEW KAWAII' that FRUITS ZIPPER has to offer through music, dance, and by sharing Japanese idol culture!"

"A question for Mana–what is KAWAII MONSTER CAFE HARAJUKU?"


–Mana Manaka

"KAWAII MONSTER CAFE HARAJUKU is part-restaurant, part-entertainment venue, part-art installation. It was directed by Sebastian Masuda, the 'king of kawaii,' and guests can order really unique and colorful dishes in an amazing space designed to look like the inside of a monster's belly!"

"Nice to meet you! Here's a question from readers: why did you decide to become an idol?"

–Noel Hayase

"Since I was a kid, I've always wanted to be center stage. When I saw an artist performing live, I started to think "wow, I'd love to see what they're seeing," so I decided to pursue a career in the music industry. Thanks to some of the connections I've made over the years, I'm now able to pursue the idol life! I'm glad that I chose this path because I love being on stage with the other members of FRUITS ZIPPER."

–Suzuka Chinzei

"I decided I wanted to be an idol a long time ago when I ended my time on Tensai Terebi-kun MAX. Right after, I was photographed in a school uniform for Shueisha's Aoharu Magazine. The problem was that I was already in my mid-teens at that point. I thought it was too late to become an idol, so I just put those feelings away.

After that, I had so many different opportunities to appear in different plays and variety shows, but there was always this nagging feeling in my chest. It's hard to describe, but I just felt like something was missing. 

During that period of stress and confusion, there was a lot of discussion about my joining ASOBISYSTEM. When I looked at their website, I saw that they were recruiting members for a new idol group. I started freaking out, and my mom–who was standing next to me at the time–
said that I should talk with them about it. I went to the person in charge and asked them about what it would take to be an idol. I realized, in that moment, that I didn't want to go the rest of my life without trying it out. Now I can say that I made the right decision, I guess. (laugh)

–Mana Manaka

"Harris, the content director of KAWAII MONSTER CAFE and the current manager of FRUITS ZIPPER, contacted me out of the blue and asked if I was interested in idols. When he brought up the subject, I followed my gut. I instantly knew it would be fun, so I decided to just take a leap of faith!" 

"Moving on, tell us about what you've worked on the hardest up until this point in your life."

–Noel Hayase

"When I was a student, I tried to balance my studies with my performing arts activities. I had done a little modeling work before I started working as an idol, but once I joined FRUITS ZIPPER I got incredibly busy. My final exams coincided with my prep period and my idol debut! Once I
overcame all of that and successfully graduated, I felt so much stronger. (laugh)

–Suzuka Chinzei

"In my teens, I wanted to find a balance between being 'normal' and being 'special.' 

From a young age, I had been working in a space where I was surrounded by adults. I think that made me feel special, compared to my peers. 

But living in that world was difficult as well. There were so many things that I felt I was missing out on–things that I felt I couldn't catch up to. 

One day, I was riding the bullet train alone. I lived in Hyogo Prefecture, but I commuted to Tokyo at least three days a week. When I passed by Nagoya, I suddenly got really sick with a fever, and my parents rushed me to the hospital. 

I remember wondering how adults dealt with things like that. There were so many days that I would call my mom from Yamagata as a fifth-grader, crying my eyes out.

The world of entertainment is so vastly different from the real world, and I desperately wanted a sense of normalcy. I needed that comfort. I'm not sure what the definition of 'normal' is, but I
guess I didn't want anyone to take away that innocent childishness from me. Looking back, I worked so incredibly hard to protect it."

–Mana Manaka

"During my time as a poster girl for KAWAII MONSTER CAFE HARAJUKU, I worked hard to create a space that people could enjoy. I wanted everyone to leave satisfied and smiling and I wanted them to come back again. Looking back on those days, every day was so happy and the space was just so welcoming. I don't think that the KAWAII MONSTER CAFE could have been successful without the team members who worked so hard to create the best possible experience. Every moment was heaven." 

"Thanks for sharing. FRUITS ZIPPER's concept is "From Harajuku to the World." If you end up
going abroad, what would you like to do?" 

–Noel Hayase

"I'd love to do a special concert in each of the countries I've been to. Each concert would be created for each country–we'd wear unique costumes and have unique sets. At the same time, I feel like we can bring Japanese idol culture to the world by staying true to ourselves. I can dream. I want to do something really spectacular!"

–Suzuka Chinzei

"Right now, I'm working on an educational program called German for Travel. I've learned so many phrases, so I'd like to try them out in real life–things like ordering a meal and explaining my thoughts about the food to the waiter. I do a cute dance on the show too, so I'd like to do that with the waiter too! I'm still a little too nervous to try it alone, so I'd ask our half-German member Noel Hayase–who speaks 3.5 languages!–to be next to me the whole time. 

I'd also like to lay down in the middle of the Sedona desert and see a UFO!"

–Mana Manaka

"I want us to appear in a major festival! 

After that, I'd love to represent Japan on the world stage at something like Japan Parade or Japan Expo. I want to spread Japanese idol culture to the world through 'KAWAII,' something that's so universally loved! 

Personally, I love musicals and theme parks, so I'm hoping to travel a lot in the future." 

"Last question. What is the most important thing about being an idol to you?"

–Noel Hayase

"Being an idol means always having a goal. It's more fun and more useful to keep thinking about where I want to go and how I want to be. If I were to take part in idol activities without a goal, I'd lose sight of why I'm doing what I'm doing. I started down this path because I had a goal in mind, and I intend to keep doing so."

–Suzuka Chinzei

"I think the most important thing is to make everyone happy and to increase the Earth's
vibrations! Human beings can't be happy-go-lucky every day–we all have our own problems and negative feelings. But I hope that our music, our videos, and our live performances can support everyone during those difficult times. 

I also think that 'fun' is something that spreads from person to person. When I'm performing
live, I'm truly enjoying myself from the bottom of my heart. The other members can sense
those honest feelings, and they carry them home to their families, to their friends at school, and maybe to their grandparents who they haven't seen in a while. That sense of 'fun' is contagious–it lets us connect with people. I want everyone to have fun more than anything. Maybe we can make the entire world happy, in time. (laugh)

–Mana Manaka

"FRUITS ZIPPER wants to give everyone strength and happiness through our activities. Above all else, I value always being energetic and positive, and I always want to have fun!" 

"Thank you so much for chatting with us. Is there anything you'd like to say before we
conclude?"

–Noel Hayase

"It's only been a short time since I debuted and I have zero experience as an idol, so there's a
ton that I don't know. Even still, I have a dream that I want to achieve and I will do my best to achieve it. Because I want to show everyone my dream, I'll do my best to make it come true
with energy and a smile. I hope you'll come along with us and support us as much as you can!"

–Suzuka Chinzei

"FRUITS ZIPPER will keep spreading 'NEW KAWAII' around the world in all kinds of ways!

I hope that we can awaken the 'NEW KAWAII' that's been inside of you all along!" 

–Mana Manaka

"We're just getting started, but we're going full speed ahead! I can't wait until we can travel and meet fans around the world. Through Japanese idol culture and our 'NEW KAWAII,' we hope to
connect the world and bring happiness to everyone we meet!

From Harajuku to the world!!!"

From Harajuku to the world! Chasing the bright future of a rising star, FRUITS ZIPPER

FRUITS ZIPPER is a group quickly rising to stardom, debuted from "KAWAII LAB." KAWAII LAB is a new project to introduce Japanese idol culture from "Harajuku", a fashion town where various cultures and personalities gather, to the world. Members of the group include Amane Tsukihashi, Suzuka Chinzei, Yui Sakurai, Runa Nakagawa, Manaka Mana, Karen Matsumoto, and Noel Hayase.

Even before their debut, the group garnered attention for their breathtaking visuals. Their performances are so powerful, you would never expect such refined skill from such an adorable aesthetic, which is known to captivate the hearts of their fans. The group is produced by Misa Kimura, a model and TV personality who is also the general producer of "KAWAII LAB. She will utilize her experience and creativity as the leader of the idol group "Musubizm" to introduce idol culture to the world.

Expressing FRUITS ZIPPER's world through collaborations with creators

Furthermore, even before their debut, the group drew a lot of attention because of their collaborations with many different renowned creators. Among the collaborations includes the artist photos created by video director/art director/3DCG artist YUKARI. She uses a cutting-edge trend of CG-moving techniques, in addition to still-images. The mysterious colors of bright light that embraces the girls are definitely eye-catching.

Catchy and cute choreography of FRUITS ZIPPER

Followed by the debut song "Kimino Akaruimiraiwo Oikakete," a song with a positive message for the future, "Watashino Ichiban Kawaiitokoro," with its cute choreography and lyrics, won the hearts of people and was selected as one of the "TikTok Hot Songs in Japan" and charted on the Billboard. More than 13,000 videos using "Watashino Ichiban Kawaiitokoro" have been posted on TikTok with the hashtag "#わたしの一番かわいいところ (Watashino Ichiban Kawaiitokoro)." The long-awaited third single "Kanpeki Syugide☆", which was released on May 20, is an energetic tune created by music producer Manaka Suzuki.

Performances that reach into people's hearts and minds

A pop-culture event presented by Asobisystem "ASOBE!!," was held at Spotify O-EAST on May 26th. In addition to FRUITS ZIPPER, fellow Asobisystem members Atarashii Gakko! and IDOLATER, who is also a member of "KAWAII LAB.", performed at the event. Many other remarkable idol groups also took part in the event, enlivening the venue.
Alongside their regular performances, they are scheduled to participate in a number of events, including the "LEADING PALETTE! and "HYPE IDOL! vol. 20" at Nihonbashi Mitsui Hall both June 12th. Make sure to come and see their live performance, it's sure to steal your heart!

Additionally, KAWAII LAB. will be serialized on "Moshi Moshi Nippon," a website that provides the latest news of Japan to the world. The articles will be published in hopes of sharing the charm of IDOLATER and FRUITS ZIPPER with people not only in Japan, but also around the world. Details will be announced soon. Stay tuned for more from KAWAII LAB.!

Latest Collaboration Sneakers from Adidas and Y's Available for Preorder

The Y's SEEULATER X GSG9–the newest collaboration sneaker between Y's and Adidas–will go on sale on June 3, with preorders starting on May 28. 

Designed with military elements in mind, the Y's SEEULATER X GSG9 was based on the more rugged SEEULATER model. The new sneakers incorporate the GSG9 sole, and pairs will be available in black on black or white on black. Featuring detailed finishes and an urban feel, these high-performance kicks can be paired with any and all outfits. 

The SEEULATER, a hiking shoe from the ADVENTURE series, was originally launched in 1995. Not originally released in Japan, many now regard it as a legendary masterpiece in footwear. The sturdy shoe's name comes from the phrase "see you later," usually said when passing a fellow runner on the trail. Originally made for the German tactical police, the GSG9 features shock-absorbing soles that help to maintain a stable, strong grip on any terrain. 

The sneaker's body features a combination of smooth cowhide leather and breathable mesh. This perfect blend of function and design showcase the best parts of both Y's and Adidas. Will you be grabbing a pair of these classic and contemporary kicks?

Nike's Newest Sneakers Coming to atmos pink Locations, New Visual Featuring bala. Unveiled

Nike's newest sneakers, the 'W AIR MAX 90 FUTURA,' will be available at atmos pink locations nationwide starting May 28, 2022.

The W AIR MAX 90 FUTURA is an easy-to-wear sneaker combining classic Nike style and an updated patchwork design in a number of colors. Heavily inspired by Tokyo streetwear, the newest visual for the sneakers feature the up-and-coming artist group bala. Brought together by ASOBISYSTEM, the group includes creative director OWNCEAN from the duo UNA+MATCHA, who is also active as a DJ and model. The five female members of the group are known for their modern style and freedom of expression. For those interested, a new interview with bala. is available only on the official atmos pink Instagram page.

bala.

In 2022, the new project bala. was launched to gather artists and creators presenting cutting-edge music, fashion, and art from Japan to the rest of the world. bala. will link with the global music scene and present fans with an honest vision of Tokyo culture. The project aims to be a collective of artists that connects both underground and overground cultures, pop and alternative genres, and Japan and Asia with the world. The collective is led by MANON, an iconic presence in the Japanese rap scene; ASA Wu, a trilingual singer from Taiwan; SUNNY ONLY1, a Gen-Z alternative pop singer and model; and a creative crew called  'KissGelz' (MANON, Dan, Kayno). They will create a new cultural hub under the bala. umbrella. 

Idol Group FRUITS ZIPPER Announces First Solo Concert

FRUITS ZIPPER, a new idol group from ASOBISYSTEM, has a simple concept: "From Harajuku to the World." On May 3, the girls held a free solo concert titled "Find my Cutest Part," attracting tons of new fans and lighting up social media.

Tickets for the group's first concert on April 10 at Shirokane-Takanawa SELENE b2 sold out instantly, and the girls have been looking for a way to give back to their incredibly passionate fans. Sadly, the April 10 performance was postponed after the members and staff tested positive for COVID, so the content was changed and admission was free!



During the show, FRUITS ZIPPER announced that their introductory live show will now be held on July 16 at the same venue. The girls also announced that their first solo concert will be taking place on September 12 at Ebisu LIQUIDROOM.

Stay tuned to see what FRUITS ZIPPER does next!

KAWAII LAB. Group IDOLATER Adds Two New Members, First Live Video with Five Members Unveiled

IDOLATER is now a five-member group after adding two fresh faces! The idol group is part of KAWAII LAB., a project aiming to introduce the world to popular Japanese idol culture. Announced at the group's solo concert 'New IDOLATER' on April 24, Fuuka Oishi and Ririka Satsuki have joined the current lineup, Ayu Okuda, Kurumi Tsukishiro, and Yukino Fushiki. 

IDOLATER was formed after becoming finalists in the ASOBISYSTEM THE AUDITION 2018 competition, and the girls are known for exploring the boundary of music, fashion, and other unique aspects of culture through an idol perspective. 

Ririka Satsuki is a solo artist based in Fukuoka with an incredible husky voice. Fuuka Oishi has previously worked as a model and is popular with creators for her sweet yet listless atmosphere. This is the first time either has worked as a model. 

Check out the group's first performance as five members below!

Swipin' Flickin' – IDOLATER  (Live at Ebisu CreAto, April 24, 2022)

IDOLATER will also begin holding regular concerts at Ebisu CreAto starting in May 2022.


Comments from New Members

Fuuka Oishi

My name is Fuuka Oishi, and I've just joined IDOLATER.

When it comes to singing and dancing, I'm very inexperienced, but with the help of the other members, I'll practice hard each and every day!

The first time I stood on stage, it really hit me–I'm becoming an idol. When I saw the fan's kind faces in the audience, my nervousness turned into fun!

IDOLATER will continue to grow and evolve into something great, so I hope you'll keep an eye on us!

Although I've just started my life as an idol, I have big dreams. I'll do my best to make it to Budokan!

I'll do my best as a member of IDOLATER, a group I love so much.

Please support me!

Ririka Satsuki

I'm Ririka Satsuki, a new member of IDOLATER.

I used to be a solo singer, and this is my first time as an idol. I'm really nervous but also incredibly excited about what the future will bring. The other members are always making me laugh and giving me the strength to do my best. 

If there's one goal that drives me more than anything, it's my dream of performing at Budokan. 

We want our fans to come along too!!!!

I'll do my best, so please continue to support me!

Information

IDOLATER

Upcoming Regular Performances

IDOLATER Performance Vol. 1 "A Certain Woman"

May 22, 2022

Doors Open 14:30 / Show Starts 15:00

Venue: Ebisu CreAto

Ticket Sales

Livepocket: https://t.livepocket.jp/e/idlt0522

Lottery for Priority Tickets: April 25, 19:00 – April 28, 23:59

Announcement of Winners: April 29 

Advance Sales Period: April 30, 20:00 – May 21, 23:59

Idol Group Shiritsu Ebisu Chugaku to Open One-Day 'Ebisen Cafe' in Omotesando

The popular idol group Shuritsu Ebisu Chugaku will open a one-day-only cafe in Omotesando on May 1, 2022! The location will open in conjunction with CookpadTV, which hosts the popular show 'Shiritsu Ebisu Culinary Institute.'

The members of Shiritsu Ebisu Chugaku are passionate about cooking, making this the perfect project. Since October 2021, the girls have streamed their cooking stories and ideas on CookpadLive, and now, they're ready to put their hearts and souls into each and every item on this cafe menu. Visitors will also be able to purchase original merchandise on-site and see some of the member's costumes! 


Reservations for the cookpadLive Ebisen cafe are required, and the lottery for reservations is open now. Some of the menu items and original goods offered at the cafe are also available for purchase on cookpadLive's official E-commerce site, so don't worry if you aren't able to attend in person on May 1!

The cookpadLive Ebisen Cafe will feature a special lunch time, dinner time, and cafe time. The nine members of Shiritsu Ebisu Chugaku will appear in three teams for each session.

Nike Opens First Installment of the Sneaker Museum at Hankyu Men's Tokyo

Everyone loves a nice pair of kicks, and no one makes sneakers quite like Nike. For 50 years, sneakerheads have coveted everything the brand creates, and a new museum project is leading fans down memory lane. The first phase of this sneaker museum is now open at Hankyu Men's Tokyo until April 7, 2022, and focuses on sneakers produced from 1972 until 1980. 

A group of curators knowledgeable about various sneaker models and historical backgrounds have gathered to handpick items by era and theme, and guests are welcome to brush up on their shoe history. 2022 marks 50 years that Nike shoes have been manufactured in Japan, and this exhibition will take place for several months over several installments. 

 

The first installment of the exhibition will highlight many different materials used to create Nike sneakers such as leather, suede, and nylon. Fans will also get to see shoes from different countries over the years! This is a rare opportunity, so please come and visit if you can!

Sneakers and Art Come Together at artrA Season 2 in Tokyo, Nagoya, Kyoto

Street culture is ever-evolving, and sneakers play a big part in street fashion. Combining sneakers and art, the artrA project finished up its first 7-city tour last year, and is now ready to start Season 2!

 

Season 2 will also be sponsored by ASOBISYSTEM. The shoe store atmos, on a mission to promote Tokyo's sneaker scene to the world, and the news app SmartNews are also contributing to the project as content partners to bring the event to Tokyo, Nagoya and Kyoto.

A total of 16 up-and-coming creators are participating in the exhibition. Illustrators, graphic designers, and painters will display their unique artwork based on the simple theme of one famous pair of sneakers. The original art will be sold and also transformed into artrA original merchandise. A sneaker lottery will be held, and 10 pairs of sneakers (100 pairs in total during the event) will be given away at the venues each day.

Participating Creators

an / Illustrator 
https://www.instagram.com/aooooo1995/ 

BEY / Illustrator 
https://www.instagram.com/beytaro_0912/ 

BANBU / Artist 
https://www.instagram.com/banbu.daishi/ 

hitotsume / Illustrator 
https://www.instagram.com/hitotsume/ 

Jeremy Yamamura / Artist 
https://www.instagram.com/jeremy_yamamura/ 

KENTOO / Artist 
https://www.instagram.com/k2rocker/ 

kousuke Shimizu / Artist, Art Director
https://www.instagram.com/kousuke_kou/ 

KRAP / Artist 
https://www.instagram.com/krap_sae/ 

Morita Manabu by WOOD / Artist 
https://www.instagram.com/wood_dw/ 

MOYA / Painter 
https://www.instagram.com/moya_mk16/ 

SHIOTSU (Cartoon Mafia) / DJ, Illustrator 
https://www.instagram.com/djshiotsu/ 

tarou2 / Animator, Illustrator 
https://www.instagram.com/tarou2/ 

T.D BRUDER / Artist
https://www.instagram.com/t.d.bruder/

TM paint / Artist 
https://www.instagram.com/tmpaint/ 

itui / Illustrator 
https://twitter.com/it_ui 

Shouko Nagamine / Illustrator
https://www.instagram.com/sn___illust/

Information

artrA -SEASON 2-

atmos KYOTO
Running: March 18 – March 21, 2022
Address: 420 Sakuranocho, Nakagyo-ku, Kyoto


atmos Sendagaya
Running: March 25 – March 27, 2022
Address: 3-16-9 Sendagaya, Shibuya-ku, Tokyo

atmos Nagoya
Running: April 1 – April 3, 2022
Address: Nagoya PARCO West Building 1F (3-29-1 Sakae, Naka-ku, Nagoya)

Official Site: https://www.atmos-tokyo.com

Cedar Crest Collaborates with Tokyo Revengers Anime Series for Sneaker Collection

Shoe brand Cedar Crest has released three unique sneakers based on the Tokyo Revengers anime series at Shoe Plaza locations nationwide and online. The new lineup includes designs featuring popular characters and famous scenes from the series. 

Special Edition with Shoe Box and Clear Folder  (3 designs)

Lineup

TR-PRIDE ~Kamikaze Clothing~

TR-BOND ~Character Motif~

TR-CRYBABY ~Animation~

Each sneaker comes in a special shoebox and comes with a clear folder and themed shoe bag. These are must-have kicks for Tokyo Revengers fans–which pair are you eager to wear around town?

(C)和久井健・講談社/アニメ「東京リベンジャーズ」製作委員会

FRUITS ZIPPER, the New Idol Group from ASOBISYSTEM, Reveals 7 Members

ASOBISYSTEM's recent KAWAII LAB project seeks to introduce Japan's growing idol culture to the world. The new group FRUITS ZIPPER was born from this idea, and the girls will hold their debut concert at Shirokane-Takanawa SELENE b2 on April 10, 2022.

The group's concept is 'from Harajuku to the world.' FRUITS ZIPPER will transmit what they call 'NEW KAWAII' from Harajuku, an area known for fashion and individuality, to their soon-to-be global fanbase.

Although the name seems strange, it has a meaning–FRUITS, to bear fruit, and ZIP, meaning 'to give energy,' is the perfect title for such a young and exciting group. The girls hope to 'grow through idol activities, starting as seeds and growing into something more.' They also hope to bring some happiness to those around the world. The producer of the group is model and celebrity Misa Kimura, who is also the general producer of KAWAII LAB. A lover of idols for years, Kimura previously served as the leader of the idol group Musubizm. This will be her first time acting as a producer. 

Images of the seven members of FRUITS ZIPPER have been unveiled. Rather than being still images, they are dubbed as CG 'moving art photos.' A style that has been trending overseas in recent years, these images were created by YUKARI, a video director, art director, and 3DCG artist from the digital creative company OFBYFOR TOKYO.


The lottery for VIP tickets to the first FRUITS ZIPPER concert will open on February 26. 

Keep your eyes on FRUITS ZIPPER and get ready for their exciting debut!

FRUITS ZIPPER Member Profiles

Amane Tsukiashi

Suzuka Chinzei

Yui Sakurai

Runa Nakagawa

Mana Manaka

Karen Matsumoto

Noel Hayase