Nijigen no Mori Amusement Park Starts Naruto Birthday Event
The anime-themed amusement park Nijigen no Mori in Hyogo Prefecture will hold a special Naruto event from October 2 until November 28, 2021. The Naruto Shippuden x Real Puzzle Solving Game will feature popular characters from the Shikamaru Hiden arc!
NARUTO&BORUTO Ninja Village
This marks the second version of the event to date, with the first taking place in 2020. Naruto's birthday is October 10, and to celebrate, this event will open with new visuals of the titular ninja along with popular character Shikamaru!
Flower Petal Stickers
Fans of Naruto won't want to miss their chance to leave a congratulatory message for the birthday boy! Just write your message on one of these stickers, and stick them to the character panel of your choice. 
Event Contents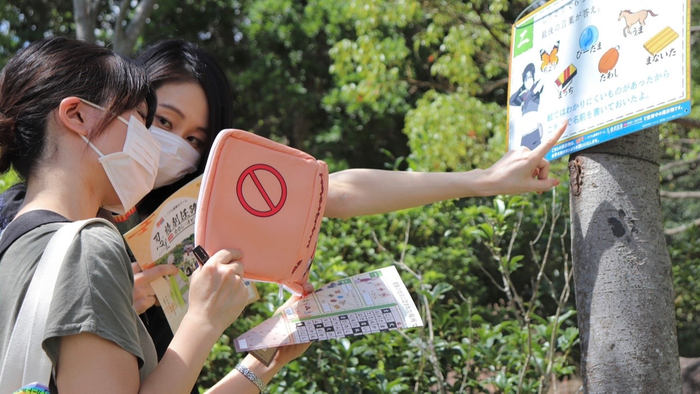 Gameplay
Players will solve a number of riddles placed all over the Naruto & Boruto Ninja Village, with certain keywords related to each character playing a role.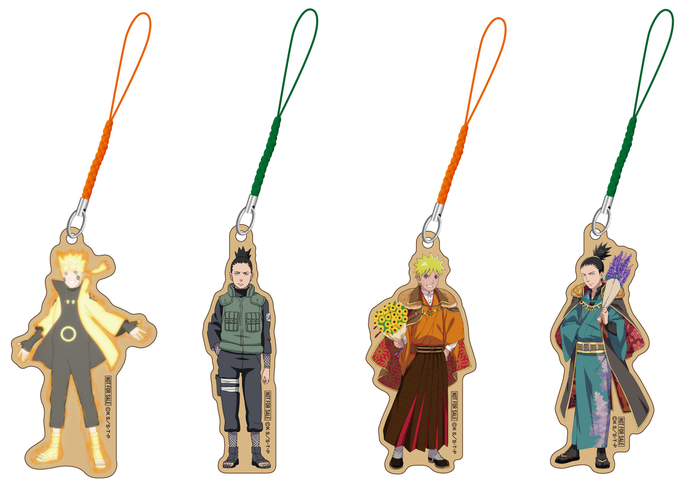 Wooden Phone Straps (4 varieties) featuring new illustrations
The event will take around 30 minutes, even for beginners. Those buying a ticket will receive a wooden phone strap. 
©岸本斉史 スコット/集英社・テレビ東京・ぴえろ
Information
Naruto Shippuden x Real Puzzle Solving Game – Ninja Village Special Mission #010: Naruto/Shikamaru Arc
Running: October 2, 2021 – November 28, 2021
Address: Nijigen no Mori Naruto & Boruto Ninja Village (Awaji, Hyogo Prefecture)
Hours: 10:00-20:00
*Please check the official website for hours. 
RELATED ENTRIES
Nijigen no Mori Announces New Goods and Menu Items in Fifth Collaboration with Demon Slayer

On November 19, Nijigen no Mori, an amusement park located on Awaji Island in Hyogo, will begin its fifth collaboration with the popular anime series Demon Slayer. New merchandise, such as acrylic keychains and long-sleeve t-shirts, and menu items will be available, so fans shouldn't miss their chance to visit!

A limited number of hand warmers with an original illustration of Kyojuro will be given to guests who participate in the Natagumo Mountain Night Walk event after November 19. Don't let the cold weather stop you from taking part in the festivities!

New Merchandise

Rectangular Pin

Acrylic Keychain

Acrylic Stand

Long-sleeve T-shirt (White/Black)

The new lineup of original goods includes pins, keychains, acrylic stands, and long-sleeve T-shirts featuring beloved characters from the series. All illustrations were provided by ufotable exclusively for this collaboration event.

New Menu

Tanjiro's White Dashi Udon

Kyojuro's Spicy Korean Soup with Shredded Beef

Drinks: Original Clear Bottle (8 varieties)

Exclusive Lunch Mat

Hand Warmer with Original Design

The Demon Slayer food truck will offer warm food and drinks for the winter season. The White Dashi Udon features tasty noodles and yams, while Kyojuro's collaboration dish is filled with spiciness. Hot drinks will be served in a special way–just pick a clear bottle featuring your favorite character!

Those who purchase items from the collaboration menu will receive a coaster with an exclusive design, and those who want to purchase a special lunch mat can do so for only ¥650. Come enjoy the cold months with your favorite characters!

©吾峠呼世晴/集英社・アニプレックス・ufotable

Naruto Anime Series Celebrates 20th Anniversary With New Gallery Featuring Collaborations With Five Animators

To celebrate the 20th anniversary of the globally popular Naruto anime series, NARUTO THE GALLERY will be held at AKIBA_SQUARE inside Akihabara UDX from December 10, 2022 until January 31, 2023. The gallery will feature collaborations with five animators. 

This will be the first Naruto exhibition held since 2015. The event will focus on the growth of the characters, the bonds they share with their friends, and the many fights that have taken place over the past two decades. 

 

Iconic scenes from the Naruto anime series will be on display in collaboration with five up-and-coming animators: Ai Niina, Kohei Kadowaki, que, Kosuke Sugimoto, and Kohta Morie. This will give fans the chance to see an unprecedented and unique view of the world of Naruto which can only be seen at the event. 

Admission Bonus: Gemaki-style Card

Goods

An original Gemaki-style Card featuring a newly-drawn visual will be handed out to those visiting the exhibition. 

 

The first lineup of exclusive event-only merchandise has been revealed and longtime fans of the series won't want to miss adding some of these goods to their collection. 

Participating Artists / Episode

Ai Niina / Sasuke's Ninja Way

Kohei Kadowaki / Naruto's Path

que / The Land of Waves

Kosuke Sugimoto / Sasuke's Vessel

Kohta Morie / Naruto and Kurama

©NARUTO THE GALLERY実行委員会

Information

NARUTO THE GALLERY (Naruto 20th Anniversary Project)

Running: December 10, 2022 – January 31, 2023
Hours: 10:00-20:00 (Last entry at 19:30)
Venue: AKIBA_SQUARE (Inside Akihabara UDX)
Official Site: https://naruto-20th.jp

NARUTO & BORUTO: Snow, Moon, and Flowers Collaboration Cafe and Merchandise Coming Soon

A pop-up collaboration cafe for the popular anime series NARUTO and BORUTO: NARUTO NEXT GENERATIONS, has been announced! The event will be held from October 29 until November 25 on the fourth floor of Tokyo Solamachi.

Original Merchandise & Cafe Menu

There will also be a large collection of new merchandise featuring brand new illustrations for fans so snag. Along with acrylic keychains and pins, printed cookies, T-shirts, and towels will also be available!

At the collaboration cafe, fans can enjoy a lineup of dishes inspired by popular characters from both series, including Boruto's Spiral Burger, Sasuke's Stew, and Sasori's Puppet Pancakes. A full dessert and drink menu will also be available for fans wanting to try dishes like Sakura's Life-Long Love Parfait and Itachi's Tsukiyomi Chocolate. A total of eight original coasters will be available, and one will be handed out with each dish ordered.

Sasori's Birthday Project

The event will also celebrate Sasori's birthday from November 8 until November 13. Guests can enjoy a special pancake set featuring the popular character along with a festive birthday decoration! 

More information will be posted on the official Twitter page, so be sure to check that and the official website!

Information

NARUTO & BORUTO: Snow, Moon, and Flowers Collaboration Cafe and Merch

Running: October 29 – November 25, 2022

Venue: Tokyo Solamachi, West Yard 4F #4, Tree Village Official TV Shop

Official Website: https://tree-village.jp

Nijigen no Mori Amusement Park Extends Demon Slayer Collaboration Until January 2023

Nijigen no Mori, an amusement park located on Awaji Island in Hyogo, has teamed up with the popular anime and manga series Demon Slayer for a special collaboration event. While the event wrapped up at the end of September, due to fan response, it will be extended for a further 87 days starting on October 15. Many fans weren't able to attend due to the pandemic or due to distance, so this decision was made at the last minute. All guests visiting during the extended period will receive an original postcard as a special gift.

Original merchandise and food items inspired by Demon Slayer characters will be available during the event period, with some merchandise newly-created for the extended period. Check out the official website and Twitter page for the latest information.

Nijigen no Mori x Demon Slayer Collaboration Event Contents

Venue: Awajishima Anime Park, Nijigen no Mori  (2425-2 Kusamoto, Awaji, Hyogo)

Details: The Nijigen no Mori theme park will be taken over by characters from the popular Demon Slayer franchise, with unique events taking place in the morning and at night. Original food and merchandise will also be available.

① [Nighttime Event] Nijigen no Mori x Demon Slayer 'Natagumo Mountain Night Walk'

 Participants will go on to experience the world of Demon Slayer on a 1.2 km long walk through the night forest, brought to life by a projection mapping spectacle showing Tanjiro and friends and their battle against the demons.

On the Natagumo Mountain Night Walk, where they become members of the Kakushi and participate in a battle to the death between the characters Tanjiro Kamado and Rui. Those who fulfill their mission will get a special report.

② [Daytime Event] Nijigen no Mori x Demon Slayer Mystery Walk 'The Flower Falling Village and Scene of Illustions'

Participants will go on a riddle-solving quest in an area with original character panels illustrated by ufotable. Those taking part in the event will receive an original wooden strap as a special gift.

③ Original Goods

At the Demon Slayer store in the event area, event-exclusive goods will be available for fans to enjoy.

④ Original Collaboration Menu

An original collaboration menu, featuring character-inspired dishes, will be featured at Mori no Terrace, a forest hideaway restaurant within Nijigen no Mori. A food truck will also be open. Guests can enjoy many different treats, including Tanjiro's Charcoal Stew, a rich black stew inspired by the main character of the series.

⑤ Premium Ticket Bonus

Those purchasing a Premium Ticket will receive Tanjiro's Backpack as a special gift.

©吾峠呼世晴/集英社・アニプレックス・ufotable

Information

Nijigen no Mori x Demon Slayer Collaboration Event

Running: October 15, 2022 – January 9, 2023 *Total: 87 days

Hours: ① Dusk~22:00 (Last entry at 20:30) ②10:00~Dusk

*Hours of operation change seasonally.

Details/Reservations: https://nijigennomori.com/kimetsu_awaji/

Luxury Brand Montblanc Announces Naruto Collaboration Collection

Today, luxury brand Montblanc launched a new collaboration collection with the popular anime and manga series Naruto. Items from the collection are available to purchase worldwide.

Since its release 20 years ago, Naruto has captured the hearts of fans around the world with its inspiring story and beloved characters. The designs featured in the new collection feature illustrations of the character printed in dynamic poses. The collection features everything from leather goods to writing instruments. 

The new items highlight Naruto's relationship with his mentor Jiraiya, stressing the importance of mentors and knowledge. The brushstroke-like curves on each piece emphasize the anime style, and all bags come in a refined black color with orange accents.

To celebrate the launch of this collaboration, a special short anime was created to highlight the power of writing and communication. The brief animation shows Jiraiya reflecting on Naruto's journey and the ample advice he passed down while focusing on what's important in life. Meanwhile, Naruto uses a fountain pen to write down what it really means to be a ninja.

The collection also features a new edition of Montblanc's iconic Meisterstück. The special-edition fountain pen features a Hidden Leaf Village motif in gold with a matching nib and a ruthenium-coated embellishment.

A special pop-up store is open on the first floor of Hankyu Men's Osaka until October 18. By snapping a photo of the collaboration products and posting it on social media with the hashtag #MontblancXNaruto, fans can snag an original Montblanc x Naruto memory card game. Additionally, those making a purchase will get an original furoshiki!

Whether you're a fan of Naruto or a fan of Montblanc's goods, this collaboration might be impossible to pass up.

Information

Montblanc x Naruto

Release Date: October 12, 2022

Pop-up Store

Venue: Hankyu Mens Osaka 1F

Running: October 12 – October 18, 2022

Details: https://bit.ly/3rtWGAn

Naruto Anime Series Celebrates 20th Anniversary with Traditional Kokeshi Dolls

To commemorate the 20th anniversary of the Naruto anime series, Usaburo Kokeshi has created two traditional dolls modeled after Naruto Uzumaki and Sasuke Uchiha. The original manga series by Masashi Kishimoto has become a global phenomenon, and fans won't want to miss out on these unique pieces! Preorders are now open.

Usaburo Kokeshi makes each of these pieces by hand, transforming them from children's playthings into traditional works of art. The wood used to create these pieces is from trees in Gunma Prefecture.

Usaburo Kokeshi Doll – Naruto Uzumaki

Usaburo Kokeshi Doll – Sasuke Uchiha


These adorable dolls completely recreate both character's outfits and hairstyles, and the designers clearly focused on the small details. Enjoy these palm-sized versions of your favorite Naruto characters!

©岸本斉史 スコット/集英社・テレビ東京・ぴえろ

Nijigen no Mori's Naruto & Boruto Ninja Village Sakura Birthday Event Stickers Now Available

The Naruto and Boruto Ninja Village located at the Nijigen no Mori anime theme park in Hyogo is celebrating its third anniversary! A new event has begun celebrating Sakura's birthday, and fans of the characters will be able to grab some neat merch.


Those who purchase tickets to this special event will receive a Mission Accomplished Sticker featuring an original, newly-drawn design. The celebration is running until June 30!

The escape game will have park guests running around the park looking for panels with hints on how to progress. For this event, the panels contain keywords and illustrations related to Sakura. Visitors will really have to use their brains to figure out the solution!

Guests will also be able to write congratulatory messages on cherry blossom petal stickers associated with Sakura and stick them to life-size character panels. Original goods featuring characters in original event costumes will be on sale.

© 岸本斉史 スコット/集英社・テレビ東京・ぴえろ

Nijigen no Mori Amusement Park to Begin Demon Slayer Collaboration in April

Nijigen no Mori, an amusement park located on Awaji Island in Hyogo, is teaming up with the popular anime and manga series Demon Slayer from April 9 until September 30, 2022! The event will feature unique events during the day and at night.

At night, guests can enjoy the Natagumo Mountain Night Walk, where they become members of the Kakushi and participate in a battle to the death between the characters Tanjiro Kamado and Rui. Participants will go on to experience the world of Demon Slayer on a 1.2 km long walk through the night forest, brought to life by a projection mapping spectacle showing Tanjiro and friends and their battle against the demons.



In the daytime installation, participants will go on a riddle-solving quest in an area with original character panels illustrated by ufotable. Participants will have the chance to explore the park and undertake a mission to find Tanjiro and friends. The attraction will feature limited-edition Nijigen no Mori original merchandise, as well as original food based on characters from the manga, such as Tanjiro Kamado and Kyojuro Rengoku.

Crayon Shin-Chan's Sengoku Period Winter Adventure Now Open at Nijigen no Mori Amusement Park

Crayon Shin-Chan's Sengoku Period Adventure, a permanent attraction at the Nijigen no Mori Amusement Park in Hyogo Prefecture, has been transformed for the cold winter months until February 27, 2022!

 

During the event, guests will have to dodge the snow-like bubbles with a 99.9% hit rate as they race towards the finish line. Do you think you could handle it?

Information

Crayon Shin-Chan's Sengoku Period Winter Adventure
Running until February 27, 2022
Location: Nijigen no Mori Amusement Park, Awaji, Hyogo Prefecture

Tickets / Official Site: https://nijigennomori.com

'VOLTAGE' by Anly Chosen as Ending Theme for BORUTO Anime Series

Anly's new song VOLTAGE will serve as the new ending theme song for the TV Tokyo anime series Boruto. 

This will be the second time that Anly has teamed up with the Naruto series, having previously performed the opening theme Kara no Kokoro from Naruto Shippuden. The track has been streamed over 20 million times globally.


Comment from Anly


It's been a long time since I've worked with the Naruto series, and I'm deeply moved to be returning to contribute. VOLTAGE is a song meant to cheer people up and to inspire friends to overcome anything standing in their way. While it's similar in many ways to Kara no Kokoro, I feel like this is even cooler than Boruto's dad's song! I hope everyone enjoys it.

The new ending theme song will premiere with the new episode of Boruto airing on TV Tokyo on January 9, 2022.

©岸本斉史 スコット/集英社・テレビ東京・ぴえろ

Dragon Quest Themed Room Opening at Awaji Grand Chariot Hotel

Nijigen no Mori Anime Park, located on Awaji Island in Hyogo Prefecture, brings anime, manga, and game worlds to life. Starting on November 6, a Dragon Quest-themed hotel room will be available to commemorate the six-month anniversary of the park's Dragon Quest attraction! Reservations for the room are now open.

The room itself is called 'The Slime's Cocoon,' and features plenty of decorations from the popular RPG series as well as in-room treasure chests, slime-shaped lights, and more! The walls and windows will be covered with characters and familiar items, so fans won't want to miss this exclusive opportunity!

Guests staying in the room will receive an original yukata only available at Nijigen no Mori. A limited-edition picture frame can be earned by completing a mission asking guests to find a number of hidden medals in the room!

Does this look like the Dragon Quest experience of your dreams?

Information

Dragon Quest Collaboration Room 'The Slime's Cocoon' 

Open: November 6, 2021

Reservations Begin October 23, 2021

Check-in between 15:00-18:00 / Check-out at 11:00

4 Guests Maximum

Address: 2425 Kusumoto, Awaji, Hyogo (Inside the Nijigen no Mori Anime Theme Park)

Reservations/Details: https://awaji-grandchariot.com/

FujiQ Highland Holds Limited Time "Uzumaki Naruto Birthday Celebration 2021"

FujiQ Highland's 'NARUTO x BORUTO Fuji Konohagakure Hidden Village,' will be holding the 'Uzumaki Naruto Birthday Celebration 2021' birthday event to commemorate NARUTO protagonist Uzumaki Naruto's birthday, held between October 10 and November 7 2021. 

 

Happy Birthday, NARUTO! Miso Tonkotsu with Extra Char Siu Special

Yakitori Set

Arcade Game Corner 'Game Area – Ninjutsu Carnival'

"Uzumaki Naruto Birthday Celebration 2021" Specially Designed Sweets

NARUTO Birthday Commemorative Big Sticker


Stamp Rally with Impressive Prizes

During the event period, Satouchi's 'Ramen Ichiraku' will be offering ramen based on Naruto's beloved Miso Tonkotsu with Extra Char Siu, topped with six pieces of Char Siu (available Sat. and Sun. only, 30 portions a day). Meanwhile, YakitoriQ will be reducing the cost of their ultra popular 'Family Pack' yakitori from ¥1,200 down to ¥1,010 to mark the date on October 10. Plus, if you say "NARUTO HAPPY BIRTHDAY" at the Game Area Ninjutsu Carnival game, the staff will offer you an extra round, boosting your chance of winning the prize.

The Fuji-Q Official Highland Resort Hotel & Spa's restaurant "Makaroni Club" is also hosting a series of fun events to liven up the celebration, including event-exclusive latte art, macaroons, and themed cakes!

In addition, customers who purchase event merchandise or use the facilities will receive a free 10cm 'NARUTO Commemorative Big Sticker' which will be sure to leave an impact. The stickers are available in limited quantities.

If you collect three stamps on your rally card then you will be eligible to enter a lottery, with the chance to win a variety of impressive prizes, such as FujiQ Highland Free Passes or NARUTO or BORUTO dolls, so why not give it a shot?

If you're a NARUTO fan then be sure to celebrate his birthday at FujiQ Land!

 

Information

Uzumaki Naruto Birthday Celebration 2021

Duration: October 10 ~ November 7 2021

Location: NARUTO x BORUTO Fuji Konohagakure Hidden Village

Address: 5-6-1 Shinnishihara, Fujiyoshida, Yamamashi 

Official Site: https://www.fujiq.jp/