Aoi Kubo to Perform Theme For Short Anime Series "Deji" Meets Girl
Up-and-coming 16-year-old singer Aoi Kubo has been selected to perform the theme song for the upcoming short anime series "Deji" Meets Girl, premiering October 1. The song, Otogibanashi no You na Kiseki (Fairy Tale-like Miracle) is now streaming, and a lyric video has also been uploaded to YouTube ahead of the show's start. Two additional songs are available on the digital EP, each inspired by the two main characters in the show. Akane Malbeni, the original character designer, also provided the jacket art. 
"Deji" Meets Girl tells the story of Maise Higa, a high-school freshman who works part-time at the front desk of her family's hotel in Okinawa. One day, she meets Ichiro Suzuki, a mysterious hotel guest from Tokyo traveling alone. Ever since he arrives, strange things begin happening, like fish swimming through the air, and Maise is desperate to get to the bottom of things. 
Comments from Aoi Kubo
Q1: Describe how you felt when you were chosen to perform the theme for "Deji" Meets Girl. 
I've always wanted to sing the theme song for an anime series, so when I got the offer, I was super surprised! This is a fantasy series, and it depicts a mysterious world that really captivated me, so I hope tons of people will watch and enjoy it.
I would be so happy if everyone would listen to the songs I created for these characters, and compare how they sound in context!
Q2: When singing these songs, what did you pay special attention to or emphasize? 
I was asked to write the theme, and to do that, I really surrounded myself with the show's world. 
Otogibanashi no You na Kiseki is based on my own interpretation of the show's worldview. 
For the other two songs I wrote based on the main characters, I tried to imagine what they were feeling, and what thoughts were running through their heads. 
A creator contest is also being held! Creators can submit illustrations or music videos based on one of Aoi Kubo's three songs for "Deji" Meets Girl. The best illustrations will appear on TV, while the best music video will be streamed on Kubo's official YouTube channel. Entries can be submitted starting October 1, so be sure to check out the special site if you'd like to participate!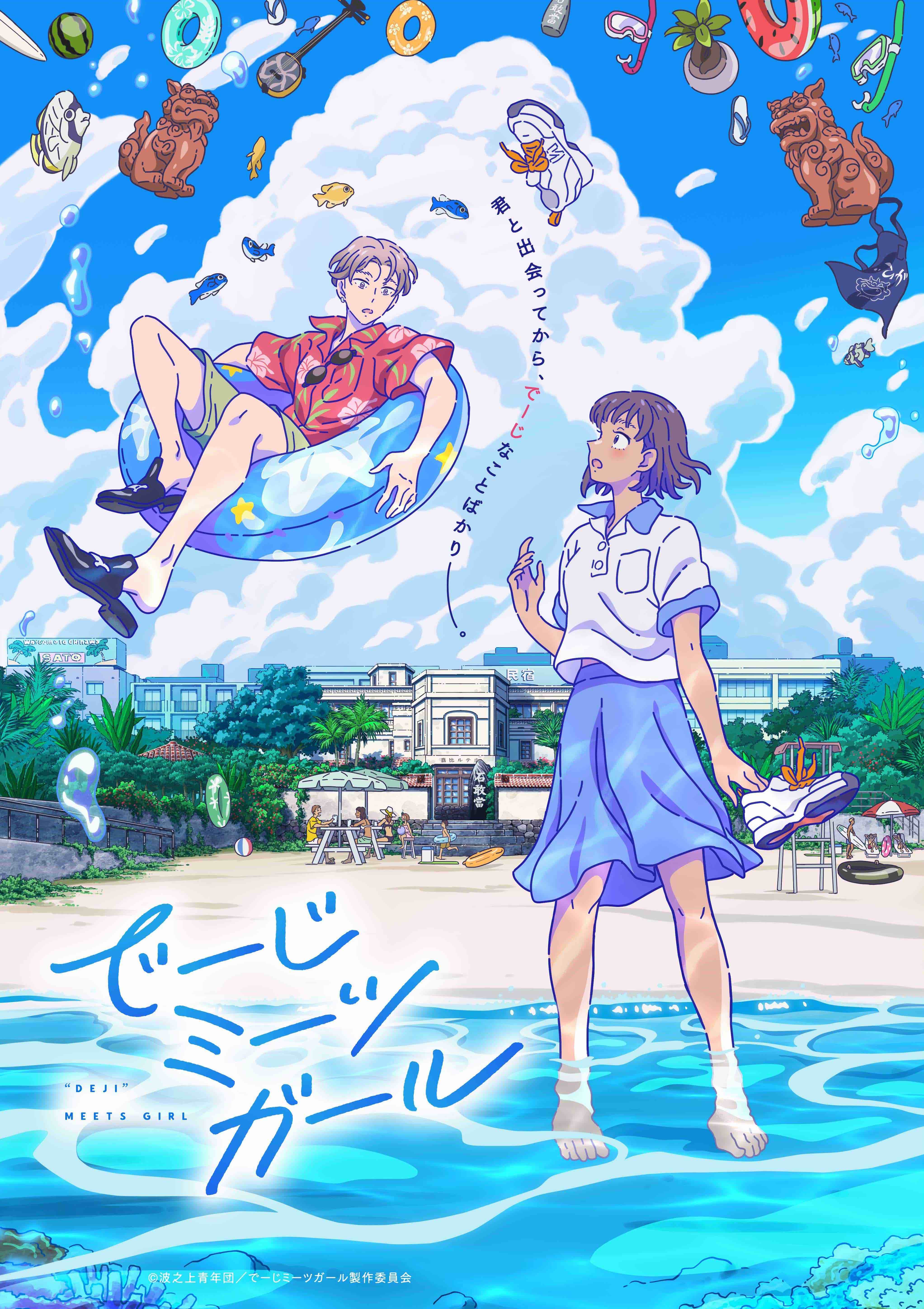 RELATED ENTRIES
Keina Suda Chosen to Perform Theme Song to Upcoming Mari Okada Film Dog Star

The grand opening of Konica Minolta Planetarium Manten NAGOYA is scheduled for October 27, 2021. The original film Dog Star: Kimi to Miageru Fuyu no Seiza-tachi (Winter Constellations to Look Up With You) is set to be screened as the location's first event, and singer-songwriter Keina Suda has been chosen to perform the movie's theme Yomosugara (All Night). Ahead of the film's premiere, advanced tickets will be on sale starting October 20, and those who purchase one will receive a special character acrylic stand!

Dog Star: Kimi to Miageru Fuyu no Seiza-tachi Trailer #2

Advance Ticket Bonus: Acrylic Stand

Keina Suda, chosen to perform the theme song for Dog Star: Kimi to Miageru Fuyu no Seiza-tachi

Konica Minolta Planetarium Manten NAGOYA will be Japan's first planetarium to use the LED dome system DYNAVISION-LED, which utilizes self-luminous LED elements instead of a projector. 

Before making his major debut, Keina Suda was a popular Vocaloid producer going by the name Balloon. During this period, his song Charles became a smash hit, getting over 100 million views on YouTube. The musician wrote the song Yomosugara for the film. The writer of the film, Mari Okada, is also known for her work on Anohana: The Flower We Saw That Day and The Anthem of the Heart. 

A completely original story written by Mari Okada

A friendship between two boys begins to twinkle in the light of the winter constellations. 

Nobunaga Shimazaki plays Kousuke, a boy who is crazy about the stars, while Yama Uchida portrays Natsuki, active on the track and field team. This is a coming-of-age story woven together with the starry sky made of LED lights only available at Manten NAGOYA. 

Kousuke, a boy who loves stars, failed his high school entrance exam. He reluctantly enrolls at his second-choice school, where he meets Natsuki, a member of the track and field team. He compares the brilliance of Natsuki to that of Sirius, the first magnitude star that shines with a fierce intensity. Kousuke thinks Natsuki is not the same as him, who is only the second magnitude star with little presence. However, the fate of the two twinkling stars is about to change drastically…

Scarlet Nexus Opening Video Features New Song by THE ORAL CIGARETTES

The new theme song for Scarlet Nexus is here! As with the first opening track, it was performed by rock band THE ORAL CIGARETTES and is titled MACHINEGUN. The song will be released digitally on October 13, 2021. 

Scarlet Nexus Second Creditless Opening

Scarlet Nexus is based on the action RPG of the same name, released on June 24, 2021, for the PlayStation 4, PlayStation 5, Xbox Series X/S, Xbox One, and PC. The new opening shows the ongoing battle between Yuito, Kasane, and the other soldiers against the incoming army of monsters. Head to Apple Music and Spotify to pre-save the track now ahead of release!

Planetariums in Tokyo to Show Night Flower Film Narrated by Taishi Nakagawa

A stunning new film is coming to the Konica Minolta Planetarium in Tokyo Skytree Town and Planetaria Tokyo in Yurakucho Mullion starting November 19, 2021! Night Flower ~Blooming for One Night on a Starry Island~ will take guests on a journey to Iriomote Island in Okinawa, known for its beautiful starry sky. At night, this island is home to Sagaribana, a flower that only blooms at night and seems to glow in brilliant shades of white, pink, or red. The film is narrated by actor and model Taishi Nakagawa.

Journey to an Immersive Starry Island

Iriomote Island, a world heritage site, is filled with rich nature and a vast ecosystem of living things. From this island, 84 of the 88 constellations scattered across the sky can be seen, including the Crux. A number of these constellations have been captured in this film, with plenty of detail given by Taishi Nakagawa. It almost feels like a date with him–and who could resist that?

Feel as Though You've Been Transported to the Jungle

Using the SOUND DOME® stereoscopic sound system, even the tiniest sound of a bird chirping or leaves rustling will feel as close as can be. Along with the narrator, Manami Kakudo provides the theme song to the film which will leave audiences with goosebumps. 

Mysterious Flowers Blooming Beneath a Starry Sky

The Sagaribana is a whimsical flower, almost alien in its appearance. They bloom for only one night, closing up by morning. This can teach us a valuable lesson: that each day, and each night, is precious, and life can be more fragile than we realize. 

Information

Night Flower ~Blooming for One Night on a Starry Island~

Release Period: November 19, 2021 ~

Runtime: About 40 minutes

Address: Planetaria Tokyo (Yurakucho Mullion) / Konica Minolta Planetarium (Tokyo Skytree Town)

*Screening times will vary depending on the day and time of year. 

*Facility hours are subject to change. 

Official Site: https://planetarium.konicaminolta.jp/program/night_flower/ 

Is the Order a Rabbit? Series 10th Anniversary Exhibition Coming to Tokyo and Osaka

The popular four-panel manga series Is the Order a Rabbit? premiered in 2011. Written and illustrated by Koi, the series has been serialized in Manga Time Kirara Max for the past decade and is still ongoing, while three seasons of the anime have been aired starting in 2014. To commemorate the series' ongoing success, a new exhibition is scheduled to open in both Tokyo and Osaka in October and November. 

Mini-Panels Drawn by Koi (7 varieties)

Tickets for the Tokyo event will go on sale starting at 5:00 PM on October 15. Remember, these tickets are first-come, first-served, and each will feature a specific date and time, so don't miss out! As a special gift, those buying tickets will receive a random original mini-panel drawn by the series creator upon entry. Head to the official Twitter page to take part in a new campaign to win tickets to the Tokyo exhibition!

(C) Koi/芳文社

Information

Is the Order a Rabbit? Exhibition Café Lumière Tokyo

Running: October 29 – November 7, 2021

Address: Hulic Hall 2F (1-22-16 Asakusabashi, Taito-ku, Tokyo)

Hours: 10:00-20:00 (Last admission at 19:30)

*Exhibition will close at 18:00 on November 7, last entry at 17:30

Ticket Information (Tokyo)

General Admission: ¥1,800 (Advance tickets) / ¥2,000 (Day-of tickets)

Tickets on sale starting October 15, 17:00

Where to Buy: 

Lawson Ticket

Online: https://l-tike.com/gochiusa-exhibition

In-store sales: Available directly from Loppi at Lawson and Ministop stores. 

Is the Order a Rabbit? Exhibition Café Lumière Osaka

Running: November 18 – November 30, 2021

Address: Daimaru Umeda 13F (3-1-1 Umeda, Kita-ku, Osaka)

Hours: 10:00-20:00 (Last admission at 19:30)

*Exhibition will close at 18:00 on November 30, last entry at 17:30

**Hours of operation are subject to change. 

Official Twitter: https://twitter.com/GochiusaT (@GochiusaT)

Official Site: https://gochiusa-exhibition.com

Okinawa's Hotel Nikko Alivia Announces Season 3 of Monogatari Kaiseki Menu

SAWA, a restaurant featuring both Japanese and traditional Ryukyu cuisine, will begin the third season of its delicious and artful Monogatari Kaiseki menu starting October 1, 2021. Each season featured a selection of dishes inspired by original stories created by the head chef, and with the new installment, guests will also be supporting the reconstruction of Shuri Castle which suffered damage after a 2019 fire. The restaurant is located at Okinawa's Hotel Nikko Alivia, and the meal will be available until October 31. 

Monogatari Kaiseki: Appetizer 'Beneath the Moonlit Night' 

Monogatari Kaiseki: Grilled Items 'Vampire's Dinner' 

Monogatari Kaiseki: Dessert 'Pumpkin Ghost/Tidings of Autumn' 

In this imagining, a collection of ghosts and spirits gather at the Shuri Castle Festival on Halloween to compete in a cooking competition, and guests are invited to judge each dish. A drink pairing set will also be available. 

5% of all sales will be donated to the Okinawa Prefecture Shuri Castle Fire Restoration and Recover Fundraiser, to help rebuild the historical site. 

Information

Monogatari Kaiseki Halloween Story – Shurijo Festival –

Available: October 1 – October 31, 2021

Hours: 18:00-21:30 (Last order at 21:00) 

Address: SAWA Restaurant at Hotel Nikko Alivila

*Limited to 10 per day.

Reservation Line: 098-989-9021

Official Site: https://www.alivila.co.jp

Toei Animation and Publisher Kawade Shobo Shinsha Begin Novel x Anime PV Project

Publisher Kawade Shobo Shinsha will release two coming-of-age novels on October 14! To promote both The Last Dance of the Time Keepers and Home on the Night of the Star Festival, an anime PV created by the staff of the 2016 anime series Pop in Q and directed by Naoki Miyahara (Digimon Adventure, Dragon Ball Z) has also been released! There are also some pretty famous voice actors featured, so see if you recognize any!

Senya Mihagi, the author of both full-length novels, is an up-and-coming talent, winning the Kadokawa's Da Vinci Story of Books Award in 2014. The original character designs and cover illustrations for each novel were created by Kouhaku Kuroboshi, who has worked on a number of popular anime works, including Kino's Journey, Fate/Grand Order, and Sword Art Online Alternative. The PV includes voice actors Asami Seto, Shiori Izawa, Atsumi Tanezaki, Ari Ozawa, and Tomoyo Kurosawa. The music was produced by Yuki Tsujimura, who has collaborated with a number of popular Japanese artists in the past. 

To commemorate the release of the novels, five original postcards featuring art of each main character will be available from Amazon, Kumazawa Books, TSUTAYA, and Miraiya Books. You'll get a different character depending on where you buy, so double-check beforehand!

Synopsis

The Last Dance of the Time Keepers

Isumi Kominato, a high-school freshman, moves to Tokyo from Kochi Prefecture and forms a new dance unit with her classmates. Behind the scenes, however, strange things are happening–power outages, disappearances, amnesia? Isumi, Aoi, Konatsu, Asahi, and Saki must use the power of dance to help return the world to normal. 

 

Home on the Night of the Star Festival

Satoshi, known as a child prodigy from the time he was an infant and like a sibling to Iori, died suddenly at the age of twenty-one. Iori, unable to accept his death, runs away to attend college in Tokyo, but three years later, she begins to receive strange e-mails after Satoshi's belongings, including a smartphone, are given to her. What was he researching before he died, and why was a global IT company involved? What is the truth behind his mysterious death? 

The Heike Story Anime Gets New Visuals, Staff Comments Released

The Heike Story, now airing on Fuji TV on Demand in Japan and Funimation in the United States, has released some new visuals. The series is set to premiere on Fuji TV's +Ultra block in January 2022. The new visual shows a profile shot of Biwa (voiced by Aoi Yuuki), a blind priestess with the ability to see the future. A new 15-second PV has also been released, and translator Hideo Furukawa, artist Fumiko Takano, and character designer Takashi Kojima have also posted comments on the project's official website. 

The Heike Story PV (15-second version)

The 90-second version of the show's ending theme unified perspective by Kensuke Ushio is now available to stream. 

The Heike Story is based on Hideo Furukawa's 2016 modern translation of The Tale of the Heike, an epic tale from the 13th century. It is produced by Science Saru and produced by Kyoto Animation's Naoko Yamada, known for her directorial work on A Silent Voice, Liz and the Blue Bird, and K-On!

Comment from Translator Hideo Furukawa

The Tale of the Heike is a story all Japanese people should know, but in my opinion, many people misunderstand it. This is likely because people are typically only exposed to a very small piece of a much larger story. If you read through the entirety of the book, you'll find plenty of examples of the horror of war. It's sad. There's a need to repose the souls of the dead, a need to mourn the dead. But in addition to the men who play the main roles on the battlefield, there's even more drama depicted by women. Who knew that the main characters in The Tale of the Heike also include women? I wanted this anime series to show that. It's vivid. Poignantly so. This series touches on points once hidden in the original work. Biwa, the main character, is sure to pull on your heartstrings. 

 

        

Comment from Artist Fumiko Takano  

When I began sketching the characters, I started with Shigemori, then moved on to the Heike brothers, starting with the youngest. 

All of them are incredibly handsome. They're unlike the kinds of guys I usually draw in my own manga. 

In the middle of the design stage, I was shown the director's storyboard. 

I was so happy when I saw Biwa all over the place, with her round face and her curious eyes. 

This series is fresh and new, and I just want to thank everyone who gave me the opportunity to be a part of it. 

Comment from Character Designer, Takashi Kojima

(It's fantastic, so be sure to watch!)

©「平家物語」製作委員会

Information

The Heike Story

Airing on Fuji TV's +Ultra programming block in January 2022

Currently on Fuji TV on Demand and Funimation in the US

*Broadcast dates and times are subject to change. 

The Heike Story original soundtrack EP/Kensuke Ushio

the beginning, boy's own, unknown plan

Streaming URL: https://lnk.to/Heike_OST_EP

The Heike Story Ending Theme

unified perspective (90 second variation) 

Streaming URL: https://lnk.to/unified_perspective_TVsize

Now Available

Official Site: HEIKE-anime.asmik-ace.co.jp

Non-Credit Ending of MUTEKING THE Dancing HERO Anime Released

MUTEKING THE Dancing HERO, an upcoming anime series based on the 1980s series Muteking, The Dashing Warrior by Tatsunoko Productions, is set to start next month! Now, the non-credit version of the ending has been uploaded to YouTube ahead of the premiere. 

The ending theme for the series is Kibou no Uta by KALMA, and was previewed in the newest PV for the series. The song itself is a peppy and funky track, and one that fits with the 'never-give-up' attitude of the main character. Over 40 years since the original anime series premiered, this new incarnation of the sci-fi comedy is filled with color and modern updates. The illustrations were drawn by Utomaru (THINKR), the original character designer, with the video itself produced by THINKR. Kibou no Uta will be released on September 22, 2021. 

 

Non-Credit Ending

A special program is also scheduled to air before the first episode of MUTEKING THE Dancing HERO premieres. The MCs for the program are Kentaro Mashiro, who plays the main character Muteki, Azusa Tadokoro, the voice behind Naomi, and Hisanori Yoshida, an announcer from Nippon Broadcasting. A number of fun videos are now available on the official YouTube channel for the series!

The series will air on TV Osaka and TV Aichi on Saturdays starting October 2, and on TOKYO MX and BS NTV on Sundays starting October 3. With only two weeks left to go, be sure to check out the official Twitter and YouTube accounts for more info!

©タツノコプロ・MUTEKING製作委員会

Information

MUTEKING THE Dancing HERO

TV Osaka: Starts October 2, 1:26AM – New Episodes Saturday

TV Aichi: Starts October 2, 1:55AM – New Episodes Saturday

TOKYO MX: Starts October 3, 23:30 – New Episodes Sunday

BS NTV: Starts October 3, 23:30 – New Episodes Sunday

*Please note that broadcast dates and times are subject to change. 

MUTEKING THE Dancing HERO Pre-Premiere Broadcast Special

TV Osaka: Airs September 25, 1:41-2:11AM

TOKYO MX: Airs September 26, 23:30-24:00 / Rebroadcast: September 27, 22:00-22:30

Official Site: https://muteking.jp/

Taichi Mukai to Perform New Opening Theme for Dragon Quest: The Adventure of Dai Anime

Singer, songwriter, and model Taichi Mukai has been chosen to perform the new opening theme for Dragon Quest: The Adventure of Dai, currently airing Saturdays on TV Tokyo. The announcement was made during an event on September 12 celebrating a successful first year of broadcasting. A new visual was also released as the anime series starts its second year of airing. 

The new song, Bravest, was written specifically for the show, and features lyrics reminiscent of the main character and his struggles. 

In regards to the track, Mukai commented: "The Adventure of Dai is a masterpiece, and the manga series has been going on since before I was born. I was completely absorbed and totally forgot to get my own work done while going back through the story again, reading it the whole way through! I was full of energy when I wrote this song, and I hope it will get fans pumped up!" 

The first episode marking the second year of the Dragon Quest: The Adventure of Dai anime series will air on October 2. 

Mukai will also be releasing a new EP titled DOORS, co-produced with Shin Sakiura, on September 22. The song Celebrate! from the EP is available to stream now, so be sure to check it out!

©三条陸、稲田浩司/集英社・ダイの大冒険製作委員会・テレビ東京 

©SQUARE ENIX CO., LTD.

Frederic Performs Opening Theme for The Night Beyond the Tricornered Window Anime Series

Kobe-based rock band Frederic has been chosen to perform the opening theme song for the upcoming supernatural boys-love series The Night Beyond the Tricornered Window. The song, Saika, will be available on streaming services October 6.

Koji Mihara, bassist and vocalist for the band, wrote the lyrics to the new track. "Something about the way each character's mental state is addressed so delicately really drew me in. I'm more of an expressive artist, someone who's aware of even the sounds the audience can't hear. I approached this with feeling, and a deep awareness of how each character feels. There's something powerful about two people with such strange talents working so closely together, even though they think so differently. I hope you'll enjoy Saika, and also enjoy this very deep and moving story about these two unique people."

The upcoming anime series The Night Beyond the Tricornered Window is based on the popular manga series of the same name, written and illustrated by Tomoko Yamashita. It ran from 2013 until 2020 in the popular monthly yaoi manga magazine Be x Boy, and has sold over 2 million copies. The horror mystery follows Kosuke Mikado, a bookstore clerk able to see spirits, and Rihito Hiyakawa, an exorcist.

The Night Beyond the Tricornered Window will premiere in October on TOKYO MX, Sun Television, BS Fuji, and Fuji On-Demand. A promotional video has been released featuring the new track and some footage from the series, so give it a watch!

The Night Beyond the Tricornered Window PV

Frederic is currently working on a new album, with a nationwide tour set to start from Sendai Rensa on October 31.

©ヤマシタトモコ/リブレ・さんかく窓プロジェクト

GARNiDELiA to Perform Opening Theme for Taisho Otome Fairy Tale Anime Series

Pop-rock duo GARNiDELiA will be performing the opening theme song for the upcoming Taisho Otome Fairy Tale anime series, set to begin airing October 8. The title of the track is Otome no Kokoroe, and a bit of the song can be heard in the recently-released third trailer.

GARNiDELiA is composed of Maria, the lead vocalist, and toku, the group's composer. The two made their major debut in 2014, and have contributed to a number of anime series in the past. Since moving to the Pony Canyon label in 2021, GARNiDELiA is planning on a number of new collaborations and releases.

 

The Taisho Otome Fairy Tale anime series is based on the manga of the same name, serialized in Jump Square from 2015 until 2017. Written and illustrated by Sana Kirioka, it tells the story of a wealthy boy, Tamahiko Shima, who, after becoming handicapped after a terrible accident, is sent to live in the countryside, away from his well-off family. It's there that he meets Yuzuki Tachibana, sent to be his bride. The two become closer, and Tamahiko begins to heal from the many scars of his youth.

 

 

Comments from GARNiDELiA

"Each character in this story is incredible and unique in their own way.

I'm honored to be singing the theme song for this amazing work, and doing so has made me feel more and more attached to it as the story progresses.

I hope the song conveys the beauty of a woman and love, and the strength of caring for someone with all your heart.

I hope the audience enjoys this song as much as I do, and that you enjoy it as you watch the series!"

"This track is a big-band tune in true GARNiDELiA style, inspired by the characters in this incredible story and their ever-changing emotions. This opening is a new challenge for us, and we hope you enjoy it!"

 

 

©桐丘さな/集英社・大正オトメ御伽話製作委員会

Experience 600 Years of Historical Culture with the Tanadui Festival Accommodation Program

The HOSHINOYA Taketomi Island Resort in Taketomi, Okinawa will be holding the Tanadui Program between September 1 and October 12 2021. The special program will be held to mark the Tanadui Festival, an event that has been listed as an event of cultural importance and allows visitors to experience the deep, historical culture of Taketomi Island.

Taketomi is an island with it's own unique culture with a selection of festival rituals, including food offerings to pray for prosperity and abundant harvests. The Tanadui Festival is the largest on the island and has been designated an event of cultural importance, running for over 600 years. Every year, throughout the seventh and eighth days of the festival, a stage is assembled in Yomochi Utaki to host over 80 traditional performances, each dedicated to the Gods and deities. On Taketomi Island, the phrase "Kashikusaya Utsugumidu Masaru" is key to the local lifestyle, roughly translating to "cooperation over all." Join in the 'Spirit of Utsugumi (cooperation)' as the whole island practices and prepares for the festival – even those who have moved further away will return home to join in.

Focus Points

Bountiful Harvest Lunch – Get to know, touch, and cherish the five grains harvested on Taketomi Island


Enjoy a lunch that has been made using millet, wheats, beans, potatoes, and rice, which are said to be the five grains of Taketomi Island. Before lunch, you can join in the harvesting of potatoes grown on-site. Taketomi Island has no mountains or rivers as it was formed through the raising of coral atolls, making it difficult to grow crops. As distribution was unpopular in the past, the lack of crop growth meant that there was no food to live off. It is because of this that festivals, including the Tanadui Festival, were first held. They are used to pray for plentiful harvests and the traditions are upheld to this very day. During this event, you can harvest potatoes while learning about the history and land.

The lunch plate uses French techniques to propose a fun and new way of enjoying the five grains while retaining their simple sweetness; A sweet wheat risotto, shimadōfu soup, a harvest potato Dengaku (fried potatoes cut into cubes and sprinkled with sugar), plus desserts that can be enjoyed with peanuts. This delicious lunch allows you to get to know, touch, and cherish the five grains of Taketomi Island.  

 

Price: ¥7,260 (Per person, tax & service charge included)

Capacity: Two groups per day

Hours: 12:30 ~ 14:00

Location; Field, Dining Room

 

Traditional Iiyachi Making Tour in collaboration with the islanders and HOSHINOYA Taketomi Island

Iiyachi is a traditional rice cake-like food that is eaten during the Tanadui Festival. Originally the Iiyachi was made using only materials found on the island, but thanks to modern development and tourism, plus the decline of agriculture, it is now regularly made using materials cultivated on other islands. HOSHINOYA Taketomi Island has worked hard to inherit the traditional production method. This year they will be challenging themselves by making Iiyachi using both traditional methods and local agriculture, cultivating millet and azuki beans to use in the recipe. Iiyachi is made by combining the ingredients in a large Shinme Pot to boil and steam. The resulting food is then kneaded out by a group of people while it is turned with a spatula. 

This is an opportunity to get up and close with the island's traditional culture which is only visible once a year during the festive period. Iiyachi making is an important job to the islanders, overflowing with enthusiasm and commitment to the Tanadui Festival.

Price: Free

Date: October 7

Location: Azumaya Garden

 

Teedun Dress-Up Experience

Here you can try on the outfits worn by the traditional performers who participate in the Tanadui Festival. The traditional costumes are only worn during the festival and have been passed through families for generations, usually unworn by anybody who isn't native to the island. During the experience you will be offered a commemorative photo, perfect to take home as a memory of your trip to Taketomi Island. 

Price: ¥1,210 (Per group, tax & service charge included)

Hours: 10:30 ~ 12:30

Location: Yuntaku Lounge

Teedun-banashi

Here the staff will introduce you to the festivals roots, the culture that started it, and the history of the island, with photos to assist. You will be taught all about the 600 year history of the Tanadui Festival and the "Kashikusaya Utsugimi Domasaru" spirit. During the program, you can also learn about daily life on the island, full of festival excitement and traditional Okinawan scenery.

Price: Free

Hours: 20:45 ~ 21:15

Location: Yuntaku Lounge

One Moment on the Island ~Iiyacha~

A selection of traditional Okinawan snacks will be served in the Yuntaku Lounge, offering the visitors a special moment on the island. There are two seasonings available for the sweet and simple Iiyachi: Andansuu, a sweet oil miso that is popular in Yaeyama, and shrimp salt, made from Japanese Tiger Prawns found in the beautiful oceans surrounding the island.l

 

Price: Free

Hours: 14:00 ~ 16:00

Location: Yuntaku Lounge

Tanadui Festival Breakfast


Enjoy a unique Tanadui breakfast packed full of the fruits of the harvest, with millet mixed Juushii rice, Awa Miso Andansuu, and Pindako made using garlic and octopus from the island.  You'll be wide awake with this vibrant breakfast and its auspicious menu. 

Price: ¥4,235 (Per person, tax & service charge included) 

Hours: 7:00 ~ 10:30

Location: Dining Room

Experience 600 years of history for yourself with this unique program!