Demon Slayer Game Adds Rui and Akaza as Playable Characters in First Free Update
The highly-anticipated Demon Slayer game is only a day away from launch! Demon Slayer: Kimetsu no Yaiba – The Hinokami Chronicles is hitting consoles and PC on October 14 in Japan and in Europe and North America on October 15. The first free update will be adding Rui and Akaza as playable characters with two more free updates coming sometime after launch. The announcement was published in this week's Weekly Shonen Jump. 
It's unclear exactly when the two characters will be added to Versus Mode, given that the first update doesn't yet have a release date. 
New Playable Characters Included with the First Free Update
Lower Rank 5, Rui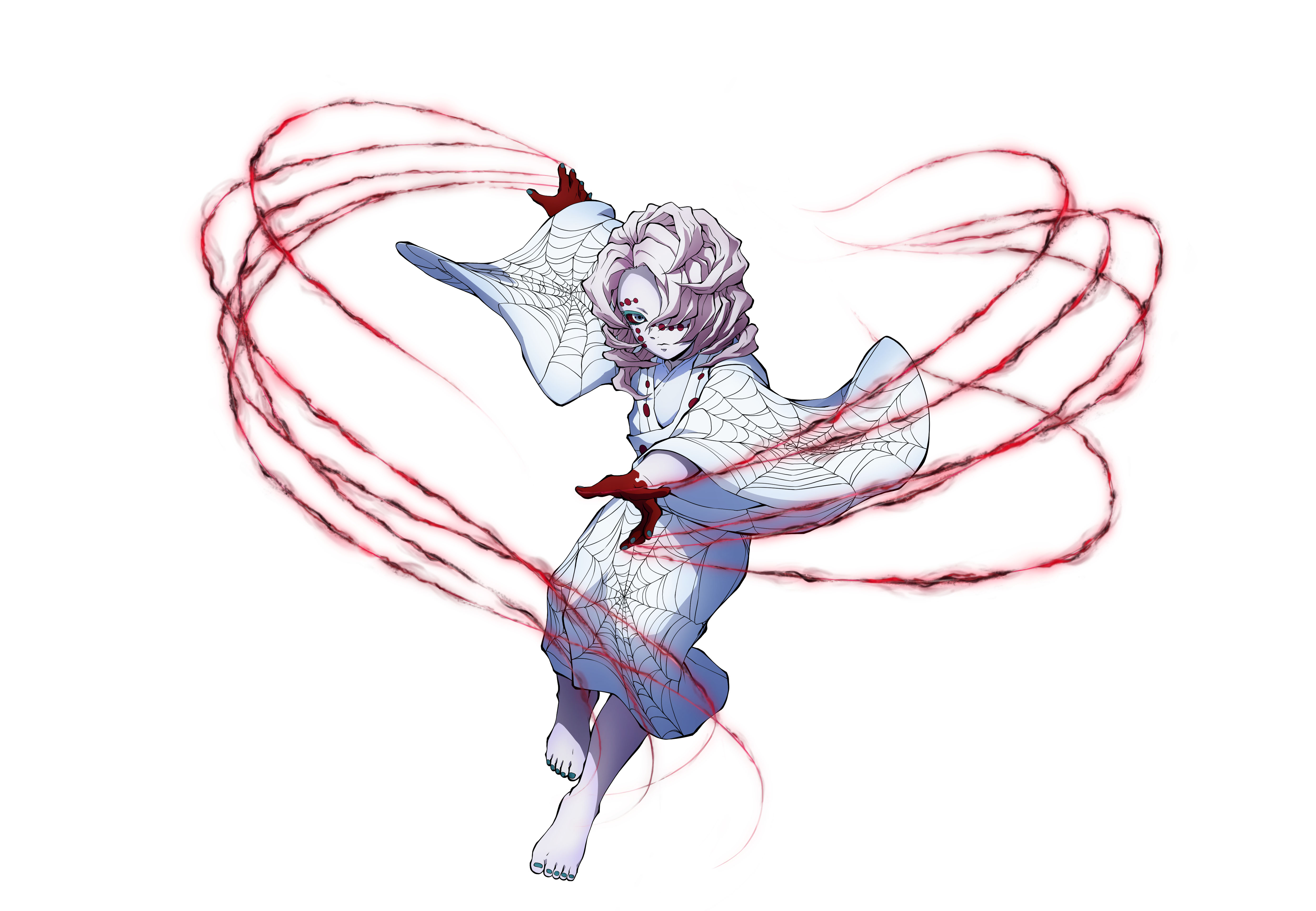 Upper Rank 3, Akaza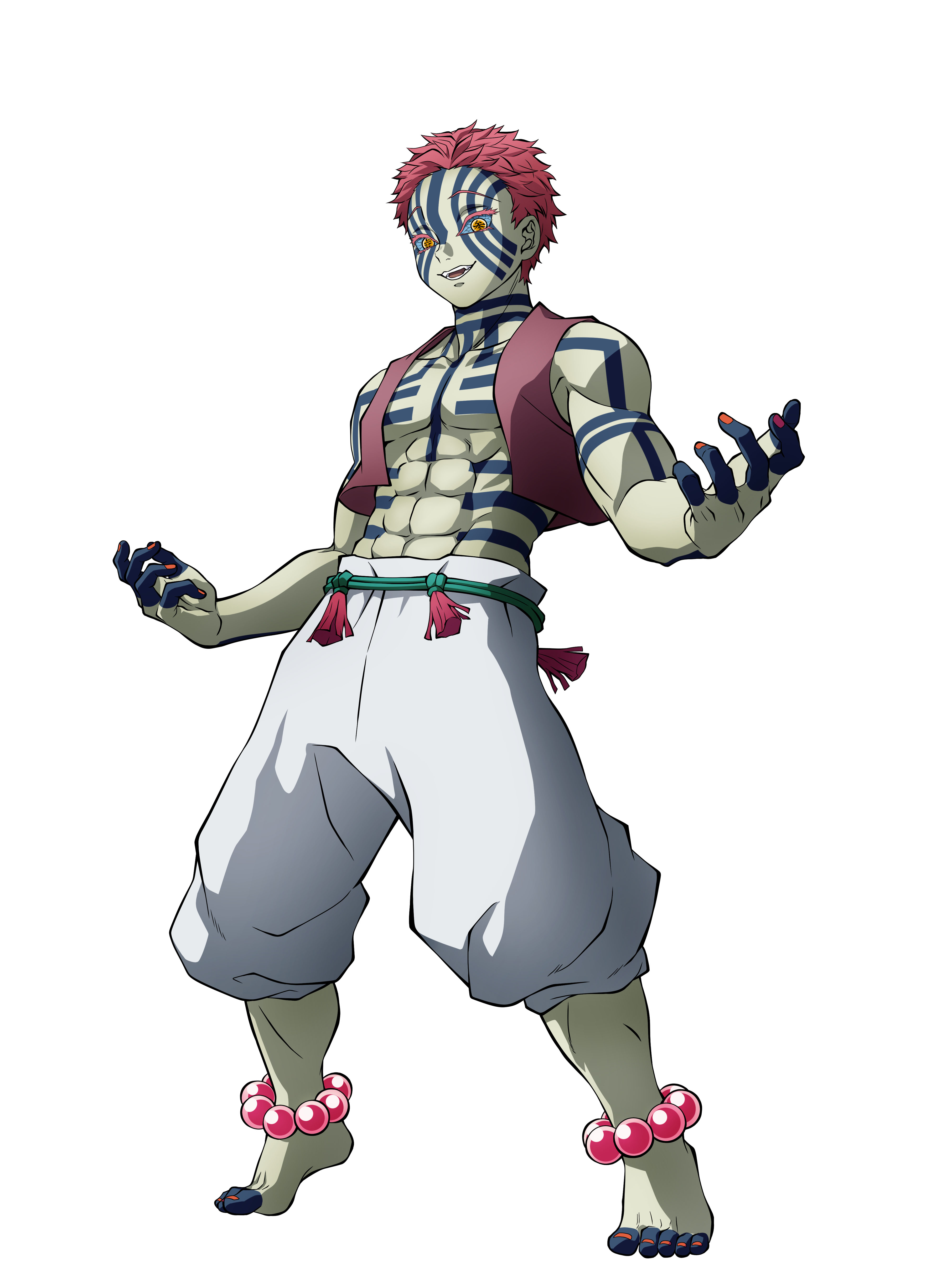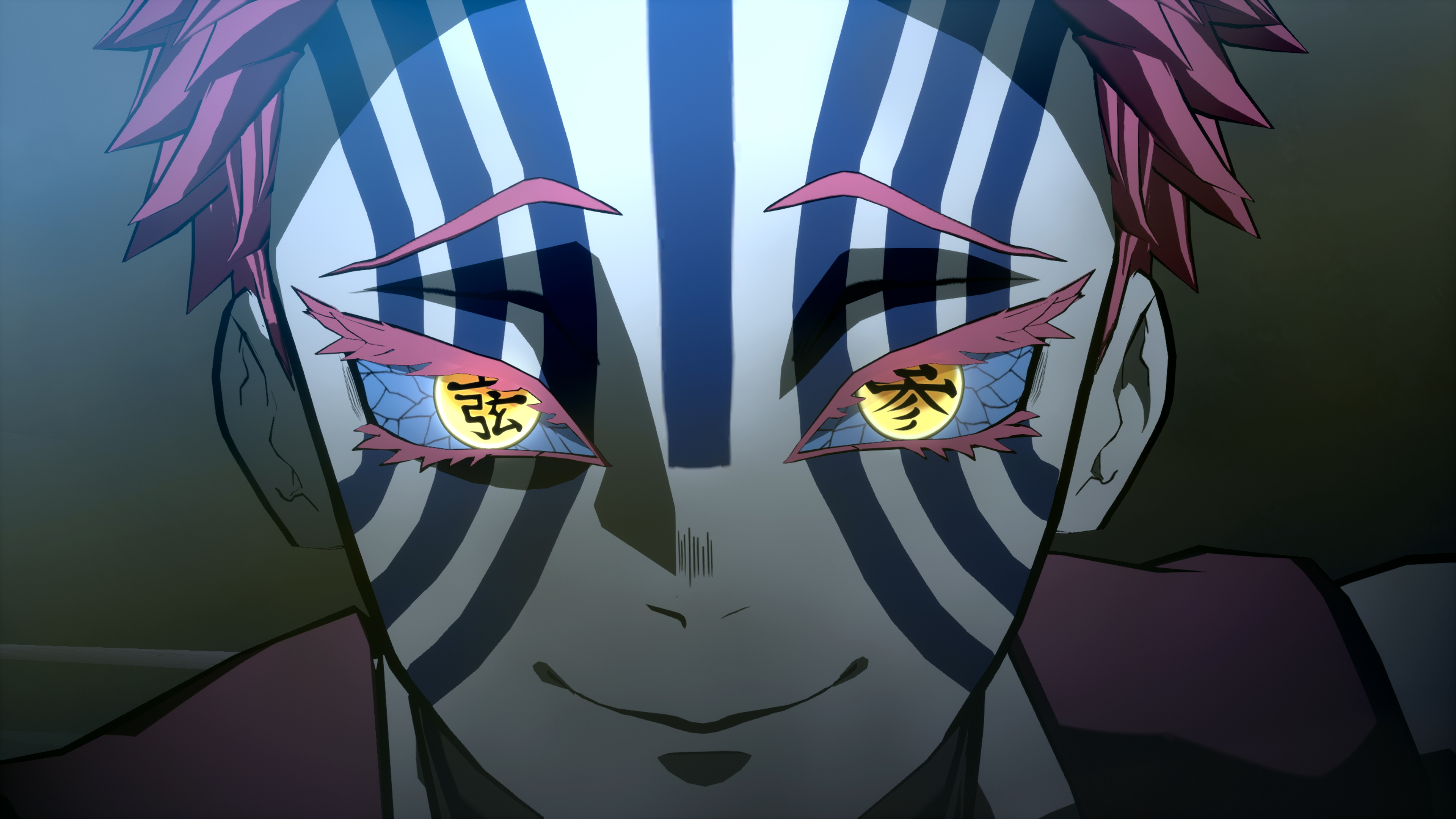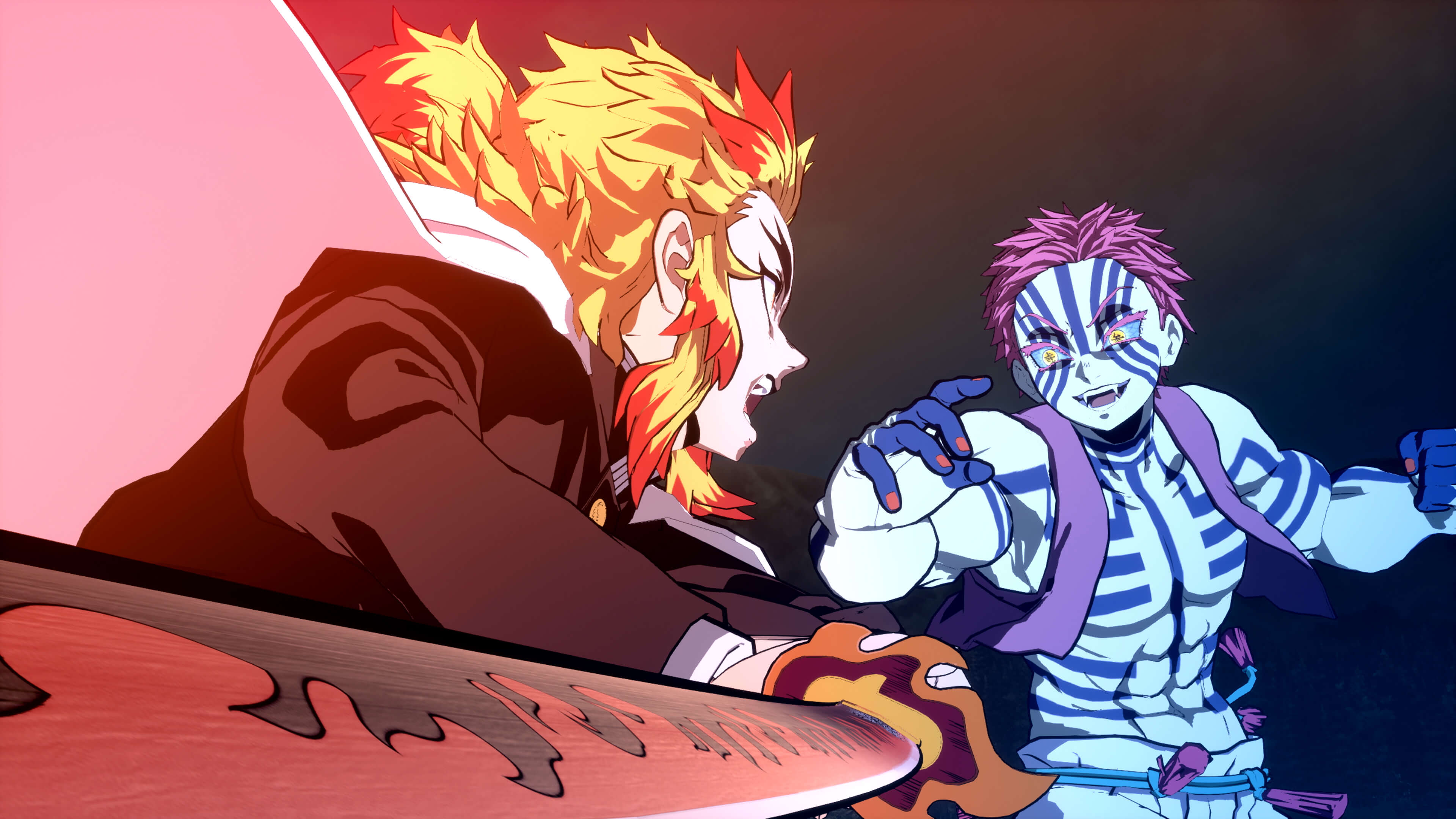 Are you excited for these bad guys to make their appearance? 
©吾峠呼世晴/集英社・アニプレックス・ufotable ©「鬼滅の刃 ヒノカミ血風譚」製作委員会
RELATED ENTRIES
Kirby Celebrates 30th Anniversary with New Anniversary Cake and Plates

A new Anniversary Cake celebrating 30 years of Kirby is now available for purchase! Orders are open now on the Premium Bandai website.

Those who purchase the cake will be able to decorate it with the included chocolate pens and chocolate plates. The three layers of strawberry mousse, vanilla-flavored mousse, and sponge provide a super fluffy texture and sweet and sour flavor. The cake also comes with original plates featuring Kirby's face with his mouth wide open! Orders will begin shipping in December, and you'll want to grab your cake soon–orders will stop when the product is sold out. 

(C)Nintendo / HAL Laboratory, Inc. KB22-P4238

VTuber Collective Hololive Collaborates with Popular Game Among Us for a Limited Time

Popular VTubers from Hololive Productions are collaborating with the multiplayer online game Among Us for a limited time! The collab began on September 21, 2022.

30 special collaboration skins featuring Hololive personalities are now available in the game. Along with these, players can snag hats and visors! These can be purchased in-game and unlocked through gameplay. The Collaboration Cosmicubes will be available for purchase for three months, so get yours while you can!

The company is also planning on selling real-life collaborative goods to commemorate the event, so keep an eye out for more details coming soon!

Information

Hololive Production x Among Us Limited Time Collaboration

Start Date: September 21, 2022

Hololive Production Official Site: https://www.hololive.tv/

World's First Apex Legends Collaboration Cafe to Open in Tokyo and Osaka

The world's first Apex Legends cafe will be opening for a limited time in Tokyo and Osaka this summer! The Nessie Cafe will be held at Tower Records Shibuya starting July 22 and at Tower Records Umeda NU Chayamachi starting August 20. 

Over 100 million people around the world have played the battle royale title Apex Legends. Every aspect of the game, from the character designs to the maps and weapons, has been meticulously designed to create a truly engaging and fun experience. Basically, it makes sense that so many people seem addicted to it.

 

Menu at a Glance

Nessie & Wattson's W Curry

Supplies Box Sandwich

Nessie & Wattson's Crackling Orange Parfait

Nessie's Pancakes

A Nessie Surfaces! Cake

Drink Menu

Bloodhound / Gibraltar

Lifeline / Pathfinder

Wraith / Bangalore

Caustic / Mirage

Octane / Wattson

Crypto / Revenant

Loba / Rampart

Horizon / Fuse

Valkyrie / Seer

Ash / Mad Maggie

Newcastle / Nessie Latte

Drink in Original Bottle

PANKAN

The collaboration cafe will feature a selection of themed menu items based on Nessie, a loveable part of the title. Drinks inspired by every Legend in the game will also be available. Reservations are available by lottery only, but certain menu items will be available for takeout. Drinks will be available in a limited edition bottle. 

Those who make reservations for the cafe will also have the opportunity to purchase exclusive merchandise on-site.

Veteran players won't want to miss out on the world's first Apex Legends cafe!

©2022 Electronic Arts Inc. Electronic Arts, the Electronic Arts logo, Respawn, the Respawn logo, and Apex Legends are trademarks of Electronic Arts Inc. InfoLens Inc. is an authorized Electronic Arts licensee.

Information

Apex Legends – Nessie cafe

Tokyo Venue: July 22 – August 14 / Tower Records Shibuya *The cafe will be on the 2nd floor. Merchandise will be sold on the 8th floor.
Osaka Venue: August 20 – September 6 / Tower Records Umeda NU Chayamachi
Details: https://tower.jp/apex-nessie-cafe

Kyoto Sweets Shop Otabe Rereleases Demon Slayer: Kimetsu no Yaiba Snacks with New Designs

Otabe, one of the most popular sweets souvenir shops in Kyoto, Otabe, is known for its delicious matcha and mini-desserts. Starting May 12, the company has released nine uniquely packaged sweets inspired by Demon Slayer: Kimetsu no Yaiba. The limited-edition packaging will feature popular characters from the series. Previously, the company released matcha cakes for the crossover–this time, fans can enjoy choco-an flavor!

Demon Slayer: Kimetsu no Yaiba Choco-an

Demon Slayer: Kimetsu no Yaiba Matcha

Demon Slayer: Kimetsu no Yaiba Otabe (with Original Sticker)

Original Sticker: 15 varieties, 1 given at random

Focusing on the hashira from the series, fans will want to be on the lookout for their favorite character. These sweets can be bought at select stations in the Kyoto and Osaka area, major Kyoto tourist attractions, and online. In addition, matcha flavored treats will also be on sale featuring Tanjiro Kamado, Nezuko Kamado, Zenitsu Agatsuma, Hashibira Inosuke, Kagaya Ubuyashiki, and Muzan Kibutsuji.



©吾峠呼世晴/集英社・アニプレックス・ufotable

Information

Demon Slayer: Kimetsu no Yaiba Choco-an
Release Date: May 12, 2022
Price: ¥432 (Tax Included)
Where to Buy: Train station in Kyoto & Osaka area, Major Kyoto tourist attractions, online.
Details: http://www.otabe.kyoto.jp/kimetsunoyaiba/

Extensive Demon Slayer: Kimetsu no Yaiba Exhibition to Open at Sapporo Factory in Hokkaido

An exhibition focusing on the Mugen Train and Entertainment District Arcs of Demon Slayer: Kimetsu no Yaiba will open at Sapporo Factory in Hokkaido from July 15 until August 7, 2022.

Fans of the series won't want to miss this huge showing of Demon Slayer materials, including a video exhibit showing off some of the best fight scenes from the film and anime series on a massive screen. 

Stay tuned for more details!

©吾峠呼世晴/集英社・アニプレックス・ufotable

Information

Demon Slayer: Kimetsu no Yaiba – Mugen Train Arc / Entertainment District Arc

Running: July 15 – August 7, 2022

Hours: 10:00-19:30 *Closing at 17:00 on August 7
*Admission permitted until one hour before closing time.

Venue: Sapporo Factory 3-jo 3F 

Official Site: http://www.stv.jp/

Lotte Unveils New Gum and 35 Unique Demon Slayer: Kimetsu no Yaiba Wrappers

Lotte has released a new lemon gum flavor in collaboration with the popular series Demon Slayer: Kimetsu no Yaiba! With 35 distinct packages and gum wrappers decorated with famous scenes and quotes, fans can have a blast searching for their favorites. 

A limited-time campaign is also underway until March 5, 2023. Fans can enjoy collecting special point coupons printed on each label for a chance to win some spectacular prizes!

Demon Slayer: Kimetsu no Yaiba / Lemon

特典Demon Slayer: Kimetsu no Yaiba Gum Campaign

10 Points (50 winners selected by lottery)

Kaiyodo Special Original Figure <Sepia Color Ver.> *Set of 2

5 Points (1,000 winners selected by lottery)
Original Toy Car

3 Points (1,000 winners)
Original Sticker with New Illustration by ufotable *2 piece set

*Along with a special point coupon used to enter into the campaign, there are 36 package varieties.
*Point coupons are not included with every purchase.

How would you like to win one of these impressive prizes?

©吾峠呼世晴/集英社・アニプレックス・ufotable

Nijigen no Mori Amusement Park to Begin Demon Slayer Collaboration in April

Nijigen no Mori, an amusement park located on Awaji Island in Hyogo, is teaming up with the popular anime and manga series Demon Slayer from April 9 until September 30, 2022! The event will feature unique events during the day and at night.

At night, guests can enjoy the Natagumo Mountain Night Walk, where they become members of the Kakushi and participate in a battle to the death between the characters Tanjiro Kamado and Rui. Participants will go on to experience the world of Demon Slayer on a 1.2 km long walk through the night forest, brought to life by a projection mapping spectacle showing Tanjiro and friends and their battle against the demons.



In the daytime installation, participants will go on a riddle-solving quest in an area with original character panels illustrated by ufotable. Participants will have the chance to explore the park and undertake a mission to find Tanjiro and friends. The attraction will feature limited-edition Nijigen no Mori original merchandise, as well as original food based on characters from the manga, such as Tanjiro Kamado and Kyojuro Rengoku.

Mobile RPG Monster Strike Reveals Second Collaboration with Demon Slayer

The popular smartphone RPG Monster Strike is teaming up with the anime and manga series Demon Slayer: Kimetsu no Yaiba for a second collaboration starting March 15, 2022!

New Characters Available via Gacha

Characters Available through Fusion or Evolution

Collaboration Starter Pack

Exchange Exclusive Collaboration Characters 

Collaboration Quest Characters (Selection)

During this second collaboration, players can snag big-name Hashira like Kyujuro Rengoku and Tengen Uzui, as well as other popular characters like Nezuko Kamado, Kanao Tsuyuri, and the siblings Sabito and Makomo.





The characters will be available via gacha, as will Tanjiro, Giyu Tomioka, and Shinobu Kocho from the first collaboration. Some characters will be obtainable through a series of collaboration quests, including Akaza and Enmu from the Mugen Train Arc. 

©吾峠呼世晴/集英社・アニプレックス・ufotable ©XFLAG

Hotel New Otani Tokyo Restaurant to Offer Demon Slayer Menu Throughout March

Tower Restaurant, located on the 40th floor of Hotel New Otani Tokyo, is offering a collaboration menu inspired by the anime and manga series Demon Slayer for the entire month of March. The space will also be decorated with Demon Slayer character cutouts perfect for taking photos with!

Limited March Menu

Breadsticks inspired by Inosuke's sword

Zenitsu's Smoked Eel Tapas

Kyojuro Rengoku's Tom Yum Soup

Collaboration Non-Alcoholic Cocktails

Kyojuro Rengoku

Tengen Uzui

8 Character-inspired Non-alcoholic Cocktails

Cocktail Order Bonus: Collaboration Coaster

Restaurant Guest Bonus: Lunch Mat

Along with this spectacular anime-inspired menu, the restaurant also offers a number of other normal dishes from beef stew to strawberry desserts. 

(C)吾峠呼世晴/集英社・アニプレックス・ufotable

Information

No Demons Allowed Restaurant

Menu available until March 31, 2022

Location:
Hotel New Otani (Tokyo)
Tower Restaurant (Garden Tower, 40F)


Reservations/Details: https://www.newotani.co.jp/tokyo/kimetsu/

Demon Slayer Game to be Released for the Nintendo Switch in June

Demon Slayer: Kimetsu no Yaiba – The Hinokami Chronicles is getting a Nintendo Switch version, with a release date set for June 9 in Japan.

The Demon Slayer manga series, written and illustrated by Koyoharu Gotouge, has over 150 million copies in circulation, making it the ninth best-selling manga series of all time. It follows Tanjiro Kamado, a teen who strives to become a demon slayer after his family was killed and his younger sister Nezuko was turned into a demon. Combining both heartwrenching storytelling with just the right amount of comic relief, the title has amassed fans around the world. 

Demon Slayer: Kimetsu no Yaiba – The Hinokami Chronicles was released for PC, PlayStation 4, PlayStation 5, Xbox One, and Xbox Series X/S on October 21, and has sold over 1.32 million copious worldwide. It includes a solo mode that follows the Demon Slayer story, and also a Versus Mode, allowing players to fight other characters.





In the Nintendo Switch version, players can choose from a total of 24 characters to fight, including six demons added in previous free updates. By using Kimetsu Points, players can unlock characters and costumes, including the Summer School Uniform which will be a Switch exclusive. Physical copies are now available for pre-order, while the downloadable version will be available at a later date.


©吾峠呼世晴/集英社・アニプレックス・ufotable ©「鬼滅の刃 ヒノカミ血風譚」製作委員会

Hotel New Otani Osaka Announces Extension of Demon Slayer Collaboration Restaurant

Due to incredible popularity, Hotel New Otani Osaka has decided to extend the dates for its current Demon Slayer-inspired collaboration restaurant until March 31, 2022. Reservations for the month of March are now available.

Lunch Menu

Dinner Menu

Kid's Menu

Non-alcoholic Cocktails: (From Left) Zenitsu Agatsuma / Kyojuro Rengoku / Inosuke Hashibira

Original Chopsticks & Chopstick Bag Set

The aptly named 'No Demons Allowed Restaurant' features a Chinese course menu that brings the world of the popular series to life. From Nezuko's Bamboo Appetizer Platter to a pork bun that looks quite a bit like Inosuke's mask, anime fans will fall in love with this menu. 

Guests can snap some photos at a designated photo spot featuring life-sized cutouts of popular characters in hotel staff uniforms. The entire space will be decorated with wisteria flowers.

Six non-alcoholic cocktails inspired by the characters will also be available during dinner time only. Guests ordering one of these drinks will get a coaster with a newly-drawn illustration by ufotable.

(C)吾峠呼世晴/集英社・アニプレックス・ufotable

Information

No Demons Allowed Restaurant

Location: Hotel New Otani Osaka, River Terrace Restaurant (3F)

Reservations for March Now Open

Running: January 22 – March 31, 2022

Details/Reservations:  https://www.newotani.co.jp/osaka/kimetsu/ 

Yohji Yamamoto Reveals Details of New Demon Slayer Collection Using Traditional Japanese Fabrics

In January, it was announced that Yohji Yamamoto's brand Ground Y would release a Demon Slayer-inspired collection. From February 10 until February 20, these items will be available at participating Ground Y stores nationwide as well as on THE SHOP YOHJI YAMAMOTO online store.



Original Bandana for Early Orders (while supplies last)

 

The collection is made exclusively from traditional Japanese fabrics, including silk from Ogura Fabrics, established in 1895. Fans can pick up cloaks and long coats featuring popular characters from the series including Tanjiro Kamado, Nezuko Kamado, and Kyojuro Rengoku. These illustrations were provided by ufotable exclusively for this collaboration.

 

A number of shirts will also be available, so be sure to grab your favorites before they're gone!