Halloween Festival Coming to Virtual Shibuya
Tokyo's Shibuya Ward and au 5G are coming together to promote this year's Halloween events online through Virtual Shibuya, a digital space accessible from smartphones, PCs, and VR devices. A number of events will be held from October 16 until October 30, incorporating popular artists, companies, and popular anime series. The concept for the event is 'FUN FOR GOOD,' aiming to inspire people to contribute to their community while also enjoying the holidays. 
Sadly, this year's Halloween celebration in Shibuya will be canceled again due to the COVID-19 pandemic. To ease any congestion on the streets, the ward is promoting the Virtual Shibuya au 5G Halloween Festival 2021, which will be available to anyone, anywhere. That's right: you won't need to be in Tokyo to participate!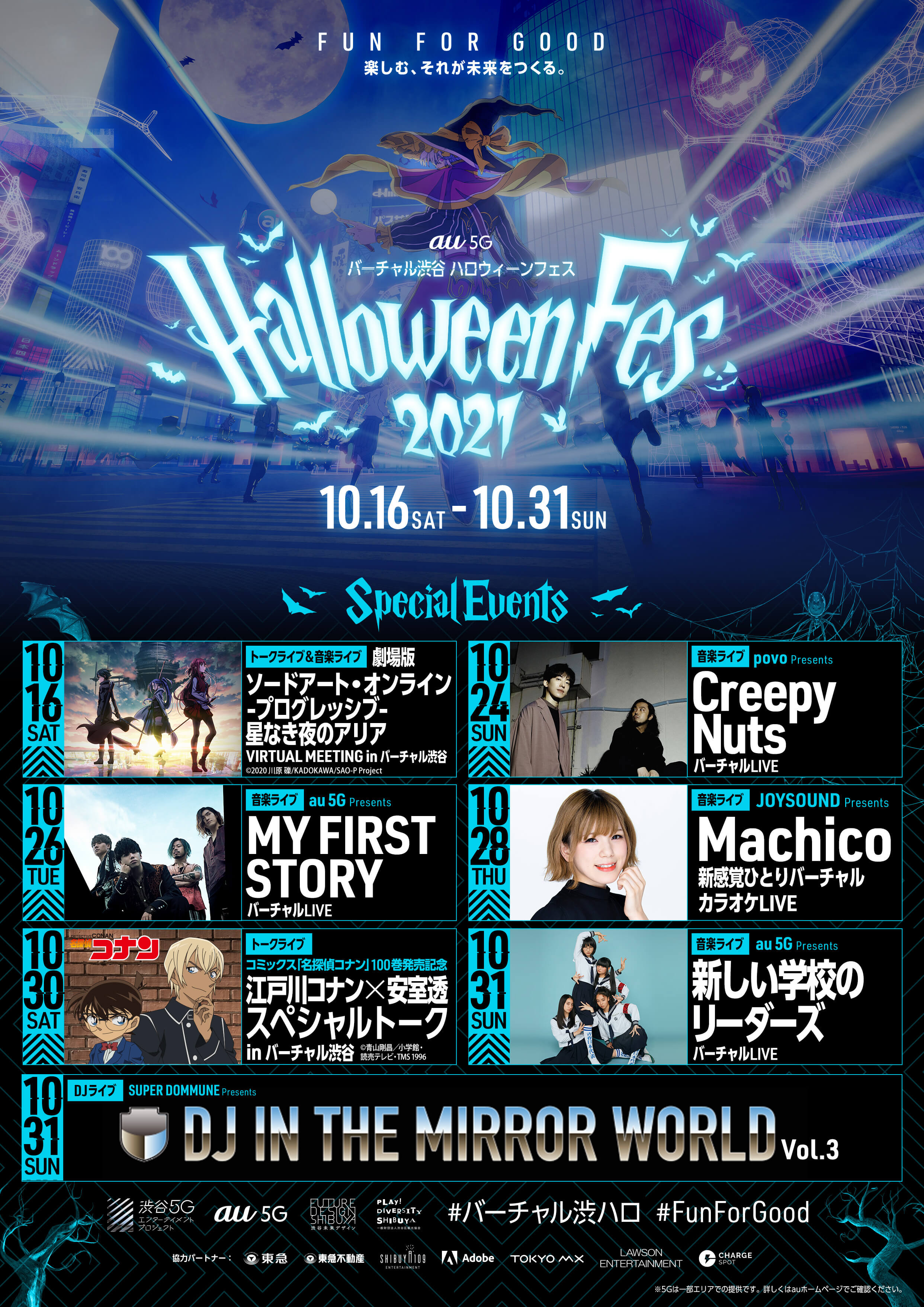 Event Lineup
Special Anime Talks

A simultaneous global virtual fan meetup for Sword Art Online Progressive: Aria of a Starless Night will be held on October 16! Yoshitsugu Matsuoka, who plays Kirito, and Haruka Tomatsu, who plays Asuna, will appear in Virtual Shibuya in avatar form to discuss some highlights of the upcoming film. 
Also, to commemorate the release of the 100th volume of Detective Conan, the Conan Edogawa x Furuya Rei Special Talk in Virtual Shibuya event will take place on October 30th, featuring voice actors Minami Takayama and Tohru Furuya. 
Virtual Concerts
Three artists are scheduled to perform live in Virtual Shibuya during the Halloween event!
・October 24 – povo Presents Creepy Nuts
・October 26 – au 5G Presents MY FIRST STORY
・October 31 – au 5G Presents Atarashii Gakko!
Attraction Lineup
A number of attractions will be available during the two-week event period. Check the website for complete details! 
https://vcity.au5g.jp/shibuya/halloween2021
Official Shop

Starting October 16, an official store selling original event merchandise will be accessible in Virtual Shibuya and on the special event website. These goods will feature characters from select anime series and artists who have supported the project, with all proceeds being reinvested into Shibuya ward. The above items aren't the only things that will on sale, so be sure to check the website for more details!
Limited-Time Only! Make a Collaboration Anime Avatar During Halloween!
In collaboration with avatar platform AVATARIUM, visitors will be able to generate custom avatars wearing costumes from Sword Art Online Progressive: Aria of a Starless Night and Detective Conan! Choose from characters Asuna (SAO), Kirito (SAO), Conan Edogawa (Detective Conan), Ran Mori (Detective Conan), Furuya Rei (Detective Conan), and The Criminal (Detective Conan).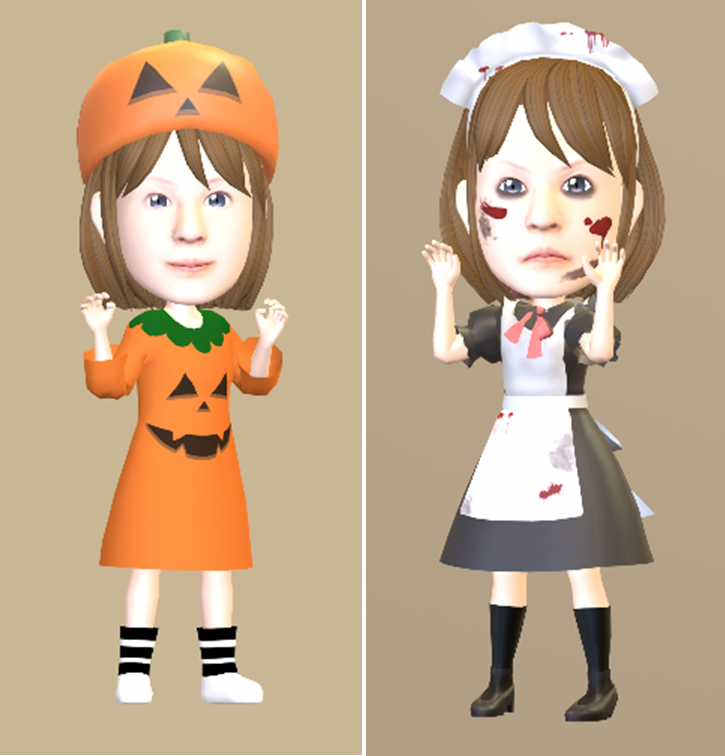 Even if you're not in Japan, be sure to check out the event while you can!
Information
Virtual Shibuya au 5G Halloween Festival 2021
Running: October 16 – October 31, 2021
Location: Virtual Shibuya (authorized by Shibuya Ward) 
How to Participate: Virtual Shibuya can be accessed using VR Devices, smartphones, and PC/Mac. Users will need to create a free cluster account and install the cluster app on the device you will be using. 
Create a cluster Account: https://cluster.mu/
Download the cluster app: https://cluster.mu/downloads
Official Site: https://vcity.au5g.jp/shibuya/halloween2021
RELATED ENTRIES
ATARASHII GAKKO! Take Part in First Overseas Performance at 88rising Festival

Four-member dance and vocal group ATARASHII GAKKO! have taken the world by storm, with their hilarious TikTok account amassing over 3.2 million subscribers and their music racking up plenty of attention on streaming platforms. On November 6, 2021, the girls performed at the Head in the Clouds music festival in Los Angeles, put on by record label 88rising. This was the first overseas performance for the group, and they enjoyed putting on a crazy show for 25,000 people. 

codyburkhardt

As the four members took to the stage, they began their performance with Final Humanity, showing their Japanese pride to the LA audience. With their insanely energetic dance moves, they seemed more like gymnasts, obviously beyond excited for this huge opportunity.

codyburkhardt

codyburkhardt

After the first song concluded, the girls introduced themselves in English. When SUZUKA called out "Say 'It feels so good,' the audience enthusiastically responded "MECHA MECHA KIMOCHI~!" Shouting "Let's Go Head in the Clouds," they began their second song Night Before the Exam. Dancing with their red headbands made their singing and dancing stand out even more–if that was even possible. Fan-favorite Koi Geba was next, and the crowd was completely overwhelmed by the intensity of the girl's movements. 

codyburkhardt

Intergalactic Remix snagged the audience's attention, as the family song has roots in US culture. ATARASHII GAKKO! wore the same construction vests and helmets that the Beastie Boys wore in their 1999 music video. The classic track won big at the 1999 MTV Video Music Awards, and this heartfelt tribute to one of the girl's biggest inspirations won big with the audience. Shouting out "We are Beastie Girls" got a massive reaction, and it proved to be one of the most inspiring parts of their performance. As NAINAINAI began, SUZUKA asked the audience to put their hands up, and they did so without question. There's no doubt that this Japanese group has completely captured the hearts of US fans. 

codyburkhardt

For their new song Free Your Mind, the girls performed in a completely new way, backed by dancers clad in sailor uniforms. As may be expected, their newest epic Pineapple Kryptonite made a perfect climax to the show, with aliens suddenly appearing on stage to attack. Fans in the audience could even be seen holding up pineapples to show their support. As SUZUKA, RIN, MIZYU, and KANON left the stage, they told the audience they'd be back again–and given how well they performed in their first-ever overseas show, we'd agree. Next time, maybe they'll be able to visit fans around the United States!

codyburkhardt

The newest ATARASHII GAKKO! single SNACKTIME will be available to stream on November 12, 2021. Five songs produced by Money Mark, who worked with the Beastie Boys and previously on Pineapple Kryptonite, will be on the new single, so be sure to listen! 

On January 30, 2022, the girls will hold a live performance at Ebisu LIQUIDROOM in Tokyo. The sky's the limit for these talented singers and dancers, and we can't wait to see what they accomplish next!

codyburkhardt

Marvel's Eternals and Sword Art Online Collaborate in New Promotion

Over the past few years, Marvel movies have absolutely shattered box office records. The story of the Avengers is now continuing in an entirely new way, as Marvel's Eternals recently released in theaters around the world. Telling the story of a race of immortal beings, the film was directed by Chloe Zhao, the first Asian-American woman to win an Academy Award for Best Director for her film Nomadland.

While there has been no shortage of promotion for the film, the way Japan is highlighting the film is a little different. Recently, Sword Art Online Progressive: Aria of a Starless Night was released, and fans of the popular anime series have been singing its praises across social media. The franchise has sold incredibly well around the world, with multiple anime series, video games, and comics selling over 26 million copies globally. The first film, released in 2017, grossed more than 2.5 billion yen at the box office. 

Eternals tells the origin story hinted at in the Avengers films, while Aria of a Starless Night tells the origin story of Sword Art Online. They both tell stories of unbreakable friendship, and both feature characters attempting to stop evil and save the world. Now, the two have come together for an unforgettable collaboration. 

The creator of Sword Art Online, Reiki Kawahara, is a huge fan of Marvel and was more than happy to make this collab a reality. A collaborative trailer has just been released, along with a side-by-side poster. 

Collaborative Trailer

The narrators in the trailer are Ayumi Tsunematsu, who plays Cerci in the Japanese version of Eternals, as well as Haruka Tomatsu, the voice of Asuna in Sword Art Online.

What do you think of this unlikely team?

©Marvel Studios 2021

Information

Eternals

Now Showing in Theaters Nationwide

Distributed by Walt Disney Japan

Sword Art Online Progressive: Aria of a Starless Night

Now Showing in Theaters Nationwide

Mobile Game Identity V Starts First Collaboration with Detective Conan

Netease's asymmetrical competitive mobile game Identity V has just started its first collaboration with ultra-popular anime and manga series Detective Conan! In the past, the game has already held crossover events with a number of popular franchises, such as Danganronpa, Persona, Edward Scissorhands, The Promised Neverland, and Death Note. Given that the game is all about solving a murder mystery, it makes sense that Conan would be the next best choice!

Detective Conan is one of the most popular manga series of all time in Japan, with over 250 million copies in circulation as of 2021. The story follows Shinichi Kudo, a high school detective who sometimes works with the police to help solve cases. Attacked by members of the Black Organization crime syndicate, Shinichi is forced to ingest a potion that transforms him into a child! Adopting a pseudonym and keeping his true identity a secret, he continues to solve crimes and help bring peace to the people of Japan. 

Identity V features gameplay for five players. One player, the hunter,  is tasked with eliminating the other four players, the survivors, before they complete their objectives. During this collaboration, each player character will be clad in Detective Conan costumes as they solve the mystery before it's too late!

Four rare skins will be available: a lawyer costume (Kogoro Mori), an air force costume (Ran Mori), a perfumer costume (Shiho Miyano), and an office outfit (Heiji Hattori). A collaborative gift pack is also available in the game's store and will feature two more exclusive costumes–Shinichi Kudo and Conan Edogawa. The pack will also include doodles, mobile icons, and more digital goodies. 

The game is free to play on iOS, Android, and PC, so be sure to grab it now!

Ikumi Mama Animal Doughnuts Selling Limited-Time Happy Halloween Sweets Set

Happy Halloween Set

Ikumi Mama Animal Doughnuts sells some of the most adorable sweets in Japan. Made from safe and high-quality ingredients, the shop in Kawasaki is now selling Halloween goodies for a limited time. Which one is your favorite? 

Ghostly Kitty (Black)

 

Ghost (Purple)


Mummy Kitty


Frankenstein


Spider


Ghostly Pumpkin


Pumpkin Calico

Mini Halloween Set

Ghostly Kitty (Orange)


Ghost (White)


Ghost (Black)  


Spider

Each doughnut is made with carefully selected ingredients, and the colored chocolate coating is made from natural coloring from things like purple sweet potato and pumpkin. While the colors may be striking, don't worry: they don't contain any synthetic coloring. These doughnuts aren't only cute, but delicious, perfect for a fun night at home with family and friends, online drinking parties, or posting on social media!

Doughnuts ordered online are shipped frozen and can be stored for a month.

Starbucks' Sweet Potato Frappuccino Gets a Halloween Makeover

Earlier in the fall season, Starbucks Japan unveiled their popular Sweet Potato Frappuccino to herald in the cool weather. Now, the drink has been transformed for the mischievous Halloween season, with the Treat with Trick Frappuccino now available at participating stores nationwide. 

Treat with Trick Frappuccino Tall, Takeout: ¥678 / Dine-In: ¥690

What's different about this drink? While it may contain the same base ingredients, the color has been changed with the addition is chocolate powder and purple potato-flavored sauce. Customers can also add the "Popping Topping" for an extra charge, basically adding Pop Rocks to the drink. Each is made of white chocolate. 

Popping Topping, Takeout: ¥108 / Dine-In: ¥110

Be sure to stop in for these limited-time treats before they're gone!

Information

Treat with Trick Frappuccino

Popping Topping

Available: October 20, 2021

Where to Buy: Participating Starbucks Locations Nationwide

Official Site: https://www.starbucks.co.jp/

MUSER FEST.2021 -MUSIC AID- Event Holds Spin-Off Event for One Night Only

Last month's MUSER FEST.2021 -MUSIC AID- event isn't quite over! A spin-off event, ZIP-FM presents LIVE LIVE! Super Collaboration with MUSER FEST.2021, will be broadcast online on October 22 at 21:00. Since August, collaborative live performances have been planned with different guest artists each month on ZIP-FM's LIVE LIVE! With MUSER FEST.2021 program hosted by CHAI. This event is the culmination of these plans and the lineup is sure to get fans pumped. 

Performing artists include YUNA from CHAI, Suzuka and Mizyu from Atarashii Gakko!, Tabu Zombie from SOIL & "PIMP" SESSIONS, and Shingo Suzuki from Ovall. Ryo Kishimoto from fox capture plan will also join the live performance as a supporting artist. An archived stream will be available for two weeks after the live show, and tickets are on sale now on the official MUSER website. 

 

Information

ZIP-FM presents LIVE LIVE! Super Collaboration with MUSER FEST.2021

Broadcast Date: October 22, 2021 from 21:00-22:00

Price: 2,000YELL – ¥2,200 (Tax Included) *Includes access to archive

Buy Tickets: https://muser.link/__b/events/573 

Archive Available from October 23 – November 5 at 23:59

Archive Ticket Sales Period: October 23 – November 5 at 23:59

Official Site: https://muser.link/

Merch Inspired by Third Sword Art Online Film Available at 13 Tokyu Hands Stores

Sword Art Online Progressive: Aria of a Starless Night, the third film in the series, is hitting theaters in Japan on October 30, 2021. To commemorate its release, 13 Tokyu Hands stores throughout the country will open a Sword Art Online fair, selling special limited-edition goods! The fair will run from October 29 until November 30, 2021. 

Mechanic Costume Series

Acrylic Stand (7 varieties): ¥1,650 each (Tax Included) 

Pin (7 varieties): ¥385 each (Tax Included) 

*Pins are random. 

B2 Tapestry: ¥3,300 (Tax Included) 

Canvas Tote Bag: ¥2,200 (Tax Included) 

Clear Folder (7 varieties): ¥385 each (Tax Included) 

T-shirt: ¥3,850 (Tax Included) 

Mug: ¥1,650 (Tax Included) 

Acrylic Keychain (7 varieties): ¥715 each

*Keychains are random.

Acrylic Diorama Stand: ¥2,750 (Tax Included) 

Clear Folder: ¥385 (Tax Included) 

Sticker (7 varieties): ¥495 each (Tax Included) 

Mug: ¥1,650 (Tax Included) 

Tokyu Hands Limited Purchase Bonus

Tokyu Hands Limited Film Bonus

The Sword Art Online anime series has been an international hit, spanning four seasons and 97 episodes since 2012. A number of video games inspired by the series have also been released. 

This event features the characters drawn in mechanic gear, both in normal and chibi versions. If you're able to make it to one of the participating 13 stores, don't miss out on these rare items!

(C)2020 川原 礫/KADOKAWA/SAO-P Project

Information

Sword Art Online Progressive: Aria of a Starless Night Fair

Running: October 29, 2021 – November 30, 2021

13 Participating Tokyu Hands Locations: Sapporo, Sendai, Shinjuku, Shibuya, Yokohama, Shizuoka, Nagoya, Umeda, Himeji, Okayama, Hiroshima, Hakata, Kagoshima

【LIVE REPORT】Atarashii Gakko! Tour Final: The Freshness and Bottomless Energy of a New Generation

On October 16, the four-member dance and vocal group Atarashii Gakko held a solo live "We're Still Obscure but Rocking LIVE SHOWS in Tokyo, Nagoya, Osaka and Fukuoka ~Their Weakness is PINEAPPLE!~" at TSUTAYA O-WEST in Tokyo. This marked the last day of the group's current tour, stopping in Tokyo, Nagoya, and Osaka, and on display was handmade calligraphy from the members with one important message: 'Enjoy NOW with all your heart.' The stage was simple: a screen, a DJ booth, and four backlights. The group doesn't need much more, their personalities overshadowing any excess clutter or added minutiae. For the background music, the girls chose Sabotage by the Beastie Boys, an American mainstay the four greatly respect.

The concert began with the leader Suzuka shouting the words "Tokyo! Atarashii Gakko starts now!" The first track was Sekigae Gattuso, followed by Saishujinrui, with choreography seeming more like a gymnastics meet than a live show. The girls were in incredibly high spirits, with Suzuka quickly tearing off her jacket and the four showing no signs of holding back, dancing and singing while using their entire bodies as their instruments. The concert's first half included Koibumi and Miyao, progressing into Koi no Shadanki, Ameyo no Seppun, and Okami no Uta, blending Showa-era sensibilities and sounds with Reiwa-era style and substance. The girls were, as always, funny, mixing comedy into their foolproof performances. Everything is one hundred percent: the singing, the dancing, and the acting. It's hard to understand how they have the stamina for an entire concert.

The second half of the concert began with their long-awaited new song Pineapple Kryptonite, produced by Money Mark, known for his work with The Beastie Boys in the 1990s. His experimental, lo-fi style has attracted attention over the years, still inspiring music fans in the 2010s. Perhaps his style is being passed down to the next generation through Atarashii Gakko!

The group signed with American multi-media company 88rising in December 2020, and the label is attempting to introduce more unique Asian music to the US. In November, Atarashii Gakko is scheduled to perform at the Head in the CLOUDS festival in LA, which will bring together many artists from the 88rising family together for one massive event. In the current cultural climate with Korean pop-group BTS and Marvel film Shang-Chi seeing record amounts of popularity, it seems like the perfect time to introduce more eastern music to the US scene.

During the show's climax, the girls performed NAINAINAI and Freaks, two songs that show off their hip-hop side. The greatest thing about the group's style is their complete coverage, able to swap between singing, dancing, acting, and rapping at the drop of a hat. Their talent is undeniable, and it's able to reach a wide variety of different music fans from around the world. Mayoeba Toutoushi brought the show to an end, and Que Sera Sera wowed fans during the encore. Performing 15 songs, members Suzuka, Kanon, Rin, and Mizyu proved why they belong on an international stage–they blend the old and the new, and the standard with the bizarre. There's no telling where Atarashii Gakko is heading next, but their successful career is certainly just getting started.

'Kyoto Yura Hotel M Gallery' New Halloween Menu Features Adorable Monster Motifs

The '1F Lounge & Bar 1867' at the Kyoto Yura Hotel M Gallery will be hosting a Halloween themed afternoon tea from October 1 2021, with tea sets and cocktails available. The premium hotel is owned by Accor, a Paris, France based group that owns over 5,000 hotels and resorts in 110 countries.

The Halloween-themed afternoon tea has been made by Jennie Chiu, a pastry chef who grew up in America, the home of Halloween. The afternoon tea features cute and playful monster motifs, including a witch-hat Mont Blanc, a Cassis and Chestnut Cake topped with a small ghost, and a spider-web topped Raspberry and Chocolate Mousse. For savory treats, Chef Nishimura Niki has prepared Foie Gras soaked in Salted Koji, plus two luxurious lobster dishes.

The creative Halloween cocktails were brainstormed by Yamazaki Sousei, who ranked in the Japan Top 10 category of bartending competition 'WORLD CLASS 2021.' The Halloween and apple pie inspired lineup was inspired by Scotland and the Celtic people, looking back to when Halloween was first celebrated. 

Enjoy some adult-only time in this retro-modern "family mansion" themed space. 

Information

Halloween Afternoon Tea Set

Availability: October 1 ~ October 31 2021

Location: Lounge & Bar 1867 

Serving Hours: 12:00 and 15:00 *Please reserve your table by 17:00 on the day prior to your arrival

Halloween Cocktails

Availability: October 1 ~ October 31 2021 

Price: ¥1,900
Location: Lounge & Bar 1867

Serving Hours/Opening Hours: 11:30 ~ 21:00 (L.O. 20:30) 

Official Site:  https://kyotoyurahotel-mgallery.com/ja

Eggs'n Things Popular Halloween Menu Returns for Limited Time

EGGS'N THINGS JAPAN have announced that between October 15 and October 31, their most popular Halloween item ever – the 2018 Halloween Trick Pancakes – will be returning to Eggs'n Things and Eggs'n Things Coffee stores nationwide. 

 

 

The black pancake batter is kneaded with cocoa and is topped with subtly sweet pumpkin cream shaped in a cute spider pattern, finished with a swirl of purple taro whipped cream. Eggs'n Things have even hidden a colorful, popping trick inside the pancake. 

 

Have some fun this Halloween at Eggs' Things!

Information

Halloween Trick Pancake

Cost: ¥1,730 (Tax Incl.)

Availability: October 15 ~ October 31 2021 

Participating Stores: Eggs'n Things, Eggs'n Things Coffee stores nationwide 

※This item is not available to take out.

Halloween Sweets Now Available at Historical Kyoto Sweets Shop Tsuruya Yoshinobu

Founded in 1803, Tsuruya Yoshinobu is a famous Japanese sweets shop specializing in wagashi, or traditional Japanese confections. To celebrate Halloween, the shop is now selling some themed treats through the end of October. 

Halloween Pumpkin/Halloween Ghost Japanese Sweets

Happy Halloween Cookie Assortment

The celebration of Halloween dates back to the ancient Celtic festival of Samhain, before later being Christianized as All Hallow's Day. A day to ward off evil spirits and celebrate the fall harvest, it has become a much less serious holiday in recent decades. Children dress up in costumes and go door-to-door asking for candy, and the past is largely forgotten. The sweets available at Tsuruya Yoshinobu are decorated with cute expressions and are sure to be a hit at tea time with friends and family. Be sure to keep an eye out for the ghosts, featuring six different expressions!

Japanese sweets aren't as strong as their American counterparts, and each is sculpted like a work of art. These will melt in your mouth and are perfect for enjoying with matcha, tea, or coffee! Be sure to fill out the blank card along with the cookie gift box for a thoughtful gift this holiday season.

Information

Tsuruya Yoshinobu Halloween Wagashi

On Sale: 

Happy Halloween Cookie Assortment, Available October 10 – Late October: ¥1,620 (Tax Included)

Halloween Pumpkin Japanese Sweets, Available October 16-31: ¥486 each (Tax Included)

Halloween Ghost Japanese Sweets, Available October 16-31: ¥486 each (Tax Included)

Where to Buy: Tsuruya Yoshinobu

*Please note that products are only available in-store, not online. 

*Certain locations may not offer these products. 

Official Site: https://www.tsuruyayoshinobu.jp/

Hotel New Otani Osaka Offering Halloween Plans for a Limited Time

For those looking for a safe getaway for Halloween, Hotel New Otani Osaka is offering a limited-time room plan allowing guests to enjoy a selection of scrumptious and spooky dishes in the privacy of their hotel room. A bottle of very photogenic blue sparkling wine will also be served!




The menu includes a pumpkin quiche and mini-burgers, along with mummy-themed sausage pie rolls, black pasta with squid, and plenty of other treats to tantalize your taste buds. 

Enjoy a toast with the lively La Vague Bleue sparkling wine from France, offering a dry and refreshing taste perfect for pairing with food. Room service will be available to serve plenty of other drink items, including wine and cocktails!

Exclusive to the Halloween plan, a slightly terrifying sweets plate is available, featuring pumpkin mont blanc, bat-shaped cookies, eyeball blancmange, and more! If a Halloween getaway isn't in the cards this year, enjoy this completely private party in a luxurious hotel room instead!