Halloween Festival Coming to Virtual Shibuya
Tokyo's Shibuya Ward and au 5G are coming together to promote this year's Halloween events online through Virtual Shibuya, a digital space accessible from smartphones, PCs, and VR devices. A number of events will be held from October 16 until October 30, incorporating popular artists, companies, and popular anime series. The concept for the event is 'FUN FOR GOOD,' aiming to inspire people to contribute to their community while also enjoying the holidays. 
Sadly, this year's Halloween celebration in Shibuya will be canceled again due to the COVID-19 pandemic. To ease any congestion on the streets, the ward is promoting the Virtual Shibuya au 5G Halloween Festival 2021, which will be available to anyone, anywhere. That's right: you won't need to be in Tokyo to participate!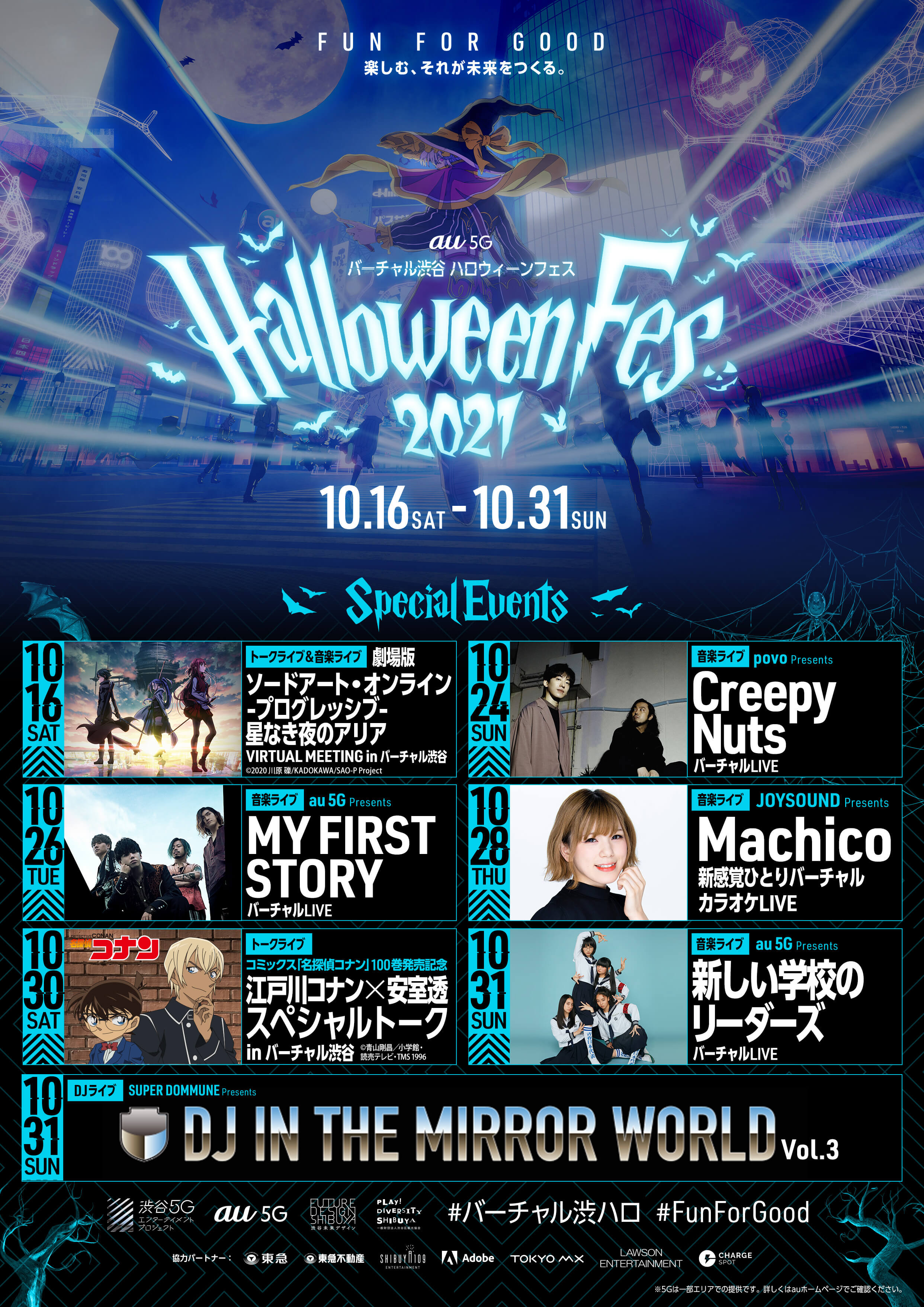 Event Lineup
Special Anime Talks

A simultaneous global virtual fan meetup for Sword Art Online Progressive: Aria of a Starless Night will be held on October 16! Yoshitsugu Matsuoka, who plays Kirito, and Haruka Tomatsu, who plays Asuna, will appear in Virtual Shibuya in avatar form to discuss some highlights of the upcoming film. 
Also, to commemorate the release of the 100th volume of Detective Conan, the Conan Edogawa x Furuya Rei Special Talk in Virtual Shibuya event will take place on October 30th, featuring voice actors Minami Takayama and Tohru Furuya. 
Virtual Concerts
Three artists are scheduled to perform live in Virtual Shibuya during the Halloween event!
・October 24 – povo Presents Creepy Nuts
・October 26 – au 5G Presents MY FIRST STORY
・October 31 – au 5G Presents Atarashii Gakko!
Attraction Lineup
A number of attractions will be available during the two-week event period. Check the website for complete details! 
https://vcity.au5g.jp/shibuya/halloween2021
Official Shop

Starting October 16, an official store selling original event merchandise will be accessible in Virtual Shibuya and on the special event website. These goods will feature characters from select anime series and artists who have supported the project, with all proceeds being reinvested into Shibuya ward. The above items aren't the only things that will on sale, so be sure to check the website for more details!
Limited-Time Only! Make a Collaboration Anime Avatar During Halloween!
In collaboration with avatar platform AVATARIUM, visitors will be able to generate custom avatars wearing costumes from Sword Art Online Progressive: Aria of a Starless Night and Detective Conan! Choose from characters Asuna (SAO), Kirito (SAO), Conan Edogawa (Detective Conan), Ran Mori (Detective Conan), Furuya Rei (Detective Conan), and The Criminal (Detective Conan).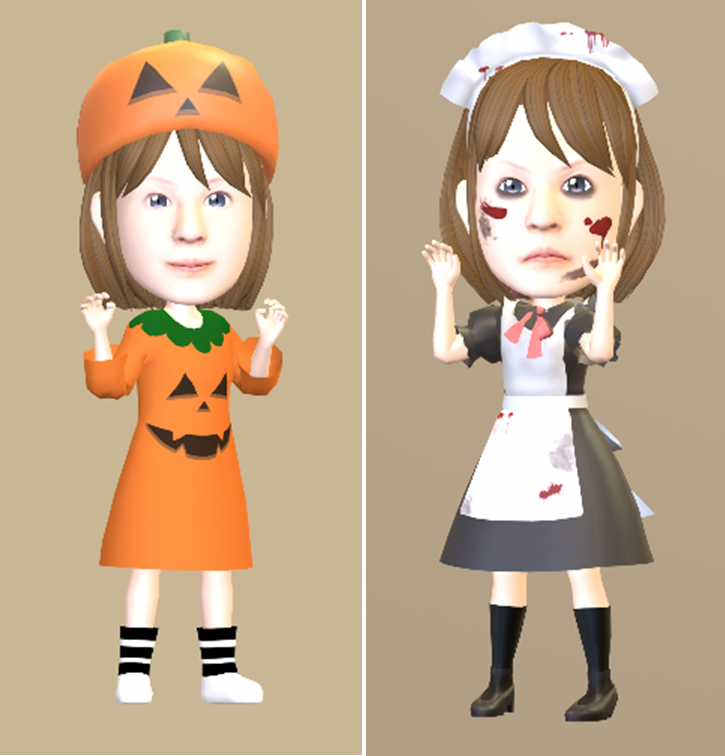 Even if you're not in Japan, be sure to check out the event while you can!
Information
Virtual Shibuya au 5G Halloween Festival 2021
Running: October 16 – October 31, 2021
Location: Virtual Shibuya (authorized by Shibuya Ward) 
How to Participate: Virtual Shibuya can be accessed using VR Devices, smartphones, and PC/Mac. Users will need to create a free cluster account and install the cluster app on the device you will be using. 
Create a cluster Account: https://cluster.mu/
Download the cluster app: https://cluster.mu/downloads
Official Site: https://vcity.au5g.jp/shibuya/halloween2021
RELATED ENTRIES
Atarashii Gakko! Releases Music Video for Popular Track 'Otonablue'

The globally popular four-member dance and vocal group Atarashii Gakko! has released the music video for their song Otonablue, originally released in 2020.

The live performance video of Otonablue currently has over six million views on YouTube, with related TikTok videos pulling in 400 million views to date. The song's choreography–particularly during the chorus–became a big hit on TikTok after a television performance last year, inspiring a music video to be created.

In the video, the members perform the retro-inspired number in nostalgic and gimmicky locations that pay homage to the Showa era. The video is a must-see for fans both young and old.

In addition, tickets for the group's live performance in Tokyo and Osaka, tentatively titled We're working on some amazing new songs and we're dying for everyone to see our newest evolution at Tokyo and Osaka ZEPP, have almost sold out. An additional performance will be held at Zepp Shinjuku on May 1.

Information

Otonablue – Atarashii Gakko! (Digital Single)
Streaming URL: https://leaders.lnk.to/AmUOakIg

<New Single>
Janaindayo – Atarashii Gakko! (Digital Single)
Release Date: March 22, 2023

<Live Concert Information>
We're working on some amazing new songs and we're dying for everyone to see our newest evolution at Tokyo and Osaka ZEPP (Tentative Title)

■Osaka Performance
Date: April 30, 2023
Venue: Zepp Osaka Bayside
Time: Doors open 17:15 / Show starts 18:00
Contact: Kyodo Information
0570-200-888 (11:00-18:00 *Closed on Sundays and holidays)

■Tokyo Performance
Date: May 1, 2023 *Additional performance
Venue: Zepp Shinjuku
Time: Doors open 18:00 / Show starts 19:00

Date: May 2, 2023
Venue: Zepp Shinjuku
Time: Doors open 18:00 / Show starts 19:00

Contact: Disk Garage Customer Center
050-5533-0888 (Open weekdays 12:00-15:00)

<Preorder Tickets for Additional Show>
On sale: March 15, 18:00 – March 22, 23:59

Lawson: https://l-tike.com/leaders/
e+: https://eplus.jp/leaders/
Pia: https://w.pia.jp/t/atarashiigakko-tozepp/

Atarashii Gakko! Releases 'Janaindayo,' the Theme Song for the Film Baby Assassins 2

The four-member dance and vocal group Atarashii Gakko! continues to cause a buzz. The group's song Otona Blue has racked up 400 million plays on TikTok, and the new song Janaindayo is scheduled to release on March 22! The track is being used as the theme song for the upcoming film Baby Assassins 2.

The song was written and composed by jon-YAKITORY, a Vocaloid producer who had a viral hit with Shikabanese (feat. Ado). The chorus features the catchy phrase "nothing's a given," and the fast-paced rock track is sure to be another hit. The artwork was designed by BEY, an illustrator who creates works based on the theme 'Wamerican,' blending traditional Japanese art styles like ukiyo-e with American pop culture.

The original Baby Assassins film was released on July 30, 2021 and ranked at the top spot in Filmarks' first-day satisfaction ranking and won the Japan Movie Critics Award for Best New Director (Yugo Sakamoto) and Best New Actress (Saori Izawa). Expectations are high for this long-awaited sequel! The full song will be unveiled on FM802's THE NAKAJIMA HIROTO SHOW 802 RADIO MASTERS on March 2.

<Comment from Atarashii Gakko!>
"This is our first time working with jon-YAKITORY and the song turned out to be packed with energy! During recording, we made sure to sing with as much excitement as we could–it was easy, given how straightforward the message was. We were so impressed by the battle scenes in Baby Assassins 2, we challenged ourselves to incorporate more realistic action into the choreography! The song expresses the strength that can come from recognizing your own weaknesses. We hope you enjoy listening and watching us perform it!"

<Comment from jon-YAKITORY>
"Because this track is being used as the theme song for Baby Assassins 2, I kept in mind the sense of speed and coolness that both the film and Atarashii Gakko! have in common.
I hope you'll enjoy watching the character's daily life in the movie as you listen to this youthful and exciting track.
In the past few years, the world has become a place where things that used to be a given are no longer a given, and I believe that this has really been perfectly expressed by the members of Atarashii Gakko! Be sure to listen!"

Information

Atarashii Gakko!
Janaindayo (Digital Single)
Release Date: March 33, 2023
Lyrics: jon-YAKITORY
Composition: jon-YAKITORY

Available to stream worldwide on Spotify, Apple Music, and other major music platforms

Atarashii Gakko! Release New Digital Single 'The Edge'

On February 24,  Atarashii Gakko! released the new digital single The Edge.

This global release from the American-based music label 88rising is an energetic and highly-addictive pop track. The track is currently being used in the trailer for Crunchyroll's winter anime season.

The official visualizer for the song has also been posted to YouTube.

The artwork and visualizer effects were created by Fantasista Utamaro. Incorporating aspects of Japanese pop culture from lo-fi games and manga style to bright neon colors, this super cool pixel animation is the result of a collaboration with pixel artist APO+.

Atarashii Gakko! has become a social media hot topic around the world, with their previous single Otona Blue surpassing 400 million views on TikTok.

Information

The Edge – Atarashii Gakko! (Digital Single)
Release Date: February 24, 2023
Streaming Links: https://atarashiigakko.lnk.to/TheEdge

(Streaming simultaneously on all major music services)

<Concert Information>
We're working on some amazing new songs and we're dying for everyone to see our newest evolution at Tokyo and Osaka ZEPP (Tentative title)

Osaka Performance
Date: April 30, 2023
Venue: ZEPP Osaka Bayside
Time: Doors open at 17:15, Show starts at 18:00
Contact: Kyodo Information

Tokyo Performance
Date: May 2, 2023
Venue: ZEPP Shinjuku
Time: Doors open at 18:00, Show starts at 19:00
Contact: Disk Garage Customer Center

Buy tickets here
https://leaders.asobisystem.com/ZEPPZEPP

Atarashii Gakko! Joins Amazon Music's Family Friendly Series 'Hee! Hee! Hoo!"

Amazon Music's first music entertainment show for kids and families to be released in Japan is here! Hee! Hee Hoo! premiered on Prime Video on January 26. The four-member vocal and dance group Atarashii Gakko! is also participating in the project.

Hee! Hee Hoo! is a body-themed four-episode series featuring surreal and psychedelic visuals along with Amazon Music Original music for young kids and their parents. This project was made to entertain and educate babies and children by using original images and music to address the physical changes they'll experience from birth to death and to explain the sensations they feel.

The members of Atarashii Gakko! appear in the first episode, performing the song BABY which was written exclusively for the show.

<Comment from Atarashii Gakko!>
"The theme for this show is so great–the four of us had so much fun coming up with ideas, writing lyrics, and making choreography! I hope even fetuses can enjoy it!!"

Information

Hee! Hee! Hoo!
Streaming on Amazon Prime Video (4 episodes total)
*Anyone with an Amazon.co.jp account can watch.

Episode 1: Aren't Toes Amazing?
Guest: Atarashii Gakko!
Song: BABY
URL: https://www.amazon.co.jp/dp/B0B8MSWK19

Atarashii Gakko! to Appear as Themselves in Baby Assassins 2, New Song 'Janaindayo' to Serve as Theme Song

The newest track from the popular dance and vocal unit Atarashii Gakko! titled Janaindayo will be used as the theme song for the upcoming film Baby Assassins 2, releasing at Shinjuku Piccadilly Cinema and other theaters nationwide on March 24, 2023.

The original Baby Assassins film was released on July 30, 2021 and ranked at the top spot
in Filmarks' first-day satisfaction ranking and won the Japan Movie Critics Award for Best
New Director (Yugo Sakamoto) and Best New Actress (Saori Izawa). Expectations are high
for this long-awaited sequel!

In the film, the members of Atarashii Gakko! will play themselves, though details are
scarce. Be sure to tune into the film to see their performances!

Recently, Atarashii Gakko! announced solo concerts at Zepp Osaka Bayside on April 30 and Zepp Shinjuku in Tokyo on May 2. These performances will be held almost a year after the girls held their solo concert at Zepp DiverCity in Tokyo last May. Tickets are on sale now!

Atarashii Gakko! to Perform Solo at Zepp Venues in Tokyo and Osaka in Spring 2023

Atarashii Gakko! will hold solo concerts at Zepp venues in Tokyo and Osaka in April and May of 2023.

These performances will be held almost a year after the girls held their solo concert at Zepp DiverCity in Tokyo last May. This year's events will be held at Zepp Osaka Bayside on April 30 and Zepp Shinjuku in Tokyo on May 2.

ATARASHII GAKKO! – HANAKO (Official Music Video)


ATARASHII GAKKO! – Pineapple Kryptonite (Official Music Video)


Information

Atarashii Gakko! at Tokyo & Osaka Zepp
-We're working on some amazing new songs and we're dying for everyone to see our newest evolution (Tentative title)-
April 30, 2023 – Zepp Osaka Bayside
May 2, 2023 – Zepp Shinjuku (Tokyo)
Fan's Presale Tickets (Starting January 1)
https://www.fansnet.jp/leaders

Yutaro to Appear in TV Tokyo Drama Series 'Nani ka Okashii 2' with Theme Song by Atarashii Gakko!

The sequel to the May 2022 suspense drama series Nani ka Okashii (Something's Strange) is now streaming on the Paravi streaming service. It has been announced that Atarashii Gakko! will provide the theme song titled Suki Lie.

The original series featured a mysterious radio program and a murder mystery. The story was first written by occult horror writer Uketsu, whose bestseller Strange House sold over 300,000 copies.

<Comment from Atarashii Gakko!>
"We're honored that our song Suki Lie will be used as the theme song for Nani ka Okashii 2! Thank you so much!
The song is a strange pop tune, and that strangeness makes it perfect for this show. We're looking forward to the show's ending, where Uketsu will dance to our choreography! We also get to appear as radio guests in the drama in Episode 12, so keep an eye out!"

Atarashii Gakko!

<Comment from Yutaro>
"I'm Yutaro and I'll be starring in the series as a listener. I've been watching Uketsu's YouTube channel last year, so I was so happy to hear this new story. I really hope you'll enjoy this unique drama series."

Yutaro

<Comment from Director and Screenwriter Yu Ota (TV Tokyo)>
"Nani ka Okashii 2 is complete. In every episode, someone gets badly hurt, but a bad ending is rarely seen in Japanese dramas. The show sees someone hurt, and the malice born from that action splashes up and hurts someone else, and so on.
The cast for this series is incredible and extremely varied. The people on the radio booth side–who will be playing themselves–were asked to be calm with no connection or interest in horror or drama. On the other hand, those on the other side needed to have stronger personalities.
I'm also so happy to hear the theme song by Atarashii Gakko! Many people on the staff are fans of their music, and we thought it would be incredible to have Uketsu dance to their bizarre choreography as part of the series."

©テレビ東京

Information

Nani ka Okashii 2 (TV Tokyo Drama)
Airing on TV Tokyo in 2023
Episodes: 12
Starring: Yosuke Asari, Shogo Hama, Kanji Tsuda, Satoru Matsuo, Gaku Hosokawa, Saikou no Ningen (Yoichi Okano, Yoshizumi), Kenta Hamano, Hajime Syacho, LiLiCo, Glover, Yuuchami, Suzu Yamanouchi, Hina Higuchi, Atarashii Gakko!, Maju Ozawa, Nao Yumiki (Nogizaka46), Wakana Sakai, Yutaro, Yurina Yanagi
Original Story: Uketsu

Theme Song:
・Advanced stream & terrestrial TV & webcasts (Airing 2023)
intersolid – Toko Miura
・Terrestrial TV & Webcasts (Airing 2023)
Suki Lie – Atarashii Gakko!

*Honorifics omitted

Streaming Dates:

■Paravi Streaming Service
December 23, 2022 – Episodes 9 and 10 streaming at 9:00
January 20, 2023 – Episodes 11 and 12 streaming at 9:00
Nani ka Okashii 2 – Episodes 1-8 now streaming

■Odd-numbered episodes available for free on TV Tokyo's YouTube drama channel
Nani ka Okashii 2 – Episodes 1, 3, 5, and 7 now available
Nani ka Okashii – Episodes 1-3 now available

【Paravi】https://www.paravi.jp/title/98313
【YouTube】https://www.youtube.com/c/tvtokyodrama

Official Site
https://www.tv-tokyo.co.jp/nanikaokashii2/

Drama Series Nani ka Okashii 2 Starring Yutaro to Feature Theme Song by Atarashii Gakko!

The sequel to the May 2022 suspense drama series Nani ka Okashii (Something's Strange) is now streaming on the Paravi streaming service. Atarashii Gakko! will provide the theme song titled Suki Lie. The show will air on TV Tokyo in 2023. In addition, actor Yutaro stars in episodes 9-12. 

The original series featured a mysterious radio program and a murder mystery. The story was first written by occult horror writer Uketsu, whose bestseller Strange House sold over 300,000 copies.

<Comment from Atarashii Gakko!>

"We're honored that our song Suki Lie will be used as the theme song for Nani ka Okashii 2! Thank you so much!

The song is a strange pop tune, and that strangeness makes it perfect for this show. We're looking forward to the show's ending, where Uketsu will dance to our choreography! We also get to appear as radio guests in the drama in Episode 12, so keep an eye out!"

<Comment from Yutaro>

"I'm Yutaro and I'll be starring in the series as a listener. I've been watching Uketsu's YouTube channel last year, so I was so happy to hear this new story. I really hope you'll enjoy this unique drama series."

<Comment from Director and Screenwriter Yu Ota (TV Tokyo)>

"Nani ka Okashii 2 is complete. In every episode, someone gets badly hurt, but a bad ending is rarely seen in Japanese dramas. The show sees someone hurt, and the malice born from that action splashes up and hurts someone else, and so on. 

The cast for this series is incredible and extremely varied. The people on the radio booth side–who will be playing themselves–were asked to be calm with no connection or interest in horror or drama. On the other hand, those on the other side needed to have stronger personalities.

I'm also so happy to hear the theme song by Atarashii Gakko! Many people on the staff are fans of their music, and we thought it would be incredible to have Uketsu dance to their bizarre choreography as part of the series."

©テレビ東京

Information

Nani ka Okashii 2 (TV Tokyo Drama)

Airing on TV Tokyo in 2023

Episodes: 12

Theme Song: Suki Lie – Atarashii Gakko!

Streaming Dates:

■Paravi Streaming Service

December 23, 2022 – Episodes 9 and 10 streaming at 9:00

January 20, 2023 – Episodes 11 and 12 streaming at 9:00

Nani ka Okashii 2 – Episodes 1-8 now streaming

■Odd-numbered episodes available for free on TV Tokyo's YouTube drama channel

Nani ka Okashii 2 – Episodes 1, 3, 5, and 7 now available

Nani ka Okashii – Episodes 1-3 now available

Paravi: https://www.paravi.jp/title/98313

Atarashii Gakko! Performs at Head in the Clouds Festivals in Manila and Jakarta

Popular dance and vocal unit Atarashii Gakko! performed at the Head in the Clouds music festival on December 3 in Jakarta, Indonesia, and December 8 in Manila, Philippines. Local fans showed up in droves for the incredible show.

The Head in the Clouds music festival is organized by the record label 88Rising, and the event took place in Los Angeles in August. The label is known for representing Asian artists, with YOASOBI also appearing at the two shows in Jakarta and Manila.

The Jakarta show was attended by around 20,000 people, making it as large as the United States show. The members of Atarashii Gakko!, with their addictive energy and impressive talent, quickly became a talking point among fans not only in the audience but around the world.

In addition to the recent shows in Jakarta and Manila, Atarashii Gakko! recently embarked on a five-show US tour, including a solo performance at the Crunchyroll Expo in San Diego in July. Keep an eye out for what these girls will do next!

Photo: Lindsey Blane

Sword Art Online Celebrates 10th Anniversary with New Original FIlm

Reki Kawahara's web novel Sword Art Online began in 2002, later becoming a popular light novel series. The anime series debuted in 2012, followed by a second season in 2014 and a third in 2018. Following the characters Kirito and Asuna as they traverse a virtual reality MMORPG, the series has seen major success, with the light novels selling over 30 million copies worldwide. 

During Sword Art Online's anniversary event on November 6, it was revealed that a new film project is in the works. A brief teaser was also revealed, though concrete information is hard to come by at this point in time. 

Be sure to check back soon for new information about the film!

【STORY】

"This may be a game, but it's not something to take lightly."

The world's first VRMMORPG, Sword Art Online, has turned into a game of death. Over a month has passed since 10,000 users were trapped in the game world.

Asuna, who conquered the first level of the floating castle of steel Aincrad, continues her journey to the top floor along with Kirito.

With the help of the female informant Argo, the attack seemed to be going well. However…

The top player groups leading the attack are the ALS (Aincrad Liberation Force) and the DKB (Dragon Knights Brigade).Although they should be working towards the same goal, war breaks out.
Behind the scenes, a mysterious figure lurks…

What awaits Kirito and Asuna as they continue their journey?

©2020 川原 礫/KADOKAWA/SAO-P Project

Atarashii Gakko! Releases New Song 'HANAKO'

On October 31, the dance and vocal unit Atarashii Gakko! released their new song HANAKO via 88rising.

Atarashii Gakko! made their world debut last year through the record label 88rising. This year, the group held a successful solo concert at Zepp DiverCity in May, followed by two sold-out solo concerts in the U.S. and a five-show U.S. tour including an appearance at the Head in the Clouds festival organized by 88rising. In a relatively short time, Atarashii Gakko! has become a smash hit with fans abroad.

The new song HANAKO is based on the classic Japanese school horror story Hanako-san. The urban legend tells the story of a young girl who haunts school toilets. Manny Mark produced the song, following his involvement in the group's previous tracks. The lyrics were written by Atarashii Gakko! themselves and the track has a bizarre yet cutesy vibe.

The lyric video for HANAKO was released at midnight on October 31, with the music video dropping at 13:00 on the same day. The unintentionally chilling, ghost-story-style video set in an elementary school is also sure to make an impression.

Comment from the Members

"HANAKO is the perfect spooky song for Halloween and we're happy to release it on October 31.

The song was actually being made concurrently with SNACKTIME, which we released last year! (With Money Mark, of course.)

The four of us would have meetings about the melody and lyrics while we were in LA. We stopped working on the song when it was still in the demo phase, but when we went to LA this summer, we worked with Money Mark to evolve it into something new. As we continued to build it, it became creepier and creepier.

It's a ghost story. It's all about being terrified, but also about being curious. Hanako is a popular urban legend in Japan about a ghost that haunts school bathrooms. In the legend, if you say the ghost's name three times, it might respond…or even appear in front of you."

Information

HANAKO – Atarashii Gakko! (Digital Single)

Release Date: October 31, 2022

Available to stream on streaming services worldwide

Listen & Download:

Japanese Artists to Perform in MetaTokyo Area at Metaverse Music Festival

Metaverse Music Festival will feature a MetaTokyo area this year! The event is being organized by Decentraland, a global Web3 Metaverse platform. A number of Japanese artists will perform, including Edo Lena, MISOSHITA, and Atarashii Gakko! 

In the special MetaTokyo area, a giant Metaani x Kyary Pamyu Pamyu character will be dancing to the beat. The popular collab appeared in April of this year and was an instant hit with NFT fans around the world. Those with an interest in Japanese culture can also enjoy some unique content streamed in the area. The Metaverse Music Festival will be held from November 10 until November 13, 2022.

Participating Japanese Artists

According to a recent announcement from Decentraland, Ozzy Osbourne, Soulja Boy, Dillon Francis, SNH48, and others will perform at OZZFEST, a festival organized by Ozzy Osbourne. Atarashii Gakko! will perform on the main Tower of Babel Stage.

The festival area will also feature special stages and areas in collaboration with a number of partners. MetaTokyo is one such partner sure to be a hit with audiences around the world!

Within the MetaTokyo area, Metaverse diva and artist Edo Lena and Metaverse creator MISOSHITA will perform. Other J-pop artists are scheduled to perform for audiences worldwide.

Giant Metaani x Kyary Pamyu Pamyu 

A giant Metaani x Kyary Pamyu Pamyu will appear within the Metaverse. First appearing in April 2022, guests will be treated to Kyary's popular song Dodonpa when they first enter, and will be able to take selfies with the huge character in a way not possible in the real world.

Information

Metaverse Music Festival

Date: November 12, 2022 at 2:00AM (JST)

How to Participate: 

Visit the pre-registration page below and click "WANT TO GO." 

https://events.decentraland.org/event/?id=7148716b-ff25-4d5f-8267-55fed7ab15bc

*Only the PC version of Chrome is supported.

*Visitors entering the event as a guest won't need to have a virtual currency wallet. 

*Some restrictions apply

Admission: Free